11 Top Tourist Attractions in Belo Horizonte & Easy Day Trips
The capital of the state of Minas Gerais since 1897, Belo Horizonte was only a few years earlier carved out of the forest surrounding a gold-diggers' settlement called Curral del Rei, which was founded in 1701.
Because it was an entirely new city, it could be laid out on a grid plan with intersecting diagonal avenues modeled on Washington, D.C. Its name, meaning beautiful horizon, is apt, both for the mountains that ring the city and for its own Modernist and Postmodern skyline.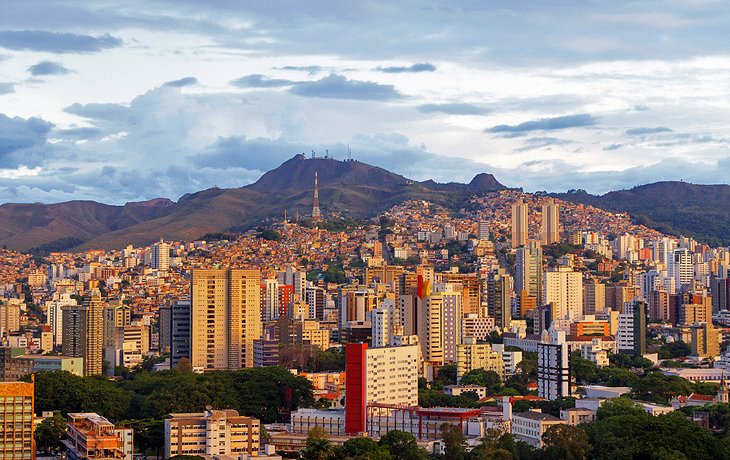 The city was built at the height of the Art Nouveau and Art Deco styles and has continued to embrace contemporary architecture ever since. Brazilian architect Oscar Niemeyer designed several of his first buildings here in the 1940s, giving the city some of his best-known works and top tourist attractions. Later buildings have continued to match his high design standards.
You can find the best places to visit by following this list of the top tourist attractions in Belo Horizonte.
1. Praça da Liberdade (Freedom Square)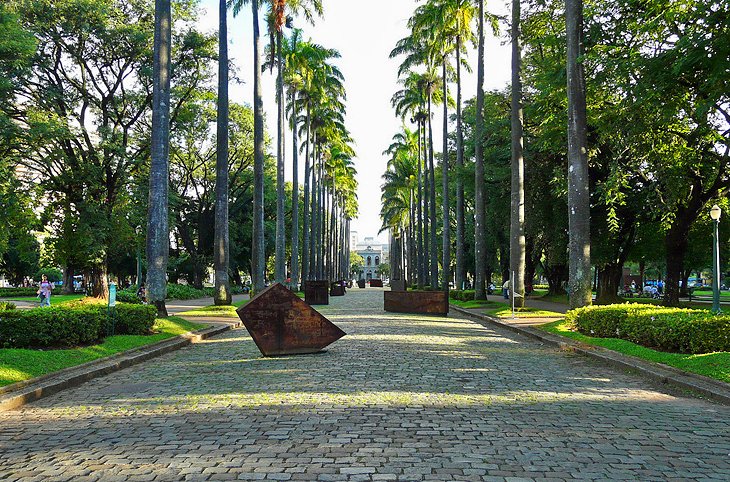 The large park-filled plaza in the city center was designed to be the hub of state administration and power, with the Palácio do Governo (Government Building) and the public library. The Art Deco style Palácio Cristo Rio was built in the 1940s, and towering above the square is Edificio Niemeyer, a sinuously curved apartment building that is one of his most famous early works.
Strolling under the shade trees or relaxing on a bench to enjoy the flowers and fountains are the locals' favorite things to do here, and they make Praça da Liberdade one of the most popular places to go in Belo Horizonte.
2. São Francisco de Assis and Lagoa da Pampulha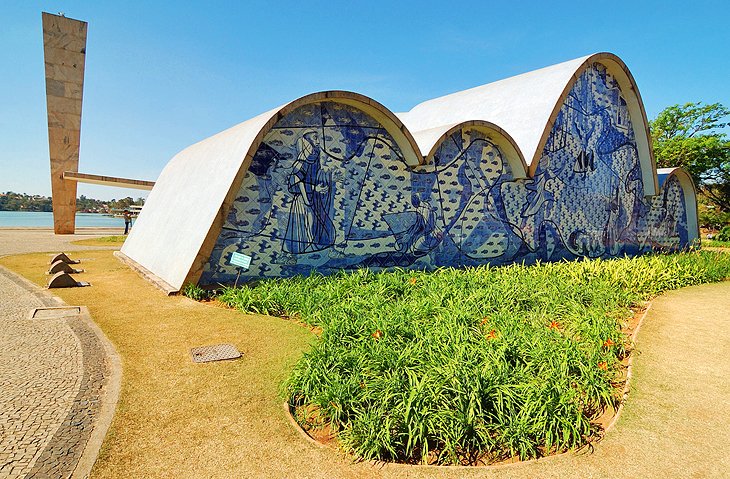 The first of architect Oscar Niemeyer's major works stands above a lake in the park-filled suburb of Pampulha. The parabolic curves of the church's roof seem to anticipate architectural forms Neimeyer later used in Brasília.
The exterior is covered in azulejo tile panels by Cândido Portinari, and more of his work decorates the interior. The building's design caused such a furor in the church hierarchy that, although it was completed several decades earlier, it was not consecrated until 1969. The surrounding gardens were designed by landscape architect Roberto Burle Marx.
Walk around the lake to admire the church's silhouette mirrored in the water and to see the curved Casa do Baile, scene of fashionable parties and dances in the 1940s. Green lawns and paths around Lagoa da Pampulha make it a favorite place to visit for families.
Address: Avenida Otacílio Negrão de Lima, Pampulha, Belo Horizonte, Minas Gerais
3. Palácio das Artes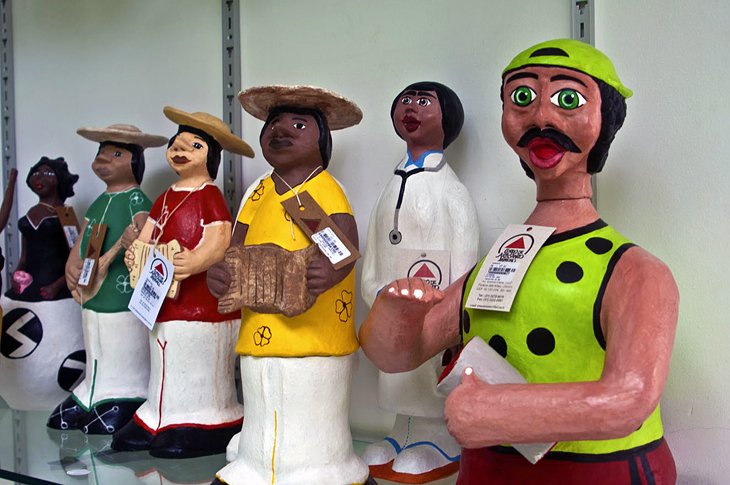 On the south-western edge of the municipal park is the Palácio das Artes, a striking low white building designed by Oscar Niemeyer to house the Fundação Clóvis Salgado, one of Latin America's most inclusive and active centers for the arts.
Along with studios and practice rooms for artists and musicians, it houses several places of interest to tourists. Three galleries host a variety of art shows, and its three theaters have a busy schedule that can include concerts of classical and popular music, dance performances, theater, and operas.
The outstanding Minas Gerais Craft Center is filled with the highest quality handiwork by contemporary craftsmen. You'll find pottery, wood carving, fiber, and needle arts, sculpture in all media, hand weaving, glassware, and jewelry featuring the region's abundance of stones.
Address: Avenida Afonso Pena, Belo Horizonte, Minas Gerais
4. Mercado Central (Central Market)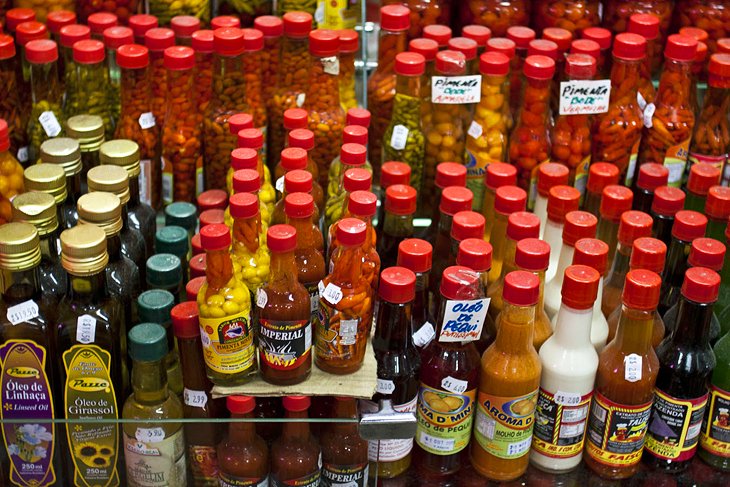 One of the liveliest and most colorful places in the city is the huge market building, where you'll find everything from food to canaries in its 400-odd stalls. Vendors appear to be in perpetual motion as they hawk fruits and vegetables, cheese, sausages, religious items, herbal medicines, candy, drinks, meats, flowers, nuts, household utensils, prepared foods, pets, and handicrafts.
Stop to watch as the fruit sellers peel and slice whole pineapples with a machete, and wait your turn for a seat in one of the tiny lunch stands to sample local dishes. The market is open daily, although only until 1 pm on Sundays and holidays.
Address: Av. Augusto de Lima 744, Belo Horizonte, Minas Gerais
5. Memorial Minas Gerais Vale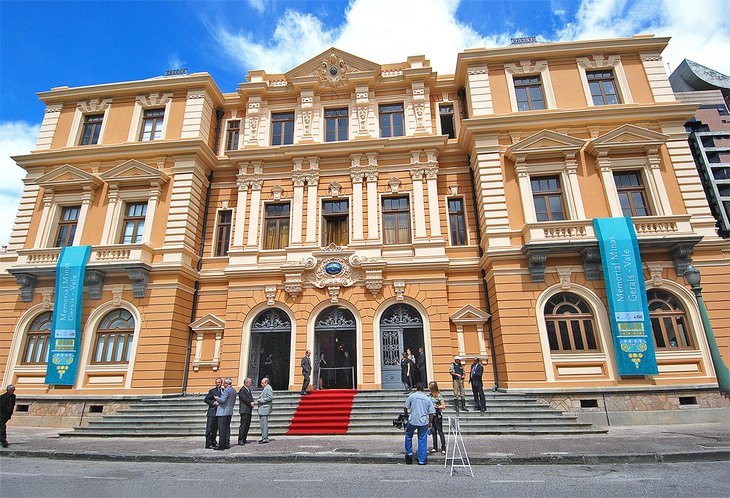 An unusual and innovative museum, where experiences get equal billing with artifacts and exhibits, Memorial Minas Gerais Vale is an exciting and engaging way to learn about the Brazilian state of Minas Gerais.
Throughout the museum, which spotlights all aspects of life here, exhibits come to life in surprising ways. Portraits of key people speak, telling their own stories and painting vivid pictures of their time as they explore art, fashion, theater, culture, and history.
A room is devoted to daily life in the 18th century, another to farming and farms. In another, an Indian, a European, and an African describe their religions, arts, foods, and other elements of their cultures, and how they are part of the local fabric.
Address: Praca da Liberdade 640, Belo Horizonte, Minas Gerais
Official site: http://memorialvale.com.br/?idioma=en
6. Museu de Mineralogia (Mineralogy Museum)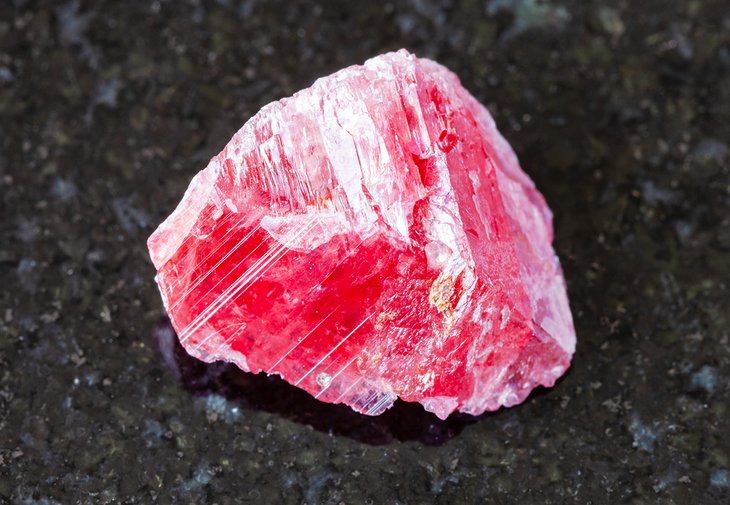 "Rainha da Sucata" — Queen of Scrap Iron — is the local nickname for the postmodern building intended to house the tourist office when it was built in the late 1980s. Today, it's the home of the Museum of Mineralogy and holds a rich collection of nearly 3,000 minerals from the mines of Minas Gerais and elsewhere around the world.
About 800 of these are on display, including gold and other precious metals, diamonds, emeralds, sapphires, aquamarines, topazes, and amethysts. Along with the stones themselves, the museum explores their uses.
Address: Praça da Liberdade, Belo Horizonte, Minas Gerais
7. Museu de Arte (Art Museum)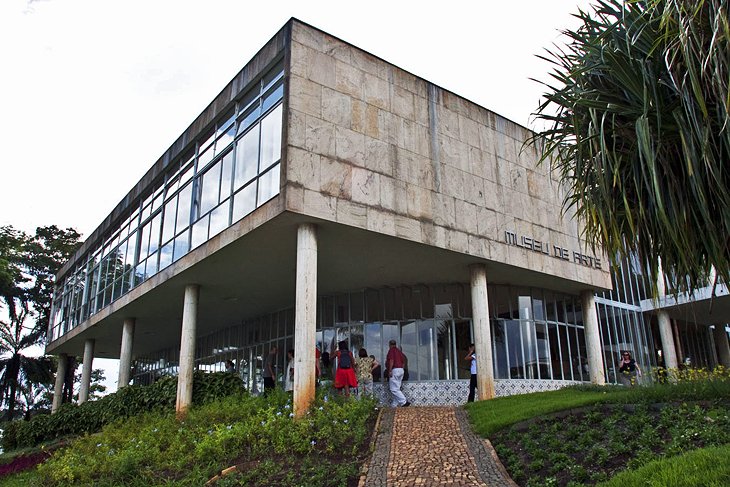 The first building designed and built by Oscar Niemeyer, in 1940, stands high above the lake in the suburb of Pampulha and, along with Niemeyer's church of São Francisco de Assis, is surrounded by the Burle Marx Sculpture Gardens.
Roberto Burle Marx was a preeminent landscape architect of the modernist era, and along with Neimeyer, instrumental in the design of Brazil's new capital of Brasilia.
The building was converted into the Museum of Arts in 1957 and displays paintings, graphics, sculptures, ceramics, and films. A café overlooks the grounds, where there are sculptures by José Pedrosa, August Zamoyski, and Alfredo Ceschiatti.
Address: Avenida Otacílio Negrão de Lima, Pampulha, Belo Horizonte, Minas Gerais
8. Museu de Artes e Oficios (Arts and Crafts Museum)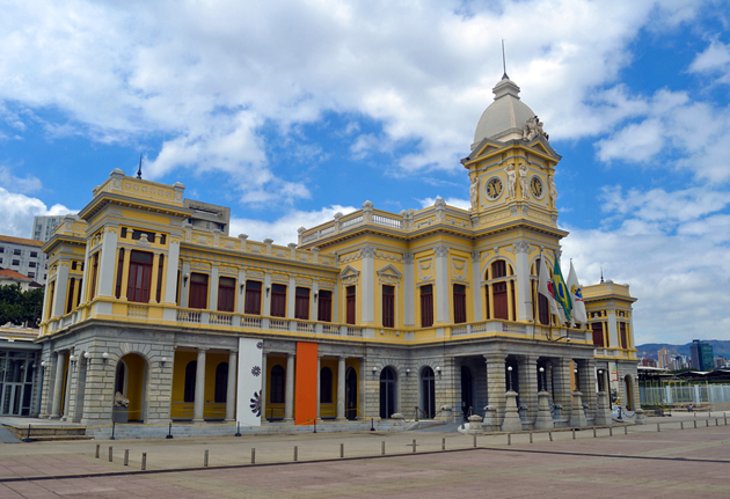 The spacious Praça da Estacão is a venue for outdoor concerts and festivals, bounded on one side by the former rail station, now housing the Arts and Crafts Museum. The tools and arts of Brazil's pre-industrial era are displayed and interpreted, including implements used for sewing, weaving, spinning, woodworking, building, and other trades and crafts.
The station building is an important landmark in Belo Horizonte's history as the arrival point for all the materials required for building the new capital. Train and metro platforms still operate inside the station, giving the museum a vitality as part of daily life in Belo Horizonte.
Address: Praça de Estacão, Belo Horizonte, Minas Gerais
9. Parque Mangabeiras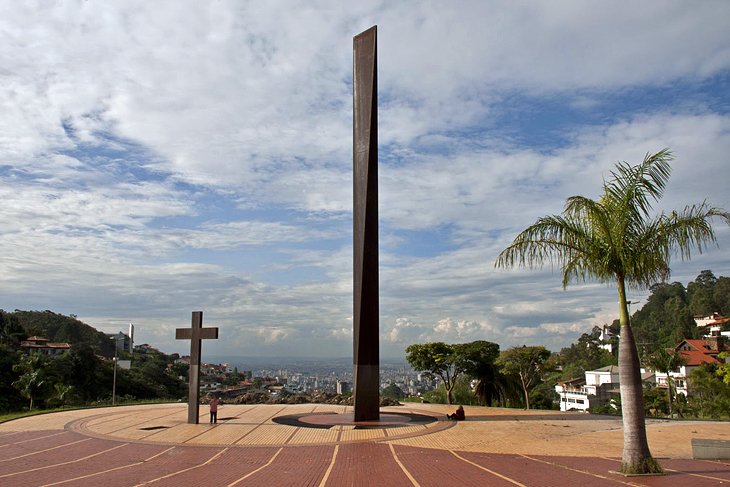 This large park at the edge of the city spreads across the steep slope of the Serra do Curral, where the source streams of the Rio das Velhas join. Within the park are a primeval forest, a lake, several springs, playing fields, children's rides, walking and jogging paths, an open-air theater, and an amphitheater.
Buses leave from the entrance to loop through the park, stopping at various attractions including the Mirante da Mata, where there is a sweeping view of Belo Horizonte. Praça do Papa, from which there is also a good city view, was named for Pope John Paul II, who conducted a mass here during his visit to Brazil in 1980.
Guides love to point out Rua do Amendoim, where an optical illusion makes cars appear to defy gravity by rolling uphill.
Address: Av. Anel da Serra, Alto do Mangabeiras, Belo Horizonte, Minas Gerais
10. Parque Municipal (City Park)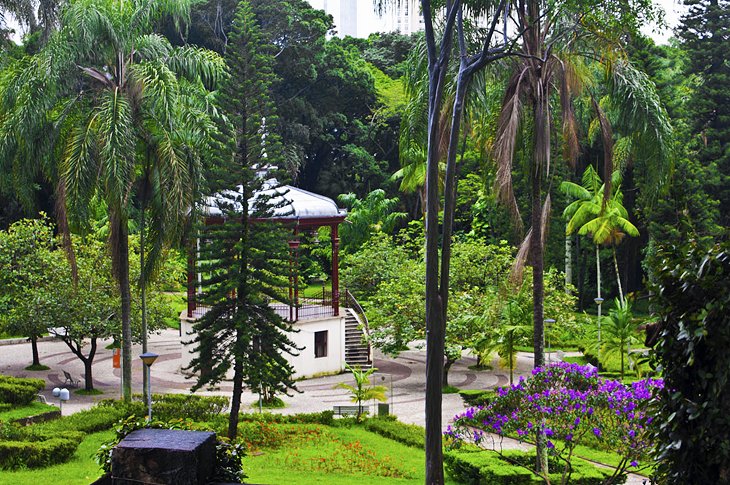 On the north side of the city center, the large Parque Municipal is a green space with dozens of century-old shade trees, a lake with boat rides, several gardens, children's playgrounds, tennis courts, aviaries, and a theater.
An Orchidarium has greenhouses filled with rare orchid varieties. From May through September, the Orchestra of Minas Gerais performs a Concerto no Parque every Sunday morning. The park is a lovely place to stroll or picnic, close to the main attractions of the city.
Address: Av. Afonso Pena, Belo Horizonte, Minas Gerais
11. Museu de História Natural (Natural History Museum) and Jardim Botânico (Botanic Garden)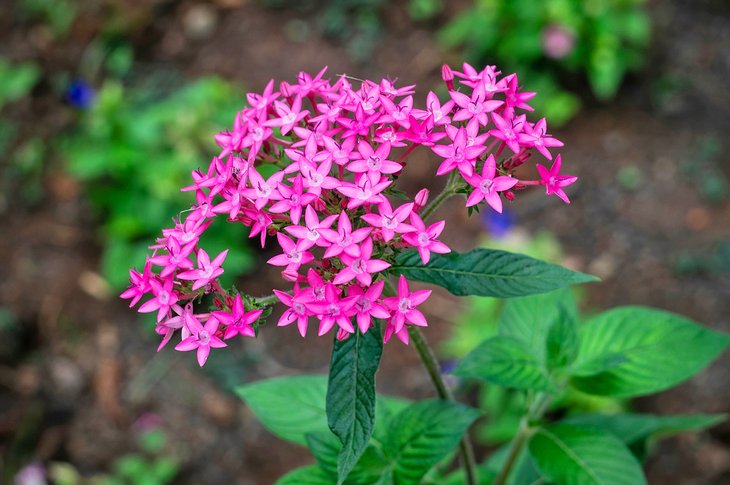 In the Santa Inàs district is the extensive Botanic Garden, where you'll also find the Natural History Museum. The garden stretches over more than 6,000 square meters, with indigenous trees and plants. More botanical exhibits are in the museum, which also covers minerals and archaeology and includes interactive stations.
Here, also, is the Presépio do Pipiripau, a nativity scene designed by Raimundo Machado de Azavedo in 1906 that shows 45 scenes from the life of Jesus with more than 580 figures. In the gardens is the former country house of the governors of Minas Gerais.
Address: Rua Gustavo da Silveira 1035, Belo Horizonte, Minas Gerais
Day Trips from Belo Horizonte
Ouro Preto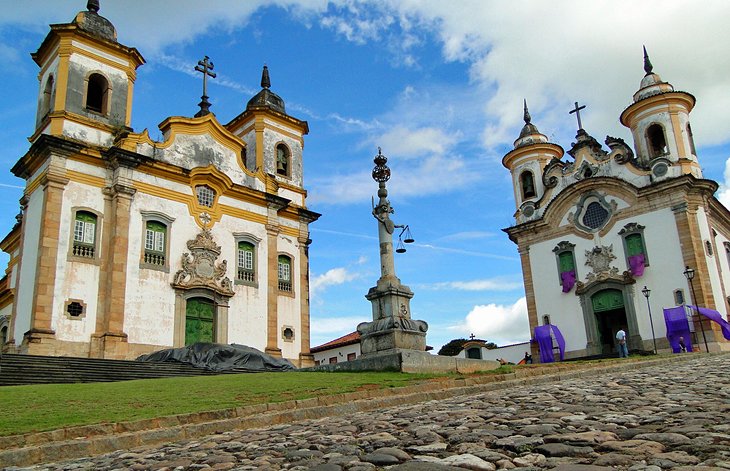 Minas Gerais is Brazil's gold- and diamond-mining area, which was heavily worked in the 17th and 18th centuries, and its former capital of Ouro Preto was in the richest part of the region, literally sitting on top of gold mines.
So plentiful was the gold that flowed from them that entire church walls were coated in it. The wealth of those mining towns is reflected today in the art and architecture, especially of the 17th-century Baroque and Rococo churches. São Francisco de Assis and Matriz de Nossa Senhora do Pilar were built at this time, and are included in a patrimony so rich that the city has been declared a UNESCO World Heritage Site.
For all its riches and fine colonial architecture, Ouro Preto proved too small and too difficult a terrain for a major capital, and the government was moved to Belo Horizonte. Today, it is one of Brazil's most charming towns, its steep streets lined by gracious mansions and its hills topped by Baroque churches filled with sacred art.
Inhotim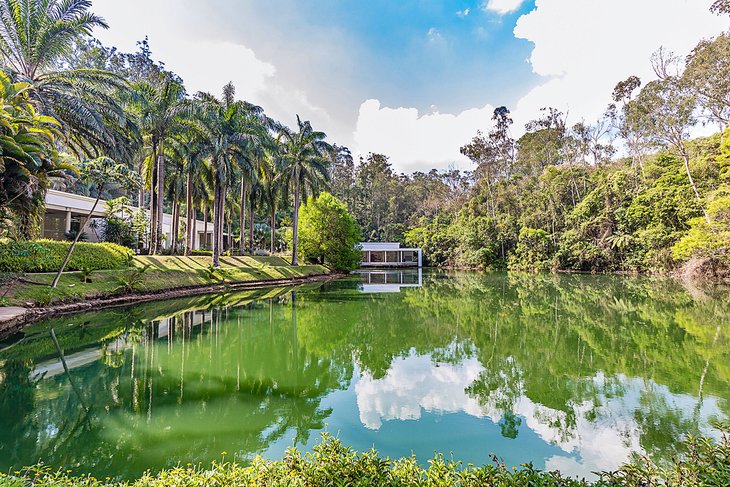 Spread over 87 acres of beautiful gardens designed by Roberto Burle Marx, Inhotim is an artists' colony about 50 kilometers from Belo Horizonte. Large works and installations are interspersed among tropical plants, huge shade trees, pools, and fountains designed as a showplace for modern sculpture.
Indoor gallery space houses paintings, smaller sculptures, videos, and installations. The focus of the collection is works created by Brazilian and international artists since 1960. The combination of the environmentally friendly campus, the beautifully designed gardens, and the quality of the art displayed here makes Inhotim one of the most visited art museums in Brazil.
Address: Rua B 20, Brumadinho, Minas Gerais
Official site: www.inhotim.org.br
Map of Tourist Attractions in Belo Horizonte & Easy Day Trips