French Guiana in Pictures: 13 Beautiful Places to Photograph
Located on the northwest coast of the continent of South America, tiny French Guiana offers visitors a fun vacation destination to explore. Like a little piece of France in the heart of the tropics – it is, after all, a French department – there's a very tangible feeling that you're somewhere that's very unique.
Thanks to its dense and largely unspoiled rainforests, French Guiana has made a name for itself as a destination for ecotourism. Popular adventures include jungle treks and tours, along with wildlife photography experiences that will get you in front of a variety of species.
Whatever you prefer to take pictures of, though, rest assured you'll find plenty of great camera-ready opportunities and beautiful places to photograph in French Guiana.
1. Devil's Island, Cayenne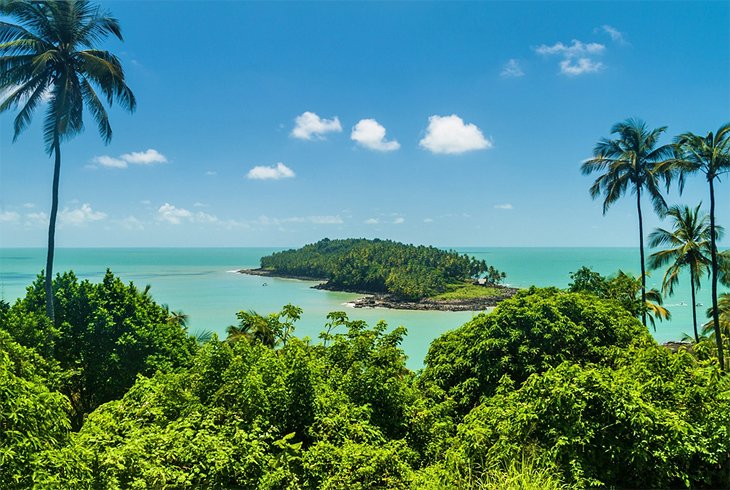 The island of Cayenne, while extremely picturesque, hides a dark past. It was here in 1852 that the French opened what was to become one of the world's most notorious penal colonies.
Known as Devil's Island (Ile du Diable), the surviving structures from this dark past can now be visited, toured, and photographed.
2. Wildlife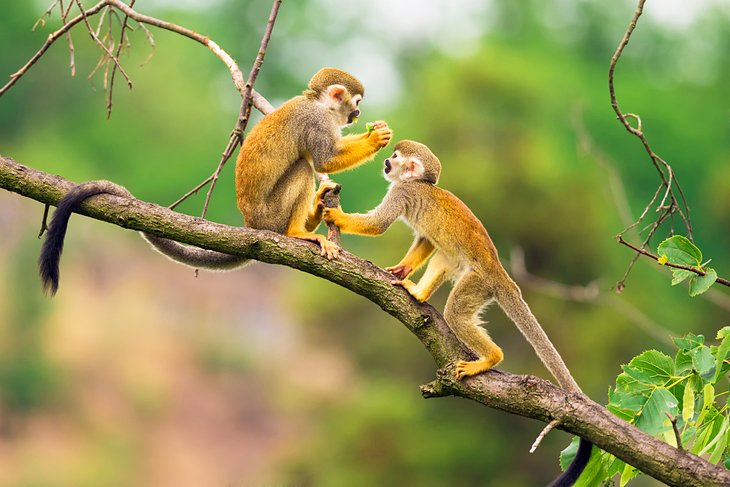 Thanks to being covered in thick tropical rainforests, French Guiana offers countless opportunities for wildlife photographers to exercise their skills.
In fact, so plentiful is the wildlife here that even amateurs and sightseers can whip off a few shots without having to venture too far away from their resorts. Furry creatures like these Guianan squirrel monkeys are common sights pretty much everywhere and are fun to photograph.
3. Cayenne Prefecture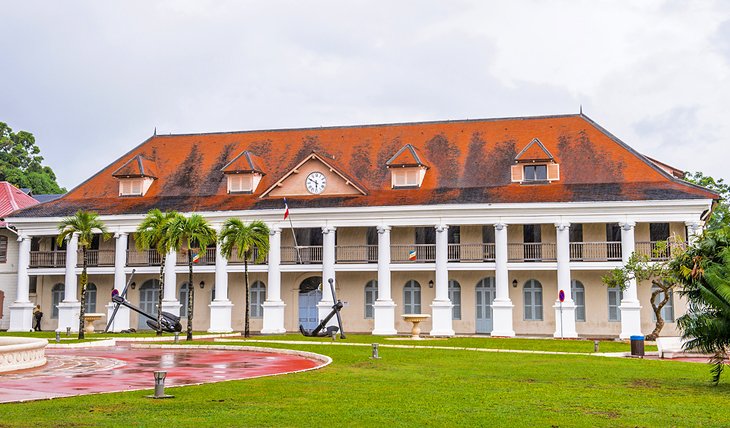 Located in the capital city of Cayenne, the attractive colonial-style Préfecture is one of the most photographed landmarks in French Guiana.
Be sure to include a visit to the property (it's easy to find) in a walking tour of the city.
4. Cayenne's Squares & Parks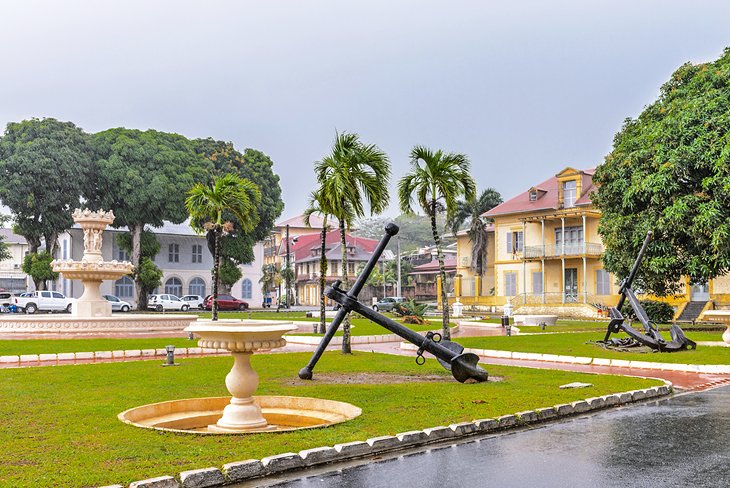 As seen in this image of the area around the Musee Departamental Alexandre-Franconie, Cayenne offers plenty of green space and public squares to explore.
Along the way, you'll discover numerous pleasant neighborhoods with their interesting mix of colorful Creole and colonial-inspired homes.
5. Dreyfus Tower, Kourou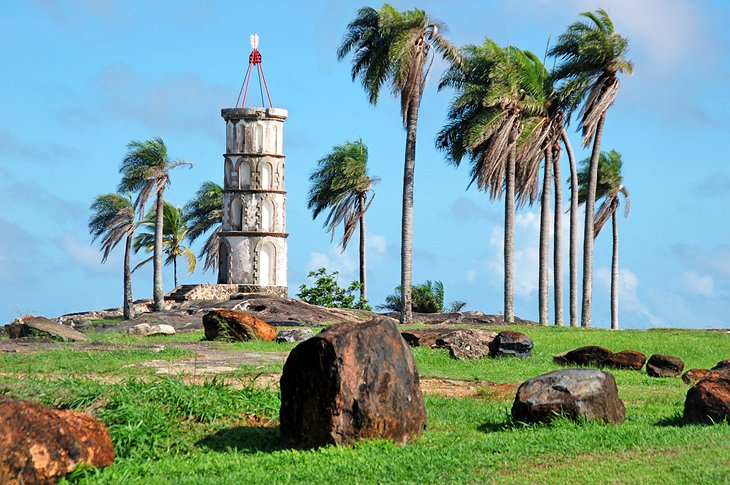 Once part of the notorious Devil's Island prison, the Dreyfus Tower is an attractive structure to photograph.
Overlooking both the Kourou River and the Atlantic in the town of Kourou, the tower served as a means to communicate with the prison islands using flags. Today, it makes for a great spot for some coastal photography.
6. Guiana Space Centre, Kourou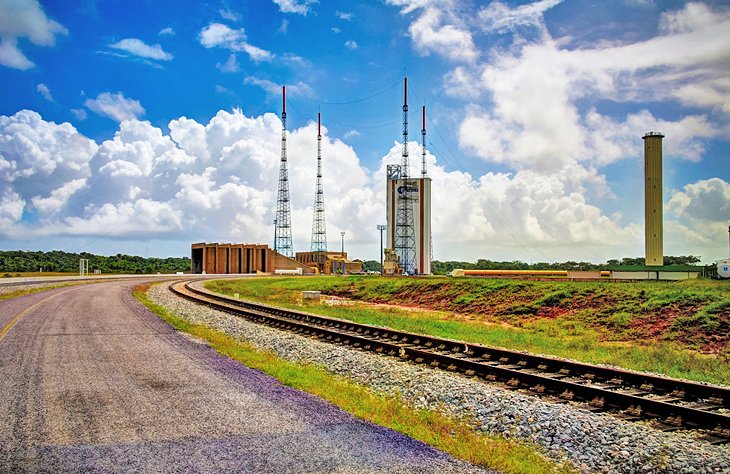 Many visitors to French Guiana are surprised to learn that this tiny French outpost is home to one of the world's most sophisticated space facilities.
The Guiana Space Centre (Centre Spatial Guyanais) was opened in 1968 and serves as France's official spaceport. Time your visit right, and your photography skills will be challenged as you try to capture a launch.
7. Royal Island, Salvation's Islands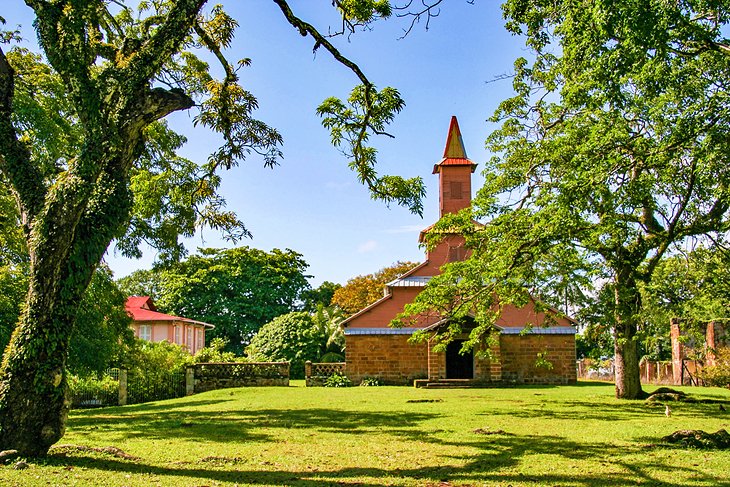 Situated 14 kilometers off the coast of the mainland (Kourou is the nearest harbor) and where you'll find Devil's Island, the other Salvation's Islands (Îles du Salut) are also certainly worth visiting.
Of these, the prettiest is Royal Island (Île Royale), with a picture-worthy landmark being the attractive Royal Island Chapel.
8. The Beaches of Cayenne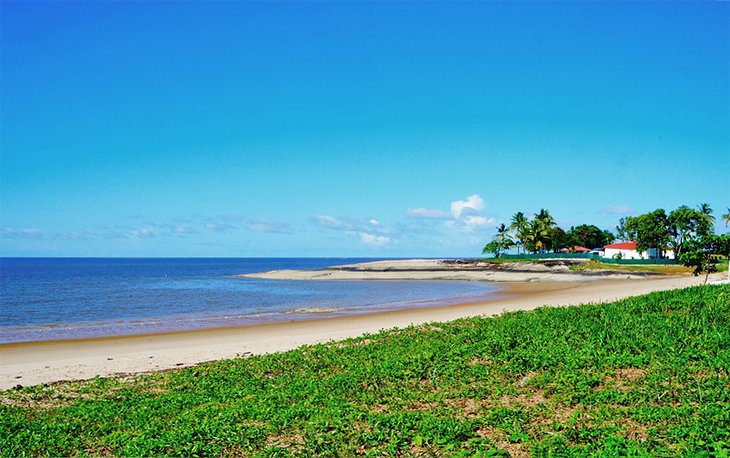 While there's no end of adventures to be enjoyed in French Guiana, those seeking to stay put in a beach resort certainly won't lack the opportunity to take some great pictures.
Long stretches of beach like this one in Cayenne are everywhere here and are usually crowd-free, ensuring uninterrupted photo ops.
9. Tresor Nature Reserve, Kaw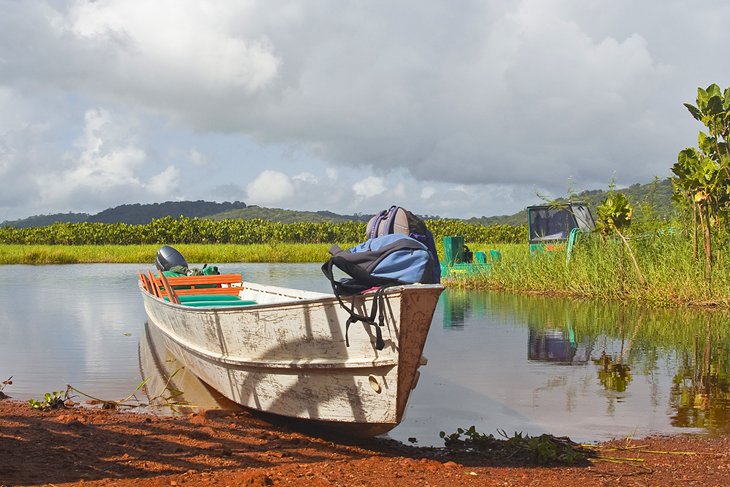 Home to over 530 different types of birds, not to mention countless other animal species, Tresor Nature Reserve in the Marais de Kaw-Roura region is a nature lover's paradise.
This large wetland area can easily be explored via guided tours, which come highly recommended, as seasoned guides know exactly where to find wildlife at any given time of year.
10. Remire-Montjoly Beach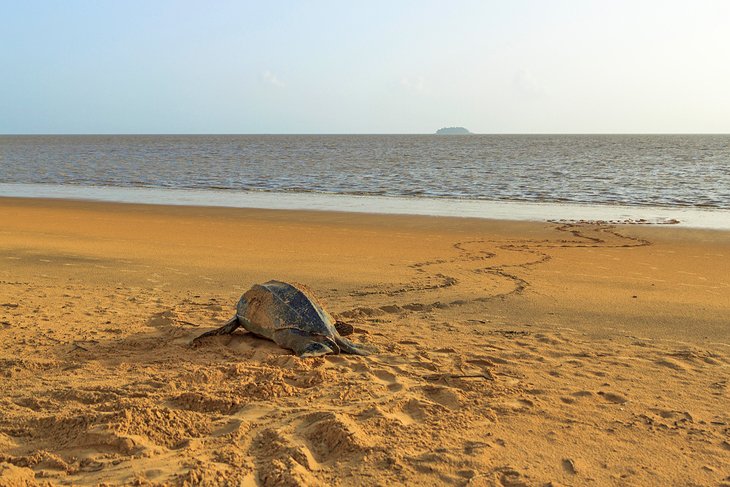 The native marine life found in French Guiana also offers plenty of great photo opportunities. Seen here, a large sea turtle returns to the ocean after laying her eggs on Remire-Montjoly Beach.
11. Oyapock River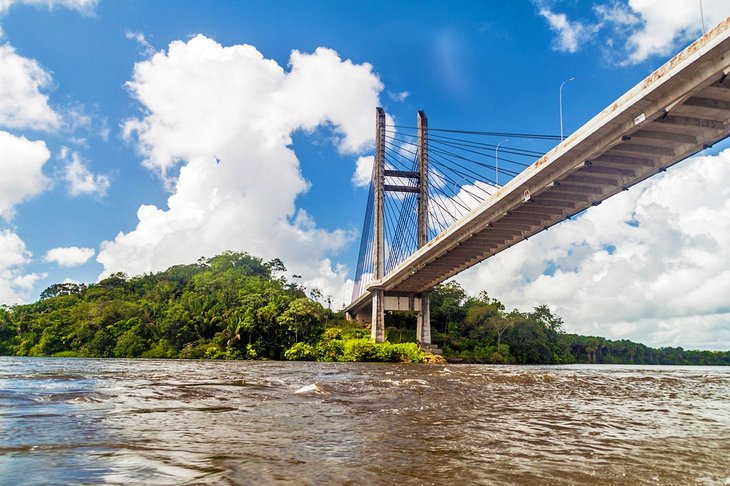 The Oyapock River offers a number of pretty rainforest vistas worth taking photos of. One of the most impressive is of the bridge joining French Guiana to Brazil. The 403-kilometer river acts as a natural border between the country, and can be enjoyed as part of a fun river cruise.
You'll see small villages and settlements at various points on both sides of the river, but most excursions start at the town of Saint-Georges de l'Oyapock (French Guiana).
12. Saint-Laurent-du-Maroni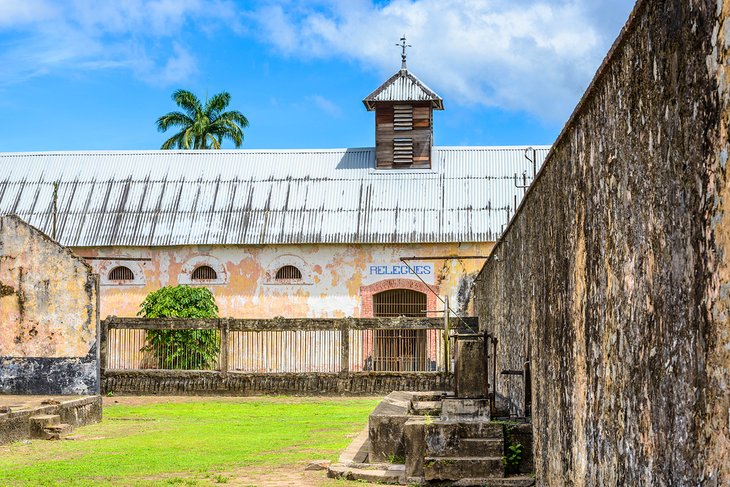 You'll no doubt experience a chill down the spine as you explore Saint-Laurent-du-Maroni. The interesting old ruins you'll be taking memorable photos of were all once part of the Camp de la Transportation. Built in the 1850s, this is where prisoners from France were "processed" before being sent to prisons such as that on Devil's Island.
It's hard to believe that this now gentle jungle setting was once the scene of brutal treatment of the prisoners. The reputation of these prisons was immortalized in the book, Papillon.
13. Place Victor Schoelcher Market, Cayenne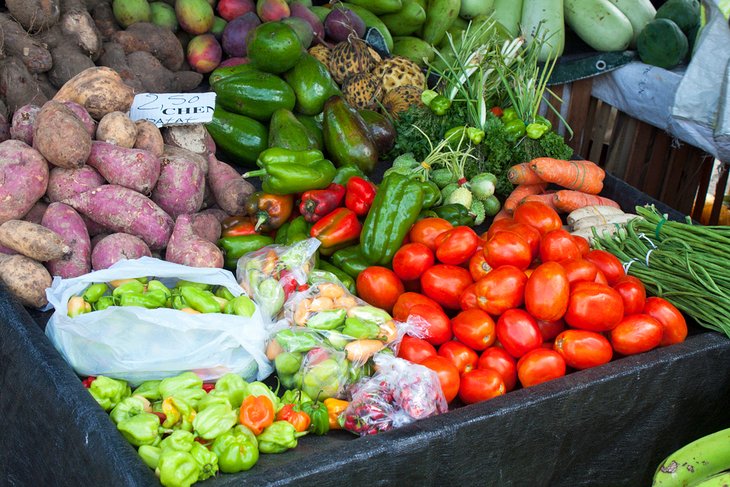 For an authentic French Guianese experience, take your camera and selfie stick down to the market in Cayenne's Place Victor Schoelcher. Here, you'll find local vendors selling (and buying) everything from fruits and spices to crafts and household items.
The produce available is always colorful (and delicious). Some souvenir vendors are also on hand to sell their wares. Before taking photos, though, be sure to acknowledge the vendors. It's always a welcome (and courteous) gesture.