Where to Stay in Ho Chi Minh City: Best Areas & Hotels
We may earn a commission from affiliate links ()
Vietnam's largest city, once again called Saigon by locals, offers a wide range of accommodations to choose from. The central part of Ho Chi Minh City (HCMC) is divided into 19 districts. The best area to stay for tourists is District 1, in the heart of the city. Most tourist attractions and places of interest are here, as is the city's central business district.
Hotels in Vietnam have very reasonable prices compared to other cities in Asia, so you may want to go for a luxury hotel, like the Park Hyatt or the sumptuous Reverie. Even budget accommodations, like the Hotel Equatorial, have clean, stylish hotel rooms and amenities like a swimming pool, buffet restaurant, and full fitness center. It's in District 5, a good place to stay for tourists, as it includes Cholon, the city's Chinatown neighborhood.
Families may want to stay in the vibrant District 3, a historic area of Saigon now peppered with embassies and several of the city's universities. Here, you can find serviced apartment accommodations like the Sherwood Residences, each with multiple bedrooms and their own kitchen. Couples looking for an old-school romantic stay in Saigon should check out the Hotel Des Arts Saigon MGallery with its luxurious Indochine-Francaise rooms complete with red clawfoot soaking tubs.
Plan your trip with our list of the best areas and hotels to stay in Ho Chi Minh City.
On This Page:
Where to Stay in Ho Chi Minh for Luxury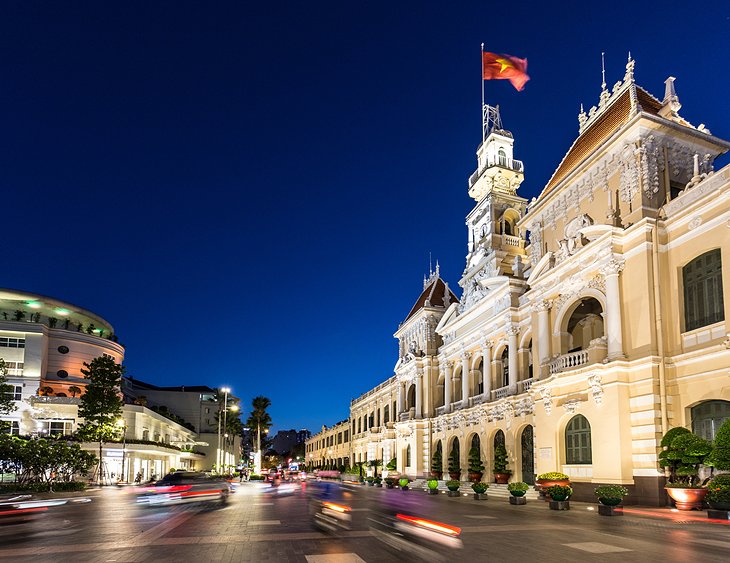 The InterContinental Saigon Hotel is a high-rise luxury hotel in the core of District 1. It's located right next to one of the city's must-see sites, the Notre-Dame Cathedral, which was constructed entirely from materials imported from France. There's a small shopping mall inside the hotel (with a food court). Rooms are large and well-appointed with all the usual luxury amenities.
The InterContinental has a second tower, called the InterContinental Residences Saigon, which also offers hotel rooms. It's an apartment building, so the units are quite large, with full kitchens. Prices are about 25 percent higher than the room prices in the hotel building.
The Reverie Saigon is Vietnam's only member of The Leading Hotels of the World group of luxury hotels. The opulent property takes up the top floors of the city's iconic Times Square building in District 1.
The Italian style of the hotel is bold and almost over the top (think Vietnamese Versace or Dubai palace), but the rooms are like showrooms of the best in Italian design. About 19 different top Italian suppliers are used, an example being leather couches made by the company that supplies Ferrari for its car interiors.
Each of the hotel's sumptuous suites highlights the products of a different Italian firm. There's a large and luxurious spa, which includes several pools and a fitness center. Like the InterContinental, The Reverie also has apartments, The Reverie Residence, and these larger units can be rented nightly as hotel rooms.
Where to Stay in Ho Chi Minh City: Mid-Range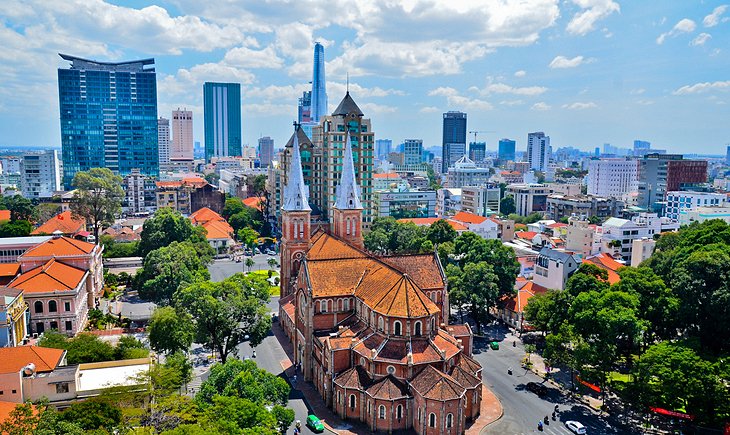 The highly-rated Pullman Saigon Centre delivers a rather luxurious experience at a mid-range price. The hotel (part of the giant Accor hotel company) is close to the vast Ben Thanh Market, a mandatory sightseeing stop for Saigon visitors.
Inside the large, modern rooms, there are luxury amenities like a rain shower and a 40-inch flat-screen HDTV that mirrors your phone or tablet. You also get free high-speed Wi-Fi, a large outdoor pool, and a nice-sized gym.
The hotel also boasts a full spa with a range of massages and beauty treatments. Although the hotel is in District 1, museums and other sightseeing require a car or other transportation.
The Rex Hotel is one of Saigon's historic Art Deco hotels, built in 1927 at the height of the French Colonial period. The hotel is most famous as the site of the American military command (and its daily press briefings) during the war between the two countries.
The Rex is a decent, mid-range option in a great location at the very core of District 1. The rooms are modern but can be a bit sparse. Accommodations are available as Deluxe or Premium (bigger with more amenities) or as suites.
Two swimming pools and a café with sweeping views of the city are found on the roof. There's a full fitness center and even a tennis court.
If you're looking for something modern and contemporary, the Fusion Suites Saigon is a great place to stay. The all-suite property focuses on wellness, separating it from most bland mid-range options. Products, food, and even the construction materials are all chosen carefully for their benefit to guests and their impact on the environment. There's a very nice spa with a range of healing treatments. One treatment is included in most room rates, as is a free breakfast.
Foodies and vegans will enjoy the hotel's restaurant (with a take-away area) and a rooftop café, both serving extremely healthy, fresh local fare. Try to get one of the corner suites with two walls of windows. This part of District 1 is a great area to stay, as the hotel is very close to the Ben Thanh Market and a 10-minute ride away from attractions like the War Remnants Museum and the 19th-century Central Post Office.
With mid-range pricing yet luxury amenities, accommodations, and service, the Hotel Nikko Saigon is always a good place to stay in HCMC. The Hotel Nikko exudes the brand's typical contemporary Japanese style, focused guest service, and luxury. Some rooms can be small, but are all beautifully designed, with high quality materials and finishes, making it feel like a much more expensive hotel.
Dining options include a French-inspired buffet, a Chinese and dim sum buffet, and a lobby lounge. The Nikko is connected to the city's NOWZONE Fashion Mall, which has stores, places to eat, and a movie theater. When it's time to relax, work out, or be pampered, the Nikko has a spa, fitness center, and an outdoor swimming pool.
Where to Stay in Ho Chi Minh City on a Budget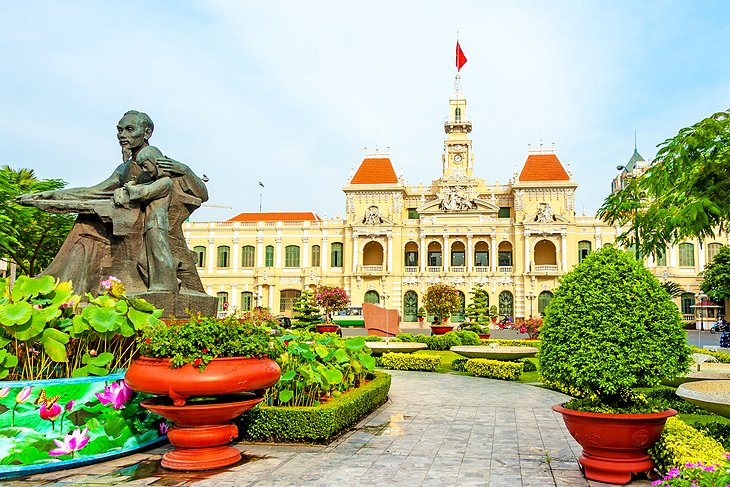 The Hotel Equatorial Ho Chi Minh City is typical of the many corporate, budget hotels located throughout the city. The Equatorial is centrally located in District 1, near the historic Saigon Post Office. Rooms have air conditioning, a safe, and a large HDTV.
For that budget price, you also get a nice outdoor pool (with a separate kiddie pool), an Equinox Fitness Center with a sauna and jacuzzi tub, and free Wi-Fi. This budget hotel also has several dining options: a popular seafood restaurant, an all-day cafe, and a lobby lounge.
An interesting budget choice is the Alcove Library Hotel, which is the best place to stay in HCMC for avid readers. The boutique hotel really is a library, with walls of books in the pubic spaces. Guests are encouraged to take the books to their rooms to read during their stay.
Rooms are basic, but very stylish and modern with nice touches like a rain shower, free bottled water and snacks, and a satellite TV with HBO and Cinemax. Wi-Fi and breakfast are included, adding to the value. The hotel is in the Phu Nhuan district, a good area to stay in the geographic center of Saigon, but requiring a car or bus to get to the tourist attractions in District 1 a few miles away.
Hotel L'Odeon is a small, inexpensive hotel with a caring, helpful staff and clean rooms. You get free breakfast and free in-room Wi-Fi. Try to get a room with a balcony; the outdoor space is large and there's a comfortable seating area out there too.
The hotel is in District 7, known as Phu My Hung, and requires a 20-minute ride into District 1. Travelers should always remember that Saigon traffic can be horrendous and a 20-minute ride could take two hours. This area in HCMC is a bit quieter than other areas to stay and has more green space to enjoy within walking distance.
Where to Stay in Ho Chi Minh City for Families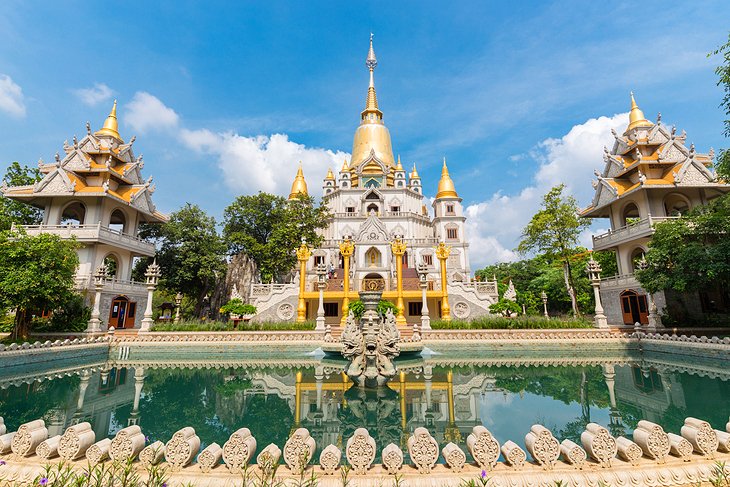 The Sherwood Residence is in District 3 but offers large, spacious apartment units, with full kitchens and washer/dryers. These are a great place to stay for families traveling together, and cost about the same as a small hotel room in central Saigon.
There are one-, two- and even three-bedroom apartments available. The hotel has a free shuttle to five different stops in District 1, leaving every hour. Kids will love the large pool and the large game room. Parents will love that breakfast is included.
With family room options, the Park Hyatt Saigon is another kid-friendly choice in Ho Chi Minh City. This five-star hotel has an elegant French-colonial-era look about it. There are 254 rooms and suites, which are luxurious and contemporary in decor.
The area is a great place to stay, right on Lam Son Square in District 1. It faces the Opera House and is within walking distance of many top city attractions. Amenities at the Park Hyatt hotel include the relaxing Xuan Spa, which offers a range of treatments, a fitness center, outdoor swimming pool, and a restaurant.
Where to Stay in Ho Chi Minh City for Romance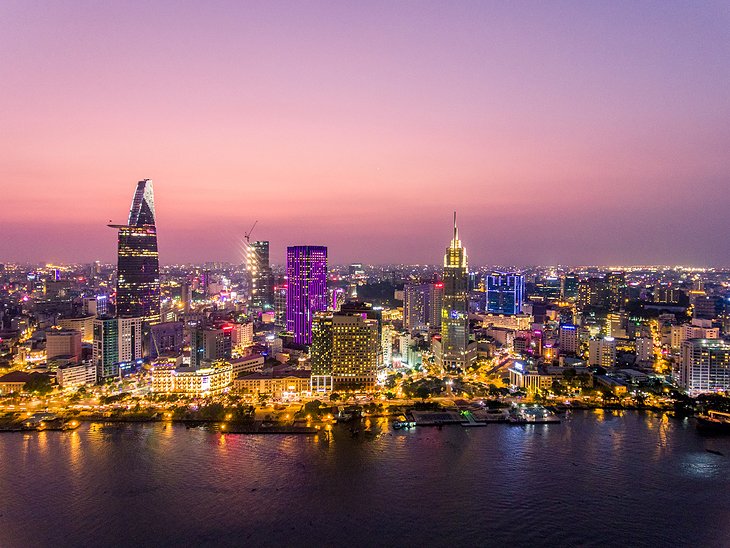 The Hotel Des Arts Saigon MGallery is a boutique hotel perfect for romantic getaways. The public spaces and guest rooms are filled with art pieces, and the overall design is colonial French Indochine. The rooms and suites have custom-crafted furniture in a beautiful Art Deco style with Vietnamese influences. Premium Grand Deluxe rooms (and the suites) have spa-like bathrooms with red clawfoot soaking tubs.
The hotel offers changing romantic getaway packages that normally include round-trip airport transfers in their luxury car, a couples massage, amenities on arrival, breakfast in bed, and a late check-out. The location is also ideal, about a block from the Notre-Dame Cathedral, a popular tourist attraction in Saigon.
Another romantic option is Silverland Sakyo Hotel and Spa. The hotel is on Le Thanh Ton Street, known as "Little Tokyo," in District 1. The boutique property has a Japanese onsen vibe, and the soundproof rooms and suites are done up in minimalist elegant style. Bathrooms have glass walls and a jetted soaking tub.
Amenities on-site include a stylish rooftop swimming pool and hot tub, free breakfast buffet in the restaurant (after breakfast it serves sushi), and a spa with a variety of Vietnamese and Japanese treatments. One other plus to staying here is the hotel is near Tan Son Nhat International Airport, and airport transportation is offered.
Where to Stay in Ho Chi Minh City near the Airport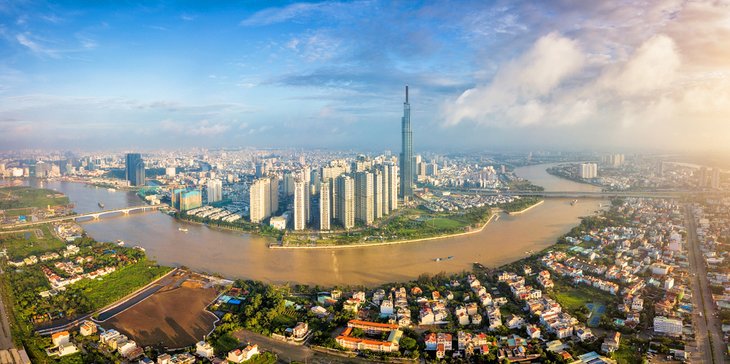 If you want accommodations near Saigon's Tan Son Nhat Airport (SGN), the ibis Saigon Airport hotel is a great place to stay. It's so close to SGN that if you're traveling light, you can walk there. The surprisingly modern and inexpensive hotel has a lot of amenities. Rooms and mini-suites are available, as are one- and two-bedroom serviced apartments for long-term stays. The design is very clean and modern, with IKEA-like furniture.
Travelers arriving very early or very late will enjoy the hotel's 24-hour room service or its café, also open 24 hours a day. There is a rooftop infinity pool to enjoy, along with a fitness center complete with a steam room and sauna. The hotel offers free airport pickup and has a day rate if you have a long layover and want to nap.
Another great place to stay near SGN airport is the Holiday Inn & Suites Saigon Airport, an IHG hotel. The newly opened hotel is the first Holiday Inn in Vietnam and is about 10 minutes from the airport. Some rooms face the interior courtyard; ask for a room that faces the city skyline. Room design is very modern, colorful, and contemporary but basic. Suites are also available with large kitchenettes.
There's a free airport shuttle, free Wi-Fi (for IHG Rewards members), and free bottled water and coffee. The hotel is a great place to stay for families, as kids stay and eat free. There are two dining options: a lobby deli café and an Italo-Vietnamese restaurant called MANJA MANJA, which serves both Italian and Vietnamese specialties. For fun, there's a big outdoor swimming pool and a large well-equipped fitness center