11 Top-Rated Beach Resorts in Vietnam
We may earn a commission from affiliate links ()
With warm, friendly citizens; delicious and inexpensive food; a wide range of beachfront accommodation; good weather; a rich culture; and over 2,000 miles of coastline; Vietnam is rapidly becoming one of the world's best beach destinations.
Visitors have many different resorts to choose from on their holidays, everything from 5-star, oceanfront luxury resorts to intimate boutique hotels. The best beach resorts in Vietnam for couples might be something like the Four Seasons Resort The Nam Hai, Hoi An, considered one of the world's top honeymoon resorts. For those traveling with kids, the country has a lot of great family holiday resorts, especially in areas like Da Nang. Some of the beach resorts in Vietnam are even all-inclusive, making it an easier and usually less expensive option for families.
Start planning your adventure today with this list of the best beach resorts in Vietnam.
Note: Some businesses may be temporarily closed due to recent global health and safety issues.
1. InterContinental Nha Trang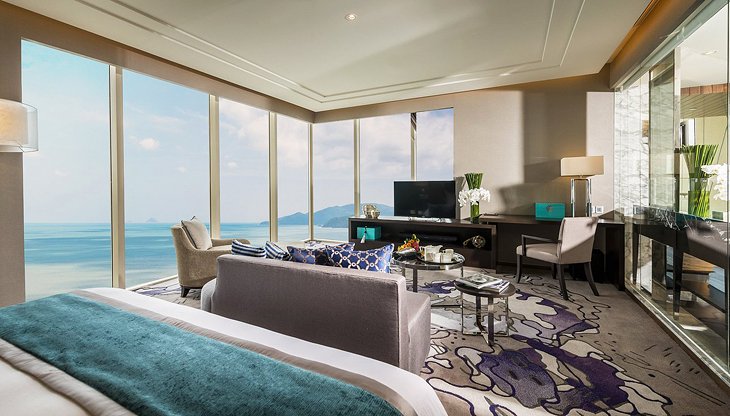 This popular coastal resort area is in the south of the country. Nha Trang's main beach is large, with a long beachfront promenade area filled with hotels, shops, and restaurants. The water is warm and a beautiful deep-blue color, perfect for swimming.
Diving, both skin and SCUBA, is very popular here, and Nha Trang is one of the top dive destinations in the world. This is largely due to the area's coral reefs, found in the nature reserves of Hon Mun and Hon Tam islands (a short boat ride away).
The recently opened InterContinental Nha Trang is a beachfront luxury hotel right in the center of the beach area. The rooms and suites have sweeping views of the curving beach and deep-blue bay. The resort delivers with the brand's usual personal service, deluxe amenities, and excellent value. There's a large spa, multiple dining options, and a beautiful outdoor pool and pool deck overlooking the beach.
Try for a Club InterContinental-level room, as amenities like lounge check-in, free breakfast, and free afternoon food service (along with upgraded accommodations) more than make up for the added cost.
Address: 32-34 Tran Phú, Loc Tho, Thành pho Nha Trang, Khánh Hòa 650000
Accommodation: InterContinental Nha Trang
2. Salinda Resort Phu Quoc Island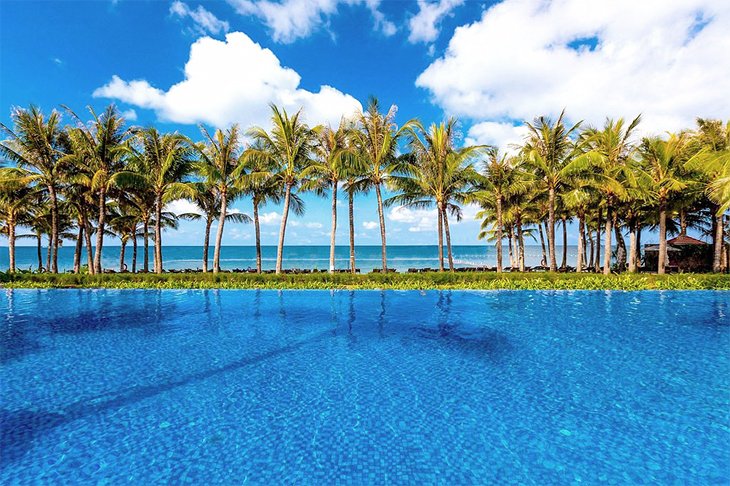 Although part of Vietnam, Phu Quoc island is actually closer to the coast of Cambodia and the Sihanoukville resort area than to Vietnam. It's in the Gulf of Thailand and reachable via a short ferry ride. Largely undeveloped, half of the island is a nature reserve, the Phu Quoc National Park.
Skip the huge condo-style hotel developments on the island and check into the Salinda Resort Phu Quoc Island. This luxury, beachfront boutique hotel has only 121 rooms, suites, and villas and really delivers personal service. There's a large, private beach; a spa with a range of healing treatments; and three different restaurants. The village of Duong Dong is close by, it has day and night markets selling a variety of food, crafts, and souvenirs.
Address: Tran Hung Ðao, Cua Lap, Phú Quoc, tinh Kiên Giang
Accommodation: Salinda Resort Phu Quoc Island
3. Premier Village Danang Resort - Managed by Accorhotels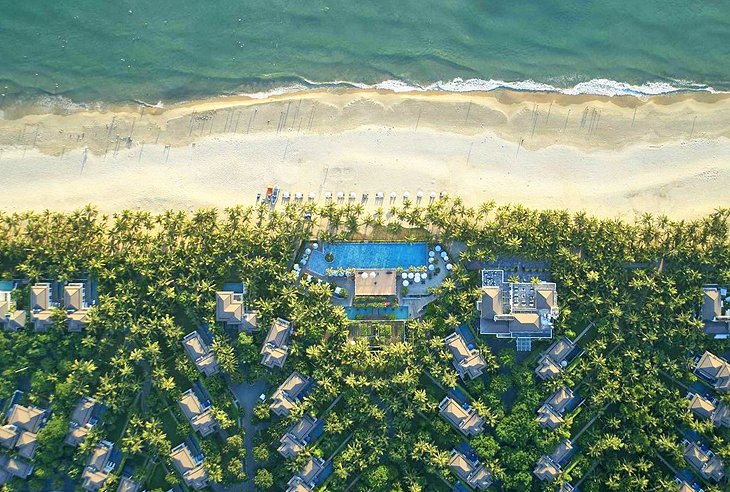 Da Nang is a coastal city in central Vietnam and was the country's main port during the long period of French Colonial rule. It's a popular resort for Vietnamese people and international visitors and offers delicious food and almost 92 kilometers of beaches. The southern beaches are now filled with luxury, 5-star resorts, the most in any part of Vietnam.
The best beach in Da Nang is the remote Xuan Thieu Beach in the north part of the city, with Thanh Binh Beach (facing Da Nang Bay) coming in a close second. They're the best because they're the least crowded, but they also lack facilities, so bring your own food.
The best place to stay is the large Premier Village Danang Resort - Managed by Accorhotels, a luxury residential development that also rents villas by the night. These are large, luxurious, ultra-modern accommodations in a full-service, country club-like resort complex with multiple dining options and other amenities.
Address: 99 Võ Nguyên Giáp, Khuê My, Ngu Hành Son, Ðà Nang 55000
Accommodation: Premier Village Danang Resort - Managed by Accorhotels
4. Four Seasons Resort The Nam Hai, Hoi An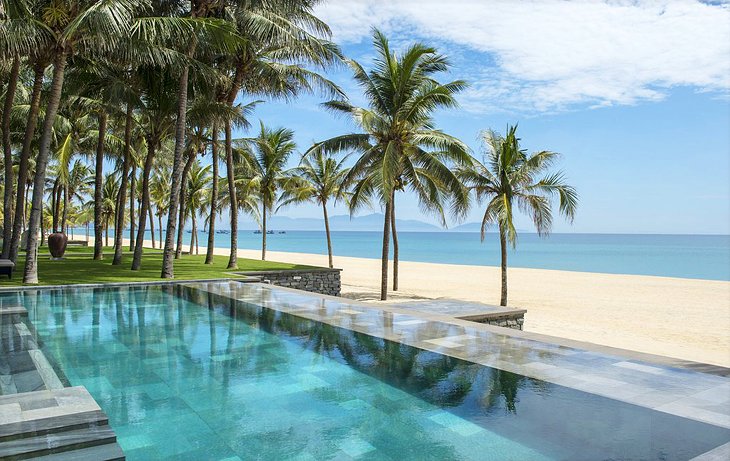 This ultra-luxury beach resort is midway between the cities of Da Nang and Hoi An and is the best place to stay in the region. It's definitely one of the best south Vietnam beaches. The Four Seasons Resort The Nam Hai, Hoi An is an all-villa, 5-star beach resort, which opened in 2016, bringing the luxury hotel brand's premium experience to Vietnam (the resort is their first property in Vietnam).
Aside from the great service, luxurious accommodations, and delicious food, the Nam Hai offers some cool, local experiences, like fishing in traditional basket boats with fishermen from the nearby village of Phuoc Hai. The Four Seasons has a wellness-focused spa (which seems to float above a lotus pond) guided by a Zen master, who teaches not only wellness but compassion as well.
The Four Seasons is truly one of the best resorts in Vietnam for couples, especially if you book a villa in their exclusive club-level-like Private Retreats section. Accommodations here are all beachfront villas with their own private pools and butlers to handle your every request and need.
Address: Block Ha My Dong B, Ðien Bàn
Accommodation: Four Seasons Resort The Nam Hai, Hoi An
5. Hyatt Regency Danang Resort & Spa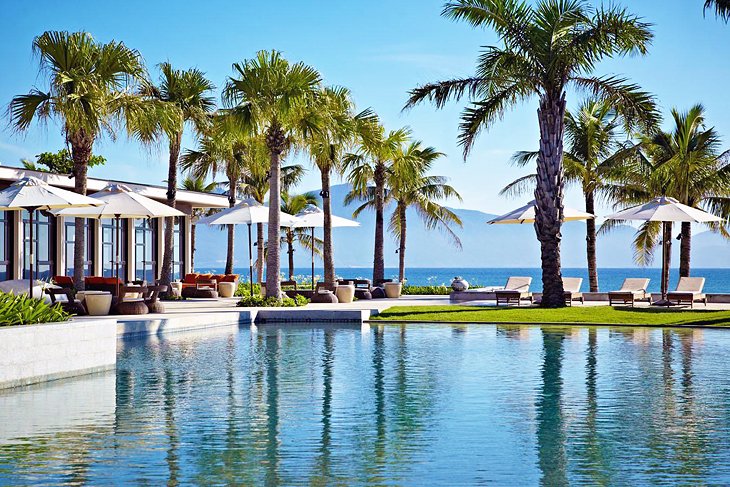 This mega-resort is one of the biggest in Da Nang and is a great beach destination for families. The family resort is right on a white, sandy beach and offers a wide array of entertainment and activities for kids and families, all on-site.
Another reason the Hyatt is a great beach resort for families is the variety of accommodation types and sizes. There are regular hotel rooms, suites, one- to three-bedroom residences, and even three-bedroom villas; many can easily accommodate large families or groups, and all have sea views.
There are five different pools to enjoy, and the main, lagoon-style pool has a waterslide. The resort has the hotel company's Camp Hyatt all-day kids' program (it runs from 9am to 8pm), along with babysitting services available at all hours. They even offer swimming lessons for children. You can also enjoy outdoor yoga, rock climbing, and the resort's tennis courts.
Guests have three restaurants, a bakery/coffee shop, and a deli to choose from, along with poolside and beach waiter service.
Address: 5 Truong Sa St, Danang, Ðà Nang 550000
Accommodation: Hyatt Regency Danang Resort & Spa
6. Six Senses Con Dao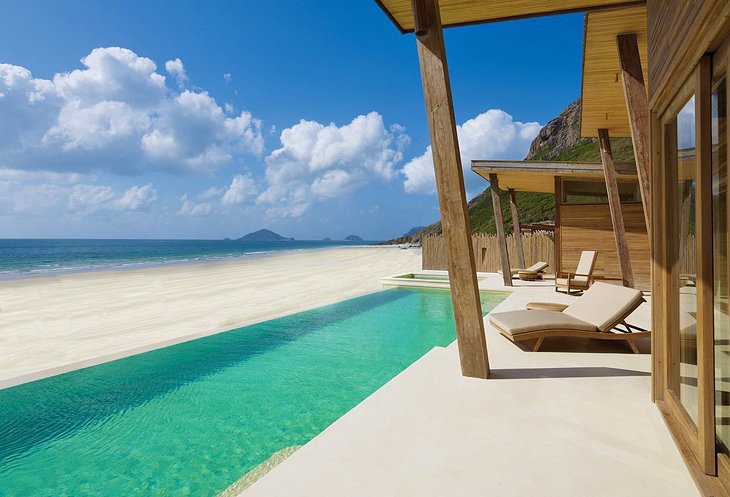 This remote, eco-friendly luxury beach resort is on its own island, about a 40-minute flight from Ho Chi Minh City. Great for both couples and families, the Six Senses Con Dao sits on a mile-long stretch of beautiful beach and you (and the other resort guests) pretty much have the whole island to yourself.
The accommodations are 50 luxury villas, filled with traditional design elements and every modern luxury amenity. Each has its own private infinity pool, and some are directly in front of the ocean, while others are set back on the beach. Some of the villas have one bedroom, and some have two, accommodating up to four people in each unit.
Guests at the Six Senses have an opportunity to experience unique activities, like diving and snorkeling in the coral reefs or witnessing the hatching of sea turtles (May through October) with the resort's resident marine biologist.
Address: Dat Doc Beach, Con Dao Dist, Côn Ðao, Bà Ria - Vung Tàu 74000
Accommodation: Six Senses Con Dao
7. Six Senses Ninh Van Bay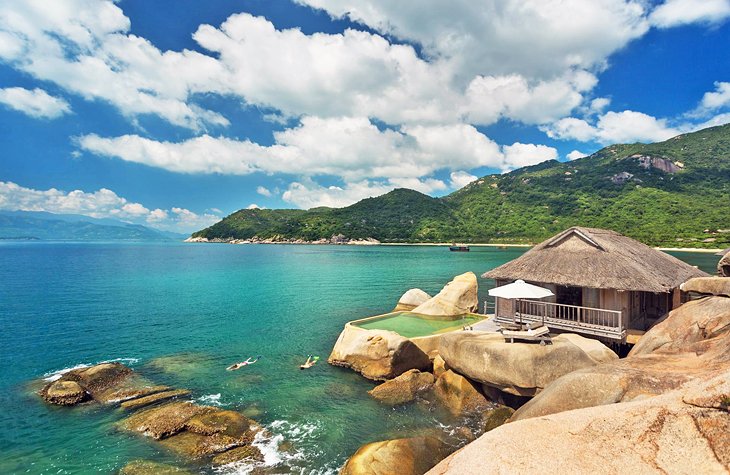 Another Six Senses, 5-star, ultra-luxury resort in Vietnam, this one is also quite remote, offering a lot of privacy. The Six Senses Ninh Van Bay isn't quite on an island, but it is on its own peninsula, jutting out into the bay and surrounded on three sides by water. The beach resort is an easy 20-minute boat ride across the bay from Nha Trang.
The resort is small, only 58 villas, but this allows the caring staff to give personal attention to each guest. The resort focuses on making each stay a very personal experience, whether you're a couple here for romance or a family here for fun. Each villa is like a luxury home, with beautiful modern design and high quality materials and furniture. They each also have their own infinity pool. Food is a big part of the experience, with both a wellness spa menu and a full, fine-dining restaurant with an emphasis on fresh, local seafood.
The resort area is also home to some world-class diving, with pristine coral reefs surrounding the coastline.
Address: Ninh Vân, Ninh Hòa, Khanh Hoa Province
Accommodation: Six Senses Ninh Van Bay
8. Ana Mandara Hue Beach Resort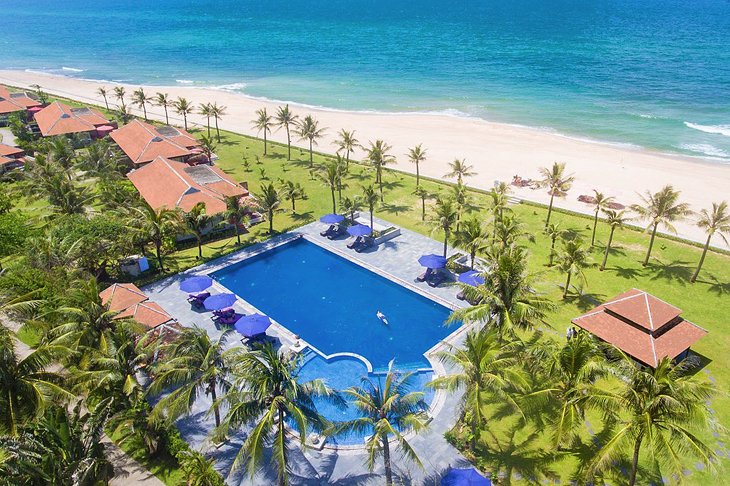 If you're seeking a beautiful, unspoiled, barely developed beach destination, Thuan An is just starting to appear on the radar of travelers in the know. The beach is in central Vietnam, and it's the closest beach to the city of Hue. Hue was the country's capital from 1802 to 1945 and before that, it was the Imperial capital of the ruling Nguyen Dynasty. Hue is an amazing place to explore for its history and archeology, and Thuan An beach is less than 20 minutes away.
The Ana Mandara Hue Beach Resort delivers a wonderful tropical resort experience with only 78 rooms and individual villas. Some have pool or beach views. It's a great beach resort for families, as they have two-story duplex units with two bedrooms that can accommodate up to six people.
There's a full-service spa, a buffet, a fine-dining restaurant, and even cooking classes with the resort's chef. The Ana Mandara has fun and helpful amenities, like loaner bikes so you can explore the area and a free shuttle into Hue so you can explore the city.
Address: Thuan An Town, Hai Tien, Phú Vang, Thuan An
Accommodation: Ana Mandara Hue Beach Resort
9. Pandanus Resort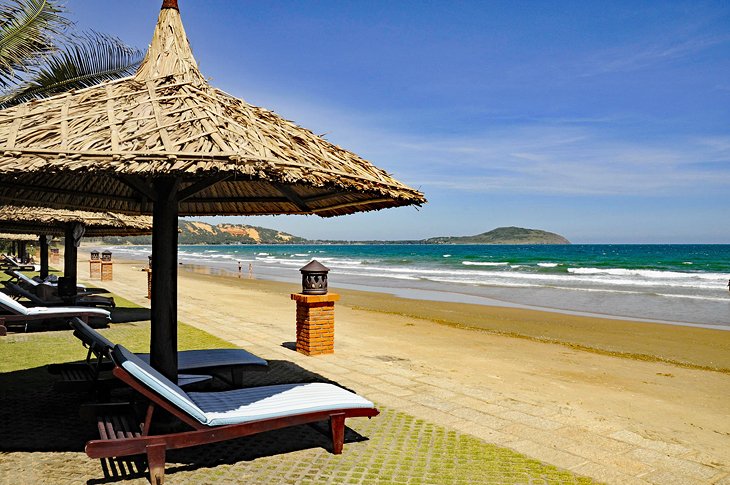 Another beach resort near Ho Chi Minh City, the Pandanus Resort is set within a large tropical garden, right on the sand in the town of Mui Ne. There's a large, private beach area and a beautiful lagoon swimming pool with its own tiny palm-tree-lined island in the center. The hotel also has a lot of gardens and green space to explore. The resort has several dining options and a wide range of accommodations, from budget rooms with no view to lavish villas on the sand and everything in between.
Mui Ne is a beautiful beach town beside the South China Sea in the southeastern part of the country. The beaches are tree-lined and quite windy, making it a popular spot for sports like sailing, windsurfing, and kitesurfing. It's about four hours from Saigon.
Address: So 3 Ðuong Nguyen Huu Tho, Mui Né, Thành pho Phan Thiet, Bình Thuan 77118
Accommodation: Pandanus Resort
10. Saigon Halong Hotel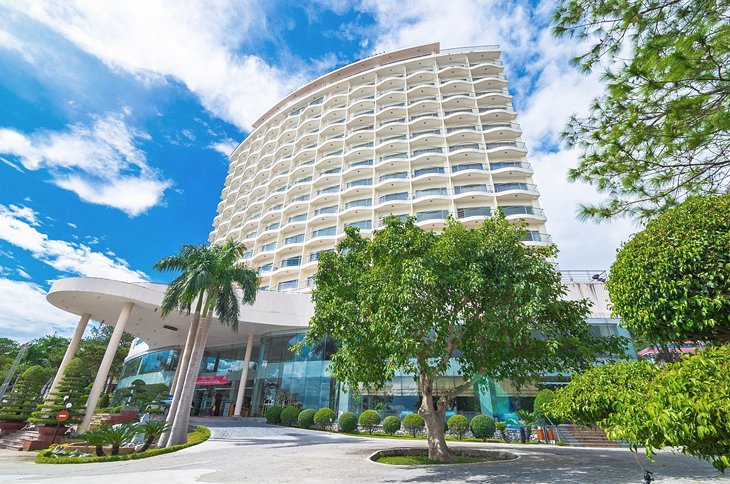 If you're looking for the best beach resorts near Hanoi, there are a few options. The closest is the Saigon Halong Hotel in Bai Chay in Quang Ninh Province. This beach destination is about 2.5 hours northeast of Hanoi. It's a large man-made beach and can be crowded on summer weekends and holidays due to its proximity to the city. It's still a better option than the nearby Tuan Chau, as that popular tourist beach is usually always crowded because it faces the magnificent rock formations at Ha Long Bay. In either case, go early in the morning or stay late into the afternoon to avoid the big crowds.
The Saigon Halong Hotel is about a block from Bai Chay beach and offers a nice array of luxury features and amenities for a mid-range price.
Address: 168 duong Ha Long, Bãi Cháy, Thành pho Ha Long, Quang Ninh 200000
Accommodation: Saigon Halong Hotel
11. Leman Cap Resort & Spa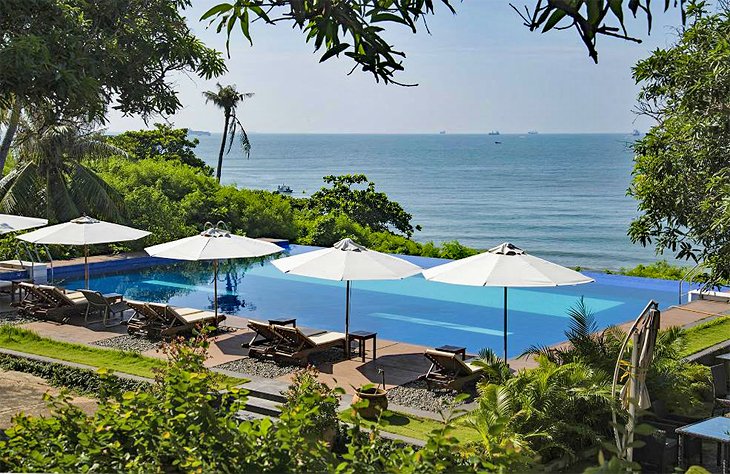 There are many good beach resorts near Ho Chi Minh City (still referred to as Saigon by locals); the closest are those in Vung Tau. The resort town retains its French colonial influence (it used to be called Cap Saint-Jacques) and has a long waterfront promenade filled with cafés, hotels, and shops. The beach here is organized into sections and beach clubs, and they have umbrellas and sun loungers for rent. There's also a lot of water sports to enjoy.
Skip the larger hotels (some are so big they host conventions) and relax at the Leman Cap Resort & Spa. This beachfront spa resort has a very French vibe, especially in the architecture and food. The rooms, suites, and villas at the Leman Cap overlook Dua Beach. There's a large infinity pool with ocean views and a peaceful spa offering a range of beauty treatments and massages.
Address: 60 Ha Long, Phuong 2, Thành pho Vung Tau, Bà Ria - Vung Tàu
Accommodation: Leman Cap Resort & Spa
More Related Articles on PlanetWare.com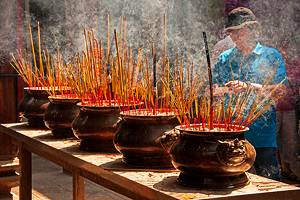 Exploring Vietnam: If you'd like to see more of Vietnam but aren't sure where to go, have a read through our list of Best Places to Visit in Vietnam. Two of the most visited destinations are Ho Chi Minh City and Hanoi, both great places for visitors looking to experience some culture and learn about the history of the country.