14 Top-Rated Tourist Attractions in St. Vincent and the Grenadines
Author Karen Hastings spent months island-hopping around St. Vincent and the Grenadines reviewing resorts, snorkeling, and relaxing on the powdery beaches.
A haven for boaters, St. Vincent and the Grenadines flaunt some of the most gorgeous scenery in the Caribbean. This string of 36 emerald volcanic islands stretches south towards Grenada, with plenty of white-sand beaches and palm-lined bays, where mega yachts bob beside sailboats.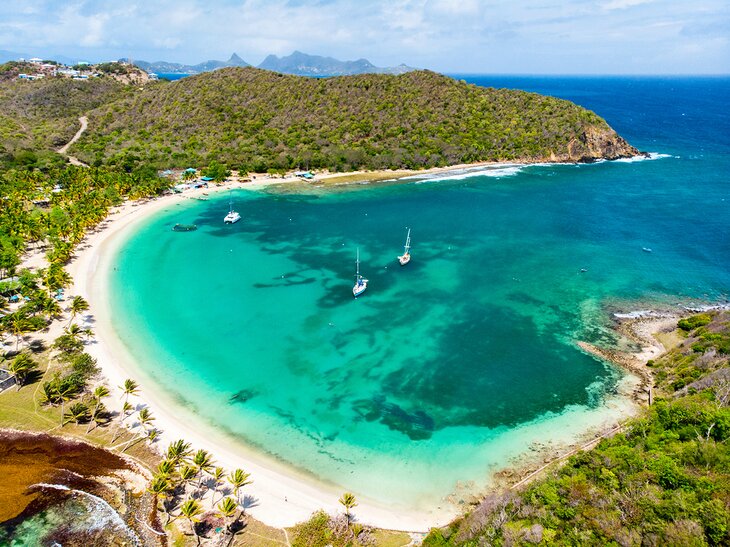 Private islands abound here, many with posh resorts. Diving is excellent, and coral reefs fringe many of the beaches, with superb snorkeling a short splash from shore. Discerning island lovers drift to these peaceful and unpretentious islands for classic Caribbean scenery and natural attractions, free from the throngs of tourists and cruise ship crowds found in busier ports.
The island of St. Vincent is home to the capital of Kingstown, with cobbled streets and colonial buildings, while Union Island is the southern gateway to the Grenadines.
Scattered like jewels in the surrounding seas are the green islets of Bequia, Mustique, Mayreau, Canouan, Palm Island, and Petit St. Vincent. Divers, snorkelers, boaters, and beachcombers love the picture-perfect Tobago Cays, part of a marine park ringed with coral reefs.
Find the best places to visit with our list of the top tourist attractions in St. Vincent and the Grenadines.
1. Tobago Cays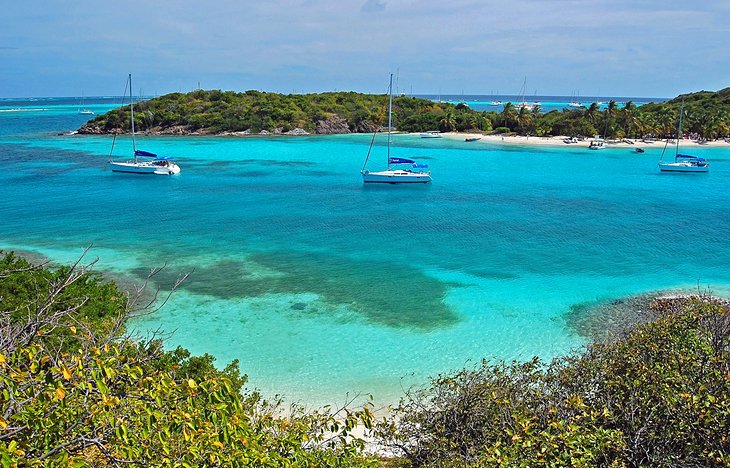 In the southern Grenadines, the Tobago Cays encompass five small, uninhabited islands that are now the key feature of the Tobago Cays Marine Park. Protected by reefs, the beaches offer calm clear waters for swimming and snorkeling, and the surrounding coral gardens are rich in marine life.
Snorkelers and divers can spot sea turtles, as well as stingrays, barracuda, and shoals of reef fish.
Day trips to the Tobago Cays are one of the top things to do in St. Vincent & the Grenadines, and many boaters anchor here to frolic in the crystal-clear waters and bask on the beaches.
2. St. Vincent Botanical Gardens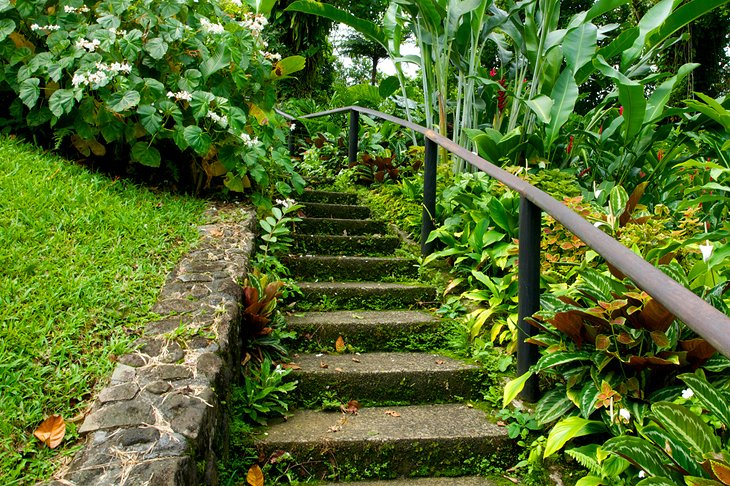 Established in 1765, the delightful St. Vincent Botanical Gardens are the oldest gardens in the West Indies.
The gardens encompass 20 acres of indigenous and exotic tropical plants and trees, such as hibiscus, cinnamon, nutmeg, mahogany, palms, and a breadfruit tree reputedly grown from a seedling brought to the island by Captain Bligh.
Bird lovers can see the endemic St. Vincent parrot in a little aviary on the grounds. Hire a guide here at the entrance for a small fee to truly get the most out of these beautiful gardens.
If you're traveling as a family, be sure to bring the kids along. This is a perfect place to visit when you're in need of a break from picking sand from their bathing suits.
Accommodation: Where to Stay in St. Vincent
3. Fort Charlotte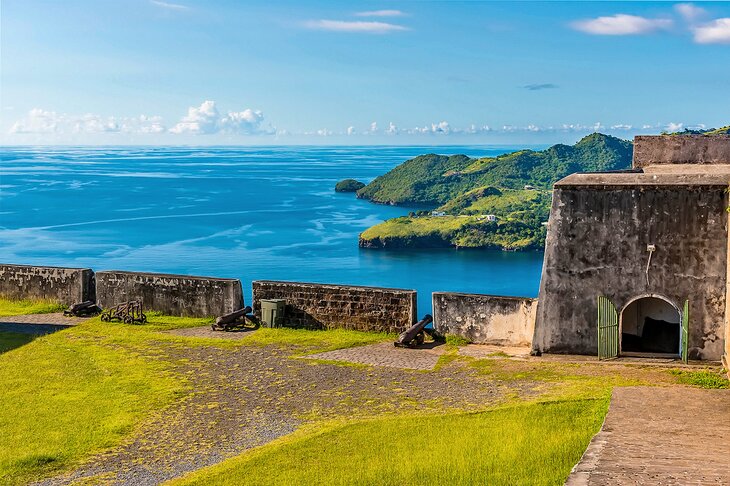 It's easy to see why Fort Charlotte is one of the most popular points of interest in St. Vincent. Set upon a hill near Edinboro, this historic structure was built between the late 1700s and early 1800s. It boasts exceptional views of Kingstown, Mt. St. Andrew, and the Grenadines.
Built to protect the area from land attacks, the fort once housed barracks that could hold 600 people and over 30 pieces of artillery. Today, you'll find a few cannons on the grounds, as well as stone walls, murals, and the barracks. We'd suggest hiring the services of a local guide, so you can enjoy a proper tour.
Be warned, it's a bit of a steep walk to reach the fort—we're talking about 40 minutes of an uphill trek. If you aren't up for the hike, hop on a bus to Edinboro, which will cut the walk to about 10 minutes.
Address: 5Q55+65C, Clare Valley, Kingstown, St. Vincent
4. La Soufrière Volcano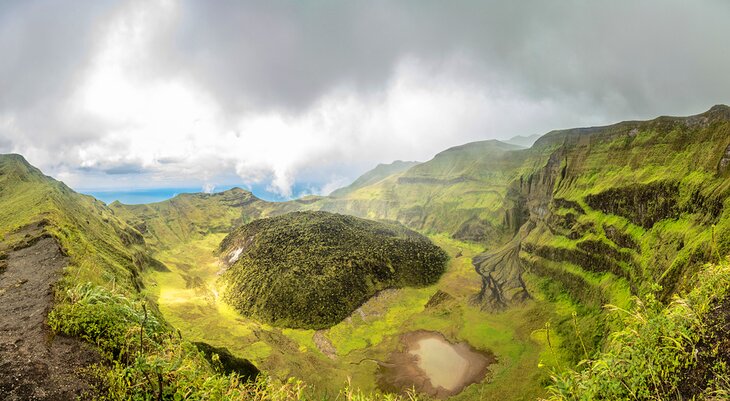 One of the most popular things to do on the island of St. Vincent is hike to the crater of La Soufrière volcano (not to be confused with La Grande Soufrière on Guadeloupe).
Rising 1,234 meters above sea level, La Soufriere is St. Vincent's highest peak. It's still active, with the last eruption taking place in April of 2021.
A popular way to hike to the summit is on the guided La Soufrière Volcano hike. Along the way, you'll learn about the uniquely adapted plants and animals, and see rainforest, cloud forest, and spectacular views of the surrounding countryside. Once at the top, you'll also have a chance to explore the crater.
To reach the crater, you can hike the leeward trail (around six to eight hours round trip) or the easier and more popular windward trail (three to four hours round trip).
Beware: The trails are rocky and rough since the most recent eruptions, and this hike isn't for the novice walker. Wear appropriate footwear.
5. Bequia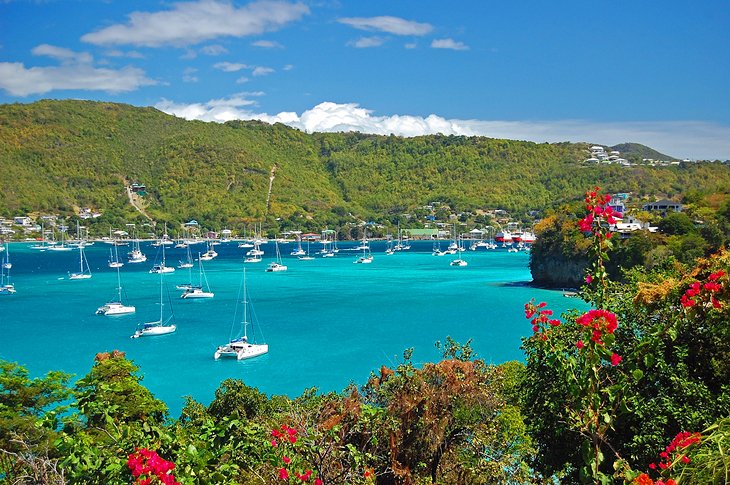 The second largest of the Grenadines, charming Bequia (pronounced "Beck-way") is a popular yachting destination. Lush hillsides dotted with bougainvillea tumble to beaches and boat-filled bays. The island is also known for being safe and friendly.
Popular places to visit on Bequia include Port Elizabeth on Admiralty Bay, the island's main commercial center. A walkway runs along the waterfront on the south side of town, passing restaurants and quaint little shops. Stop by the Bequia Maritime Museum to learn a little about the island's history.
Beaches on Bequia: At the south end of Port Elizabeth, a trail leads over a small rise to pretty Princess Margaret Beach. Separated from this beach by a rocky outcrop, Lower Bay is another stretch of golden sand with great snorkeling.
Another popular thing to do in Bequia is a Firefly Plantation tour. Here, you can stroll around the lush grounds sampling some of the tropical fruits plucked fresh from the trees, including guava, coconut, breadfruit, bananas, and mangos. You can also crush sugar cane to make your own juice, and see the ruins of a 280-year-old sugar mill.
Accommodation: Where to Stay in St Vincent and the Grenadines
6. Salt Whistle Bay, Mayreau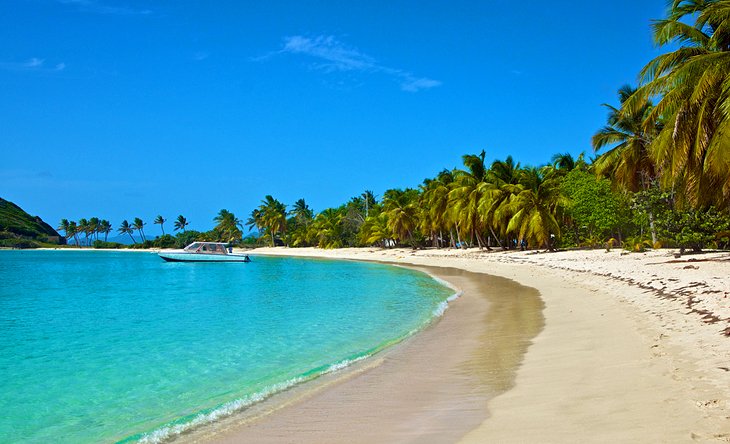 Accessible only by boat, Mayreau is a tiny island of only 2.5 square kilometers with one of the Caribbean's prettiest bays, Salt Whistle Bay.
The bay is a popular spot for yachts, and its palm-fringed arc of white-sand beach is lovely for sunbathing. A few local vendors sell souvenirs and snacks along the shore.
The island's only road leads uphill from the beach to a small village with spectacular views of the Tobago Cays. Most visitors arrive at the dock on Saline Bay. A serene spot, this is a particularly romantic place to visit for couples.
7. Canouan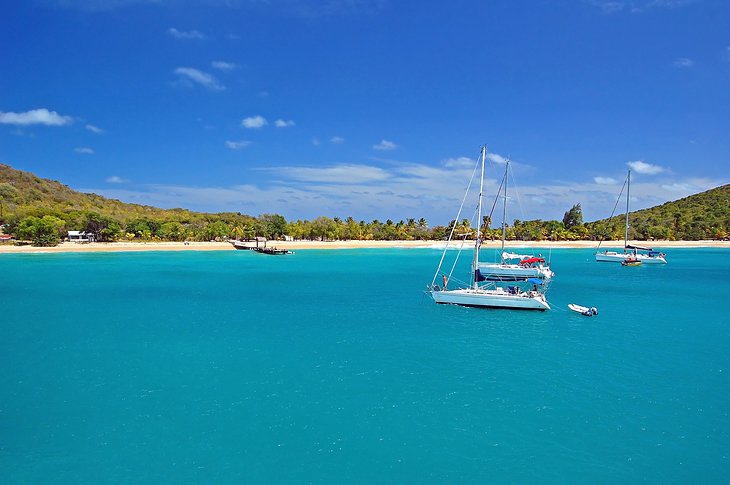 If you're wondering where the best St. Vincent and the Grenadines beaches are, you'll find many of them on Canouan.
About 40 kilometers south of St. Vincent, this small island offers dazzling white-sand beaches and excellent snorkeling, thanks to a barrier reef that protects the Atlantic side of the island.
Most visitors to the island stay at one of its two exclusive resorts, the Mandarin Oriental, Canouan and Canouan Estate Resort & Villas, which stretch along the island's northern half, overlooking a highly-acclaimed golf course.
If you don't want to stay at one of these pricey resorts, you could always charter a yacht, anchor offshore, and spend a day frolicking on the ravishing beaches.
8. Mustique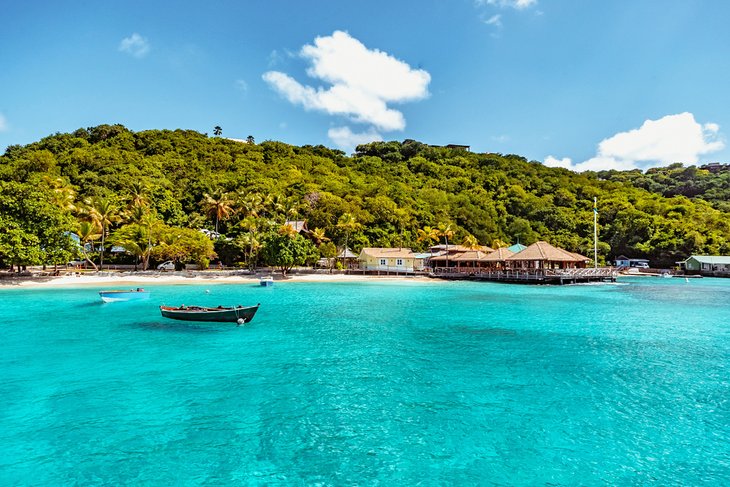 Exclusive Mustique is a playground for celebrities, rock stars, and the uber-rich. With its own airport and general store, this five-kilometer-long private island is home to posh private villas and the only luxury hotel: The Cotton House.
Mick Jagger, Tommy Hilfiger, and Princess Margaret are among the famous visitors, and some celebrities still own villas on this little slice of paradise.
Coral reefs beckon just offshore, and white-sand beaches ring the island, providing excellent opportunities for swimming and snorkeling. Macaroni Beach is a favorite.
Other things to do on Mustique include diving, fishing, kayaking, tennis, and exploring the island on horseback.
9. Kingstown, St. Vincent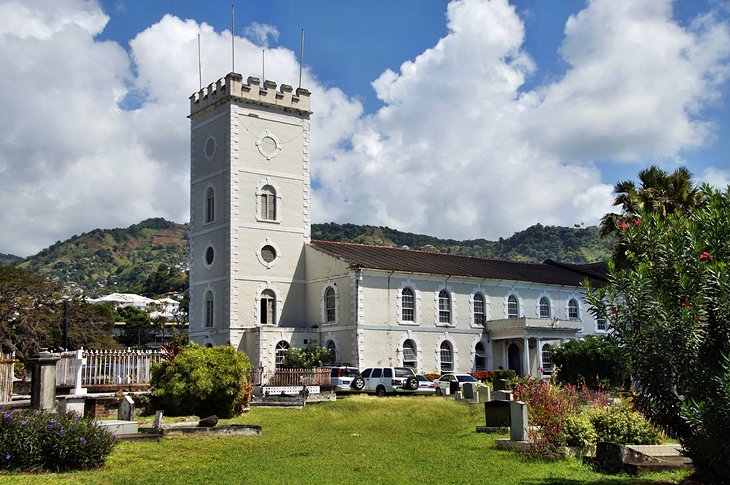 On St. Vincent (Saint Vincent) island, Kingstown is the capital and main commercial center of St. Vincent and the Grenadines. Most tourists regard it as a gateway to other islands, but the town exudes an old Caribbean charm, and you'll find a few tourist attractions worth visiting here.
Cobblestone streets and colonial buildings enhance the quaint downtown area, and if you're wondering what to do in Kingstown, St. Vincent, its handsome churches are among the highlights. Beautiful stained-glass windows adorn St. George's Cathedral, an 1820 Georgian-style structure, and the 1823 St. Mary's Catholic Cathedral features Gothic spires and Romanesque columns and arches.
Green thumbs should also make a point to stop by St. Vincent Botanical Gardens, the oldest botanical gardens in the West Indies. Strolling around these palm-studded grounds for a few hours is a good option if you're looking for things to do in St. Vincent from a cruise ship.
For beautiful views over Kingstown and the surrounding islands, head to Fort Charlotte, high on a ridge north of the city.
If you're a nature lover, you can hike the popular Vermont Nature Trail, about 14 kilometers from Kingstown, and look for the endemic Saint Vincent parrot.
About a 20-minute drive north of Kingstown, a much-anticipated Beaches resort in St. Vincent is scheduled to open in the former Buccament Bay Resort.
Accommodation: Where to Stay in Kingstown
10. Montreal Estate Gardens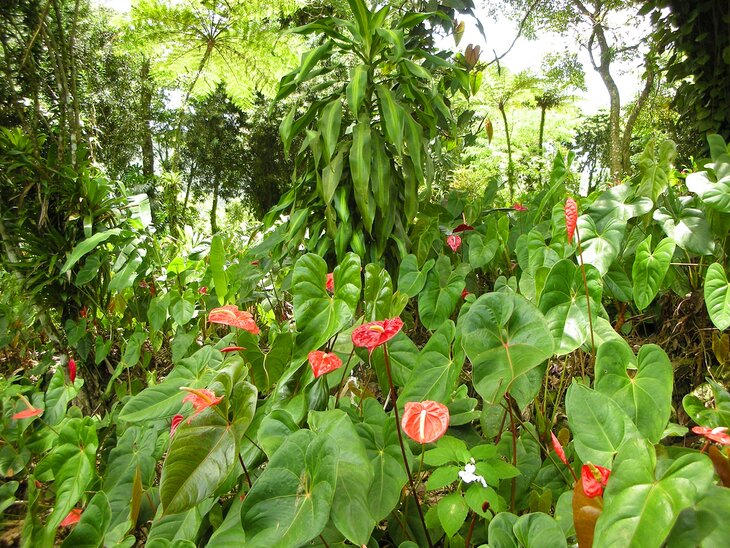 You'll be hard-pressed to find a more tranquil place to visit than the lush Montreal Gardens. Set at 1,500 feet above sea level, this elysian spot is sure to cure what ails you. And it will take about an hour to reach from Kingstown.
The grounds stretch across 7.5 acres and are spotted with formal rainforest and colorful gardens bursting with beauty and captivating aromas. A river runs through the multi-level estate, and well-maintained paths make it easy for visitors of all ages and abilities to explore.
In the distance, tourists are granted stunning vistas of banana plantations, the coast, dense rainforest, and the Grand Bonhomme mountain.
This attraction is smaller than the St. Vincent Botanical Gardens, but just as impressive. Pack a camera, as you'll want to immortalize the spectacular blooms.
Check to be sure they're open before you leave, as they have been known to close sporadically.
Address: Mesopotamia, St. Vincent
11. Petit St. Vincent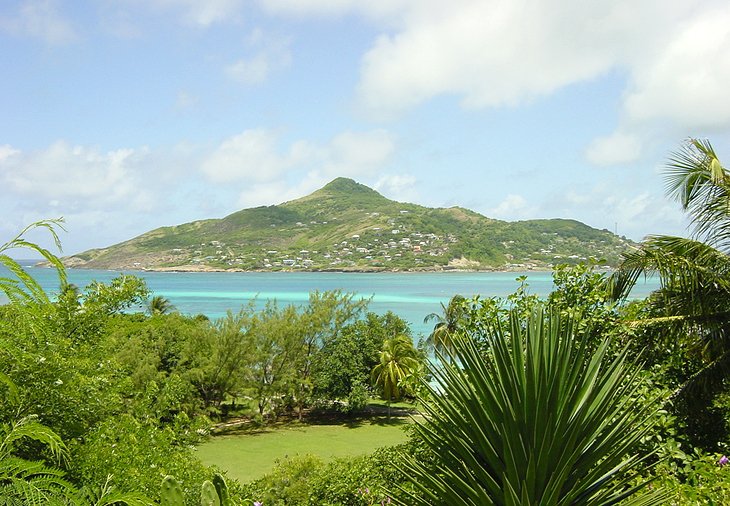 Petit St. Vincent is a tropical fantasy come true. Also known as PSV, this privately owned island is home to the boutique Petit St. Vincent Resort, where guests are ensconced in secluded ocean-view villas sprinkled around the hillsides and bays.
To preserve the island's tranquility, the villas have no phones and televisions. Instead, colored flags convey messages to the attentive staff.
The resort encompasses the entire island and belongs to the portfolio of Small Luxury Hotels of the World. It's also one of the top luxury all-inclusive resorts in the Caribbean, and a favorite honeymoon destination.
12. Palm Island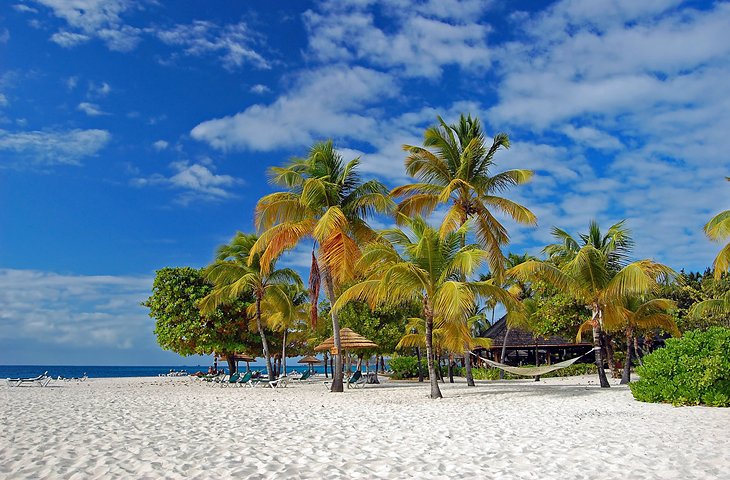 Palm Island is a little patch of paradise. Home to the Palm Island Resort & Spa, one of the best St. Vincent and the Grenadines beach resorts, as well as a sprinkling of holiday villas, the island is named for the abundant coconut palms planted by the resort's former owners.
Five white-sand beaches fringe the coast, with excellent snorkeling just offshore in translucent turquoise water. The island has a small airport and is also only a short boat ride from Union Island.
Besides snorkeling, favorite things to do here include paddleboarding, kayaking, sailing, biking around the island, feasting on fresh seafood in the resort's restaurants, and basking on the beautiful beaches.
13. Leeward Highway Scenic Drive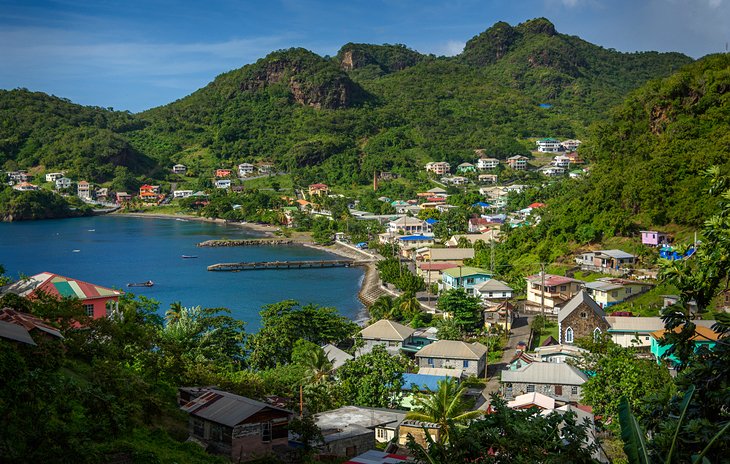 The Leeward Highway Scenic Drive is a rewarding way to do some sightseeing. Carving along cliff tops and scenic coastal stretches, this 40-kilometer road runs from Kingstown to Richmond Beach, along St. Vincent's sheltered west coast.
The road passes by local villages, black-sand beaches, coconut plantations, and some worthwhile tourist attractions. Along the way, Carib Rock features a carved face dating from AD 600.
Many travelers also stop by Barrouallie, a small fishing village with a Carib stone altar and petroglyphs. The tradition of hunting pilot whales is still in practice here.
The route ends near the black sands of Richmond Beach, a popular swimming area. In the distance, you can see La Soufrière, an active volcano and the island's highest peak.
From this stretch of coast, tours depart to the Falls of Baleine, an 18-meter waterfall on the northwestern tip of St. Vincent. Access to the falls is via boat or foot, as there are no roads to this area.
14. Union Island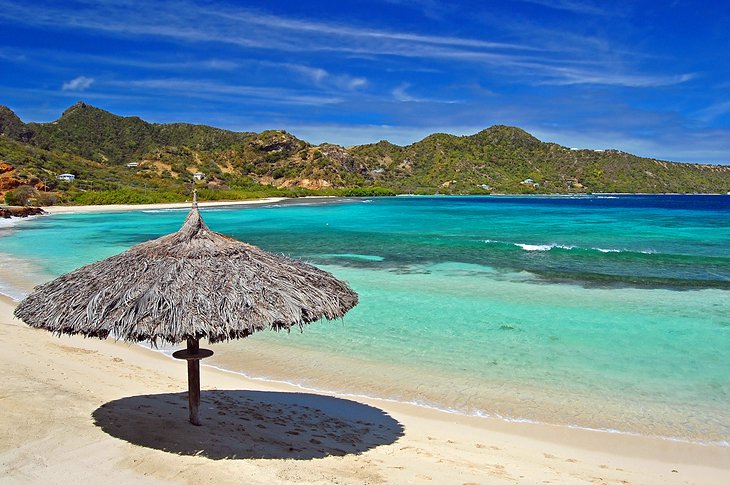 Capped by dramatic volcanic peaks, Union Island is the southern port of entry for St. Vincent and the Grenadines and a gateway for tours to the nearby islands. It's also a popular destination for kitesurfing.
The island has two main villages: Ashton and Clifton. Ashton is the launching point for hikes into the hills, while Clifton is home to most of the tourist facilities, with shops, restaurants, a marina, and airport. This is also the place to visit if you're coming to kitesurf or looking for a little nightlife.
The island's two best beaches lie on the north coast at Richmond Bay and Belmont Bay.
Accommodation: Where to Stay in Union Island
More Related Articles on PlanetWare.com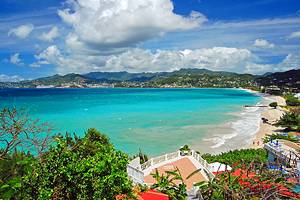 Caribbean Islands near St. Vincent and the Grenadines: From Union Island, you can catch a ferry to Carriacou, one of the top places to visit in Grenada. This idyllic destination is known as "the Spice Island" for its fragrant nutmeg, cinnamon, and other spices that grow in its fertile soil. Along with St. Lucia, farther north, these two destinations offer an authentic Caribbean feel and lush scenery. Both are also home to some of the best luxury all-inclusive resorts in the Caribbean.