Best Time to Visit the Seychelles
It's almost impossible to find a bad time to visit the Seychelles. With a phenomenal climate year-round (we're talking sunny, warm, tropical weather pretty much every day) and spectacular scenery, you'll be happy no matter when you go. That said, the best time to visit the Seychelles is during the months of April, May, October, and November.
The region's crystal-clear turquoise waters; white, sugar-soft sand; and verdant rainforests are the stuff of paradise at all times of the year. Plus, you've got secluded private islands, a thriving turtle population, and the most amazing marine life to witness up close.
Depending on what you're hoping to do with your time in this brilliant archipelago (i.e. lounging, scuba diving, beach hopping, fishing, or hiking) certain months may be more optimal than others. That's why we suggest visiting in April, May, October, and November. These months are ideal for water activities, cheaper rates, and less crowds.
Whether you're hoping for a more culturally vibrant vacation on the main island of Mahé or hope to enjoy a low-key, laid-back existence on the luxurious Félicité, you're guaranteed the most optimal weather experience during the spring and fall.
Best Month to Visit the Seychelles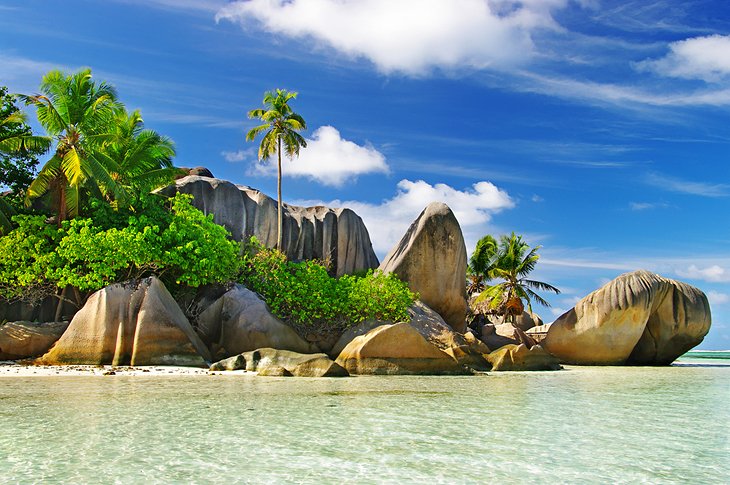 While many destinations are best visited during their high season (think summer for UK beaches and late winter for the Caribbean), the Seychelles can be better appreciated during their shoulder season (a.k.a. the sweet spot that exists between peak and off-peak times).
That said, it's hard to pick just one month to best visit this utopia. Instead, we suggest jetting your way to these distant shores between April and late May and October through November.
Average minimum and maximum temperatures for Seychelles in °C
J
F
M
A
M
J
J
A
S
O
N
D

30

24

30

25

31

25

31

25

31

25

29

25

28

24

28

24

29

24

30

24

30

24

30

24

PlanetWare.com
Average monthly precipitation totals for Seychelles in mm.

379

262

168

178

125

64

81

97

122

206

216

281
Average minimum and maximum temperatures for Seychelles in °F
J
F
M
A
M
J
J
A
S
O
N
D

85

75

86

76

87

76

88

77

86

77

84

76

82

75

83

75

84

75

85

75

86

75

86

75

PlanetWare.com
Average monthly precipitation totals for Seychelles in inches.

15

10

6.6

7.0

4.9

2.5

3.2

3.8

4.8

8.1

8.5

11
No matter the season, the temperature in the Seychelles rarely dips below 23 degrees Celsius, with an average of around 27 degrees year-round. Talk about paradise! You can thank its proximity to the equator for this awesome climate.
During these months, travelers can get the best of everything the islands have to offer. The humidity that plagues this island nation (especially during December to April, where humidity often reaches 80 percent) disappears by April and won't rear its sweaty head again until the following December. The rains that hammer down during December through February also take a hiatus, which means you can leave your raincoat at home.
April through May and October through November leave guests with a fantastic opportunity to luxuriate in uncrowded hotels booked at much better rates. At the same time, tourists are still able to participate in all the activities (i.e. sunbathing, snorkeling, fishing, diving, surfing, and kayaking) they've come all this way to experience.
If you're looking for value, May is your best bet. Not only is the weather dry and lacking in humidity, but fewer tourists populate the luxuriously sandy shores during this month. Southeasterly winds bring a much-welcomed breeze to help cut the heat and humidity while offering optimal conditions for surfing, sailing, and windsurfing.
These same winds mean slightly choppy waters, but the warm, sunny weather remains, making this a perfect time to enjoy a less crowded beach vacation and a less stress-inducing price tag.
June is another spring superstar, also free from April's crowds. This month offers visitors only a few days of heavy monsoon rains and average temperatures between 27 and 29 degrees. The water is a balmy 27 degrees - perfect for swimming, snorkeling, and diving.
September also boasts good prices. This is the time when you'll find relatively dry weather and an average temperature of 27 degrees. Rains pick up towards the end of the month, so if you're traveling at this time, it's a good idea to pack a raincoat. September also sees cheaper hotel, restaurant, and attraction prices.
Best Season to Visit the Seychelles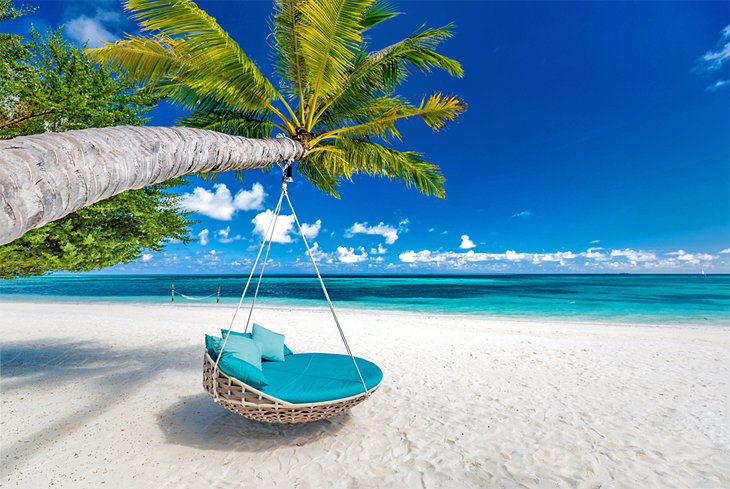 The best time of year to go to the Seychelles is during the spring and early fall. While most visit this idyllic archipelago during the summer months (between July and August) and in the winter holidays (through the New Year), the spring or early fall offer travelers less humidity, little rain, and fewer tourists to jostle for a perfect spot on the beach.
Another bonus: these times offer visitors the best value, with more reasonable rates on hotels, restaurants, and area attractions and experiences. Plus, you won't have as difficult a time finding a place to stay on one of the most popular islands (like La Digue, Praslin, and Mahé).
Spring: the seas are calmer, the weather is warm, and you'll experience that sweet spot between the northwesterly and southeasterly winds that blow hard on the region later in the year. Visitors tend to bombard the region towards the middle to end of April, during the Easter holidays, so if you aren't a fan of sharing the beach, opt for earlier or later in the season.
Cheapest Time to Go to the Seychelles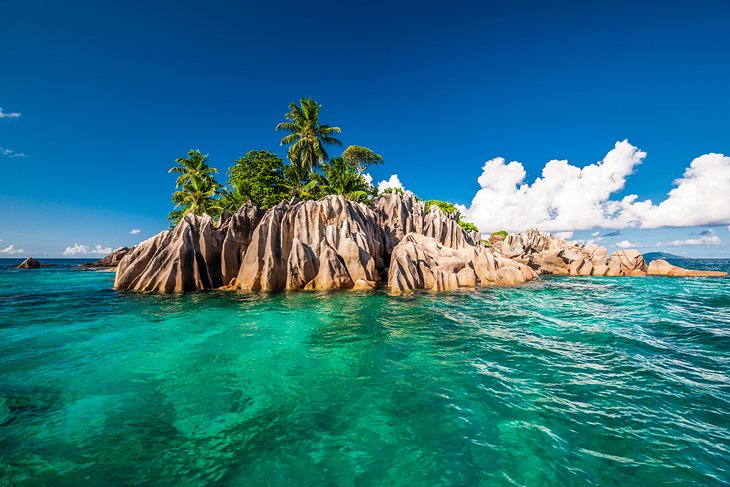 Visiting the Seychelles is a bucket-list item for most travelers. Its secluded location in a sublime section of the Indian Ocean isn't easy to get to. Plus, it's a heck of a long journey to get there. Couple that with its almost perfect year-round weather conditions; sparklingly clear turquoise waters; and pristine, photo-worthy beaches, and you're bound to expect an extravagant bill.
The best way to trim your expenses is by choosing the cheapest time to visit. Luckily for you, there are a couple of options to choose from, both of which offer amazing weather (of course), little rain, and few tourists to rub elbows with on the jungle hiking paths.
The cheapest time to go to the Seychelles is during the months of May and September. Its during these times that you'll find deals on accommodations. Whether you're hoping to stay in an isolated beach hut or lap up the luxury of a 5-star resort on a private isle (we're looking at you, Six Senses Zil Payson), these months can put your dream hotel within reach. And let's face it, there are a lot of dreamy Seychelles resorts.
In addition to dramatic savings on rooms, these times also offer great prices on fine (and regular) dining, as well as boat tours and activities.
Best Time to Visit the Seychelles for a Honeymoon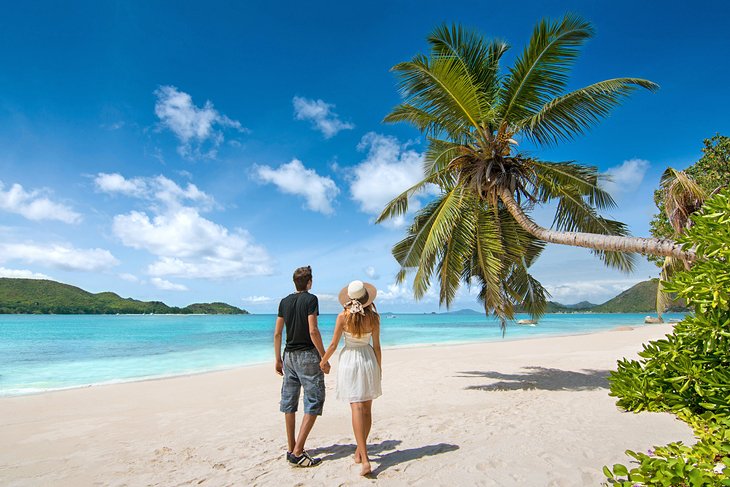 Is there ever a bad time to take a honeymoon? Even if the temperature dips, you're sure to be warmed by the love that comes with newly married bliss. That said, who wants to be enjoying their first romantic beach dinner alongside five other couples?
If you're hoping to enjoy great weather without the crowds, the best time to Honeymoon in the Seychelles is during the month of May. You won't have to be embarrassed by sweat soaking through your newly purchased swimsuit coverup, nor will you have to stress about over-extending your already overly exercised bank account. Weddings cost a lot, don't they!
May presents lovebirds with more bearable heat and low humidity. Another bonus: there's little chance of rain during this month, and if you do get mildly drenched, it will only last for a few brief minutes. The storms here are fast and fierce. As many say, "if you don't like the weather, wait 10 minutes."
It's easier to find your dream hotel during this month, and you'll be able to do all the activities (like snorkeling, hiking, diving, fishing, and sailing) that you'd hoped you could do while still holding hands in paradise.
Praslin Island has been voted as the best island in the Seychelles for a honeymoon, so we'd suggest starting your accommodations search here. That said, popular Mahé (the main island) and beautiful La Digue come in a close second and third.
If you're looking for something more romantic and remote, check out smaller isles like Silhouette Island, which only boasts one, magnificent resort. In the case of Silhouette, it's the Hilton Seychelles Labriz Resort & Spa. Trust us, you can't go wrong with a stay here at any time of year.
If May doesn't work for your plans, April, June, September, and October are other good options, offering good weather. You may experience higher rates and bump into a few more romantic couples (and families) on the sandy shores, but you'll likely be so blinded by your new spouse's beauty that you won't pay them any attention.
Worst Time to Go to the Seychelles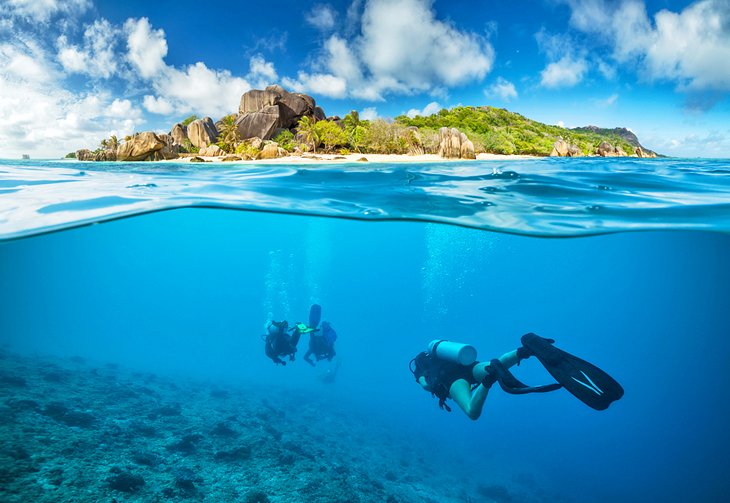 Let's be honest, there's never really a bad time to go to the Seychelles. This luxurious archipelago is beautiful at all times of the year. The average temperature is 27 degrees Celsius. And even during rainy season, the heavy bursts will give way to sunshine at some point. No wonder they call this area paradise.
If you're looking for optimal weather that won't leave you sticking to your lawn chair, though, steer clear of the months of December through April. They're hot enough to cause you to sweat into your coconut water. Plus, they welcome the largest amount of tropical rainfall, especially during January. Even November can experience an extreme amount of heat and humidity due to the northwesterly winds from the monsoons.
If you're hoping to keep some padding in your pocketbook, avoid traveling to the Seychelles during February. This is the most expensive time to visit. Following that are two other high tourist seasons - December through January (Christmas and New Year's) and July through August (the summer).
A visit to this nirvana during these times will see infinitely higher numbers of tourists fighting for beach spots, hotel rooms, and activities. These months are also the priciest, so if you're aiming for more value during your trip, head to the Seychelles during its cheapest month - May.
Weather in the Seychelles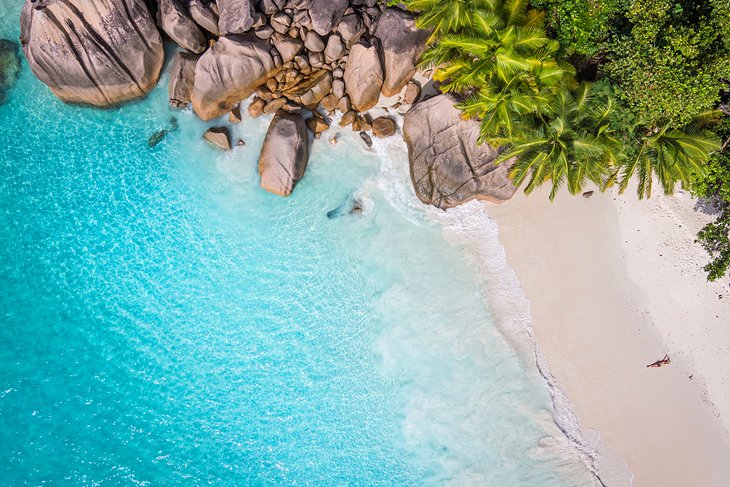 As we've stated multiple times, the weather in the Seychelles is the stuff of dreams. That and the incredibly pristine, gorgeous, and unique landscapes make it a bucket-list-worthy vacation. If you're looking for a place to visit with impeccable weather, you'll find it in the Seychelles.
This area lies outside of the cyclonic zone, meaning you won't have to worry about cyclones here. Plus, with an average temperature hovering around 27 degrees, it's hard to beat the heat!
Speaking of heat, the humidity that happens during the months of November to April (during the hot, rainy season) can be a bit much to take at times. You can blame the northwesterly monsoons for that.
The months of May through September are more bearable in terms of temperature, and they lack the humidity found at other times. The southeasterly monsoon winds are responsible for the dry, strong winds, and slightly rougher seas that can be found during these months. If you're hoping for great surf, you'll find it between May and September. Surf's up, dude!
December, which is uber popular due to the Christmas holidays, is warm, but often rainy. The good news: as with most rainstorms in this country, the downpours are generally short-lived and bring a reward of immensely blue skies and calm seas.
Best Festivals in the Seychelles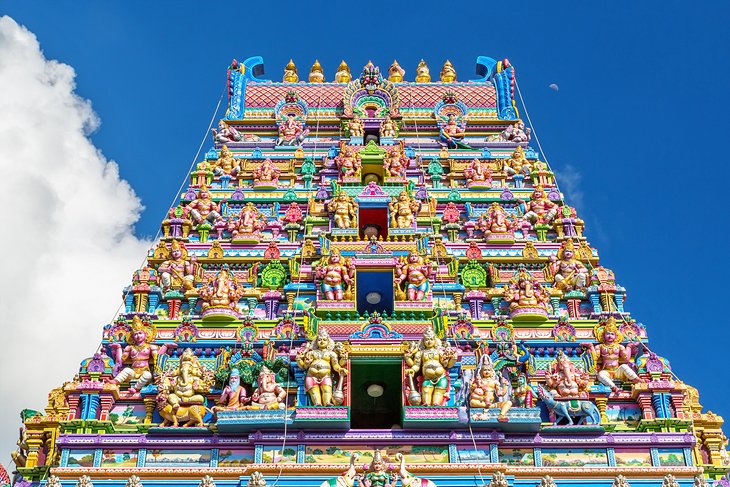 Looking for something more to do beyond lounging on the softest, whitest, most beautiful sand you'll ever touch? Hit one of the Seychelles' many annual festivals. From delicious food to traditional Creole music to a celebration of the immense beauty found under the sea, there's no lack of fun things to do in the Seychelles. Here are a few festivals you won't want to miss:
January: The Seychelles Sailing Cup - a great place to rub noses with the elite, you'll find yachts, catamarans, and traditional pirogues whipping into Praslin Island. Don't miss the deep-sea fishing competition.
February: Seychelles Eco-Friendly Marathon - marathon runners unite! Head to Mahé for the most beautiful race you'll ever run, through the region's most spectacular scenery.
March: International Deep-Sea Fishing Competition - anglers won't want to miss this event, hosted on Mahé.
May: Seychelles Arts Festival - art-lovers will appreciate the impressive works on display during this festival. And don't worry, you'll find plenty of tasty Creole dishes, music, and dance performances on hand.
FetAfrik - May 25th plays host to this important day celebrating the nation's African heritage.
August: Festival of the Assumption - La Digue plays host to this festival, which features a mass and procession. Many visitors travel here from surrounding islands to take place in the well-loved event.
October: Carnaval International de Victoria - you'll be hard-pressed to find a more colorful, fun, and joyous celebration. Expect live shows, concerts, a parade featuring amazing floats, and tasty Creole treats on offer at this Mahé-based event.
The Creole Festival, also known as Festival Kreol, this well-celebrated festival is the largest and most important in the country. Its goal is to promote and celebrate the Creole life and culture. It's celebrated across many of the islands, and you'll find multiple events on beaches, streets, and hotels, among other venues.
November: Seychelles Ocean Festival - clean your lens and jump in the warm ocean to capture the most spectacular photos of underwater life. In addition to numerous photography competitions, this annual festival boasts snorkeling and diving activities, hotel-based events, and presentations. The goal: to promote marine-based tourism and educate the world about the importance of the marine world to our environment, especially as it relates to the Seychelles.
Offshore Fishing Competition: anglers gather around La Digue island to compete in 15 events during this competition.
More Related Articles on PlanetWare.com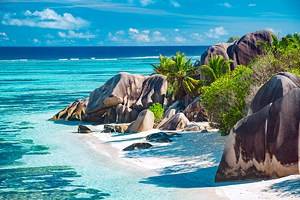 Get to Know the Seychelles: Now that you know when to go to the Seychelles, it's time to decide where to stay during your vacation. Check out this list of the best resorts in the Seychelles for help. Then, head for the surf at one of these top beaches in the Seychelles. If you've still got energy after soaking up the sun's hot rays, visit one of these top-rated tourist attractions. Don't forget your sunblock.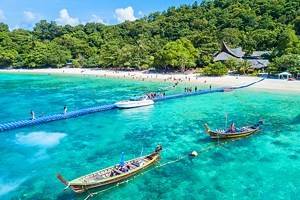 More Unmissable Beaches Worldwide: Who isn't a fan of beaches? The soft sand, calming sound of waves lapping (or crashing into) the shore, and spindly palm trees casting a waving shadow on the strand. Paradise! The Seychelles may have glorious, award-winning, beaches, but they aren't the only nation to boast impressive strands. Don't miss these top-rated beaches in Phuket, best beaches in the US, or top beaches in Bali. So many destinations, so little time!