Best Time to Visit Puerto Rico
The Caribbean archipelago of Puerto Rico has year-round balmy weather and makes a great vacation almost anytime of the year. Combined with the popular isles of Vieques and Culebra, this unincorporated US territory has much to offer year-round, from pristine beaches, thrilling caves, and bioluminescent bays to historic forts and a mountainous tropical rain forest. The best time to visit this enchanted island is in the spring and late fall to take in its many natural and historical attractions.
Although temperatures are in the mid to high 80s Fahrenheit, the most popular time (and high season) is in the winter and early spring, when the island experiences all around perfect weather. Puerto Rico doesn't have distinctive dry and wet seasons, but the winter months see less rain than the summer. Winter is also when folks from the colder climates flock to the island for its gorgeous blue waters, nature reserves, and vibrant Spanish culture.
The shoulder season, between the busy winter and the rainy summer seasons, is the most ideal time to be in Puerto Rico for good weather and deals. The holidays are over; snowbirds have left; and the weather is perfect, with highs in the mid-80s Fahrenheit and low humidity levels.
After sustaining severe damage from Hurricanes Maria and Irma in 2017, the island's tourism industry has mostly returned to normal, with hotels reopening and businesses welcoming travelers, especially in the charming capital city of San Juan and popular towns like Ponce and Rincon. Hurricane season runs from June to November.
To help you plan the best Puerto Rican vacation, we've gathered information on the best times to visit the island along with tips on when to go for festivals, outdoor adventure, and water activities.
Best Season to Visit Puerto Rico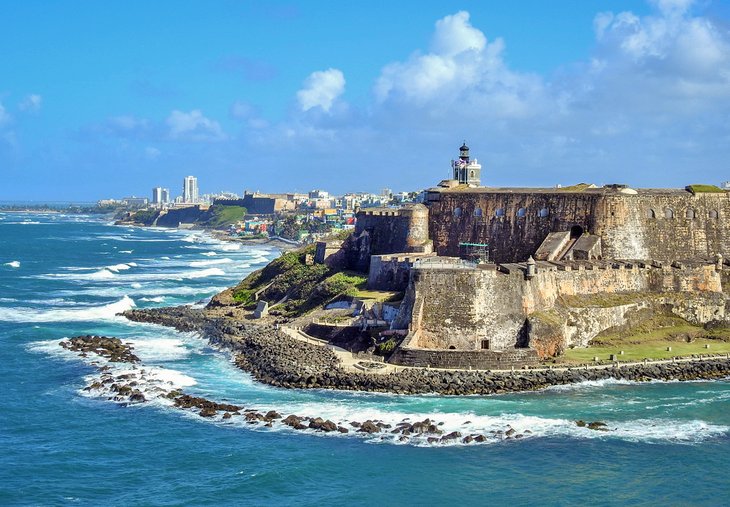 If you don't mind the crowds, the best season to visit Puerto Rico is the winter, during the driest part of the year. Although hotel prices and airfares are on the higher side during this peak season, you will enjoy lovely weather and sunny beaches if you come earlier in the season or after the holidays. Puerto Ricans don't typically go to the beach post Labor Day, so you will have your pick of sandy beaches along miles of coastline.
Average minimum and maximum temperatures for San Juan, PR in °C
J
F
M
A
M
J
J
A
S
O
N
D

28

22

28

22

28

22

29

23

30

24

31

25

31

25

31

25

31

25

31

24

29

23

28

22

PlanetWare.com
Average monthly precipitation totals for San Juan, PR in mm.

77

58

54

94

134

89

106

133

142

129

157

116
Average minimum and maximum temperatures for San Juan, PR in °F
J
F
M
A
M
J
J
A
S
O
N
D

82

71

83

71

83

72

85

73

86

75

88

77

87

77

88

77

88

77

88

76

85

74

83

72

PlanetWare.com
Average monthly precipitation totals for San Juan, PR in inches.

3.0

2.3

2.1

3.7

5.3

3.5

4.2

5.2

5.6

5.1

6.2

4.6
Great weather also means you can spend more time outdoors. Go ziplining and splash under waterfalls in El Yunque National Forest, get your heart pumping on a mountain bike ride along the Guanica State Forest Trail, and have a magical night in Vieques at Mosquito Bay's bioluminescent beach. Additionally, you can see migrating humpback whales off the west coast from January to March.
If you are visiting Puerto Rico during the winter peak season, plan your visit at least two months in advance and book a hotel away from Old San Juan and the Calle Marina cruise port for a more relaxing stay.
When visiting in January, you can join the locals in celebrating the Three Kings Festival and the San Sebastian Festival (Puerto Rico's version of Mardi Gras), with street parades featuring dance performances, live music, regional food, artworks, and a festive atmosphere.
Best Month to Visit Puerto Rico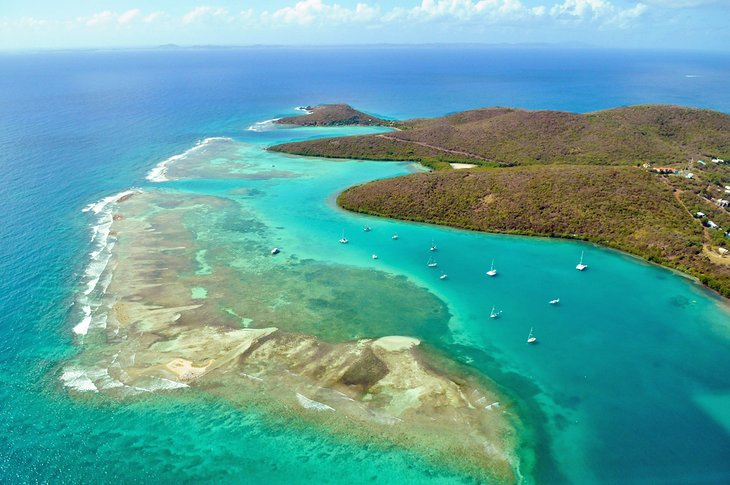 May is a perfect month to go to Puerto Rico, as the busy high season just ended in April, and the rainy and hurricane seasons haven't set in yet. Temperatures are in the 70s and 80s Fahrenheit, and travel costs are much lower around this time.
Spring is also the time when hotels offer discounted rates to attract visitors, and airfares are generally lower. You'll also find the biggest entertainment event in the Caribbean happening this month: the Puerto Rico Comic Con, a three-day show with exhibitors, games, and vendors held at the Puerto Rico Convention Center in San Juan.
Worst Time to Travel to Puerto Rico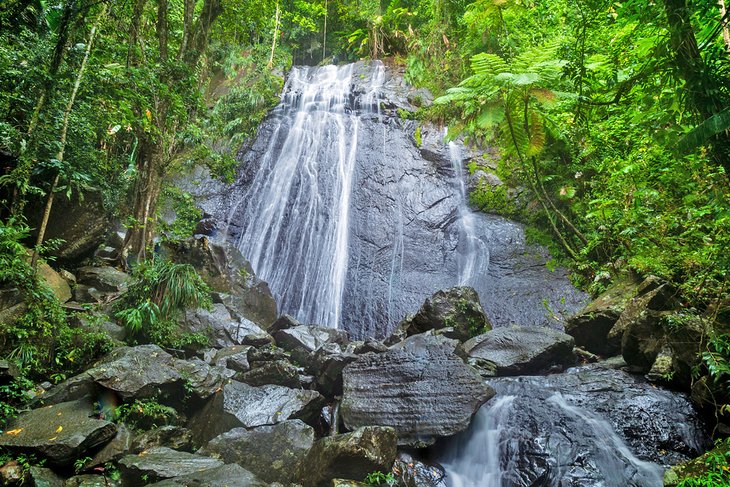 Summertime is when it rains the heaviest in Puerto Rico, with August being the rainiest month of the year. But it may just rain for 10 to 15 minutes in the afternoon and return to bright skies.
Summer also means heavy humidity and stiflingly hot weather, with temperatures in the high 80s (and in the 90s in the southern region). The beaches around this time are crowded, given that children are out of school and families hit the coast to cool down.
The unpredictable hurricane season also starts in June and runs until the end of November. Although you may get some good hotel and flight deals in the summer, you will have to contend with searing hot weather, rains, and the possibility of storms.
However, if you are visiting this time of the year, head to the waterfalls and caves for slightly cooler temperatures. Two popular waterfalls on the island are located in El Yunque National Forest: La Coca Falls and La Mina Falls. Cueva del Viento (the Wind Cavern) in the Guajataca State Forest and Cueva Ventana (Window Cave), both in the northwestern part of the island, are among some of the popular caves on the island.
Cheapest Time to Go to Puerto Rico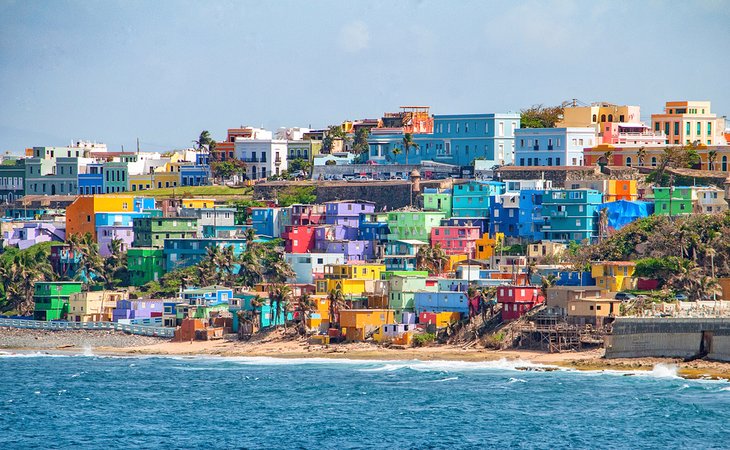 While the summer may not be the ideal time to visit, it certainly is the cheapest time to go to this popular island. Be sure to book a hotel with air-conditioning and be prepared for some rain (as this is also the rainiest time of the year).
If you find yourself visiting Puerto Rico in the summer, cool down at its many gorgeous beaches, hit the mountain trails, and go exploring the caves and waterfalls. You may also choose to visit Ponce on the western side of the island, which tends to get less rainfall.
Fall is another good time to consider for an affordable vacation in Puerto Rico. It coincides with the hurricane season, but if you are willing to take your chances, you will find tremendous deals on airfare and accommodations (even at the four-star hotels).
Whether you choose to visit in the summer or fall, you will be there during the off-peak season, which means restaurants, activities, and resorts will have more openings, especially in smaller islands like Culebra and Vieques, where things get booked up rather fast.
Best Time to Cruise to Puerto Rico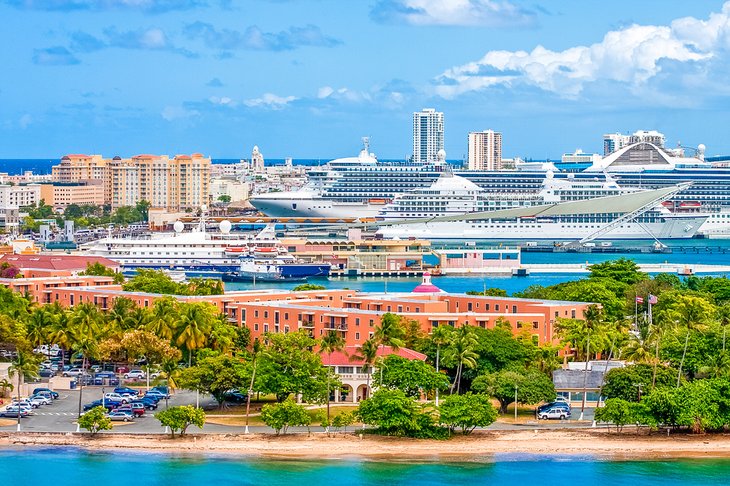 San Juan's cruise port is considered among the busiest in the world, with two cruise terminals and a parade of cruise ships arriving during peak season, when you will have longer days and inviting weather. Keep in mind, though, that if you are traveling in the winter from U.S. ports along the Atlantic coast, you may encounter rough waters on your way to the Caribbean.
The ideal time to cruise to Puerto Rico is in the spring, when you have sunny days and calmer waters. Avoid cruising around the busy times of spring break and Christmas time if you don't want to be stuck on a ship with rowdy crowds.
If you are cruising in July or August, you are likely to encounter tropical storms, but this is also the time you may get some good deals. Add travel insurance for protection from weather-related delays and cancellations, but rest assured that the likelihood of a storm happening at the exact location of your ship is fairly slim. Besides, you will probably be sharing the ship with fewer passengers.
Best Time to Visit Puerto Rico for the Rain Forest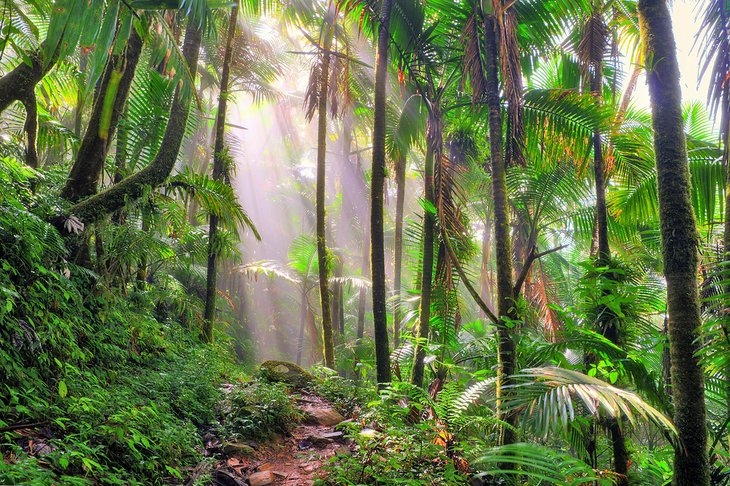 Located a 40-minute drive from San Juan, the emerald gem of El Yunque National Forest is one of the island's top attractions. This 28,000-acre preserved land on the northeastern coast is the only tropical rainforest in the U.S. National Park System. The mountainous area is teeming with plant and animal biodiversity, stunning waterfalls, gorgeous vistas, and even a dwarf forest along the mountain tops.
As the name suggests, El Yunque rainforest is also the rainiest part of the island. Due to the elevation of 3,500 feet, the temperature lies around 70 degrees all year-round.
You can enjoy exploring the forest at any time of the year, but keep in mind that during peak season, you will have to share popular trails like La Mina Waterfalls and Mount Britton Tower trails with other tourists. To beat the crowds, start your exploring days early.
Best Time to Visit Puerto Rico for Snorkeling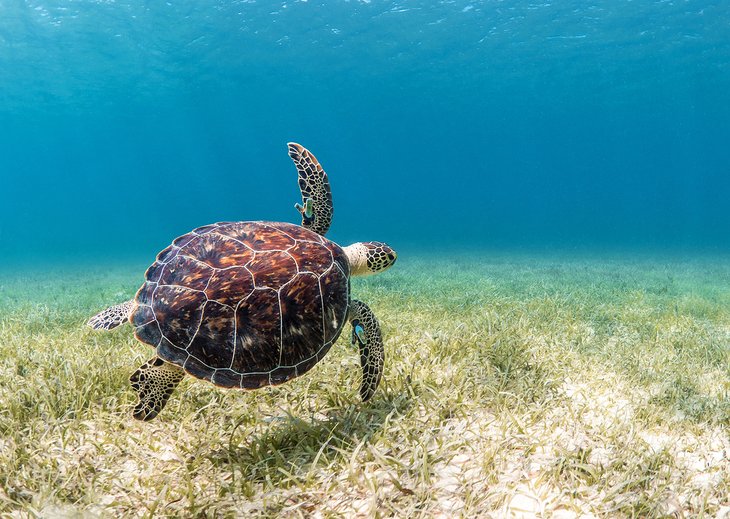 The waters surrounding the main island and the offshore isles of Puerto Rico are teeming with healthy coral reefs with plenty of tropical fish worth exploring on a snorkeling adventure. The islands of Vieques and Culebra are especially known to have some of the best snorkeling in the Caribbean.
Culebra is known for Flamenco Beach, which is often listed among the top beaches in the world, but Carlos Rosario is a good place for snorkeling - it's a 20-minute hike from the famed Flamenco Beach and doesn't see as many visitors. In Vieques, head to the Blue Beach for a variety of rays, turtles, and colorful fish.
If you are staying in San Juan, you will see lots of tropical fish in the protected waters off the public beach of Balneario El Escambron. Experience the underwater world in the summer months, when there are less crowds and calmer waters. The summer months also have gentle waves on the western coast of the island, where you can swim and snorkel at the Steps Beach in the Tres Palmas Marine Reserve in Rincon.
Best Time to Visit Puerto Rico for Surfing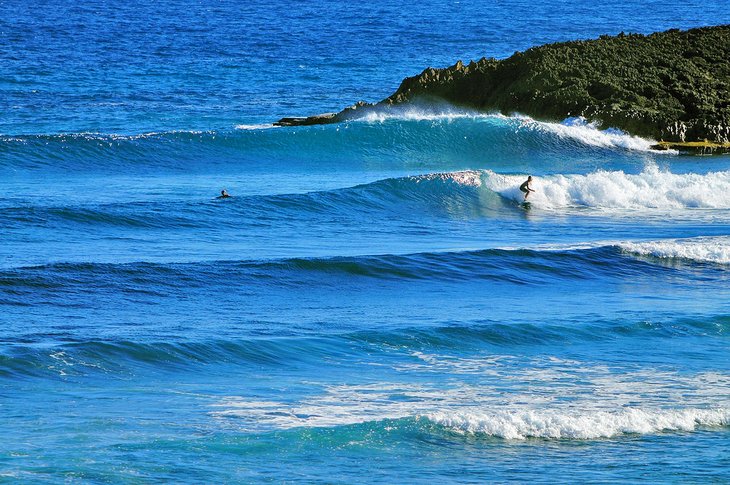 Surfers looking to hit the waves are better off heading to the northwest corner of the island, which is often referred to as the Caribbean version of Hawaii's North Shore.
Of the most popular surf destinations, Rincon stands out for its world class waves. It even features a sculpture of a Puerto Rican surfer in the middle of the town. You will experience excellent swells between October and February at many of its beaches, including Playa Domes, Rincon Point, Tres Palmas, and Sandy Beach.
Many of the towns on the northwestern coast offer surf shops with board rentals, lessons, and guided experiences. Visit Rincon in November for its annual Rincon Surfing Festival, a multi-day celebration held near the Punta Higüero Lighthouse, with contests, exhibitions of gear, and more.
Best Time to Visit Puerto Rico for Music & Festivals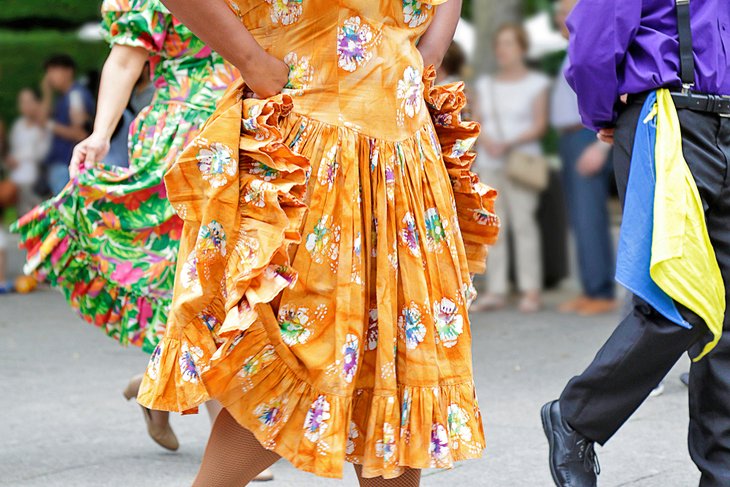 Puerto Rico begins the new year with its largest festival: San Sebastian Street Festival, also known as "San Se," in honor of Saint Sebastian. Taking place in mid-January, this four-day event in Old San Juan features music; dancing; delicious food; and parades of vejigantes, characters wearing bright colors, vivid horned masks, and capes. The festival attracts hundreds of thousands of people, all enjoying the vibrant display of cultural dance performances, artworks by local artisans, delicious food, and more.
The week-long Ponce Festival, also known as the Carnaval Ponceño, happens in February or March during Ash Wednesday in the historic downtown Ponce. The festival features vejigantes, thumping Bomba and plena music, spirited dancing, beauty pageants, and local food.
In April, the Saborea Food Festival, held at Balneario de Carolina in Carolina on the northeast coast, gives visitors a chance to taste some of the best cooking from local chefs at top restaurants and renowned chefs from other parts of the world.
Also in April, the International Film Festival in Rincon features surf, comedy, feature, and short films over five days. Later in the year, the annual Rincon Surfing Festival is a good time to watch world-class surfers and take up some surfing lessons.
Keep in mind that resorts and other accommodations are hard to get during festival times and tend to cost more. But, you don't have to visit during these festive months to enjoy live music. On the last Sunday of every month, the Plaza Darsenas in San Juan has free sunset concerts featuring energizing traditional and contemporary music that will get you moving.