Amberg Tourist Attractions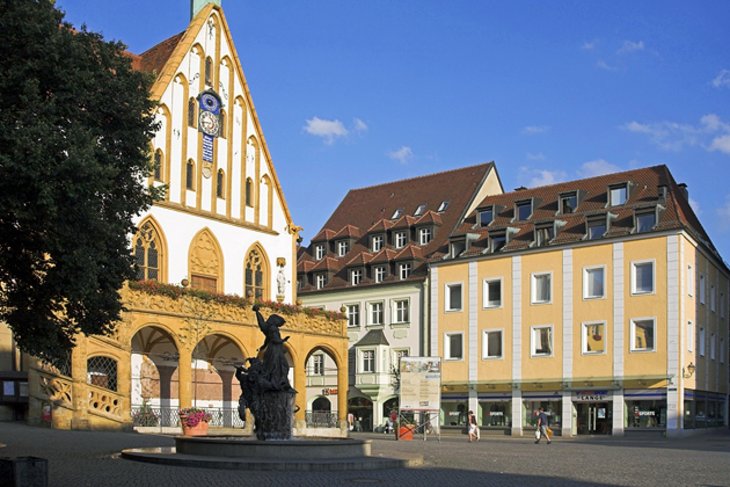 Amberg
Amberg, formerly capital of the Upper Palatinate, lies in the eastern part of the Franconian Jura, nestling in the valley of the Vils, which flows through the old town.The old medieval and Baroque town is still ringed by walls, with towers and gates. The line of the old ramparts is now marked by a succession of parks and gardens.
Town Hall
The hub of Amberg's old town within its oval circuit of walls is the Marktplatz, with the Town Hall (14th-16th C; Great Council Chamber and Lesser Council Chamber, with beautiful coffered ceilings).
St Martin's Church
The Late Gothic hall-church of St Martin (1421-83) in Amberg is the most important Gothic church in the Upper Palatinate after Regensburg Cathedral. The 91m/299ft high west tower was built in 1534. The church contains the imposing monument of Count Palatine Ruprecht Pipan (d. 1397).
Amberger Altes Schloss
The Amberger Altes Schloss (13th-14th C.) now houses the Prehistoric Museum.
Electoral Palace
The 17th C. Electoral Palace in Amberg is now occupied by local government offices. From the palace the town walls are carried over the river Vils on two arches, known as the Stadtbrille (the town's "spectacles").
Schrannenplatz
In Schrannenplatz, in the northwest of Amberg's old town is the Schulkirche (School Church), with a Rococo interior.
Municipal Theater
The Municipal Theater in Amberg is housed in a former Franciscan church.
Maltesergebäude
The Maltesergebäude, in Amberg, is a former Jesuit college and has a fine meeting hall.Adjoining the Maltesergebäude is the Gothic church of St George, with stucco work by J. B. Zimmermann.
Municipal Museum
The Amberg Municipal Museum opened in 1902.The museum is housed in a warehouse that was built in the 15th or 16th century. The Amberg Municipal Museum houses exhibits highlighting the town's history, regional handicrafts and the history of textiles.
Address: Zeughausstrasse 18, D-92224 Amberg, Germany
Mariahilf Church
3km/2mi northeast of Amberg, on a hill commanding extensive views, stands the pilgrimage church of Mariahilf, with stucco decoration by Giovanni Battista Carlone and ceiling paintings by Cosmas Damian Asam.
Popular Pages