14 Top-Rated Tourist Attractions in Larnaca
We may earn a commission from affiliate links ()
Larnaca (also called Larnaka) is one of the premier seaside resorts in Cyprus.
The beach is backed by a seafront promenade lined with swaying palm trees and overlooked by a squat fort.
Just a few steps inland, the compact old town is home to the beautiful Agios Lazaros (Church of St. Lazarus) and an atmospheric and crumbling Turkish quarter, where Larnaca's famous ceramic artisans have set up shop.
Larnaca is an easygoing place with a distinctive, laid-back vibe that sets it apart from the more bustling centers of Paphos and Limassol. Better yet, it's also in a prime position for forays south down the coast to some of the island's best beaches and inland to the quaint villages and attractions of the Maheras forest region.
Begin your exploring by using this list of the top attractions in Larnaca.
Note: Some businesses may be temporarily closed due to recent global health and safety issues.
1. Agios Lazaros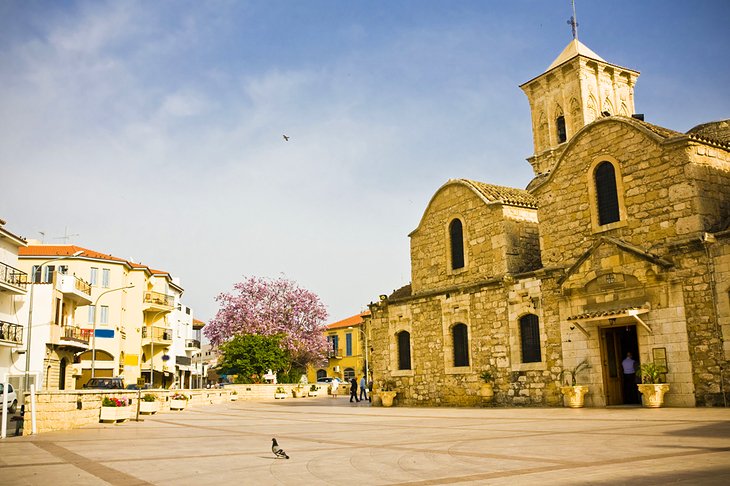 According to local lore, after Lazarus rose from the dead, he lived here in Larnaca (then known as Kition) for another 30 years and was ordained as Bishop of Kition. When he finally died - this time for good - he was buried here, where the stately Agios Lazaros (Church of St. Lazarus) now stands.
The church was built in the 9th century by Emperor Leo VI and was faithfully restored in the 17th century.
The church has four domes over the nave, and the roof is supported on four sets of double columns. The pulpit is uniquely placed in one of these columns and is lavishly decorated in gilt. In another column is a silver icon from 1659, with a picture of St. Lazarus.
Check out the incredibly ornate iconostasis for an excellent example of Baroque woodcarving.
Beside the iconostasis, a staircase leads down into the Tomb of Lazarus (though remains found there in AD 890 - which may, or may not be of Lazarus himself - were moved to Constantinople and later to Marseille).
The church is also home to impressive paintings of the Virgin and Child and St. George and the Dragon.
Across the courtyard from the church is the Byzantine Museum, which holds a collection of religious icons and relics.
Address: Agiou Lazarou (Larnaca Main Square)
Accommodation: Where to Stay in Larnaca
2. Pierides Archaeological Foundation Museum
This fantastic museum, set in a restored 18th-century mansion, houses a remarkable private exhibition of Cypriot antiquities, originally collected by Demetrios Pierides (1811-1895), a Cypriot scholar and archaeologist, and further enriched by members of his family.
The museum was founded in 1839 and holds 2,500 exhibits, which range from the Neolithic to the medieval period.
In Room One, Neolithic pottery and various representations of goddesses, along with bowls used in rituals can be seen.
Move on to Room Two for more pottery with pictures of birds and fish, as well as figurines used in religious rites.
Room Three includes jugs from the site at Marion, alabaster vases, and a mask on the wall, and Room Four has pottery from the medieval period and a collection of glass, as well as some jewelry.
Address: 4 Zinonos Kitieos Street
3. Hala Sultan Tekke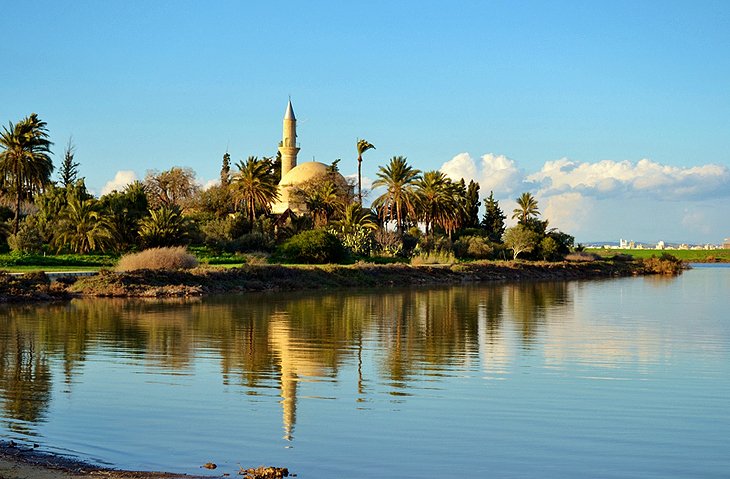 Number one on the things to do list for those seeking some nature just outside Larnaca city is the serenely beautiful Hala Sultan Tekke. This mosque and shrine sits on the western side of Larnaca's Salt Lake, three kilometers west of central Larnaca.
An important place of pilgrimage for Muslims, this mosque honors the prophet Muhammad's wet-nurse, Umm Haram, who is said to have died at this site after falling from her donkey, and a shrine was dedicated over her tomb in AD 645.
The present mosque building was built by the Ottomans and dates to 1816.
Larnaca's Salt Lake is a nature reserve and in spring, large flocks of flamingos and ducks can be easily seen. Dung summer, the waters evaporate completely, leaving a crusty white layer of shimmering salt in their place.
The area is ringed by a walking trail, which also leads to the Hala Sultan Tekke and makes a lovely afternoon stroll.
Due to Larnaca's rather chaotic public transport system, it's easiest to get to the lake and the mosque by your own transport.
4. Archaeological Museum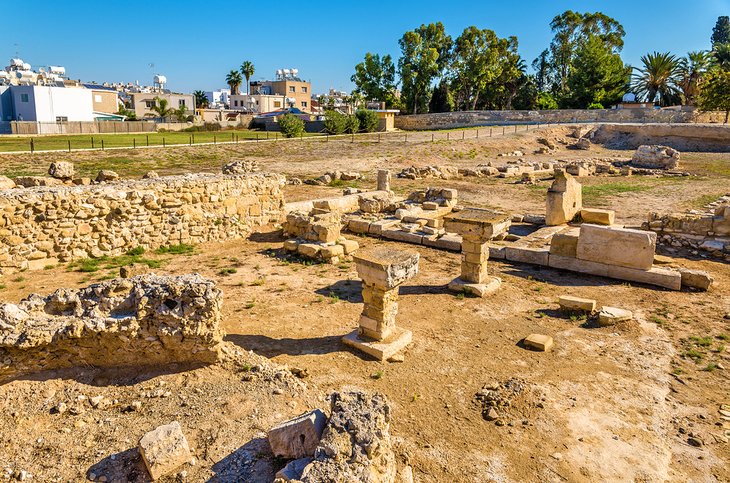 Larnaca's Archaeological Museum is home to a collection of finds from across the surrounding region dating from the Neolithic Age to the Roman period.
The first room displays sculptures, mainly female torsos and terracotta figures, while the next room houses the pottery collection from excavations at Kition (Larnaca's ancient name) and Livadia, a village just east of Larnaca, with Mycenaean vases and a variety of ornaments in bronze, clay, and glass.
There are also some Neolithic artifacts from Choirokoitia and some glass from the Roman era.
Although the collection can be slightly haphazard and not well-labeled, it's worth stopping off here, especially to view the terracotta figures, which are supremely beautiful.
A short stroll from the museum is the archaeological site of Ancient Kition, where much of the collection hails from. Although there's not much to see, check out the remnants of the Cyclopaean walls and the ruins of temples, which date back to the 13th century BC.
Address: Plateia Kalogreon Street
5. Larnaca Fort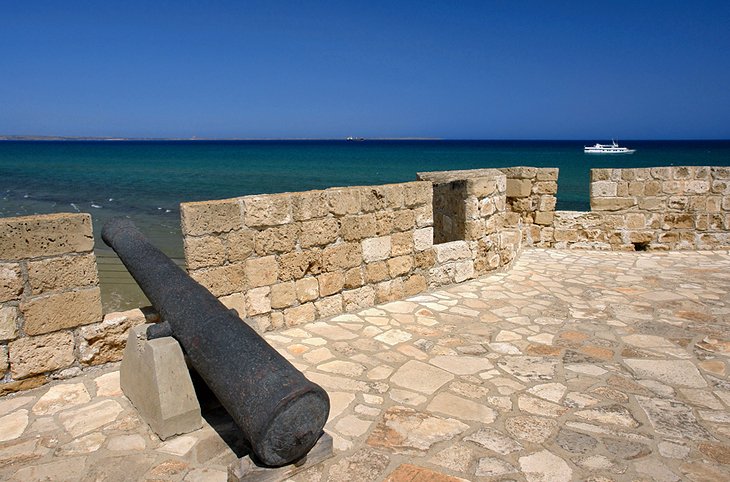 Right on the edge of Larnaca's seaside promenade, this Ottoman era fort, built in 1625, was used as the Ottoman's main line of defence for the city.
It stands on the site of a much earlier medieval fort of which nothing remains. During the British colonial period, the fort was turned into a prison.
Today, it's home to Larnaca's small Medieval Museum and displays a small collection of weaponry as well as some great black-and-white photographs of the local area.
Climbing up onto the ramparts offers good views across the Mediterranean Sea.
Across the road is Larnaca's Grand Mosque, which was once the Holy Cross Latin Church and dates from the 16th century. It's worth taking a peek inside the compound to check out the small cemetery with its old intricately-embellished tombstones.
Address: Leoforos Athinon Promenade
6. Kamares Aqueduct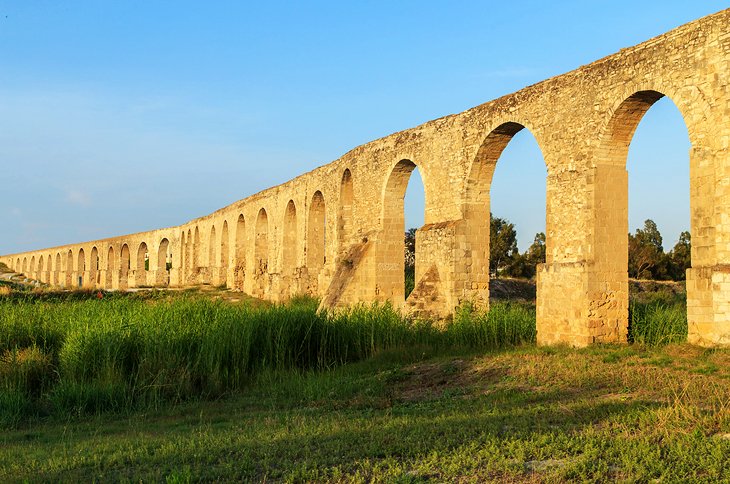 Built in 1746, this impressive aqueduct on the outskirts of town provided Larnaca's water supply until the 1930s.
Once part of a complicated water engineering system that used a combination of tunnels as well to deliver water into the town, it was constructed under orders of the local Ottoman governor and styled on typical Roman era aqueducts.
Today, the still sturdy 33 arches rambling across the green fields are an impressive sight.
Come during the evening when the arches are lit up, or during the day, when sheep are grazed in the fields between the arches.
You can get to the arches by hopping on any city bus that's heading in the direction of the K Cineplex.
Address: Old Larnaca-Limassol Road
7. Turkish Quarter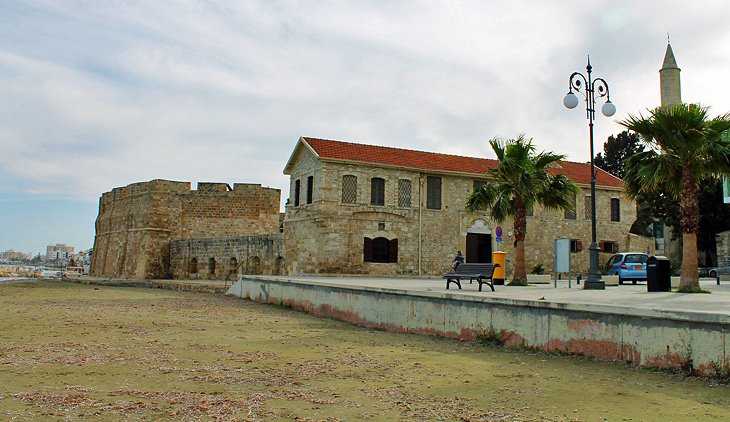 Larnaca's most interesting district to explore, the old Turkish Quarter (also called Skala) begins at Larnaca Fort and rambles south in a jumble of narrow lanes.
After Larnaca's Turkish population were made to leave for the north during the population transfers that followed the island's division, the district of Skala was ignored and slid into dilapidation for decades. In recent years though, this neighborhood has undergone a burst of revival as Larnaca's artisan community have begun moving their ceramic workshops here.
As the district has been ignored by modern developers, it retains much of its traditional character, with whitewashed cottages, nattily decorated with colorful window frames.
Come here to see a quaint old-fashioned architecture style that is fast disappearing in Cyprus' seaside resorts and to browse the pottery shops that are popping up within the back lanes.
8. Beaches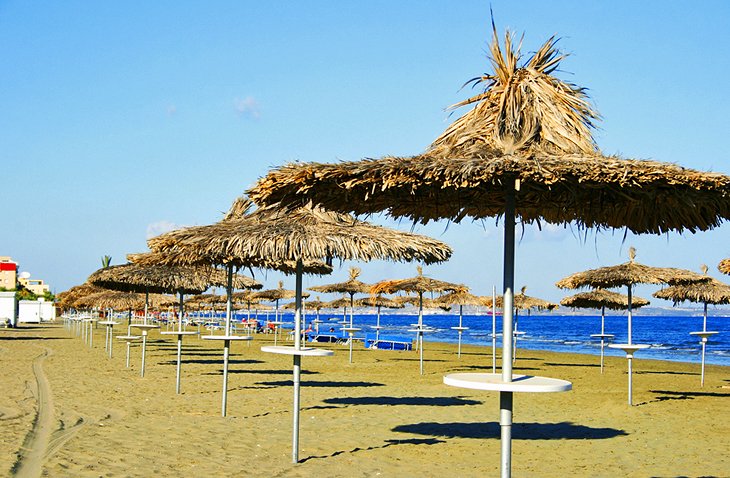 Larnaca's beaches are packed from about May to September when locals and tourists alike flock to the water to cool off.
Finikoudes Beach is strung out along the main promenade and although conveniently located, is rather uninspiring and is a bit of a sardine-squeeze in peak holiday season.
Mackenzie Beach (two kilometers south from the center) is much nicer and generally has more room to throw down your towel.
If you've got your own transport though, it's much better to head slightly south to Cape Kiti Beach (15 kilometers south of Larnaca) or Perivolia Beach (one kilometer south of Cape Kiti Beach), which rarely attract more than a handful of sunbathers and are gorgeously situated in secluded coves.
9. Stavrovouni Monastery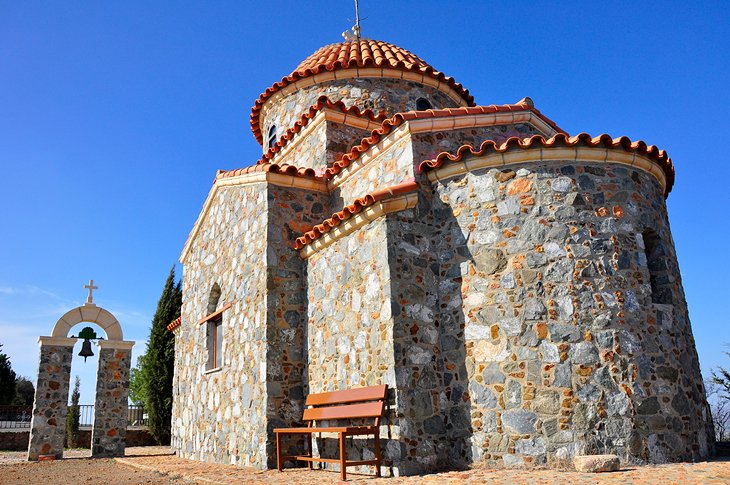 About 40 kilometers West of Larnaca, atop a jagged clifftop, Stavrovouni Monastery sits in splendid isolation commanding superb panoramic views across the surrounding countryside.
This area has long played a role in local religious rites. During Cyprus' period under Greco-Roman control, the summit here held a temple honoring the Goddess Aphrodite.
In AD 327, Empress Helena (mother to Emperor Constantine) sponsored the building of this monastery to take the place of the temple and left a fragment of the Holy Cross in the monastery monks' possession. At the time, Cyprus was suffering under an infestation of poisonous snakes, and local Christians believed that the holy cross installed here under the monks' care brought an end to the snake plague.
During the Arab attacks of the 15th century, the original monastery was burnt to the ground, and the current building dates from the 19th century.
Be aware that females are not allowed into the actual monastery — although they can view the grounds, which have stupendous views, and visit All Saints Church just outside the compound. Male visitors though are free to wander through the monastery and explore the icon laden interiors.
You will need your own transport to get here.
10. Lefkara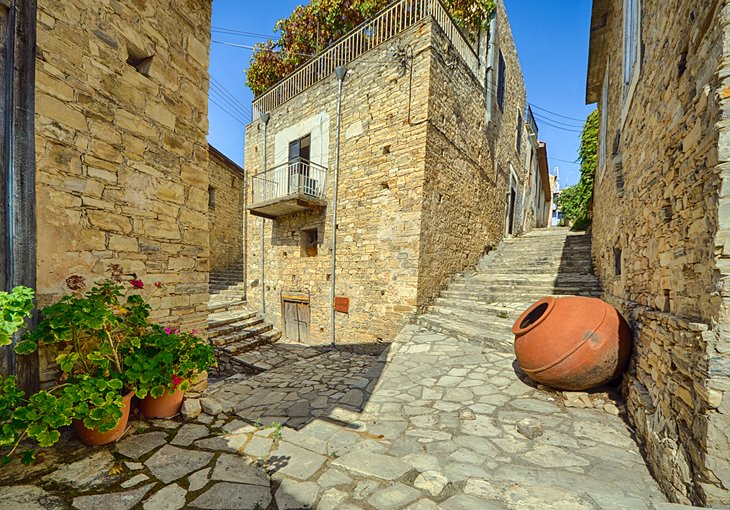 The villages surrounding Larnaca are some of the best places to visit if you want to get a feel for traditional Cypriot life.
Famous for its lace production, the village of Lefkara, west of Larnaca, is a delightful place to explore, full of wonderfully preserved mansion architecture, quaint cafés, and a bundle of lace shops where local women sit in the sun outside creating new lace pieces for sale.
Lefkara lace gets its fame from the local story that Leonardo da Vinci bought a piece of lace here in 1481 to be used as an altar cloth in Milan's cathedral.
When you've finished shopping, the winding alleys lead you to Lefkara Local Museum, which contains dioramas of traditional local life and is brimming with information on the village's history. Afterwards, stroll on to the Church of Archangelos Michael, which holds some important 12th-century icon paintings.
The village lies about 38 kilometers southwest of Larnaca and is difficult to access by public transport, so it's best to hire a car, or take a taxi, here.
11. Agia Napa Monastery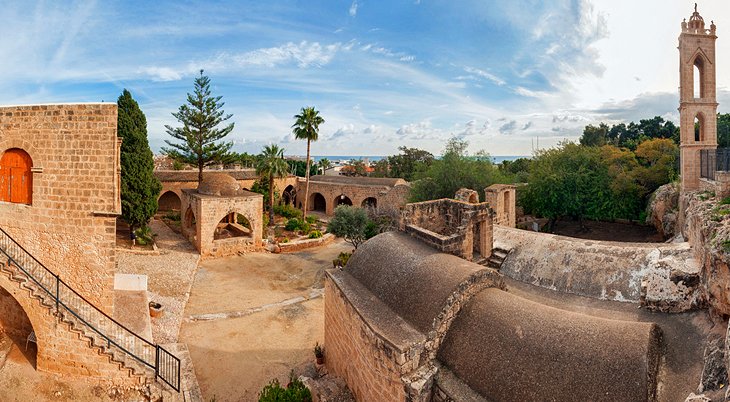 Agia Napa (60 kilometers west of Larnaka) is home to this famous Venetian-built monastery that sits right in the center of town.
The monastery was one of the final buildings erected during the island's Venetian era. It sits on top of a cave where an icon of the Virgin Mary was stored for safety while the destruction of the Byzantine Iconoclasm raged across the island.
The monastery was founded in the 16th century by a Venetian nobleman's daughter, who came here looking for a secluded retreat after her father refused to let her marry a commoner.
She built two churches, one Catholic and one Orthodox, both of which are now under the same roof. The fountain house in the middle of the courtyard was built as her tomb and bears pictures of her parents, herself, and a lion chasing a deer.
The church survived the Ottoman invasion unscathed and was still in use during that period, although it was abandoned in the 18th century and fell into disrepair.
By the south wall is a gateway with a pool overlooked by a huge sycamore fig tree, which is said to be 600 years old.
There are hourly buses to Agia Napa from Larnaka, which drop you right beside the monastery.
Address: Plateia Seferi (Agia Napa Main Square)
12. Cape Greco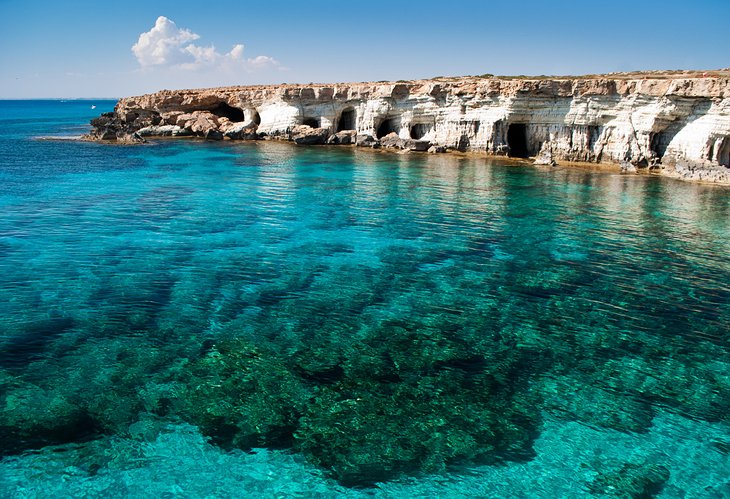 For a hike or stroll with stunning coastal panoramas head to Cape Greco.
This national park, set between the towns of Agia Napa and Protaras is the island's most southerly point. The easy trails here (perfect for families wanting a nature walk, as well as more experienced trekkers) loop across the high cliffs with views sweeping across the Mediterranean beyond.
There are plenty of benches perched along the cliff edge if you want to linger and enjoy the seascape from above. For the more active, staircases cut into the cliff allow access to some of the sea caves below.
Konnos Beach lies at the Protaras end of Cape Greco, so pack your swimsuit and cool off with a dip at the end of your hike.
As well as the coastal path, wildflower enthusiasts may want to explore the various other hiking trails that branch off from the main path, where a multitude of wild orchids grow in the spring.
There are regular buses between central Agia Napa and Protaras that can drop you right in front of the park's entrance.
Location: 60 kilometers east of Larnaca
13. Agia Napa Bay Beaches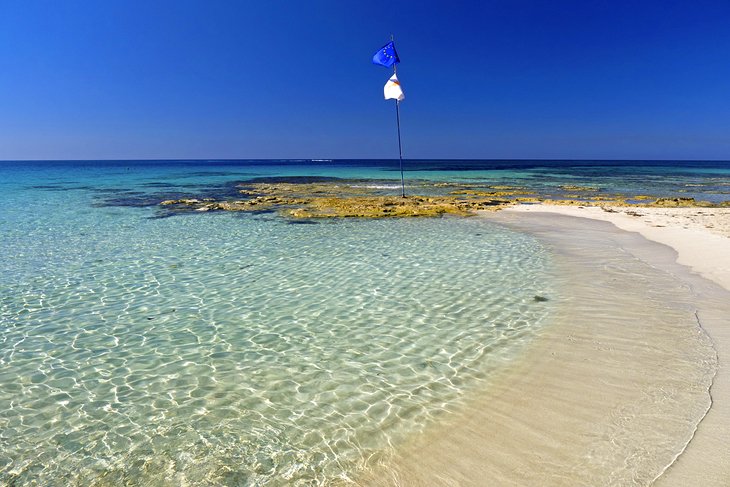 Cyprus' most famous beaches are all in the south of the island around the town of Agia Napa.
Top of the tourist attractions is Nissi Beach, a long stretch of perfectly white sand with an island rock outcrop just offshore that's on the western side of Agia Napa town. Be aware that Nissi's beauty means that it can get heavily crowded in summer.
If you're trying to escape the crowds, head to Kermia Beach (two kilometers east of Agia Napa), which is smaller but just as pretty, or head to Konnos Beach (two kilometers east of Kermia Beach), which is a great choice for families with kids who want to get into the water, as the sea here is calmer than elsewhere.
14. Protaras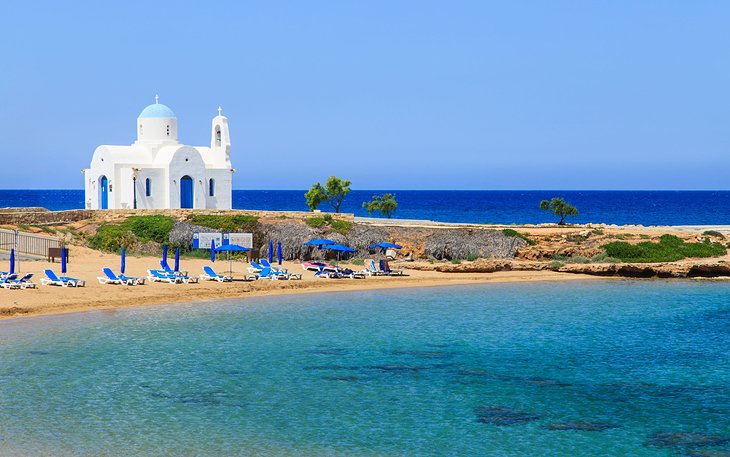 Protaras is one of Cyprus' favorite seaside resorts for families on vacation.
The beaches here — particularly Fig Tree Bay — have fine white sand and incredibly clear and calm waters that are great for kids to splash about in safely.
The town itself has an easygoing vibe far from the hustle and bustle of bigger resorts, and most people who holiday here come strictly for lazy beach days.
The small church of Ayios Elias is on a peak beside the main road into town, and if you do feel like a short climb, the summit offers great views along the entire coast.
The bus ride to Protaras from Agia Napa only takes 20 minutes, so you can easily get a bus from Larnaca to Agia Napa and then onward to Protaras, and return the same way, in a day. Protaras is located about 70 kilometers east of Larnaca.