14 Best Beaches in Cyprus
Every summer, vacationers arrive in their droves to soak up the Mediterranean beach life that Cyprus delivers.
The main coastal towns of Paphos, Limassol, and Larnaca are all trimmed by long swaths of beach, which many visitors beeline to for days filled with sunbathing and swimming.
The best slices of sand on the island, though, are found by heading farther out of town.
Popular beachfronts near the major resort areas come with full facilities on hand and plenty of water sports on offer, making these a great choice for both lazy beach-going days and active pursuits.
For a completely different Cyprus beach experience, don't miss visiting the island's wild beaches, which have been kept deliberately undeveloped and are home to endemic populations of the Mediterranean's green and loggerhead turtles.
To help you choose your slice of sand, check out our list of the best beaches in Cyprus.
1. Nissi Beach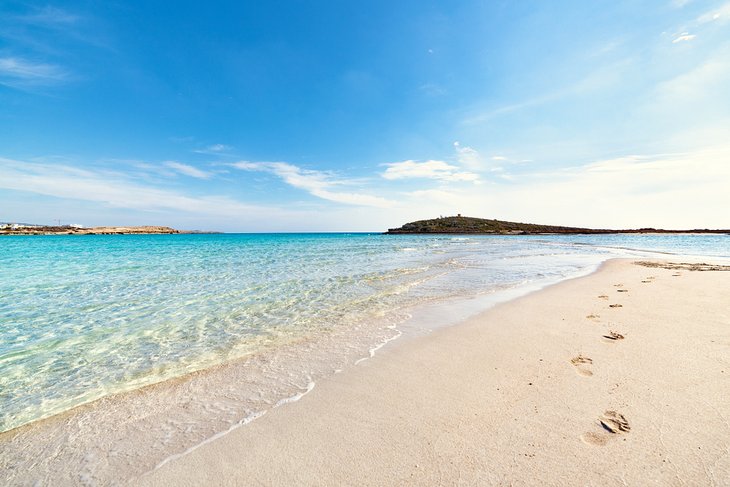 Possibly the prettiest beach in Cyprus and one of the island's major tourist attractions, Nissi Beach is a sheltered cove rimmed with soft white sand that laps shallow turquoise water. It sits three kilometers west of the resort town of Ayia Napa.
Just offshore, the craggy islet of Nissi dominates the sea view and is connected to the mainland by a sandbar. The water is so shallow in the bay that beachgoers can easily stroll across to the islet, even when some of the sandbar is submerged.
Nissi Beach is one of the island's most popular sandy strips, and during the summer months, it's regularly crammed with sun-seekers from both Ayia Napa and Larnaca.
During the height of the tourism season, this is not the place to come to have a quiet day. Throughout the sun-soaked summer months, Nissi Beach is known for its live music events, so it is particularly popular with younger beachgoers. Outside of June to August, things calm down somewhat.
With a shore rimmed with bustling cafés and restaurants, sun loungers and shades for rent, water sports operators, lifeguards, and freshwater showers, all facilities are on hand for a day of swimming and beach slothing.
2. Lara Beach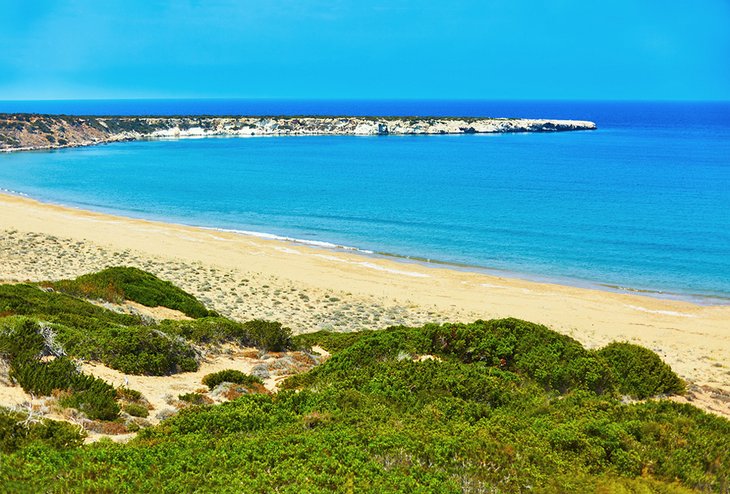 If you're looking for a beach a world away from the highly organized resort-style shores close to the main towns, Lara Beach is one of the best places to visit.
This shorefront is a protected nature reserve sitting on the wild Akamas Peninsula in the far west of the island, 27 kilometers north of Paphos.
Lara Beach is a natural habitat for the Mediterranean's green and loggerhead turtles, which both nest here. Sections of the beach are fenced off to protect the turtle nesting sites.
No chairs or sun-lounger furniture are allowed on the beach, and access is only by dirt track. Although you can navigate the track - very slowly - in a normal vehicle, a 4WD is preferable.
Many people visit Lara Beach as part of an organized group tour from Paphos, or by hiking or biking.
There are no restaurant or café facilities on the beach, so pack a picnic to bring along.
3. Golden Beach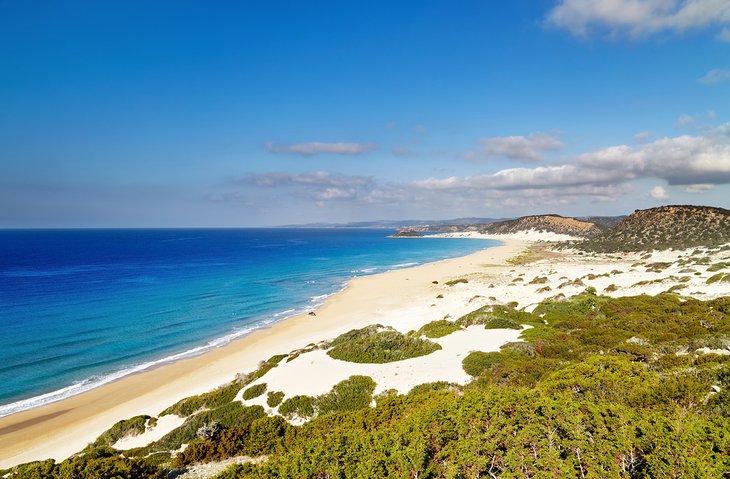 Trailing along the tip of the Karpas Peninsula in the north of the island, Golden Beach (also known as Nangomi Bay) is the island's most beautiful, untouched slice of shore.
The soft, golden-hued sand here rolls along the coast for several kilometers, just before the peninsula's tip and the island's most eastern point.
It's a favorite with nature-lovers for its peaceful, get-away-from-it-all atmosphere and the stunning, wild surroundings; the sand is backed by gentle grass-topped dunes, which give way to the hills where the peninsula's wild donkeys can be spotted.
Due to being a nesting ground for loggerhead turtles, the beach is part of a national park, and sections are fenced off to protect the turtle hatching grounds.
There are a couple of good restaurants on the cliffs at the main beach access points but no other facilities, so bring all your beach supplies along with you.
Note that Golden Beach is a long way from any of the main resort towns, and you will need your own transport to get here. It's in north Cyprus, so you will need your passport to cross the Green Line.
A handful of small boutique hotels and pensions in the villages of the Karpas Peninsula provide accommodation for a nature-filled, serene stay.
4. Aphrodite's Beach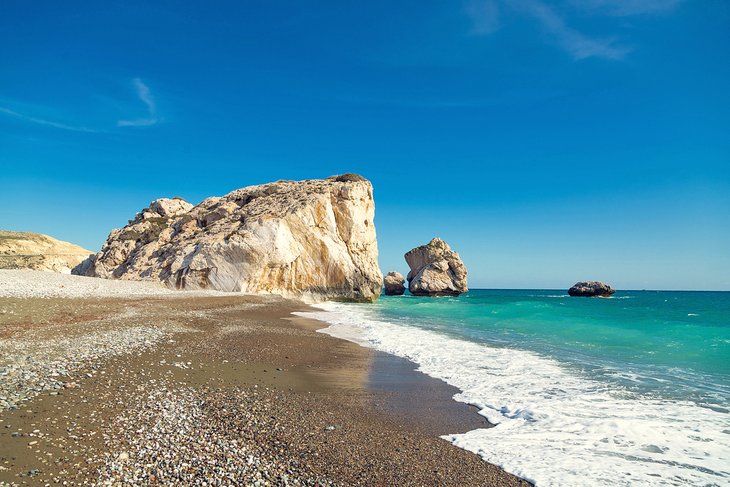 The visit here isn't really about a day on the beach. It's more for snapping the most famous seascape on the island.
Just offshore from the beach sit the jagged rock formations of Petra tou Romiou (known in English as Aphrodite's Rock). According to local legend, this is where the Greek goddess Aphrodite first emerged from the sea.
The beach itself is a tiny horseshoe bay of sand and shingle that is a good swimming spot.
The location, 26 kilometers southeast of Paphos and 45 kilometers west of Limassol, makes this an excellent stop-off point on the scenic coastal route between towns.
Aphrodite's Beach is particularly popular for sunset photos, so you'll find the beach, and the lookout point on the cliff above, most crowded around that time of day.
5. Konnos Beach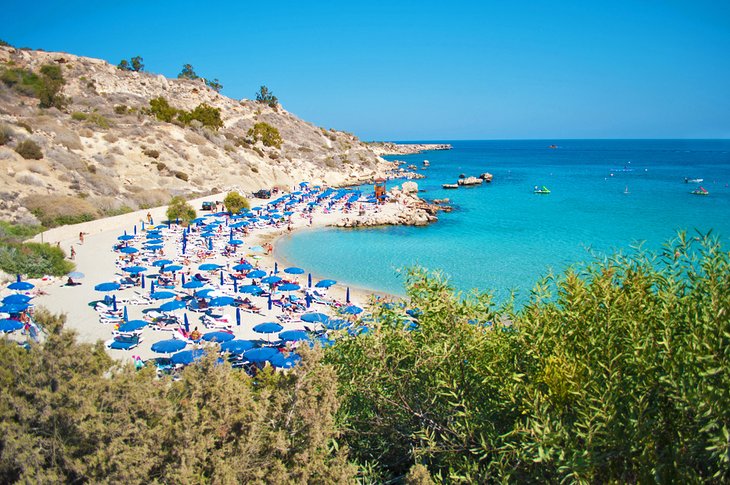 The sheltered cove of Konnos Beach, backed by a cliff rimmed with pine trees, sits on the edge of Cape Greco National Park, just five kilometers south of the resort town of Protaras.
The soft white sand here makes Konnos a top destination for a full day devoted to beach time.
Refreshments and full meals are available at the cliff top restaurant, accessed by a staircase from the beach, with its swooping views over the shore below and out to the Mediterranean beyond.
During summer, this small curve of sand is a favorite with families due to its shallow waters - great for little ones splashing about. The solid range of facilities include sun-loungers and shades for rent, lifeguards, and bathrooms and showers on-site.
There is no shortage of things to do, with plenty of water sports on offer.
For active visitors, Konnos Beach is the start (or end) point for walks across the rocky landscape of Cape Greco with its magnificent Mediterranean views, endemic flora, and staircases leading down the cliffs to swimming platforms and sea caves.
It can get very crowded in peak season, so it's a good idea to arrive early.
There is also regular public transport to this beach, as it's on the route of the Ayia Napa-Protaras local bus.
6. Fig Tree Bay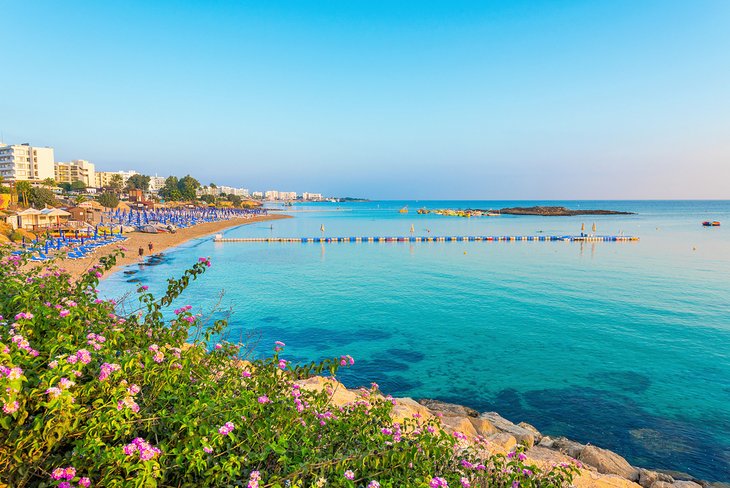 Protaras (12 kilometers northeast from Ayia Napa) is a small town completely devoted to summer tourism with its seafront promenade bordered by sandy strips.
Right at the southern end of the promenade, Fig Tree Bay is loved both by vacationing families for its sheltered position and shallow depths and by snorkelers for the clear waters and plentiful fish life.
This is a very easygoing beach for sun-seekers looking for a day of sand and sea. There are full facilities on offer, and plenty of cafés and restaurants sit just a hop from the sand.
Like all beaches in this area, do be aware that the sand gets jam-packed with sunbathers throughout summer.
7. Pissouri Bay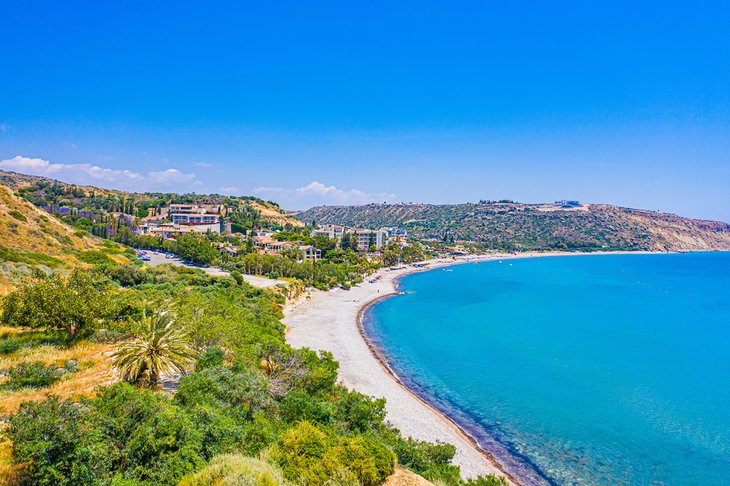 Pissouri Bay (38 kilometers west from Limassol) offers two points of differentiation that make it stand out from the other island beaches and have also garnered it plenty of fans.
Firstly, it tends not to be as crowded in the height of summer as the beaches fronting the major tourist towns in and around Larnaca, Ayia Napa, Paphos, and Limassol.
Secondly, the sea off Pissouri Bay drops to a decent depth near to the shoreline, so it's fantastic for swimmers; parents should be extra vigilant with small children splashing about due to this fact.
The long swoop of beach is shingle and pebbles, so it's not as "picture-postcard" pretty as other popular shores, but Pissouri Bay makes up for this by being a beacon for water sports enthusiasts.
If you're itching for activities and things to do beyond the sand, water-skiing is available, and you can rent pedalos, boats, and Jet Skis on the beach.
Facilities for spending a full day lounging on the beach are excellent. Sun-loungers and shades can be rented, there's a lifeguard on duty, good bathroom and shower amenities on the beach, and a shorefront restaurant.
8. Lady's Mile Beach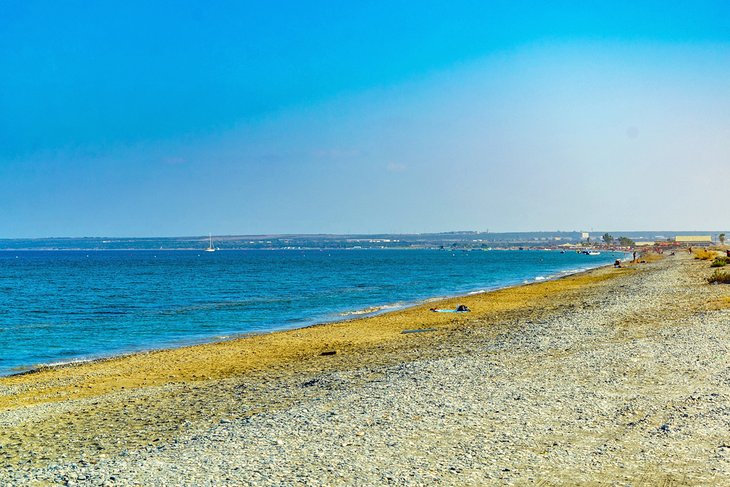 Near Limassol town, Lady's Mile Beach stretches for seven kilometers along the eastern shore of the Akrotiri Peninsula.
At the northern end, beginning just south of Limassol Port area, the beach is mostly pebble and shingle. Head to the southern end, bordering the UK RAF Akrotiri Base, for golden sand.
Although always busy with both locals and visitors due to its location neighboring one of Cyprus' biggest towns, the beach never feels too crowded, even in the height of summer, due to its length.
The water is shallow here, so it's a safe choice for families - sunbeds with shades can be rented, a lifeguard is on duty, and there's a couple of restaurants and cafés scattered along the length of shore.
Windsurfing and kitesurfing are popular Lady's Mile Beach activities, and you can rent windsurfers, or learn to windsurf, from the water sports operators along the beach.
An extra bonus is Lemesos Salt Lake, just to the west of the beach, which is home to good bird-watching.
9. Alagadı Beach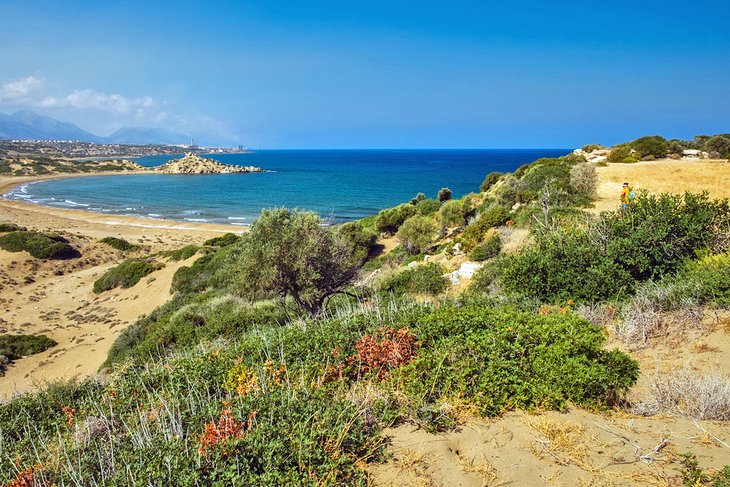 For nature-lovers, a visit to Alagadı Beach is a must, to take part in one of the highly regarded turtle-watching tours, which are run regularly throughout the spring and summer months.
The research center for SPOT (Society for the Protection of Turtles), where you can learn about conservation efforts for Cyprus' turtle population, is based here and is open from May to September.
SPOT's schedule of turtle-watching tours take place at night and range from witnessing turtles nesting in late spring and summer to watching baby turtles being released into the sea in late summer.
Because of the turtle population on the bay here, the beach is a protected area and is not developed. You're also not allowed to be on the beach after dark unless you're taking part in one of SPOT's tours.
Alagadı Beach is in north Cyprus, 20 kilometers east of Kyrenia. You will need to cross the Green Line into the north to visit, so bring your passport.
10. Salamis Beach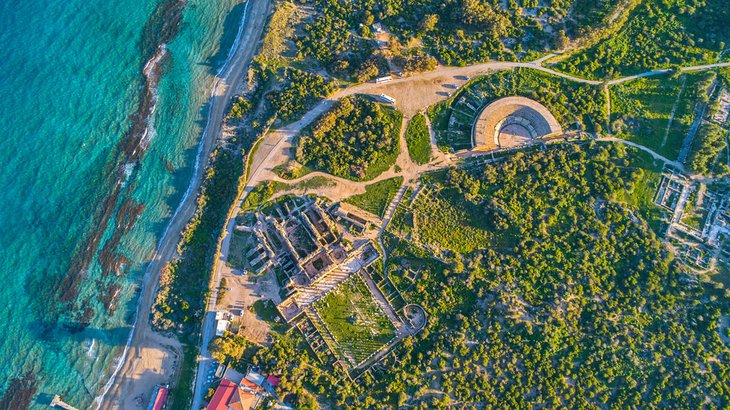 If you want to combine a visit to one of the finest ancient sites on the island with a spot of swimming, then beeline to Salamis, nine kilometers up the coast from Famagusta in north Cyprus.
The grand Hellenistic ruins of Ancient Salamis, with its temples, theater, and ornate gymnasium ruins, ramble for several kilometers along the coast all rimmed by Salamis Beach.
You can grab some swim time before or after exploring the vast history of this once grand city from the beach access point at the main entrance and car park. Alternatively, there are several trails leading down to the sand from within the ruins area itself.
A good restaurant is sited next door to the main entrance, but the beach itself is undeveloped.
If you don't have a hire car, there is regular public transport to Famagusta from both North Nicosia and Kyrenia, but you'll need to hop in a taxi for the last, short leg to Salamis. You will also need to bring your passport to cross from the Republic of Cyprus into north Cyprus.
11. Coral Bay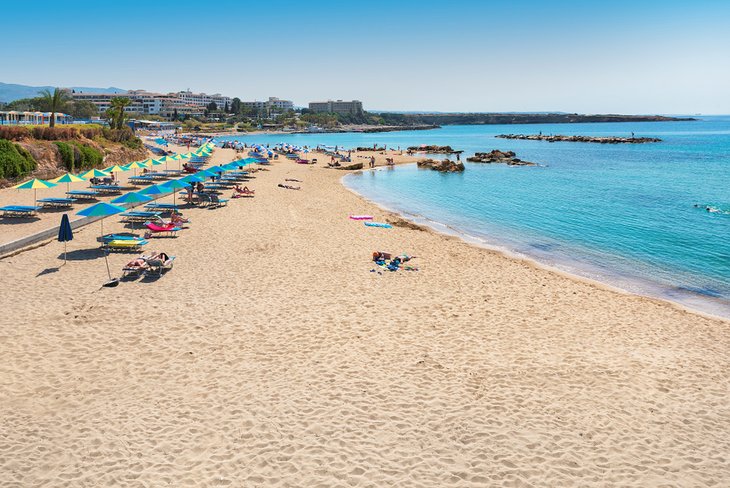 Just nine kilometers north from Paphos, Coral Bay's crescent-shaped sweep of golden sand is regarded as one of the best beaches in the area.
Easily accessible by local buses, which zip regularly between central Paphos and Coral Bay, this beach is a major tourist attraction for many of Paphos' summer visitors.
Like all Cyprus beaches near the main resort towns, don't expect to have the sand to yourself. This is a busy shore that bustles with sunbathers during the summer months.
Full facilities are at your fingertips here with plenty of sun-loungers and shades for rent, a couple of cafés and restaurants rimming the beach for snacking or full meals, and water sports operators offering water-skiing.
12. Vrissiana (Protaras) Beach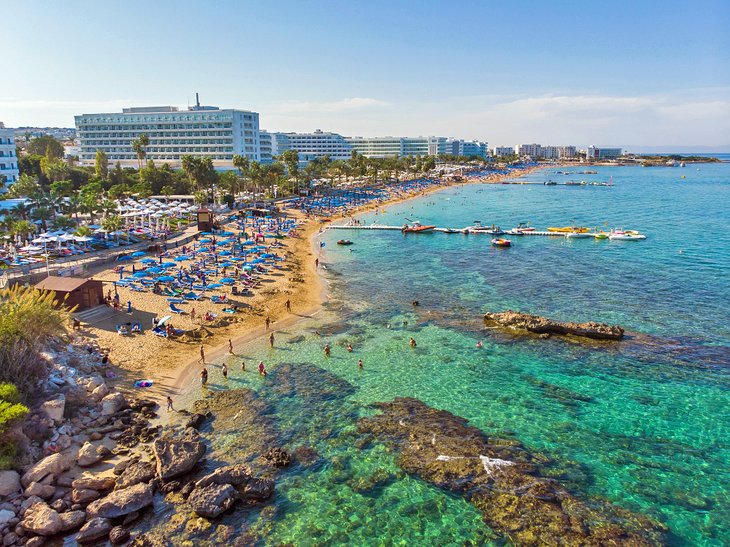 Fronting Protaras town, and backed by hotels, cafés, and restaurants all along its length, this is one of the busiest stretches of sand on the island's eastern coast.
With the soft golden sand lined with sunbeds and shades for rent, on-duty lifeguards, and crystal-clear turquoise water that is perfect for snorkeling, this is an easygoing place to set up for an entire day of beach time with all facilities on hand.
There's an excellent water sports operator directly on the sand offering a wide range of activities, as well as rental of Jet Skis, kayaks, and pedalos.
The beach is fully accessible for wheelchair users with specifically built bathroom facilities and boardwalks leading down to the sand.
13. Kourion Beach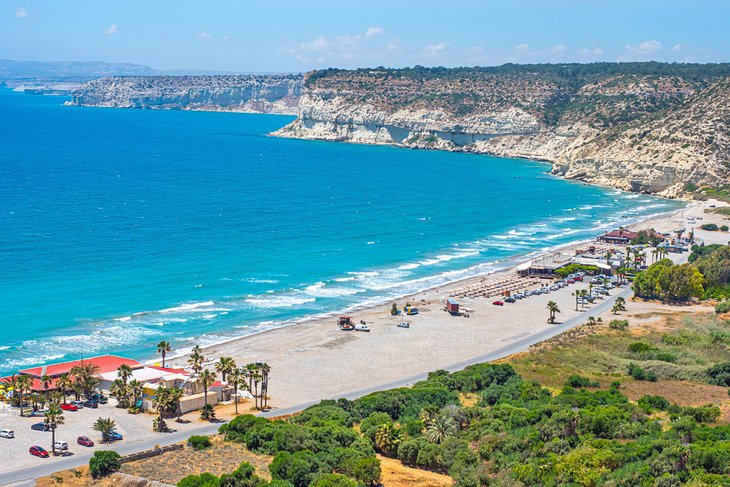 This three-kilometer-long shingle and sand beach, edged by white cliffs, is very popular with Cypriot families on summer weekends.
The ruins of Ancient Kourion, Cyprus' most famous historic tourist attraction, lie scattered across the hills behind, so you can easily combine a morning exploring the archaeological site and then a lazy afternoon devoted to sun and sea.
Sun loungers and shades are available to rent during summer, and a couple of restaurants are right on the shore.
It gets windy along this stretch of coast, so this bay is a favored spot with local windsurfers. Close to shore, the water is shallow enough for kids to splash about safely.
Kourion Beach is 18 kilometers west from Limassol.
14. Limnara Beach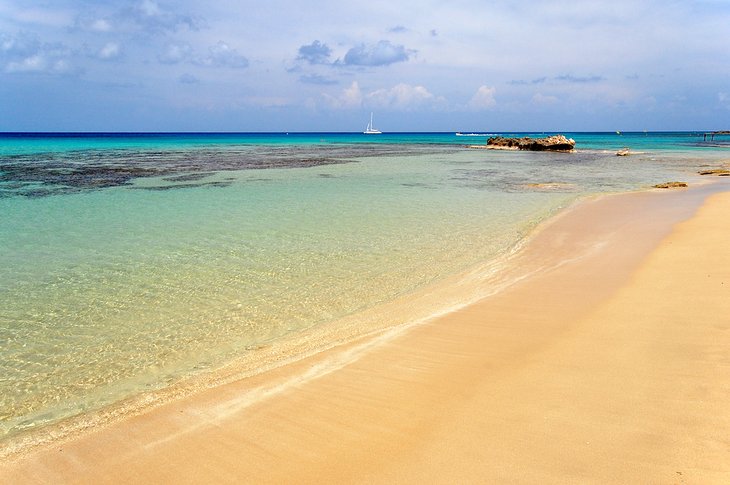 The sweeping curve of Limnara Beach (sometimes also referred to as Kermia Beach) is five kilometers east of central Ayia Napa, accessed off the road to Cape Greco.
It gets far fewer crowds than Nissi Beach and some of the other sandy stretches closer to Ayia Napa, so it's a good spot for a quiet beach day.
The bay's narrow strip of soft golden sand is backed by a green lawn dotted with palm trees. This is a great choice for families with lots of shade, plenty of room for little ones to run around both on and off the sand, and very shallow water lapping the bay.
Note that the seabed is stony here, so water shoes are a good idea.
Pack a picnic, as there's no on-site café or restaurants. Sun loungers and shades are available to rent.
Map of Beaches in Cyprus