10 Easy Day Trips from Oslo, Norway
Oslo's surroundings offer excellent travel options for those willing to venture a little further afield. Many of the best are easily accessible by public transit, such as the beautiful Bygdoy Peninsula with its fine museums and superb architecture. Other easily accessible areas include Ekeberg, known for beautiful public parks and open spaces, and Holmenkollen with its spectacular ski jumps. As is so typical of Norway, there's never a bad view anywhere, and those willing to expend a little energy walking and hiking will be rewarded with some of the very best views of Oslo and the Oslofjord. Such is certainly the case from Grefsenkollen and Tryvannstårn, two of the highest and most popular areas on the city's outskirts.
1 Bygdoy Peninsula
Located on a peninsula just four miles west of Oslo, Bygdøy - easily accessible by public transport or car - is home to many of the city's best tourist attractions, including the Center for Studies of Holocaust and Religious Minorities in Norway located in Villa Grande, and the Royal Manor, a fully operational 200-acre organic farm. It's also one of the area's most popular destinations, as rich in cultural attractions as it is in beautiful parks, forests and beaches. Largely protected from future development, numerous tranquil trails make the peninsula easy to explore, whether on foot or by bike.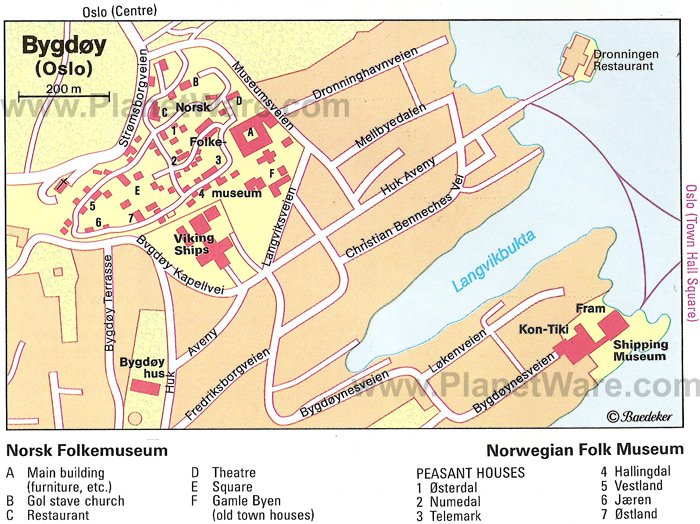 Bygdøy (Oslo) Map
Want to use this map on your web site?
Copy and Paste the code below:
2 Norwegian Folk Museum, Bygdoy
The Norwegian Folk Museum consists of a variety of antiquities collections, including silverware, carpets, and furniture, along with an exhibition detailing the lives of the Lapps (costumes and tents, as well as equipment related to reindeer herding, hunting and fishing). The museum also includes the office and various artifacts associated with famed playwright Henrik Ibsen. Afterwards, the Old Town of Bygdoy with its medieval houses and Pharmacy Museum are an easy stroll.
Address: Museumsv. 10, Oslo
3 Viking Ships Museum, Bygdoy
No trip to Norway would be complete without visiting at least one of the many museums and exhibits dedicated to the country's Viking past. One of the best is the Viking Ships Museum, home to three historic 9th Century vessels, the best-preserved being the 70ft long Oseberg Ship. The largest surviving pre-Christian artifact in Scandinavia, this impressively decorated vessel was built around 800 AD and was used for the burial of a chieftain's wife. The other vessels on display include the 76ft long Gokstad Ship, a seagoing vessel designed for use under sail or with oars, and the less intact Tune Ship.
Hours: Mon-Fri, 11-3; Sat-Sun, 11-4 (Winter); extended hours during summer months
Address: Huk Aveny 35, 0287 Oslo
4 Fram Museum, Bygdoy
Named after the first Norwegian ship built specifically for polar research, the Fram Museum is a must for anyone with an interest in Arctic exploration. The museum's star attraction is the Fram, an icon due to its many successful polar voyages, as well as Gjøa, the first ship to navigate the Northwest Passage. In an adjoining building is the Kon-Tiki Museum with its displays dedicated to Thor Heyerdahl, famous for sailing from Peru to Eastern Polynesia in 1947 on the famous raft. The museum also houses the 46 ft long papyrus Ra II in which Heyerdahl crossed the Atlantic in 1970. While there, be sure to visit the nearby Norwegian Maritime Museum with its fascinating exhibitions about fishing, shipbuilding and marine archeology, as well as an impressive collections of models and paintings.
Hours: Daily, 10-4 (Jan 1-April 30); daily, 10-5 (May 1-31); daily, 9-6 (June 1-Aug 31); daily, 10-5 (Sept 1-30; daily, 10-4 (Oct 1-Dec 31)
Admission: NOK 80, children NOK 30
Address: Bygdøynesveien 36, 0286 Oslo
5 Ekeberg
Located just two miles southeast of the center of Oslo, the neighborhood of Ekeberg is home to picturesque Ekeberg Park and the former Nautical College. The area offers many great views of Oslo Harbor and Oslofjord, including that from the terrace of the College. The park is home to a numerous excellent sculptures and outdoor art pieces, so be prepared to spend a few hours wandering its many tree-lined pathways. Also, be sure to visit the nearby Petroglyphs at Ekeberg. These remarkable 5,000-year-old rock carvings contain 13 figures, mostly of elks but with a solitary human figure.
6 Holmenkollen
A pleasant excursion from Oslo is to Holmenkollen (1,217 ft), a wooded range of hills to the northwest of the city popular for its excellent views of the city. Part of the Nordmarka, Oslo's favorite ski area, it's easily accessible by public transit. While there, check out the towering Holmenkollen Ski Jump (you'll have already seen it in the distance from downtown Oslo), home to tremendous views, a restaurant and the Ski Museum.
Address: Holmenkollen, Oslo
7 Tryvannstårn
Easily accessible from Oslo's city center by public transit, start your Tryvannstårn excursion at the popular Frognerseteren Restaurant. Situated at 1434 ft above sea level, this famous eatery offers great food along with magnificent views of Oslo. Afterwards, be sure to visit the historic wooden buildings from Telemark and Hallingdal opposite the restaurant.
Address: Holmenkollveien 200, 0791 Oslo
8 TusenFryd Family Park, Vinterbro
With more than 30 attractions and countless great games, TusenFryd Family Park is a fun diversion for the whole family. The park's newest attraction is Thor's Hammer, an indoor 3D adventure packed with the latest technology. The park features attractions for all ages, including large and small roller coasters, carousels, a log ride and a 5D haunted house. Youngsters will enjoy getting wet at the adjacent BadeFryd water park.
Hours: Sat-Sun, 10:30-6; Mon-Fri, 11-4
Admission: NOK 299-389, children NOK 254-315
Address: Høyungsletta 19, 1407 Vinterbro
9 Grefsenkollen
At 1,194 ft, Grefsenkollen is another popular location offering excellent views of Oslo and the Oslofjord. The view from the top is magnificent, and the hill also just so happens to be the location of one of the area's best places to eat, Grefsenkollen Restaurant, an Oslo landmark since 1926.
Address: Grefsenkollveien 100, 0490 Oslo
10 Henie-Onstad Art Center
Founded in 1966, the Henie-Onstad Art Center in Høvikodden contains Norway's largest collection of international art, including works by Matisse, Miró and Picasso, as well as trophies won by champion skater Sonja Henie. The Art Center also hosts various cultural events, including theatrical performances and concerts.
Hours: Closed Mondays; Tues-Thurs, 11-7; Fri-Sun, 11-5
Address: Sonja Henies vei 31, 1311 Høvikodden
More on Norway