14 Top-Rated Places to Stay in Kyoto
Kyoto has a number of different neighborhoods, with hotels and guesthouses for all budgets. Regardless of whether you are traveling with the family or as a couple, the biggest decision you will make when booking a hotel in Kyoto is whether you want to stay in a traditional Japanese guesthouse, which will often mean a shared bathroom and sleeping on a futon mat on a woven-straw floor, or you want more familiar Western-style accommodations.
The most convenient area to stay in Kyoto is downtown, which puts you within walking distance of hundreds of restaurants and shops, as well as subway and train lines. Here, you'll find hotels like the Ritz-Carlton Kyoto, which is a wonderful luxury pick for first-time visitors.
Downtown is also close to the main sightseeing areas of Southern Higashiyama and Northern Higashiyama, which both host hotels of their own, as well as more restaurants. The areas around Kyoto Station and Central Kyoto, in the middle of the city, are also solid places to base yourself, with plenty of budget and mid-range sleeping options.
Learn more with our list of the best places to stay in Kyoto.
1. Arashiyama Benkai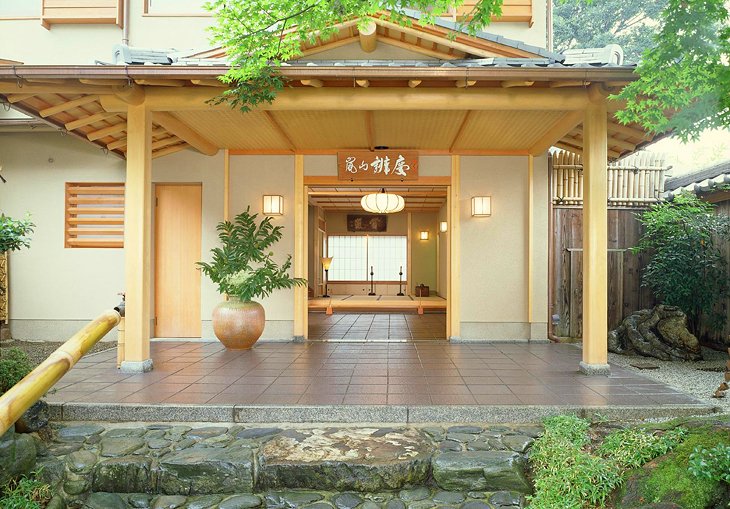 One of the top luxury hotels in the city, Arashiyama Benkai is located in the Arashiyama neighborhood on Kyoto's far west side and it has fantastic mountain views. Across the street from the Katsura River, it sits in a grove of trees and has its own natural hot spring to fuel its indoor and outdoor pools at the gender-segregated bathhouse on-site.
The family-friendly property features rooms that sleep up to five people in traditional Japanese style, with tatami (woven-straw) floors and futon mats. Some of the rooms share baths, while others are en suite. There is also an on-site restaurant serving three meals a day.
2. The Ritz-Carlton, Kyoto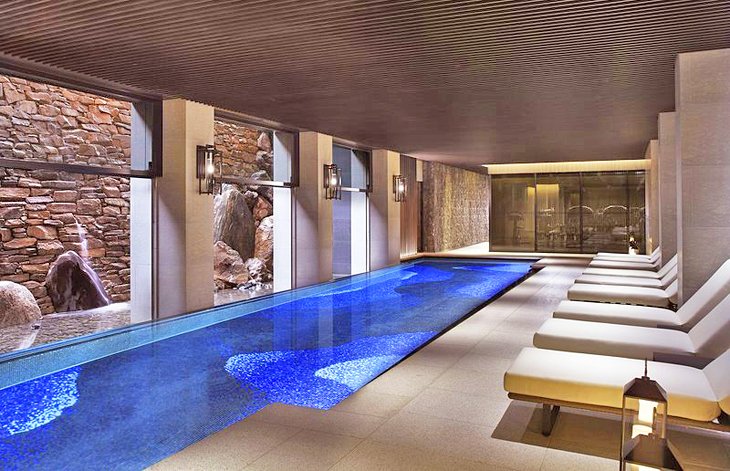 In a fantastic locale on the banks of the Kamogawa River, the Ritz-Carlton is a favorite luxury pick right in the heart of the downtown district. It's perfect for first-time visitors as it has all the usual Western amenities. From here, you can also walk to major attractions like atmospheric Gion and Teramachi Street, which is lined with craft stores.
The rooms and suites are spacious and a mix of modern and traditional Japanese in their design - look for the cherry blossom motifs on bathroom walls and Bonsai plants and Nespresso makers in bedrooms.
Expect standard high-end Ritz amenities throughout this family-friendly property, as well as two on-site restaurants, a beautiful pool overlooking a zen rock garden, and an ESPA spa with green-tea styled treatments.
3. Hotel Kanra Kyoto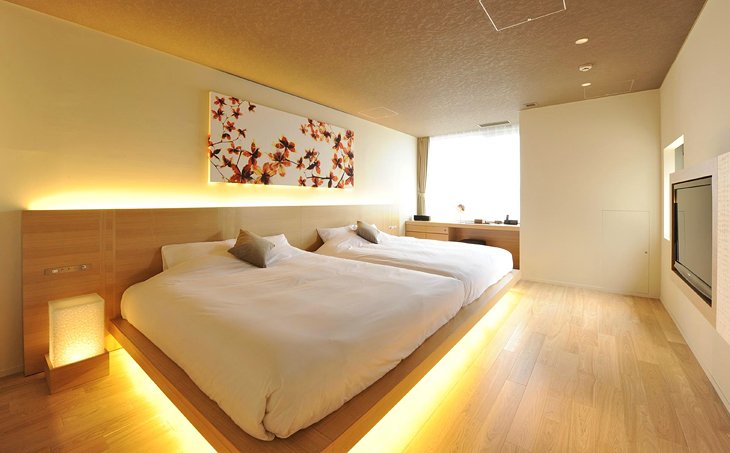 This is a luxury boutique hotel, which has a one-of-a-kind modern style with Japanese touches.
Some rooms at Hotel Kanra Kyoto are done up in loft style on two levels and come with garden courtyards, and in one case, an open-air stone bath. Others come with wood floors and deep cypress soaking tubs.
The staff here is very helpful, and guests can rent electric-assist bicycles to get around.
It is not within walking distance of the main sightseeing districts, but it is still in central Kyoto and just a short taxi or train ride away from them - the hotel is just a minute's walk from a subway station.
4. Hiiragiya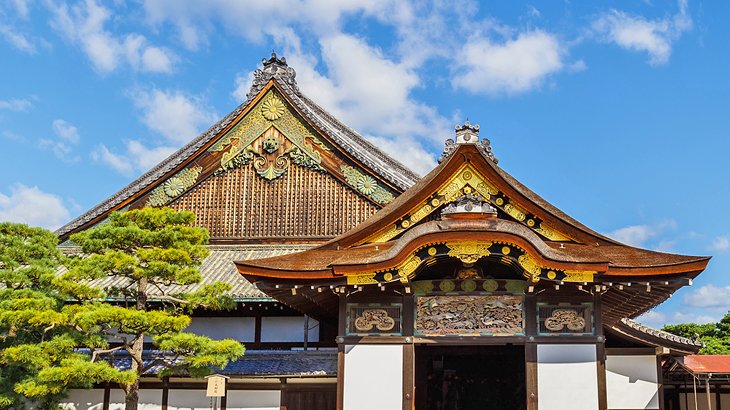 Located in the Nakagyo area in Central Kyoto, near the shopping district and several historic temples, the Hiiragiya dates back to 1818 and is a great luxury option if you're looking to stay in a traditional Japanese inn (ryokan) that prides itself on following time-honored customs.
The 30 rooms are quintessentially Japanese with reed ceilings, woven-straw floor mattresses, low furniture, screen walls, and sliding doors.
Two Kyoto-style Kaiseki meals are included in the rate and served in the on-site restaurant.
5. Villa Sanjo Muromachi Kyoto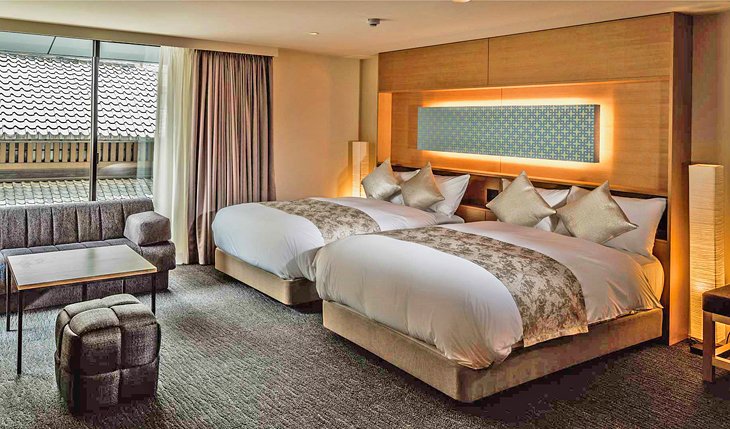 Villa Sanjo Muromachi Kyoto is in a central location just a five-minute walk from a train station and also a number of restaurants (which is good as the hotel does not have one on-site). It is a good mid-range choice if you're looking for an upmarket guesthouse that is not done in traditional Japanese style.
Instead, the rooms are Western style with flatscreen TVs, tea and coffee makers, and large bathrooms. For a romantic trip, book the two-floor suite with a spiral staircase and bathroom enclosed in glass fronting a beautiful garden. This is perfect for couples.
6. Hokkaikan Ohanabo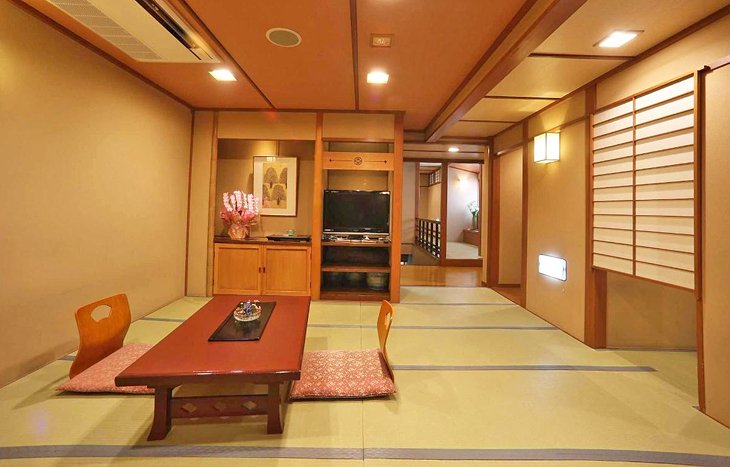 Just a five-minute walk from Kyoto Station and across the street from Higashi Honganji temple, Hokkaikan Ohanabo is a traditional Japanese style inn that falls in the mid-range price bracket.
This charming wooden guesthouse has just 12 rooms, only seven of which have en-suite bathrooms. There are also no elevators, and the ceilings are very low, so some guests may not feel comfortable staying here.
If you're looking for a historic hotel with ryokan rooms that are large and very tidy, as well as options to purchase a communal breakfast and Kaiseki-style dinners in a central location, however, it is a good choice.
7. Motonago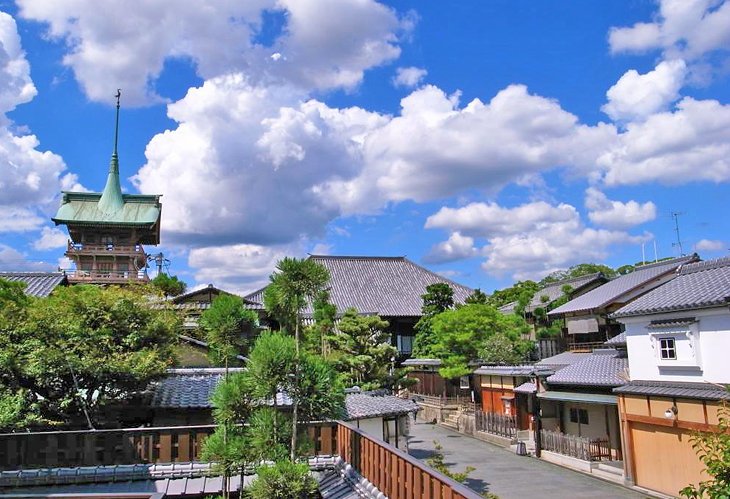 If you're looking for an authentic Japanese inn that is in the mid-range price bracket check out Motonago in central Kyoto.
Rooms are done up in traditional style with woven-straw floors, screens, futons for sleeping, and chabudai dining tables. Not all rooms share bathrooms, however. Breakfast and Kaiseki-style dinner are included in the rate and served in your room.
On-site amenities include landscaped gardens for serene strolls and communal bathhouses separated by gender. There is also free Wi-Fi in public areas.
8. Solaria Nishitetsu Hotel Kyoto Premier Sanjo Kamogawa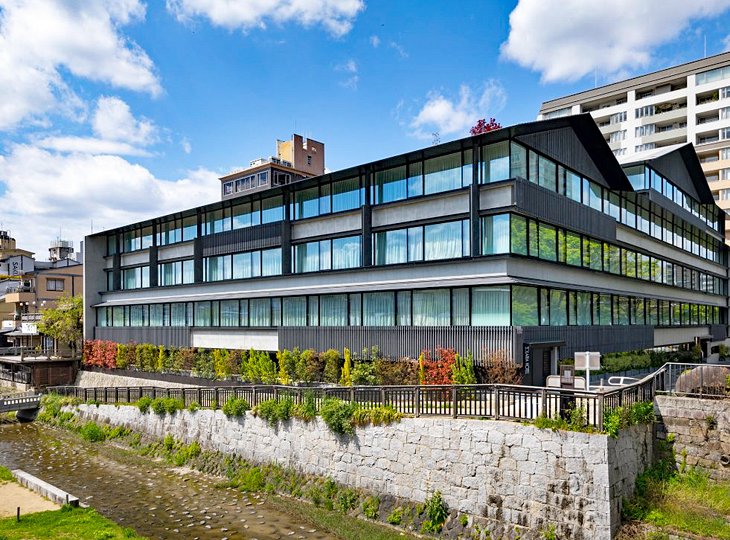 Solaria Nishitetsu Hotel is just a few minutes' walk from Kyoto Station and offers solid mid-range value across from the Kamo River. It is a good pick for families as it features a mix of rooms and suites, the latter of which have separate living areas.
On-site amenities include a restaurant that does a good breakfast buffet with Western and Japanese favorites (not included in the rate), as well as separate male and female traditional Japanese bathhouses with indoor and outdoor pools.
9. Luck You Kyoto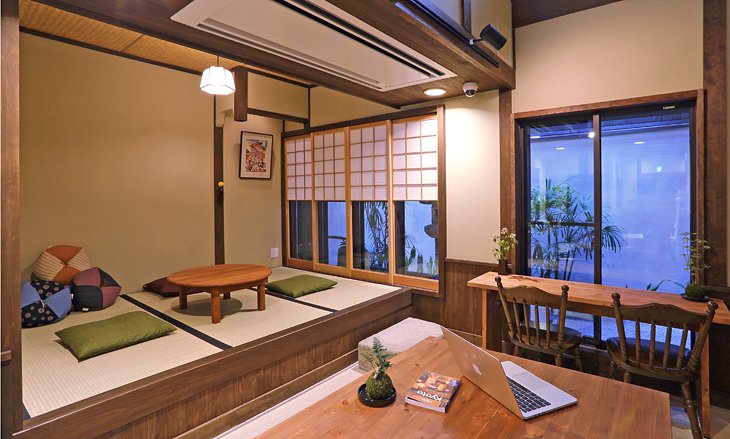 Another mid-range option that is convenient to dining and shopping is the low-key Luck You Kyoto. This child-friendly property is a traditional Japanese-style guesthouse in a wooden townhouse.
It has just seven rooms, and these are done up in local style with the woven-straw tatami floors and futon mattresses for sleeping, as well as either shared or private bathrooms and chabudai dining tables.
Breakfast is included in the rate, and you'll also find a lovely indoor garden space and bike rentals.
10. Ryokan Yamazaki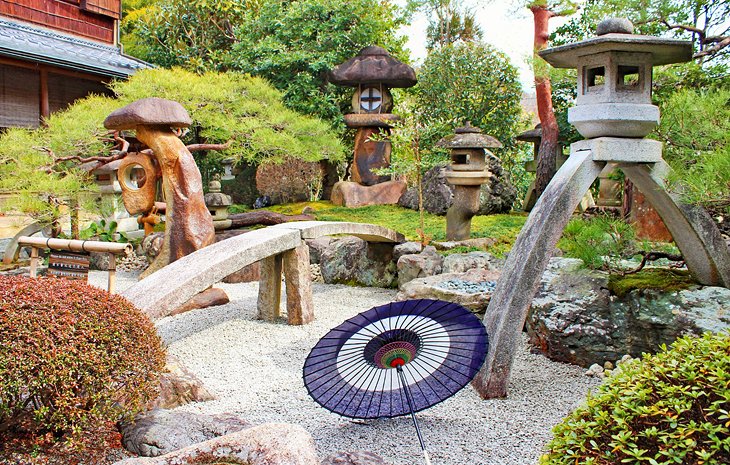 This traditional Japanese ryokan (inn) is located in a beautiful area for walking to numerous temples but it is not in the city center.
The guesthouse features rooms with either private or shared bathrooms, and all come with traditional details like tatami floors and futon beds.
Breakfast and multi-course Kaiseki dinners are available for a fee. On-site amenities include a hot public bath and coin-operated laundry. Free Wi-Fi is also available in most rooms.
11. Fujitaya Bnb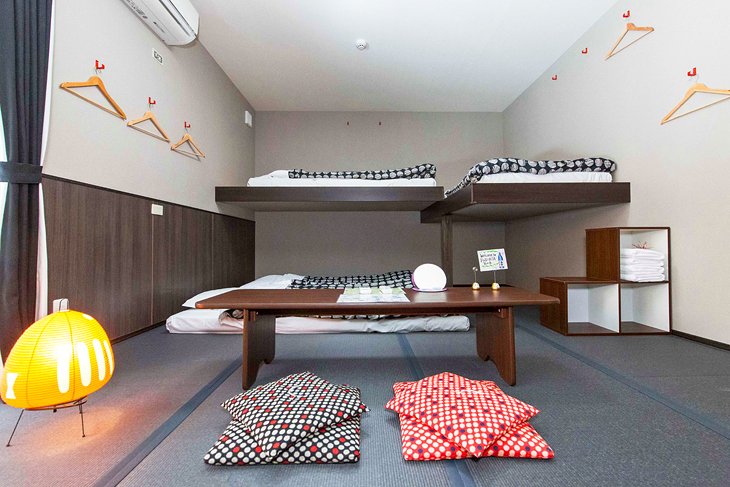 Fujitaya Bnb is a solid budget bet in a quiet residential neighborhood just a 10-minute walk from the Tambaguchi railway station.
It's a traditional Japanese guesthouse - rooms have woven-straw floors and futon mats for beds. Bathrooms are shared with other guests.
There is also a communal kitchen on-site and a cozy shared living and dining space plus free Wi-Fi. And a restaurant, convenience store, and public bath can all be found just a few minutes' walk from the family-friendly Fujitaya. Bike rentals can also can be arranged.
12. Piece Hostel Sanjo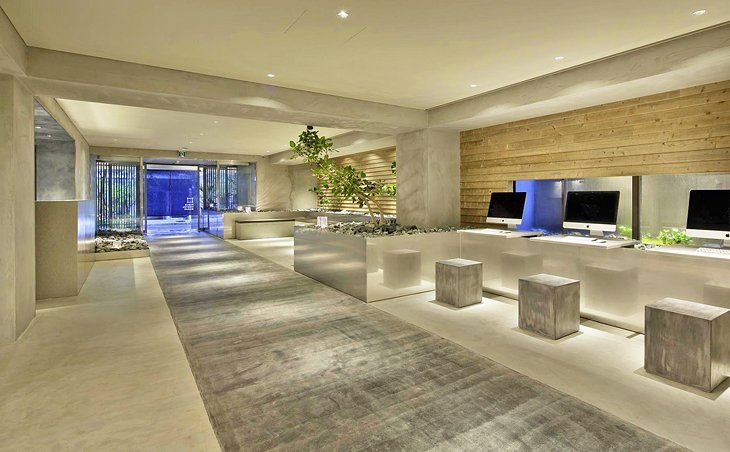 Budget travelers just looking for a clean place to lay their heads will appreciate Piece Hostel Sanjo, a contemporary chic Japanese hostel guesthouse.
It features a choice of dorm beds in either mixed or same-sex rooms, which come with free Wi-Fi and lockers to store your valuables. There are also a number of private rooms available.
Breakfast is included, and the on-site amenities include a guest kitchen for self-catering, a dining space and patio with seats, a restaurant, coin-operated laundry, and bike rentals.
13. Miru Kyoto Nishiki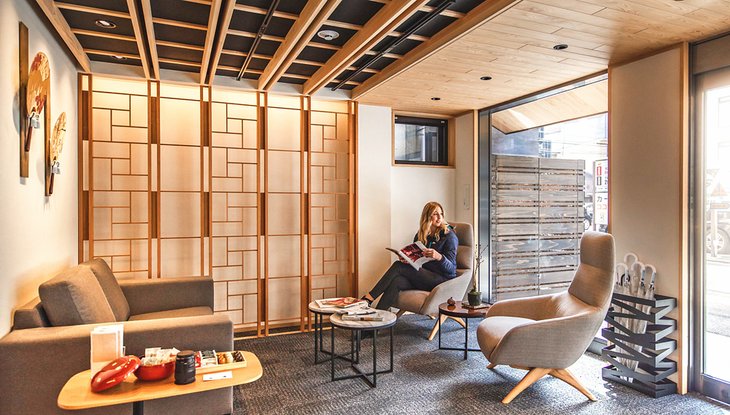 Miru Kyoto Nishiki is a reincarnation of Nest at Nest Hotels. The newly redone property is a lifestyle hotel, meant to be a destination on its own.
It blends into its natural environs while representing Japanese culture in its local design influenced rooms. The bold accent walls and ceilings are a unique touch, and overall the rooms are Western style.
Amenities at this three-star hotel include a hot tub and laundry service. There is also free Wi-Fi, and the front desk is open 24 hours a day.
14. BnA Alter Museum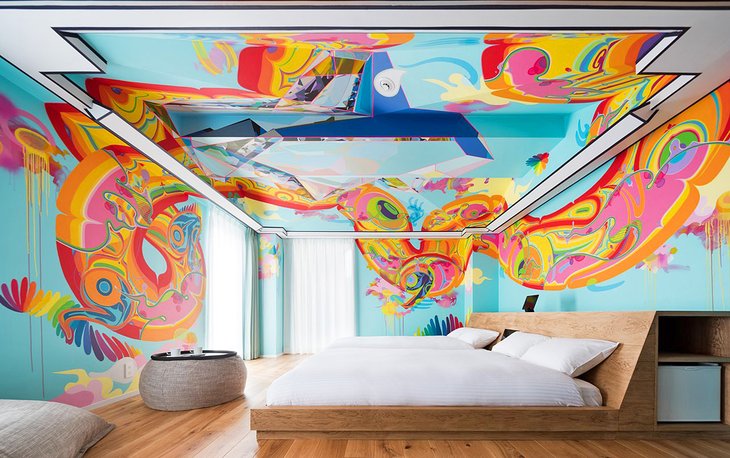 For a truly unique sleep in Kyoto, check out BnA Alter Museum. The boutique hotel feels like sleeping in an actual art museum. That is because its 31 one-of-a-kind rooms have been designed by 15 different Japanese artists. Each is its own work of art. Some also come with views of the Kamo River.
On-site amenities here include a hot tub, evening entertainment, and free Wi-Fi. The hotel is also just a five-minute walk from Kyoto's cultural hub Gion and Kawaramachi.
Map of Places to Stay in Kyoto