Iceland Road Trip: Driving the Ring Road
Iceland's Ring Road (officially labelled as Route 1) is one of the most spectacular road trips in the world. Running 1,332 kilometers around the edge of Iceland, this winding, 98-per-cent-paved, two-lane highway takes you past saga-worthy waterfalls, otherworldly lava fields, blustery black-sand beaches, sparkling ice caves, and mind-blowing glacier hikes.
While it's theoretically possible to drive the route in 15 hours (the speed limit on most of the road is 90 kilometers per hour), you'll want to give yourself at least seven days in Iceland to fully experience this unique road-trip itinerary and all it has to offer.
DAY 1: Refresh in Reykjavík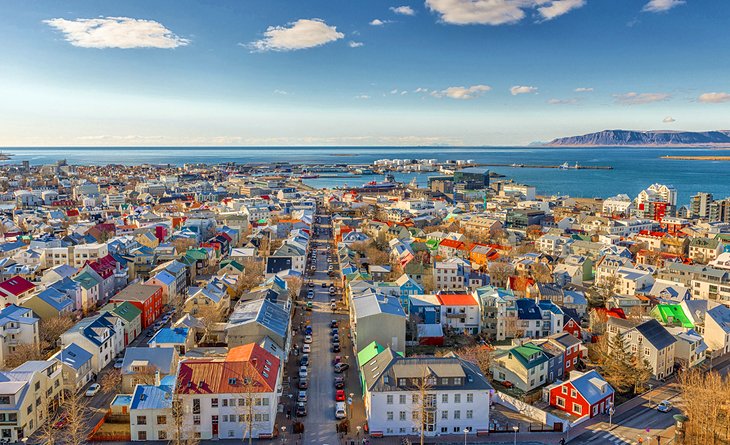 After landing in Iceland's Keflavik Airport, head into the national capital of Reykjavík for a bit of rest and relaxation before setting out on the Ring Road. As the largest city and cultural center of Iceland, it's the ideal spot to familiarize yourself with the country's history, eat a few fabulous meals, and catch up on sleep amid your transatlantic jet lag.
The National Museum of Iceland's permanent collection of 2,000 Icelandic artifacts helps illustrate the country's colorful history, spanning medieval Viking settlements to contemporary society. For a true culinary treat, make a dinner reservation at The Grill Market (Grillmarkaðurinn) and order their tasting menu for one of the most delicious and distinctive meals of your life-chef Hrefna Sætran only uses fresh, seasonal ingredients directly sourced from Icelandic farmers and fishers to create dishes inspired by Iceland's landscape.
One of the best kept secrets in Reykjavík is the plethora of public pools scattered throughout the city, which offer the perfect place for a post-flight hot tub. The pools at these swimming, soaking, and steaming complexes are fed by the same thermal waters that flow into the city's luxury spas but cost a fraction of the price to visit. (Be sure you read the changeroom rules before going, as many facilities implement strict hygiene regimens when it comes to bathing suits and showering.)
TIP: Traveling in a rented camper van (try Happy Campers, Cozy Campers, or Kuku Campers) is a hugely popular way to drive around Iceland. Although camping is only recommended during the warmer summer months of June through mid-September, many visitors like the convenience (and cost savings) of driving and sleeping in a kitted-out camper van. It certainly adds an element of adventure to an Icelandic road trip, setting up camp in one of the country's 170 registered campsites or asking permission from landowners to park on their property.
DAY 2: Getting on the Golden Circle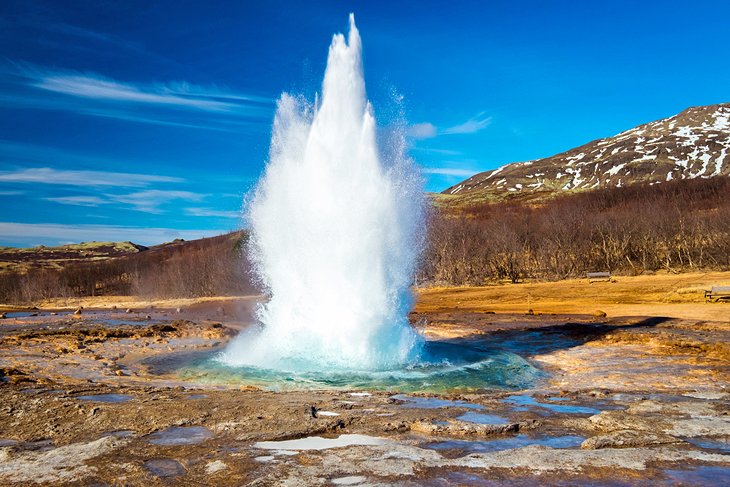 While Iceland's Golden Circle is not actually part of the Ring Road - it's a 187-mile tourist loop from Reykjavik into the southern uplands and back - it is worth spending a day at the beginning of your Iceland itinerary to experience all the top-rated sites found along it.
Only about 45 minutes northwest of Reykjavík, Thingvellir National Park should be your first stop on the Golden Circle. As the first of three national parks designated in Iceland, this geological gem sits directly between the Eurasian and North American tectonic plates and is the only place on earth where the Mid Atlantic Ridge is visible above sea level. Iceland's landmass began to form millions of years ago in this very spot, when a boiling magma bubble rose up between the two plates.
The next stop is the Geysir Geothermal Area (about a 50-minute drive from Thingvellir), but you'll spy steaming vents and geothermal chimneys long before you arrive. Once here, head to the Strokkur geyser to witness it shoot boiling water up to 40 meters into the air about every five to 10 minutes - this type of thermal activity is an extremely rare natural phenomenon, so don't miss out. Plus, the gift shop has an excellent on-site museum, local handicrafts, and serves up hearty Icelandic soup at lunchtime.
The final stop on this Golden Circle itinerary is only a 10-minute drive west: Gullfoss waterfall, arguably one of the most spectacular waterfalls in Iceland (and that's saying a lot, as there are over 10,000 in this island nation). The Hvíta River plunges 105 feet down two drops, creating a spray that on a sunny day turns into a kaleidoscope of rainbows. From here, it's time to leave the Golden Circle and head south towards the Ring Road.
TIP: Before you leave Reykjavík, stock up on road snacks and groceries, as food can be expensive along the Ring Road. Look for the budget supermarket Bónus (and its pink-pig logo).
DAY 3: Seeing the South Coast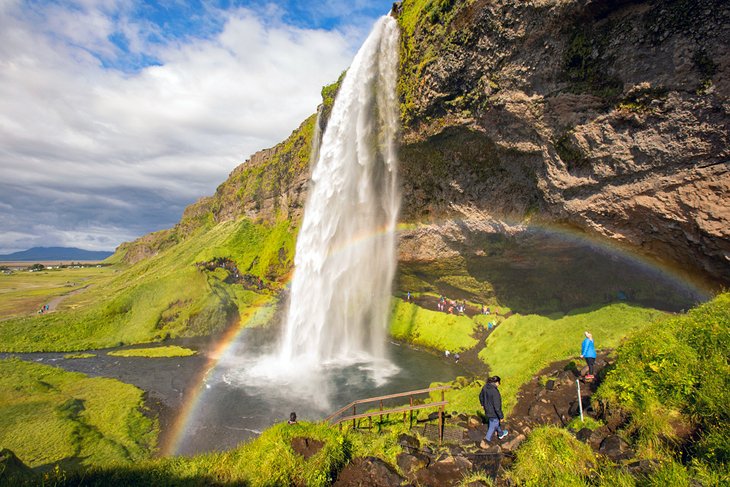 While there is no right or wrong direction to drive the Ring Road, choosing to tackle driving around Iceland in a counterclockwise direction means you'll hit all the big touristy areas first, and save the more rural (read: relaxing) stops for later in the week.
Here on the south coast, the road sticks close to the hilly shoreline, which means there are often strong winds blowing in off the North Atlantic (even in summertime), so be careful of drifting. Also, be aware that single-lane bridges over rivers and fjords are the norm, so follow right-of-way notices.
The first highlight, Seljalandsfoss, is not only one of most beautiful waterfalls in Iceland but also the most accessible, sitting just 100 meters from the road. Get out, stretch your legs, and take a quick 10-minute hike behind the waterfall and along a short trail to reach a second hidden waterfall, Gljúfrabúi.
A farther 25-minute drive gets you to Skógafoss, another impressive waterfall that spans 25 meters in diameter and drops 60 meters into the sparkling Skógá River.
One of the most unusual natural characteristics of Iceland's southern coast is the abundance of black-sand beaches, thanks to millennia of waves beating against cooled lava flows, breaking up dark igneous rock into fine sand. Head to the cliffs of Dyrhólaey (which are visible from the Ring Road but are accessible via a small side road) for a breathtaking view of the dramatic beaches sweeping up to lush farmland and onto the glaciers. Also keep your eyes open for a myriad of extraordinary bird life - these cliffs are home to thousands of puffins.
TIP: While gas stations are easy to find in towns, once you're out in the countryside, they become much harder to find. Make sure you fill up when going through a larger town, and budget appropriately - gas prices are high.
DAY 4: Greeting Great Glaciers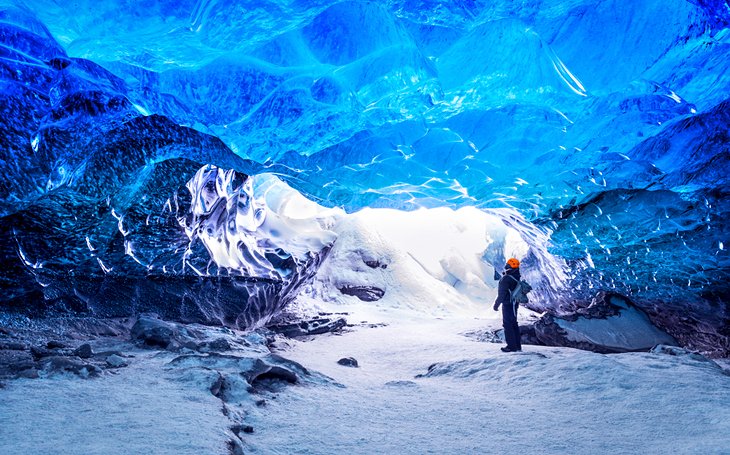 Three hours farther east along the Ring Road, you'll find one of Iceland's top-rated tourist attractions - Jökulsárlón, a massive glacial lagoon bordering Vatnajökull National Park. Its still, ice-blue waters are fed by the Breiðamerkurjökull Glacier and are filled with massive floating chunks of ancient ice that have flowed down from the glacial ice field. Hop onto one of the amphibian boat tours that take you out onto the lake to get up close and personal with the icebergs (you'll even get to taste a chunk!) and offer incredible views of the surrounding glaciers.
During the winter months (October to March), there are even ice-cave expeditions under the Vatnajökull Glacier, which take you down into the freezing, ice-blue glacier caverns. Gear up with a helmet and crampons, and let an experienced guide lead you through an otherworldly tour of sweeping ice arches and glacial formations, while breaking down the geological history of Iceland's glaciers and what makes them so unique.
TIP: If you're itching to get off the Ring Road and head up into the Highlands of Iceland you've been spying from a distance for the last four days, you legally have to have a 4WD vehicle to do so. The roads are all rough gravel, many are single lane, and, due to their high elevation (and the extreme weather conditions that come with that), are only accessible from late June to September.
DAY 5: Edging Out into the Eastern Fjords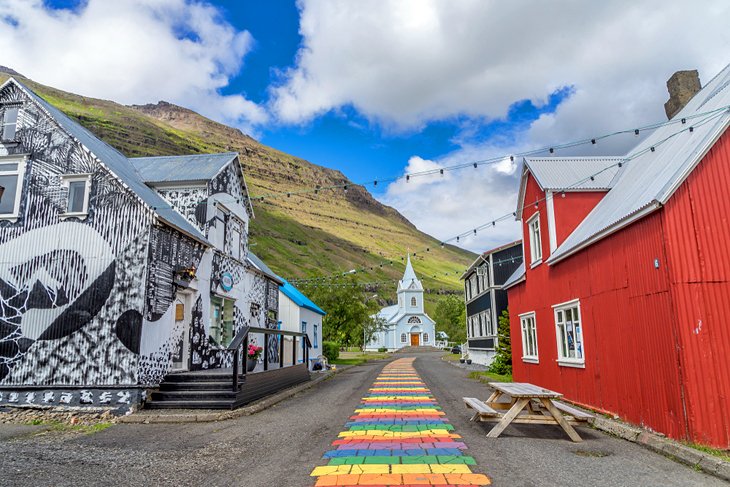 The next stop on this seven-day Iceland itinerary is Djúpivogur. Nestled at the head of the picturesque fjord of Hamarsfjörður, this tiny village has been an important trading center for nearly 500 years, with the oldest standing warehouse constructed in 1790 (it's also the location of the town's Heritage Museum).
A half mile outside the village, be sure to check out an outdoor sculpture exhibit titled The Eggs of Merry Bay - these 34 massive granite eggs by famous Icelandic artist Sigurður Guðmundsson pay tribute to the native birds of eastern Iceland.
Two and a half hours farther up the Ring Road, at the end of a dramatic 16-kilometer-long fjord, is arguably one of the prettiest villages in the country, Seyðisfjörður. Walk along the rainbow-painted path through town, past inviting restaurants serving up creamy seafood soups with fresh bread, and tiny family-run boutiques selling traditional hand-knit sweaters and other local crafts.
Up behind the village, you'll find access to a web of well-marked hiking trails that guide you up the steep, lush fjord, passing waterfall after waterfall, and provide a panoply of picturesque views along the high mountain ridge, down the slopes and out to the ocean. Be sure to watch your step, as there are many nesting birds along the side of the trail that are not used to human activity (yes, this place is that remote).
TIP: While the number of people who live in Eastern Iceland may be quite small, the population of grazing sheep and reindeer is not. During the winter months, livestock is usually safely fenced in but, once the snow melts in the spring, they roam freely across the lush, green countryside... and roadways.
DAY 6: Northwest Water World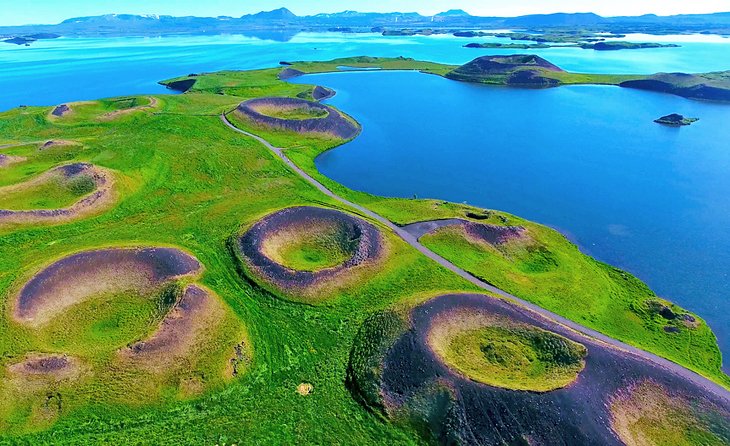 Turning northwest away from the coast, this self-drive tour moves onto Lake Mývatn, a stunning, shallow, 14-square-mile volcanic lake created by a lava eruption 2,300 years ago. Ringed by volcanic craters and surrounded by rich wetlands, this area is famed for its wide variety of water birds - walk the Stakhólstjörn trail (about one hour of easy terrain) to see why.
While here, be sure to save a few hours to decompress in the hot thermal waters of Mývatn Nature Baths. This sleek, modern pool complex sits alone in the middle of this unique, moon-like volcanic landscape, providing the ultimate only-in-Iceland experience. (Go to the gift shop to find vibrant bathing suits covered with images of exploding volcanos, which you're not going to find anywhere else!)
Forty five minutes along the Ring Road is one of Iceland's beautiful waterfalls, Goðafoss, meaning "waterfall of the gods," which makes sense after you witness this magnificent 30-meter-wide cascade, surrounded by a fairy-tale, rocky, green landscape, crash down into the Skjálfandafljót River below.
TIP: The conditions in Iceland vary greatly from season to season. While it's not recommended to drive the Ring Road in wintertime, if that's when you decide to do, give yourself up to two weeks (versus the one-week road-trip itinerary in summer) to account for road closures and blockages, and severe weather.
DAY 7: North Iceland and Back to Reykjavík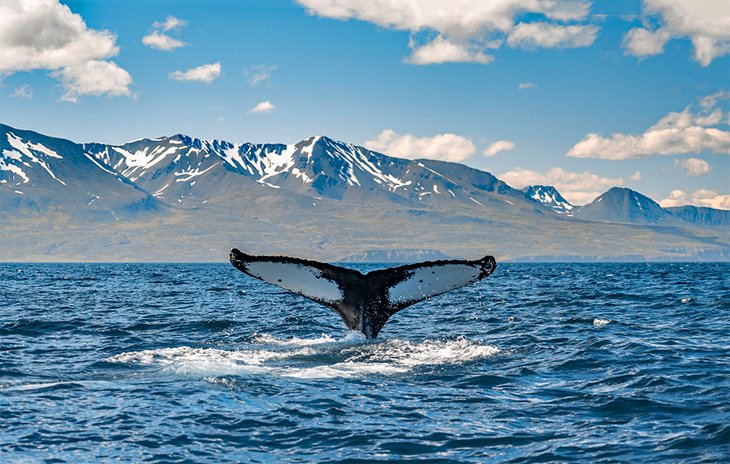 Akureyri is just over an hour away and, with a population of just under 20,000, is known as the Capital of North Iceland - this is a great spot to fill up on gas, supplies, and any last-minute souvenirs in preparation for the final leg.
As it's also the final oceanside stop on the Ring Road (and this Iceland itinerary), this is where you should hop on a whale watching tour in the event that spotting humpback whales is on your Iceland itinerary bucket list. There are a number of different options, from the classic whale watching cruise to a more adventurous (and windswept) rigid inflatable boat tour - there's even a midnight sun option if you want to spot those distinctive tails in the soft glow of continual dusk.
Just an hour and a half shy of Reykjavik and our final area of interest on this Iceland itinerary, Grábrók, Rauðbrók, and Smábrók are three volcanic craters that demand your attention. Formed around 3,400 years ago, these dramatic craters and surrounding lava fields are now part of a nature reserve, where visitors can explore these geological wonders along a series of easily accessible trails - if you're feeling energetic, there's even one to the summit of Grábrók (170 meters).
TIP: Having a reliable cell phone on a road trip is a must. But rather than racking up huge roaming charges while out on Iceland's roads, consider buying a local prepaid SIM card, which will give you access to GPS maps, weather reports, road closures, and emergency services.
More Related Articles on PlanetWare.com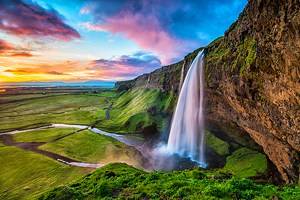 Planning your trip to Iceland: When planning a trip like this, one of the most important factors is when to go. This may depend on some of the things you want to do on your trip. For more information, see our guide to the Best Time to Visit Iceland. Also relevant for travelers is where to stay. For ideas, have a read through our top picks for the Best Resorts in Iceland.