Mission Houses Museum, Honolulu
These three houses, dating from the early days of the missionaries, are protected as a national historic landmark and open to the public as a museum. They are the oldest western style buildings still standing. The properties include the Mission House (1821), the printing works (1841) and the the Chamberlain House (1831), built by Levi Chamberlain for himself and his family of eight when they came to Honolulu from Vermont in 1823. It was here that books in the Hawaiian language, used by missionaries as a written language, were first printed.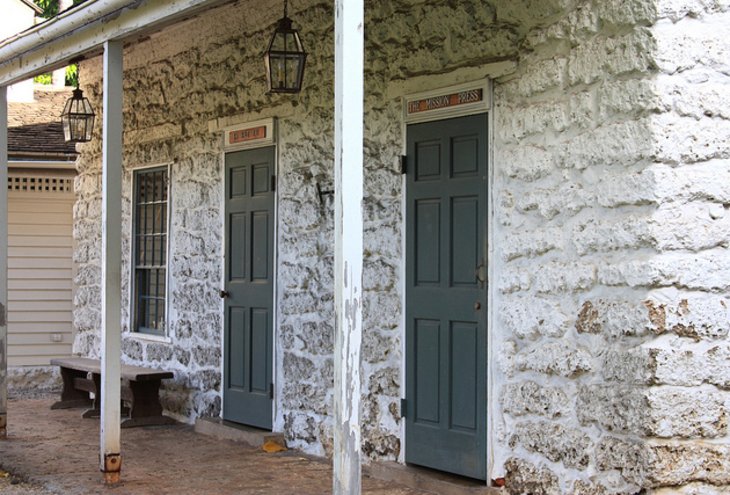 Mission Houses Museum norskehookele
On the one hand missionaries contributed to Hawaiian culture by creating an alphabet essential to the preservation of Hawaiian language, previously only a spoken language. On the other hand they helped erase Hawaiian culture by spreading Christianity. Kamehameha II, who in 1819 had participated in the destruction of the traditional kapus, viewed the missionaries with mistrust. He curtailed their stay to one year and allocated them a barren place somewhere between Waikiki and present day Downtown Honolulu in which to live. They could only construct a few grass huts there, which afforded them little shelter, and the dry earth made farming on a large scale impossible.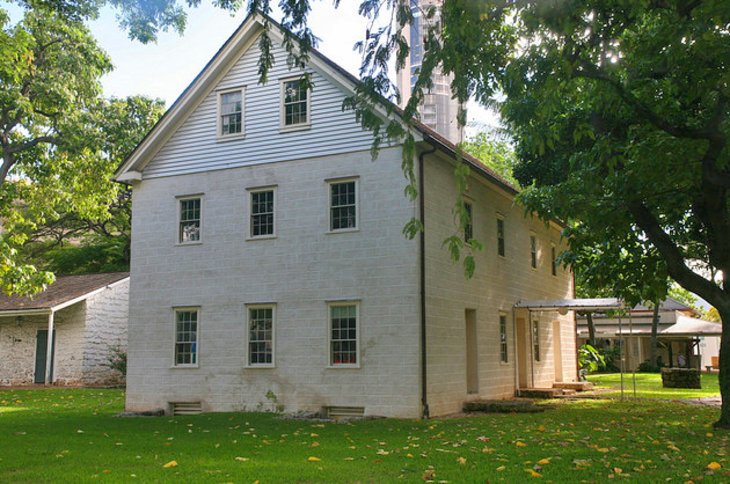 Mission Houses Museum cliff1066(TM)
Shortly before Christmas 1820 parts of a wooden house arrived on board a freighter from Boston. The missionaries could not erect it, however, as they needed permission from the king to stay where they were for more than a year. Just before the end of the year the king came to make an inspection. He visited a class belonging to the school held in one of the grass huts, ate a sumptuous meal, allowed himself to be persuaded by the missionaries ideas, and granted them permission to stay for longer.
As a result of this, work began immediately on the first house, which can now be visited. Few of the original furnishings have survived although two large desks from the 1830s, sent to Honolulu from Boston, and a rocking chair designed for the king and his queen by the missionaries' leader, Father Hiram Bingham, still exist. Two mid 1800s hurricane lamps from New England can also be seen.
The printing press, now located in the printing house, is not the original. It is, however, a true copy of the original press on which the first Hawaiian words were printed. A second printing press from that time is in Lahaina, on Maui, at the campus of Lahainaluna Seminary.
More on Hawaii