11 Top-Rated Attractions of Geelong & the Bellarine Peninsula
We may earn a commission from affiliate links ()
On the western side of Port Phillip Bay, the beautiful Bellarine Peninsula sits about 100 kilometers southwest of Melbourne, opposite the Mornington Peninsula. Equally as gentrified as its nearby sister peninsula but much quieter, the Bellarine Peninsula is a blend of history with a modern twist. Long curving beaches, quaint seaside villages with hip cafes, museums, and heritage architecture are some of the region's top attractions.
The bustling city of Geelong is the gateway to the peninsula and it's packed with things to do. It's also a popular stopping-off point for travelers heading to the Great Ocean Road, one of the world's top scenic drives. Other top Bellarine Peninsula places to visit include the charming seaside village of Queenscliff; the beautiful beaches of Barwon Heads; and the sleepy town of Point Lonsdale, with dramatic views of the Port Phillip Heads.
Families can hang out with their favorite Aussie animals at wildlife parks, and foodies can feast their way around the region visiting boutique food producers and family-owned farms. Plan your trip to this picturesque region with our list of the top attractions in Geelong and the Bellarine Peninsula.
Note: Some businesses may be temporarily closed due to recent global health and safety issues.
1. Geelong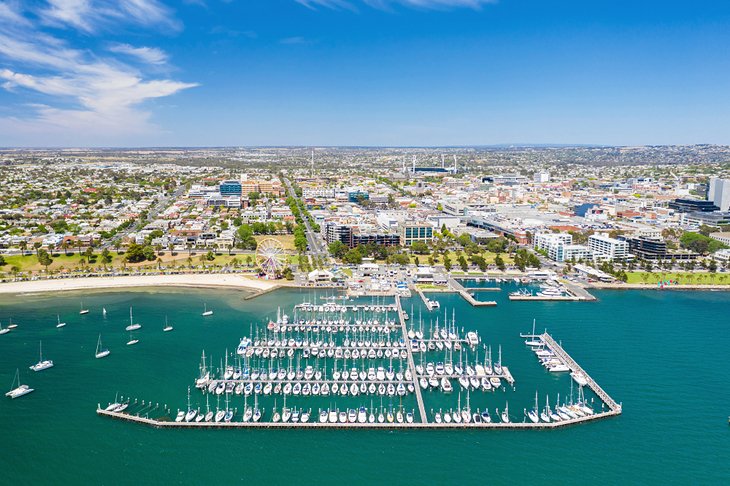 As Victoria's second largest city, Geelong is a wonderful spot to stroll along the bay, soak up some history, and hang out at a hip cafe before heading out to explore the rest of the peninsula. One of the top Geelong attractions is Eastern Beach Reserve. Revamped and revitalized, this bayside park is a lovely spot for a walk along the water's edge on the Promenade. Look for the famous antique carousel and the Bayside Bollards, colorful carved characters depicting Geelong's history.
Once an important port for the goldfields of Ballarat and the wool industry, Geelong is also rich in history. You can learn all about the city's role in the wool industry at the excellent National Wool Museum, and stop by the Narana Aboriginal Cultural Center for insight into the region's aboriginal culture.
Geelong's history is also reflected in its heritage architecture. Of particular note is the beautiful Christ Church, the oldest Anglican Church in Victoria; St. Peter's and St. Paul's Catholic Church; Customs House; and the Town Hall, Victoria's oldest surviving wooden building.
Green thumbs can explore the beautiful plantings at the Geelong Botanic Gardens and enjoy a Devonshire Tea after their stroll, and art lovers should stop by the free Geelong Gallery, which in addition to important Australian and European works also spotlights early regional images. If you're traveling with wriggly kids, let them burn off steam at Adventure Park Geelong water park.
2. Eastern Beach Reserve & the Baywalk Bollards, Geelong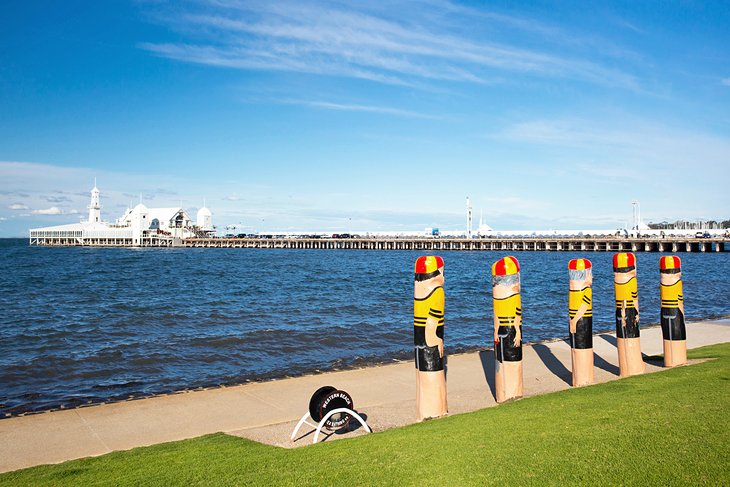 One of the top things to do when you arrive in Geelong is take a relaxing stroll through Eastern Beach Reserve on the waterfront. You'll find plenty of activities for the whole family here. A flat, smooth promenade runs along the edge of Corio Bay, and picturesque picnic spots beckon beneath along the way, with beautiful bay views.
On hot days, you can bask on the white-sand beach or take a dip in the shark-proof Art Deco swimming pool. Kids can paddle in the children's pool or climb until their heart's content at the nearby playground. A short stroll up the beach, the historic carousel and a Ferris wheel await for more family fun. Other fun things to do include casting a fishing line from Cunningham Pier or sipping a coffee while you soak up the bay views.
Punctuating the promenade are one of Geelong's top sights: the colorful and whimsical Baywalk Bollards. Carved out of wood from the pylons of one of Geelong's piers, these colorful local characters depict local history, from a group of lifesavers reeling in a buoy to a military brass band pumping out a tune. Local artist Jan Mitchell painstakingly created an entire exhibition that spans the length of the Promenade, bringing smiles to tourist of all ages.
If you're looking for fun things to do in Geelong for couples, take a romantic stroll along the beautiful promenade at sunset, one of the best free things to do in the Bellarine Peninsula.
3. Barwon Heads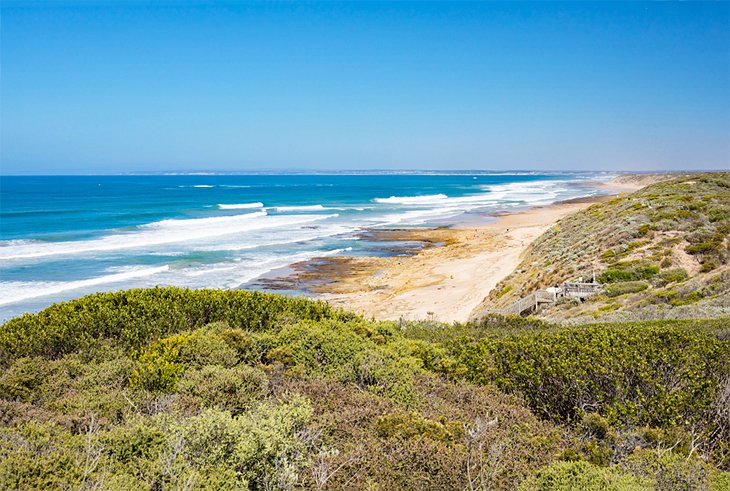 Laid-back and charming, Barwon Heads is a popular seaside town, made famous in the long-running Aussie TV show, Sea Change, about Aussies moving to idyllic coastal towns. Today, beautiful Barwon Heads still offers the good life. The Barwon River is the only river slicing inland through the Bellarine Peninsula, and its mouth is an inviting and sheltered spot for a picnic.
Sweeping 13th Beach is renowned for its surf, and the Barwon Heads Golf Club offers visitors a memorable round among the sand dunes overlooking the rolling waves. The Bluff Lookout at Point Flinders also offers beautiful views of the rugged coast, with a network of hiking trails fanning out around it.
Families and animal lovers will love the Jirrahlinga Koala & Wildlife Sanctuary, where you can get up close to koalas, kangaroos, and other Aussie animals without the crowds often found at bigger zoos. Other popular things to do here include hanging out at the boutique shops and cafes on Hitchcock Avenue, and if you're looking for more of an adrenaline rush, you can sign up for a skydiving adventure or scenic flight. Just north of Barwon Heads, bird-watchers and anglers will find plenty to keep them busy at Lake Connewarre and its surrounding wetlands.
If you look at the Bellarine Peninsula map, you'll see the equally popular holiday destination of Ocean Grove on the other side of the river, with one of the best beaches on the Bellarine Peninsula.
4. Geelong Vintage Market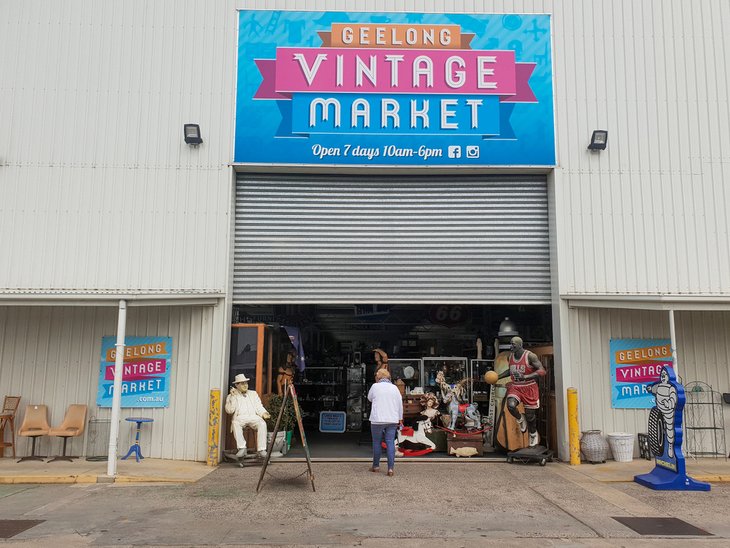 With more than 70 stalls and 4,000 square meters of undercover space, the Geelong Vintage Market features stall after stall of quality antiques and just plain quirky stuff. This trip down memory lane is just as good for window shopping as it is for serious collectors. You can find everything here, from rustic furniture and second-hand books to vinyl records and vintage clothing. The café makes for an easy lunch stop, and there are also several other second-hand dealers in the immediate area.
Address: 287/301 Melbourne Road Geelong
5. Queenscliff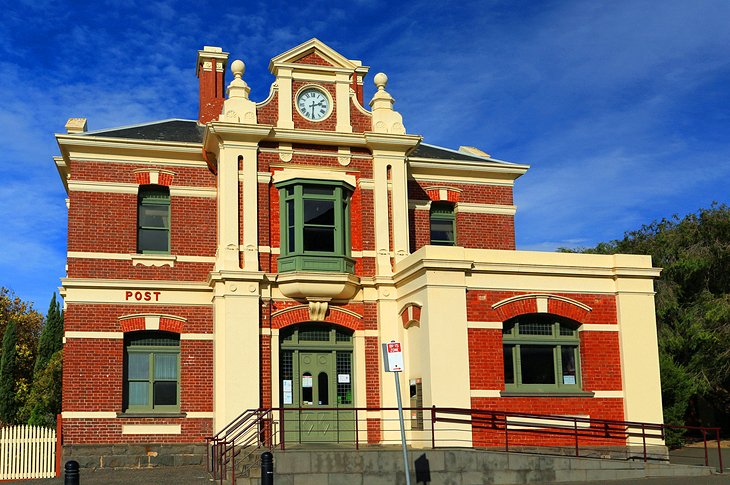 Handsome old hotels reminiscent of past grandeur dominate the elegant township of Queenscliff, surrounded by beautiful views of the deep blue bay. Although not as popular as Sorrento, its counterpart on the opposite side of Port Phillip Bay, this small Victorian town offers plenty of culture, with excellent art galleries, classy restaurants, and boutique shops.
A great place to start your tour is at Queenscliff Harbour, where you can enjoy sweeping 360-degree views of the bay from the 42-meter-high observation tower. For a dose of history, Queenscliff Fort dates back to 1860 and was instrumental in the defense of the Victorian coastline. Today, it serves as an excellent museum and is considered one of the best preserved forts in Australia. The black lighthouse at the fort is one of only a few unpainted in the entire world.
Full of mystique, in the same area, Buckley's Cave is where escaped convict, William Buckley, lived for many years among the local indigenous people. This is where the local phrase "you have Buckley's chance" comes from. Other popular activities include seal and dolphin swimming tours, and taking a ride on the historic Bellarine Railway.
6. The Bellarine Railway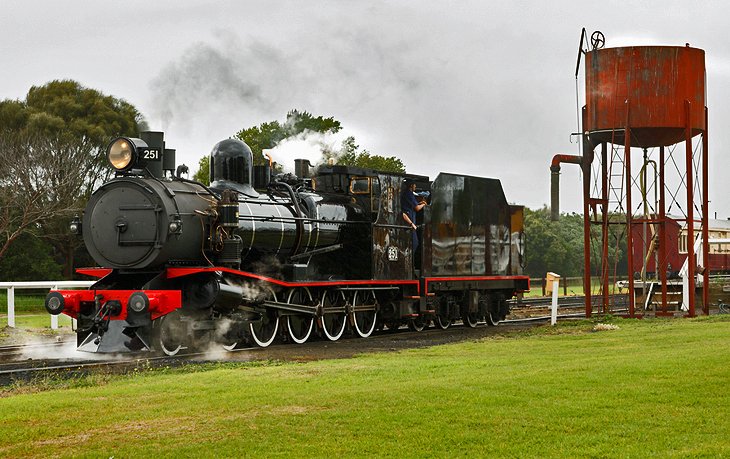 Train buffs can get their fix on The Bellarine Railway. Both steam and diesel trains operate from the Queenscliff station on most weekends, and special themed rides means there's a unique experience for everyone in the family.
Kids love A Day out with Thomas, and everyone enjoys the Heritage Rides. If you're a music lover, make sure you buy a ticket on the popular Blues Train, with a full meal, dancing, and different blues bands in each carriage. You can even sign up for an experience driving one of the locomotives. In addition to riding the trains, the station houses a unique collection of rolling stock.
7. Point Lonsdale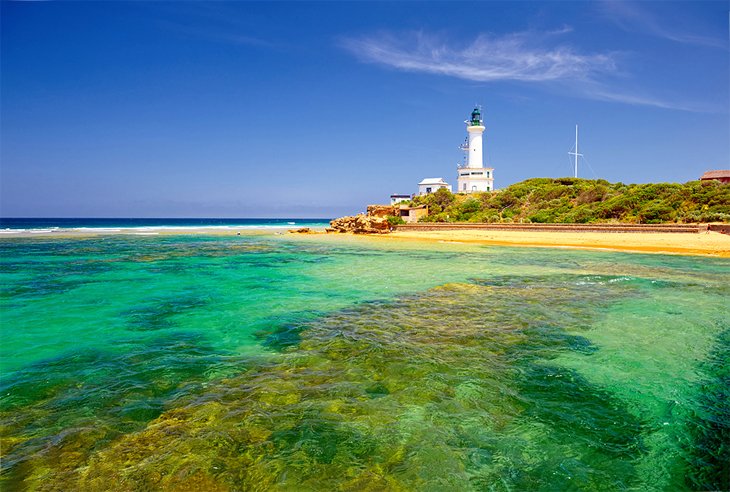 A few kilometers from Queenscliff, the sleepy township of Point Lonsdale is a quiet paradise overlooking a tumultuous stretch of sea. The lighthouse provides a perfect spot to watch vessels negotiate the Rip, the two-kilometer stretch of water through the Port Phillip Bay Heads. Every pleasure and industrial ship has to pass through this narrow crossing, and Point Lonsdale provides the best view.
If you're looking for some beach time, you can swim in the sheltered bay or surf the breaks of the back beach. To soak up the beautiful views, take a stroll along the old pier, a prime vantage point for photographers, especially at dawn.
8. Bellarine Surf Beaches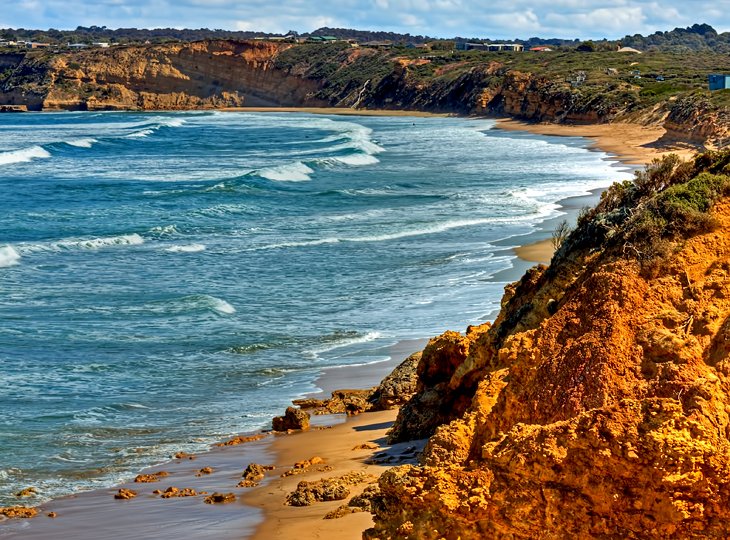 Catching waves at one of the many beaches on the Bellarine Peninsula, gateway to the Great Ocean Road, is a wonderful way to enjoy a favorite sport of the locals. Kilometers of pristine sand and perfect waves extend from Barwon Heads and Ocean Grove onto Torquay, the official start of the Great Ocean Road. Pack a picnic, take a coastal walk, or do a spot of bird-watching—the scenery will take your breath away.
9. Seal and Dolphin Swim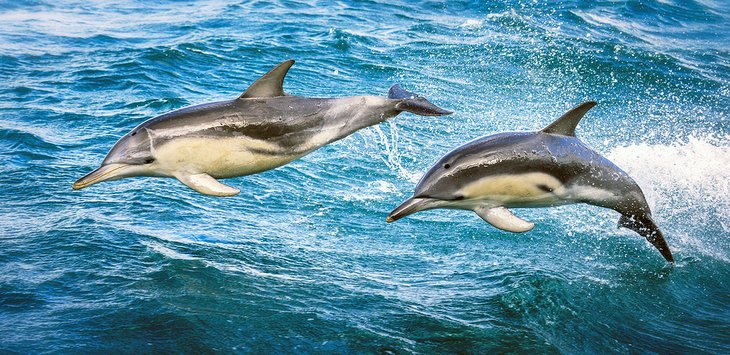 Ever wanted to come face-to-face with a friendly fur seal or wild dolphin under water? This is your chance! From October through May, you can meet these lovable marine mammals in their natural surroundings on an exhilarating 3.5-hour Sea All Dolphin Swim.
The tours depart from the seaside village of Queenscliff and take you out to Port Phillip Bay Marine National Park, where you can practice your snorkeling skills along the fish-rich reefs. Once you're feeling confident, you'll have a chance to swim with wild Australian fur seals and, if you're lucky, pods of playful bottlenose dolphins. You might also see rays gliding along the sandy bottom.
The experienced instructors cater to all level of swimmers and show the utmost respect for these wild animals. All equipment is provided, including snorkel gear and wetsuits.
Official site: http://www.dolphinswims.com.au/
10. The Bellarine Taste Trail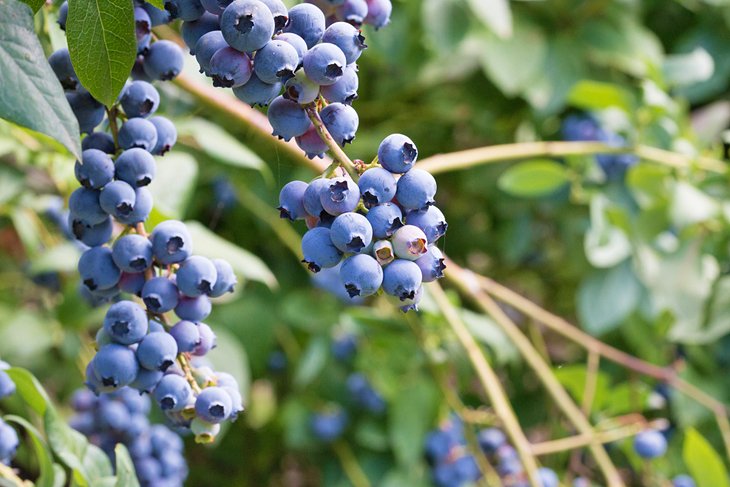 Foodies can taste their way around the bountiful Bellarine Peninsula on The Bellarine Taste Trail. More than 50 stops along the way include artisan food producers, local growers, craft beverage makers, and local cafes and restaurants. Pick your own blueberries and strawberries at Tuckerberry Hill; sample creamy, locally made cheeses and yoghurts at Drysdale Cheeses; savor smoked fish at a boutique smokehouse; and taste tangy olive oils.
Restaurants and cafes include everything from gourmet Aussie pie shops to a six-course degustation menu aboard The Q Train, a historic train on the Bellarine Railway. Don't forget to stock up on local goodies for souvenirs. Pick up a map from a local visitor center or your hotel and off you go!
Official site: https://www.thebellarinetastetrail.com.au
11. The Antique Carousel, Geelong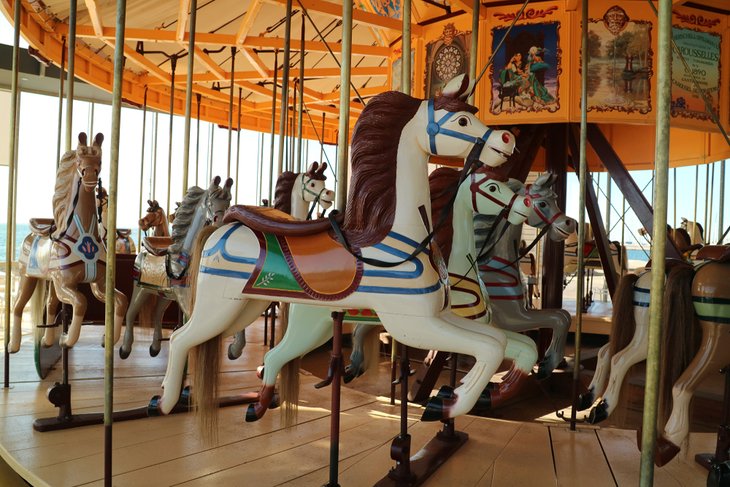 One for the kids and kids at heart is the meticulously restored steam-driven carousel centrally located on Geelong's waterfront. Originally built in 1892, this hand-crafted wooden carousel is a rare sight. More than 40 layers of paint were scraped off each horse to reveal the original color scheme, and it's said that more than 300 hours of work went into restoring every horse.
Large glass windows offer a spectacular sea view whilst riding one of the well-loved steeds to the sound of carnival music. With free entry to the carousel building (and a small fee to ride), it's an opportunity to relax and reminisce.
Address: 1 Eastern Beach Road, Geelong
Where to Stay in Geelong and the Bellarine Peninsula for Sightseeing
We recommend these unique hotels, apartments, and guesthouses in Geelong and the beautiful Bellarine Peninsula:
More Related Articles on PlanetWare.com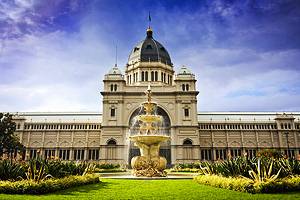 Melbourne: Just a little over an hour away is the beautiful city of Melbourne with its own unique attractions. If you plan on spending some time in this city, be sure to see our article on the Best Places to Stay in Melbourne.