12 Top-Rated Day Trips from Melbourne
Beautiful beaches, quirky wildlife, spa towns, and spectacular wilderness areas — you'll find all this and more within a few hours' drive of Melbourne. One of the country's most dazzling scenic drives, the Great Ocean Road, lies less than 200 kilometers from the city, as well as gorgeous Grampian National Park, the gleaming white-sand shores of Wilsons Promontory, and the rugged Dandenong Ranges.
Wildlife is a highlight at many of these city escapes. You can watch penguins parading up a pristine beach at Phillip Island, and see colorful parrots, wild kangaroos, and wombats in the national parks.
In addition to the rich natural beauty just a short drive from the CBD, Victoria's elegant seaside resorts charm visitors with their quaint shops, art galleries, and award-winning restaurants. History buffs can explore an old gold rush town. And if you're looking for Melbourne day trips in winter, skiers and snowboarders can carve up the slopes of Mount Buller less than a three-hour drive from the city.
Step outside the city limits and explore the surroundings with our list of the best day trips from Melbourne.
1. Great Ocean Road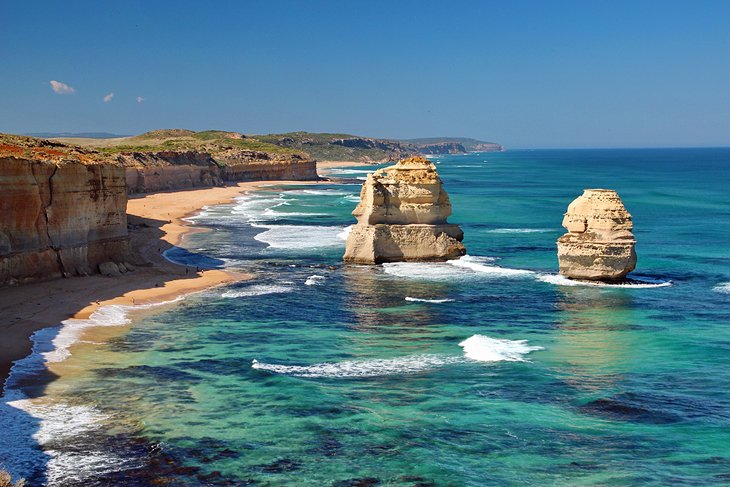 About 200 kilometers from Melbourne, the Great Ocean Road is one of Australia's most spectacular stretches of coastline and a top place to visit on a road trip. The drive from the city carves along steep sea cliffs, as well as the surf-thrashed beaches of Port Campbell National Park, where the distinctive rock pinnacles, the Twelve Apostles, tower above a swirling sea.
Other Great Ocean Road highlights include the wind- and sea-sculpted rock formations of Loch Ard Gorge and London Arch.
Mother Nature's power is on dazzling display here. To fully appreciate it, hop aboard a helicopter for a bird's-eye view of this dramatic coast, also called the Shipwreck Coast. While in the area, you can take a walk near koala-rich Kennett River; look for kangaroos and wallabies in Great Otway National Park; or enjoy a different perspective of the forest at Otway Fly Treetop Adventures, including a treetop walk and zipline tour.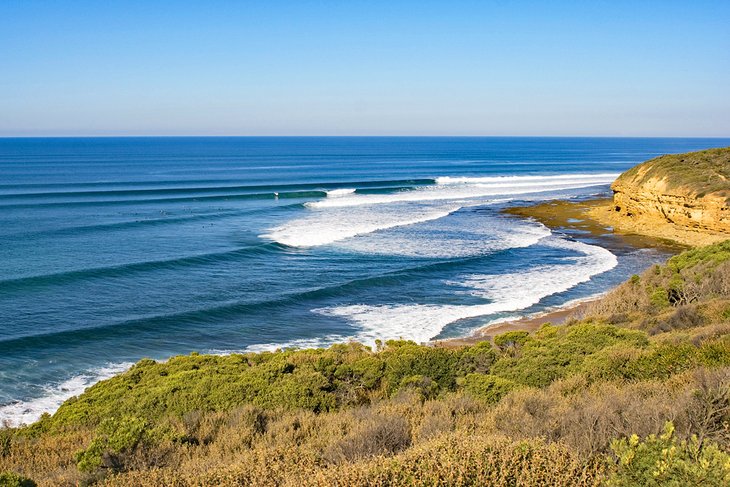 Are you a surfing fan? Stop in Torquay along the way to visit the Surf World Museum, and look for huge waves at legendary Bells Beach. This is also one of the best day trips from Melbourne with dogs — many of the beaches around Torquay allow pooches, and a couple allow leash-free romps.
When it comes to Melbourne road trips by car, it's hard to beat the Great Ocean Road. But if you're wondering how to get there without a car, you're in luck. You can enjoy many of these adventures on the Great Ocean Road Small-Group Eco-Tour from Melbourne. This full-day excursion includes plenty of time to soak up the beautiful coastal scenery, including a hike in Great Otway National Park, Kennett River koala spotting, and a stop at Apollo Bay. A 15-minute helicopter ride over the Twelve Apostles is an optional extra.
2. Phillip Island's Penguin Parade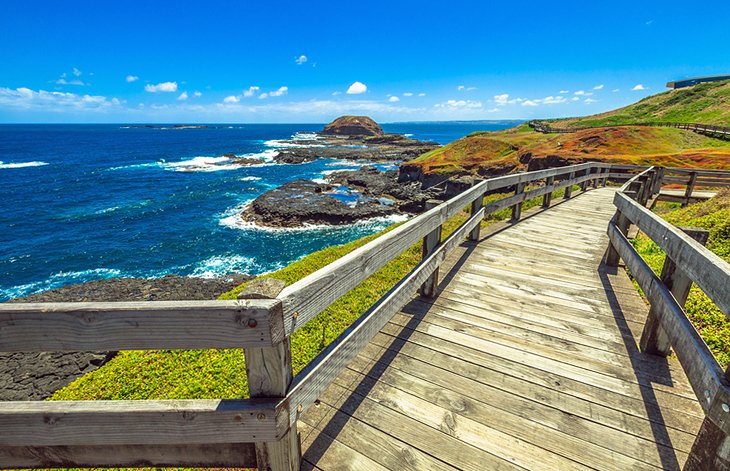 Phillip Island, about 140 kilometers from Melbourne's city center, is a top pick for wildlife lovers. Each night at sunset, visitors gather along the shore to watch adorable penguins waddle up the beach at the Phillip Island Nature Park.
Before the "Penguin Parade," you can visit some of the nearby wildlife parks. See koalas in their natural habitat at the Koala Conservation Centre. Hand-feed kangaroos and wallabies at Phillip Island Wildlife Park, or visit the Nobbies, a boardwalk that skirts the headland's seabird gardens with breathtaking views of the coast. Little penguins often rest along here, and in the spring, keep an eye out for silver gull chicks.
For more information on the ecology of the area, stop by the free Nobbies Centre and browse the educational displays.
Across Bass Strait from here is Seal Rocks, Australia's largest fur seal colony. Bring binoculars to see the seals, or board a wildlife cruise for close-up views. Thanks to all these educational experiences and wildlife sightings, this is one of the best Melbourne day trips for families.
An easy way to visit this top tourist attraction is on the Phillip Island Penguin Highlights Day Trip from Melbourne. This full-day excursion covers all the highlights, including wildlife viewing at Maru Koala and Animal Park, the Nobbies, and the famous Penguin Parade.
Official site: http://www.penguins.org.au/
3. The Mornington Peninsula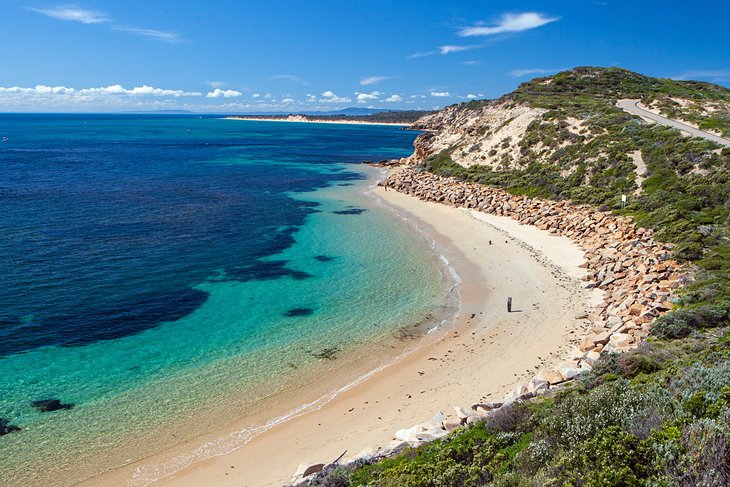 A 90-minute drive from Melbourne, the picturesque Mornington Peninsula is a favorite seaside escape from the city. Flanked by the ocean on one side and Port Phillip Bay on the other, this prime sliver of real estate hosts tranquil coves, cute villages, and rocky shores.
One of the Mornington Peninsula's top places to visit is stylish Sorrento, site of the state's first mainland European settlement. Heritage buildings, high-end shops, boutiques, and cafés are waiting for you to explore. Soak up the seaside scenery, and see the vacation homes of Australia's posh set along "Millionaire's Walk," a five-kilometer clifftop trail above Port Phillip Bay, between Sorrento and Portsea.
Hiking is popular on back beach trails and in the rugged bushland on the end of the peninsula at Point Nepean National Park. Other highlights of the area include a ride on the scenic Sorrento-Queenscliff ferry, dolphin cruises, Peninsula Hot Springs, and the chance to swim with wild bottlenose dolphins and seals.
4. The Dandenong Ranges and the Yarra Valley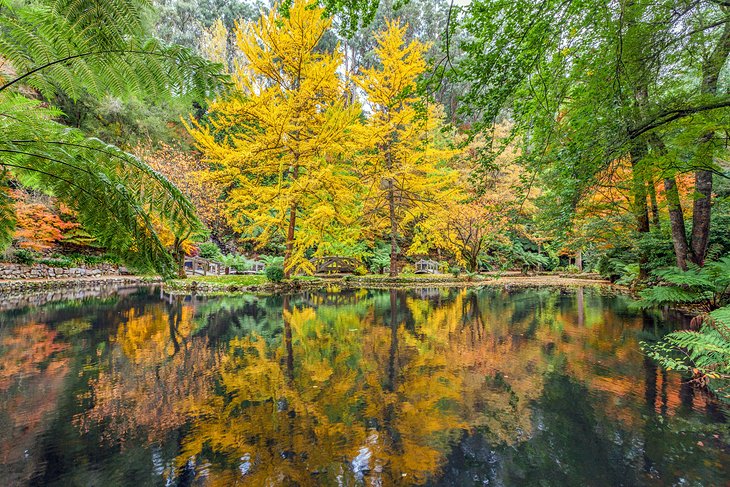 The Dandenong Ranges and Yarra Valley have been a favorite weekend getaway for well-to-do Melburnians for more than a century. This day trip has a little something for everyone — from nature and wildlife to cute villages, fantastic food, and a fun ride on a historic train.
Start the day with a scenic drive through the Dandenong Ranges, about 40 kilometers east of Melbourne. Here, you can hike through rainforests of mountain ash trees to soothing cascades in the beautiful fern-filled Sherwood Forest. You can also hand-feed native birds, such as crimson rosellas, cockatoos, and galahs at Grants Picnic Ground. Nearby, the Alfred Nicholas Memorial Gardens and William Ricketts Sanctuary are also worth a visit.
At Belgrave, board the 100-year-old Puffing Billy steam train and stroll around the artisan shops. You can also relax with a Devonshire tea in storybook-cute villages such as Olinda, a green thumb's delight with the excellent Dandenong Ranges Botanic Gardens and Cloudehill Nursery and Gardens.
Not far from here, the Yarra Valley is a haven for foodies, with fresh produce, first-class restaurants, and the chance to sample handmade farmyard cheeses at Yarra Valley Dairy. Are you an animal lover? One of the top things to do in this region is visit the popular Healesville Sanctuary to see native Australian animals and birds.
Note that in June, 2021, severe storms struck the Dandenong Ranges, impacting many local businesses. Check for any closures before you visit.
5. Peninsula Hot Springs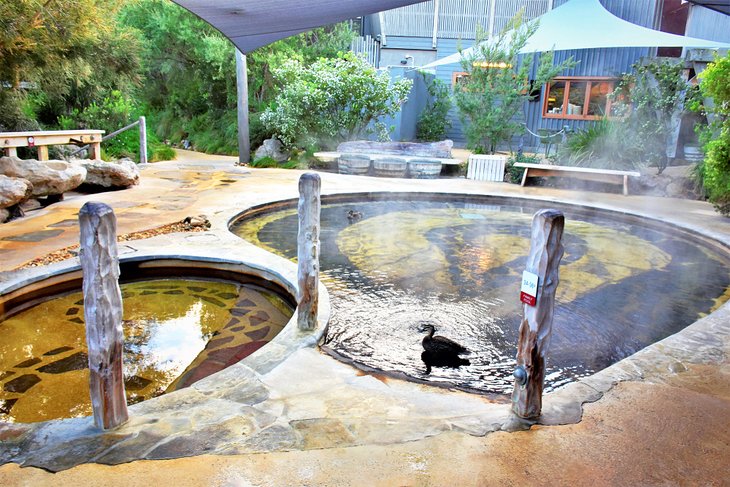 Feel like being pampered? How about a soak in steamy mineral spring pools followed by a customized massage and a nourishing organic meal? You can do this and more at Peninsula Hot Springs, just over an hour's drive from Melbourne in the Mornington Peninsula.
Turkish steam bath, anyone? Reflexology walk? You can choose from 50 bathing experiences from around the world at the Bath House here. Or you might prefer a dip in a cave pool or a soak on a hilltop with breathtaking views. Steamy mineral water seeps from underground springs into the many pools set within a forest of tea trees, creating a relaxing setting to soak your cares away, no matter where you choose to take your dip.
Peninsula Hot Springs is one of the most popular short day trips from Melbourne by car. And don't think this is just for singles and couples. Families are also welcome here.
To make your visit even easier, book the Peninsula Hot Springs Day Trip with Thermal Bathing Entry from Melbourne. This full-day excursion includes transport to and from the hot springs, bath house admission, and a local expert driver so you can sit back and relax on the journey. Luxury spa treatments are an optional extra.
After your pampering visit, save time to complement your therapeutic soak with a healthy meal at the café.
Address: Springs Lane, Fingal, Victoria
Official site: http://www.peninsulahotsprings.com/
6. Grampians National Park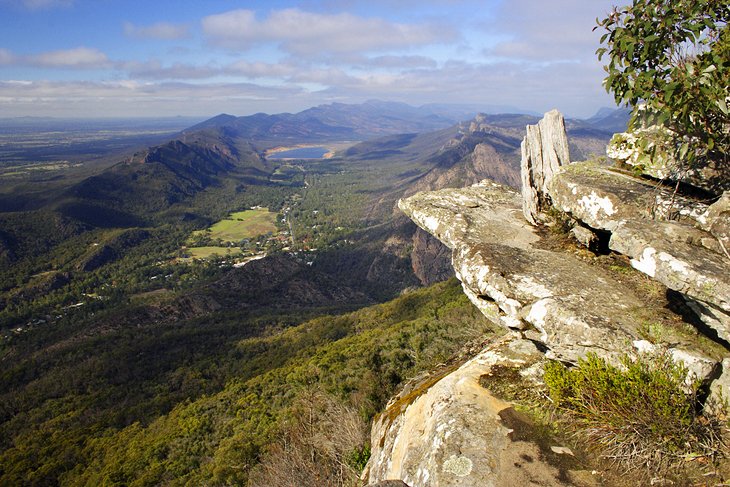 Grampians National Park (often called "The Grampians") offers beautiful vistas of waterfalls, colorful spring wildflowers, rock formations, and rugged crags. It lies about 260 kilometers from Melbourne.
Avid hikers in particular will enjoy this park, and anyone can admire the breathtaking scenery from its many panoramic lookouts. Called "Gariwerd" by the Aboriginal people, the park also shelters traditional rock art. You can learn more about this rich history and the park's ecology at Brambuk the National Park & Cultural Centre.
Other top attractions in the Grampians include the beautiful MacKenzie Falls, Victoria's tallest waterfall; Beehive Falls, with its fern-fringed rock pools; Fish Falls; and the panoramic lookouts at the Pinnacle and the Balconies. You can also drive to Reeds and Boroka lookouts.
Wildlife is abundant. Kangaroos, wallabies, emus, and echidnas, make their home here, and sightings of friendly marsupials are common.
Besides hiking, other popular outdoor activities include abseiling and rock climbing on the faces of Mt. Arapiles, fishing and canoeing at the park's lakes and rivers, quad biking, and horseback riding. If you're considering staying overnight, Halls Gap is the gateway to the park and makes a great base. Bring a camera, and be sure to wear sturdy hiking shoes.
The Grampians is also a popular destination for foodies. Enjoy the excellent restaurants and fresh local produce, including olives, cheeses, and meats.
Official site: http://parkweb.vic.gov.au/explore/parks/grampians-national-park
7. Wilsons Promontory National Park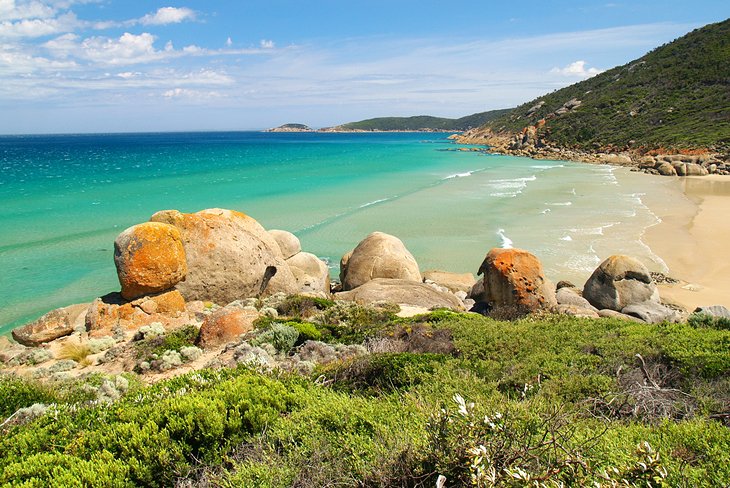 Affectionately called "The Prom" by locals, Wilsons Promontory National Park is the state's largest coastal wilderness area and a nirvana for nature lovers and photographers. It lies on the southernmost point of the Australian mainland, about a three-hour drive from Melbourne's city center. It's a long drive for a day trip, but the spectacular scenery of squeaky-clean beaches, cool-climate rainforests, and rugged granite peaks is worth the trip.
Highlights include guided walks through the bushland, the granite rock formations of Giant Rock, the white quartz sands of Squeaky Beach, Lilly Pilly Gully, and the sea-sculpted boulders of Whisky Bay. The park is also known for its rich native wildlife, such as wombats, emus, kangaroos, and many birds.
Outdoor enthusiasts will find plenty of things to do. Scenic hikes lace the bushland, from short one-hour walks to multi-day treks. The one-hour hike up Mt. Oberon summit has one of the park's best viewpoints, overlooking the Tidal River and the coast. Divers can explore the underwater world in the marine national park. Other activities include swimming, fishing, canoeing, camping, and bird-watching. Strong hiking shoes are highly recommended.
Official site: http://parkweb.vic.gov.au/explore/parks/wilsons-promontory-national-park
8. Daylesford: Day Spas and Mineral Springs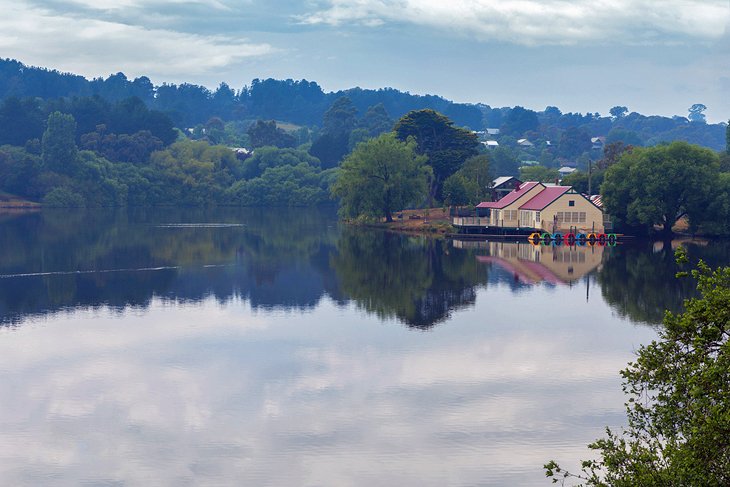 Skirting the Wombat State Forest, about 115 kilometers from Melbourne, a Daylesford day trip is perfect for a pampering city escape. Soothing mineral springs, wellness centers, and day spas are the prime draws in this quaint country town, earning it a reputation as the spa capital of Australia.
Drawn by these healing mineral springs and the gold rush, many Swiss and Italian immigrants settled here, imbuing the town with an old-world feel. A popular destination in the region is the Hepburn Bathhouse & Spa, in neighboring Hepburn Springs, which has been lavishing guests since 1895. Another must-see is The Convent, an enchanting 19th-century estate on six acres atop Wombat Hill, with beautiful views over town, impressive art galleries, a chapel, and museum.
Daylesford is also known for its many award-winning restaurants serving seasonal local produce. To dine at one of the town's top eateries, stroll around beautiful Lake Daylesford and enjoy a gourmet lunch at the Lake House, which is also a small luxury hotel. You can also browse the town's quaint shops, antique markets, and historic buildings.
9. Lorne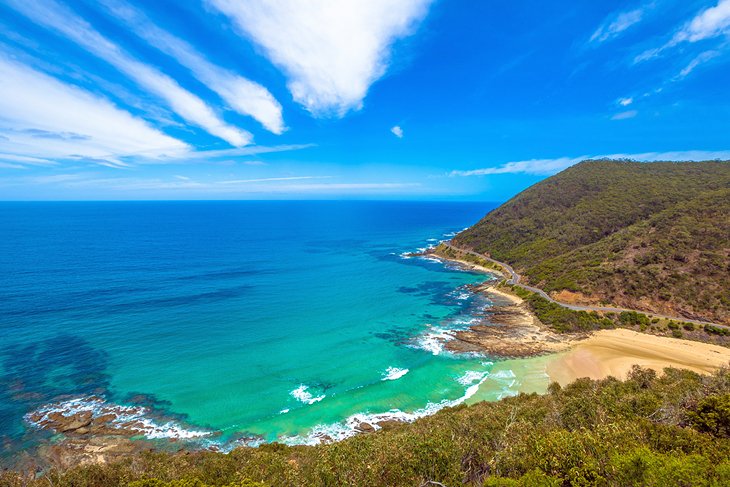 About 138 kilometers from Melbourne's city center, Lorne, on beautiful Loutit Bay, has long been one of the country's favorite seaside resorts. Snuggled between Otway National Park and the Great Ocean Road, this pretty little town offers an intoxicating mix of Mediterranean ambience, seaside elegance, and natural beauty.
You'll never be bored here. Popular things to do include swimming and surfing at the long, golden beach, with its nearby cafés and skatepark, and casting a line off the local pier for fish like trevally and whiting. The pier also plays host to the fish co-op, where you can buy the fresh catch of the day. Tourists also love browsing the boutiques, bookstores, bakeries, and galleries.
Teddy's Lookout, a five-minute drive from town, offers beautiful views over the coast and Great Ocean Road. Another popular attraction in the area is Erskine Falls, rimmed by lush ferns and eucalyptus forest.
Insider's tip: During peak vacation times around Christmas, a torrent of tourists fills this tiny town, so you should book well in advance if you want to stay overnight.
10. Sovereign Hill at Ballarat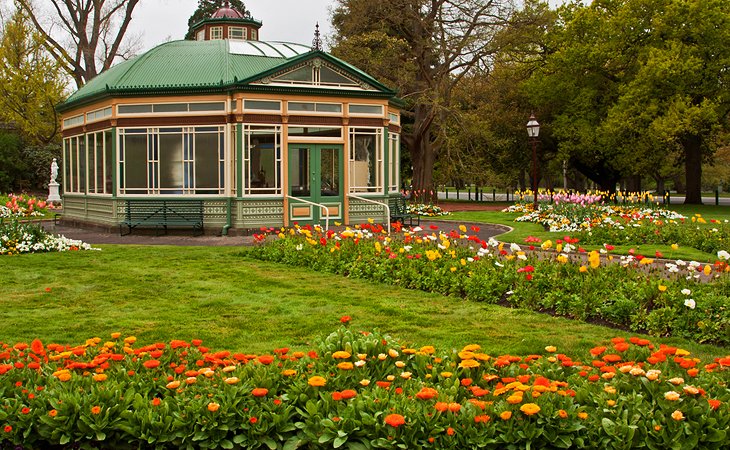 At Sovereign Hill in Ballarat, you can experience the exciting 1850s gold rush days in a living museum. About 110 kilometers from Melbourne, this recreated gold-mining town is one of the top attractions in Ballarat. Here, you can watch goldsmiths and artisans at work in Victorian-era houses and shops, tour an underground gold mine, and even pan for the precious metal. Costumed staff, stagecoach rides, and a dazzling sound and lights show round out all the historical fun.
The town of Ballarat was the epicenter of the Australian Gold Rush. Learn all about this important chapter of Australian history by touring the historic sites, heritage buildings, and old churches around town.
Other highlights include Art Gallery Ballarat, with works from Gold Rush artists; the beautiful 40-acre Ballarat Botanical Gardens on the banks of Lake Wendouree; and Ballarat Wildlife Park. Ballarat is also home to award-winning restaurants, so don't forget to top off your tour with a memorable meal.
Don't have a car? This is one of the most popular day trips from Melbourne by train.
Official site: http://www.sovereignhill.com.au/
11. Mount Buller Skiing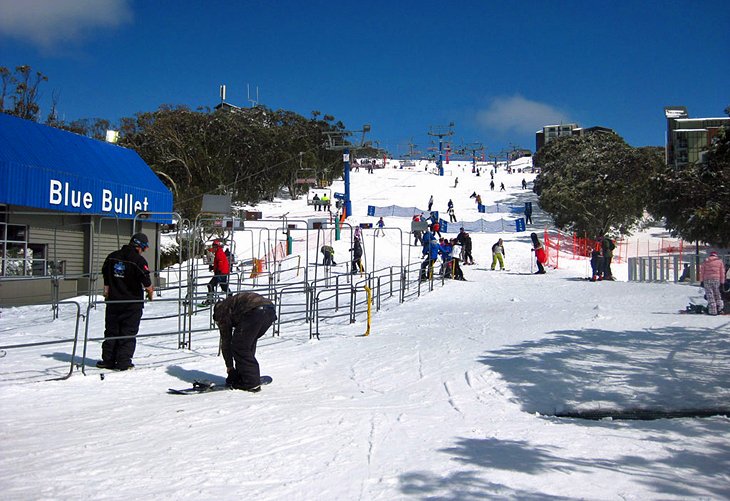 In winter, rain often means snow in the mountains, so if the weather is not cooperating with your outdoor activities in the city, you can play at the snowy peaks nearby. From early June through late September (depending on snowfall), avid skiers and boarders can hit the slopes of Mount Buller, one of Australia's best ski resorts, about a three-hour drive from Melbourne.
Mount Buller has the most extensive lift system of all the Victorian resorts, with 22 lifts transporting guests to 300 hectares of skiable terrain and three terrain parks. About 35 percent caters to advanced skiers, and the resort also offers plenty of runs for beginners and intermediates. Cross country skiers can explore nine kilometers of trails.
For non-skiers, the village is a fun place to hang out. Relax at the spas, browse the shops, or take the kids to the resort's toboggan parks. This is a great trip for families seeking a first-time snow experience, as well as enthusiastic skiers and boarders looking for a wintertime city escape.
Official site: http://www.mtbuller.com.au/Winter/
12. Hanging Rock Reserve, The Macedon Ranges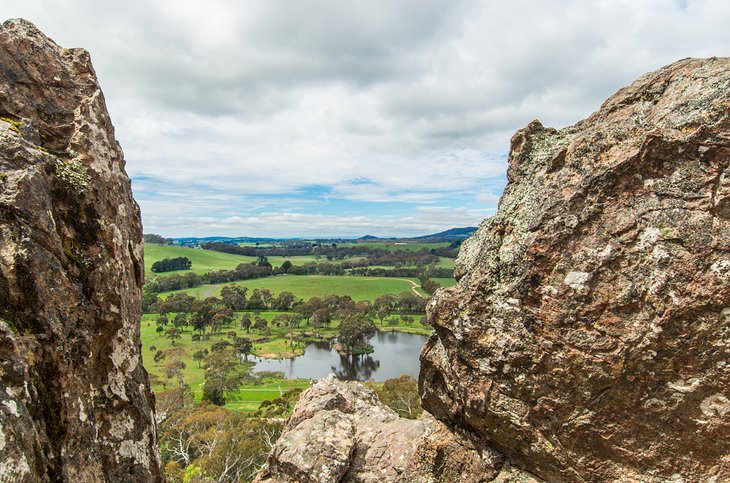 Rich in mystique, Hanging Rock Reserve is a wonderful wilderness escape in the Macedon Ranges. Less than an hour northwest of Melbourne, the massive 105-meter-high extinct volcano, now eroded into columns, was the location for Peter Weir's iconic film, Picnic at Hanging Rock, based on the book by Joan Lindsay.
The rock is also an important Aboriginal landmark and was reputedly a refuge for bushrangers during the Gold Rush. Even if you're not familiar with the legend that captured the imagination of many Australians, Hanging Rock Reserve is truly a beautiful spot to enjoy a picnic or a hike in the fresh eucalyptus-tinged air.
The round-trip climb to the top takes about 50 minutes, with plenty of secret nooks to slither in along the way, and beautiful views over the countryside. You can also explore the other hiking trails that weave through the reserve. Keep an eye out for wildlife like wallabies, kangaroos, koalas, echidnas, and wombats.
Map of Day Trips from Melbourne