San Michele in Foro, Lucca
The Church of San Michele, an aisled basilica, stands on the site of the Roman forum. The building of the present church begun in the 12th century but dragged on into the 14th century; a planned enlargement, however, was never carried out.FacadeThe imposing five-story west front was designed for the enlarged church, and accordingly reflects the planned section of the nave, which was to be much larger than the present church.
Important Information:
Opening hours:
8am-12pm, 3pm-6pm
In the lowest story, which is broken up by arches borne on columns, are three doorways; on the pillars at the right-hand end is a "Madonna and Child" by Matteo Civitali (1476-80), set here in thanksgiving for the city's deliverance from plague. The upper storys have dwarf galleries, the columns of which are inlaid with colored stone and topped by capitals of varying form. Some of the columns are carved with inlaid figures of animals and monsters. On the highest point of the facade is an over-life-size figure of the Archangel Michael, flanked by two smaller figures of Angels. The dwarf galleries and arcading on the two lower tiers of the facade are carried round the south side and, in part, round the north side of the church. Built against the right transept is the campanile, with a flat 19th century roof replacing the original battlemented top. Until the 16th century the nave had a flat roof, which was then replaced by the present vaulting; in other respects, however, the Romanesque character of the interior has been preserved.InteriorOn the central pier is a terracotta "Madonna and Child" by Andrea della Robbia. In the left transept is a panel-picture (c. 1480-1500) depicting SS Roch, Sebastian, Jerome and Helen, one of Filippo Lippi's finest works.
Map of Lucca Attractions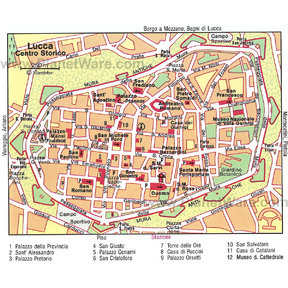 Lucca Map
More Lucca Attractions
Popular Destinations Nearby