12 Best Lodging Options for Olympic National Park
We may earn a commission from affiliate links ()
On the far western Olympic Peninsula of Washington, Olympic National Park is a place of wonder and awe. Mountains dramatically meet the wild sea across the peninsula, and the coastal weather causes a rainforest to grow with every shade of green. A sense of far-flung adventure and solitude comes with these rugged environments on this westernmost side of the continent.
While Olympic National Park is a camper's paradise, an adventure on the peninsula does not have to be entirely outdoors. Several lodging options, including historic lodges within the park, offer memorable moments spent inside. For example, the Lake Crescent Lodge, built in 1915, provides a distinct historic vibe next to one of the most sterling areas of the park.
The most abundant places to stay are within the biggest cities on the peninsula. Cultural hubs like Port Angeles, Sequim, and Port Townsend have several hotel options for visitors from Seattle and beyond on the peninsula's north side. For exploring the coast, head to the inspiring city of Forks – the largest city on the western coast. Among the many lodging options are bed and breakfasts, hotels, and private resorts. For more details, check out our list of the best choices for lodging in Olympic National Park.
Note: Some businesses may be temporarily closed due to recent global health and safety issues.
1. Kalaloch Lodge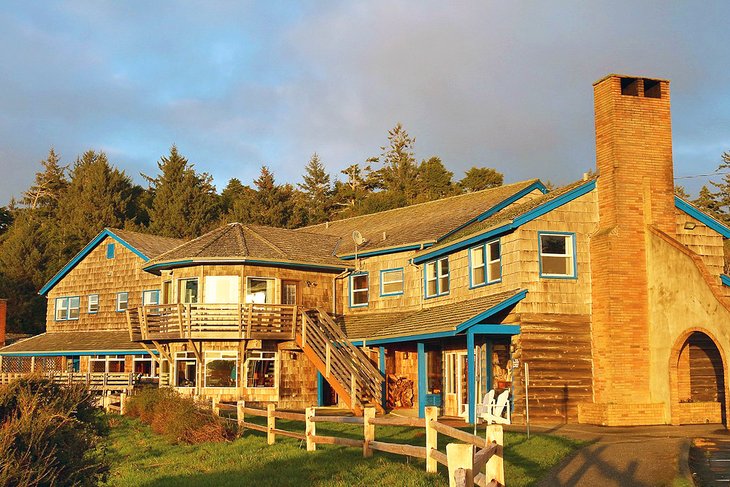 Kalaloch Lodge is on the rugged western coast of the Olympic Peninsula and is the only lodging in Olympic National Park next to the ocean. This seaside lodge dates back to the 1920s, and today, it offers a rustic feel with a modern touch.
Overnight accommodations include rooms in the Main Lodge, private cabins, and hotel-style rooms in the adjacent Seacrest House. With history ringing from its walls, the Main Lodge is arguably the most fun place to stay. The Main Lodge is also home to the Creekside Restaurant, serving all three meals of the day.
There is no internet or television available in any rooms at Kalaloch Lodge. That's because there's enough natural wonder surrounding the property to warrant the lack of distractions. The wild coastline is within steps of the property, and areas like the Hoh Rainforest are within a short drive.
Address: 157151, 157151 US-101, Forks, Washington
Accommodation: Kalaloch Lodge
2. Lake Crescent Lodge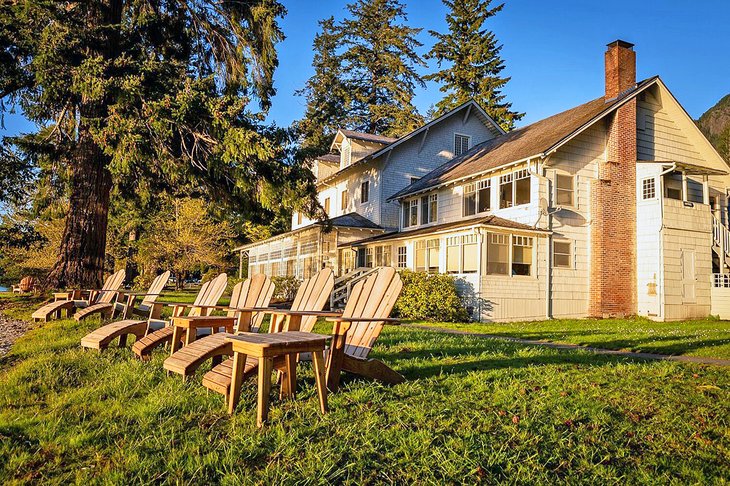 Lake Crescent Lodge has sat at the southern shore of its namesake feature for over a century. First built in 1915, the lodge today exudes a rustic appeal that pairs well with Olympic's wild surroundings. The lodge is open between the end of April through November, during which time reservations fill up fast. It's a 30-minute drive from Port Angeles to reach the property.
Lake Crescent Lodge has several unique accommodations for spending the night. Among the most popular are the Roosevelt Fireplace Cabins right on the lakeshore. Other overnight options include historic lodge rooms and more modern rooms in a neighboring guest building. And like other lodgings in Olympic National Park, no internet or televisions are available.
For another lodging option on Lake Crescent, consider Log Cabin Resort on the opposite bank from Lake Crescent Lodge. It offers two-bedroom cabins with or without kitchenettes. It also has lodge rooms and chalets. And like Lake Crescent Lodge, reservations tend to fill up fast.
Address: 416 Lake Crescent Road, Port Angeles, Washington
Accommodation: Lake Crescent Lodge
3. Lake Quinault Lodge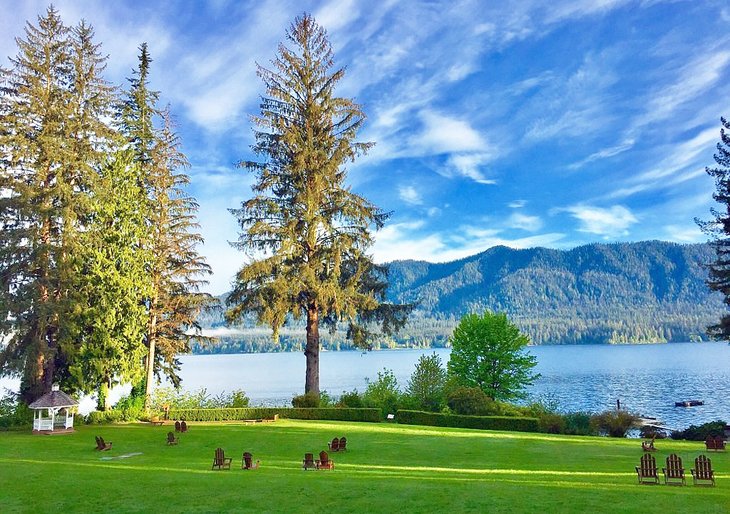 This grand lodge is on the park's southwest edge and offers a secluded getaway close to the rainforest. Lake Quinault Lodge was built in 1926 and is now listed on the National Register of Historic Places. A timeless sense of adventure comes along with any stay, especially in the historic main lodge rooms. These rustic rooms have a light touch of modern conveniences with a distinct 1920s aesthetic.
Other on-site accommodations include lakeside rooms with fireplaces. And the lodge's boathouse rooms tend to be popular with visiting families. The lodge is also home to the famous Roosevelt Dining Room, named after President Franklin D. Roosevelt, who visited the lodge in 1937. It features menu items for all three meals of the day and beautiful views of Lake Quinault and the Quinault Valley.
Unlimited adventure extends from the property. Paddleboards and kayaks are popular means to explore the nearby lake. In addition, a short trail extends from the property that dives into the surrounding Quinault Rainforest.
Address: 345 S Shore Road, Quinault, Washington
Accommodation: Lake Quinault Lodge
4. Sol Duc Hot Springs Resort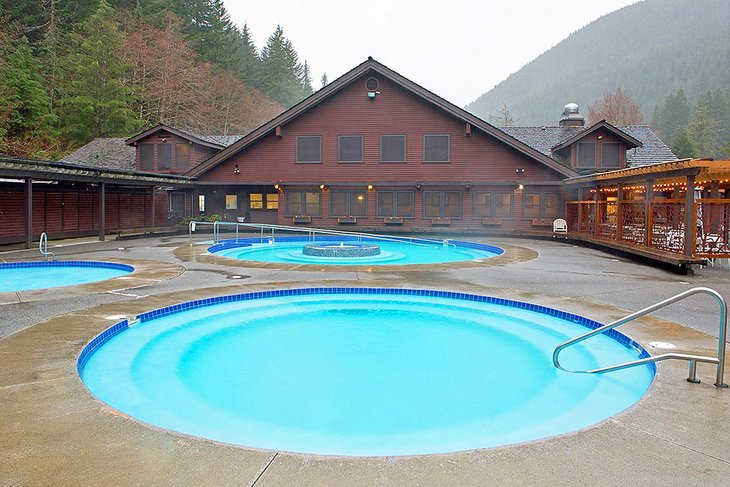 Sol Duc Hot Springs Resort is a scenic place to stay next to the Sol Duc River, south of Lake Crescent. The property offers a popular campground and a large selection of cabins to spend the night. Standard cabins for two to four people are available, as well as kitchen cabins and duplex cabins. A select few riverside suites are also available.
Each cabin rental or campsite comes with access to the resort's three mineral pools. These geothermal natural attractions are a big draw to the area and provide a relaxing outlet during any visit. The resort is also home to the exquisite Springs Restaurant, featuring locally sourced ingredients for all three meals of the day.
The area surrounding Sol Duc Hot Springs Resort is particularly adventurous. Less than two miles down the road is the trailhead for Sol Duc Falls. The short hike to Sol Duc Falls is an iconic route in the park that's popular for family treks. And beyond Sol Duc Falls, the trail leads further into the breathtaking Seven Lakes Basin.
Address: 12076 Sol Duc-Hot Springs Road, Port Angeles, Washington
Accommodation: Sol Duc Hot Springs Resort
5. Olympic Lodge, Port Angeles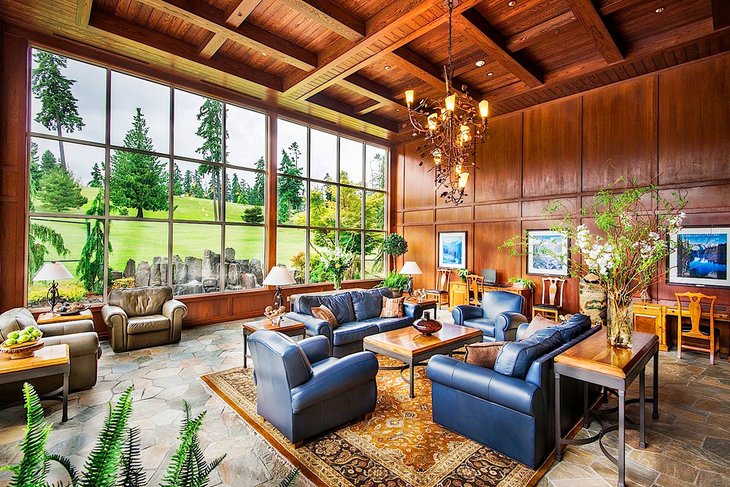 Port Angeles is the largest city on the Olympic Peninsula, located on the northern end, next to the Strait of Juan de Fuca. This city of approximately 20,000 residents is accessible from Seattle with a three-hour journey, including a ferry ride.
The Olympic Lodge is one of the best hotels in Port Angeles. It features 105 spacious guest rooms overlooking a beautiful property. Alongside standard one- and two-bedroom rooms, the hotel also features decadent suites with patios and fireplaces. Amenities include free internet, complimentary parking, and in-room flat-screen televisions.
The property sets a nice tone for an Olympic adventure. The elegant lobby features a crackling fire and deep-cushioned chairs to enjoy the views. The landscaping on the property, complete with artificial waterfalls and bountiful gardens, also adds to this commercial lodge's scenic appeal.
Address: 140 S Del Guzzi Drive, Port Angeles, Washington
Accommodation: Olympic Lodge
6. Quality Inn & Suites at Olympic National Park, Sequim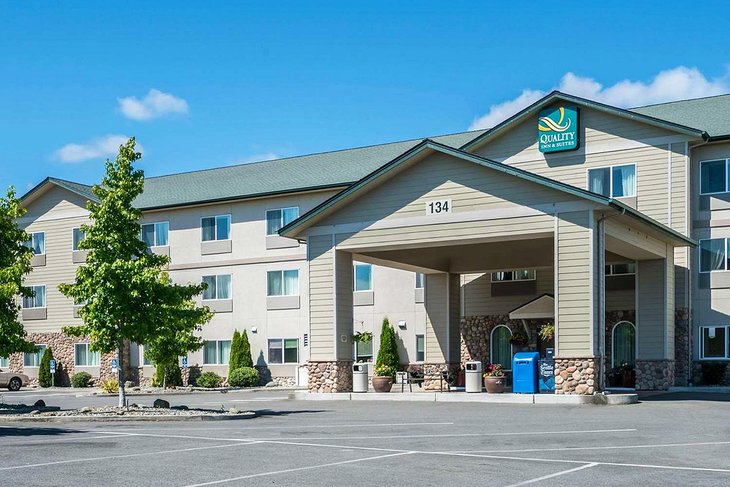 Sequim offers another popular home base for Olympic vacations. It's 30 miles east of Port Angeles and accessible from Seattle with a 2.5-hour commute, including a ferry ride. Alongside quick access to places like Hurricane Ridge and Lake Crescent, the town also has a reputation as the Lavender Capital of North America.
One of the most dependable stays in Sequim is the Quality Inn & Suites at Olympic National Park. This pet-friendly accommodation has 60 rooms, including a handful of suites. Alongside modern decor, each room features free Wi-Fi, a flat-screen TV, and a mini-fridge. In addition, coffee is available throughout the day, and the hotel offers a complimentary breakfast every morning.
Address: 134 River Road, Sequim, Washington
Accommodation: Quality Inn & Suites at Olympic National Park
7. The Pacific Inn Motel, Forks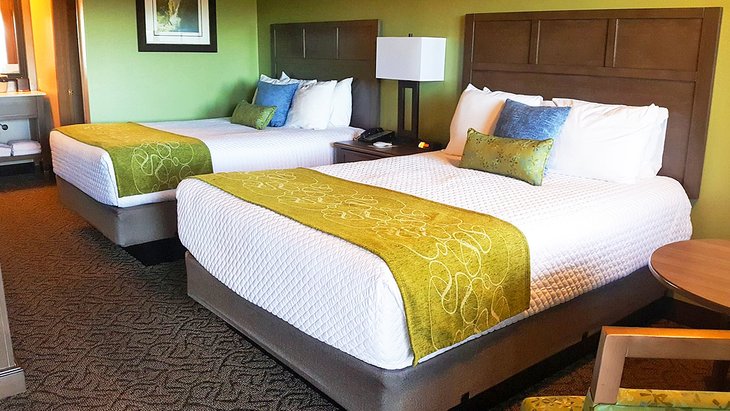 Forks is the largest city on the west side of the Olympic Peninsula. Stunning landscapes surround this small town, including a rugged coast and imposing mountainsides. The park's verdant rainforest is also at the city's back door.
For a spot to sleep and get a hot shower in Forks, the Pacific Inn Motel is a dependable choice. This affordable place to stay is at the heart of the city, off the 101. It's a common option for a road trip through the area.
The hotel has a small-town charm, with friendly faces working behind the front desk. Rooms at the Pacific Inn range from single queens to apartment-style suites with full kitchens. The hotel also offers Twilight-themed rooms, based on the best-selling vampire novel that uses Forks as a setting.
Address: 352 S Forks Avenue, Forks, Washington
Accommodation: The Pacific Inn Motel
8. Glen Ayr Resort, Hoodsport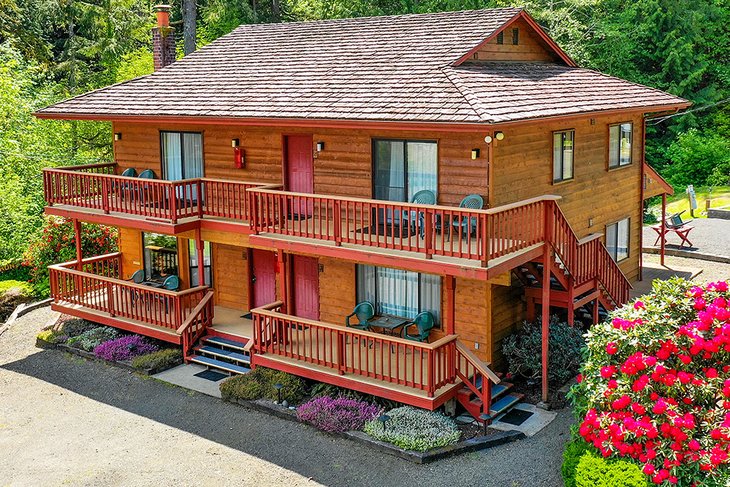 With waterfront rooms on the Hood Canal, the Glen Ayr Resort offers an excellent place to stay in the southeast region of the Olympic Peninsula. This lakeside resort has a wide variety of accommodations, ranging from standard lodge rooms to townhouse rentals. And many of the places to stay have a view of the water.
Full-day adventures stem right from the property's grounds. Within an easy walk, over 700 feet of private beach encourages moments spent by the water. The resort also maintains several landscaped common areas to enjoy, including BBQ pits and picnic areas.
Address: 25381 US-101, Hoodsport, Washington
Accommodation: Glen Ayr Resort
9. Ravenscroft Inn, Port Townsend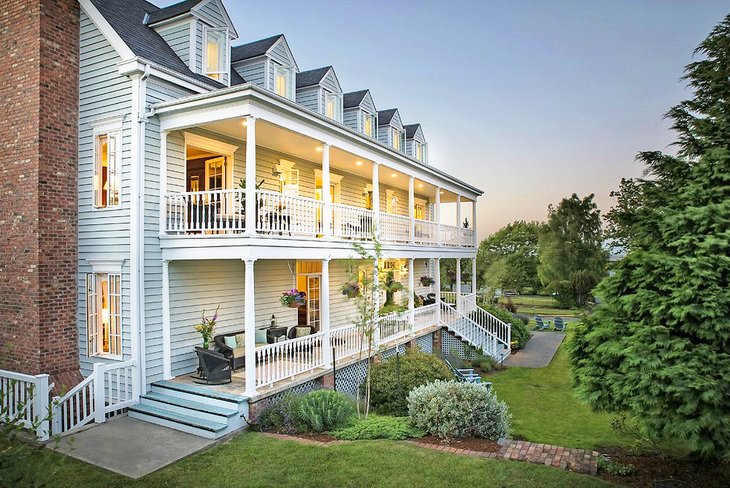 Ravenscroft Inn is a beautiful bed and breakfast in the Victorian-influenced city of Port Townsend. Visitors from Seattle can reach this uptown place to stay with a 2.5-hour commute, including a ferry. Alternatively, it's a short ferry ride for those coming from Whidbey Island.
Ravenscroft stands out as a charming place to stay thanks to the colonial-style architecture and carefully decorated common spaces. Only six rooms and two suites are available each night, adding personal attention to each visit. These rooms and suites exude an old-world charm, with a light touch of modern furnishing.
There's no television in any of the rooms at Ravenclaw, though complimentary Wi-Fi is available. A beautiful library at the inn is a fun place to enjoy parts of the day. And the breakfast service in the Great Room also tends to be a well-attended event.
Address: 533 Quincy St, Port Townsend, Washington
Accommodation: Ravenscroft Inn
10. Sea Cliff Gardens Bed & Breakfast, Port Angeles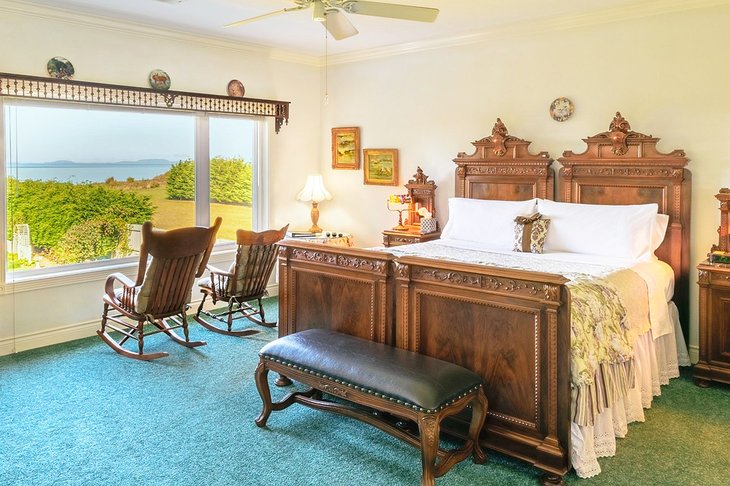 For one of the best bed and breakfasts in Port Angeles, check out Sea Cliff Gardens. This cozy spot offers five spacious suites, each uniquely decorated with European antiques. Each room also includes expansive views overlooking the ocean. And three of the five suites have personal Jacuzzis.
Other standard amenities include complimentary Wi-Fi and small flat-screen TVs. Outside of the rooms, the property's grounds are immaculately decorated for an enjoyable outdoor experience. And because the bed and breakfast only host a few guests at a time, it can feel like you have the gardens to yourself.
Address: 397 Monterra Dr, Port Angeles, Washington
Accommodation: Sea Cliff Gardens Bed & Breakfast
11. Stay at a National Forest Service Cabin
The surrounding Olympic National Forest operates three Forest Service Cabins available for nightly rental. The three cabins are Interrorem, Louella, and Hamma Hamma Cabins. All three are available for reservation on a six-month rolling basis and often fill up fast during the summer months.
Interrorem Cabin is on the east side of the peninsula, not far from Hood Canal and the community of Brinnon. It was built in 1907 and still retains much of its century-old charm. It can host four guests and features a propane heater and cooking range. A vault toilet is nearby.
Hamma Hamma Cabin is a few miles south of Interrorem Cabin on the east side of the peninsula. Up to six guests are welcome to spend the night in this historic guard station-turned cabin. Unlike the other cabins, indoor plumbing at Hamma Hamma allows for flushing toilets. However, guests need to bring their drinking water.
Louella Cabin is on the north side of the peninsula, a 10-minute drive from Sequim. It's a larger cabin that accommodates up to six guests at a time. Sleeping arrangements include a futon, double bed, and bunk beds. Handy amenities like electricity and lights make life a little easier at the cabin, but no potable water is available.
12. Camping in Olympic National Park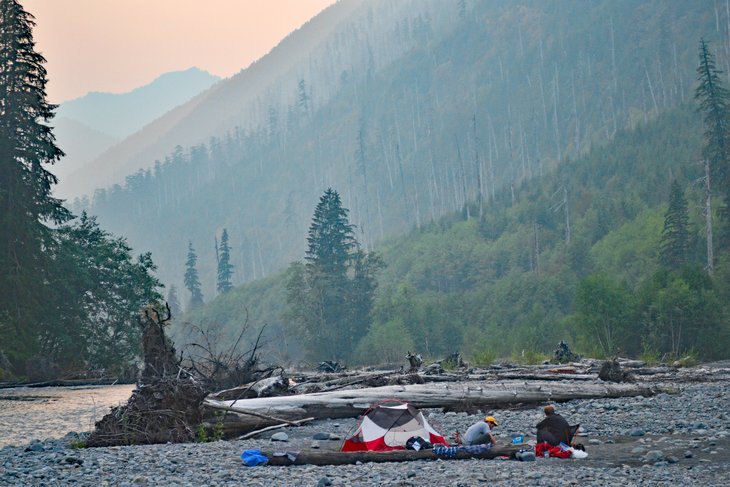 Olympic National Park is a camper's paradise for those willing to forgo the four walls of indoor living. Several spots operated by either the U.S. Forest Service or National Park Service offer easy immersion into the lush landscapes.
Most campgrounds in or around Olympic National Park have standard amenities, including parking spaces, fire rings, and picnic tables. In addition, most campgrounds have flushing restroom facilities, while a few only have pit toilets. All campgrounds also have access to potable water.
The intended Olympic adventure determines what campground is best. For those looking to wander the rainforest, head to the Hoh Campground. The Heart O' the Hills Campground is popular for those interested in exploring Hurricane Ridge, and beachgoers often vie for Kalaloch Campground on the west side of the peninsula.