15 Top-Rated Tourist Attractions in Liechtenstein
The tiny Principality of Liechtenstein, an independent state tucked between Switzerland and Austria, is one of the most picturesque Alpine countries in Europe. Despite being only 160 square kilometers in size and having a population of just over 39,000 people, Liechtenstein is an economic powerhouse thanks to its favorable tax laws.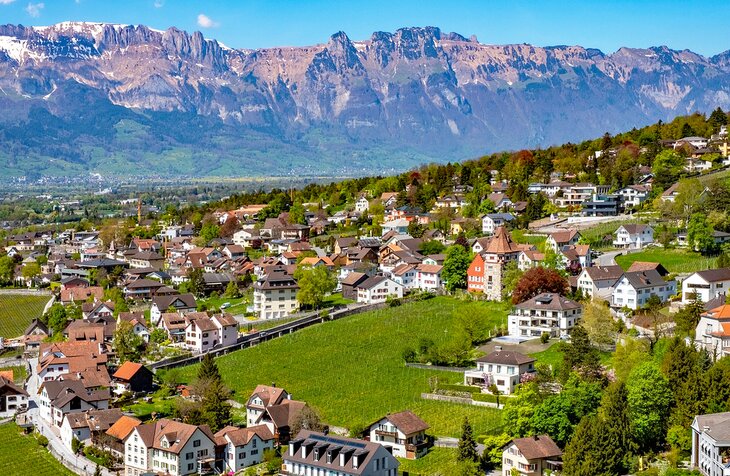 It's also the most industrialized nation per capita in the world, though you'd never know it from its forest-covered hillsides and Alpine meadows. Settled since the Early Stone Age, Liechtenstein was also important during Roman times, eventually becoming the Imperial Principality of Liechtenstein in 1719 and fully autonomous in 1806.
Today, the country is a popular travel destination thanks to its lovely mountain setting. Other big draws of this incredibly photo-worthy country are its many excellent hiking trails, including the popular routes around Falknis and Naafkopf, two of the country's tallest peaks. It's also becoming increasingly popular for its numerous world-class ski and winter activities.
Add to these its many impressive points of interest and tourist attractions, including unique cultural experiences, first-rate museums and galleries, as well as its many castles, and it's easy to see why Liechtenstein is one of the best places to visit in Europe.
Discover the best sightseeing opportunities in this petite country with our list of the top tourist attractions in Liechtenstein.
1. Liechtenstein's Capital City: Vaduz & the Liechtenstein Center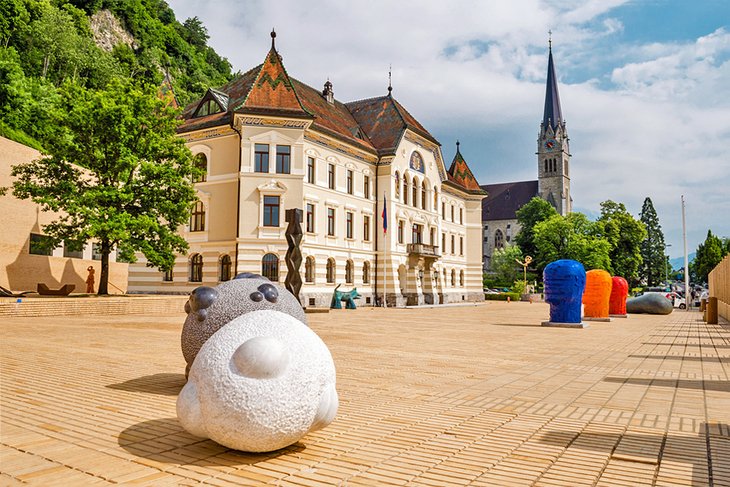 One of the most picturesque capitals in Europe, and certainly the smallest with a population of just over 5000 souls, Vaduz is where you should start your exploration of Liechtenstein.
It's home to the Liechtenstein Center, a tourist information center that offers everything you need in order to get the most out of your visit. In addition to tips and information related to the top places to visit in Liechtenstein, helpful, knowledgeable staff can assist with your itinerary planning, making it an important first stop.
Popular things to do in Vaduz include shopping and dining, as well as exploring the city's historic Städtle, or "small town," with its many attractions. One of the most visited attractions here is the country's parliament building, or "Landtag," located near the banks of the River Rhine in Peter-Kaiser-Platz. English-language guided tours are available.
Also worth seeing is the Rathausplatz, home to the historic Town Hall (Rathaus). Here, you'll also find the Neo-Gothic parish church (Pfarrkirche) built in 1873, also known as the Cathedral of St. Florin.
And although it's not open to the public, you'll want to get some photos of the impressive 12th-century Vaduz Castle (Schloss Vaduz). Also known as The Princely House of Liechtenstein, this impressive building is home to the country's monarch.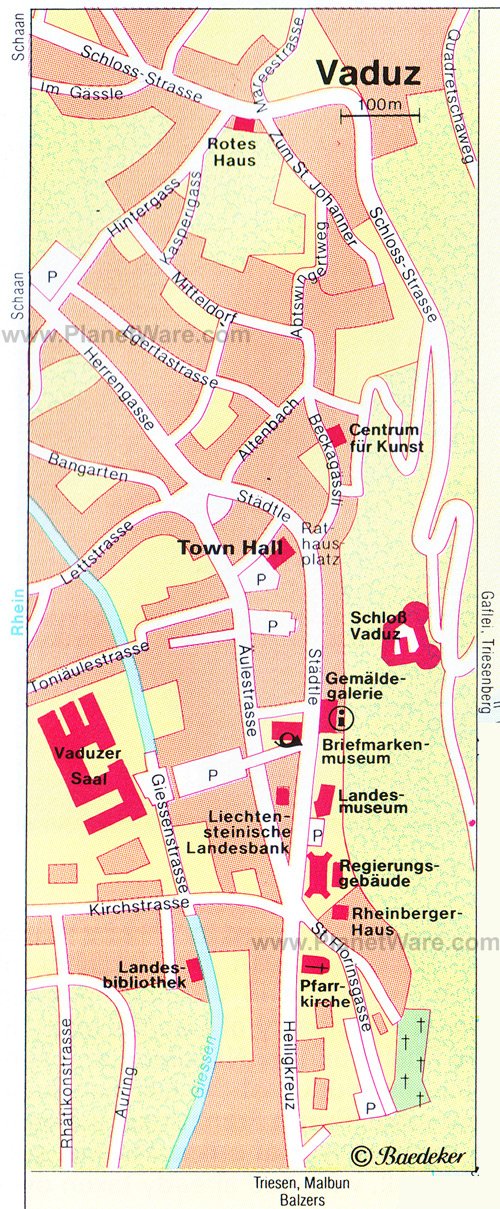 2. The Treasure Chamber of the Principality of Liechtenstein
With its focus on the country's rich royal heritage, The Treasure Chamber of the Principality of Liechtenstein (Schatzkammer Liechtenstein) is a must-see attraction in Vaduz.
Consisting of artworks and other treasures from the Princely Family's 400-year-old private collection, the items on display have been supplemented by donations from notable private collectors, such as Adulf Goop, whose collection of rare bejeweled Easter eggs includes work by the famous Karl Fabergé.
Other highlights include an array of superb artworks, including the "Rhine Journey" series by Johann Ludwig Bleuler. There's also a large collection of historic weaponry, along with many other artifacts with connections to European royalty through the centuries. There's even an interesting collection of moon rocks, given to the country in recognition of the role of its manufacturing base in NASA's spacecraft.
This popular new attraction gets busy during peak seasons, so plan your visit for early in the day if possible. Better still, visit during the shoulder seasons.
Address: Städtle 37, 9490 Vaduz, Liechtenstein
3. State of the Art: Kunstmuseum Liechtenstein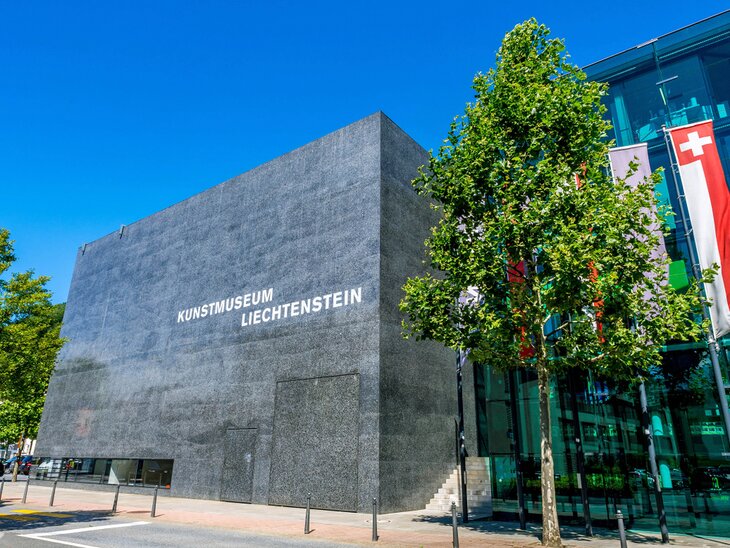 Housed in a state-of-the-art facility in Vaduz, the architecturally pleasing Liechtenstein State Art Gallery (Kunstmuseum Liechtenstein) showcases many fine examples of modern and contemporary artwork. In addition to frequent temporary exhibits, its permanent collection includes numerous pieces from the 19th century.
These include sculptures and works from the collection of the Prince of Liechtenstein (most of the royal collection is housed in the Liechtenstein Museum in Vienna). English language tours are available, and there's a bright, modern café on the premises.
Also worthy of a visit is Kunstraum Engländerbau. This nearby exhibition space regularly hosts displays of contemporary art from around the world.
Address: Städtle 37, FL-9490 Vaduz, Liechtenstein
4. Gutenberg Castle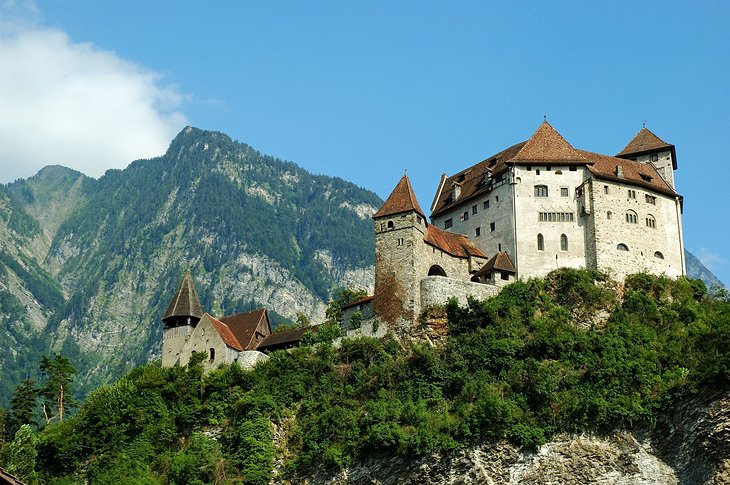 High above the village of Balzers in the south of Liechtenstein stands majestic Gutenberg Castle (Burg Gutenberg), a superbly preserved fortress dating from the Middle Ages. The 70-meter-high hill on which the castle stands has been inhabited since Neolithic times, with many of the most important archaeological finds, including the ancient Mars von Gutenberg statuette, now housed in the Liechtenstein Landesmuseum.
Highlights of a visit include the chapel and rose garden, along with the many fun cultural events and festivals held in the warmer months. These include open-air concerts and outdoor theatrical performances.
The castle is open year-round, and the fact that they don't charge admission makes a visit to this impressive fortress one of the most popular things to do for free in Liechtenstein. Be sure to also explore the castle grounds, with the gardens free to visit on weekends.
Address: Burgweg 5, 9496 Balzers, Liechtenstein
5. Liechtenstein National Museum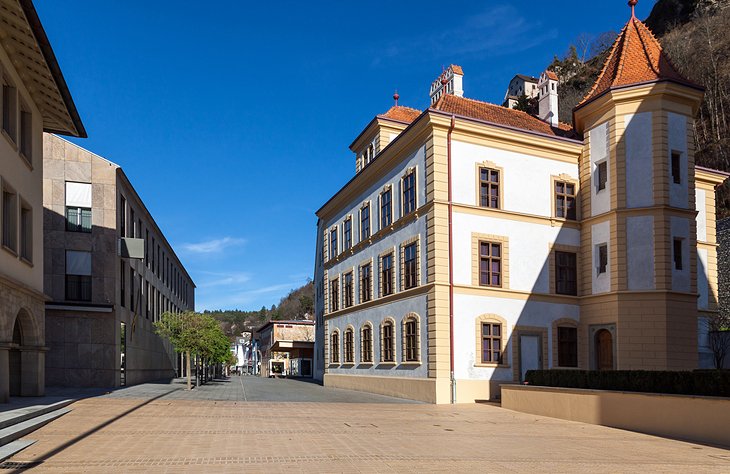 A must-see while in Vaduz is the excellent Liechtenstein National Museum (Liechtensteinisches Landesmuseum). This state-owned attraction is housed in a splendidly preserved 15th-century former inn built in 1438. It also served as the home of the city's administrator and was once visited by Johann Wolfgang von Goethe in 1788.
Recently renovated and expanded, highlights of a visit today include a superb 1:10,000 scale relief model of the principality, as well as exhibits focusing on the country's prehistory and early history. Be sure to check out the many displays of weapons and religious art, too, as well as its natural history section.
Address: Städtle 43, 9490 Vaduz, Liechtenstein
6. PostalMuseum Liechtenstein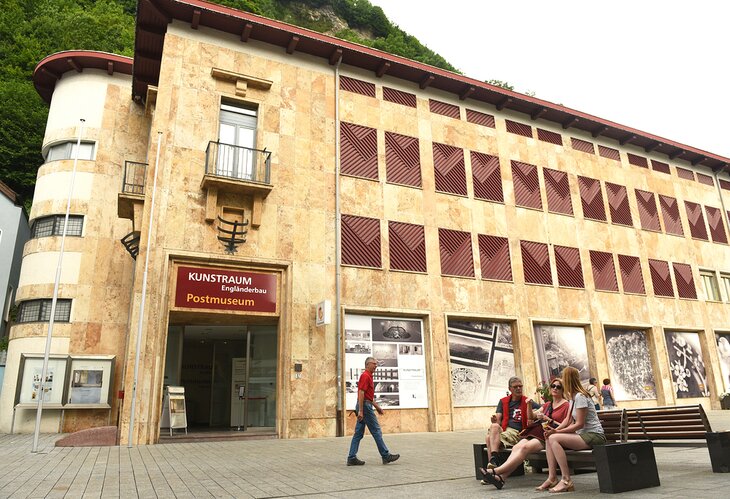 Stamp collector or not, you'll enjoy a visit to the PostalMuseum Liechtenstein (Postmuseum). Established in 1936 as a branch of the Liechtenstein National Museum, this popular attraction in Valduz features numerous displays of postage stamps issued since 1912.
Other exhibits deal with the history of the country's postal service, including artifacts and many rare stamps from the services' early days, including rare test prints and the machinery used in their manufacture.
Address: Städtle 37, 9490 Vaduz, Liechtenstein
7. The Towns of Nendeln and Eschen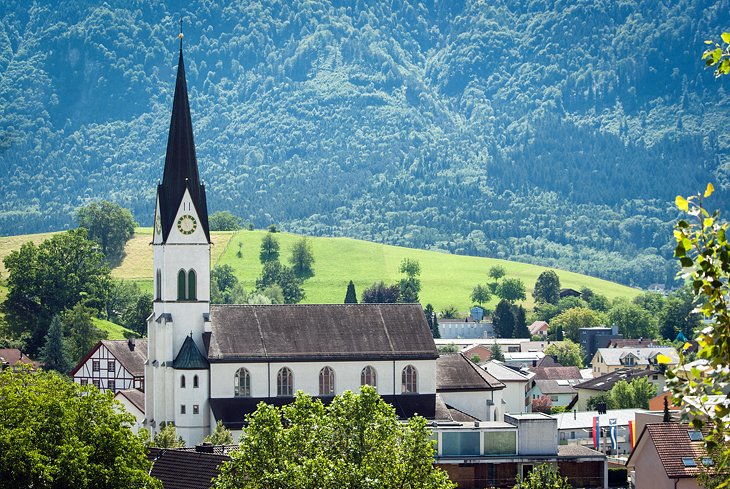 The small towns of Nendeln and Eschen, the principal communities of the lowland area of Liechtenstein, are well worth a visit.
Nendeln is notable for its old foundations, originally from a Roman villa, as well as the Schädler Pottery, established in 1836 and the oldest craft workshop in the country. Famous for its stoneware crockery and traditional tiled stoves, this art-related attraction offers guided tours of the workshop, glazing area, and kiln room.
Of interest in Eschen are the Pfrundhaus, a 14th-century building used to display local art, and the attractive Holy Cross Chapel. Eschen is also the starting place of an easy one-and-a-half-hour hike offering superb views of the surrounding area.
8. Schaan and the Liechtenstein Festival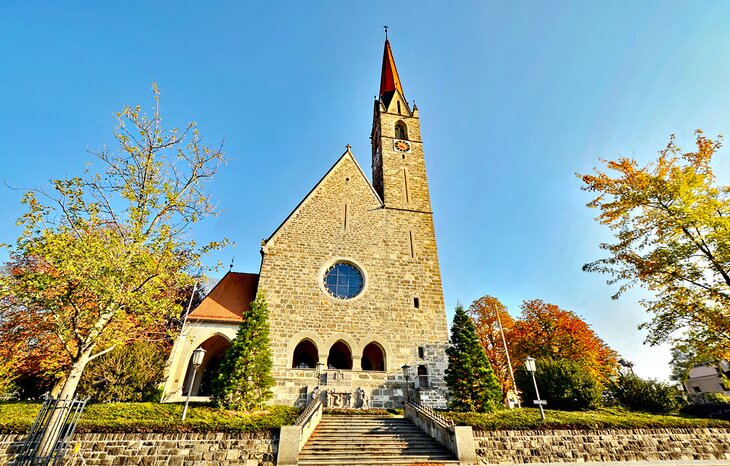 The town of Schaan is located just three kilometers north of Vaduz at the foot of the Drei Schwestern massif. This busy little industrial town is notable for its old Roman fort foundations. Located in a beautiful spot perched above the town is the 18th-century pilgrimage church of Maria zum Trost, notable for its fine views.
One of the oldest towns in Liechtenstein, Schaan is home to the DoMuS center with its exhibits of local history and art. It's also where you'll find an interesting coppersmith's workshop, as well as the fascinating Calculator and Typewriter Museum (see more on this attraction below).
Schaan is also a good place to begin a hike and includes a number of well-marked trails of varied difficulty. It's home, too, to the Liechtenstein Festival (LIFE), a two-day celebration of music, entertainment, and food held here each summer.
9. Triesenberg's Culinary Delights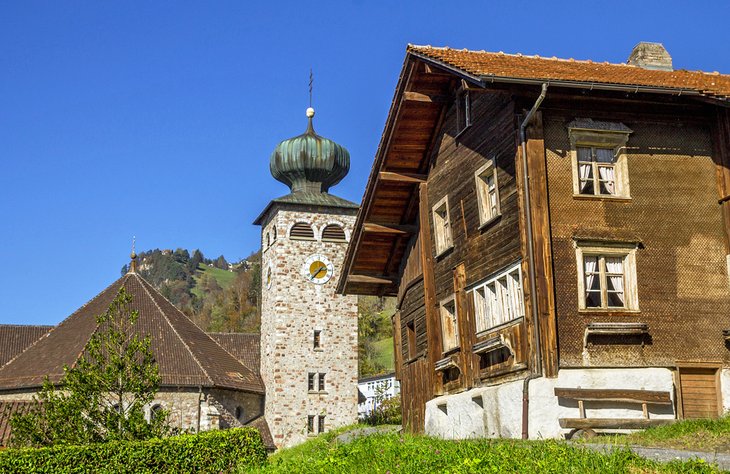 Triesenberg, the largest municipality in Liechtenstein, lies in a beautiful location in the middle of an Alpine valley just six kilometers from the capital of Vaduz.
The picturesque village itself is known not only for its splendid scenery and unique dialect, a variation of German originating from the Walser region, but also for its food festival. Known as the Triesenberger Wochen, it's held each year from mid-October to the end of November. During the festival, local restaurants and hotels serve up traditional dishes of the Walser people, many of them centuries-old and unique to the village.
There's no shortage of beautiful vistas from the village's cute chalets, hotels, and small inns, too, making Triesenberg a great place from which to explore Liechtenstein.
10. Hiking the Historical Eschnerberg Trail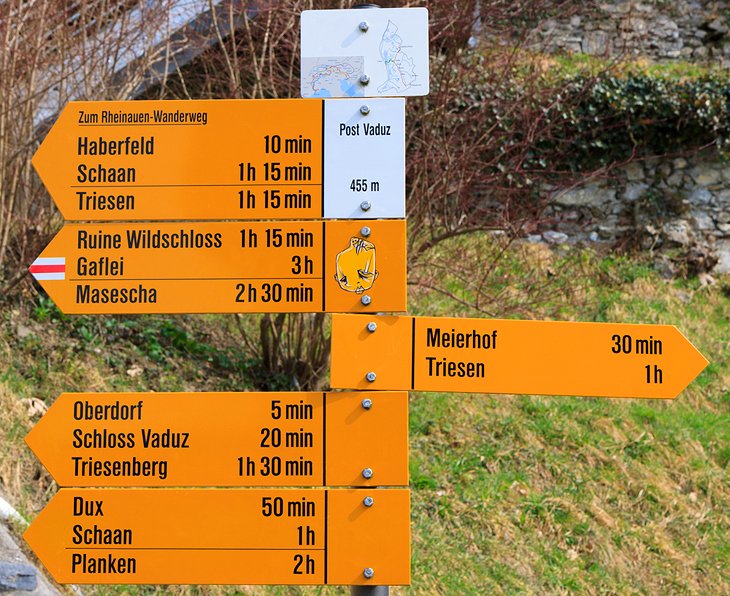 Thanks to its Alpine setting and many quaint towns and villages, Liechtenstein is a hiker's paradise. In fact, this tiny nation draws outdoor enthusiasts from across Europe to its many unspoiled mountain peaks, wooded slopes, and attractive valleys.
Numerous well-established trails crisscross the country: just look for the bright signs showing walking times, they're everywhere! One of the most popular of these trails is the 15-kilometer Historical Eschnerberg Trail, connecting the towns of Bendern and Schellenberg. Highlights of this fun trail include the prehistoric settlements of Lutzengütle and Malanser, as well as many spectacular views over the Rhine and the surrounding mountains.
Another popular trail is the Princes' Way Hike. This excellent route passes through the scenic Rätikon mountain range and offers superb views of the famous Three Sisters (Drei Schwestern) mountains.
Read More: Best Hikes in Europe
11. Winter Fun in Malbun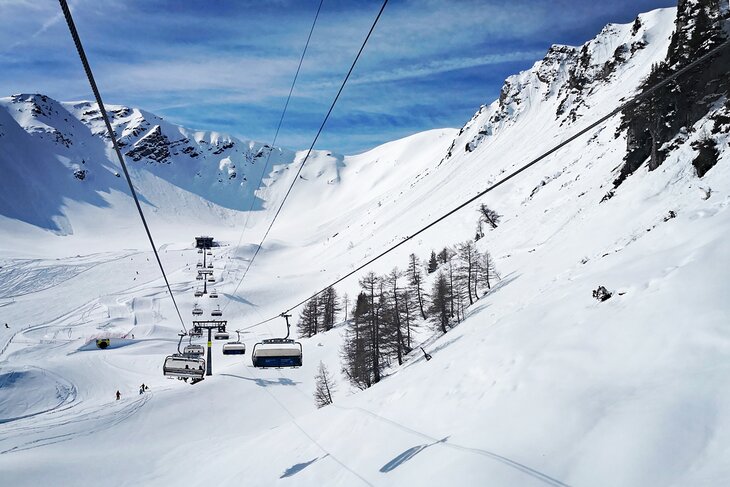 Famous as Liechtenstein's only winter resort, the small town of Malbun, once only inhabited in summer, is now a draw for winter sports enthusiasts. Perched on an Alpine ridge near the Saminatal Valley, Malbun boasts perfect snow conditions that led to the establishment of the first ski lifts and slopes in the 1960s.
Today, its many groomed trails and après ski activities enjoy one of the longest seasons in the Alps. All told, more than 23 kilometers of pistes are maintained, offering suitable terrain for skiers of all abilities, served by three lifts capable of hauling skiers to heights of 2,000 meters. For kids, Malbi Park Kinderland offers beginner lessons and programs, and the area also boasts a large network of Nordic ski trails.
The resort is also quite popular in the spring and summer. During these warmer months, the slopes instead become a magnet for hikers, climbers, and mountain bikers from across Europe. Whatever the season, one of the best ways to get to the top of the hills surrounding Malbun is aboard the Sareis Chairlift to the popular Sareiserjoch restaurant, which boasts incredible views over this area of Liechtenstein.
Read More: Top-Rated Ski Resorts in Europe
12. Country Castles: Schellenberg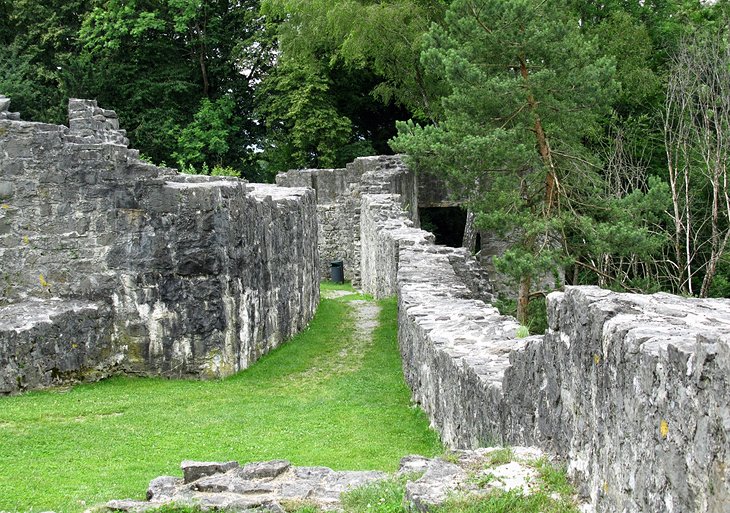 Liechtenstein is home to five castles, two of which remain intact: Schloss Vaduz, seat of the country's monarchs, and Burg Gutenberg in the village of Balzers. Of the others, all that is left are ruins, but each has its unique charms.
If you're able to visit just one of these picturesque locations, make it Schellenberg, where you'll actually be rewarded with a chance to explore two old ruins at once. The larger of the two, the Upper Castle (Obere Burg), was built in 1200 and once had all the elements of a typical medieval castle. The smaller, the Lower Castle (Untere Burg), was built in 1250, but by the 16th century, both had fallen into disrepair.
The third set of ruins, Schalun Castle, also known as Wildschloss, is within walking distance of Vaduz. This attractive site dates from the 12th century, and is worth adding to your itinerary if there's room.
13. The Ruggeller Riet Nature Reserve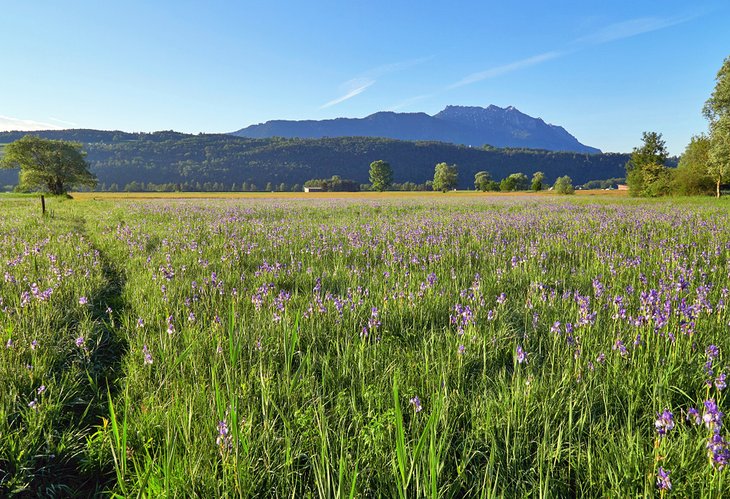 Set amid 90 hectares of unspoiled wilderness in northeastern Liechtenstein, the Ruggeller Riet Nature Reserve is a great place to experience the country's rich flora and fauna. While bird-watchers will enjoy the chance to spot endangered species such as storks, the reserve's nature trails lead you through a variety of attractive vegetation and scenery, from moors to meadows, with rolling hills as a backdrop.
A great time to visit is during the end of May into early June, when the reserve's abundant Siberian iris burst into bloom. It's also a great place for a picnic, or better still, enjoy a barbecue in the dedicated public rest area overlooking the Rhine in Weinbau. From here, you can even join the bike path networks that extend all the way into neighboring Switzerland and Austria.
Address: 9491 Ruggell, Liechtenstein
14. Forst High-Rope Adventure Park
Another outdoor adventure suitable for young and old alike is the Seilpark im Forst. Literally translated as the "Rope Park in the Forest,", this fun family-friendly activity is located just a short drive from the village of Triesen.
Highlights of this tree-top adventure course include three high-rope trails perched at tree-line level, each offering plenty of great views along with the excitement.
After clearing a number of fun rope bridges, aerial walkways, and climbing-related obstacles, your adventure ends with a thrilling zipline ride back to ground level. This fun three-hour experience comes with the use of all safety gear along with a brief yet thorough training session. Professional guides are available if so desired.
Address: Langgasse 51,9495, Liechtenstein
15. The Calculator and Typewriter Museum
Despite what you might be inclined to think, the Calculator and Typewriter Museum in Schaan isn't just for nerds. One of the top free things to do in Liechtenstein, this fascinating museum pays homage to these once ubiquitous tools of writers and accountants the world over.
The unique collection consists of more than 250 important and rare pieces, many of them antiques, the oldest dating back to the late 1800s. Highlights include the world's smallest mechanical calculator, the palm-sized Curta, which was designed and manufactured in Liechtenstein.
There's also an original WWII Enigma encoding machine used by the German military and famously solved by the British.
Address: Altes Riet 121, 9494 Schaan, Liechtenstein
More Related Articles on PlanetWare.com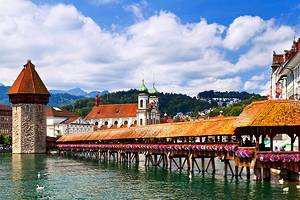 A Day Trip to Switzerland: Thanks to its proximity to Switzerland, Liechtenstein is an easy jumping-off point for a variety of great Swiss destinations. A must-do is to make the hour-long journey west to Zurich, the country's largest city, and certainly one of the prettiest... especially in the historic Old Town district, as many of its structures date back to medieval times.
Then, of course, there are all the things to see and do in lovely Lucerne. This beautiful medieval town on Lake Lucerne is home to one of Europe's leading music festivals, the Lucerne Festival.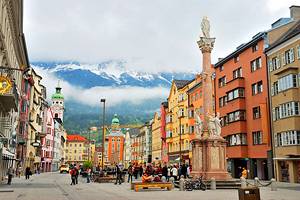 A Day Trip to Austria: A variety of top destinations in Austria, too, are just an easy day trip away from Liechtenstein. One of the country's most popular tourist spots is the beautiful city of Innsbruck, an easy two-plus-hours away, and as popular for its old medieval town center as it is for its many outdoor adventures, including everything from hiking and biking to skiing and snowboarding.
If pressed for time, however, consider hopping in the car (or on a bus) and instead making the 50-minute journey to explore the attractions of Bregenz, located on the south shore of picturesque Lake Constance. Here, you'll enjoy strolling along the historic town's gorgeous promenade, or hopping aboard the Pfänderbahn cable car to enjoy incredible views over the lake and the Alps.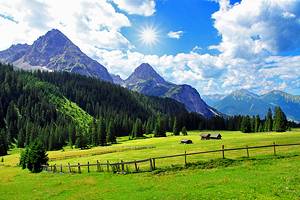 A Day Trip to Germany: Germany, too, is just a hop, skip, and a jump from Liechtenstein. A great day trip would be to make the two-plus hour drive to explore the attractions of historic Augsburg in Bavaria. Here, you'll enjoy 11th-century Augsburg Cathedral, and the medieval Fuggerei district, which has remained pretty much unchanged since the 1500s.
Just an hour farther east from Augsburg is the magnificent city of Munich, famous for its many beautiful churches, palaces, and large public squares (if you can, be sure to visit during the city's famous Christmas Market). Also doable in a day (albeit a long one) is a driving tour of both Bavaria and the Black Forest, looping back to Liechtenstein.