11 Top Things to Do in Winter in Switzerland
Winter is one of the best times to visit Switzerland. While summer offers beautiful flowering valleys and great hiking trails, winter brings on the magic of snow-covered peaks, charming Christmas markets, and the best skiing you'll find in Europe.
There are plenty of things to do in Switzerland for non-skiers, too. The snow fun continues off the pistes, with trails for snowshoeing, ice-skating on frozen lakes, and great dining and shopping when you're ready for a break from the cold weather. Plus, unless you're staying at a ski resort, winter means smaller crowds and much better prices for flights and accommodations - a big plus in one of Europe's most expensive countries.
Need some inspiration? Plan your trip with our list of the top things to do in winter in Switzerland.
Note: Some businesses may be temporarily closed due to recent global health and safety issues.
1. Discover World-Class Skiing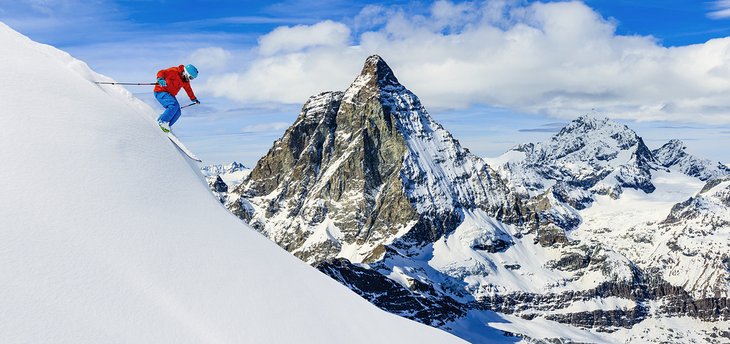 There's perhaps no better reason to visit Switzerland than the amazing skiing - no matter if you're a snow expert or just a beginner.
St. Moritz, home to 87 pistes and host to two Winter Olympic Games, is the place to visit for both skiing and snowboarding, while Zermatt offers 360 kilometers of runs at the highest ski area in Switzerland.
There's also Davos, one of Europe's largest winter sports areas, where multiple ski resorts interconnect to offer groomed runs, beginner slopes, and off-piste terrain for the advanced skiers.
If you're after a more relaxed vibe or gentler runs, Switzerland has plenty of smaller resorts that will satisfy you. Saas-Fee in the Valais region offers 37 kilometers of beginner trails plus areas for kids and learners, while the less-known Arosa Lenzerheide resort area offers lots of winter sunshine and plenty of groomed runs for intermediate skiers.
Even better, skiing in Switzerland is a social adventure, not just a sport. At the end of a day-long skiing session, head to a mountaintop restaurant for a cup of hot chocolate or a hot meal by a crackling fireplace.
2. Ride the Bernina Express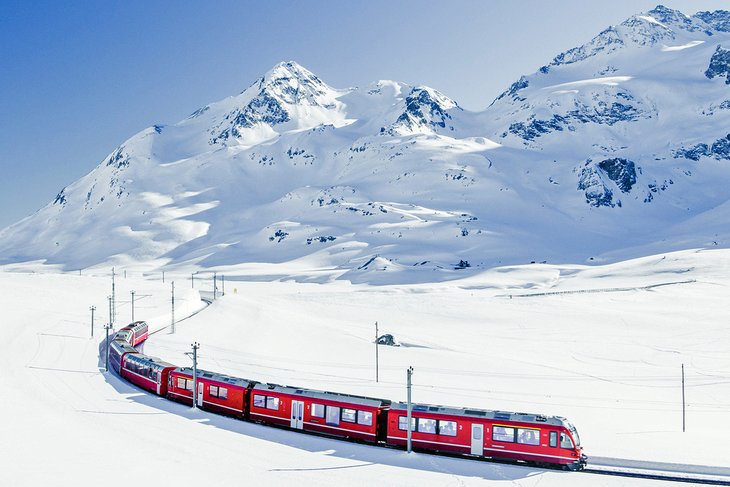 No other winter train ride in the world can beat the Glacier Express route between Zermatt and St. Moritz. The eight-hour-long ride takes you through the snow-covered Alps and over 291 bridges, as well as glacier lakes, and narrow valleys that seem to go on forever. It's one of the most stunning ways to enjoy the winter scenery while sipping a cup of hot chocolate.
Because this is Switzerland, your choice of stunning train rides doesn't end there. The Bernina Express between Chur and Tirano is another incredible route that goes through snow-covered fir trees and rolling mountainsides covered in clouds. This Bernina Express even offers a full moon excursion on the line between St. Moritz and Alp Grüm, with classical music playing and lights out to enjoy the beauty of the sky in all its splendor.
3. Shop at Christmas Markets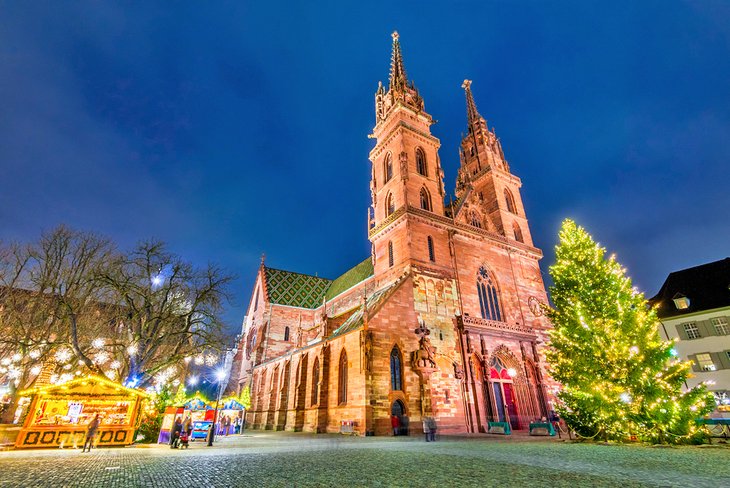 One of the highlights of visiting Switzerland in winter is shopping at some of Europe's best Christmas markets.
Zurich is home to many holiday markets, including Christkindlimarkt, the largest indoor Christmas market in Europe, inside the main train station. In Basel, the main city square becomes home to almost 200 artisans selling their wares from inside tiny wooden chalets, while Bern's Waisenhausplatz Christmas market offers not only Christmas decorations and gifts, but also souvenirs.
Geneva has several Christmas markets known for their old-school carrousels, live caroling, and a focus on artisans' work. And in Montreux, you can visit an authentic-looking medieval market at the Chateau de Chillon Castle.
In addition to great shopping, Swiss Christmas markets are also a feast for your taste buds, offering things like cheese fondue and rösti (potato pancakes).
4. Ice-Skate on Natural Rinks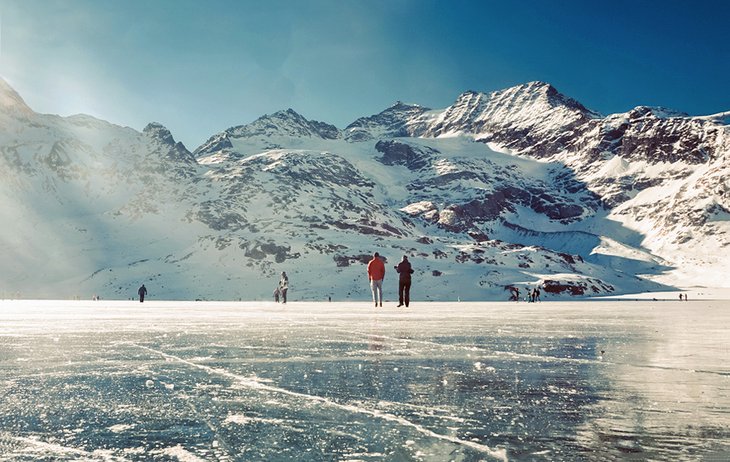 You'll find plenty of ice-skating rinks in Swiss cities, but the true experience here is to jump on a natural rink. Surrounded by forests, deep inside valleys, and sometimes only accessible via a chairlift ride, natural rinks are everywhere in Switzerland.
Europe's largest natural ice rink is in Switzerland, in the winter resort town of Davos. It covers 18,000 square meters, and it's used by professionals (ice hockey players and speed skater champions), as well as beginners just wanting to have some fun.
In the Jura area of Switzerland, a number of lakes freeze over in winter, transforming into giant ice rinks. Lac (lake) de Joux, sitting at an altitude of 1,004 meters, is a stunning icy display. Lac des Rousses and the Lac des Tailleres in La Brevine area are also popular destinations.
For those keeping their trip urban, Katzensee Lake just outside Zurich also attracts ice-skaters during winter.
5. Explore Alpine Fairy-Tale Towns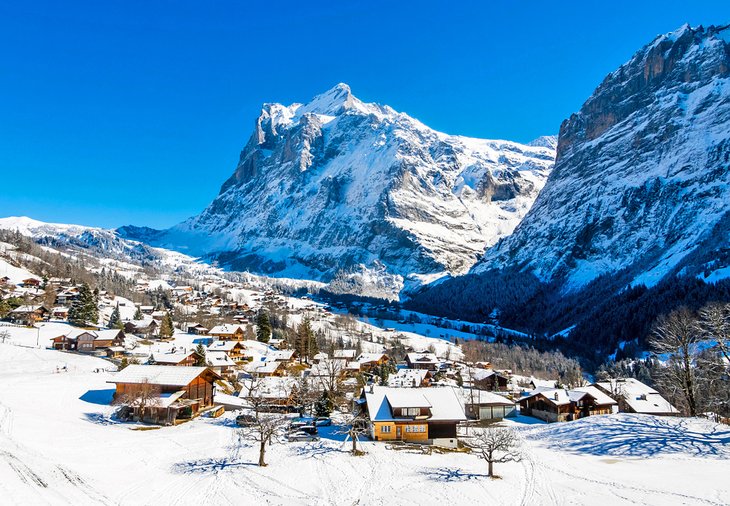 Switzerland is beautiful in winter no matter what city you're visiting, but it's the small charming villages and towns that truly pack on the magic.
The ski resort towns of Zermatt and St. Moritz are favorites, but Grindelwald and Gstaad are equally stunning, with smaller crowds. As the highest town in the Alps, Davos attracts plenty of winter sports enthusiasts, but the town is also a good shopping destination and offers great dining in beautiful mountain surroundings.
St. Gallen is a different kind of destination, home to a car-free Old Town Center; the old-world charm of centuries-old houses; and the historical Abbey of St. Gallen, which becomes the background to the Christmas market in December.
Gruyères (world-famous for its namesake cheese) is another stunning medieval town full of cobblestone streets that take on a festive atmosphere during the holidays.
Set against a backdrop of dramatic mountains and sitting right on a lake, Lugano is another great winter destination, with Christmas markets that start in November and last until early January.
6. Relax in a Thermal Bath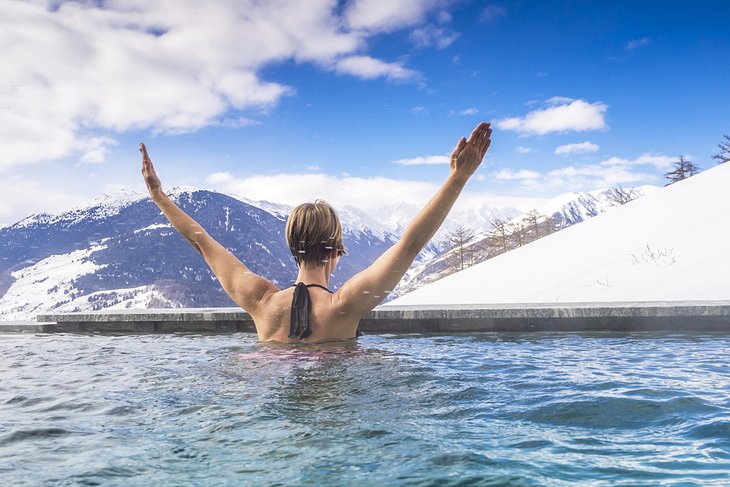 Thermal spas have a long history in Switzerland, and for centuries even royals enjoyed the mineral-rich, healing waters from the local springs. Whether at a small, cozy wellness center or an impressive massive health resort, the experience of relaxing in a 40-degree outdoor pool while snowflakes fall on your face is a must-try while in Switzerland.
One of the most famous thermal baths in Switzerland is the Mineralbad & Spa Rigi Kaltbad, which overlooks Lake Lucerne from the top of Mt. Rigi. There are indoor and outdoor pool options here, plus herbal steam baths and an outdoor lounging area.
Another great waterfront location is the Termali Salini & Spa on Lake Locarno, with outdoor saltwater lakes that look right over the lake.
The largest spa resort in the Alps, Leukerbad-Therme uses water from its own private mineral-rich spring to fill 10 thermal baths with temperatures as high as 43 degrees Celsius.
7. Go Dogsledding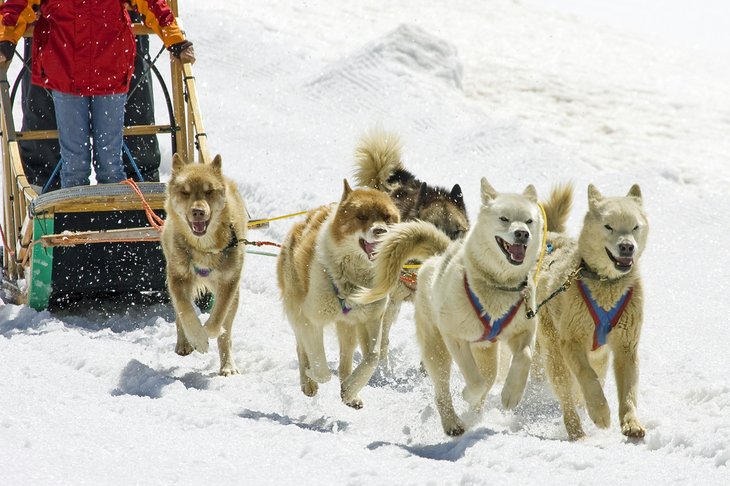 For something different, Switzerland offers lots of husky runs. Many depart from ski resorts as part of their non-skier offerings. But there are also run options at the Jungfraujoch near Interlaken, at the Les Rosées-Dessous (where the polar-like environment is perfect for days out in the snow), and in the Lake Geneva region.
If you want to spend time with dogs without having them do the heavy pulling, try the Barry Foundation in Champex-Lac. The foundation organizes animal-assisted therapy and in winter offers guided walks on the snow in the company of friendly St. Bernards.
8. Spend the Night in an Igloo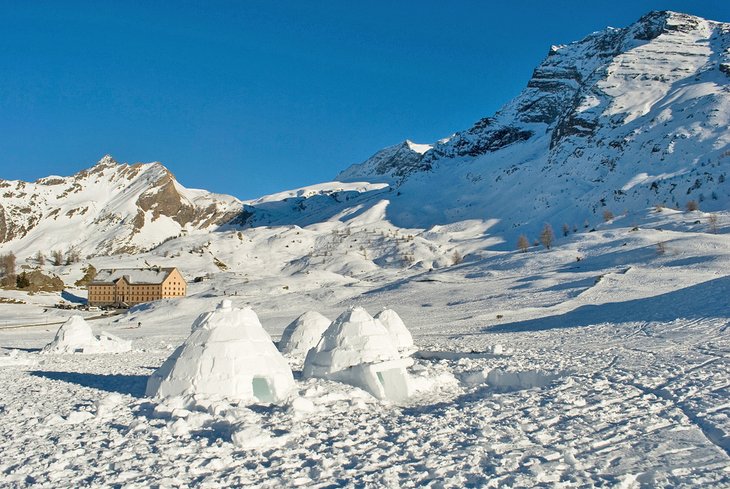 For a completely different experience, tuck in for the night in an igloo. A number of Alpine ski resorts build their own igloos to double as ice rooms during winter. Each place offers its own package, but igloo rooms come packed with their own sleeping bags, welcome hot drink, and either lamps or battery-charged lights.
Located in the Engstligenalp plateau in the western Alps, the popular Berghotel Engstligenalp igloos are set 2,000 meters above sea level. Guests receive a hot water bottle to keep warm inside the sleeping bag, access to toilets and showers in the nearby chalet, and a three-course dinner and buffet breakfast as part of their stay. Plus, they get to take home homemade Nidletäfeli (Swissmilk caramel candy) as a farewell gift.
A stay at the also popular Iglu-Dorf in Gstaad in the Bernese Oberland comes with a guided snowshoe trip in the dark, a heated Jacuzzi under the stars, and your own cheese fondue.
9. Have a Chocolate Experience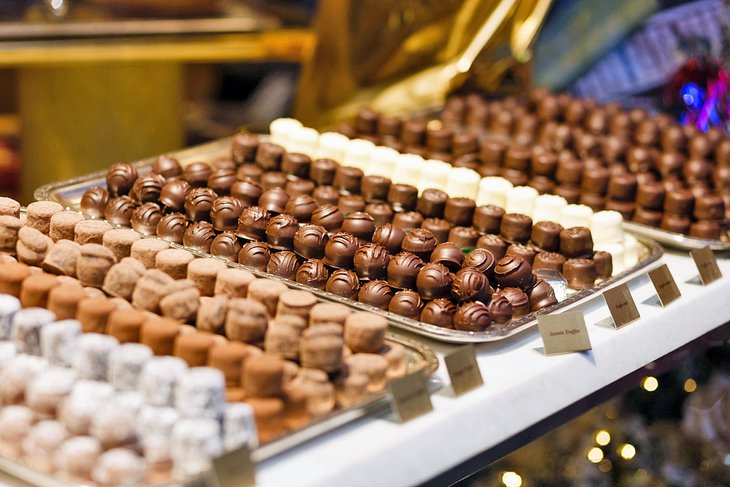 You can eat lots of chocolate while in Switzerland, but for a true experience, nothing beats a factory tour, where you can see it being made and get plenty of free samples along the way.
At the Maison Cailler Chocolate Factory in Broc, you can learn about the history of chocolate all the way back to the Aztecs through their interactive museum tour, while the Läderach Chocolate Experience in Bilten allows you to create your very own chocolate while tasting artisan samples along the way.
If you have no time in your schedule for a chocolate tour, you can always find a cozy café and try one of the many chocolate-based delicacies the country has to offer. Order a Coupe Danemark (ice-cream sundae covered in thick melted chocolate) or a Belle Helene (chocolate sundae with pears poached in syrup) along with your coffee. Or just grab a few Swiss chocolate truffles to snack on the go. Aside from the traditional milk chocolate ones, you can try flavors like coffee, hazelnut, and toffee.
10. Enjoy the Views from Up Top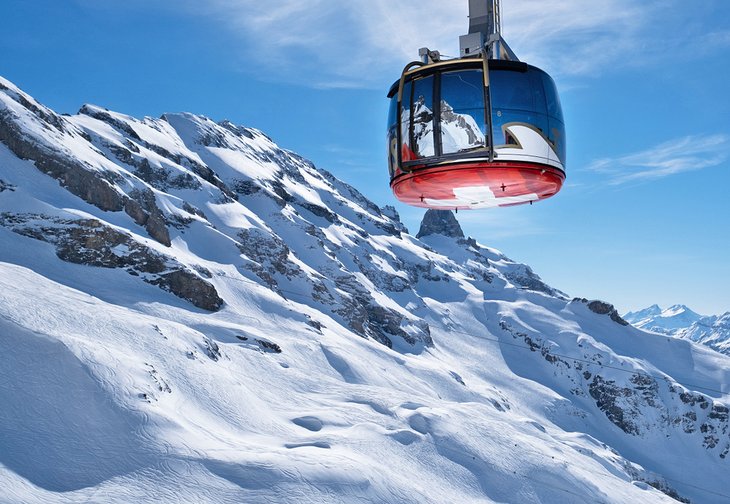 Sometimes the best way to enjoy the beauty of Switzerland is from up high. And what better way to do it than from a helicopter. A number of outfitters offer sightseeing flights over the snowcapped Alps, with jaw-dropping rides that last anywhere from 20 minutes to several hours.
From Zermatt, you can catch a helicopter tour all around the world-famous Matterhorn mountain, or head to Lauterbrunnen for a flight over the impressive glaciers of Eiger, Mönch, and Jungfrau, where scenes for James Bond movies were filmed.
For something a bit less heart-stopping, you can also take a cable car or funicular ride to the top of Switzerland's most famous mountains. You don't have to be a skier to get the million-dollar view. Just head up to enjoy a hot meal at the resort's restaurant or soak up the views over the Alpine peaks.
The gondola ride up the Grindelwald mountain offers colossal views over the Alps, while the Rotair gondola ride up Mount Titlis offers rotating, 360-degree panoramas over the stunning glaciers.
Chaumont Mountain offers a funicular ride, which rides up 1,087 meters to the top of the mountain, where you'll find a great little restaurant to warm up with a cheese fondue.
11. Try Other Snow Sports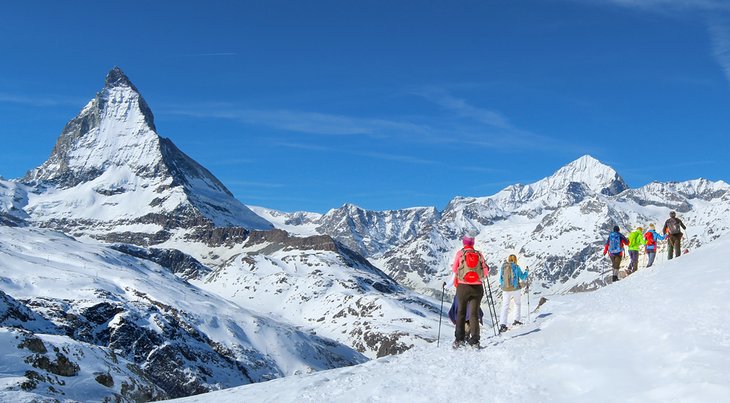 If sliding down the side of a massive mountain is a bit too exciting for you, don't worry - Switzerland offers plenty of snow fun even if you don't ski. You can always try cross-country skiing, winter walking, or snowshoeing on trails and mountain paths. There are guided winter hikes in almost every town, often with stops at Alpine huts or cozy cafés along the way, so you can warm up and try some local delicacies.
The Grindelwald area is particularly popular for snowshoeing. You can take advantage of a number of trails near towns, or take the lift up the mountain for off-trail snowshoeing through Alpine forests.
While snowmobiles are not usually available for private rental, there are several outfitters that offer guided tours that are both stunning and exhilarating. The snowXpark in Engelberg offers cordoned-off trails you can explore on your own after renting a snowmobile, while visitors to the St. Moritz/Engadine Valley will find plenty of travel outfitters offering organized tours.