18 Top-Rated Places to Stay in Chiang Mai
Northern Thailand's tourism hot spot, Chiang Mai is a city known for its temples, old town, and famous Night Bazaar market and is also filled with hotels for all budgets and styles of travelers. So whether you are visiting this ancient city to celebrate a romantic honeymoon or as a family hoping to teach the kids about another culture, Chiang Mai offers many places to lie your head at night.
From budget to luxury, most of the properties are located either right in the old city or just outside it, with almost everything under a 30-minute walk from one of its most famed attractions, the Night Bazaar. Many of the properties are also located along the Ping River, which is a lovely side attraction.
If you're looking for a hotel on the river in the luxury bracket, check out the Anantara Chiang Mai Resort or 2 Chiang Mai Riverside Resort, which both also check off another Chiang Mai lure: artistic appeal. For a more affordable river stay, properties like the Chiang Mai Siam pamper guests.
Finally don't be surprised by how small most of the properties are: whether budget or luxe, nearly all the hotels listed here would be classified as boutique or guesthouse when it comes to size. Find a great base for your next vacation with our list of the best places to stay in Chiang Mai.
1. 137 Pillars House Chiang Mai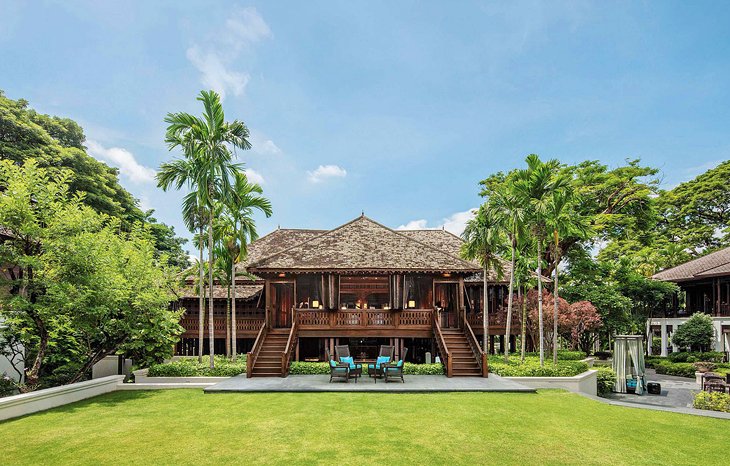 The boutique 137 Pillars House, in a building dating back to 1889, has just 30 suites, which are all spacious and comfortable and mix historic Thai architecture with contemporary design. Located in the artsy Wat Gate district, which is just a 15-minute walk from the Night Bazaar, this luxury property has a distinct romantic vibe that is perfect for couples.
Away from the rooms, amenities include a 25-meter lap pool surrounded by sun beds and private relaxation salas. Also on-site is a cooking school, spa, gym, and restaurant. Breakfast is included in the rate and cooked to order.
2. Anantara Chiang Mai Resort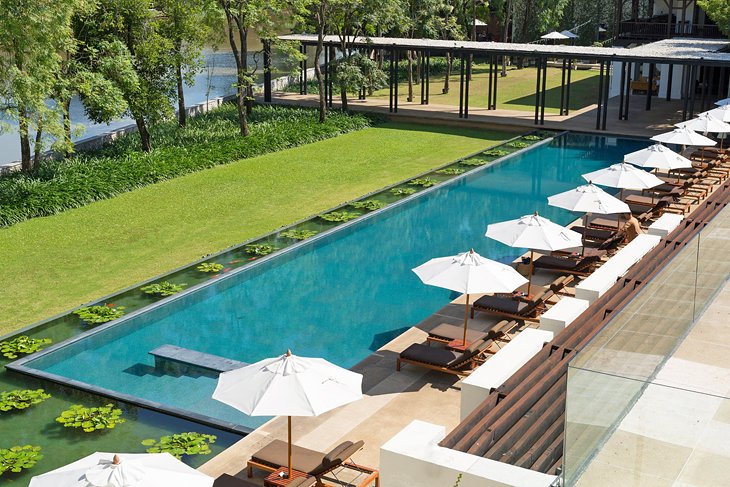 Another popular luxury pick, the Anantara Chiang Mai Resort has an excellent location right by the Night Bazaar and on the Ping River and features modern contemporary architecture throughout. The beautifully appointed rooms are spacious and have floor-to-ceiling windows with private, furnished balconies facing the river and plenty of wood design elements.
The hotel is family friendly, and extra cots and beds for kids can be arranged (sometimes with a fee). Babysitting is also available. Away from the rooms, amenities include a fine-dining restaurant, a spa, and a lovely swimming pool with more awesome river views.
3. X2 Chiang Mai Riverside Resort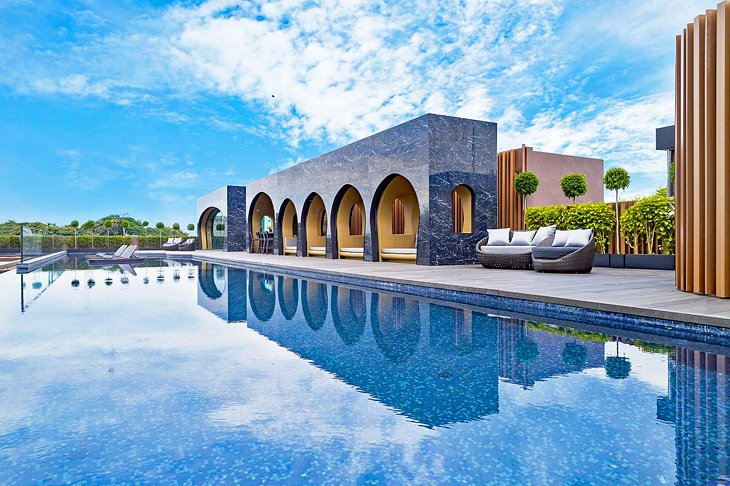 Right on the Ping River, the luxe X2 Chiang Mai Riverside Resort is a mix of modern and traditional Thai design and is a boutique property with just 30 sophisticated suites. These have an artsy modern but minimalist look and feature bright accent walls, charcoal bed frames, and black-and-white striped rugs.
On-site amenities include a wonderful courtyard with 100-year-old tamarind trees and a rooftop swimming pool and gym, which overlook the river. There is also a spa and a fine-dining restaurant. The property is a popular pick for young couples celebrating a honeymoon.
4. Na Nirand Romantic Boutique Resort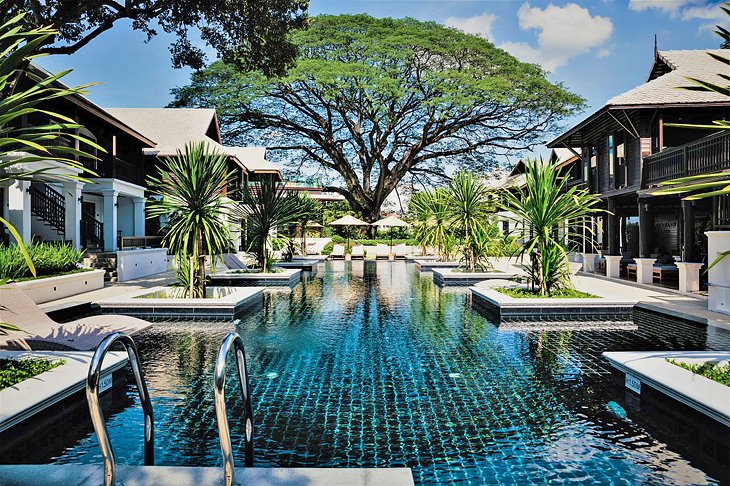 Another boutique luxury property right on the Ping River that caters to couples, Na Nirand also has a good location within walking distance of the Night Bazaar.
Decor in the spacious and comfortable suites is a throwback to the colonial-era with a touch of modern style. Expect plenty of color and handcrafted furnishings, as well as high-end linens on comfortable beds; polished wood floors; and, in some cases, dark wood ceiling beams. All rooms feature balconies and sitting areas, and some have claw foot-tubs in the bathrooms.
On-site amenities include a fine-dining restaurant fronting the river and serving international fare, as well as an outdoor pool, gym, and spa. There is also free parking on-site should you be traveling with a car.
5. Four Seasons Resort Chiang Mai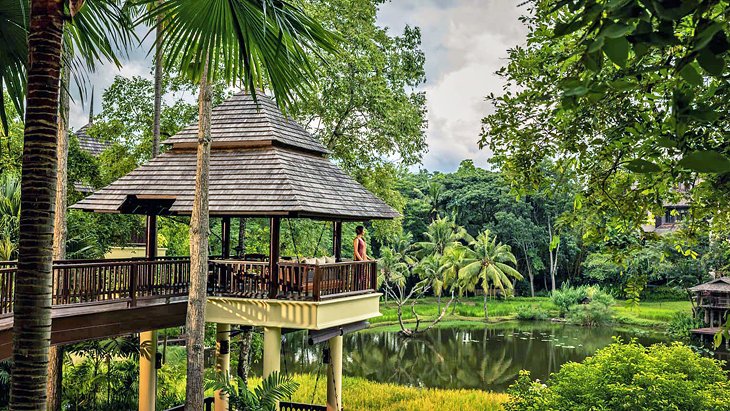 About a 30-minute drive from the city, amid the mountains surrounding the Mae Valley, the tranquil Four Seasons Resort Chiang Mai immerses guests in lush landscapes and rewarding cultural activities. Elephant experiences, Thai cooking classes, and bespoke art tours are some of the offerings here, and guests can also sign up for hot air balloon rides and excursions to nearby waterfalls, temples, and farms.
Accommodations are in stunning and spacious Thai pavilions and villas, as well as private residences with multiple bedrooms, which are perfect for large groups. Typical features include sumptuous fabrics, Siamese antiques, and original paintings, as well as breathtaking views over emerald rice paddies and the distant mountain peaks.
Three on-site restaurants focus on Northern Thai cuisine, and other amenities and services include nature trails, family and kids' activities, a full-service spa, and a shuttle to the city of Chiang Mai.
6. Le Meridien Chiang Mai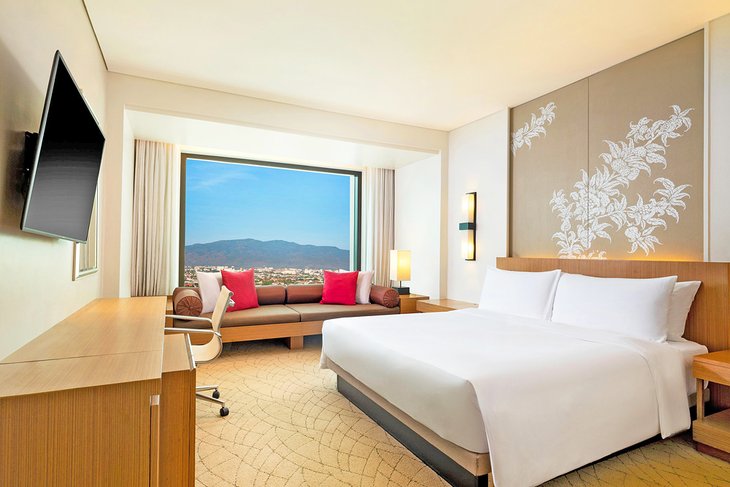 With views of the Doi Suthep Mountain Range from its 383 rooms and suites, Le Meridien is a top luxury hotel in Chiang Mai. The decor is a fusion of European and local Lanna style, and accommodations are clean and comfortable. The location is also excellent, right next to the night bazaar.
Amenities here include a swimming pool, restaurant, and workout room. There is airport transportation available, as well as valet parking. If you are traveling with the kids, the hotel is family friendly.
7. Shangri-La Hotel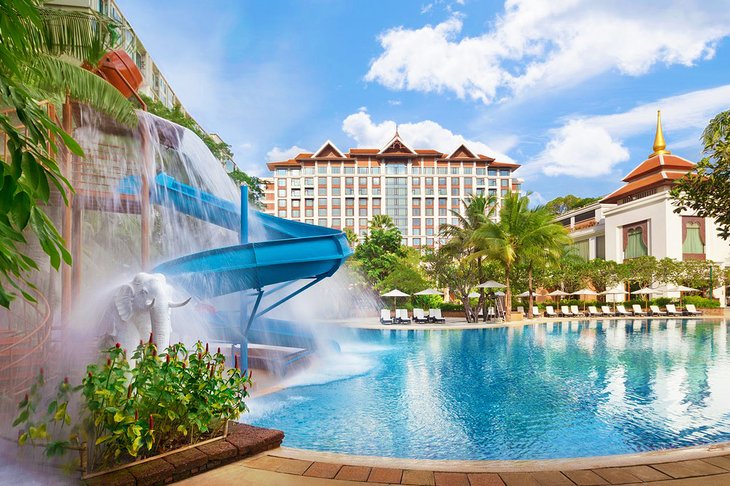 The Shangri-La Hotel is a 5-star property in a central location about a 10-minute walk from the Night Bazaar, Tha Phae Gate, and Sunday Walking Street. The rooms and suites are well appointed with Northern Thai decor and modern amenities, including flatscreen TVs and a pillow menu. Beds are topped with feather duvets.
Amenities include a well-known spa that offers a range of services, from massages to beauty treatments. There are also a few different restaurants on-site including one serving authentic Szechuan and Cantonese dishes. This family-friendly hotel has a great pool with a waterslide that the kids will enjoy.
8. Akyra Manor Chiang Mai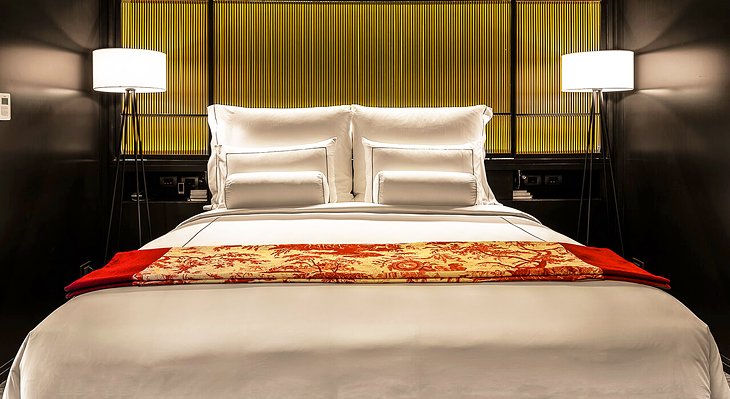 In a fantastic location on Nimmanhaemin Road, Akyra Manor is a luxe boutique choice that caters to an artsy, hip crowd and is filled with art installations and designer lighting. The neighborhood is known for its sidewalk cafes, eclectic boutiques, and food trucks and is also convenient to the city's top attractions, like the Night Bazaar and temples.
There are 30 suites with hardwood floors, mirrored walls, and very comfortable beds that have unique indoor-outdoor bathroom arrangements. On-site amenities include a rooftop swimming pool, restaurant, gym, and free use of bikes during your stay.
9. Ping Nakara Boutique Hotel & Spa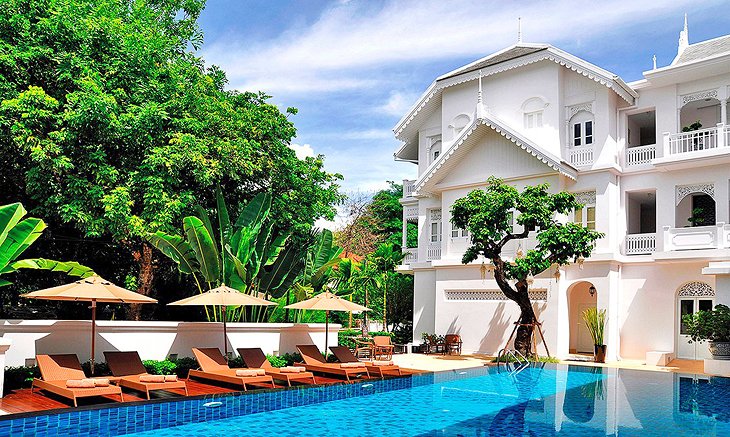 The colonial-style Ping Nakara features beautiful gingerbread architecture with teak fretwork right in the Wat Ket neighborhood and is a lovely option if you're looking for affordable luxury. The hotel features hand-crafted furnishings in its elegant, contemporary rooms, which come with sitting areas and often balconies facing the garden area. Some rooms also have Jacuzzi tubs.
If you're traveling with young kids, it's a good choice as children under two stay with parents at no extra cost. A breakfast buffet is also included, and there is an airy restaurant in which to enjoy it or other meals. On-site amenities also include a spa and swimming pool.
10. The Chiang Mai Riverside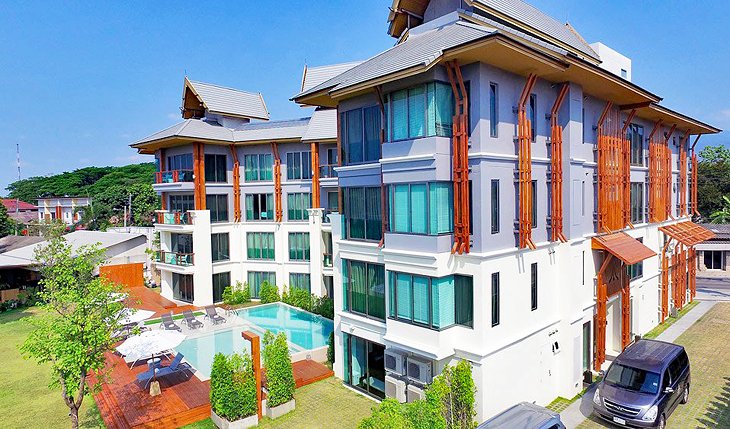 On the Ping River, the Chiang Mai Riverside is an all-suite property that offers affordable luxury to families and couples alike. It features one- and two-bedroom suites, which are done up in modern, chic style with plenty of neutral hues. All come with separate living rooms, dining areas, kitchens, and even washer/dryers.
Away from the rooms, amenities include an outdoor pool, gym, and a trendy restaurant on the river. Laundry service is also available on-site.
11. Rimping Village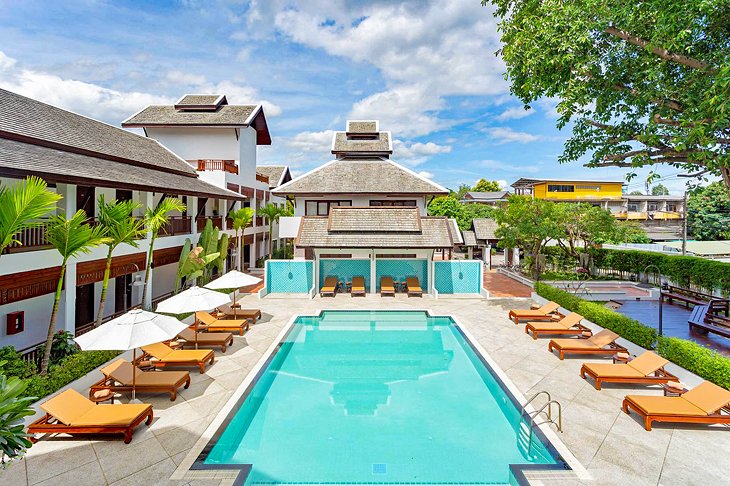 A solid mid-range option, the Rimping Hotel is kid friendly and in a good location, less than a 15-minute walk from the popular Night Bazaar and other central attractions. The rooms are simple but clean and comfortable with Thai wood furnishings. The suites have extra space for families with separate living areas.
Breakfast is included in the rate, and parking is free if you have a car. On-site amenities include a low-key restaurant with an outdoor dining space, as well as a swimming pool and laundry service. Bike rentals are also available.
12. Shewe Wana Boutique Resort and Spa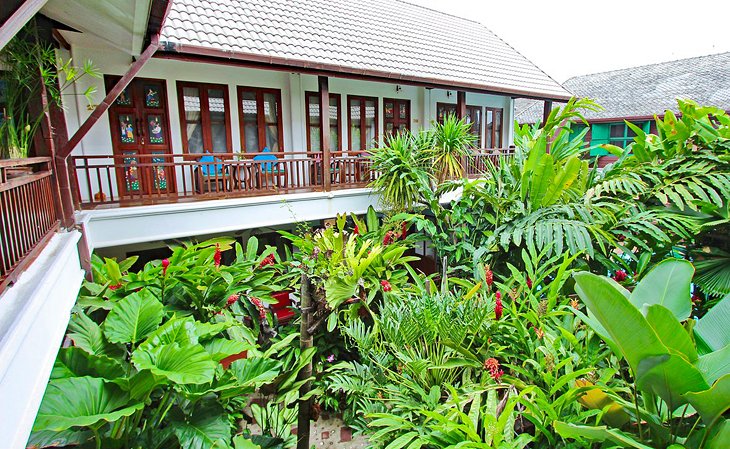 If you're traveling without a car and getting around Thailand by rail then this mid-range hotel is a good option as it is just a 10-minute walk from the Chiang Mai Railway Station and also convenient to the Night Bazaar and other city attractions.
It offers elegant one- and two-bedroom suites with polished wood floors and local furnishings, as well as modern amenities like flatscreen TVs and free Wi-Fi. Rooms also come with balconies, Jacuzzi tubs, and separate living spaces.
The property is family friendly, and kids under two stay free. Breakfast is included in the rate, and there is also a casual restaurant with lovely garden seating that also offers room service. There is also a swimming pool and laundry service.
13. Oriental Siam Resort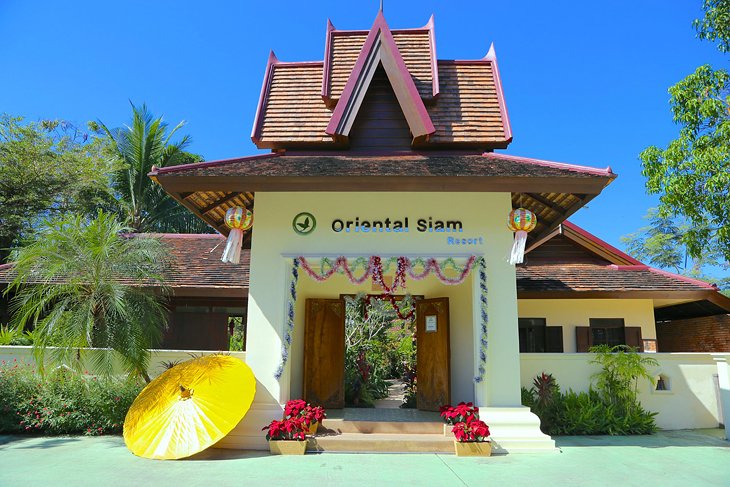 Located outside the city center with a distinct country vibe and Doi Suthep Mountain views, the Oriental Siam Resort is a good-value luxe property that is perfect for relaxation.
The boutique property has a small number of villas ranging from one to four bedrooms that each come with a private terrace and garden area and are constructed in Thai-style with plenty of teak furnishings and either polished teak or ceramic tiled floors.
The villas are constructed around a pond and tropical garden, and the property is near a beautiful temple. Breakfast is included in the rate, as is parking and bike rentals.
On-site amenities include a restaurant in an old rice barn, Thai massage, and a pool with a waterfall.
14. Kate and Hasu Boutique Chiang Mai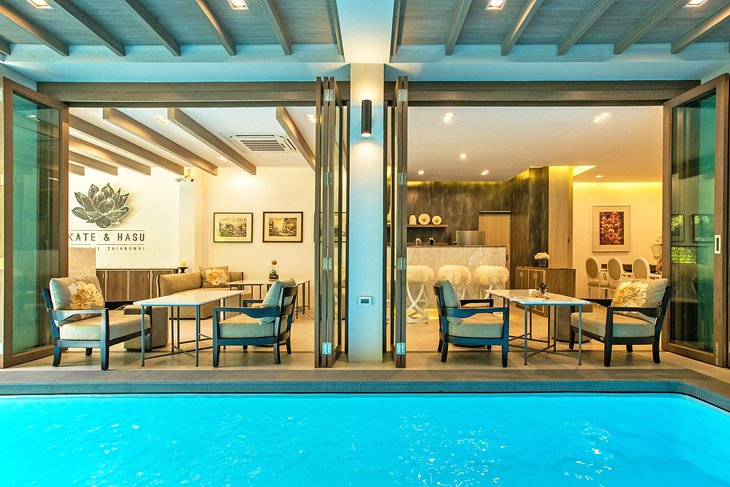 Kate and Hasu Boutique is a trendy budget boutique hotel with a funky wood-paneled exterior and basic yet cozy rooms with modern touches like flatscreen TVs, free Wi-Fi, and mountain views. Young couples like this hotel because it doesn't allow children 10 and under, so it has a more adult vibe.
The location is about three kilometers from the railway station and just under a 10-minute walk from the old city's ancient gate and its markets and attractions beyond. Amenities include a restaurant, pool, workout room, and a rooftop terrace for watching the sunset from a lounge chair.
15. Golden Bell Hotel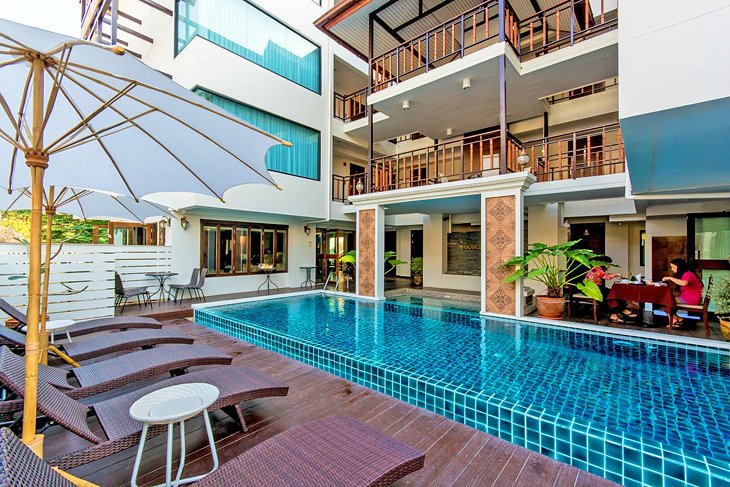 Just outside the old city, the Golden Bell Hotel is a central budget bet that is under a 10-minute walk from the Night Bazaar and a similar distance from the famed 15th-century Wat Chedi Luang, a temple known for its large pagoda.
The Golden Bell offers clean, comfortable, and inviting rooms with flatscreen TVs, mini-fridges, and sitting areas. There is on-site parking, complimentary loaner bikes, and an afternoon tea service. Also on-site is a restaurant, swimming pool, and business center.
16. The Peaberry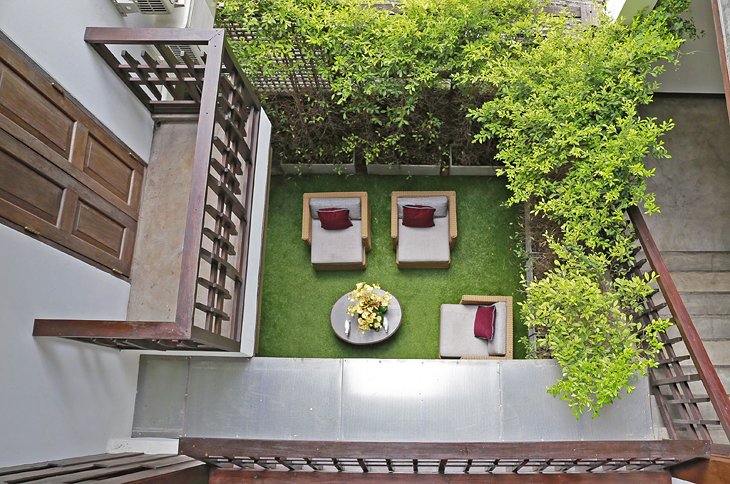 Located on the outskirts of Chiang Mai, just over half a mile from Three King's Monument and overlooking the city's moat, The Peaberry is a popular budget pick for families. It offers rooms and suites with rainfall showers in the baths; traditional Thai wood accents; and, in the suites, plenty of space to move around, including a balcony.
There is free parking in a nearby lot if you have a car, and bikes are available for hire. The property is about a 20-minute walk from Chiang Mai's city center. Although there is not a restaurant right on the property, there is one located just a minute's walk away.
17. Rustic River Boutique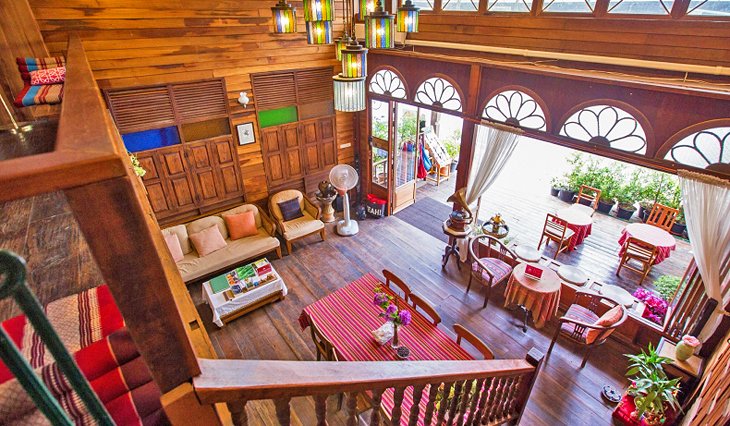 Not far from the Ping River, the Rustic River Boutique is a basic hotel in an old shophouse, which is under a 15-minute walk from the Night Bazaar. The rooms are simple but clean and have free Wi-Fi, as well as mini-fridges and satellite TV. Many also come with balconies facing either Chiang Mai or the nearby mountains.
Breakfast is included in the rate, and there is a laid-back restaurant serving three meals a day. There is also laundry service, and families with small children are welcome here.
18. Joy's House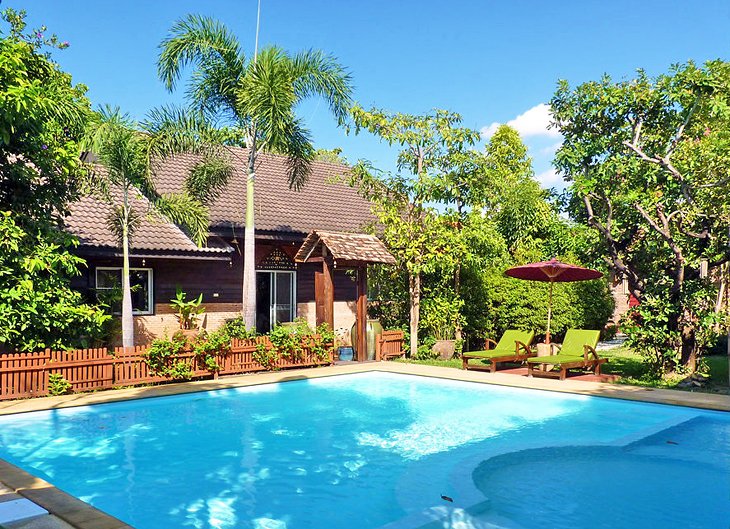 Joy's House offers inexpensive and clean guesthouse lodging with free Wi-Fi and private bathrooms in all rooms (not always the norm for budget accommodation), but as a drawback, it is located some 15 kilometers from the city center. There is a free shuttle that runs between both, however, and guests can also make use of complimentary bikes.
The rooms are comfortable, and many feature separate sitting areas. On-site amenities include a restaurant, pool, and sun terrace. Free parking is also available if you have a car.
Map of Places to Stay in Chiang Mai
Chiang Mai - Climate Chart
Average minimum and maximum temperatures for Chiang Mai, Thailand in °C
J
F
M
A
M
J
J
A
S
O
N
D

29

14

32

16

34

19

36

23

34

24

32

24

32

24

31

24

31

23

31

22

29

19

28

15

PlanetWare.com
Average monthly precipitation totals for Chiang Mai, Thailand in mm.

8

5

15

46

152

135

168

226

252

132

43

15