How to Do a Trans-Siberian Railway Journey: Routes & Stops
One of the world's most iconic train journeys, the Trans-Siberian Railway is not for the faint of heart. The three longest train routes in the world (of continuous travel, without changing trains) all cover part of the Trans-Siberian Route.
The shortest of the routes extends from Moscow to Beijing, covering 7,854 kilometers over a period of five days and nine hours. The more popular Moscow to Vladivostok route (the only train route that crosses the entire Russian territory from West to East) takes 6.9 days or 166 hours to cover an impressive 9,289 kilometers across seven time zones.
As the numbers imply, traveling the entire route of the Trans-Siberian (which also has lines that travel across Mongolia and end in Beijing) is no easy task. Without a proper action plan and knowing exactly where to stop and for how long, you might end up spending weeks on this journey.
Picking the Right Route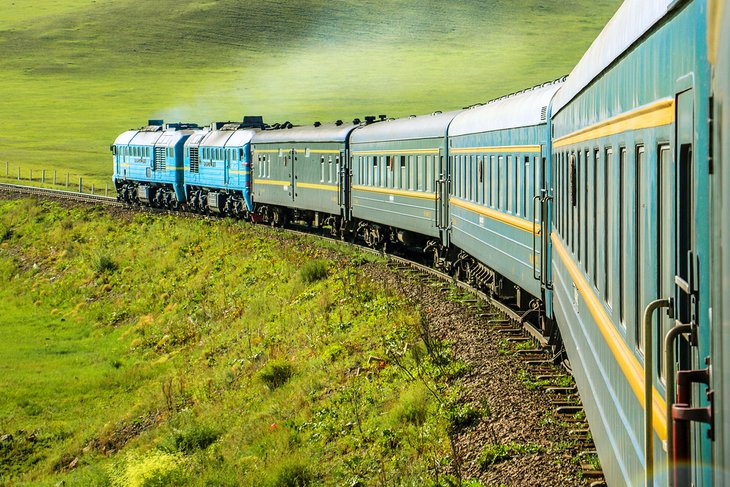 All Trans-Siberian trains depart from the Yaroslavski station in Moscow but at some point split into three different routes. Choosing a route depends on what you want to see and the type of experience you envision — there is no right or wrong answer, but the route you choose will determine which stops you can make along the way. All three lines spend the first four days and part of Day 5 within Russian territory — you'll have a chance to see Siberia (which is particularly stunning in winter) and watch the sunrise over Lake Baikal.
The Moscow-Vladivostok route is the classic route and the longest one — it crosses the entire territory of Russia from the capital all the way to Vladivostok in the East. While the city itself is not a major tourist destination, its location — just a ferry ride away from Japan — makes it very interesting. This route takes almost a week to travel. It offers two-berth compartments, four-berth compartments, and open carriages, where the row of seats converts into beds at night. This is the only route that also offers open sleeping carriages.
The Trans-Mongolian line — the shortest of all three routes — ends in Beijing but makes its way across Mongolia first, cutting through the Gobi desert filled with yurts and camels and stopping by the country's capital, Ulaanbaatar. This is the nicest and most comfortable of the trains, with deluxe 2-berth compartments (complete with shared showers), as well as larger berths for four travelers.
For the first few days, the train has a Russian restaurant car, offering typical Russian foods and drinks, surrounded by an old-Soviet style décor. Once you reach the Mongolia border, the restaurant car is actually switched, and you'll find yourself in an ornate white and gold car serving traditional Mongolian food. The restaurant car is switched again at the Chinese border at Erlan — this one serves the best food on the entire route, so it's worth trying.
Finally, there's the Trans-Manchurian line, which runs only once a week, heading to Beijing via Manchuria. The route is slightly shorter (one day less), and the trains only offer basic 2-berth and 4-berth compartments, no open carriages. Since this route skips the beautiful scenery of the Mongolian desert, it's the less popular of all three routes — the exception being in winter, as this line stops at the Harbin Ice & Snow Festival, the largest ice and snow festival in the world, held in China.
Choosing the Best Cabin Option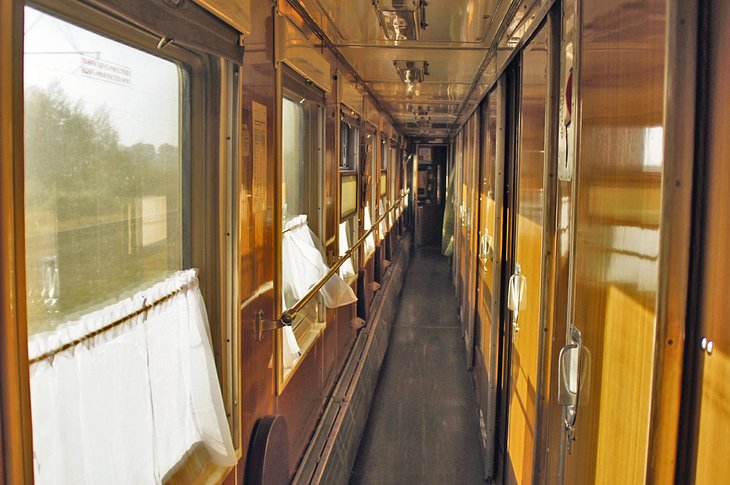 Picking a cabin is tricky on the Trans-Siberian, as even the First Class (spalny) cabins are very basic — here, the cabin class mostly defines how many people you'll be sharing the cabin with. If you pick First Class, the cabin will only have two beds, a perfect solution for couples or friends traveling together but still tricky for solo visitors, unless you're willing to pay double for privacy. Second class (kupe) means sharing the cabin with three other strangers (could be men or women), and third class (platskart) means a sleeper carriage of 54 bunks arranged against the walls of the train.
Third class is very noisy and there is no privacy, with only a curtain separating you from the rest of the travelers — but it's also half the price of second class cabins, so something to consider if your budget is tight.
Best Stops along the Way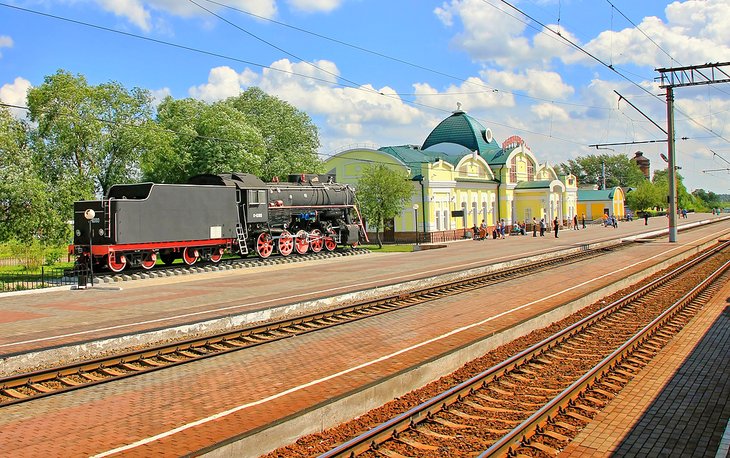 The Trans-Siberian railway doesn't sell open tickets. This means you cannot just get off and back on a later train if you buy a single ticket. Although the trains do stop at different stations along the route, the longest stop is barely 20 minutes long, so not very conducive to sightseeing.
If you want to explore different cities along the way, you'll have to buy separate tickets for each stopover. For example, get one ticket from Moscow to Yekaterinburg, then another ticket for the train from Yekaterinburg to Novosibirsk, which departs two days later.
While you might be tempted to stay on the train, a seven-day non-stop ride will get boring and probably uncomfortable. Even one break along the way will make a difference.
Here are some of the best stops along the way and what makes them interesting:
1. Yekaterinburg (All Trains)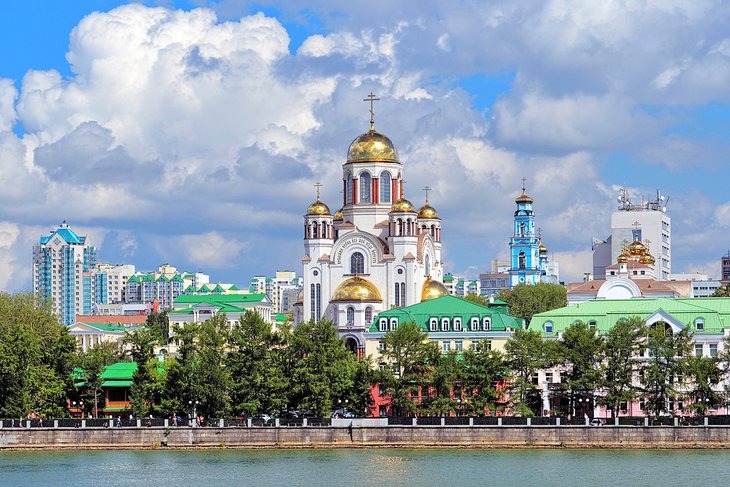 An ancient city set on the shores of the Iset River, Yekaterinburg is infamous for being the place where the Romanov dynasty came to a bloody end after 300 years of power. Here, Nicholas II, his wife, and his five children were shot to death in 1918, in the basement of the Ipatiev House. Today, Yekaterinburg is the fourth-largest city in the country, with much to offer visitors.
The Ipatiev House was razed after the Bolshevik Revolution, and the Church on Blood in Honor of All Saints Resplendent in the Russian Land was built in its place — the religious complex includes two chapels, a bell tower, a museum dedicated to the Romanov family, and a number of other buildings.
Yekaterinburg is also home to a museum with historical military vehicles; a ballet theater; and a number of lakes and parks featuring Stone Age monuments, observatories, and viewing platforms.
2. Lake Baikal (All Trains)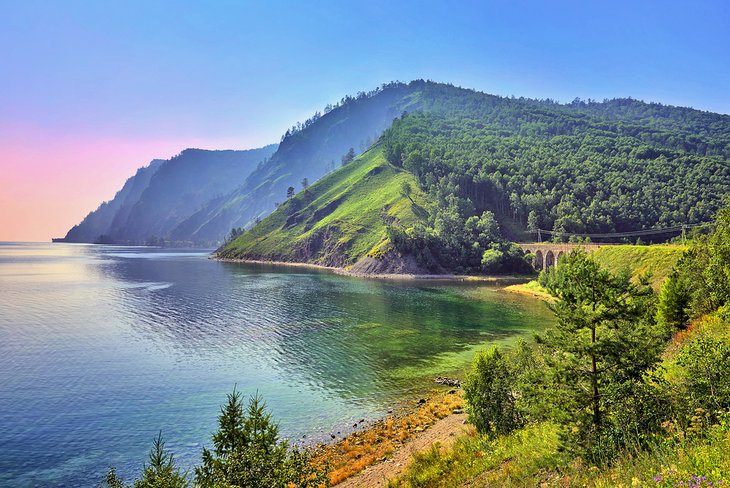 If you're only going to make one stop along the way, this is the one. Lake Baikal is the oldest lake and the world's largest freshwater lake by volume. Over 22 percent of the world's freshwater is in this lake.
Deep, a dark blue, and surrounded by blueish taiga forest, Lake Baikal is a sight to behold at any time of the year. In winter, the lake freezes over — with ice as thick as two meters in some places — creating the perfect surface for ice-skating, snowmobile rides, cross-country skiing, and even an ice-marathon.
In summer, you could explore the many kilometers of wild trails that lead into the wilderness or make your way to Olkhon Island, the third-largest lake island in the world.
3. Novosibirsk (All Trains)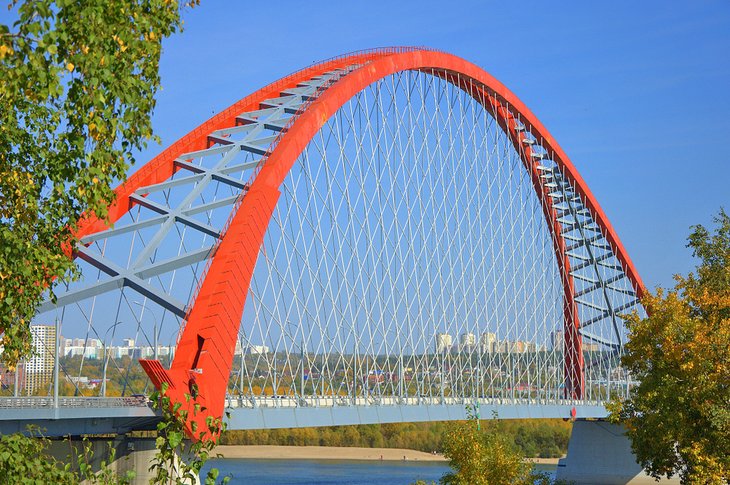 The unofficial capital of Siberia, Novosibirsk is a large city on the banks of the Ob River. Home to one of the largest opera and ballet theaters in the country, Novosibirsk is also a major stop for the Trans-Siberian, and worth exploring.
Beautiful red-brick Byzantine cathedrals, a large botanical garden, museums and historical monuments — Novosibirsk offers plenty of history and culture alongside some of the best shopping and entertainment outside the capital.
4. Ulaanbaatar (Trans-Mongolian Line)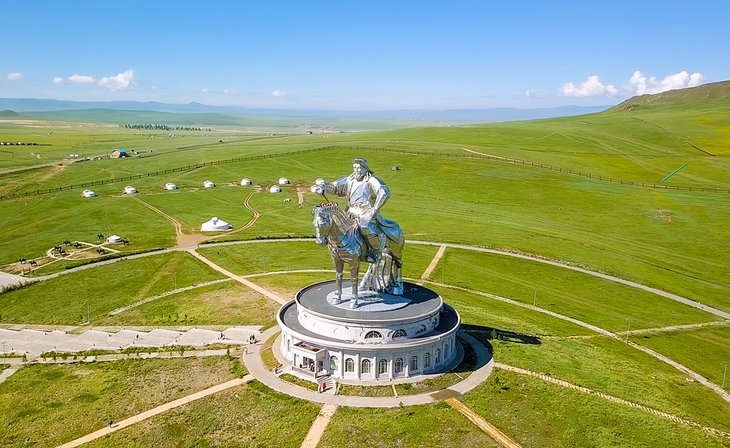 Mongolia's capital city is often a surprise to first-time visitors. There's a big Soviet influence here, most clearly seen in the stoic concrete buildings that make up most of the city — after spending so many days crossing Russia, Ulaanbaatar isn't necessarily a truly exciting sight. However, the city is the perfect starting point for day trips to the Gorkhi-Terelj National Park, where you can even spend the night in a traditional yurt if you wish. The park is only partially developed, but if you're looking for wild hiking, horse-riding opportunities, or even some unexpected rafting, this is the destination to visit.
5. Harbin (Trans-Manchurian line)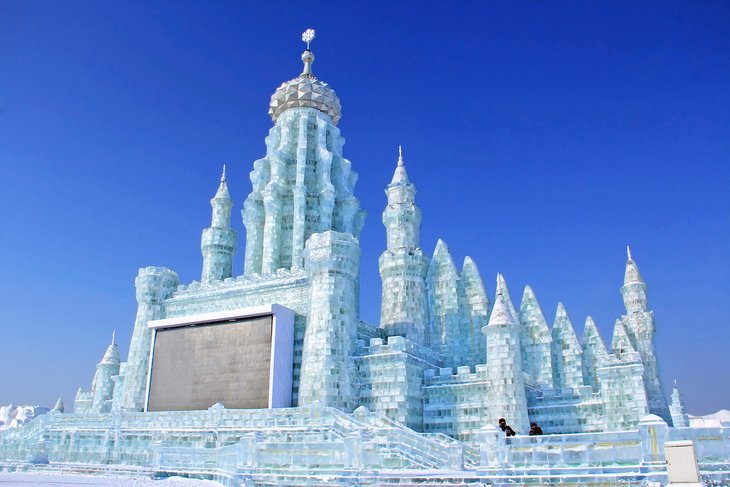 Harbin isn't particularly exciting in the warmer months, though the mix of Soviet and traditional Chinese architecture makes it more visually appealing than Mongolia's capital. In winter, however, Harbin is home to the world's biggest ice festival. Here, 50-meter-tall ice sculptures mix with giant ice slides and ice lantern shows, where multicolored lights are wrapped around translucent ice blocks.
Harbin holds the Guinness World Record for the single biggest ice and snow sculpture ever built — a 35-meter-tall and 200-meter-long sculpture that connected an ice maiden, a cathedral, and a Russian church, all illuminated by a dazzling laser show at night.
Tips to Keep in Mind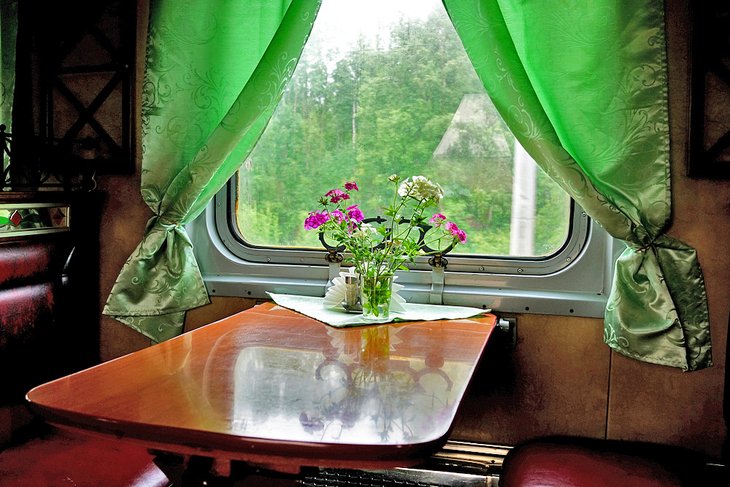 Restaurant cars on trains don't sell snacks, so make sure you stock up on dry food in advance. There are also tiny platform kiosks at every single train stop — they offer everything from chocolates and pastries to nuts, syshki (oregano-flavored crunchy crackers) and dried fish. If you're traveling in third class, having a few snacks you can share with fellow passengers will earn you plenty of points. Each train carriage has a samovar (coal-fired boiler), which provides hot water non-stop — bringing some instant coffee and packaged noodles with you is always a great idea.
The trains are safe, but pickpockets sometimes roam platskart (third class). Keep your money and your documents in a money belt while sleeping, or secure your valuables under your blanket and against your body.
If you are getting off the train to explore, keep in mind that there are rules to follow. Foreigners who spend more than three days in any Russian city have to register with the authorities. This isn't expensive, but it's a major headache if you don't speak Russian — unless there's a city you want to explore deeply, plan your stops so they last less than three days, or at least ask your hotel if they'll do it for you.
Always stay close to the train when you get off at a stop. There's often very little warning to announce the train is about to leave and no timetable anywhere to confirm how long the stop is exactly. You don't want to miss your train and have to wait a day (or a week) for the next one.
The Mongolian Tugrik currency cannot be bought or exchanged outside the country, so get some as soon as you cross the border, or you won't be able to eat in the Mongolian dining car.
There are no showers on the trains (except for first-class on the Trans-Mongolian line). If you're not spending nights in hotels along the way, bring wet towelettes or baby wipes to freshen up on the train.
If you have any dietary restrictions, such as allergies or you're a vegetarian, stock up on snacks before you leave Moscow. You don't want to have to make a quick food decision on the train platform, when you can't read the ingredients on what you're buying.
More Related Articles on PlanetWare.com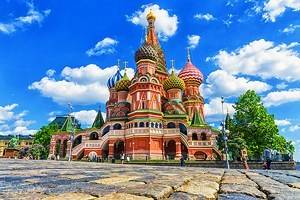 Before You Set Off: If you have a few days in Moscow before you set off on your route, make your way to the top-rated tourist attractions in Moscow, including the Kremlin, Red Square, and the Bolshoi Theater. For more ideas on what to see and do around the country and what train stops might be worth exploring, see our top picks of the best places to visit in Russia.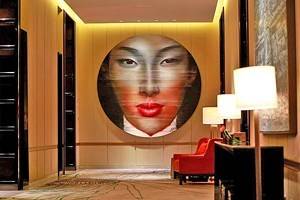 Planning Your Trip: Not sure when it's the best time to take the train? Take a closer look at the weather in Russia in our article on the Best Time to Visit Russia to help you decide. If your final destination is in China, our article on the Top-Rated Tourist Attractions in Beijing can help you organize your days when you arrive.