15 Top-Rated Tourist Attractions & Things to Do in Moscow
Moscow is one of Europe's most enigmatic destinations, home to a fascinating history and colorful, awe-inspiring architecture you won't find anywhere else in the world. Moscow might be one of the most populous cities in the world with over 11 million inhabitants, but this hasn't changed its strong cultural and social traditions.
Walk the cobblestone streets of the Red Square or the banks of the Moskva River early in the morning, and it's hard to tell what century you're in.
Tsarist architecture, must-see churches, and glamorous shopping opportunities blend together for a visual experience you won't forget. For ideas on what to see and do while visiting Russia, here's our list of top tourist attractions in Moscow.
1. Marvel at the Size of the Kremlin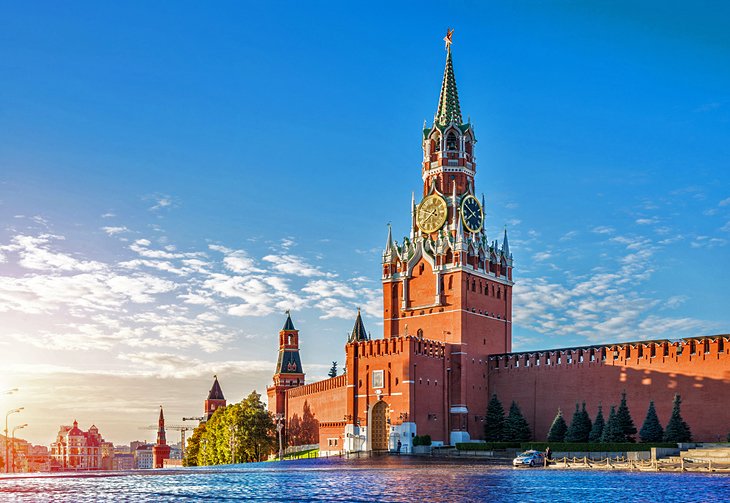 Moscow's most recognizable structure is without a doubt the Kremlin, a 15th-century fortified complex that covers an area of 275,000 square meters surrounded by walls built in the 1400s.
The Grand Kremlin Palace -which has over 700 rooms- was once home to the Tsar family and is now the official residence of the president of the Russian Federation, although most heads of state choose to reside elsewhere.
The massive complex also includes many other buildings, some of which are open to the public and can be visited regularly. Aside from three cathedrals (including one where the Tsars were once crowned) and a number of towers, the Kremlin is also home to the Armory building, a museum holding everything from the royal crown and imperial carriages to the ivory throne of Ivan the Terrible and Fabergé eggs.
2. Catch a Performance at the Bolshoi Theatre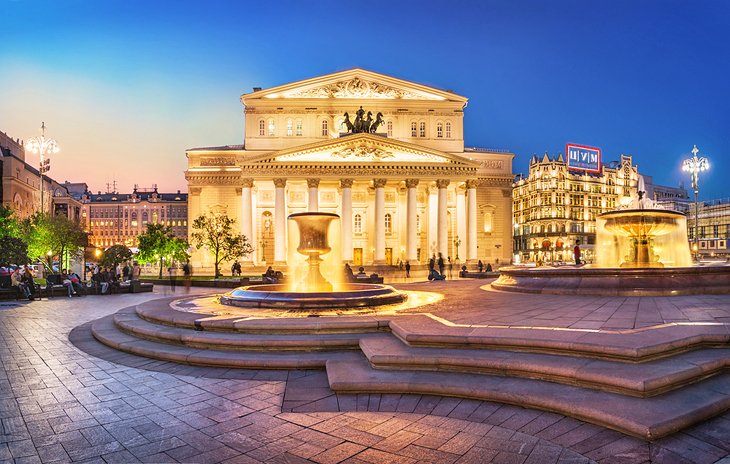 The Bolshoi Theater is home to the largest and one of the oldest ballet and opera companies in the world. While the theater has undergone several major renovations over the past century-including a recent one in 2011 to restore some of the imperial architectural details-it still retains all of its Neoclassical grandeur.
The Bolshoi Theater you see today opened in 1824, after several older versions burned down. Inside, red velvet, a three-tiered crystal chandelier, and gilt moldings give the place a Byzantine-Renassaince grandiose feel like no other.
Catching a show from the resident ballet and opera troupes is a treat, as the theater often presents a number of classic performances, such as Tchaikovsky's Mazeppa and Rachmaninoff's Francesca da Rimini, both of which originally premiered here.
3. Shop at the Luxurious GUM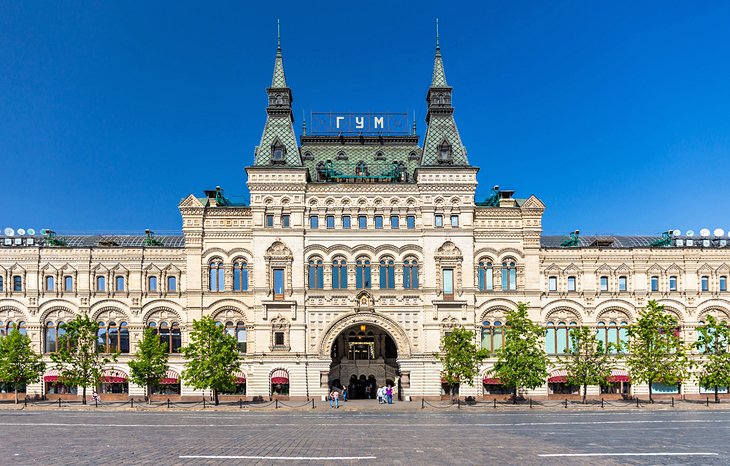 Moscow's oldest and most upscale shopping center is an architectural marvel. GUM (short for Glávnyj Universálnyj Magazín or "Main Universal Store") was built in the late 1800s in neo-Russian style to showcase a beautiful mix of a steel skeleton and 20,000 panels of glass forming an arched roof.
This was a unique construction at the time, since the glass had to be strong enough to support the snow-heavy Russian winters. The building is just as impressive outside, with all three levels covered in marble and granite.
While GUM is no longer the largest shopping center in Moscow, it's still by far the most beautiful. Home to brands like Gucci and Manolo Blahnik, this might not be the ideal destination for most budget-conscious visitors, but the beauty of the building itself is worth a visit.
On the third floor, there are also great dining options, including a Soviet-style canteen that serves traditional Russian food, and a stand selling ice cream made by hand using an original 1954 recipe originally approved by the Soviet government.
4. Make Your Way Into Lenin's Mausoleum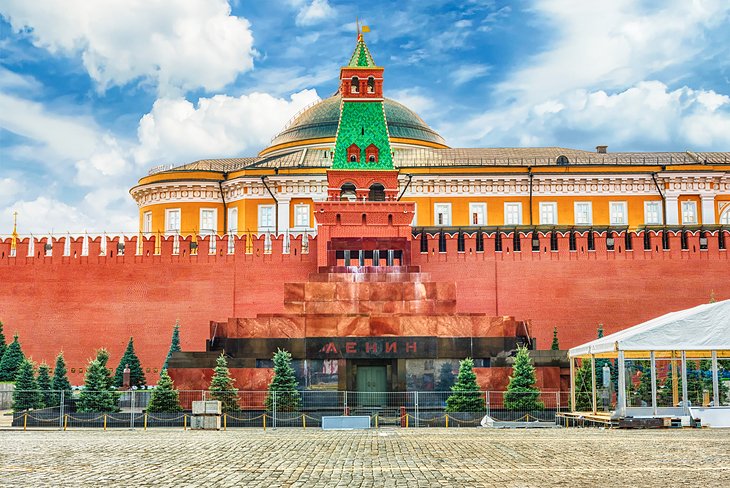 Lenin's Mausoleum, the final resting place of Soviet leader Vladimir Lenin, occupies a central spot in Red Square. His body has been in the mausoleum since his death in 1924-and although the original plan was for him to be buried after a short period of public display for mourning, the plan quickly changed.
After over 100,000 visited the tomb over a period of six weeks, it was decided that a new sarcophagus and a more permanent display space could actually preserve Lenin's body for much longer than expected-and Lenin's Mausoleum was built.
Over the years, the mausoleum and its marble stairs also became the main spot from where Soviet leaders would watch parades and events happening in Red Square.
Lenin's embalmed body can still be seen today, lying down in a bulletproof glass sarcophagus as if he's sleeping. While a visit to the mausoleum is certainly unusual, it has become a must-do for history buffs looking to understand how Lenin's legacy truly changed the nation. Come ready to wait, though -there are usually lines to get in.
5. Spend an Hour (or Three) at Red Square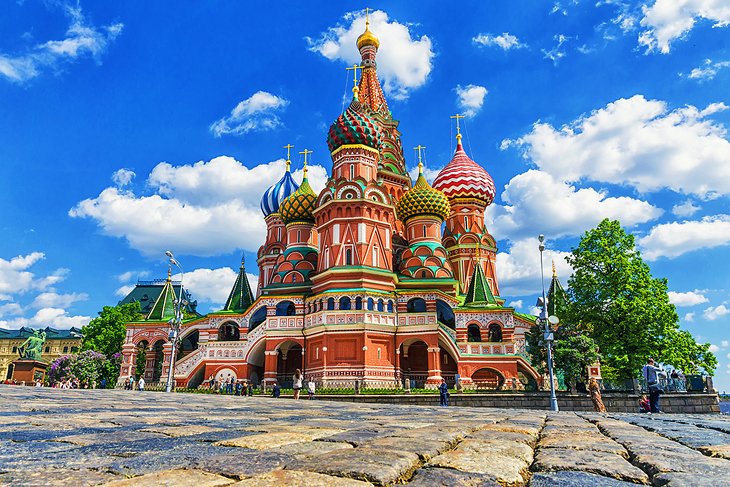 All of Moscow's main streets start at Red Square, so it's easy to see why this is considered the heart of the city. A massive space of 330 meters by 70 meters, the square is flanked by the Kremlin, Lenin's Mausoleum, two cathedrals, and the State Historical Museum.
In 1945, a massive Victory Parade was held here to celebrate the defeat of Nazi Germany by the Soviet Armed Forces.
St. Basil's Cathedral, one of the most recognizable buildings on the square, was built in 1555. The unique cathedral has architectural details inspired by Byzantine and Asian design, as well as details that resemble those found in famous mosques. There are nine individual chapels inside the church, all decorated with colorful mural art.
Both the square itself and the Kremlin are recognized as UNESCO World Heritage Sites. On weekends, there are sometimes stalls selling souvenirs and traditional items here, such as matryoshka (Russian nesting dolls), at the entrance of the square.
6. Discover History at the Museum of Cosmonautics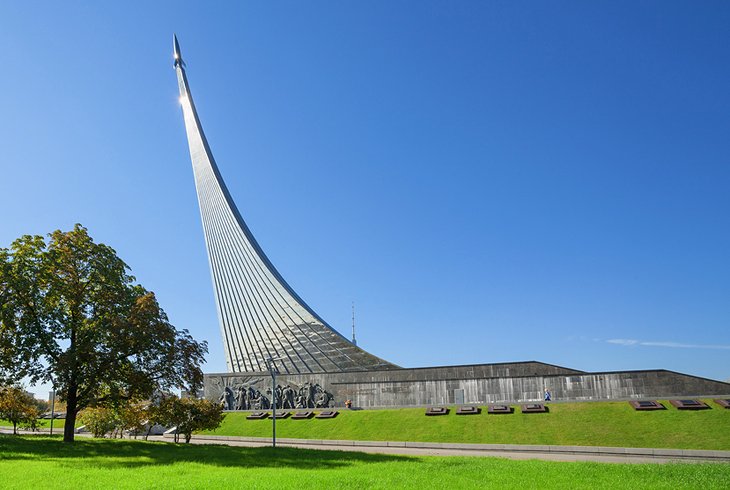 At one point, Russia and the US were toe-to-toe when it came to space exploration. While that might no longer be the case, the museum's amazing collection-which includes over 85,000 items-is still awe-inspiring.
Main exhibits include the space capsule used by Yuri Gagarin, the first human to travel into outer space; a USSR flag with moon fragments; a Soviet spacesuit; and a rocket propulsion unit from the 1960s. A special two-story hall showcases sections of the Mir space station interior, and there are also models of the first sputniks and a replica miniature spaceship.
English-language tours are available, and there's also a Cinema Hall showing subtitled short films about the history of space exploration programs and the first manned space flight.
The museum is located inside the base of the monument to the Conquerors of Space, which was built almost 20 years before the museum opened.
7. Ride the Stunning Moscow Metro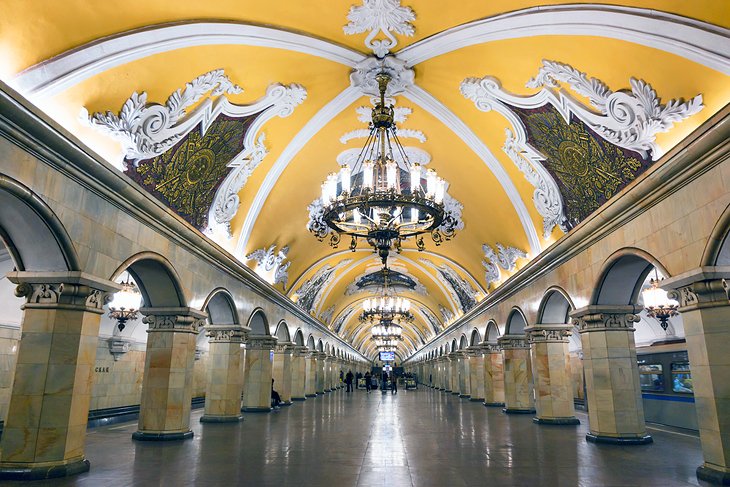 Riding the Moscow metro is an experience all in itself, but even just heading underground to walk through the stations is something no visitor should miss. With 223 stations and 12 metro lines crosscutting through Moscow, however, this can be tricky, so visiting at least a few of the most impressive ones is a good start.
Arbatskaya station was designed by a skyscraper architect, so it's no surprise that it features multicolored granite slabs and impressive bronze chandeliers.
Park Kultury station, located next to Gorky Park, is covered in marble and features reliefs of people involved in sports, while Teatralnaya station is decorated with porcelain figures dancing and wearing traditional Russian costumes.
The metro is open between 5:30am and 1:00am but it's very crowded in the early morning and after 4pm, so it's better to visit in the late morning or early afternoon to really appreciate the architecture without the crowds.
8. Explore the Moscow State Integrated Museum-Reserve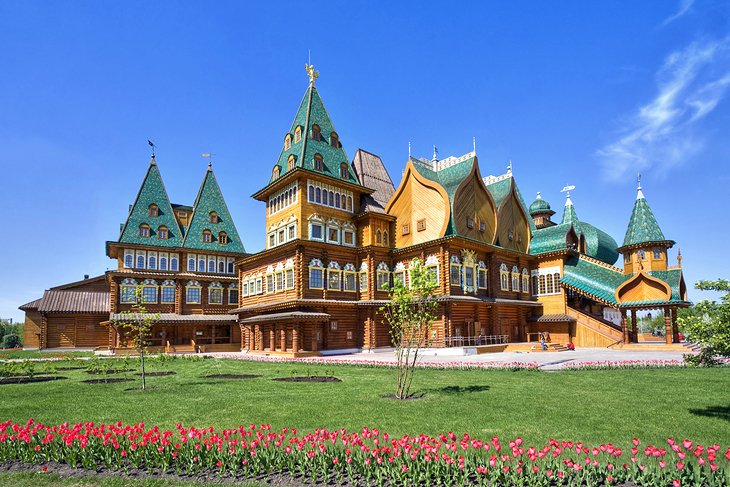 The Moscow State Integrated Art and Historical Architectural and Natural Landscape Museum-Reserve is a cultural open-air museum complex comprised of four different historical sites.
The most important site, the Kolomenskoye Estate, was once the summer residence of Tsars as far back as the 14th century. The complex, which covers almost 300 hectares, is home to fairy-tale wooden palaces; a tent-roof stone church built in the 1500s; a water tower; fort towers and structures; and the 24-room Museum of Wooden Architecture, which includes the restored dining room of Tsar Alexei I.
Beautiful manicured gardens, riverside picnic areas, and a massive collection of both artifacts and structures make this a great destination to help you see what medieval Russia looked like. English-language tours are available, but you're also free to wander the grounds on your own.
9. Spend a rainy day at the Tretyakov Gallery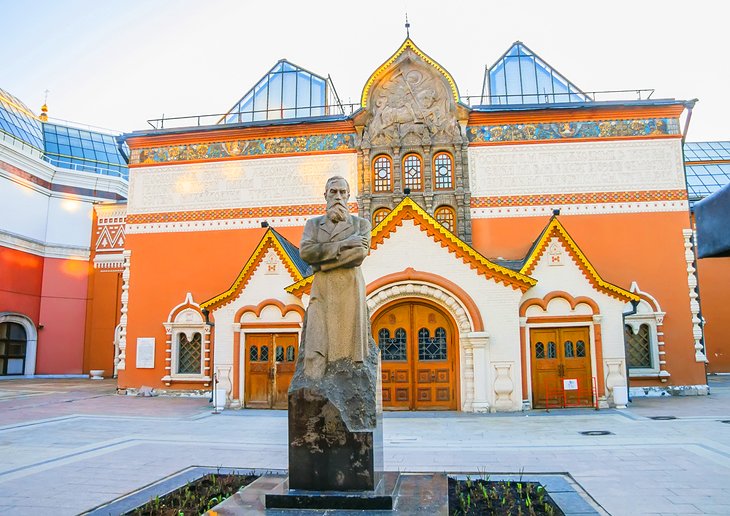 The largest collection of Russian art in the world sits here, with over 180,000 paintings, sculptures, and religious art dating back to over a millennia ago. The gallery, built using beautiful red and white colors from classical Russian architecture, is located near the Kremlin and it was built in the early 20th century.
Significant art pieces include the Vladimir Mother of God; a Byzantine icon of the Virgin and child dating back to the 1100s; Andrei Rublev's The Trinity icon from the 15th century; and several works by Ilya Repin, the most famous realist painter in Russia.
On the grounds of the museum, there is also an 86-meter-tall statue of Peter the Great, as well as a number of Socialist Realism sculptures.
10. Walk Up and Down Arbat Street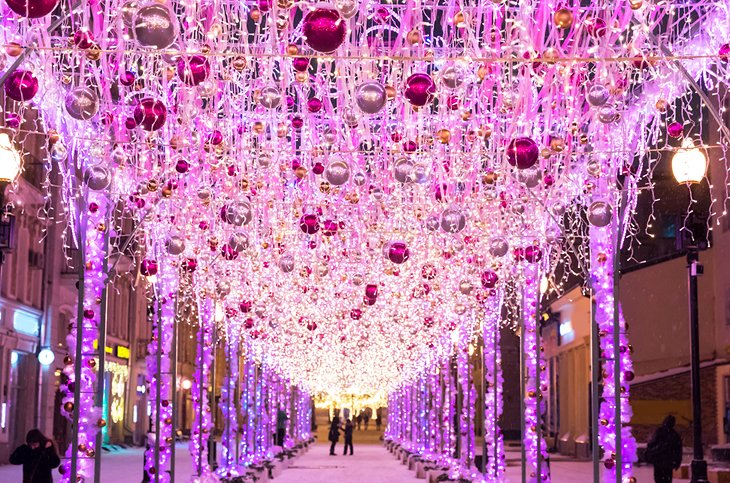 Moscow's one-kilometer-long pedestrian street has been around since the 15th century. Originally a trade route in the outskirts of the city, Arbat Street is now very centrally located, home to posh buildings and lots of places to eat and shop.
Beautiful street lamps and two significant statues-one of Princess Turandot (from Puccini's last opera) and one of Soviet-era poet Bulat Okudzhava-adorn the street, which fills up with both locals and tourists on evenings and weekends.
A great place to pick up souvenirs or sit down at an outdoor café, Arbat Street also offers a chance to visit the former home of poet Alexander Pushkin and the café both Anton Chekhov and Leo Tolstoy used to visit.
11. Stop by the VDNKh All-Russian Exhibition Centre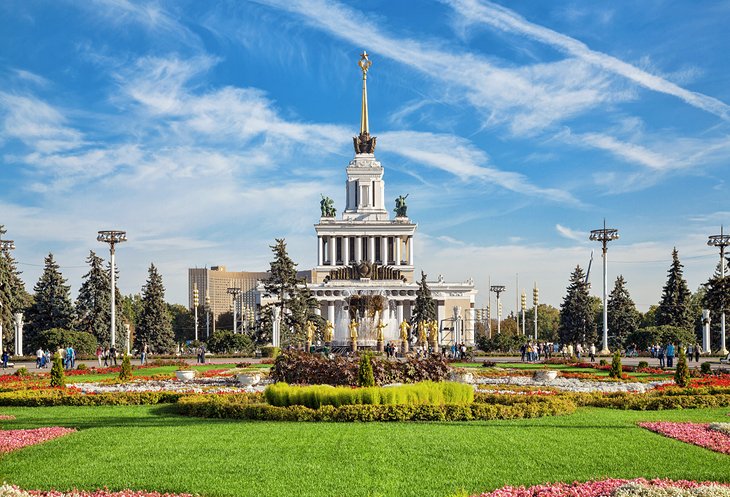 Although it was originally designed as a general-purpose trade show venue, this park complex now houses amusement rides, ice rinks, and a number of galleries and other attractions for all ages.
The park's most famous landmarks are the Moskvarium, a marine biology center home to over 8000 species of marine animals, the Garage Museum of Contemporary Art, and a shopping center selling traditional products from former Soviet countries.
There's even a film museum showing Soviet cartoons or even a full-length film (for an extra fee) and an education center offering masterclasses on everything from becoming a barista to video montage (call or write in advance to find out which ones are English-friendly).
Soviet-era pavilions, sculptures, and fountains abound here as well, including the famous Friendship of the Peoples Fountain, which features statues of women dressed in costumes from different former Soviet countries.
12. Wander Around Gorky Park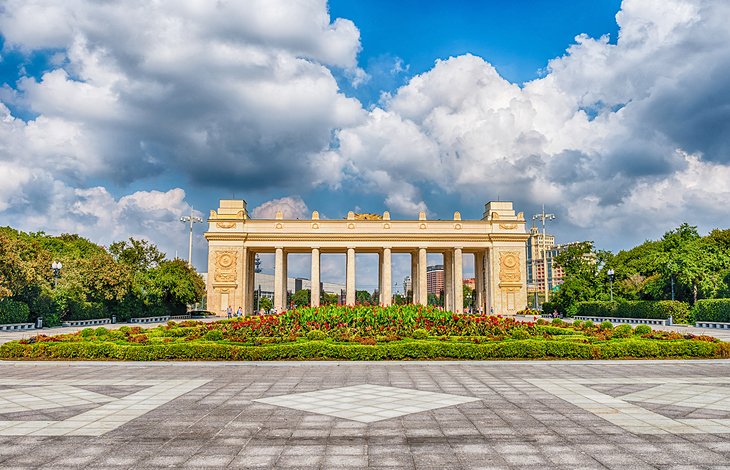 Named after the famous Russian writer Maxim Gorky (who was nominated for the Nobel Prize in Literature five times but never won it) and sitting right across the Moskva River, Gorky Park covers 120 hectares of beautiful ponds and green spaces.
Popular with both locals and tourists, the park offers a variety of things to enjoy-from sunbeds, hammocks, and drinking fountains to free yoga classes and children's playgrounds. There's free Wi-Fi and sockets for charging your phone, as well as many food stands and plenty of wild animals, including deer, rabbits, and pheasants.
Visitors can rent paddle boats and bicycles to explore the park-and from May to October, there is also an open-air movie theater, as well as scheduled presentations by street performers, musicians, and artists. Gorky Park attracts the young and old, so don't be surprised to see a mix of people exercising, playing chess, and sunbathing.
Map of Tourist Attractions & Things to Do in Moscow
More Related Articles on PlanetWare.com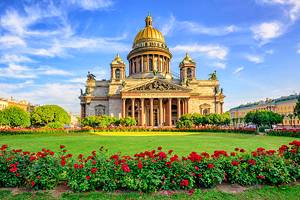 Exploring Russia: Whether you are interested in history, nature, or architecture, there's much to see in Russia. For a good introduction to some of the most fascinating spots in the country, take a look at our article on the Best Places to Visit in Russia. For more on Russia's second-largest city and all it has to offer, check out our piece on the Top-Rated Tourist Attractions in St. Petersburg.