11 Best Resorts in Casablanca
Casablanca offers plenty of accommodation options, but a lot of it is business-brisk, due to the high numbers of business travelers to this commercial hub. Despite this, there is still a decent array of resorts and resort-style hotels.
You'll find the resorts in Casablanca both on the seafront and in the central city districts, and they offer facilities such as swimming pools, spas, and restaurants for city tourists who prefer a more luxurious stay.
To help you choose your hotel, use our list of the best resorts in Casablanca.
1. Four Seasons Hotel Casablanca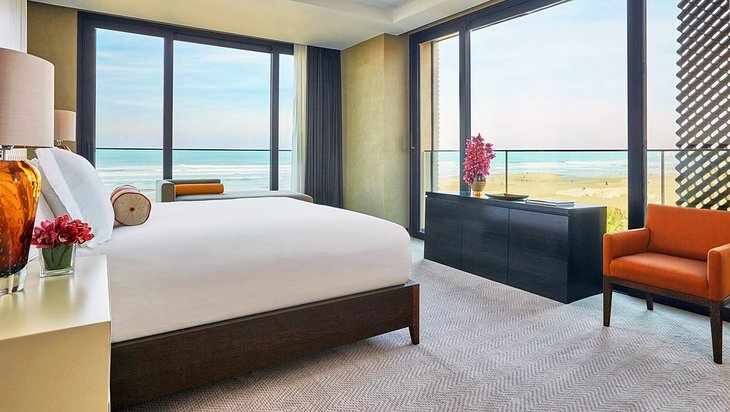 Accommodation: Four Seasons Hotel Casablanca
With a prime location in Casablanca's beach district, directly positioned on the Corniche (seafront road), the Four Seasons Casablanca is the city's best beach resort choice.
Only six kilometers west from the city center, yet with the beach right outside, this is a great choice for travelers who want to experience the bustle of Morocco's biggest cities and also have sea breezes and full resort facilities on tap.
The 186 rooms are large and light-filled, styled in a modern-minimalism design that uses a palette of neutral tones. All come with balconies.
To wake up to expansive views of the Atlantic Ocean, opt for one of the grand premier ocean view rooms.
When your Casablanca sightseeing is done for the day, beeline to the swimming pool, set amid palm-studded gardens, for a relaxing time-out. You can rent a private poolside cabana if you fancy a full day beside the pool with extra luxuries thrown in.
The Four Seasons Casablanca Spa is noted for being one of the top spas in the city. Head here to experience a traditional hammam (Turkish bath) with modern luxury twists, utilizing Moroccan ingredients such as rose, orange blossom, and argan oil. Or, treat yourself to Guerlain body and beauty treatments.
Restaurant-wise, the Four Seasons Casablanca has three dining options with its signature Bleu Restaurant offering seafood specialties with expansive seafront views.
Address: Boulevard de la Corniche, Casablanca
2. Le Casablanca Hotel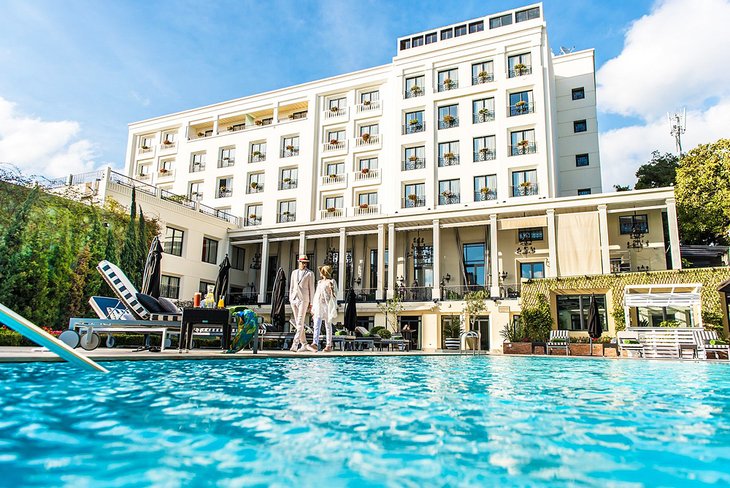 Accommodation: Le Casablanca Hotel
Set amid lush gardens just outside of the central city's hubbub, Le Casablanca is a tranquil urban resort still within easy reach of all of Casablanca's sights.
The large outdoor grounds, with swimming pool and extensive lounging terrace surrounded by mature gardens of bougainvillea and palm trees, are what set this resort apart from other Casablanca addresses. It's a peaceful haven within the city.
The 59 superior rooms are all resplendent with Art Deco styling that harks back to the old school glamour of the golden age of travel. Book one of the nine suites for extra luxurious living.
As well as various lounges for light meals and refreshments, such as the lobby lounge with its piano player and the poolside lounge, there are enough dining options here to make staying in an easy choice. Both the main restaurant, La Brasserie du Boulevard, and the Jasmin Terrace offer menus of refined contemporary European cooking.
Address: 19 Boulevard Moulay Rachid, Casablanca
3. Barcelo Anfa Casablanca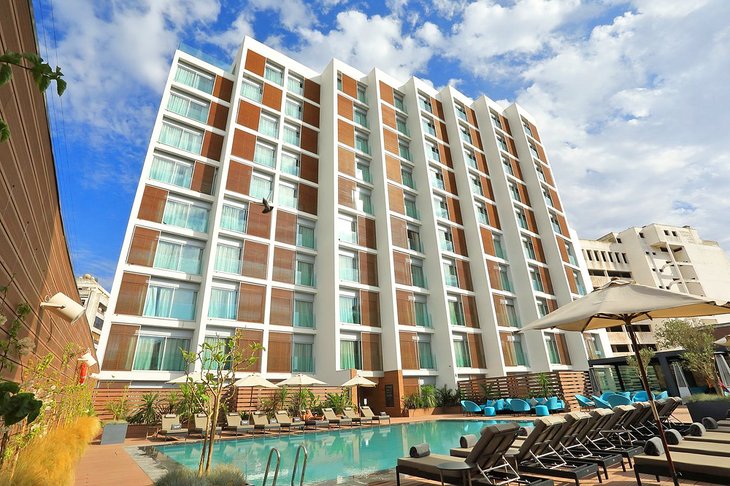 Accommodation: Barcelo Anfa Casablanca
The Barcelo Anfa Casablanca is a swish, contemporary pad for city-slickers who want to be in the heart of the action. It's one of the top five-star hotel addresses in Casablanca.
The 286 rooms are decorated in a chic and highly contemporary style accented by hints of Art Deco design and highlighted by pops of acid green and midnight blue.
Choose a sea view premium room to bag the best cityscapes. The vistas from these rooms stretch across to Casablanca's Hassan II Mosque and the Atlantic Ocean beyond.
For dining, the Barcelo Anfa's main restaurant is Acajou, where the menu blends Moroccan cuisine with flavors from across the Mediterranean. There's also dining available on the terrace beside the hotel's outdoor swimming pool at the Aquamarine Café.
The spa here offers massages and treatments, as well as a hammam experience, and there's a fitness studio equipped with exercise machines, making it easy to keep up with your health regime even when you're on the road.
Address: 44 Avenue d'Anfa, Casablanca
4. Hyatt Regency Casablanca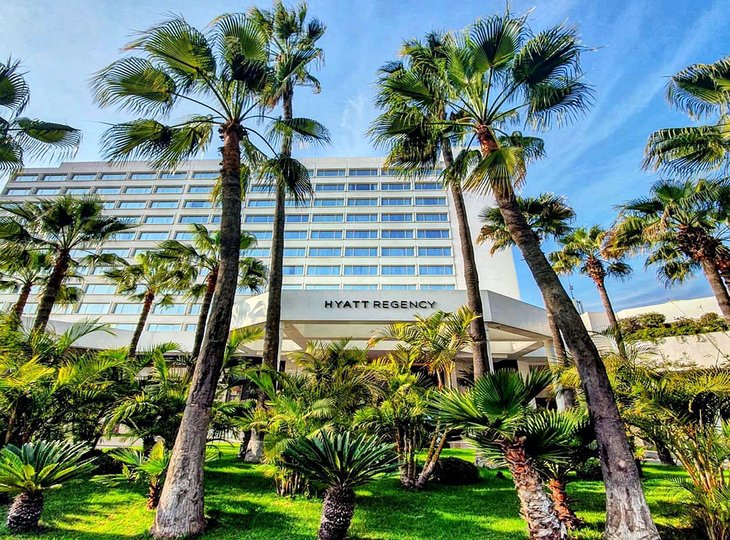 Accommodation: Hyatt Regency Casablanca
If you want to be right amid downtown Casablanca, the Hyatt Regency is a top hotel choice located on Place des Nations Unies (United Nations Square), with plenty of things to do nearby.
There are two very good restaurant options here. Café M is a French-style brasserie, which has outdoor terrace dining with a menu of casual, classic European dishes. For something grander, Dar Beida, in a Berber-style tent setting, offers Moroccan feasts of mezze, tagine, and couscous accompanied by traditional live music and entertainment.
The good-sized swimming pool with its roomy sun-bathing terrace surrounded by lush foliage is a major plus point of a stay here. If you need further relaxation, the Hyatt Regency's spa is home to a contemporary-styled hammam and offers a wide range of massages and treatments as well as a hot tub.
Rooms are decked out in a classic and smooth design. For city views featuring the Hassan II Mosque, opt for one of the rooms on the higher floors. If you book a room with Regency Club access, you get access to the Regency Club Lounge, with its complimentary breakfast and all-day refreshments and snacks.
It's really worth upgrading to a suite here for their Art Deco-style elements and balconies.
Address: Place des Nations Unies, Casablanca
5. Movenpick Hotel Casablanca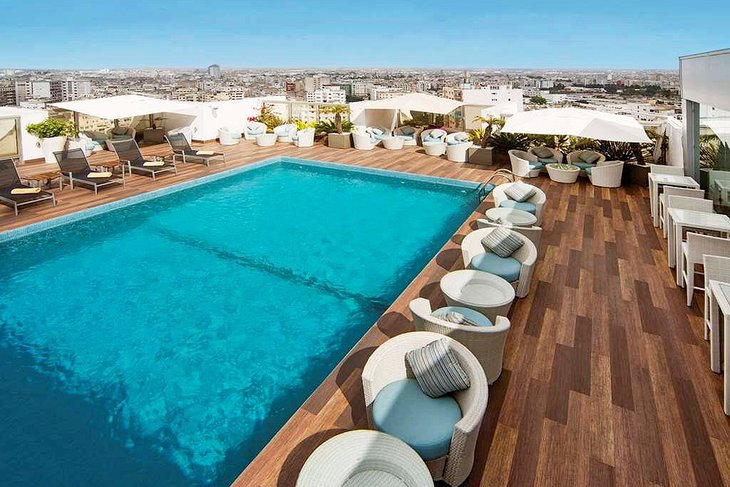 Accommodation: Movenpick Hotel Casablanca
The Movenpick Casablanca is a self-contained resort in the heart of the central city.
It's a great choice for business travelers who still want resort-style facilities with 186 rooms that are large, comfortable, and classically designed.
The rooftop swimming pool terrace, on the 16th floor, is the main draw for guests who want to swim and sunbathe surrounded by central city views.
For more relaxation, the Movenpick Spa offers a range of beauty treatments and massages as well as the opportunity to experience a luxurious traditional steam, soak, and scrub in the spa's hammam.
There are three restaurants here, making dining-in an easy option if you've had a long day. All have international menus that romp through a wide range of classic dishes from several different cuisines.
Address: Avenue Hassan II, Casablanca
6. Sofitel Casablanca Tour Blanche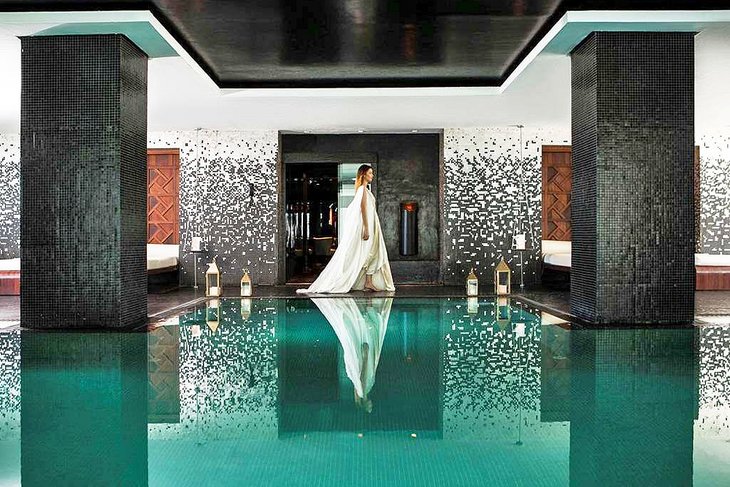 Accommodation: Sofitel Casablanca Tour Blanche
Right beside Casa Port train station, the Sofitel Casablanca Tour Blanche occupies one of the most convenient addresses in the city for keen sightseers. You're within easy walking distance to the central city's tourist attractions, just a hop from Casablanca's small medina (old city) and the Art Deco downtown area, both popular places to visit.
The modern, simply styled rooms here, with their colorful accents, all have city views. For the best vistas of the Hassan II Mosque, port, and cityscape, you will want to bag one of the luxury rooms, or a prestige suite, on the higher floors.
The large, two-floored Sofitel So Spa is one of the most prominent destinations in the city to indulge in a spot of pampering with hammam experiences as well as the world-class rejuvenating and relaxing body and beauty treatments that So Spas are renowned for.
For more basic relaxation needs, the hotel's indoor heated pool should be your first port of call.
The hotel has two excellent restaurants, which makes dining in an easy option whatever you fancy. Atelier Oriental has a dinner menu that takes inspiration from both classic Moroccan and Lebanese cuisine while the more casual Brasserie La Tour offers French bistro-style classic cooking throughout the day.
Address: Rue Sidi Belyout, Casablanca
7. Pestana Casablanca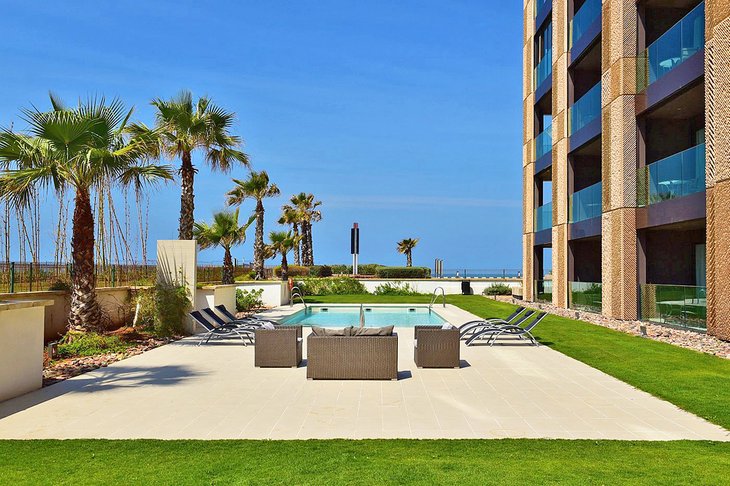 Accommodation: Pestana Casablanca
This all-suites resort in Casablanca's seafront district of Ain Diab, overlooking the Atlantic Ocean, is a good resort for families looking for a Casablanca stay. It is six kilometers west of central Casablanca.
The 84 suites here come with facilities such as kitchenettes and washing machines, useful if you're traveling with small children or staying longer than one or two nights in town.
Suites are large, bright and contemporary in style and have either private balconies or shared terraces with views of either the beach or onto the hotel's little garden area with small swimming pool.
The family suites are the most spacious choice with two separate bedrooms as well as a living area.
Although the main drawcard of the resort is the fact the suites come with kitchenettes, there's also one restaurant on-site offering an international menu.
For further nearby dining, the resort is part of the Anfa Place Complex which has a shopping mall with various restaurants and cafes.
Address: Boulevard de la Corniche, Casablanca
8. Radisson Blu Hotel Casablanca City Center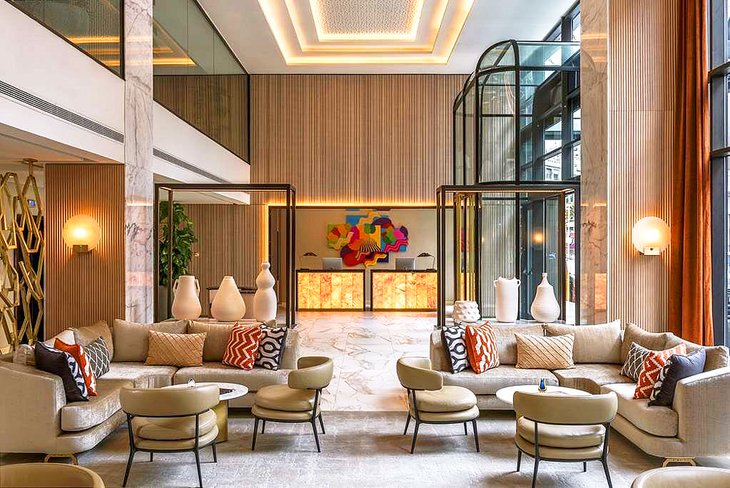 Accommodation: Radisson Blu Hotel Casablanca City Center
With its excellent position amid the Art Deco heritage buildings of downtown Casablanca, the Radisson Blu Hotel is a top choice for visitors who want to be within easy walking distance to attractions, restaurants and cafes, and transport options.
The communal areas here are infused with a chic, contemporary style while the 120 rooms are sleek in design, decked out in a palette of soft grays with big picture windows.
It's worth upgrading to the skyline rooms on the higher floors, as they offer cityscape views.
There's a small indoor swimming pool, a fitness center, and a spa offering traditional hammam experiences, as well as a range of massages and beauty treatments.
9. Kenzi Tower Hotel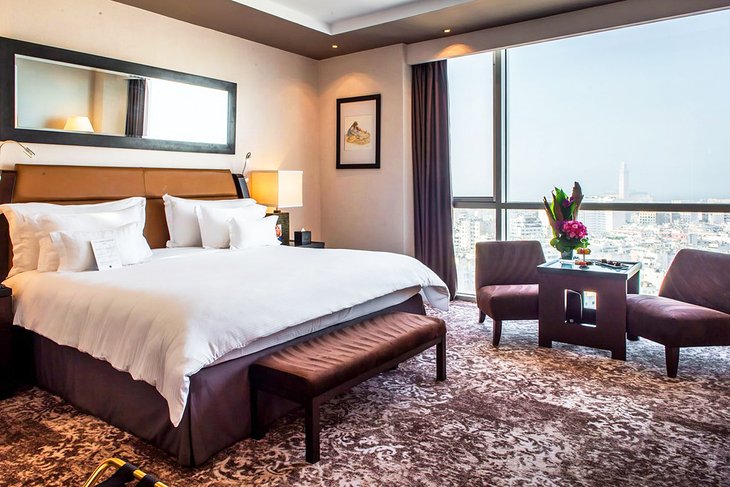 Accommodation: Kenzi Tower Hotel
In central Casablanca, the Kenzi Tower Hotel is a popular choice for both business and leisure travelers who want to be close to the city's business district and major shopping areas.
There are 237 rooms here, all light-filled thanks to floor-to-ceiling windows and decorated in an elegant but modern European style.
Make the most of a stay here by booking a deluxe sky room on floors 15 to 26 for the panoramic city views out to the Hassan II Mosque and the city's port area.
For fine dining, head to the 27th floor to Sens Restaurant, where the menu offers contemporary European style cuisine. The more casual L'Insense Restaurant has a vast menu of international classics, from sandwiches and salads to pizza and pasta, as well as show-cooking stations.
There's a small indoor swimming pool, and the decadent O Spa is one of the best spas in the city with two hammams, and a wide range of rejuvenating and reinvigorating body and beauty treatments that utilize the luxury Cinq Mondes products.
Address: Casablanca Twin Center, Boulevard Mohamed Zerktouni, Casablanca
10. Hotel & Spa Le Doge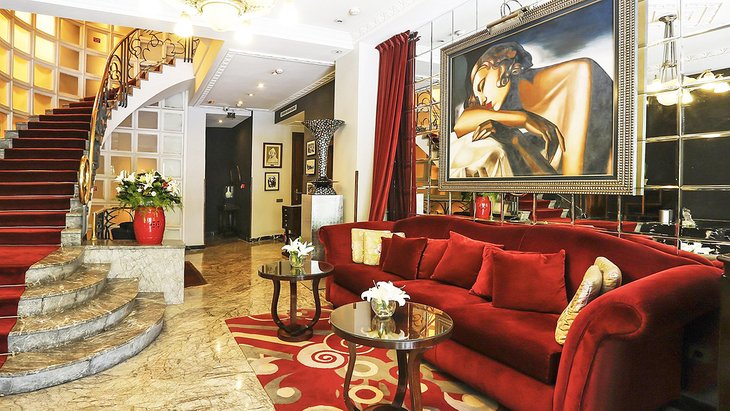 Accommodation: Hotel & Spa Le Doge
If you're looking for a five-star stay in Casablanca, imbued with individual character, the Hotel & Spa Le Doge, on the edge of the downtown district should be your number one choice.
Set inside a finely restored 1930s mansion, full of original Art Deco features and furnishings, stained glass accents, and with a sweeping grand staircase, this is a hotel experience full of old-school glamour.
Each of the large and colorful 16 rooms and suites are individually decorated in a grand style that pays tribute to famed artists of the Art Deco era.
Le Jasmine Restaurant offers traditional Moroccan dining under the stained glass ceiling of an ornate salon while the rooftop café, with its terrace views across the city, has a more casual menu with an emphasis on tapas and seafood.
The Le Doge also has an opulent hammam inside their spa offering the full steam, soak, and scrub traditional bathing experience, as well as various luxurious massage treatments.
Address: 9 Rue Dr Veyre, Casablanca
11. Art Palace Suites & Spa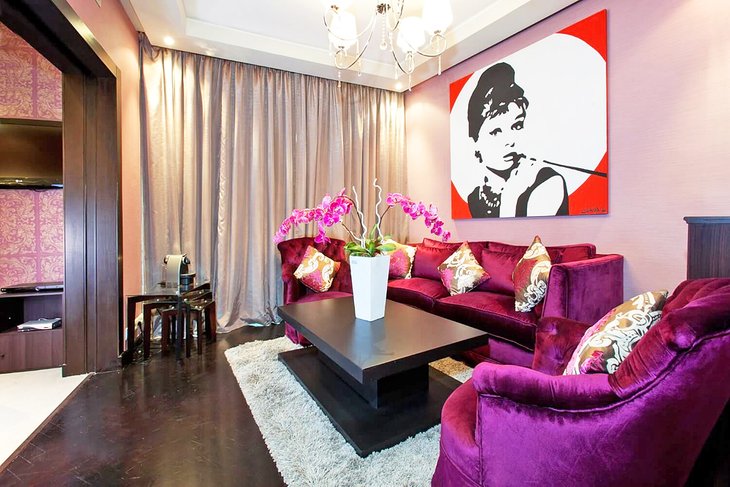 Accommodation: Art Palace Suites & Spa
On the edge of the central city district, Art Palace Suites & Spa is a decadent boutique resort with only 25 suites.
Each of the suites are individually decorated, themed around an iconic celebrity or historic figure, with plenty of artistic flourishes. Some have private balconies.
There are two main dining choices here, as well as some casual lounging and café spaces.
Riad El Fenn Restaurant is an intimate salon replete with traditional Moroccan plasterwork ceiling and zellige (mosaic) tile work on the walls, which has a menu that concentrates on traditional classic Moroccan dishes. Art Age Restaurant offers cuisine from both Europe and Morocco.
The heated indoor swimming pool, with its relaxing waterfall feature, and the large O-Zen Spa complex, are some of the hotel's major drawcards. The spa has a traditional hammam plus a huge variety of more contemporary experiences including bespoke beauty treatments, rejuvenating body wraps, and massages.
Address: 4, Rue du Soldat Maurice Benhammou, Casablanca
Map of Resorts in Casablanca