9 Top-Rated Attractions & Things to Do at the Metéora Monasteries
We may earn a commission from affiliate links ()
Rising from the Plain of Thessaly in mainland Greece, Metéora is a mesmerizing group of vertical rocks, reaching up to 300 meters high, which time has twisted into bizarre and beautiful formations. And perched atop these rocks are the monasteries of Metéora, which appear to hang in the air above the rocks, and are some of the most fairy-tale, magical attractions in all of Greece. Constructed from 1356 onwards, there were once 24 monasteries, but that number has dwindled over the centuries, and today there are just six monasteries that are still occupied.
One of the best ways to explore these sacred sites, which have been proclaimed a UNESCO World Heritage Site, is on foot, hiking between them. Just remember while this experience may be one of the top things to do for tourists, for the monks, these structures are places of peace, prayer, and meditation, and respect is paramount. Plan your experience touring the monasteries with our list of the top attractions at the Metéora Monasteries.
Note: Some businesses may be temporarily closed due to recent global health and safety issues.
1. Great Meteoron Monastery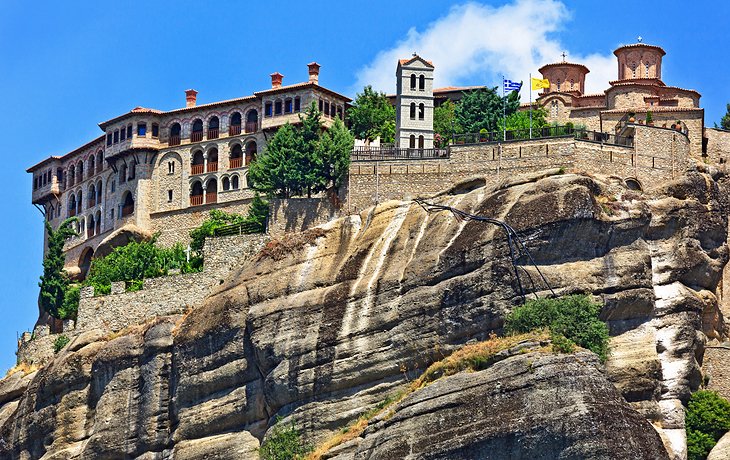 The biggest and most visited of the remaining monasteries, The Great Metéoron was founded by Athanasios the Meteorite in 1356 and enlarged in the second half of the 14th-century by his disciple and successor Ioasaph, son of Serbian King Simeon. It is in a wonderful setting, with stunning views across the surrounding landscape. The tombs of both Athanasios and Ioasaph are in the frescoed church here.
There is also an on-site museum, which besides displaying religious icons and books, highlights the role of the Orthodox church in Greece's struggle for freedom from the Turks. It also illustrates the Greeks' resistance to the Germans in WWII.
It is also possible to visit The Great Metéoron and the other monasteries on a guided tour, like the half-day Panoramic Meteora and all Monasteries Tour from Kalabaka. Joining a small group excursion allows you to learn the backstory behind what you are seeing from a local guide.
2. Monastery of Varlaám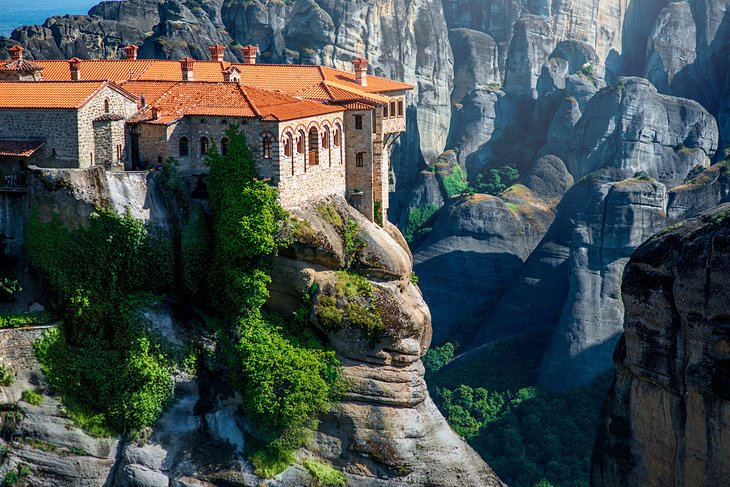 Perched atop a 373-meter cliff and reached from the other side by climbing 195 steps, Varlaam is the second biggest monastery, after the Great Metéoron. The monastery was founded in 1517 on the site of the old hermitage of the hermit Varlaam (from whom it takes its name). Inside, you can visit the serene 16th-century church complete with frescoes, and the old refectory, which houses a small museum.
3. Monastery of Ayía Triáda (Holy Trinity)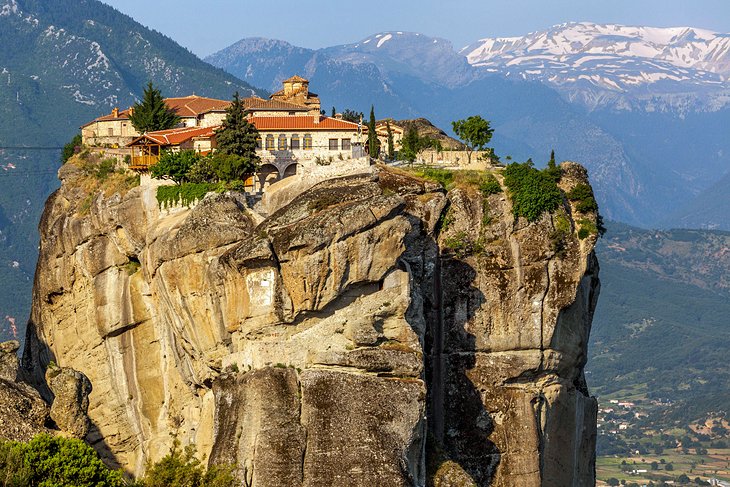 The Monastery of the Holy Trinity is probably the most visually dramatic monastery and is approached by climbing up 140 steps. If it looks familiar, it was featured in the hanging-basket scene of the James Bond film, For Your Eyes Only (1981). Founded in 1438, its main church is much newer, dating from 1798. From the open space behind the church, on the edge of the crag, there are magnificent views over the Plain of Thessaly.
4. Monastery of Áyios Nikólaos Anapafsás (St. Nicholas)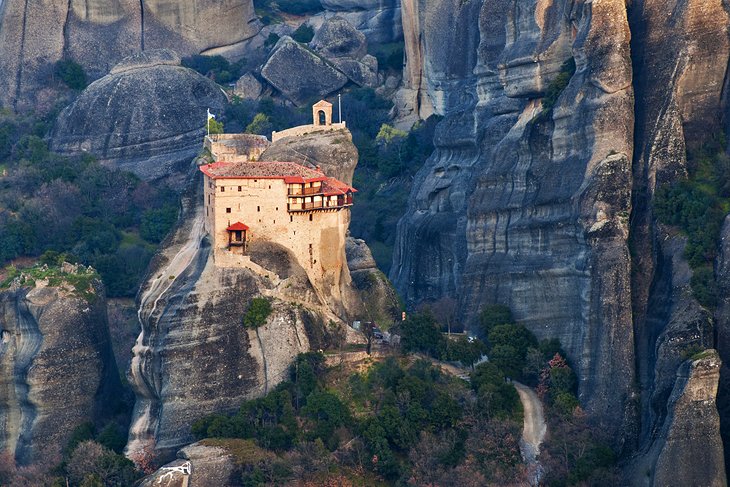 The closest monastery to the village of Kastraki at just one kilometer away, St. Nicholas makes for another super dramatic photo. It is approached by climbing a steep hill, followed by a flight of steps. Founded in 1368 and enlarged in 1628, it is much-loved for its tiny church, decorated with incredible frescoes painted by the Cretan artist Theophanes in 1527, the most memorable depicting "Adam naming the Animals."
5. Monastery of Rousanoú (St. Barbara)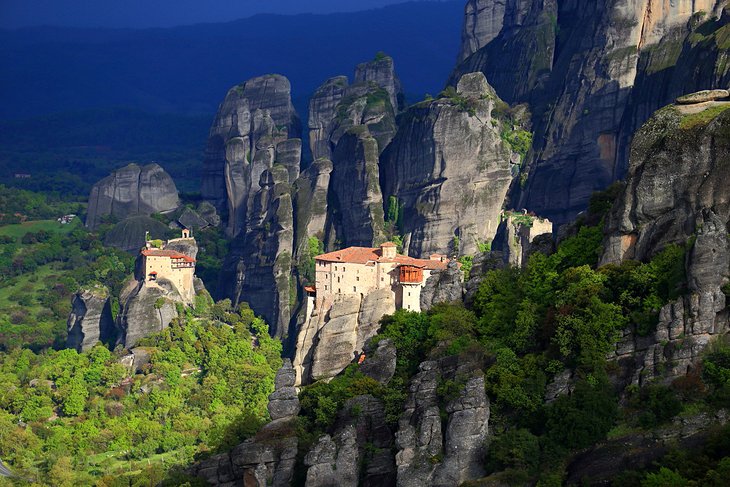 The Monastery of Rousanoú stands boldly perched upon a slender pinnacle of rock. Dedicated to the "Transfiguration" but honored to Saint Barbara, Rousanou was probably built in 1288 and renovated as a monastery in 1545. It became a convent in 1988, and is inhabited by nuns who tend its lovely small garden.
6. Monastery of Áyios Stéfanos (St. Stephen)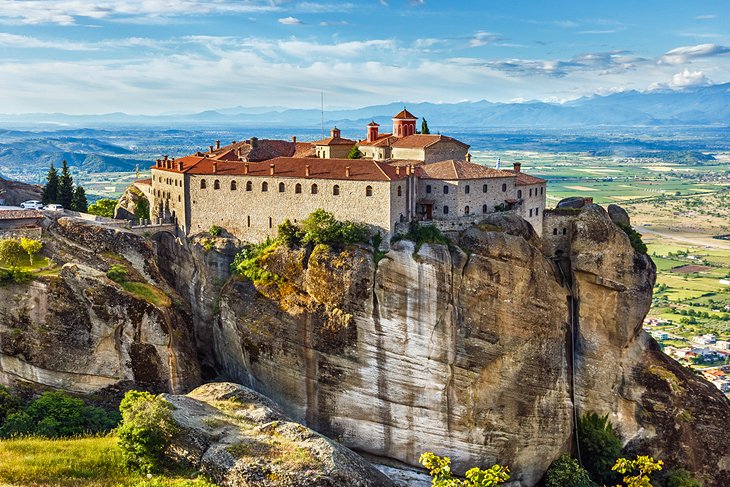 The most accessible of all the monasteries, St. Stephen's is approached via a footbridge and requires no climbing of steps. In an awesome setting, with spectacular views over the valley (from the balcony), it stands close to the Monastery of the Holy Trinity. The nuns who live here are welcoming and keep it in perfect order, with a beautiful chapel adorned with frescoes and ornate golden details.
7. Hiking the Meteora Monasteries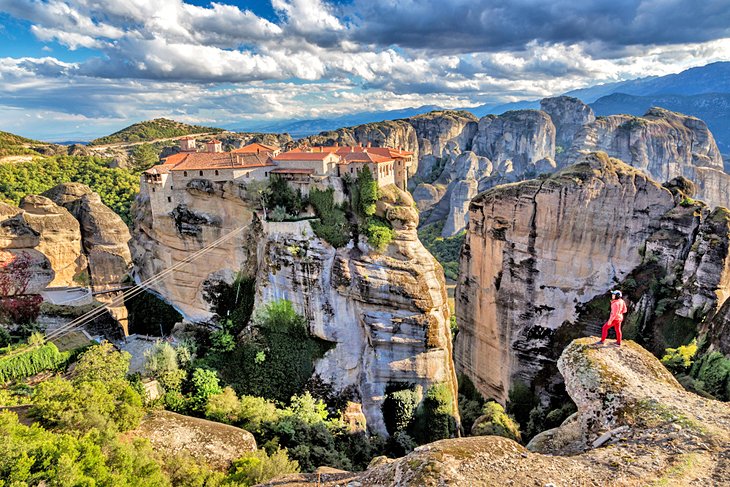 The best way to explore Metéora is on foot, hiking from monastery to monastery. This allows you to really immerse yourself in the scenery and experience of this UNESCO World Heritage Site. You'll want to wear sturdy walking shoes and bring water.
If you aren't up for hiking on your own, or you want to get some perspective on what you are seeing from a local guide, join an organized hiking trip. Companies like Visit Meteora Travel offer small-group, half-day guided hiking adventures to the monasteries that include transport.
8. Kalambáka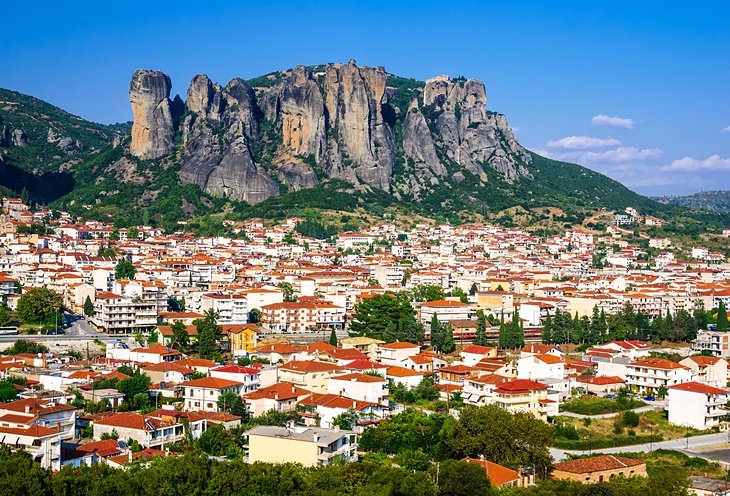 The most convenient base for visiting the Metéora monasteries, thanks to its choice of sizeable hotels, guest houses, and restaurants, the town of Kalambáka (Kalampaka) (Kalabaka) caters to groups of tourists and pilgrims, and thrives primarily on tourism. If you are staying here, you can easily take a four-hour guided tour to see the monasteries and landscape.
9. Kastraki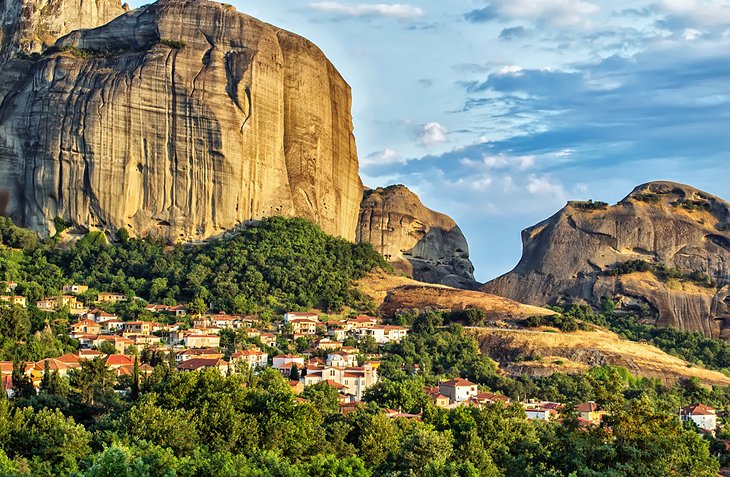 More authentic than Kalambáka (which lies just two kilometers away), the unspoilt village of Kastraki is built into a hillside below two massive rocky pinnacles and is an attraction in itself. Made up of mid-19th century cottages with terra cotta tile roofs and wooden window shutters, Kastraki is a conservation village, so new building is restricted. From here, a marked footpath leads up to the monasteries.
Where to Stay in Metéora for Sightseeing
There is accommodation in the villages around the Metéora monasteries, like Kalambaka and Kastraki, although options are limited — you aren't going to find any five-star hotels here. That said, the guesthouses and hotels recommended here offer easy access to sightseeing in this magical destination.
Luxury & Mid-Range Hotels: There are no true luxury hotels here. But for amazing views from large balconies in comfy rooms, friendly owners, and an excellent free breakfast, try the 3-star Pyrgos

Adrachti

in Kastraki. The family-run Hotel

Kastraki

, with comfortable rooms and beautiful views, is another excellent option. Also try the mid-range choice, Doupiani House

Hotel

, in larger Kalambaka, which features old-world style, panoramic views, a wonderful breakfast buffet, and comfortable beds. The Delles Boutique

Hotel

is another mid-range option, which is popular with families. Breakfast is included.
Budget Hotels: Alsos

House

offers budget-friendly rates in a traditional guesthouse. It has great customer service and a friendly house cat, and rooms with kitchenettes are available. Also in the budget price bracket is the Kosta Famissi

Hotel

, which offers clean rooms with great views.
More Related Articles on PlanetWare.com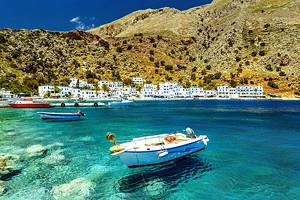 Greek Islands: A visit to a couple of the 6,000 Greek Islands is definitely a highlight of a holiday in Greece. One of the most popular islands, especially if you want to splurge, is Santorini, which is as beautiful as its reputation leads you to believe. Another gorgeous Greek isle destination is Kefallonia. Learn more about it with our piece on the Top-Rated Tourist Attractions on Kefallonia.