Where to Stay in Split: Best Areas & Hotels
We may earn a commission from affiliate links ()
As tourism continues to skyrocket in Croatia, more and more wanderlusters are touching down in the Dalmatian coastal town of Split. This city is renowned for its pebble beaches and centuries-old downtown – not to mention, its port access to every other island along this region of the Adriatic Sea.
As you look into booking the right hotel for your sightseeing foray throughout Split, you should narrow your search to two main areas: Old Town and the oceanfront. Because the main shores of Split are a solid 20-minute taxi or Uber away, these sections are distinct and dependent on the traveler.
If you'd like a bit more of R&R and plan to spend the majority of your vacation cozied up with a book, soaking up vitamin D, you'll probably stick to resorts with water access. If you crave a bit more variety and want to be close to the action, history, and boats, book your stay downtown.
Note: Some businesses may be temporarily closed due to recent global health and safety issues.
Where to Stay in Split for Luxury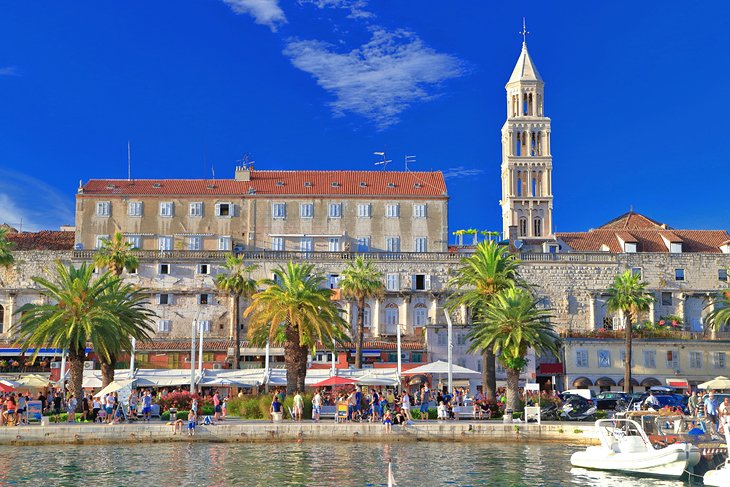 Among the most well known and frequently booked hotels in Split is Radisson Blu Resort & Spa Split. It's sandwiched between Old Town and the main beach area, offering walking distance to winding, narrow passages of the city and incomparable views to the islands of Hvar and Brac. As a five-star property, you can expect – and will receive – the best. In addition to more than 250 guest rooms and suites, you can check up on the action back home (or plan your walking tour) with free high-speed Wi-Fi, while munching on the included breakfast buffet.
Though there are many restaurants in the Old Town to dine at, reservations are sometimes difficult to come by since the space is limited. This makes using their concierge a no-brainer, or you can dine at one of their three on-site restaurants featuring local fare, international options, and a Mediterranean menu by the beach.
If you prefer a more boutique, specialized experience with your luxury bookings, you can live among history when you stay at Hotel Vestibul Palace. It–quite literally–is located in the center of Old Town since it is part of the infamous Diocletian Palace! When you rest your jet-lagged head, you'll be sleeping between the emperor's chambers and the emperor's square.
As you wander through this small, yet opulent property, you'll notice touches from many periods in Crete history–including the Renaissance, Gothic, and Romantic. As an upscale experience, you can make use of 24-hour top-notch experiences, including dry cleaning, ironing, laundry, and of course, Wi-Fi.
For a happy medium between big-box resort and petite boutique, consider booking the super-chic Riva Luxury Suites. As the name suggests, these over-sized apartment-like accommodations make your lengthy stay comfortable. It's located close to Hotel Vestibul Palace near Diocletian's Palace, but because of its height, it offers a glimpse of the Split Bay below.
You can choose between a Junior Suite, Luxury Suite, or Junior Apartment, all of which offer Wi-Fi, air-conditioning, Apple TV with Netflix, in-room coffee machines, and a slew of other amenities. For a truly remarkable and memorable stay, upgrade to the luxury level, which features two levels and Instagram-worthy terrace views of the Adriatic.
Where to Stay in Split: Mid-Range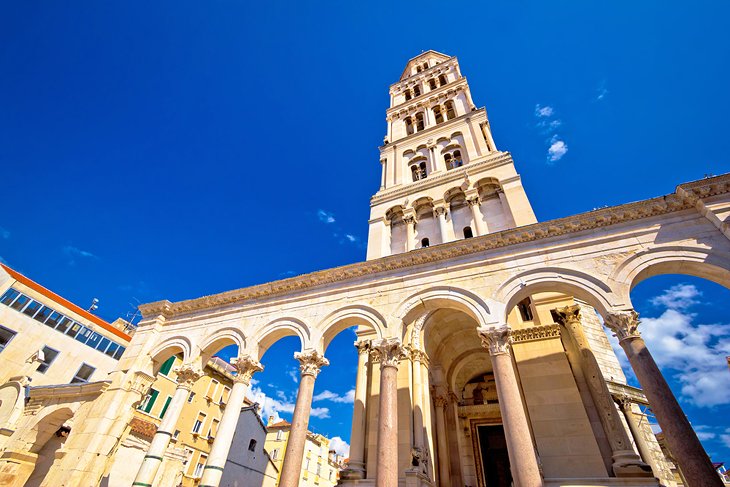 If you'd rather spend more of that hard-earned dough on day trips, boat excursions, and plenty of locally caught octopus, book your nights at Bed & Breakfast Kastel. As a moderately priced, quaint homestead, the value is found in its convenient position on the map–especially for travelers who spend every moment of their trip on-the-go. It's within walking distance of the ferry port, bus, or train station.
The rate of your room depends on which way you're facing–either the sea or the street. As you can expect, the former is a tad pricier, while views of the palm trees or restaurants is less expensive. As a bonus for those who rise well before the sun as they adjust to the new time zone, the breakfast is excellent.
For apartment-style living on an affordable budget, Banica Accommodation is a solid choice for groups of friends. It defines the vibe of locals with its location in Old Town, close to both Diocletian's Palace and the Temple of Jupiter. They provide complimentary tea or coffee for their guests 24/7, as well as two terraces, which offer a serene escape from the bustle downstairs.
Good news if you arrive via bus, train, or ferry: they'll send a guide to lead you to their location. If you're coming from the airport, they can arrange a pickup, but for an additional fee. Pro tip: It's important to book this spot early, since they have limited space and fill up quickly.
If you're fascinated by marinas and love to hitch a ride on a sailboat, you'll appreciate the dreamy views from Guesthouse Pjaceta on the main ferry square of Prokurative. Inside, you will enjoy comfort, creamy toiletries, and an on-site bar and restaurant.
But once you step outside, you're nestled among the boats, watching the ships arrive into the harbor. Though the rooms features a bit of an outdated elegance, the benefit of staying here is easy, walkable access to all of the sites.
Where to Stay in Split on a Budget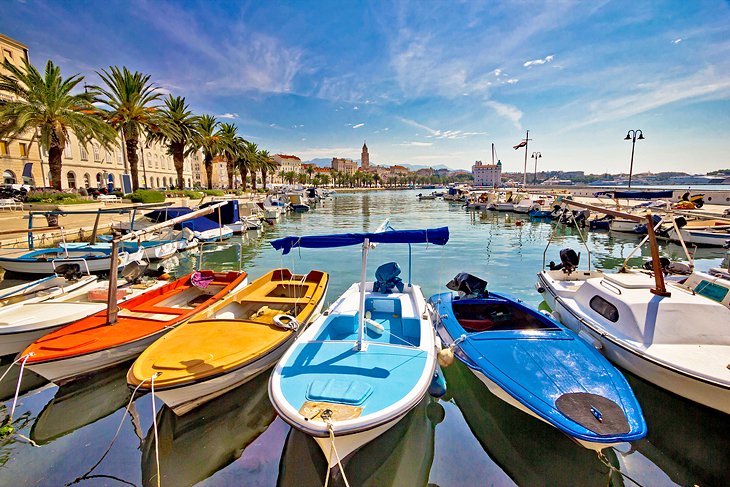 One of the appeals of Split is that it offers much of the same beauty of a Greek destination, but for a much lower investment. If you don't have much to spare but want to check Croatia off your passport bucket list, stay at the budget-mindful Garden Apartment Hotel.
The peaceful street it calls home will ensure you rest at night, while the short walk from the promenade puts you within the pulse of the area. Even though it is inexpensive, you will still enjoy free Wi-Fi, a private bathroom, and air-conditioning. Want to beach it? It's only a 20-minute walk away from lounge chairs. Win-win!
Also with a prime location, Hotel Slavija is priced like a hostel but arranged like a hotel. Within walking distance of the major tourism hot spots, the harbor, the main square, and the infamous bell tower at the Cathedral of St. Domnius–you can pack in a lot of photo taking in a short amount of time.
Depending on the size of your group, you can book a single, double, or triple room with plenty of space. And of course, Wi-Fi! If you're arriving from the airport, don't forget to book their airport shuttle bus.
Where to Stay in Split for Families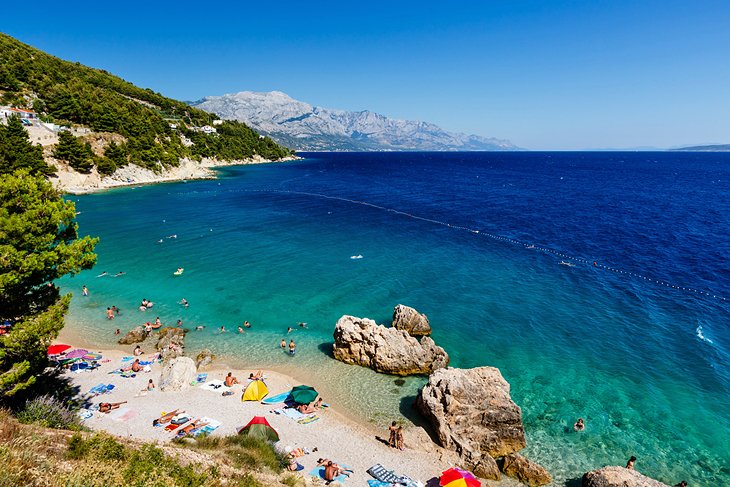 For families, space and variety is essential when traveling. Whether you are a party of three or a pack of six, the Cornaro Hotel has a plethora of rooms to choose from. From comfort style to suite, you'll also appreciate the ability to dine on property at their five different options, making it easier to gather together without commuting.
You can gather the troops together to walk about 10 minutes to the middle of Old Town, or take a quick ride to the beach, about 15 minutes away. Being tucked away from the chaos can be a great perk–especially when trying to soothe a crying infant.
Where to Stay in Split for Romance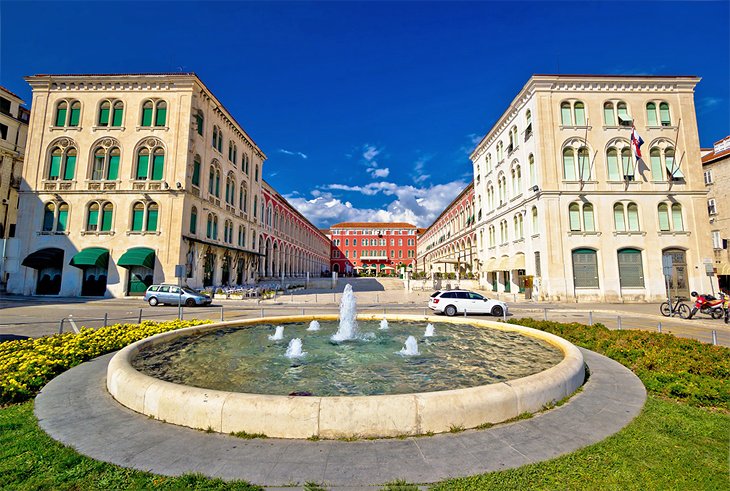 Whether you're celebrating your honeymoon, your anniversary, or just want to steal away couples-only time, you'll feel like you're floating on a Croatian cloud at the family-run Heritage Hotel 19. While it's a little farther away from Old Town, you and your number one will appreciate the privacy of its location in a quiet, pedestrian-only area.
After you put up the "Do Not Disturb" in your suite of any size–from deluxe to penthouse–you can walk hand-in-hand to pick up ice-cream to watch the sunset on the main square, a 10-minute stroll away. When you book, make sure you tell them about the purpose of your visit, as they go above and beyond for celebrations.
Where to Stay in Split near the Airport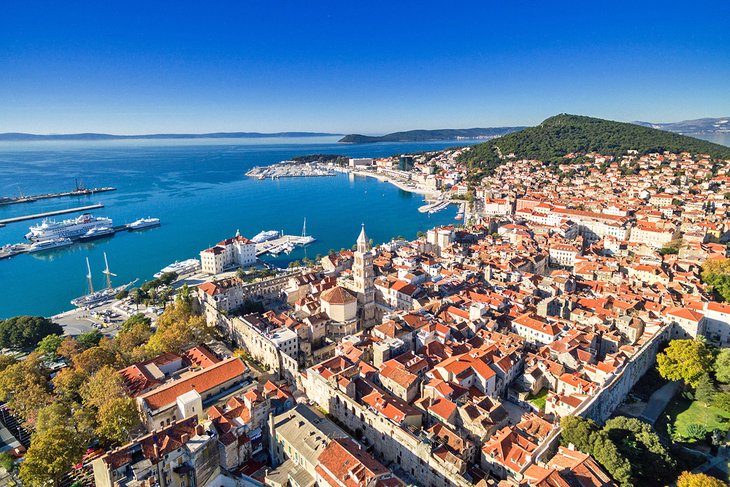 Traffic in Split can be heavy during rush hours, so if you have a morning flight to catch, it can make sense to book your last night's hotel near the airport. The closest option is the Hotel Adria. This family-friendly property has a 24-hour front desk and runs a free shuttle service to Split's international airport. It also offers baggage storage for guests.
The hotel has simple but clean rooms, and they come with free Wi-Fi. There are also family room options. If you have a car, parking is free. There are dining options within walking distance of the property.
More upscale, the boutique Brown Beach House is another hotel option near the airport. It is also on the beach. Located in the town of Trogir, it offers rooms and suites, some of which come with ocean views.
The hotel has a number of amenities, including free breakfast, a swimming pool, and a fitness center. It is even pet friendly should you be traveling with a dog. If you have a car, there is free parking here.