15 Top-Rated Places to Stay in Dubrovnik
We may earn a commission from affiliate links ()
Croatia's beautiful, medieval port city of Dubrovnik is a wonderful place to vacation, whether you are a couple on a romantic honeymoon or a family on a European holiday. It is filled with hotels for all budgets and styles of travelers.
If you want direct access to the historic city center, you'll want to stay within the Old Town's medieval city walls at a property like St. Joseph's Boutique Hotel, which is inside a stylishly restored 16th-century guesthouse.
The Lapad peninsula, just a few miles from the city center on the coast, is another popular place to stay and features a mix of hotels, including the Royal Princess, with direct ocean views, as well as options for dining and shopping along a seafront promenade.
Finally, there are more hotels along the rocky coastline between the Old Town and the Lapad peninsula, including some luxury offerings like the Hotel Bellevue Dubrovnik and the Villa Dubrovnik. Learn more about your options in this magical city with our list of the best places to stay in Dubrovnik.
1. Hotel Bellevue Dubrovnik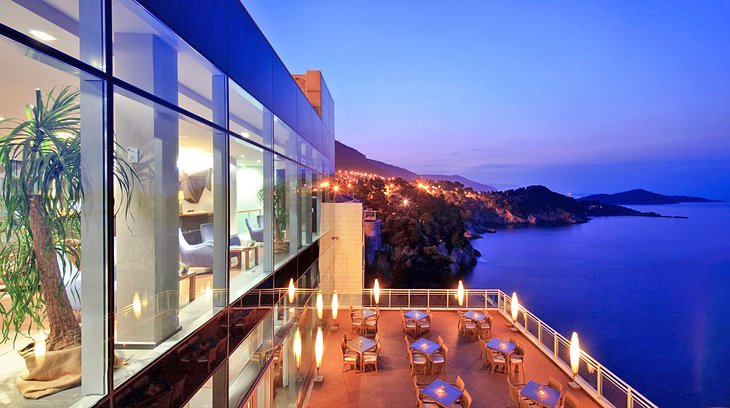 The luxe Hotel Bellevue Dubrovnik is in a beautiful location built into a cliff and fronting a small pebble and sand beach in a sheltered bay, about a 15-minute walk from the entrance to Old Town. It offers 91 rooms and suites, many with ocean views and balconies in a modern building and is a popular choice for couples.
2. Rixos Premium Dubrovnik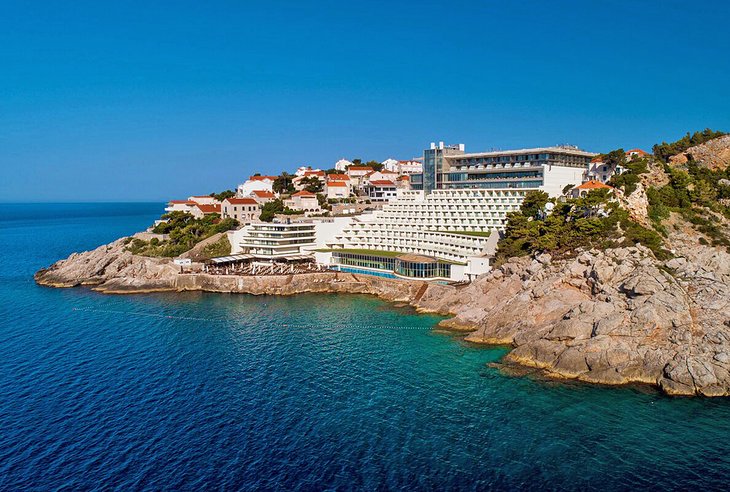 Right on the waterfront, the recently overhauled Rixos Premium Dubrovnik is a great choice for anyone looking for a contemporary design hotel. The landmark luxury property features just over 300 rooms and suites, including options for families traveling with kids. Many have direct Adriatic Sea views from floor-to-ceiling windows. All are modern and comfortable.
Amenities include beach access, indoor and outdoor swimming pools, a billiards room, sauna, and a state-of-the-art fitness center with ocean views. A complimentary breakfast is served in the restaurant. A full service spa is on-site should you need a full body massage or a facial.
3. Villa Dubrovnik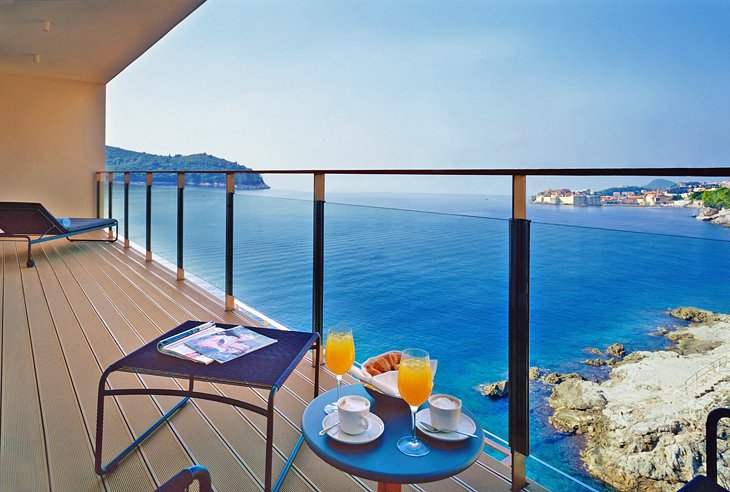 Sitting on the rocky coastline overlooking the Adriatic Sea, the Villa Dubrovnik is a popular romantic luxury hotel pick for couples and offers a free shuttle into the Old Town. The design-forward hotel is done up in neutral colors with a nautical theme in the 56 rooms and suites, which come with sea or city views.
4. St. Joseph's Boutique Hotel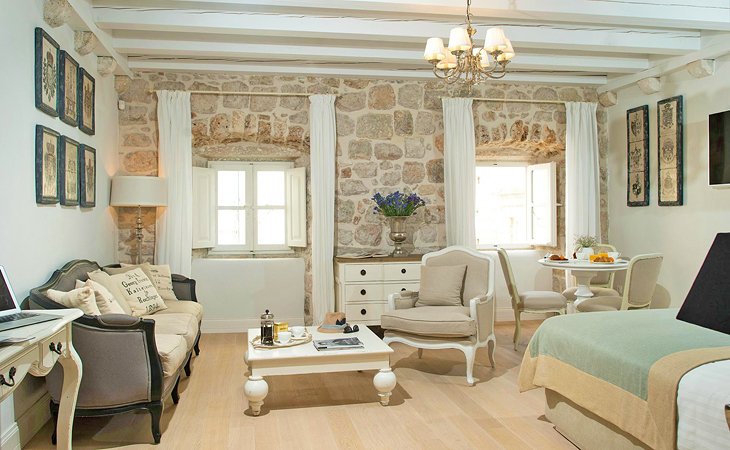 5. Royal Princess Hotel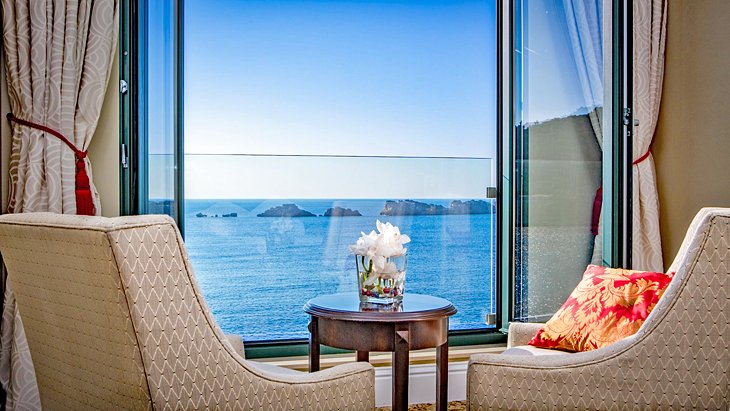 On the Lapad peninsula, facing the coast, the Royal Princess Hotel is just four miles from the Old Town, which is accessible by bus. The hotel is part of the Importanne Resort, which is made up of five neighboring hotels that share a seafront promenade and facilities, including two beaches.
6. Hilton Imperial Dubrovnik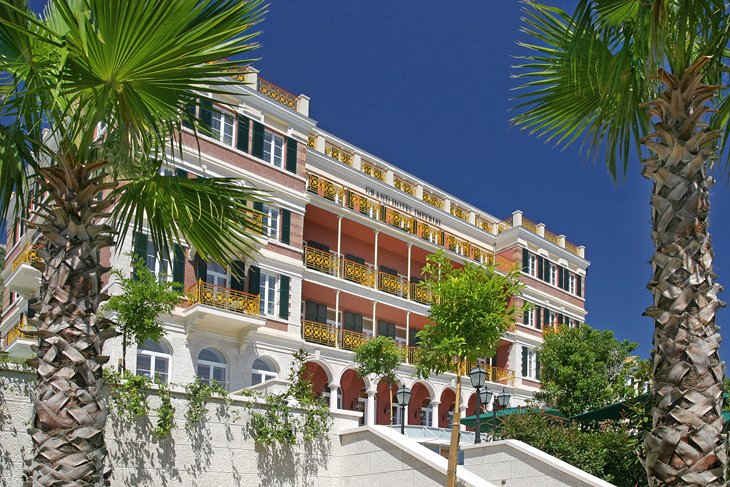 Just outside the historic city walls by the Pile Gate, the Hilton Imperial Dubrovnik is the city's grande dame property. It dates back to the 19th century and offers direct access to the Old Town. While the public spaces of the hotel feature much of the original late 1800s architectural stylings, like stone columns and an impressive staircase, the 149 rooms and suites have a more contemporary vibe and are very spacious and airy.
7. Hotel More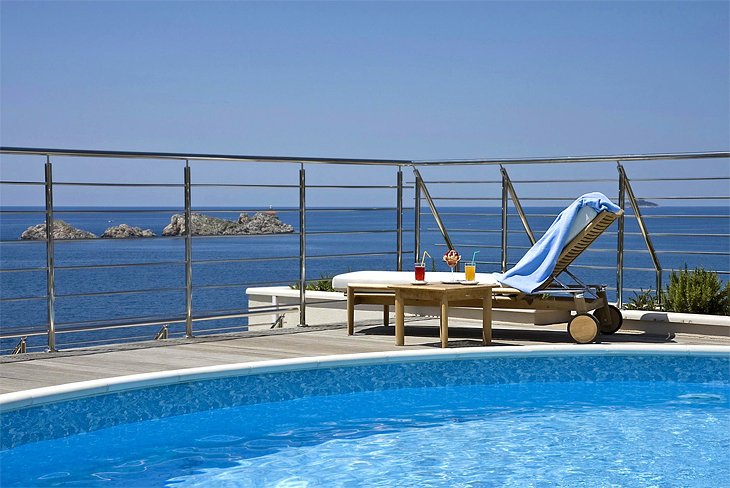 Located about 15 minutes by bus from Dubrovnik's Old Town, Hotel More is built into a bluff facing Lapad Bay on the Lapad peninsula.
8. Hotel Kompas Dubrovnik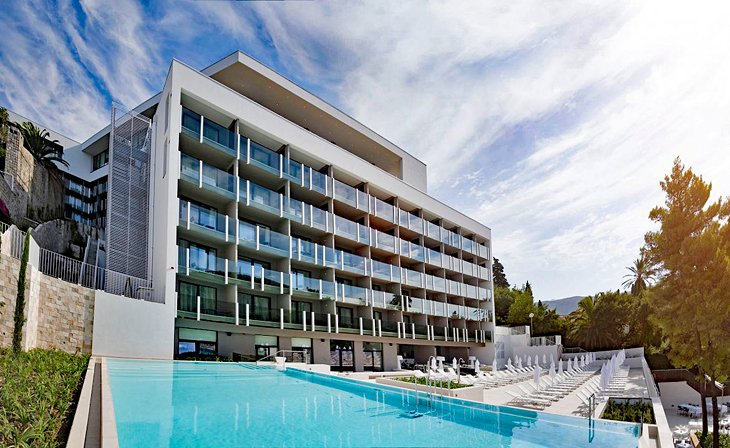 Hotel Kompas Dubrovnik is on the Lapad peninsula facing Lapad Bay. It's just three miles from the Old Town, which can be accessed by bus. There are 173 rooms featuring white-on-white minimalist styling, chic modern furnishings, and floor-to-ceiling windows with sea views.
9. The Pucic Palace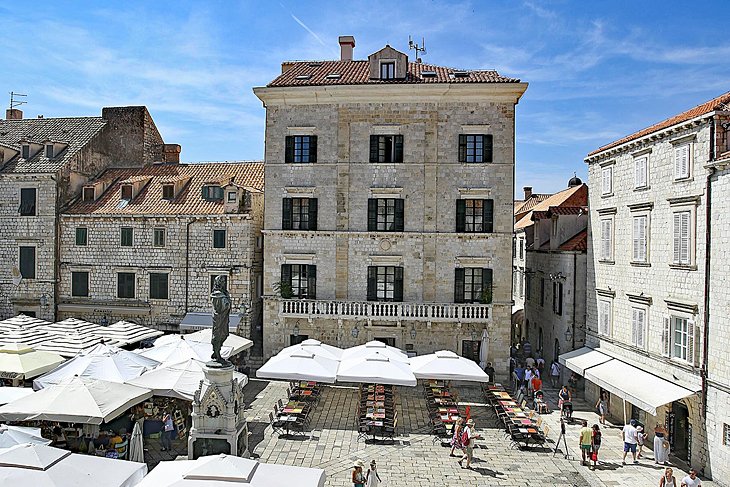 Inside a 17th-century Baroque building and annex, the luxury boutique Pucic Palace is in a fabulous locale in the heart of the Old Town.
10. Hotel Dubrovnik Palace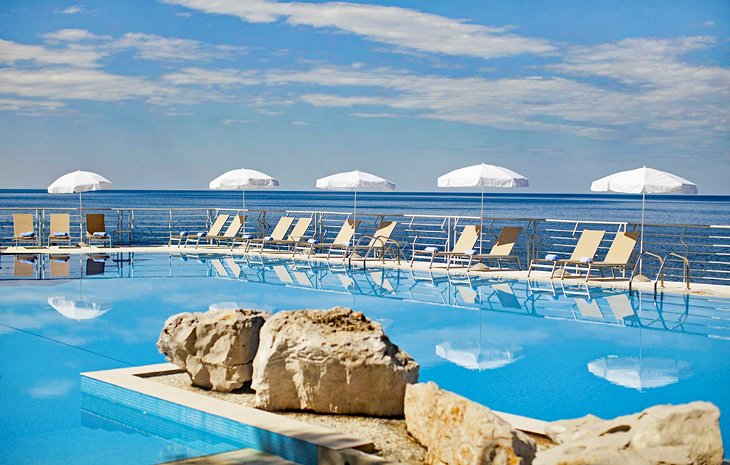 The Hotel Dubrovnik Palace is a luxurious property right on the sea on the Lapad peninsula, just a few miles from the Old Town. The views are quite spectacular from the rooms, suites, and public spaces – they look out onto the tiny jagged Grebeni islets with their lighthouse. Also, the hotel faces west, so you get amazing sunset views.
11. Royal Blue Hotel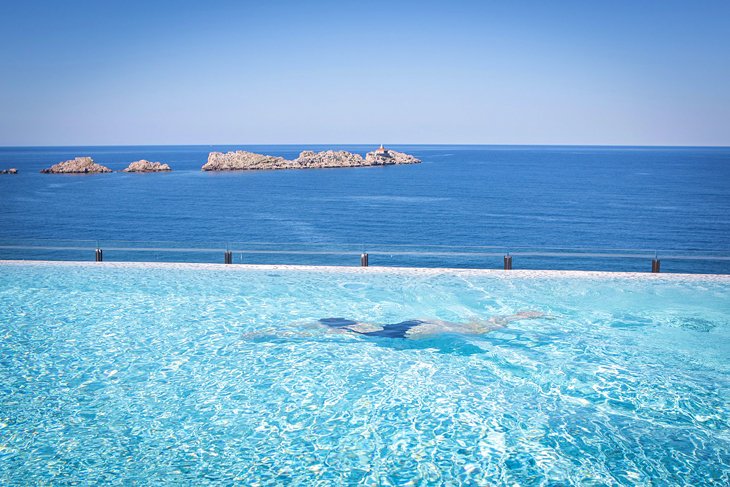 Part of the Importanne Hotels & Resort consortium, which consists of five hotels that share amenities on the Lapad peninsula, the Royal Blue Hotel is brand new and features luxe and spacious rooms with contemporary decor and daily turndown service.
There is access to two outdoor swimming pools, including one reserved for adults only on the rooftop of the hotel, as well as a rock platform beach with sun loungers and a wellness center and spa with an indoor pool, saunas, and a gym.
12. Fresh Sheets Kathedral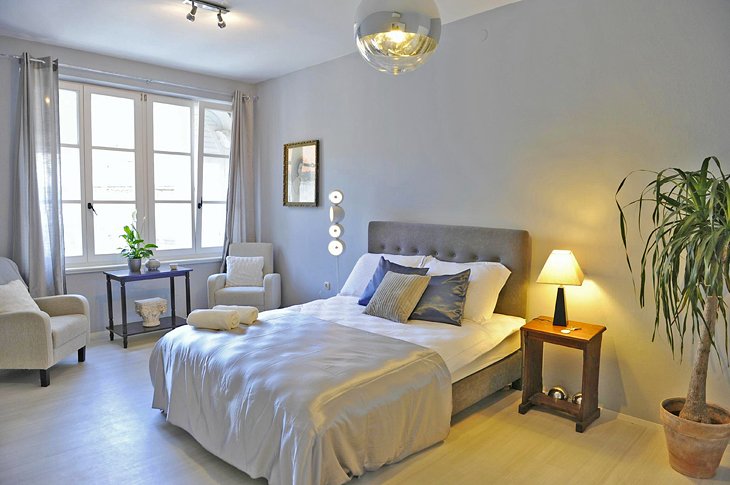 Fresh Sheets Kathedral is right in the heart of the Old Town and inside a UNESCO World Heritage building. This expat-owned bed-and-breakfast offers just six rooms with stunning views of some of the city's most famous landmarks, and all come with comfortable beds and stylish decor.
13. Berkeley Hotel & Day Spa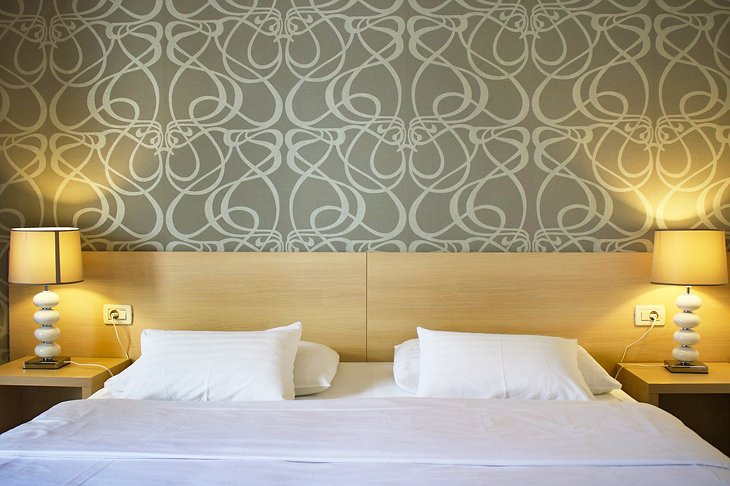 Located in the Gruz Harbour area of Dubrovnik, the Berkeley Hotel & Day Spa is a good mid-range choice with stylish modern rooms and apartments. All come with balconies or terraces and free Wi-Fi, and they are spacious, clean, and comfortable. Many feature sea views, and the apartments are a good bet for families traveling with kids.
14. Villa Curic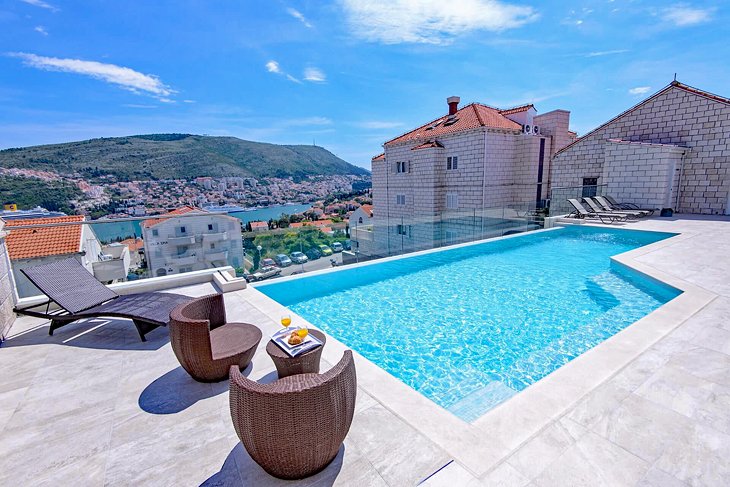 On the Lapad peninsula, Villa Curic is a mid-range apartment-style hotel, which offers airy and modern accommodations with one or two bedrooms, kitchenettes, and separate living and dining spaces that work great for families traveling with kids.
15. Neptun Hotel