15 Top-Rated Beach Resorts in Aruba
We may earn a commission from affiliate links ()
In the southern Caribbean, just off the coast of Venezuela, Aruba is a fantastic year-round beach destination filled with resorts for all styles and budgets of traveler-from couples on a romantic getaway to families looking for a kid-focused vacation. The resorts here range from swanky 4- and 5-star properties to more laid-back boutiques and a number of mid-range, well-known brands.
And should you want your stay to be all-inclusive there are a number of these types of resorts, as well as some hotels that offer all-inclusive meal plans. And while most properties in Aruba cater to a mix of families and couples, there are a few options that are adults-only and are a favorite with honeymooners.
Most of Aruba's beach resorts are found on Palm-Eagle Beach, which is actually comprised of two stretches of sand: Palm Beach and Eagle Beach. Palm Beach is home to the High Rise Hotel District, while Eagle Beach has the Low Rise Hotel District. The names define the height of the buildings backing the beach, so you can choose which style you prefer. Both beaches are beautiful and great for swimming or strolling. The water is usually calm, clear, and turquoise.
Another area with hotels and resorts is the cruise port and island capital of Oranjestad. Book your next vacation with our list of the best beach resorts in Aruba.
1. Bucuti & Tara Beach Resort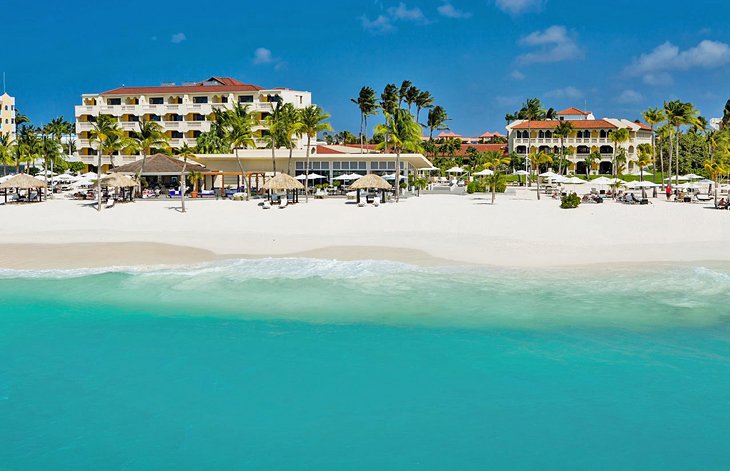 2. Renaissance Aruba Resort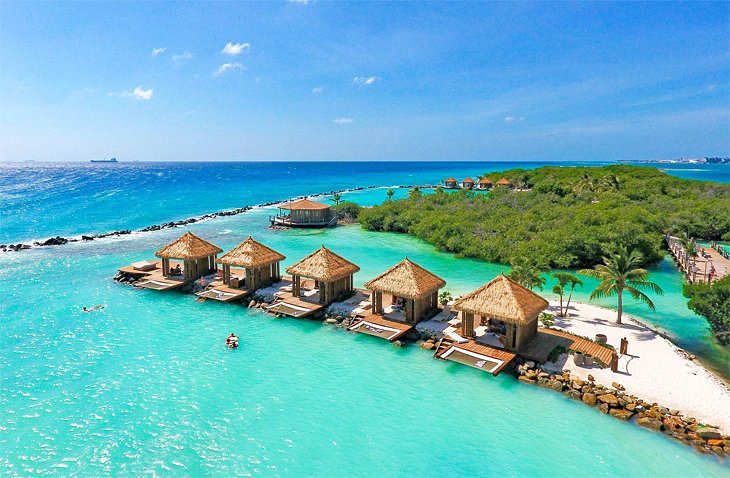 Regardless of which property you stay at, expect upscale modern decor with some fun retro throwbacks, like the starburst-patterned carpets in the rooms and suites.
3. The Ritz-Carlton, Aruba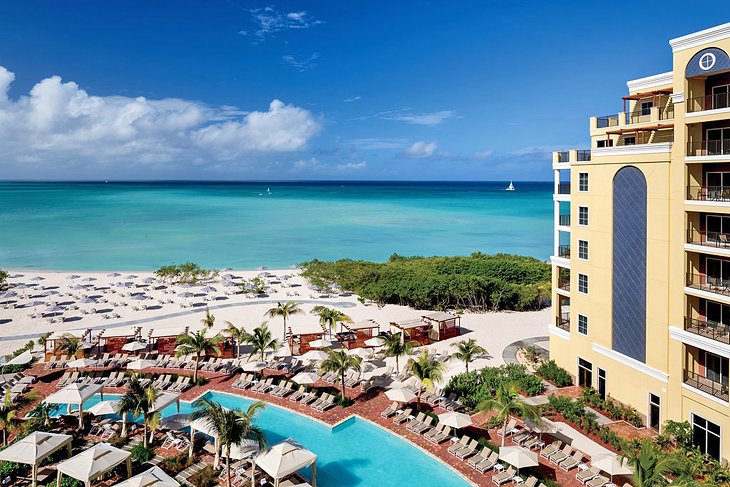 On-site amenities include two ocean-view swimming pools, a relaxing spa, a gym with top-notch cardio equipment, and a few dining choices. If you have the kids, there is a children's playroom. You can also take out SUP boards and kayaks for free.
4. Manchebo Beach Resort & Spa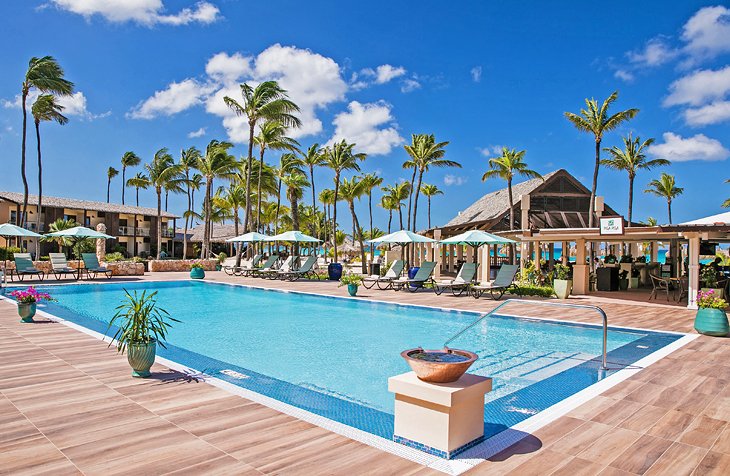 The hotel has an eco-friendly, wellness vibe about it, with gorgeous Southeast Asian-style gardens on the grounds and free introductory yoga and Pilates classes offered daily. There is also a spa right on the beach.
5. Amsterdam Manor Beach Resort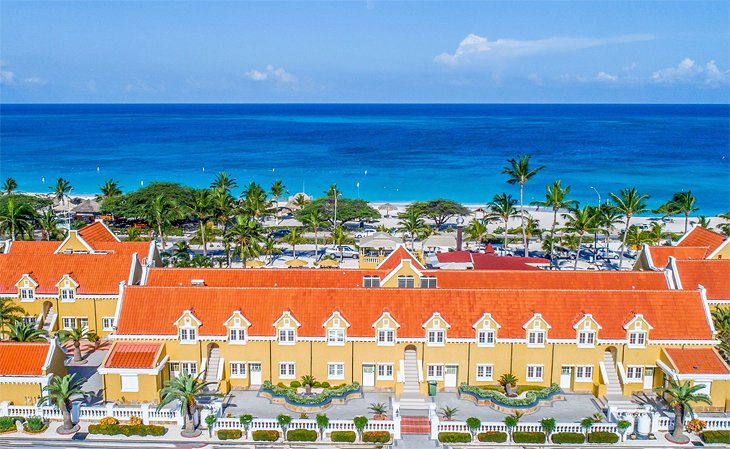 6. Divi Aruba Phoenix Beach Resort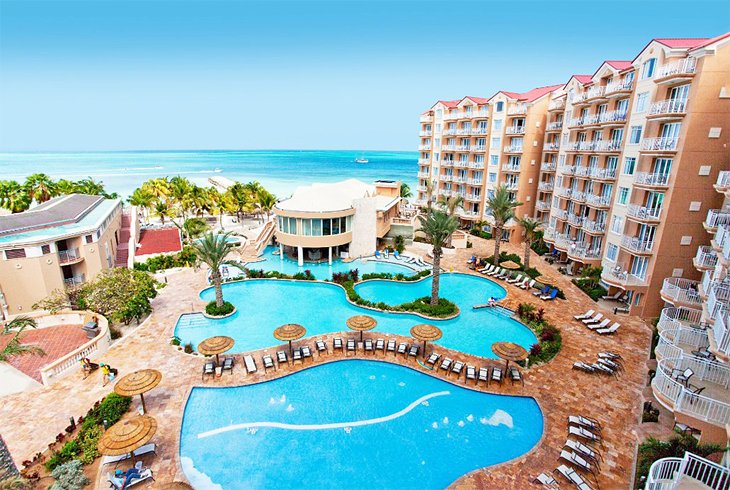 The resort features 240 suites that come in various sizes, from studio to three-bedrooms in two different towers-the newer Beach Tower is the best choice. All are stylishly decorated and have ocean views from balconies, but the newer rooms have upgraded kitchens and washer/dryer sets.
7. Barcelo Aruba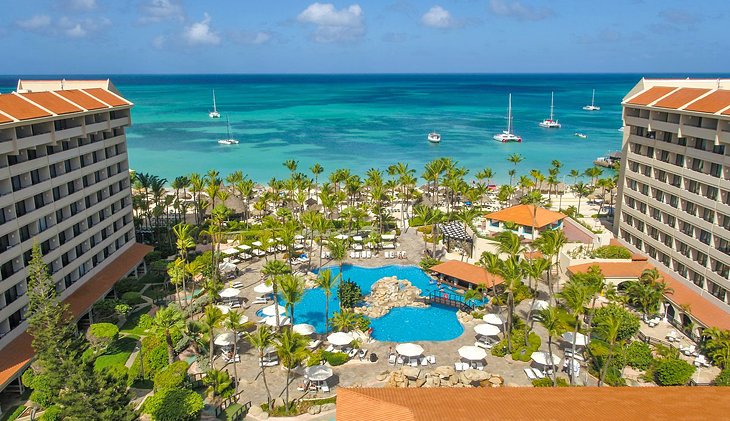 8. Aruba Marriott Resort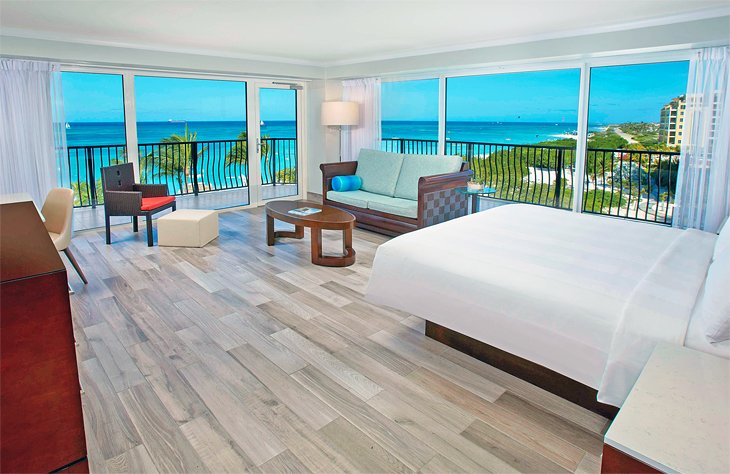 The resort has 411 rooms and suites that are spacious and comfortable. All have balconies, but not all come with sea views.
On-site amenities include two swimming pools, one of which is adults-only. There is also a swanky spa and a well-equipped gym with strength-training and cardio machines.
9. Hilton Aruba Caribbean Resort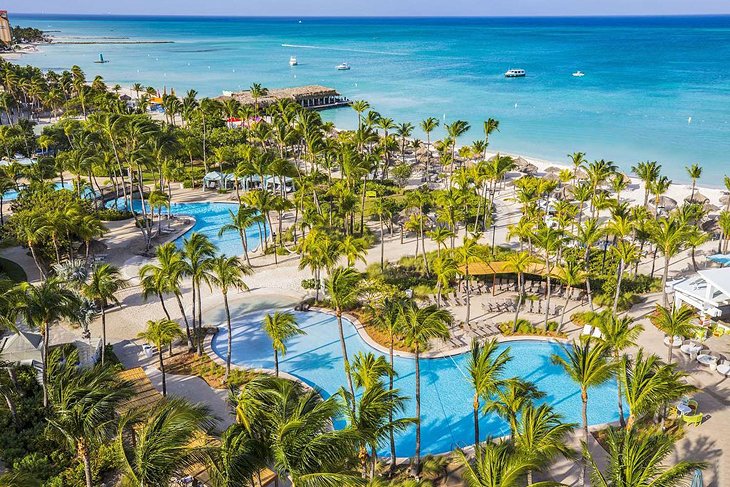 10. Hyatt Regency Aruba Resort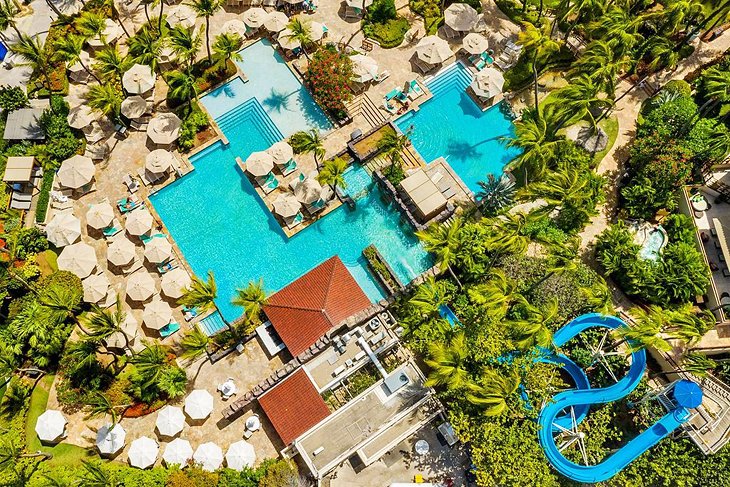 11. Hotel Riu Palace Aruba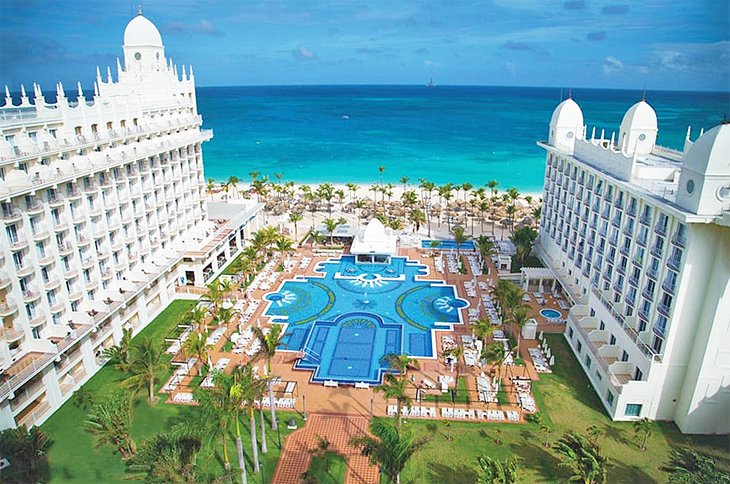 12. Marriott's Aruba Ocean Club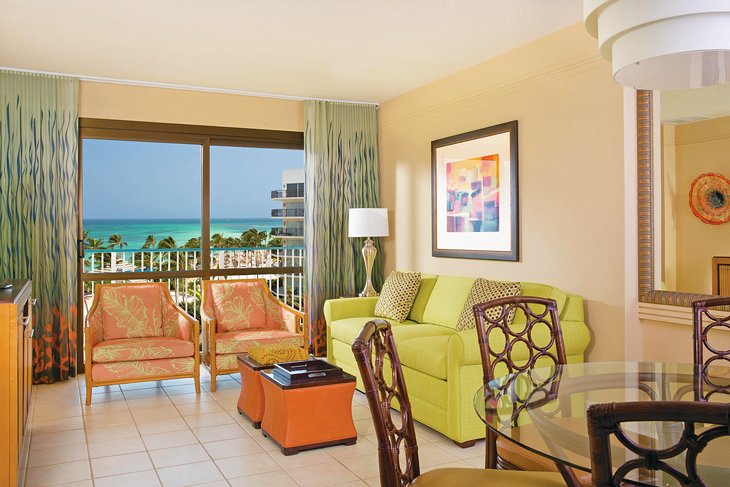 13. Casa Del Mar Beach Resort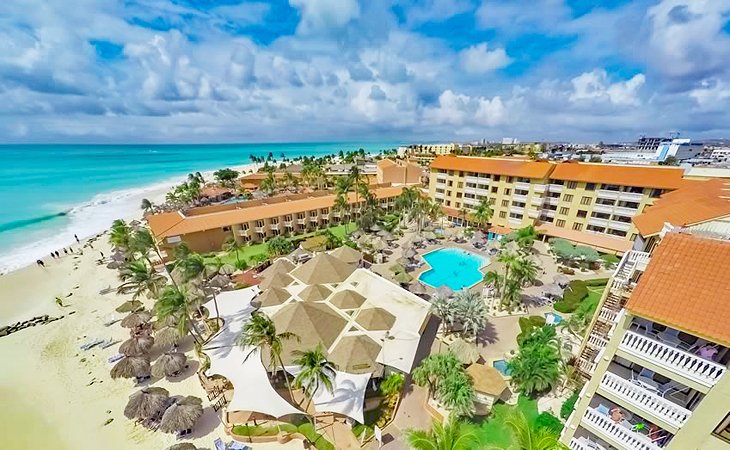 14. Ocean Z Boutique Hotel Aruba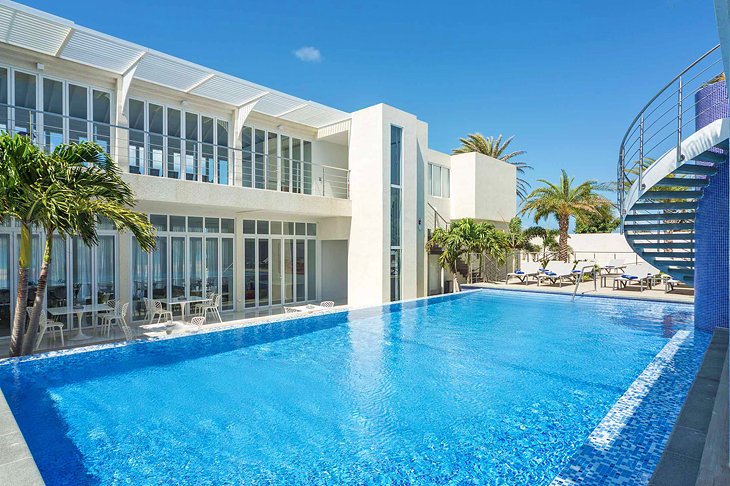 There are just 13 chic rooms, and each is individually decorated. For a romantic treat, book one of the rooms with access to a semi-private infinity pool with ocean views.
15. Marriott's Aruba Surf Club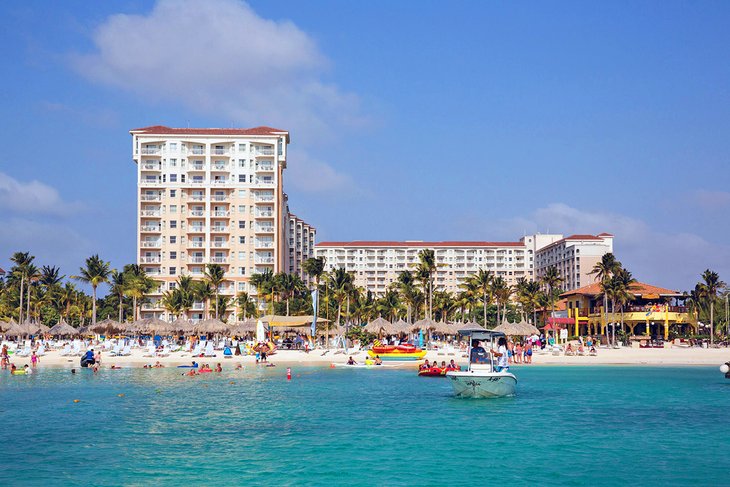 The Surf Club is especially popular with families, as it has a bunch of amenities that cater to kids. Your little one can take a float down the Lazy River, ride the waterslide, or swim in one of a number of pools. Teenagers will like the Nintendo Wii Lounge, which is open only to their age group. There are also ping pong tables that appeal to adults as well.
The hotel offers a mix of rooms, suites, and apartments. All are clean and comfortable, and even the rooms feature kitchenettes. The apartments are best for families or groups of friends, as they feature multiple bedrooms and full kitchens that save you a lot of cash if you don't mind cooking for yourself.