12 Top-Rated Tours and Excursions in Aruba
Aruba's slogan is "One Happy Island," and after enjoying some of the island's tours and excursions, it's easy to see why. Water-based tours range from fun pirate-themed sailing and snorkeling trips and sunset cruises to stand up paddleboarding, wreck dives, sportfishing charters, and submarine rides.
Aruba tour companies also offer land-based adventures. The cactus-cloaked northeastern coast of Aruba is rocky and rugged, and many areas are only accessible with a 4WD vehicle. Tours to attractions in these areas include Land Rover safaris, ATV adventures, and horseback rides. Segway tours are a fun way to soak up the island's scenery and see some of Aruba's top attractions–especially if you're short on time–and you can combine them with Aruba snorkeling tours or sailing excursions for a fun amphibious adventure.
Plan your sightseeing adventures with our list of the top tours and excursions in Aruba.
1. Jolly Pirates Cruise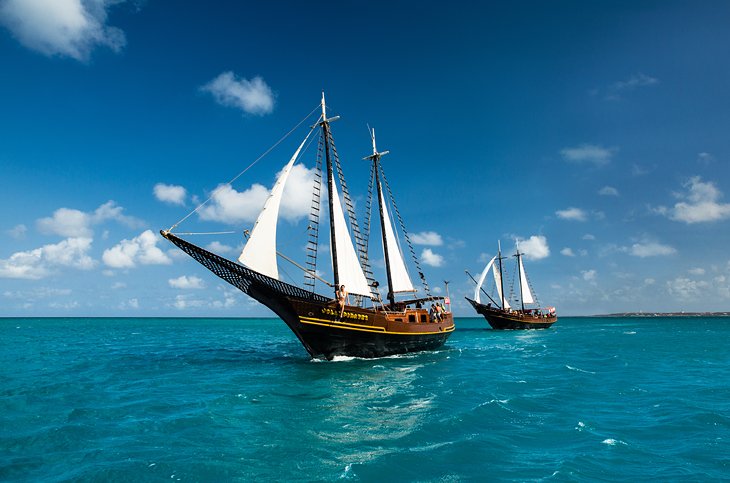 The Jolly Pirates Aruba cruise is one of the most popular tours on Aruba. This is a great way to sail around the island to some of the top Aruba snorkeling spots and enjoy some swashbuckling good fun at the same time.
The tour takes place aboard an impressive replica of a pirate ship with a fun-loving crew. You can choose from a number of cruises, including a Morning Sail and Snorkel Cruise.
The snorkeling tours stop at three popular spots: the WWII shipwreck Antilla, Boca Catalina, and Malmok. Sunset cruises are also available for those who don't want to snorkel.
The highlight of all the cruises is a chance to bring out your inner Blackbeard on the rope swing and plunge into the warm sea. Don't forget to bring your camera!
2. 4WD Natural Pool Tour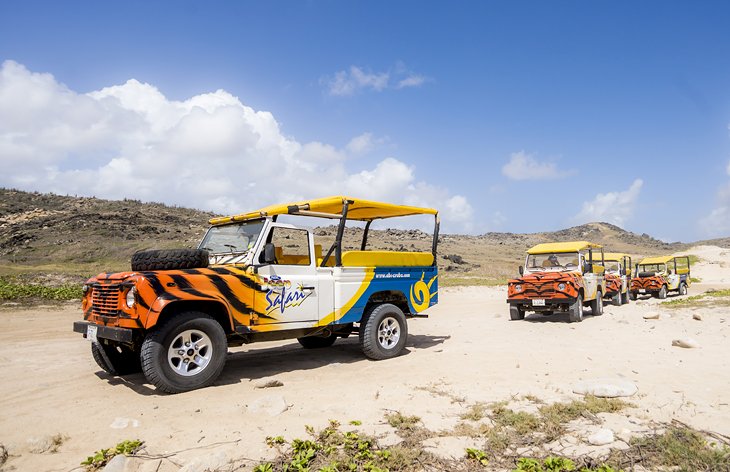 Aruba's rocky and rugged landscapes are ripe for 4WD adventures. One of the most popular is the Land Rover tour to the Natural Pool in Arikok National Park. This sparkling rock-rimmed saltwater pool, filled with colorful fish and fed by waves washing over the slick rocks, is one of Aruba's top tourist attractions, and a snorkeling stop here is a highlight.
Since it's only accessible by 4WD vehicle down a rough and rocky track, a tour is a fun way to visit the pool and see some of Aruba's other attractions along the way.
Tours vary in their duration and the type of vehicle used. On the 4.5-hour Natural Pool and Indian Cave Jeep Safari, you'll travel in open-air 4WD vehicles, with time to swim and snorkel in the pool and visit other island attractions like Playa beach, Indian Caves, and Fontein Garden.
For a full-day adventure, choose the Island Ultimate Jeep Safari. This 9.5-hour excursion takes you on a 4WD tour of the island's top attractions in an open Land Rover and includes a stop at Natural Pool and Baby Beach. Be prepared to bump around on these adventures, and take sturdy water shoes.
3. Segway Tours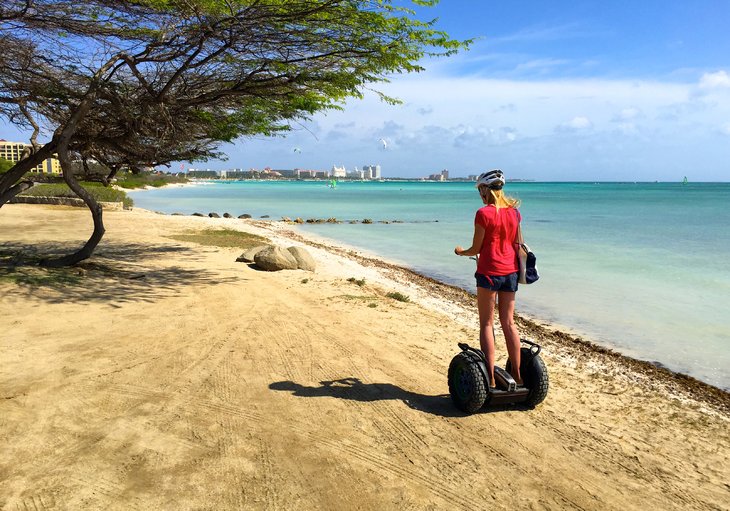 Cruising along the Caribbean shore on a Segway is an exhilarating way to see the island's sights. This intuitive mode of transport is a breeze to learn and requires little effort to operate. Anyone from older children to seniors can enjoy these tours, and they're especially popular with cruise ship passengers and seniors, who can cover more ground than they would on foot.
Tours begin with a brief instruction and practice run. The Malmok Beach Sightseeing Segway Tour in Aruba is a one-hour jaunt along the beaches north to Malmok and Boca Catalina, and the two-hour California Lighthouse Segway Tour takes you farther along the coast to explore this historical landmark. A private Segway tour is also available for those who want to customize their itinerary.
4. Aruba Half-Day Island Tour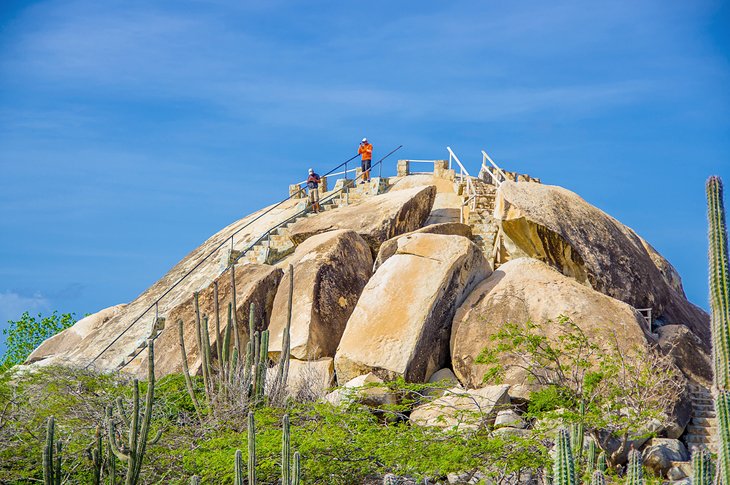 If you want to see some of the island's highlights, and you're short on time, the Aruba Half-Day Island Tour is a great option. Hop aboard an air-conditioned vehicle for this four-hour tour around Aruba, and you'll see some of the island's top landmarks, including California Lighthouse, Alto Vista Chapel, Ayo and Casibari Rock Formations, and the Bushiribana Gold Mill Ruins.
One of the favorite stops on this tour is the Aruba Aloe Factory. Here, you can learn about the wonders of this medicinal plant and its 160-year history of cultivation on the island. You'll also have a chance to shop for skin-soothing souvenirs to take home.
5. Atlantis Submarine Expedition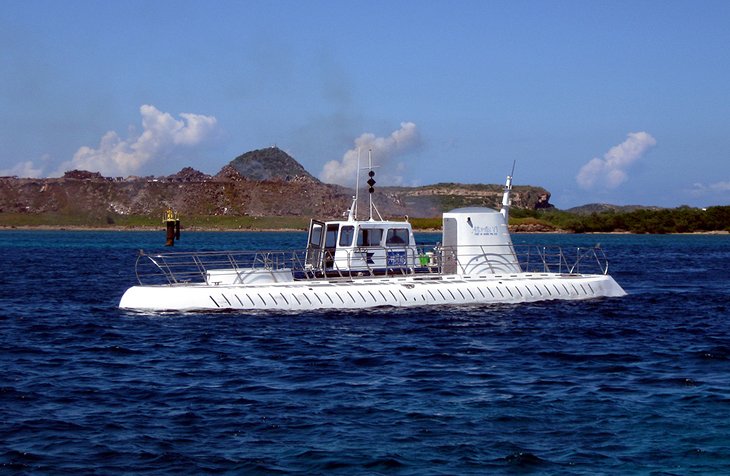 Submerging into the ocean depths on an Aruba Atlantis Submarine Expedition is a great way to see Aruba's underwater world without getting wet. Small children and anyone who struggles with snorkeling will especially appreciate this tour. Hop aboard a ferry for the short cruise to the submarine, and then descend on a subaquatic adventure.
The tour visits two sunken wrecks and offers the chance to see schools of colorful fish and coral at depths of up to 40 meters. While you're gazing at all the marine life, a guide provides an educational talk.
Another tour, the SeaWorld Explorer Semi-Submarine, gives visitors views of the reef through the submerged hull while the rest of the vessel remains above the surface.
Those who don't mind getting wet can try a SEABOB, a streamlined vehicle propelled by an electric engine that allows you to zip along through the water at speeds of up to 22 kilometers an hour. The North Coast SEABOB Reef Tour gives you a taste of this jet-propelled underwater scooter and includes instruction, all the equipment, and hotel pickup and drop-off.
6. Horseback Rides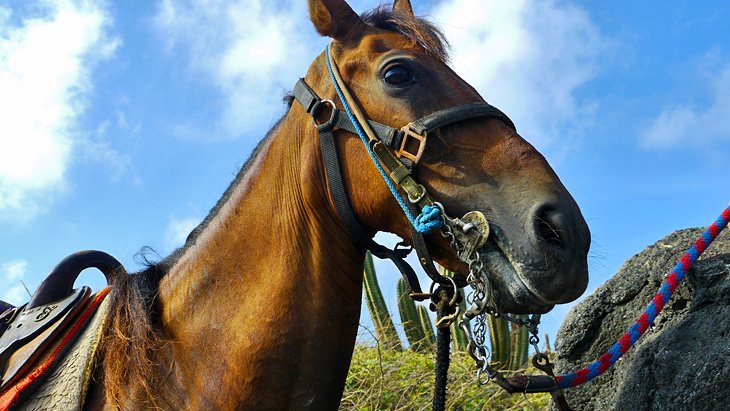 Aruba's rugged scenery and windswept beaches are the perfect setting for horseback riding adventures. Cantering amid the cactus-peppered landscapes, you could be forgiven for thinking you traveled back in time to the Wild West, but then the striking jade-green sea comes into view, and you are jolted back to the tropical island paradise.
Several outfitters offer horseback-riding tours, including sunset rides on dune-backed beaches, and the popular Natural Pool Horseback Riding Tour in Aruba takes you through Arikok National Park to the Natural Pool, with time to stop for a cool swim along the way.
7. Exploring Arikok National Park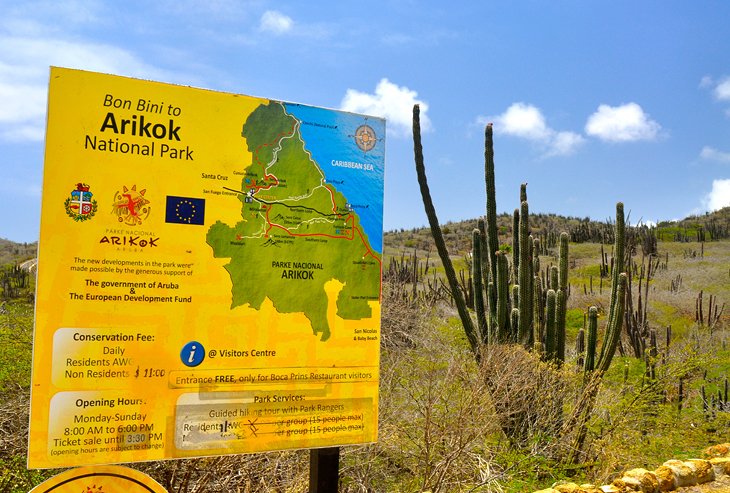 To experience Aruba's unique ecology, you can explore rugged Arikok National Park on foot, horseback, or mountain bike, as well as by vehicle–preferably 4WD. Stop by the visitor center before entering the park to pay the entrance fee and learn more about the region's flora and fauna.
The arid landscapes in this 7,907-acre reserve make up almost 20 percent of the island and include cactus-covered hills, scrubland, and fascinating rock formations sculpted from limestone, lava, and quartz diorite by the strong and salty winds.
Keep an eye out for some of Aruba's native animals, including the Aruban rattlesnake, Aruban burrowing owl, and the beautiful Aruban parakeet that often squawks overhead in small squadrons. Herds of goats and donkeys graze in this parched wilderness, and caves within the park shelter flocks of bats, as well as Caquetío Indian paintings.
Beach lovers can also soak up Mother Nature's wild beauty on the park's windswept shores, including Dos Playa and Boca Prins. The beaches are great spots for picnics, but swimming is not recommended due to the strong currents and rough surf.
If you'd like to learn about the park's flora and fauna, the Arikok Hiking Tour includes the services of an expert guide, park fees, and hotel pickup and drop-off.
Official site: http://www.arubanationalpark.org/main/
8. Sportfishing Charters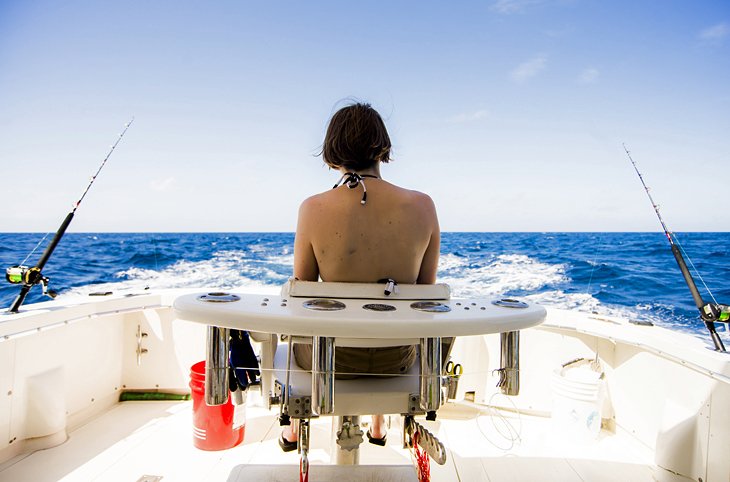 Aruba is famous for its deep-sea fishing. Trolling the deep blue waters offshore, you have the chance to catch mahi-mahi, yellow-fin tuna, barracuda, kingfish, bonito, sailfish, wahoo, and marlin. Steep drop-offs offer fertile fishing ground, and you can also cast for species such as grouper, triggerfish, and snapper.
Trips range from half-day or full-day excursions on well-equipped and comfortable sportfishing boats. The 4-hour Aruba Fishing Trip takes you offshore for some exciting deep-sea fishing using a variety of techniques, including trolling, jigging, and bottom fishing. Guided fly fishing trips are also available.
To top off a rewarding day on the water, many restaurants on the island will even cook up your catch for you.
9. Dive Trips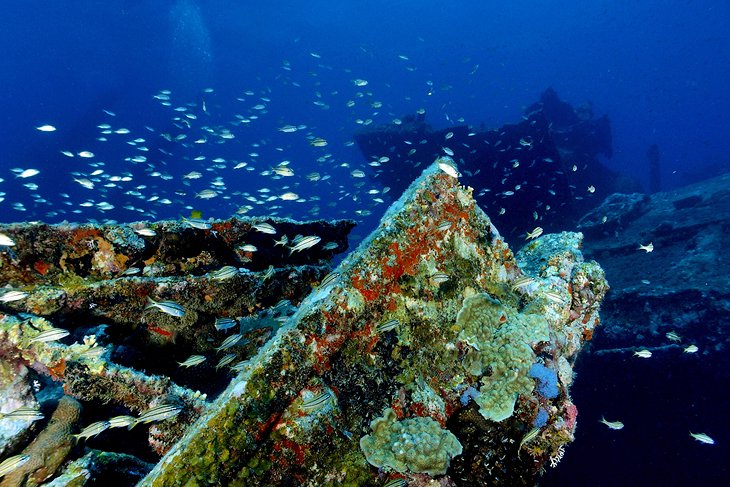 Aruba is renowned for its great wreck diving. Guided by expert instructors, you can explore everything from sunken tugboats to plane fuselages and cargo ships. The Antilla, a WWII German freighter, is Aruba's most famous wreck and one of the largest in the Caribbean.
Reefs fringe the leeward side of the island with schools of colorful fish, as well as turtles, stingrays, and moray eels. Favorite dive sites include Skalahein Reef, Plonco Reef, and Mas Bango Reef. Drift dives are also available. PADI schools offer introductory courses, refresher courses, and trips for divers of all levels.
Not certified yet? The Aruba Try Scuba Diving tour for non-certified divers is a great way to dip your toes in the water, so to speak. Experience the underwater world before you commit to a certification course on this small-group underwater excursion. You'll learn basic theory and skills before your first dive, and you'll be fully equipped with everything you need. Glide over the coral gardens and see how many fish you can spot. Best of all, the tour includes pickup and drop-off from your hotel.
10. Stand Up Paddleboarding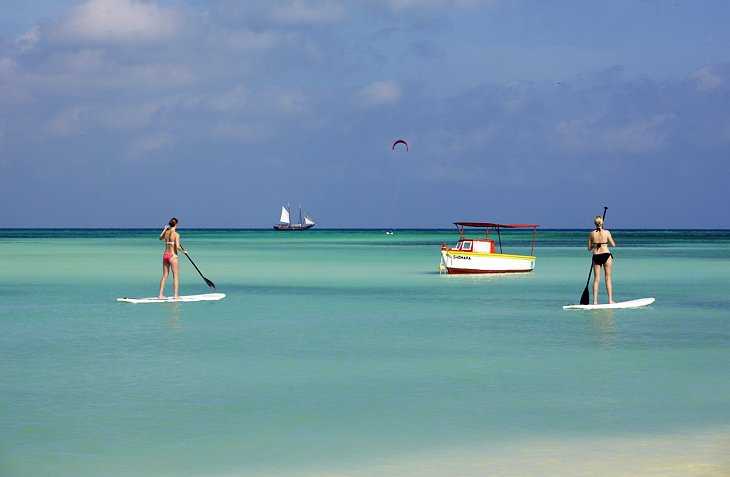 Skimming Aruba's jade-green waters on a paddleboard gives you a bird's-eye view of the fish life, as well as a fun workout. This is a rewarding activity for the entire family. Tours include paddles over the crystal-clear ocean shallows; sunset tours; and mangrove-eco tours, where you can see birds and iguanas as well as fish. Instruction is provided by experienced guides.
During the surfing season, lessons are available for stand up paddle surfing as well. You can even try stand up paddleboarding yoga.
11. De Palm Island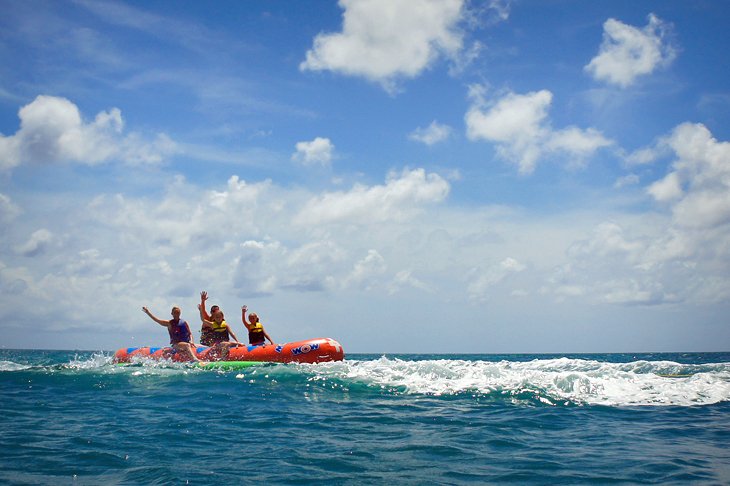 If you're looking for a day of island fun with something for all the family, De Palm Island is a popular choice. This private island lies only a five-minute ferry ride from the mainland and offers a packed array of activities for an all-inclusive price.
Children will love the brightly colored spiral slides at the Blue Parrotfish Water Park. Adults can relax in a hammock on the white-sand beaches and sign up for some pampering at the spa, and water sports enthusiasts can try the Sea TREK Underwater Helmet Walk and SNUBA adventures for an extra fee.
Snorkeling, salsa lessons, ziplining, bingo, banana-boat rides, and beach volleyball are other fun things to do on the agenda here. Food and beverages are included in the price, and you can choose from half-day visits or a full-day stay. If you're looking for Aruba excursions for families, this is an excellent option.
Sign up for the De Palm Island Visit with Bus Transportation, and you'll be picked up directly from your hotel in an air-conditioned bus. Sit back and relax on the ride to the island, and look forward to a day of fun in the sun. Your tour includes tropical drinks, a buffet lunch, snacks, and beach beds. When it comes to activities, you won't be disappointed. Everything is included except SeaTrek, Snuba, and Massages.
12. Secret Beach & Cave Pool Adventure in an ATV or UTV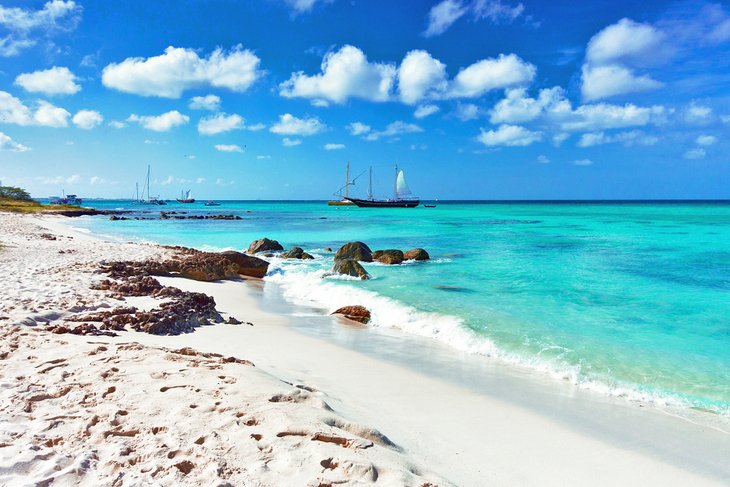 Craving to hit the road in your own off-road vehicle? Sign up for the UTV & ATV Aruba's Secret Beach & Cave Pool Adventure. On this action-packed tour, you'll head to Aruba's northern coast and explore the rugged volcanic landscapes. Along the way, you'll visit seven different attractions, including Blackstone Beach, Andicuri Beach, Baby Natural Bridge, Bushiribana Gold Mill Ruins, California Lighthouse, Sasariwichi Dunes, and Arashi Beach.
You'll also learn how to drive off-road in your own Honda ATV or UTV. Wondering about the difference between these vehicles? An ATV is usually designed for a single rider, while a UTV (Utility Task Vehicle) offers side-by-side seating in a cabin.
Get your adrenaline pumping with a cliff jump at the Cave Pool. Then relax at the "Secret" Beach. This is a great tour for travelers looking for a little more action on their vacation.
Map of Tours and Excursions in Aruba
More Related Articles on PlanetWare.com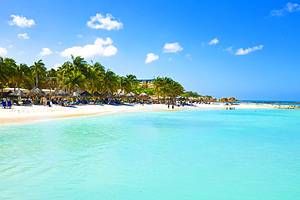 More Aruba Adventures: Aruba is packed with fun things to do and family-friendly attractions, from the Dutch colonial architecture of the capital Oranjestad to top dive sites and the rugged landscapes of Arikok National Park. Learn more about the best places to visit, with our article on the Top-Rated Tourist Attractions in Aruba. If you need help finding the perfect stretch of sand and sea, consult our page on the Best Beaches in Aruba, and if you're looking for a place to stay with the kids, check out our list of the top-rated family resorts in Aruba.