Place de la Concorde, Paris
The spacious Place de la Concorde in Paris, at the intersection of two main axes (Louvre-Arc de Triomphe and Madeleine-Palais-Bourbon), is recognized as one of the finest squares in the world. Originally called Place Louis-XV, with an equestrian statue of the king in the center, it was laid out by the architect Jacques-Ange Gabriel, who between 1755 and 1775 built two magniificent buildings on the north side of the square, flanking Rue Royale: to the right the Ministère de la Marine (since 1792; originally the Garde-Meuble de la Couronne, the royal furniture store), to the left the elegant Hôtel Crillon.
Important Information:
Transit:
Metro: Concorde; Bus: 24, 42, 72, 73, 84, 94.
During the French Revolution the statue of the king was destroyed, the square was renamed Place de la Révolution and the guillotine was set up here. Among the many thousands executed in this square were Louis XVI and Marie-Antoinette, Madame Dubarry, Charlotte Corday, Danton and finally Robespierre and his supporters.The square was given its present name in 1795, under the Directoire.Between 1836 and 1854 Jacob Ignaz Hittorff, a native of Cologne, gave the square its final form by erecting two fountains (the one to the north decorated with allegories of agriculture and industry, the one to the south with allegorical figures representing seafaring and fishing) and eight female figures (restored 1988) personifying France's eight largest cities (clockwise: Marseilles, Bordeaux, Nantes, Brest, Rouen, Lille, Strasbourg, Lyons). The lodges in the bases of the statues were formerly occupied by municipal employees (gardiens).
Related Attractions
Pont de la Concorde
The Pont de la Concorde, opposite the Palais- Bourbon, links Place de la Concorde with the left bank of the Seine. The bridge was built between 1787 and 1791, using stone from the demolished Bastille.The view from the bridge on the right bank is of Place de la Concorde with its obelisk and beyond this the Madeleine. Farther downstream, on the same side of the Seine, are the Tuileries and the Louvre. Beyond this is the Ile de la Cité, with the towers of Notre-Dame. On the left bank can be seen the Dôme and Hôtel des Invalides and the Eiffel Tower.
Obelisk
The Egyptian obelisk in Paris is 22m/72ft high and weighs 220 tons. It was set up here in 1833. Dating from the time of Rameses II (13th century B.C.), it came from Luxor (the ancient Thebes) and was a gift to King Louis-Philippe by Mehmet Ali, Viceroy of Egypt.
La Roue de Paris
The Roue de Paris was erected in Place de Concorde in 1999 and opened for public operation in December of that year. The giant ferris wheel was built to celebrate the year 2000.
Musée Pierre Marly Lunettes et Lorgnettes
There are about 3,000 pieces of telescopes, eyeglasses and binoculars in all shapes and sizes exhibited in the museum.
Map of Paris Attractions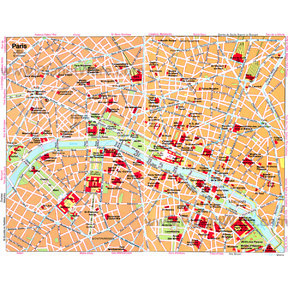 Paris Map