Opera House, Paris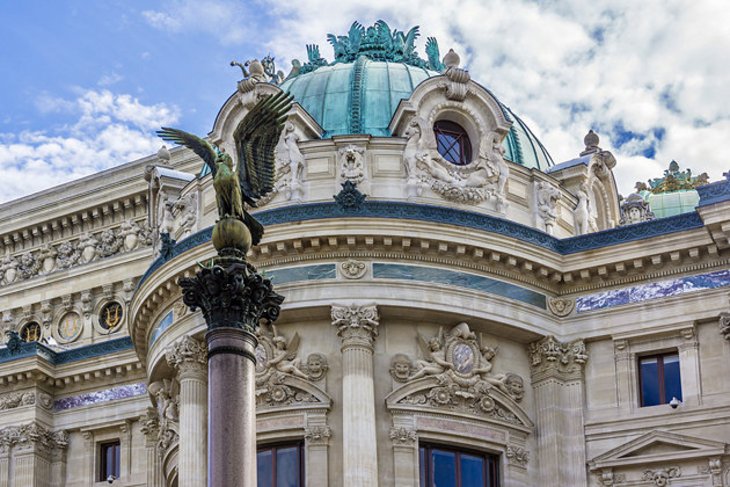 Opera House
The Paris Opera House (officially the Académie Nationale de Musique et de Danse) was intended to establish a "Napoleon III style". The result was a sumptuous neo-Baroque building, grander and more elaborately decorated than any contemporary building of the kind in Europe. The winner of the architectural competition for the design of the Opera House was a previously unknown architect, Charles Garnier (1825-98), and the Opera was built to his design between 1862 and 1875. It was then the largest opera house in the world, covering an area of 11,000sq.m/13,000sq.yd, but had seating only for 2,200 people.The facade is divided horizontally into three. The ground floor has seven round-headed arches, which are flanked by eight allegorical figures: (from left) Poetry (by Jouffroy), Music (Guillaume), Idyll (Aizelin), Recitation (Chapu), Song (Dubois), Drama (Fabuière), Dance (a masterpiece by Carpeaux; original in Musée d'Orsay) and Lyric Drama (Perraud). Above the four central figures are medallions with the heads of Cimarosa, Haydn, Pergolesi and Bach. The loggia, with 16 tall and 14 small Corinthian columns, has busts of Halévy, Meyerbeer, Rossini, Auber, Spontini, Beethoven and Mozart. Above this is the attic story, with four gilded groups glorifying Poetry and Fame.On the side facing Rue Scribe is the Pavillon d'Honneur, which formerly gave the President of the Republic direct access to his box. It now contains a small library and a museum of opera props (open Mon.-Sat. 11 a.m. - 5 p.m.).The auditorium itself can be seen only at certain times, but the magnificent grand staircase (Escalier d'Honneur) of multi-colored marble can be seen at any time. In the foyer are allegorical paintings (1864-74) by Paul Baudry. The auditorium, which is decorated entirely in red and gold, has a large ceiling painting by Chagall (1966).Since the opening of the new opera house in Place de la Bastille the Opéra-Garnier is used only for performances by visiting companies and ballet.
Address: Place de l'Opéra, 8 rue Scribe, F-75009 Paris, France
Musée de l'Opera
The museum displays the drawings of costumes and scenery, scale models and paintings of this temple of dance.
Address: 8 rue Scribe, F-75009 Paris, France
Popular Pages