Châtelet
The Grand Châtelet was a 12th C fortress built to protect the Ile de la Cité. It was later used as a prison, and thereafter was the seat of the Provost of Paris (Prévôt des Marchands). In 1802 Napoleon had the fortress pulled down, and during the Second Empire two theaters were built on its site: on the west side of the square the Théâtre du Châtelet, with a facade in Italian Renaissance style, and on the east side the Théâtre Sarah Bernhard.
Important Information:
Address:
Théâtre du Châtelet, 2 rue Edouard Colonne, F-75001 Paris, France
Transit:
Metro: Chatelet; Bus: 21, 38, 47, 58, 67, 69, 72, 74, 75, 76, 81, 85, 96.
Related Attractions
Tour Saint-Jacques
Between Place du Châtelet and Rue de Rivoli is the Tour Saint-Jacques, the Late Gothic tower of the old parish church of Saint-Jacques-de-la- Boucherie (patron saint of butchers), which was built by Jean de Félin between 1508 and 1522.In the Middle Ages this church was the assembly point for pilgrims setting out on the pilgrimage to Santiago de Compostela in northwestern Spain, the legendary burial-place of the Apostle James (in Spanish Santiago) and one of the three great places of pilgrimage of medieval Christendom (the others being Jerusalem and Rome). The pilgrims, coming from the north along Rue Saint-Martin, continued on their way south along Rue Saint- Jacques.On the tower (51m/167ft high) is a statue of St James.The emblem of the pilgrims was a scallop-shell, the coquille Saint-Jacques which has long been famed as a culinary delicacy.It was from St Jacques Tower that Blaise Pascal conducted one of his experiments on the effect of altitude on the height of a column of mercury that air pressure could support. A series of meteorological instruments have been mounted on the roof of the tower and a statue of Pascal stands at the base of the tower, both commemorating the scientist's accomplishment.
Théâtre Musical de Paris
For many years the Théâtre du Châtelet specialized in operetta and ballet, until in 1980, after extensive renovation, it became a National Theatre and was renamed the Théâtre Musical de Paris. Its program now includes operas, musicals and concerts. The gallery (modernized in 1989) is decorated with a work by Garoust.
Théâtre de la Ville
Théâtre de la Ville in Paris, was acquired in 1899 by the famous actress Sarah Bernhardt, who enjoyed great triumphs here with her interpretations of "La Dame aux Camélias" and "Tosca". The theater's program ranges from classic modern plays to performances by visiting ballet companies with renowned choreographers.
Map of Paris Attractions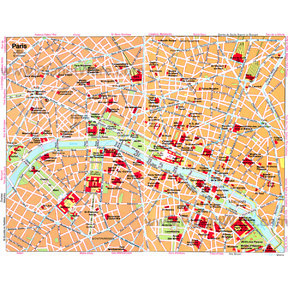 Paris Map