16 Best Beach Resorts in Turkey
We may earn a commission from affiliate links ()
If you want a summer beach vacation, Turkey has you covered.
The long meandering coastline, lapping both the Aegean and Mediterranean Seas, is a summer hot spot, and European families decamp here in droves during July and August.
Turkey is one of the best places to visit if you want to shake up your sun-and-sea time with some sightseeing. The hill slopes of this coastline are littered with ancient ruins and other historic tourist attractions, and you'll find plenty of things to do beyond the beach if you tire of topping up your tan.
Peak season is July and August, but the weather along the coast has blue skies aplenty from May through to early October, so spring and fall are great times for a beach break, with discounted room rates.
To help plan your summer beach escape use our list of the best beach resorts in Turkey.
1. The Bodrum EDITION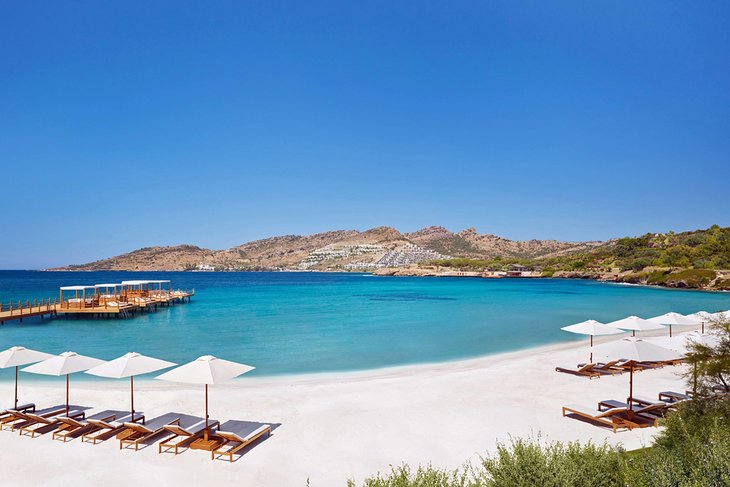 Hugging the Aegean Sea shoreline on the north coast of the Bodrum Peninsula, this Marriott-run luxury resort supplies oodles of summer rest and relaxation.
All the 108 large rooms use lashings of cream and light beige tones to complement blonde wood detailing, travertine floors, and floor-to-ceiling windows, creating a chic, modern, and minimalist beach vibe. All have balconies with either views over the sea or garden.
Up the decadence level, and upgrade yourself to a suite or villa for their large outdoor terraces with sweeping vistas across the coastline.
After spending a lazy day on the white-sand beach that rims the hotel, or soaking up the sun beside the infinity pool, guests can indulge in therapy baths and massages at the Bodrum EDITION'S spa.
2. TUI SENSATORI Resort Barut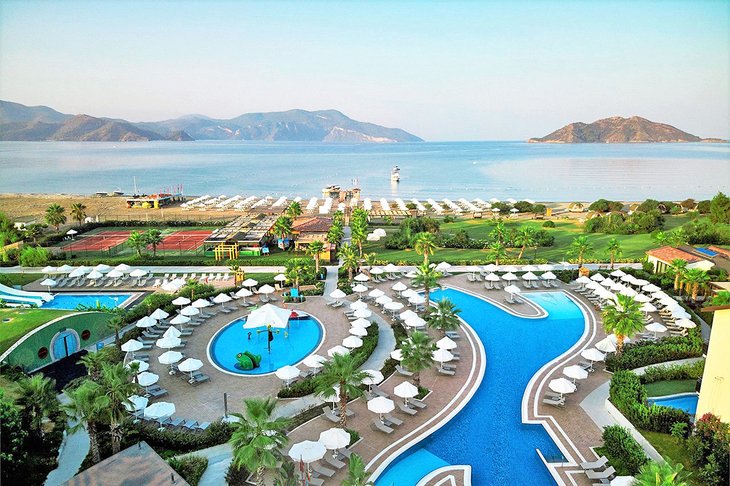 Overlooking Fethiye Bay, the TUI SENSATORI Resort Barut sprawls along the coastline, fronting a wide, yawning stretch of beach speckled with private cabanas for exclusive beach lounging.
Seven swimming pools throughout the resort mean there's always room for swimming and sunbathing. The separate pool area devoted to kids, with water playground equipment, an activity pool, and waterslide pool, easily divides the action, creating space for fun and activities well away from those who just want to relax.
Active family members can take part in yoga classes, and watersports courses including learning to windsurf or dive. The resort has both tennis and badminton courts plus a running track, as well as an extensively equipped fitness center that also runs Pilates and Zumba classes.
As well as all the water fun, kids are well taken care of here with specific child-friendly activities and areas reserved for little ones plus their Play House service, which provides entertainment, theater, and activities throughout the day and into the evening.
With the kids occupied at the Play House, parents have a great opportunity to indulge in a bit of pampering in the resort's Turkish bath.
3. Lukka Exclusive Hotel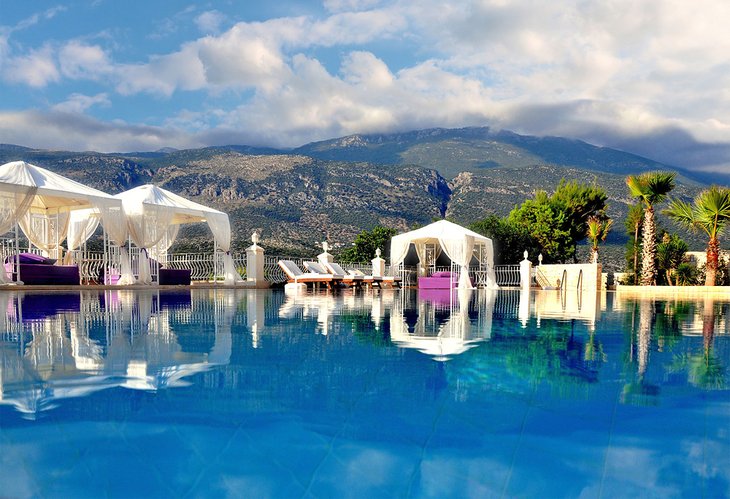 Sitting on the rocky coastline of the Çukurbağ Peninsula, outside the harbor village of Kaş, this adults-only small resort has multiple terraces that tumble down to the shorefront, where platforms offer direct access into the sea. The large pool above, rimmed by cabanas and sun loungers, has astounding panoramic views of the bay.
A huge swath of activities and tours can be booked here, from boat tours or sea kayaking to the sunken city ruins of Kekova to scuba diving, while guests happy just to relax can indulge in Thai-style massages from Lukka's masseuse.
4. Lara Barut Collection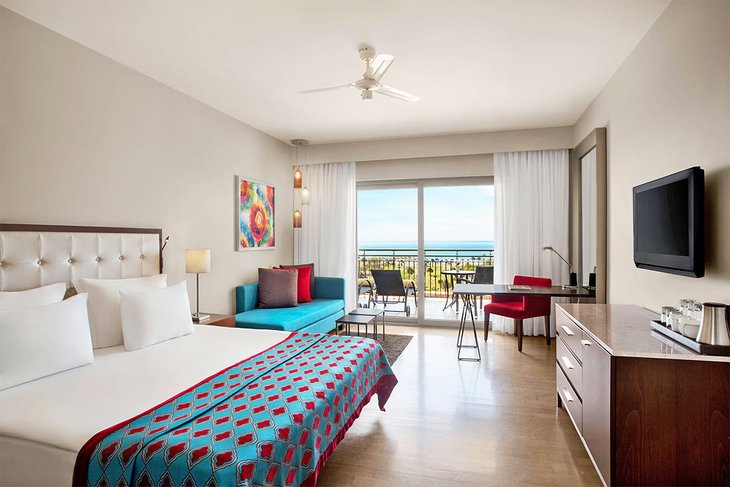 The private beach and six large pools means there's space for everyone, whether you want relaxing sunbathing or have the kids in tow. Gazebo and pavilion rental is available for guests who want a more exclusive beachfront experience.
Younger guests are well looked after with a kids' club, which offers a range of activities and facilities that includes a soft play area and outdoor activity playground. Evening performances featuring some of Turkey's most famed dance troupes will keep them entertained before bed.
The Lara Barut Spa offers a swag of treatments and massages for those who want to relax, ranging from Balinese-style massage to seaweed wraps.
With 12 restaurants on-site, this is a foodie traveler's top resort choice. Take a taste bud tour around the world during your stay, from Japanese at Iro Sushi Restaurant to Mediterranean classics at Akdeniz Fine Dining, with Antalya's regional specialties also represented at Tirmis Restaurant.
5. Rixos Premium Bodrum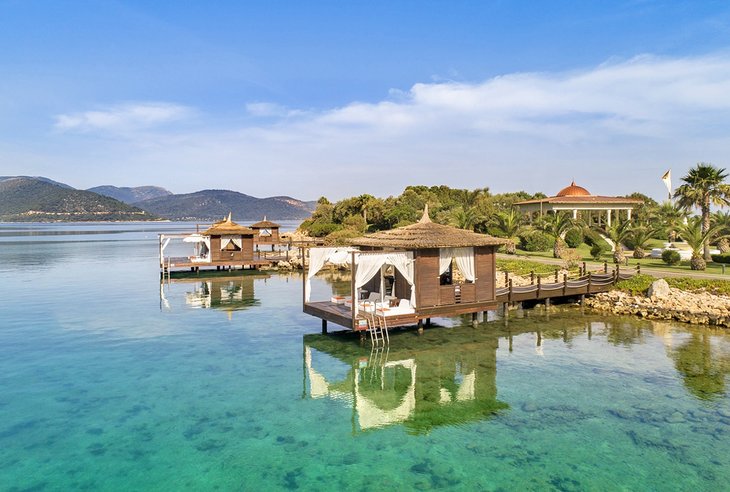 Set amid lush, tree-filled gardens that run down to a private beach, this large resort offers something for everyone.
Younger guests are kept busy with their own small swimming pool area with waterslides, plus activities provided by the Rixy Kids Club, while teens and older children can parasail and learn to dive or surf with the resort instructors on the beach.
As well as all the family-friendly facilities, the Rixos is big enough for couples to enjoy a peaceful stay away from the action. Chill out beside the large main pool area or along the sweep of fine white-sand beach with its jetty jutting out into the Aegean providing even more sun-lounging room.
There are four restaurants to keep dining interesting, with guests able to hop from Italian pizza and pasta favorites at Cento Per Cento to gorging on fine seafood, served Mediterranean style, at Kalamata.
For sheer relaxation, make sure to check in to the Rixos Spa during your stay. The lavish marble hammam (Turkish bath) here is the perfect place to experience Turkey's traditional bathing ritual in suitably regal surroundings.
Rooms (all with balconies overlooking either the sea or gardens) hat-tip Ottoman design with their turquoise ceramic tile detailing amid classic furnishings.
6. Rixos Premium Belek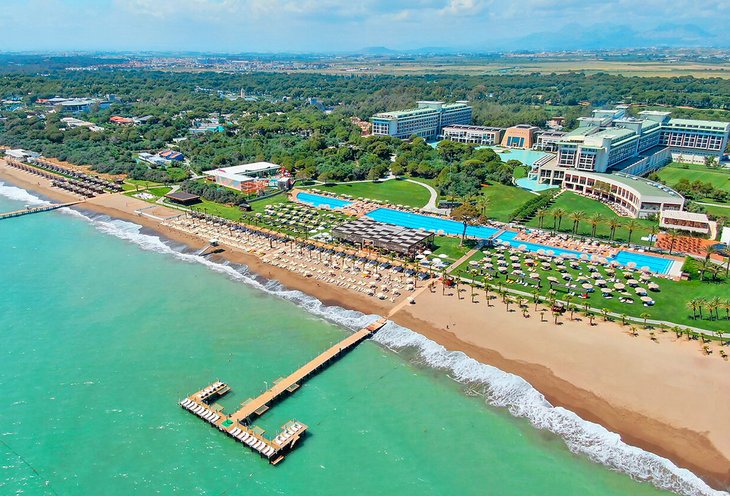 One of the Antalya region's top resort picks, this property is all about easygoing Mediterranean vacations.
Pick your sunbathing spot along the 700-meter length of private white sand out front, or instead choose where to head for a dip in one of the five swimming pools.
When you feel like dragging yourself off the sand, there's a range of water sports offered by the Exclusive Sports Club, and on-site tennis courts. For guests who want to combine some golf into their sun-and-sea vacation, the Gloria Golf Club is handily nearby.
Particularly good for foodie travelers, the Rixos Premium Belek has seven restaurants, so you can feast on a range of cuisines spanning the globe during your stay.
7. Vogue Hotel Supreme Bodrum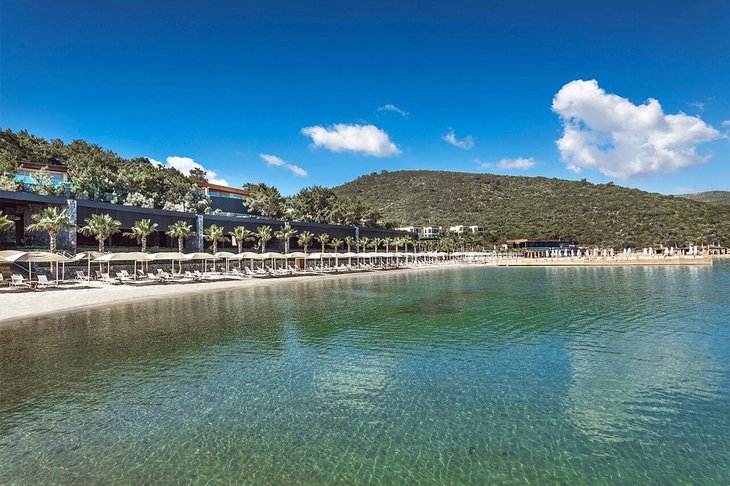 Fronting a long, but narrow, length of white-sand beach and with several swimming pools on-site, the resort offers plenty of space for swimming and sunbathing, even amid the July and August high season.
Kids are extra well catered for at the Vogue Hotel Supreme, and most visitors come here specifically for the family focus. The resort's own theme park incorporates the Candyland Waterpark, which hosts 25 waterslides, and Luna Park with a Ferris wheel, an 8D Cinema, and laser tag, as well as several rides suitable for tots.
Dining choice romps from Asian cuisine at Natsumi and Italian classics at La Frogole to Turkish kebabs at Nisk and local seafood at Seabream. Keeping up the child-friendly focus, there is even a restaurant specifically for children - perfect if you have a picky eater in your family.
Just when you thought it was all about the younger guests, the resort's Aqua Spa provides a decadent time-out for grown-ups. There's a hammam (Turkish bath), Snow room, Rain room, and a host of skin treatments and massages on offer for rejuvenation and relaxation.
8. Seven Seas Hotel Life
Children are kept busy with the resort's Kid's World area, boasting a dedicated pool (with waterslides) and playground activity areas, a games room and movie theater, plus a kids' club that offers a revolving range of activities throughout the day, as well as free swimming and tennis lessons.
Three restaurants on-site offer either seafood, classic Turkish, or Italian cuisine. The child-friendly focus continues with all having dedicated kids' menus.
9. Ölüdeniz Blu Luxury Unique Hotel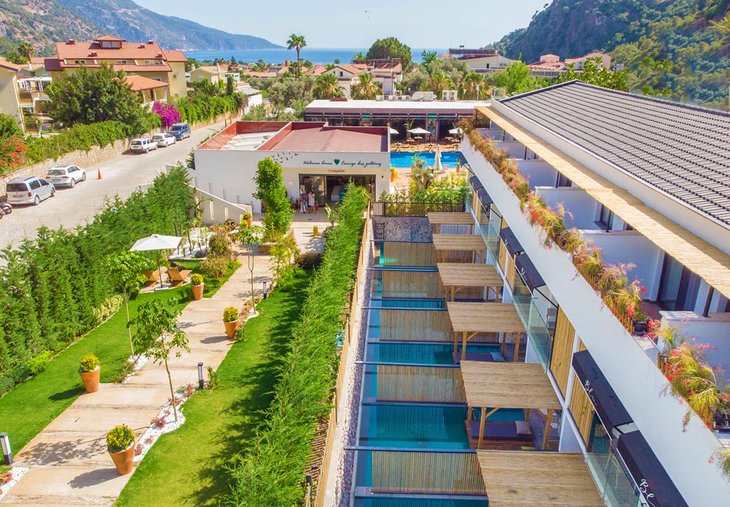 The pick of the rooms are the nine swim-up suites, all with their own terrace and private plunge pool, and the 11 honeymoon rooms, which come with outdoor Jacuzzis on the large private balconies, though all of the rooms are generously sized and decorated in a fresh, contemporary palette.
With the Araxa Spa offering a range of massages, as well as traditional hammam (Turkish bath) services, and a good-sized swimming pool in the garden, there's plenty of opportunities to relax on-site for days when you don't want to head to Ölüdeniz's beach and famous lagoon, just a short one-kilometer walk away.
10. Maxx Royal Belek Golf Resort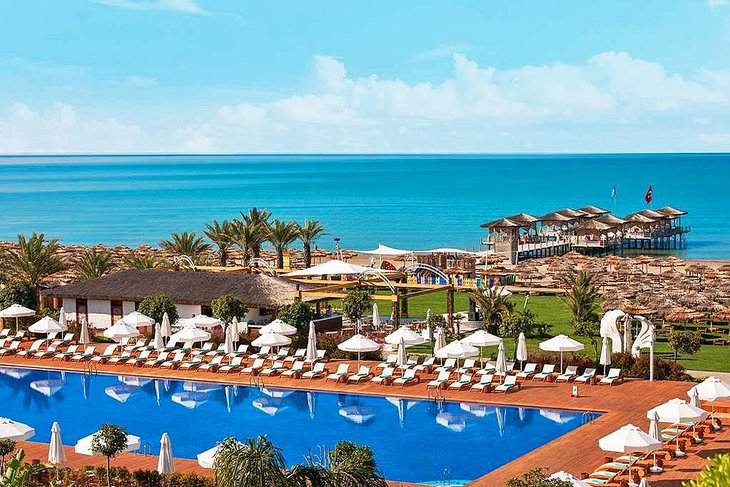 For keen golfers, the main attraction here is obvious. Maxx Royal is home to the world-class Montgomerie Maxx Royal Golf Course, which covers over 6,500 meters. While for beachgoers, the resort's 300-meter-long white-sand beach, with the shore's jetty home to overwater sun lounging pavilions, is the highlight.
Off the sand and the golf course, the range of pools and 3000-square-meter spa with its extensive treatment packages and traditional hammam (Turkish bath), provide plentiful opportunities for relaxation, while kids can let off steam at the resort's Cobra Kingdom water park, with its multiple waterslides.
All the light-filled modern suites come with private balconies that either overlook the seafront or the resort's lush gardens, and there is plenty of suite choice for vacationing families and groups of traveling friends.
For larger families and groups, Maxx Royal's choice of villas are set within the forest surroundings of the golf course for extra privacy.
11. Kibala Hotel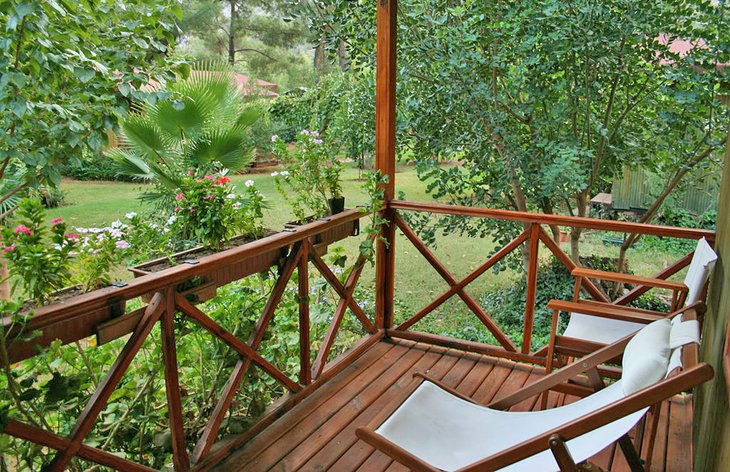 Kibala Hotel symbolizes Cıralı's laid-back style perfectly. Large wooden cabins, with big terraces, sit amid a lush garden full of fruit trees and scattered with hammocks, while the restaurant is all about locally grown produce and traditional home cooking. It's all backed by the craggy hills and only a short walk to Çıralı's sand.
12. Crowne Plaza Antalya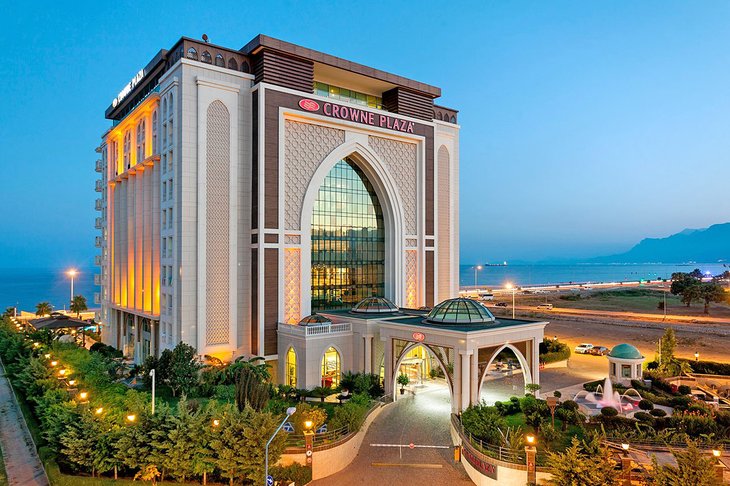 All the 194 rooms have classic hotel styling, though you need to upgrade for sea views and a balcony.
Antalya's favorite strip of sand is just outside the hotel door, but you're still within easy reach of the city center with its old town district, great for travelers who want to do more than laze on the sand.
There's a large pool area and the Zeus Spa, with both Turkish bath and Finnish-style sauna on-site, for extra relaxation.
13. Jiva Beach Resort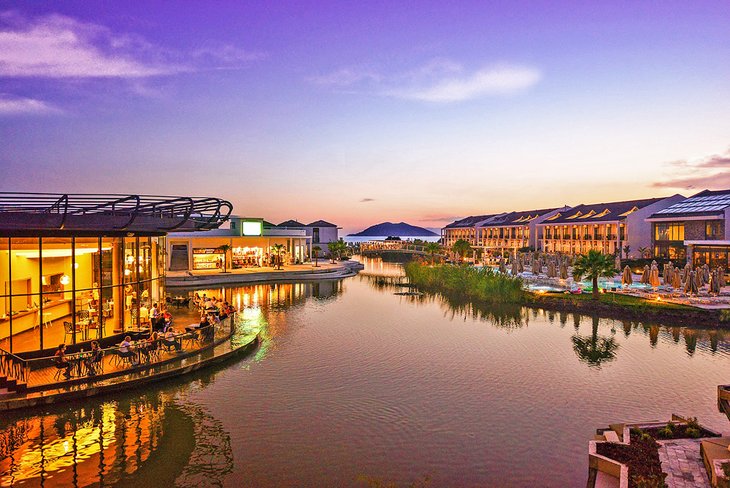 This five-star all-inclusive mega-resort on Çalıs Beach offers contemporary styled rooms, all with balconies or terraces, with many opening up directly onto the pools, or beside the resort's lake, for waterside living at its best.
There are five swimming pools, so there's room for everyone, whether the kids need to burn off some energy at the activities pool with its waterslides, or you want to swim lengths or sunbathe.
If you need further relaxation, head to the spa for its traditional Turkish bath treatment or a massage.
14. Acanthus & Cennet Barut Collection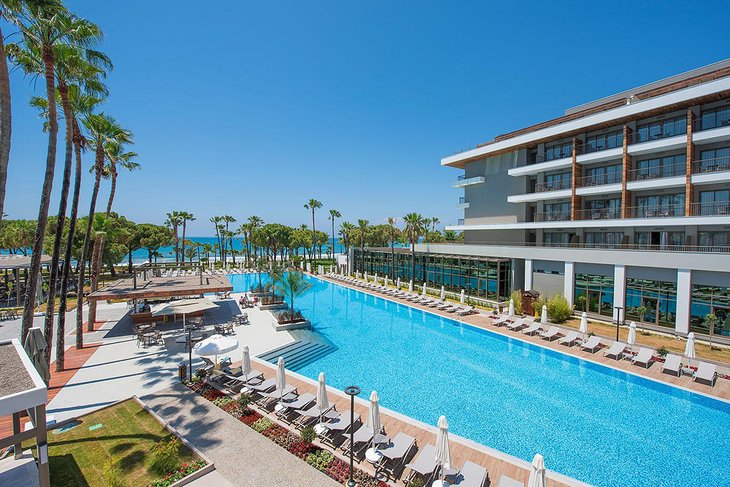 Highly contemporary interiors, with designer lighting and wood accents, throughout the resort, exude a sleek, modernist ambience that continues into the large rooms (all with balconies) with their neutral tones and airy feel.
The vast main swimming pool is the resort's main focus, while the private strip of beach is only a few steps away. A separate kids' pool lets children splash about safely, and there are plenty of water sports offered on the beachfront for teens and older kids.
15. Hotel Su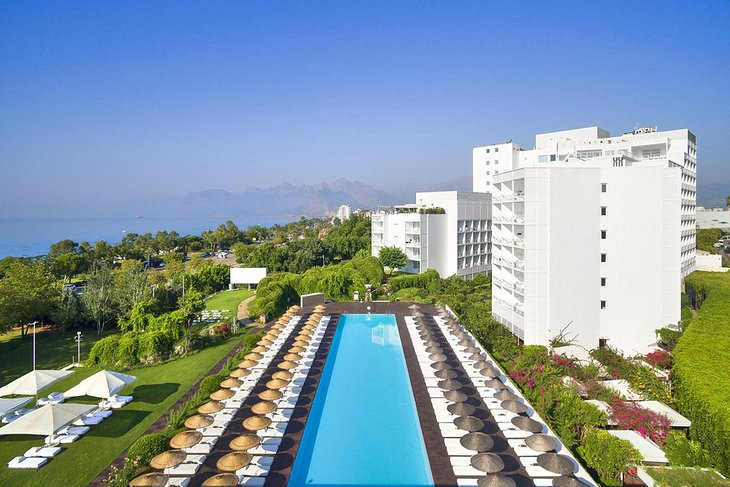 The hotel's distinct white-on-white style gives both the deluxe rooms and suites a sleek, modernist edge over neighboring resorts, and all the accommodation options have large balconies, with views over the seafront or jagged mountains behind.
With five dining spaces, from the specialist Sushi Restaurant to the Mediterranean and seafood dishes offered by Moonlight Restaurant and its large outdoor terrace overlooking the sea, there's plenty of choice for all guests.
16. Atlantique Holiday Club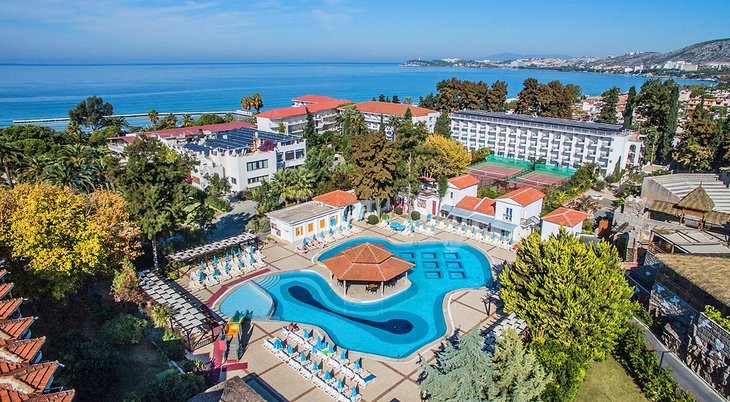 Fully set up with families in mind, this resort is all about offering guests of all ages plenty of activities and entertainment.
Amid the extensive grounds, full of shady palm trees, you'll find the Tortuga Waterpark, with 14 waterslides, an adventure-activity pool, and a lazy river. The resort's ConnectKids Club is also based here with a full roster of daily activities for smaller children.
For more relaxing activities, there are two large swimming pools (with one reserved for adults only) and the resort's long strip of fine, white-sand beach.
For pampering after a long day of swimming and sunbathing, the Sabai Spa offers a full range of wellness treatments and massages, as well as a traditional hammam (Turkish bath) experience.
Four restaurants, including one based inside the water park and one on the beach, mean there are plenty of dining options, while the resort's entertainment team provide regular entertainment and events in the evening.
All rooms here have balconies and are decked out in a fresh and beachy blue-and-white theme, with good-value family options available.