16 Best All-Inclusive Resorts in Antalya
We may earn a commission from affiliate links ()
Antalya is one of Turkey's Mediterranean vacation hot spots.
An international clientele flocks to this seafront city throughout the summer months to laze on a coastline fringed by sweeps of sand and backed by the jagged peaks of the Taurus Mountains.
One of the bonuses of a holiday here is that visitors have both the beach and the tourist attractions and buzzing cultural life of a big city on hand.
Some of Turkey's most famous ancient archaeological sites, including the great theater of Aspendos and the vast city ruins of Perge and Termessos are also within day-tripping distance from the sand.
Get some ideas for your Antalya stay with our list of the best all-inclusive resorts in Antalya.
1. Rixos Premium Belek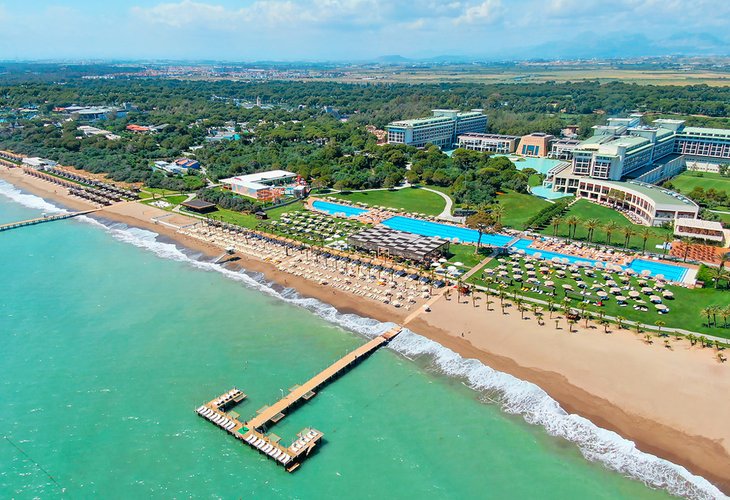 The wide stretch of private sand here rambles for 700 meters, while the resort grounds encompass thick pine forests, giving guests the feeling they're stepping inside a hidden, exclusive world.
Families love it here for the kids-stay-free policy and the resort's dedication to family-friendly activities and entertainment.
Child-focused facilities include a kids' pool and playground areas, while the kids' club works hard to keep younger guests happy with a wide program of things to do, shows, and classes.
The Rixos Premium Belek is particularly good for active guests who itch to get off the sand, and it's a favorite with golfers.
As well as five swimming pools (the biggest spanning 2,000 square meters), the resort's Exclusive Sports Club can organize everything from jet skiing to tennis (there are seven tennis courts on-site), as well as setting up your golfing needs at the Gloria Golf Club just behind the resort.
For guests here to simply chill out, the Anjana Spa provides a sumptuous palatial environment, inspired by Ottoman palace interiors, to indulge in a hammam (Turkish bath), facial, or body treatment.
2. Liberty Hotels Lara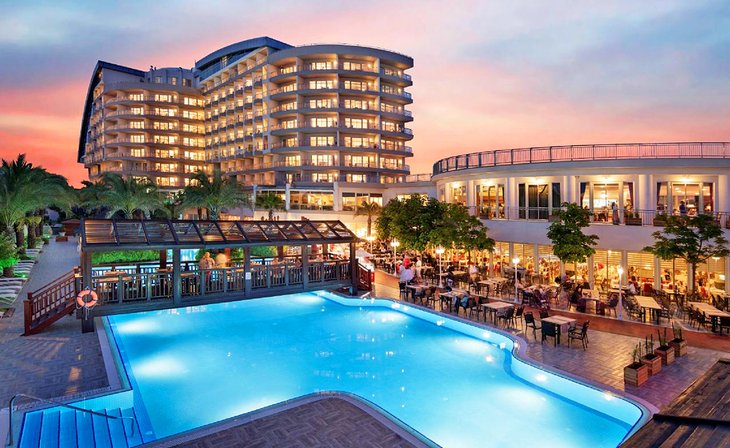 Set within lush, landscaped gardens and fronted by a manicured slice of beach, this five-star all-inclusive has 311 rooms, all comfortable and furnished in classic hotel style.
The range of room options, from "economy" to "duplex" and "family," means all budgets are catered for. It's well worth upgrading from an "economy" room to a "standard" for the balcony.
The mammoth, central pool area incorporates a vast main pool, shallow children's pool, and a pool with waterslides, as well as an area dedicated to adults who want to relax.
The kids' club offers a wide-ranging schedule of activities throughout the day to keep little ones entertained, ranging from theater shows to art classes, while the animation team hosts regular evening entertainment with a family-friendly feel.
3. Calista Luxury Resort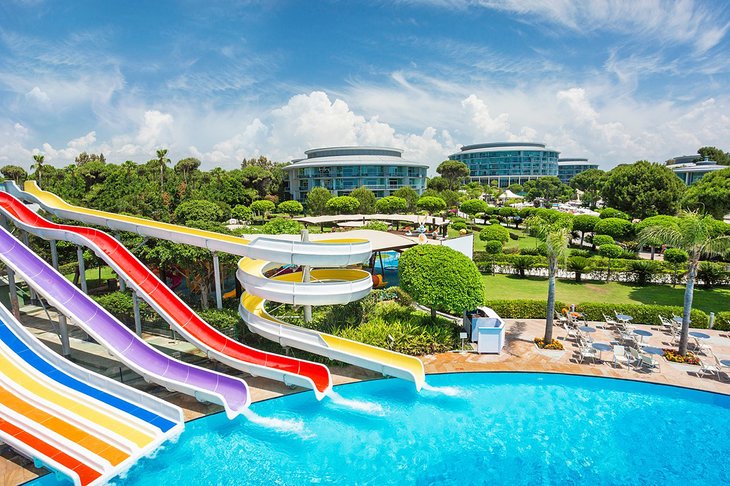 The 600 rooms here are some of Belek's best. All are large and light-filled, with good-sized balconies and sophisticated contemporary décor in soothing neutral tones of cream, rust, and bronze.
With 10 restaurants on-site, this is one of the best places to visit for guests seeking a good range of evening dining choice.
Four huge swimming pools sit within gardens of mature trees, which lead down to the sand. On the beach, the resort's Surf & Sailing School keeps active guests occupied with water sports, while there are also five tennis courts and a bowling alley for those that tire of sunbathing.
4. Rixos Sungate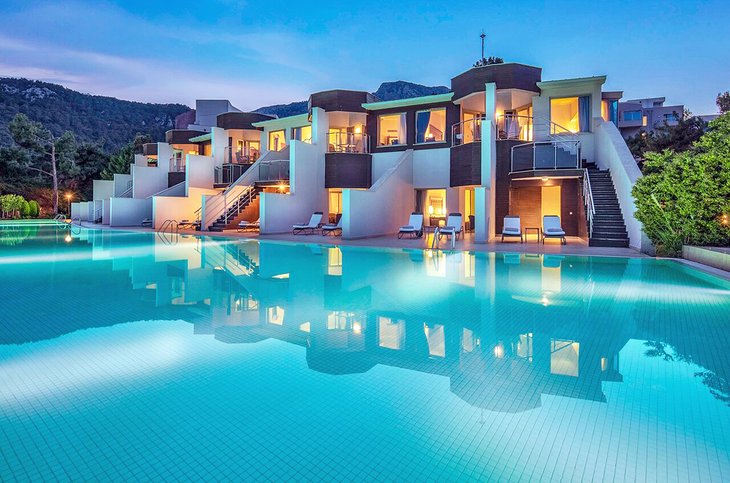 Fully renovated in early 2020, all 1,094 light-filled, modern rooms at this mega-resort have been given a suave facelift. For couples, it's worthwhile upgrading to a sea-view room. Families have a mammoth amount of accommodation choice, ranging from luxurious two-bedroom pool houses and villas to garden-view suites.
With 10 swimming pools and a 720-meter-long beach rimmed by two long piers there are plentiful places for sunbathing and relaxing, while those looking for more action will find parasailing, windsurfing, kayaking, and a bundle of other water sports, offered on the beach.
5. Akka Antedon Hotel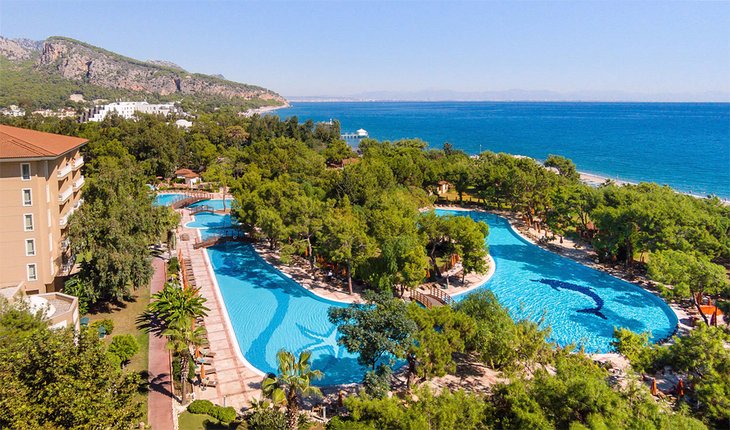 Rooms are modern and classically styled, and all come with balconies either overlooking the shore or the lush grounds and mountains beyond.
Windsurfing and sailing lessons are available on the wide stretch of fine sand while the huge lagoon-style pool is all about stylish summer sun-sloth inaction. There's also a separate pool area with waterslides for children.
6. DoubleTree by Hilton Antalya-Kemer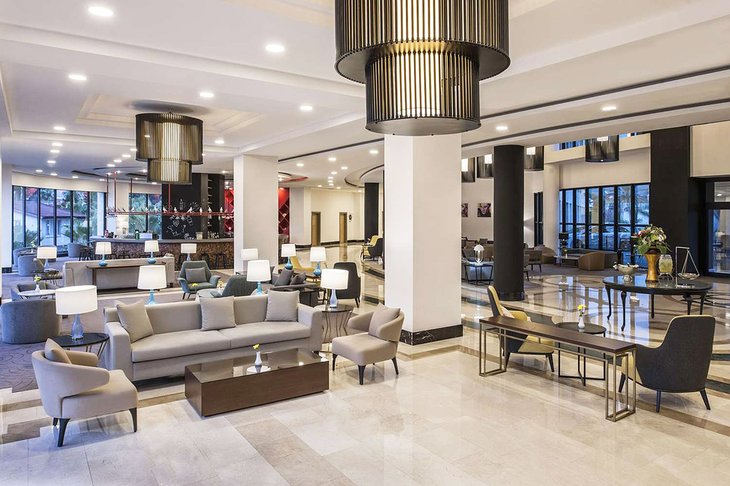 You won't need to look outside for extra dining, though, as The Double Tree's restaurant choice is top-notch. There's Italian, seafood specialties, Moroccan, and barbecue restaurant options, plus the resort has a food-truck area with 12 different street-food kitchens for casual dining and snacking throughout the day.
The narrow strip of beach can be a bit of a squeeze during high season, but the large pier and swimming pool area provide extra sunbathing room.
7. The Land of Legends Kingdom Hotel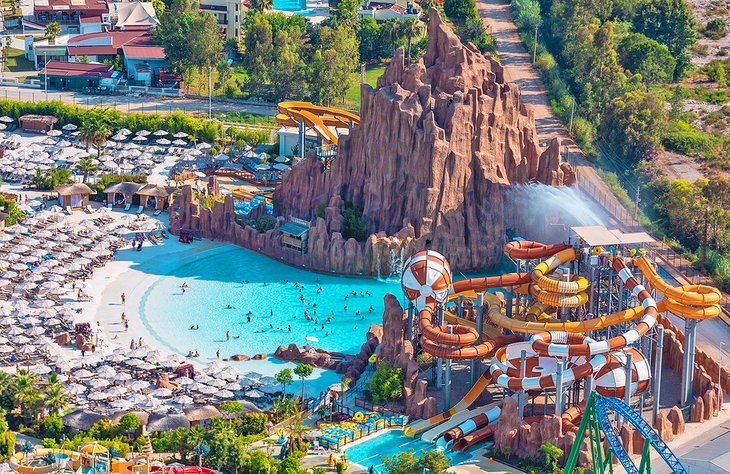 In the Belek Beach area (guests here use the beach at the Rixos Premium Hotel), this resort is home to a huge aqua park, with a mind-boggling array of waterslides and water-based theme park rides to suit all ages, from tots to thrill seekers. The park also boasts a wave pool, a lazy river for kayaking, and a float-rider pool for fixed wave surfing.
Out of the water, the park also contains several roller coasters and other adrenalin-fueled theme park rides, as well as gentler rides for smaller guests and a 5D cinema experience.
8. Porto Bello Hotel Resort & Spa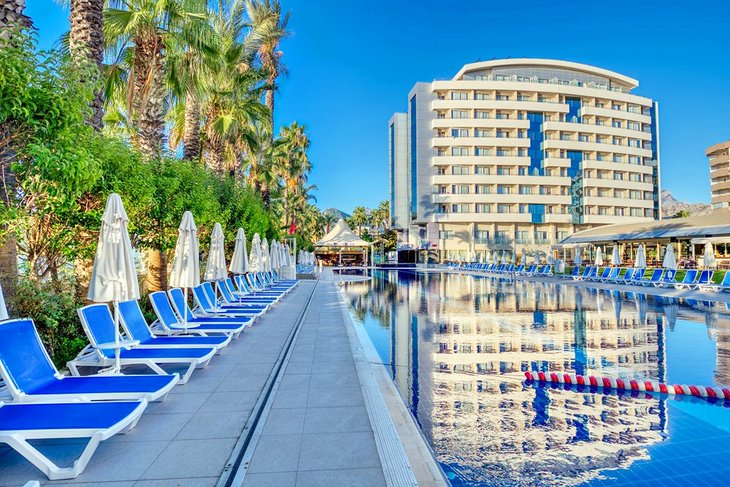 Rooms are a tad dated in style, but all have balconies either overlooking the mountains or the seafront. There are two restaurants on-site, both offering international menus.
9. Limak Lara Deluxe Hotel & Resort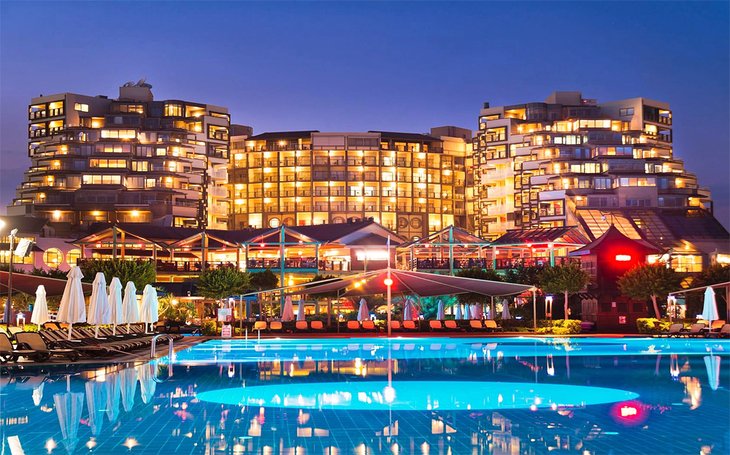 If you have a picky eater in tow, this is a great vacation option. Diners are able to choose between Tex-Mex, Indian, Southeast Asian fusion, Italian, and Turkish at the a la carte restaurants, plus two other restaurants serve international buffets.
The vast swimming pool area, set between palms and landscaped gardens, includes dedicated pools for chilling out plus kid-focused water playground pools and a waterslide pool. It's all fronted by the resort's private beach, where non-motorized water sports are available free of charge for guests.
10. Pirate's Beach Club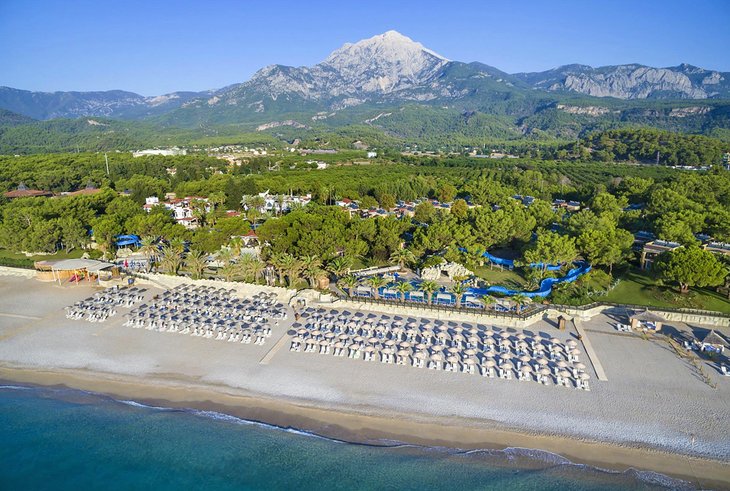 This five-star resort has only 268 rooms, all with small balconies and turquoise accents jazzing up the classic hotel design. It's well worth upgrading to a suite for the larger balconies, living area, and more contemporary style.
Despite its smaller size, the resort still has plenty of dining choice, with five restaurants offering a range of international cuisines.
As well as the beach, which is the resort's main focus, there are three swimming pools, including a children's pool and a long waterslide.
11. Rixos Premium Tekirova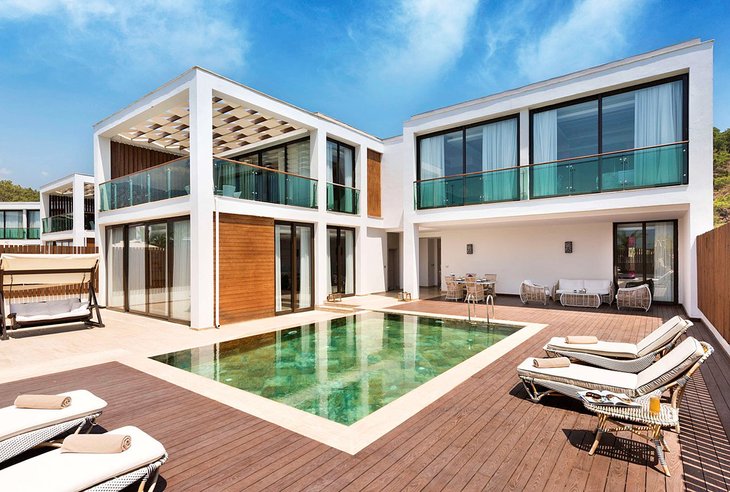 There's a cinema, a bowling alley, and plenty of family-friendly entertainment at night, while the Exclusive Sports Club offers kayaking off the beach and yoga classes in the grounds.
For something more relaxing head to the Anjuna Spa for a full range of skin treatments and massages.
Eight swimming pools - with the largest spanning over 3,000 square meters - means there's space for every kind of guest, whether you want to chill out poolside or keep the kids busy at the resort's aqua park, which has nine waterslides.
With 11 restaurants, guests can globe-trot from Latin American flavors at Cactus Restaurant to Southeast Asian fusion at Mandarin Restaurant, with stops for Italian classics at La Rosetta and Turkish cuisine at Alaturca along the way.
12. Nirvana Mediterranean Excellence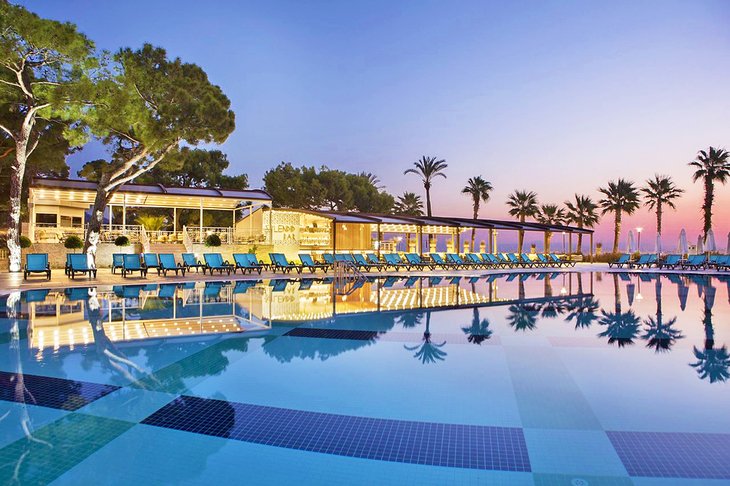 The central swimming pool offers more chilling-out areas, while a good-sized separate aqua park, set snug amid the trees, will keep the kids happy. For something less active, head to the spa with its multitude of body treatments and Thai massages.
Rooms are modern and minimally styled in beige tones, all either with balconies or opening out onto a ground-floor seating area.
13. Concorde Deluxe Resort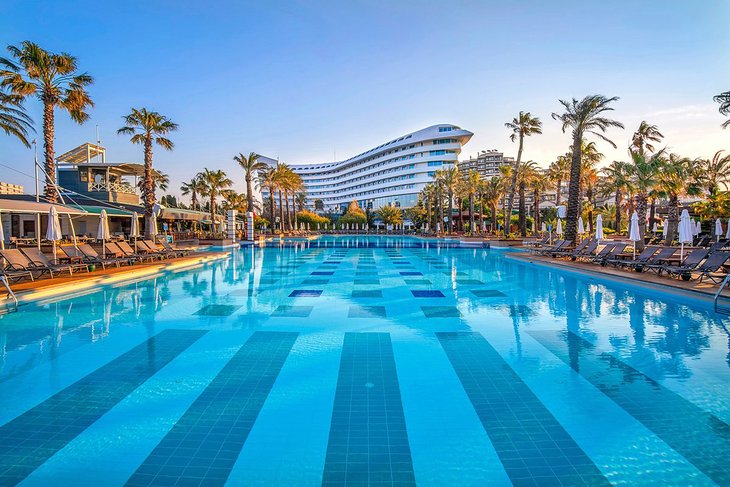 All the contemporary-styled rooms and suites here overlook the seafront and have balconies to make the most of the vistas.
With plenty of daytime activity options specifically catering to younger guests, and regular evening entertainment shows, this is a solid family-friendly resort.
The Moppet Kids' Club runs an extensive program of sport and social events to keep little ones busy, while the Strike Bowling Center; mini-golf; and a range of sports courts, from basketball to tennis; keep older children active when they want a break from sea and sun.
Multiple swimming pools include both indoor and outdoor options, a waterslide pool, and an adults-only "relax pool."
14. Delphin Imperial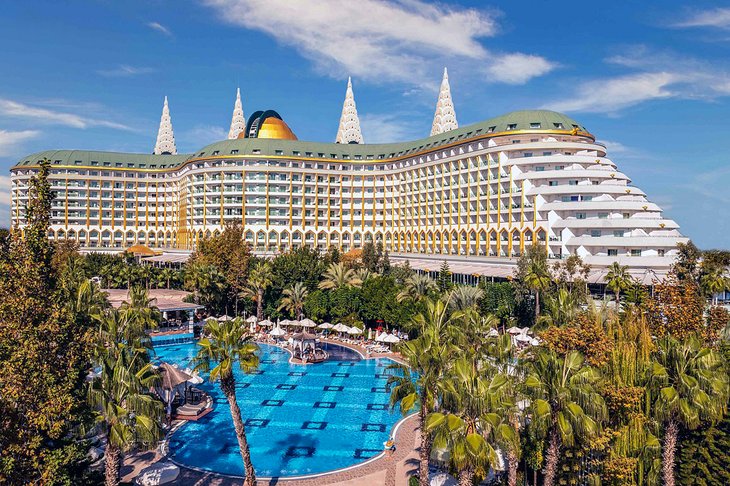 Both the resort's wide strip of sand and the vast swimming pool area have plenty of space for sunbathing. The pool area combines several different pools, including one devoted to waterslides for the kids to run off some energy.
Away from swimming and slothing, the resort offers tennis courts, a cinema, tenpin bowling, and a kids' club with a changing program of activities, so younger guests will never get bored.
Food-wise, 10 restaurants offer a globe-trotting gourmet experience for guests, with everything from Spanish tapas to Japanese cuisine available.
15. Nirvana Cosmopolitan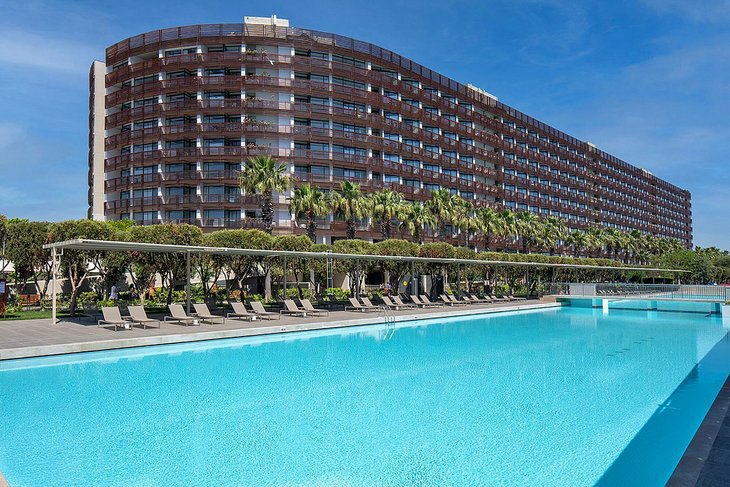 Nirvana Cosmopolitan offers a resort vacation concept that combines wellness with sun, sea, and relaxation.
The resort regularly runs detox and yoga holidays, but even on a more typical vacation, you can benefit from the wellness focus with the ME Spa by L'Occitane a central part of many guests' stay. As well as beauty rituals and a traditional Turkish bath, the spa's focus is on detoxifying and aromatherapy treatments and Ayurvedic massage.
The nine restaurants include the fully vegan menu of Ch'i Vegan Foods along with restaurants serving Turkish food, Japanese cuisine, steaks, and seafood, while among the resort's several cafés, you'll find the Flower House, specializing in herbal teas.
16. Sherwood Exclusive Lara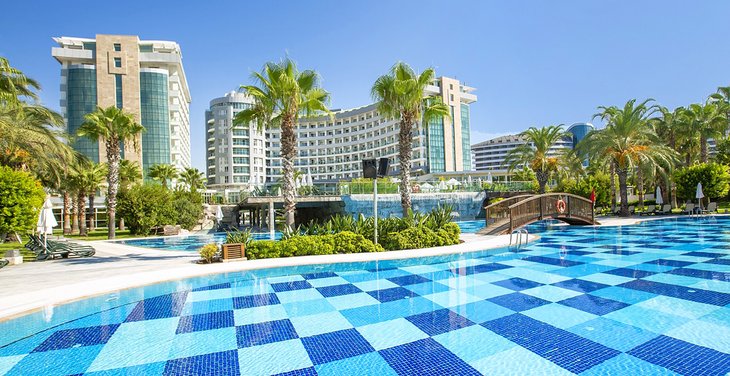 For easygoing Mediterranean vibes, rooms and suites here (with lots of options for families) are decked out in blue-grey tones, and all come with sea views from their balconies.
Although relaxation is the resort's central theme, kids are well looked after here.