Falkland Islands in Pictures: 11 Beautiful Places to Photograph
Despite their relative remoteness – they're located over 12,000 kilometers from Britain, of which they're a part – the Falkland Islands have become an increasingly popular travel destination for tourists and adventure seekers.
Covering a vast area and consisting of 778 islands, this British Overseas Territory offers no end of beautiful pictures for those who make the effort to get here. The Falklands – or Islas Malvinas, as they're known to Argentinians – are extremely popular among wildlife fans, many of whom will travel from here to the Antarctic, but not without first checking out native species of animals, marine life, and birds.
To help you plan where to go for the best possible photos and selfies, be sure to review our list of the top beautiful places to photograph in the Falkland Islands.
1. Volunteer Point, East Falkland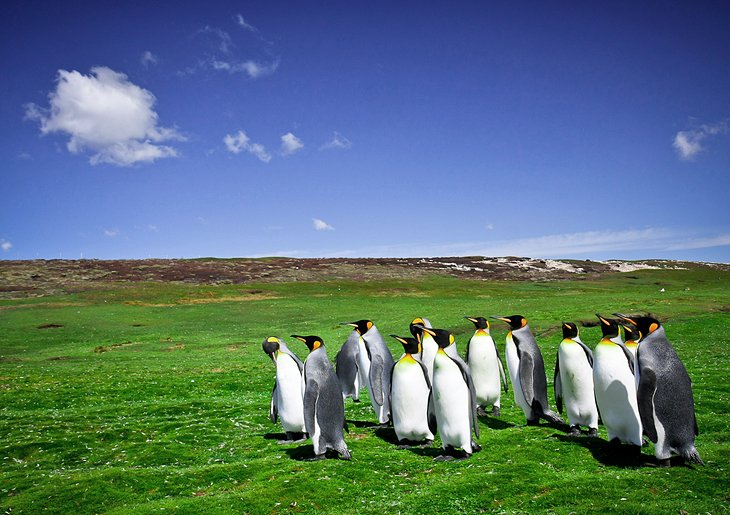 Whether arriving by cruise ship or by air, the big draw for visitors to the Falkland Islands is its rich diversity of wildlife. Visitors will typically join a guided tour to Volunteer Point, some 90 minutes' drive from the capital of Stanley, where they'll be treated to an up-close and unforgettable wildlife experience.
Have your camera ready not just for the incredible views along the way, but also for the chance to photograph a variety of creatures in their natural habitats, from king penguins (shown here) to albatrosses, sea lions, and elephant seals, along with dolphins and whales.
2. 1982 Liberation Memorial, Stanley, East Falkland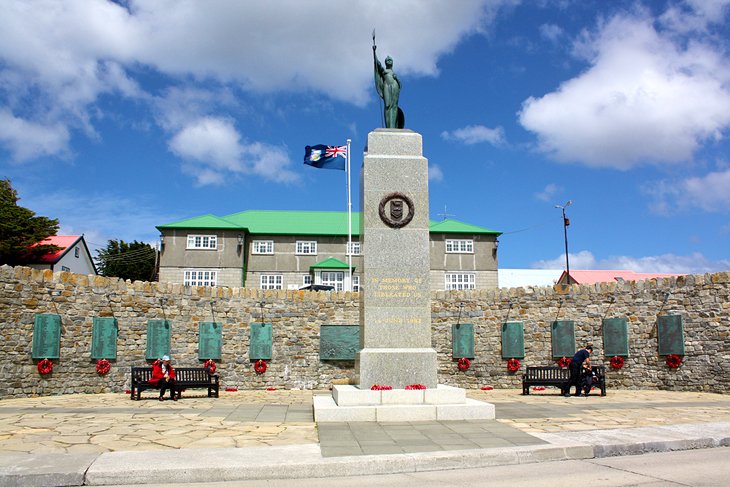 Britain's war with Argentina in 1982, though short, left a significant mark on the Falkland Islands and its people. While dotted around the islands are evidence of the often intense fighting that took place, it's in Stanley that you'll find the 1982 Liberation Memorial, a monument dedicated to the British forces involved in the conflict.
The war memorial makes a great photo, especially if you're here during the special services and ceremonies held in June and again on Remembrance Day.
3. Christ Church Cathedral, Stanley, East Falkland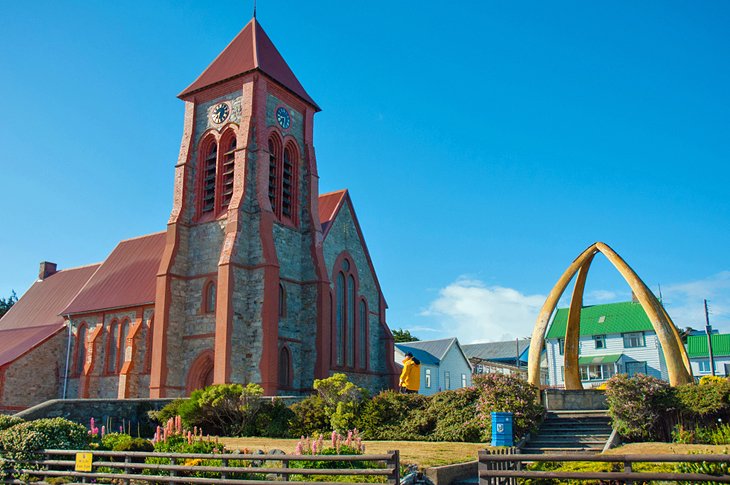 While in Stanley, you'll also want to get your camera out for a photo of Christ Church Cathedral. Built in 1892, this fine looking church is also surprisingly photogenic on the inside, too.
Also of note here are the whalebones in front of the building, resembling an arch, erected in 1933 to commemorate 100 years of British rule.
4. Gypsy Cove, East Falkland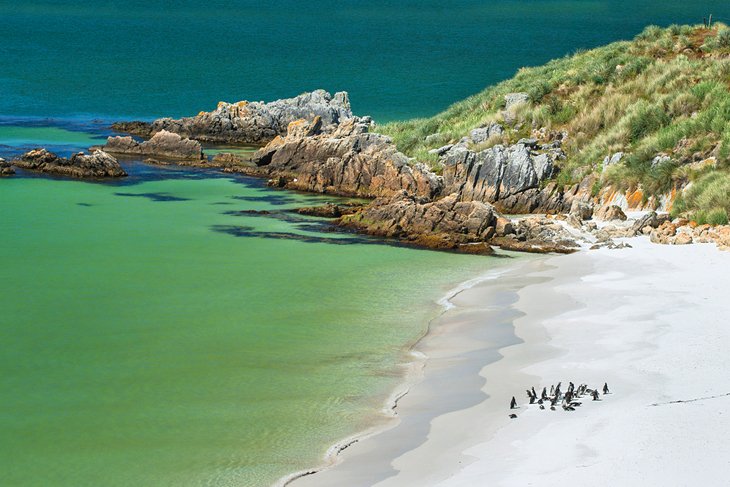 Paying a visit to lovely Gypsy Cove has long been one of the top things to do in the Falkland Islands. The big draw here is the wildlife - more specifically, the large colony of Magellanic penguins that call the cove home.
Although just 10 minutes from Stanley by car, if you've got the time, don your hiking boots and take a hike; it's only a 90-minute walk, and you'll be rewarded with great images not only of the cove as you approach, but also back toward Stanley.
5. The Wreck of the Lady Elizabeth, Stanley Harbour, East Falkland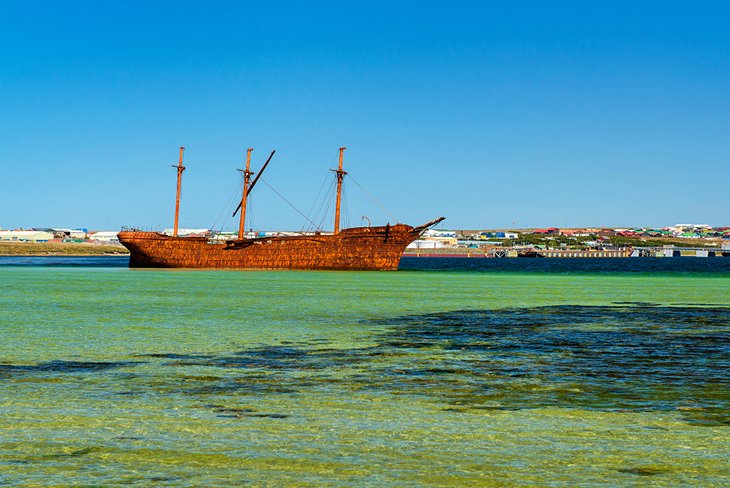 The wreck of the Lady Elizabeth in Stanley Harbour is certainly a photo-worthy landmark.
Abandoned here in the 1930s after breaking free of her moorings, she was launched in 1879 and remains an impressive site to this day.
6. Coffin's Harbour, West Falkland Islands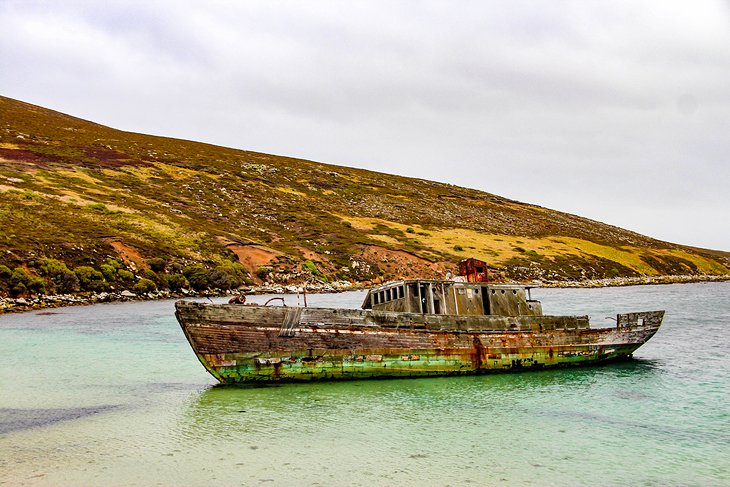 While even less densely populated than East Falkland, the region's other major land mass – West Falkland – is certainly worth a visit.
Though largely barren and devoid of trees, it's not without its great photo opportunities, especially around Coffin's Harbour, home to a number of interesting landmarks such as this shipwreck. The main community of Port Howard features a small museum and a few good places to stay.
7. Saunders Island, West Falkland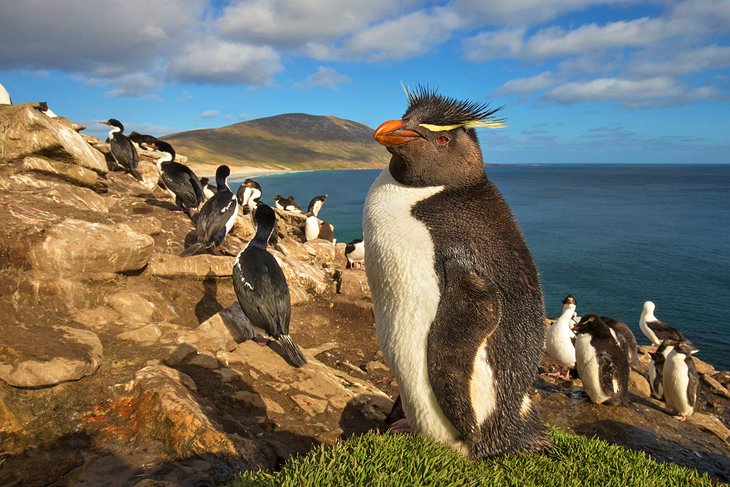 Located just off the much larger West Falkland island, Saunders Island is a delight to explore. Though the inland area is mostly inhabited by sheep, there are numerous wildlife spotting and photographic opportunities around its 106 kilometers of shoreline, including a number of gentoo penguin colonies.
The island also boasts a number of long and secluded beaches to explore.
8. Darwin, East Falkland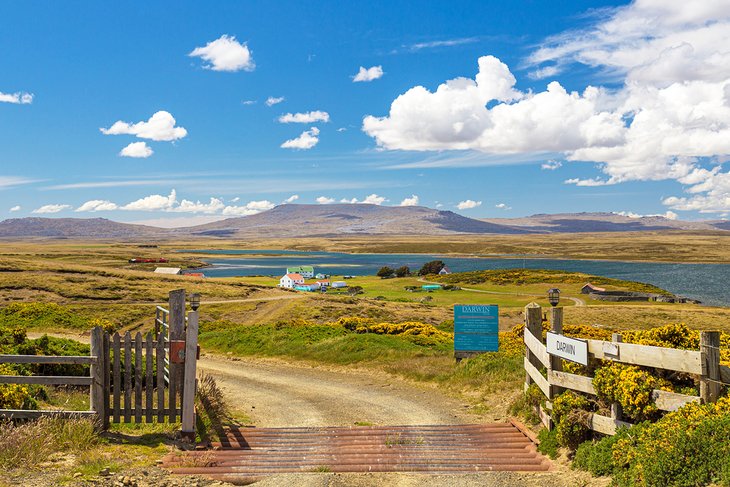 If you're able to hit the trail and visit some of the smaller communities on East Falklands, do so. A favorite among adventurous equestrian fans is the small hamlet of Darwin.
Here, in addition to enjoying the community's remoteness (it's an hour's drive from Stanley), you can saddle up and enjoy a horseback trekking experience. There's even a small racecourse. Though race days are not all that frequent (it's largely used by enthusiastic locals), they do make for a fun photo op if you're lucky enough to catch one.
9. Bodie Creek Suspension Bridge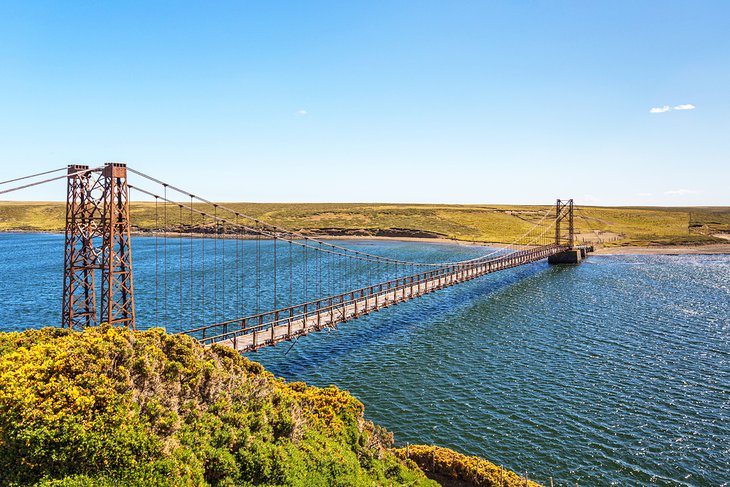 This extremely picturesque bridge often comes as a surprise to visitors to Goose Green (it's just 15 minutes' drive outside town). Built in 1925, it would perhaps look more at home in a busy metropolis rather than the remote Falkland Islands.
However, the bridge was designed to ease the transportation of sheep into Goose Green from surrounding pastures, navigating across Bodie Creek. Credited as the world's most southerly suspension bridge, it's certainly worth adding to your Falkland Islands photo itinerary.
10. St. Andrews Bay, South Georgia Island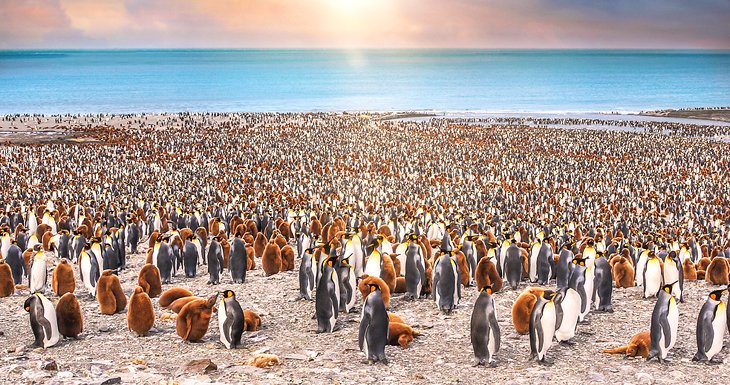 If you're able to include South Georgia Island in your Falklands itinerary, do it - and take your camera. Situated some 1,387 kilometers east of the Falklands, this glacier- and snow-covered island equals its larger neighbor in terms of its abundance of wildlife, as well as stunning scenery.
Highlights include a huge number of king penguins, many of them located in St. Andrews Bay, plus more than two million fur seals that visit each summer. There's also an impressive number of albatross (more than 250,000 at last count) that call the island home.
11. Jason Harbor, South Georgia Island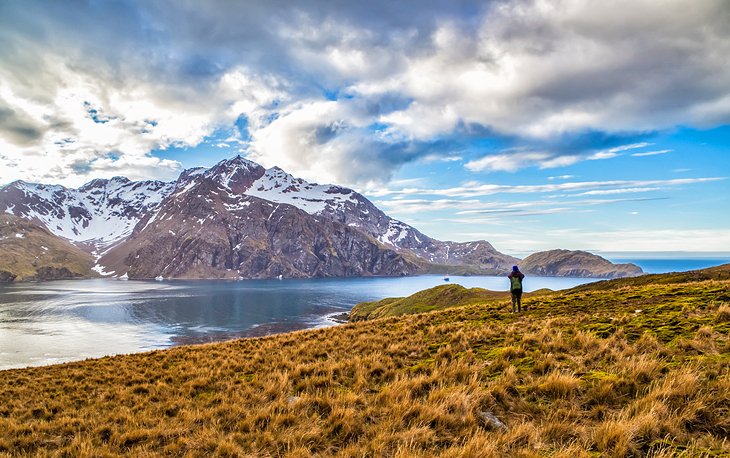 Also on South Georgia Island is the stunningly attractive Jason Harbor. Over one mile wide, the views across the bay toward the rugged, snow-clad mountains – as seen in this remarkable photo – make visiting well worth the effort.