11 Top-Rated Tourist Attractions in the Falkland Islands
Covering an area of around 7,500 square kilometers in the southern part of the Atlantic Ocean, the Falkland Islands - Islas Malvinas to the Argentinians - encompass some 778 islands. Despite the fact they're only 483 kilometers off the coast of Argentina and 12,000 kilometers from England, the islands are a British Overseas Territory (the British have laid claim to the islands since the 1700s).
The two largest islands in the archipelago, West Falkland and East Falkland, are where you'll find the majority of this tiny country's 3,000 or so residents (most of them of British descent).
Despite its remote location - or perhaps because of it - these cold, hilly islands attract a surprising number of tourists. Served by direct flights from the UK and South America, as well as visited by many cruise ships, the Falklands are perfectly situated to tap into the growing demand for tourists visiting the Antarctic.
The Falklands' main attraction is undoubtedly its wildlife. It boasts numerous species of birds and marine mammals, along with a number of great tour options that will get you up close to them. Other popular Falkland Island things to do include fishing, trekking, hiking, climbing, kayaking, and mountain biking.
Find the best places to visit and points of interest with our list of the top tourist attractions in the Falkland Islands.
1. Falkland Island Wildlife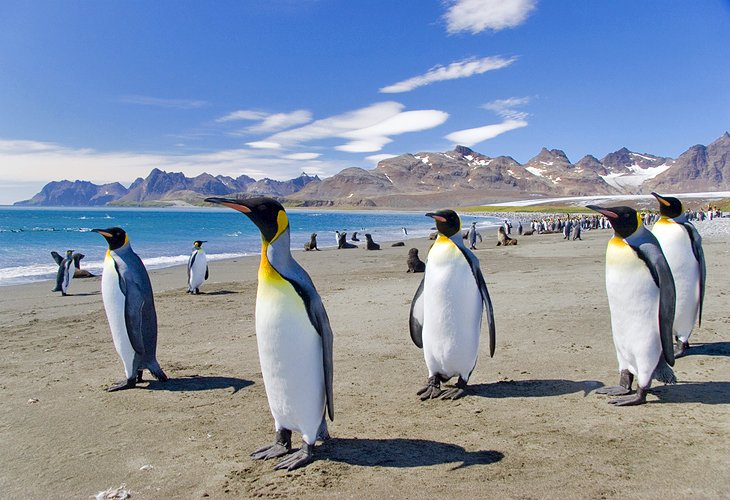 Wildlife and nature are what most visitors to the Falkland Islands come to see. Along with its famous colonies of penguins and albatrosses, sea lions, and elephant seals, 15 species of whales, dolphins, and a wide variety of birds (approximately 200 species of them) can be found throughout the islands. Two bird species, the Cobb's Wren and the Falkland Flightless Steamer Duck, are both unique to the Falklands.
Probably the most popular creatures here, however, are the island's six varieties of penguins. These include king, gentoo, rockhopper, macaroni, royal, and Magellanic penguins. While they can be seen in various locations across the islands, the most popular locations to see them are Gypsy Cove or Volunteer Point. A variety of tour options offer well-organized wildlife outings (be sure to make arrangements prior to your arrival).
There are also some unique insects living on the islands. These include the Queen of the Falklands Fritillary butterfly, along with 170 native flowering plants, 14 of which are found nowhere else in the world.
2. The Penguins of Volunteer Point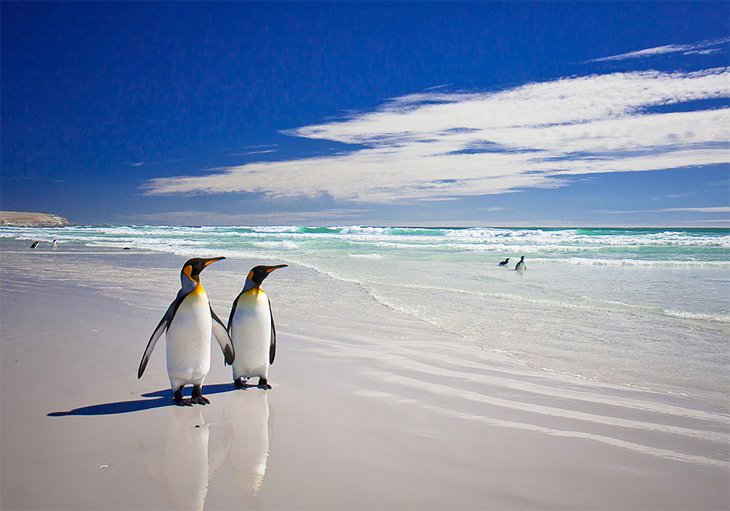 Located two hours by sometimes bumpy road from the capital of Stanley, Volunteer Point is a great place to get in some memorable wildlife watching. The big draw on this East Island location are the king penguins. Once nearly extinct, some 1,200 breeding pairs share a colony at Volunteer Point, although the area is also an important habitat for gentoo and Magellanic penguins.
Other native wildlife you're likely to spot (bring your binoculars) include steamer ducks and white bridled finches, as well as sea lions.
For those wanting to make the most of a visit, check out one of the well-organized Volunteer Point tours. In addition to handling all the arrangements, you'll benefit from a small group size (just four folks at a time, maximum), as well as a field expert to answer all your questions as you enjoy seeing the king penguins go about their business.
3. Stanley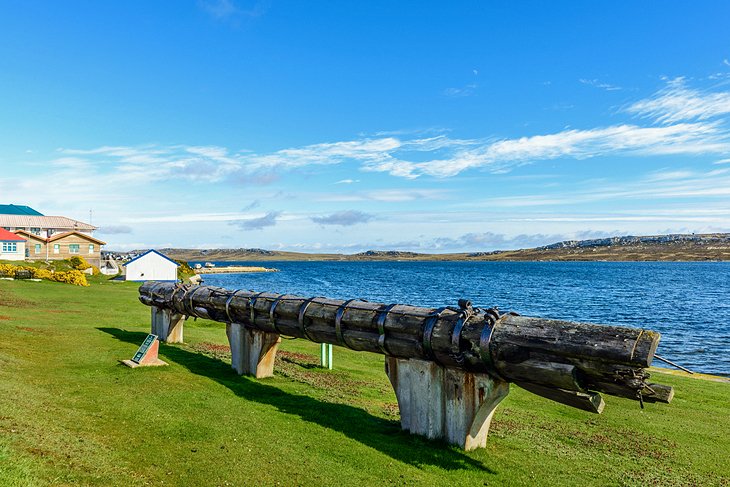 Located on East Island, Stanley is the capital of the Falkland Islands. It's also the island's major population center, and is home to more than 2,000 people.
Built on a north-facing slope to maximize exposure to the sun, many of the city's quaint wood clad homes are painted bright colors, with corrugated iron roofs, and overlook picturesque Stanley Harbour. Visitors particularly enjoy the very English flavor of Stanley, which boasts iconic red phone boxes and a handful of old inns.
A pleasant day can be spent exploring the streets on foot, taking in such sights as the many marine and military monuments, many of them dedicated to the Falkland War (Stanley was the scene of fighting between British and Argentine troops in 1982).
Also worth including on your Stanley sightseeing itinerary are the Victorian-era police station, as well as a variety of municipal structures such as the post office and court buildings.
Another highlight includes visiting the Jubilee Villas. These attractive old homes were built in 1887 to commemorate Queen Victoria's Diamond Jubilee. Also of note are the 150 year-old Colonists' Cottages on Pioneer Row, and the Tabernacle, a Victorian church built in 1892.
The city is also home to some excellent shopping, as the Falkland's are famous for their leather and woolen goods. Afterwards, few experiences can match dining at one of the harbor side cafés or restaurants.
4. Christ Church Cathedral and Whalebone Arch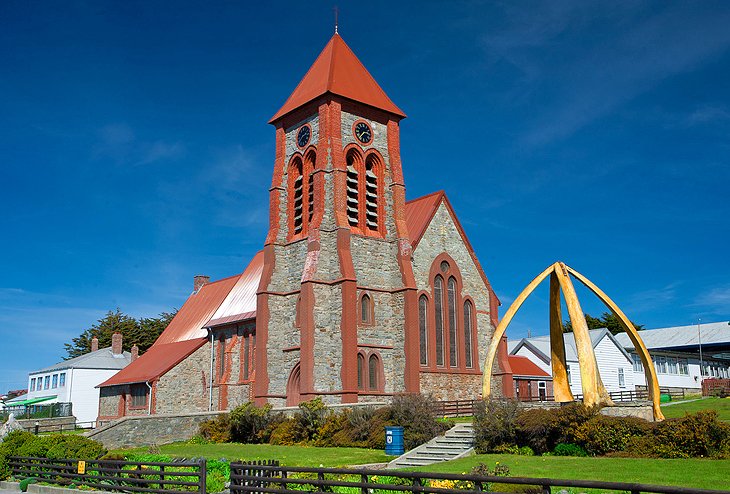 Pretty little Christ Church Cathedral, the world's southernmost Anglican cathedral, was consecrated in 1892. A visit here should top your list of things to do when in Stanley. Designed by Sir Arthur Blomfield, it's one of the few stone buildings in the Falkland Islands.
The cathedral grounds are where you'll find the unique Whalebone Arch. Made from the jaws of two massive blue whales in 1933, it was designed to commemorate the centenary of British rule. Standing beneath these impressive bones is certainly a humbling experience - and an ideal Falklands selfie opportunity.
Address: Ross Road, Stanley
5. The Historic Dockyard Museum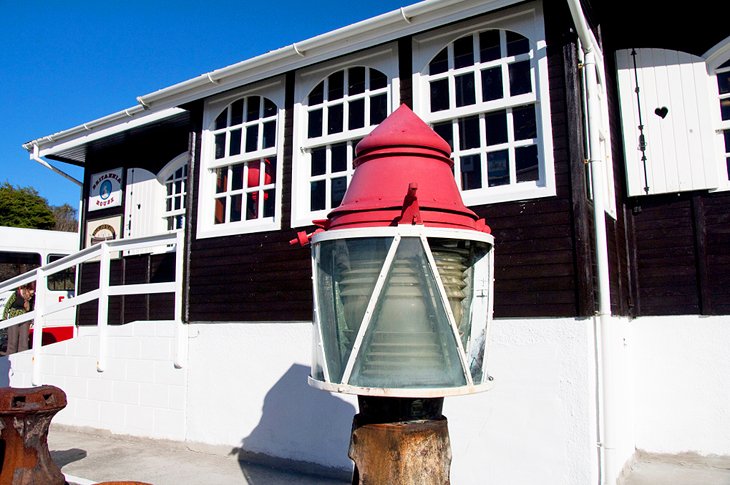 The Historic Dockyard Museum - part of the Falkland Islands National Trust - is a must-visit attraction in Stanley. Since it opened in 2014, this excellent museum has focused on the islands' rich maritime history. Highlights include exhibits and displays containing historic artifacts such as ship figureheads and items related to fishing, the main regional industry.
Other interesting tings to see are a fine natural history section including a collection of bones and fossils, as well as a great deal of information related to the islands' connection to nearby Antarctica.
The museum complex consists of a variety of interesting buildings, too. These comprise a storehouse and blacksmith shop, as well as some buildings that house collections of farm equipment, traditional musical equipment, and radio and telecommunications equipment. Also of interest are the displays focusing on the 1982 war with Argentina (it was near here that the British Task Force came ashore).
Address: Historic Dockyard Museum, Stanley, Falkland Islands
Official site: https://falklands-museum.com/historic-dockyard-museum
6. Cemeteries and Monuments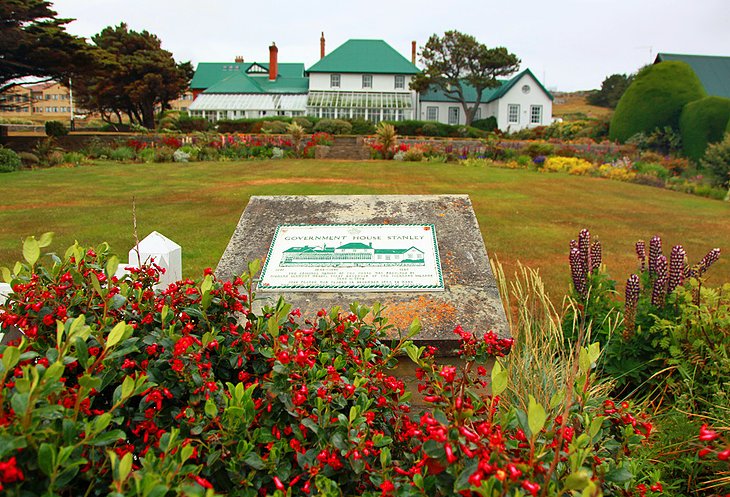 Stanley's old cemetery includes a number of interesting tombstones with inscriptions providing a glimpse into the lives of the early pioneers. The Cross of Sacrifice, on the north side of the cemetery, is a memorial to the Falkland Islanders killed in WWI and WWII.
Another military monument of note is Victory Green, a WWII memorial and the scene of an annual parade on the Queen's Birthday. The mast of the SS Great Britain also stands on the Green. The world's first iron-hulled passenger ship, now fully restored and on display in Bristol, spent a number of years languishing offshore here before being raised and towed back to Britain.
Also of note is the Battle Memorial on the grounds of Government House. This memorial commemorates the famous sea battle that took place here in 1914 between the German and British navies, one of the first naval conflicts of WWI.
Stanley is also where you'll find the 1982 Liberation Memorial, a tribute to the soldiers and civilians who lost their lives during the Falklands War.
7. East Falkland's Small Villages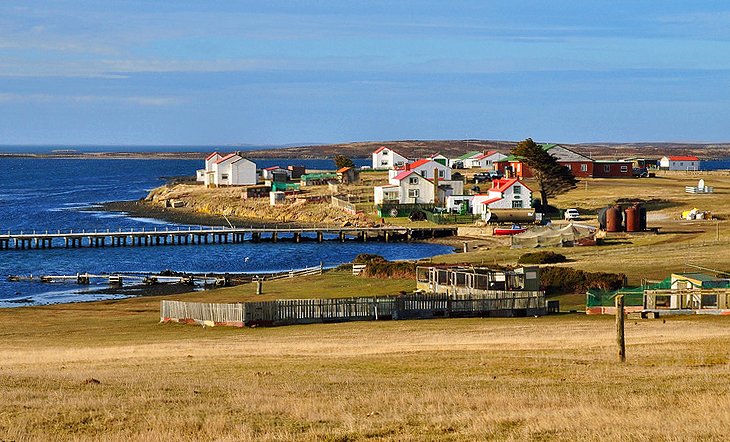 Venturing outside of Stanley and exploring East Falkland's other even smaller communities is an adventure in itself.
Port Louis, under an hours drive away on the north coast, is a good base from which to explore the surrounding area with its spectacular scenery and colonies of penguins.
Salvador is one of the less visited settlements, but is also great for wildlife viewing, particularly penguins, elephant seals, sea lions, and a variety of shore and inland birds. If horses are your thing, the tiny hamlet of Darwin - named, of course, after Charles Darwin who surveyed the island - boasts a small racecourse. Trekking adventures are also offered.
8. West Falkland Island and Port Howard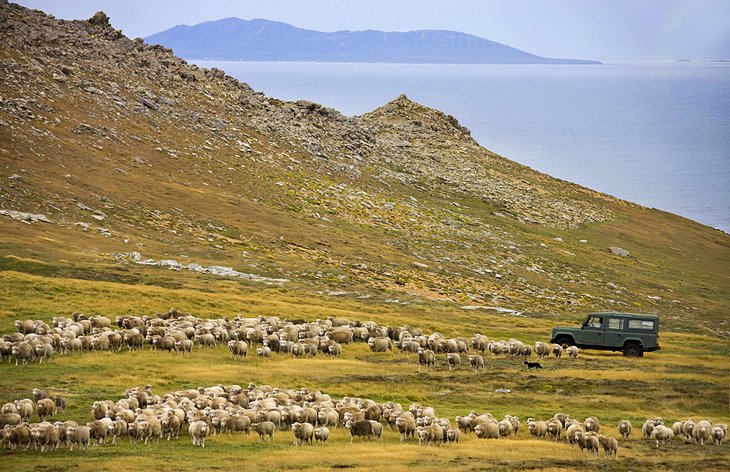 West Falkland Island covers some 4,500 square kilometers and is characterized by its steep coastal cliffs and rugged, hilly interior. Like East Falkland, this island boasts a rich biodiversity with 163 varieties of plants and 21 types of land birds. It's particularly popular for its wildlife and adventure tours.
The island's main settlement is Port Howard. This major sheep farming community offers a variety of reputable accommodation options, including quaint farm guesthouses, as well as bed and breakfasts.
Port Howard is a great place to explore on foot. Highlights of a walking tour include a small museum with war relics and exhibits related to sheep farming. It's also a convenient base from which to explore the surrounding hills. Particularly popular for hikers is Mount Maria, the island's third highest peak. It's also a popular fishing destination, especially for its trout.
9. South Georgia Island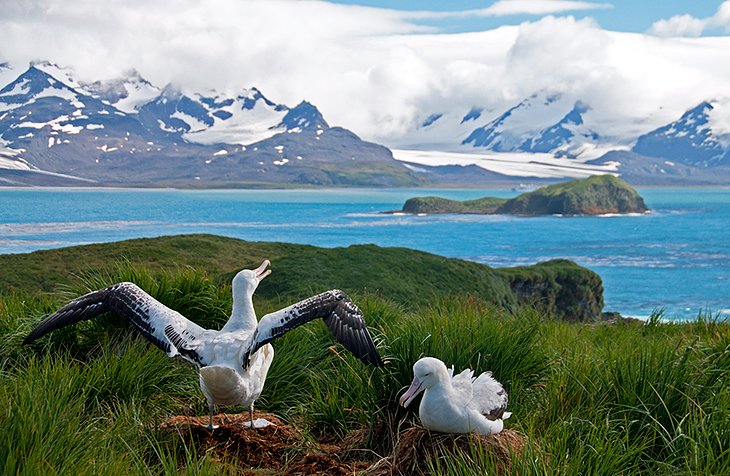 South Georgia Island, also a UK Overseas Territory, is located 862 miles east of the Falkland Islands. A land of snow-covered mountains and glaciers, the island has no permanent residents. However, it does maintain two British Antarctic Research Stations, as well as a museum.
The island's main attractions are its natural beauty and bountiful wildlife, in particular the two million fur seals that lay claim to the island each summer. It's also where you'll find half the world's population of southern elephant seals, who come here to breed each year. Millions of penguins also inhabit the island, along with approximately 250,000 albatross and numerous reindeer.
10. South Georgia Museum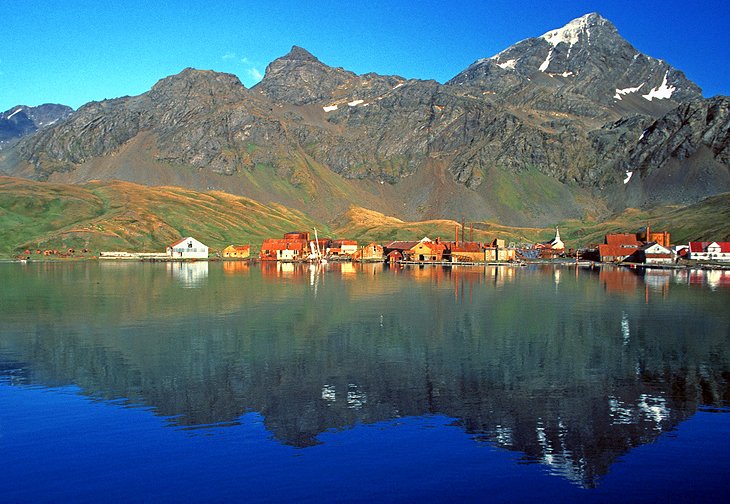 The South Georgia Museum was originally established as a whaling museum in 1991, but has since expanded to include the history of the island. Housed in a 1916 whaling station manager's house built by whalers from Norway, the museum includes fascinating displays describing the discovery and exploration of the island, sealing, whaling, its maritime history, and natural history.
It also now hosts exhibits relating to the 1982 Falklands War and the British military presence. Access is usually via cruises or boat charters from the Falklands (just be sure to let them know you're coming).
Address: Grytviken, SIQQ 1ZZ, South Georgia & South Sandwich Islands
Official site: http://sgmuseum.gs
11. The Outer Islands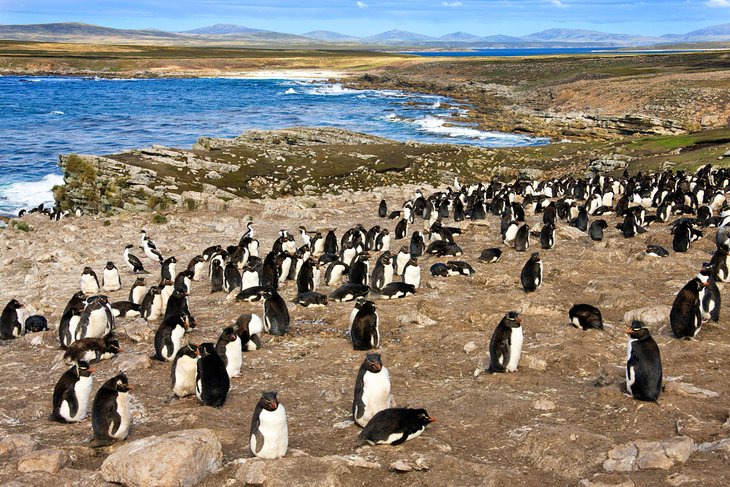 The outer islands refer to those islands other than East and West Falklands. The main draw, as with the larger islands, is the opportunity for superb wildlife viewing, most often conducted as part of an organized tour.
Of particular interest are the Jason Islands, consisting of some of the most remote areas of the Falklands. Rich in marine wildlife and birds, the area is known for its rockhopper penguins and black-browed albatross, and is also home to the striated caracara, one of the world's rarest birds of prey.
Pebble Island is a sheep farming island, the western half of which is mountainous, while the eastern portion consists of grassy plains. It's also one of the only places in the Falklands where all six varieties of penguins have been seen.
Sea Lion Island is the most southern inhabited island in the Falklands, and is home to only around 10 hardy souls. Visitors come here primarily for the elephant seals, sea lions (naturally), four varieties of penguins, and shore and seabirds. Orcas can also often be seen offshore.
More Related Articles on PlanetWare.com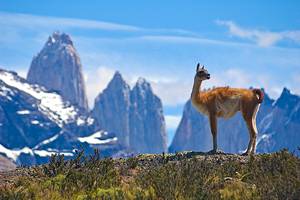 Combining Your Falklands Trip with Places to Visit Nearby: Given its relative remoteness - it's not all that far from Antarctica - a trip to the Falkland Islands can certainly take some planning. Thanks to its first-rate international airport, you are able to expand your Falklands adventure. For example, consider combining it with an exploration of Chile's top attractions. This incredibly diverse country connects to the islands by direct flights from Santiago de Chile, a journey of just over three hours.
And from Chile, it's an easy two-hour flight to Buenos Aires in Argentina, which is packed with cultural attractions and grand colonial buildings.