Where to Stay in Florence: Best Areas & Hotels
When you are considering where to stay in Florence, keep in mind, many of the main sights are an easy walk from each other in centro storico (the historic center). Near Piazza del Duomo, where you'll find the cathedral, baptistery, and Giotto's tower, is the church of San Lorenzo with the Medici tombs by Michelangelo. A short walk away, other major attractions are close to the Palazzo Vecchio and the Uffizi Gallery. Pitti Palace and Boboli Gardens are across the Arno, not far from the Ponte Vecchio.
Unlike many popular tourist cities, Florence has many hotels right within the historic center. Surprisingly, you can find hotels in all price ranges in these central neighborhoods.
When looking for the best place to stay, don't overlook hotels away from the center that offer free shuttles. This allows you convenient access to the attractions, but more peaceful surroundings after your sightseeing adventures. If you plan to have dinner in the historic district, be sure the shuttles operate at night. That said, most of these hotels have restaurants of their own, and after a day of jostling with Florence's crowds, you may be glad to retreat to a quiet suburb for dinner.
Where to Stay in Florence for Sightseeing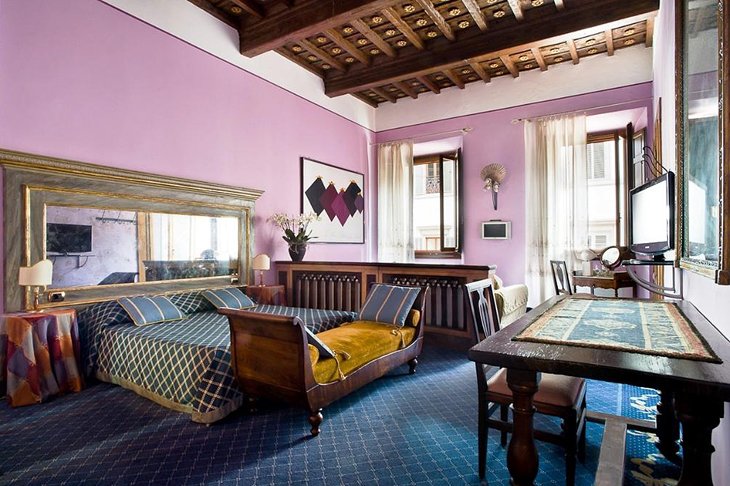 Rooms at the Hotel Berchielli overlook the Arno River and Ponte Vecchio, close to the Uffizi, Palazzo Vecchio, and the high-end shops. Breakfast is included in the mid-range rates.
A short walk to the cathedral and other attractions of Piazza del Duomo is the romantic, but budget-priced Il Guelfo Bianco, filled with old-world charm and lovely architectural details. Breakfast at this family-owned hotel includes unlimited cappuccino.
Less than a five-minute walk from the Duomo and easy to reach from Santa Maria Novella station, Hotel Spadai has rooms with balconies. Luxury amenities include rain showers and turndown service.
Many of the tastefully decorated rooms at FH Calzaiuoli Hotel have views of the cathedral dome from the windows. The hotel is halfway between Piazza del Duomo and Palazzo Vecchio.
Between the Piazza della Signoria and the Bargello museum Uffizi Gallery, San Firenze Suites & Spa couldn't be more conveniently located for sightseeing. The noble 17th-century residence has been expertly restored as a boutique hotel, with 14 elegant suites that combine the original Renaissance features with Italian design and style.
Don't overlook the mid-priced hotels on the other side of Ponte Vecchio, near the Pitti Palace in the Oltrarno neighborhood. You'll be near the palace museums and Boboli Gardens, as well as craft studios and shops in this atmospheric quarter. One of these, Hotel La Scaletta, occupies a centuries-old building with a rooftop terrace, where breakfast is served in good weather. Pitti Palace al Ponte Vecchio, in the same area, also has a roof terrace, as well as single rooms for solo travelers.
Where to Stay in Florence for Luxury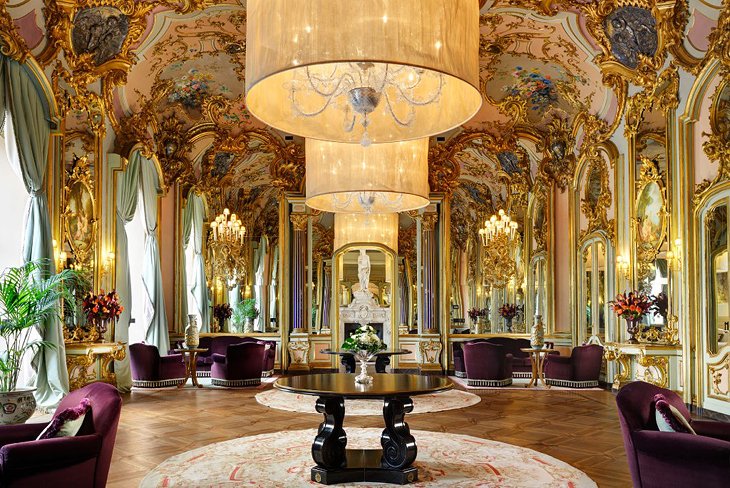 In a city filled with the former residences of noble Renaissance families, and one which has been the highlight of European travel since the days of the Grand Tour, there is no shortage of luxury hotels.
Villa Cora stands in spacious grounds on a hillside overlooking Florence. Sightseeing from here is easy, as a hotel car takes guests into the historic center. Once you see this magnificent villa's opulent décor, hillside gardens, pool, spa, and flawless service, you could be forgiven for checking in and forgetting about sightseeing.
Famed for its exceptional guest services, Portrait Firenze is a Ferragamo hotel on the Arno River overlooking Ponte Vecchio, a block from the Uffizi Gallery. As you'd expect from the Ferragamo label, its spacious suites reflect the latest in contemporary Italian design.
In a 15th-century palazzo overlooking its own gardens, Four Seasons Hotel Firenze is only about a 10-minute walk from the Duomo but also offers a shuttle service to the historic center. Along with luxurious rooms, the hotel has a spa, swimming pool, and afternoon teas.
Also just outside the crowded center but an easy walk from San Lorenzo and the Duomo, Palazzo Castri 1874 has a courtyard garden, small pool, spa, and serves complimentary afternoon tea.
Where to Stay in Florence: Mid-Range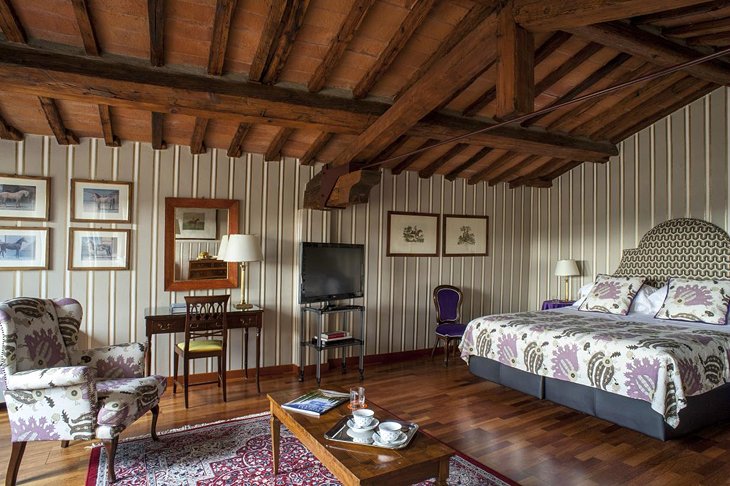 Sometimes when deciding where to stay, the lowest price may not be the best value. A hotel with a higher price may offer location, hospitality, and services beyond others in the same price range. A location near major sights or the rail station can save taxi fares, and included extras can also save money. And a few little luxuries may be worth the extra cost to make your trip more enjoyable.
Don't think that you need to splurge on a luxury hotel to live amid Renaissance splendor; many of the city's moderately priced and even budget hotels are in the restored former homes of prominent and wealthy Florentine families. You'll find elaborately paneled ceilings, lovely frescoes, and gilded stucco and wood carvings in some of the most modest hotels. Likewise, some very reasonable hotels are very close to the top tourist attractions of Florence.
Less than five minutes from the Duomo and almost as close to the rail station, Room Mate Isabella has large, rustic rooms and beautiful views of Florence. Be prepared for stairs, but the staff helps with luggage.
Family-run Hotel Davanzati, in the historic center near Piazza della Signoria and the cathedral, offers free breakfast and a pleasant patio, but no elevator. You can relax in the afternoon over complimentary tea and cakes and meet other guests in the evening over bruschetta at the complimentary social hour.
The hospitable Hotel Duomo Firenze is near Piazza del Duomo, and starts your day with a full breakfast at a reasonable cost. Along the river near Ponte Vecchio and the Uffizi, Hotel Degli Orafi has luxurious appointments and a rooftop terrace with river views. The included breakfast is served in a magnificent room.
Where to Stay in Florence on a Budget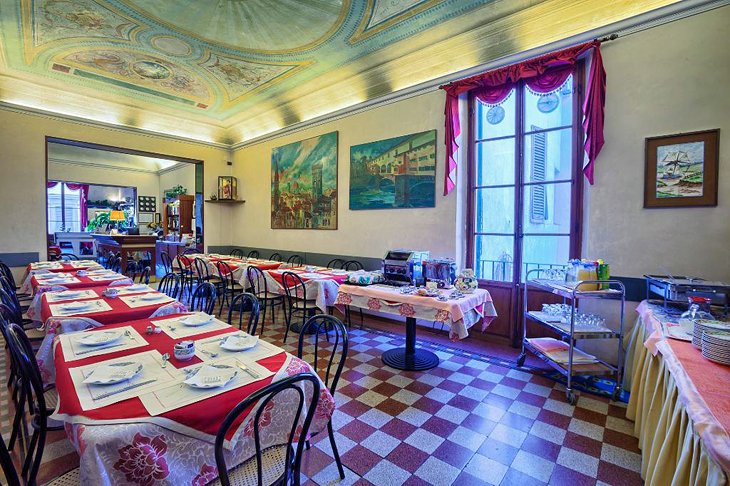 Be prepared to climb stairs–perhaps several flights–with or without help with your luggage, especially at budget hotels in the historic center.
From the plain exterior of the family-run Hotel Casci, you would not expect a historic house with a lovely frescoed ceiling in the breakfast room. It's two blocks from the Duomo, near San Lorenzo, the Medici Palazzo Riccardi, and several restaurants.
In another historic building, Hotel Santa Croce is conveniently located halfway between Santa Croce and Piazza della Signoria. There's no elevator, but the staff helps with luggage, and the free breakfasts include cappuccino.
You feel a part of a real Florentine neighborhood at Hotel Pendini, in Piazza della Repubblica, a five-minute walk from the Duomo or the Uffizi. Some rooms are large enough for families, and although the hotel is filled with old-world charm, the bathrooms are modern.
Fifteen minutes from the major sights, the boutique Hotel Collodi is near San Lorenzo, the market, and plenty of dining choices. Some rooms at Hotel Lorena have shared baths, and you need to climb stairs to the reception desk, but there's an elevator to higher floors. It's across the street from San Lorenzo, and some rooms have views of the Duomo.
Where to Stay in Florence for Couples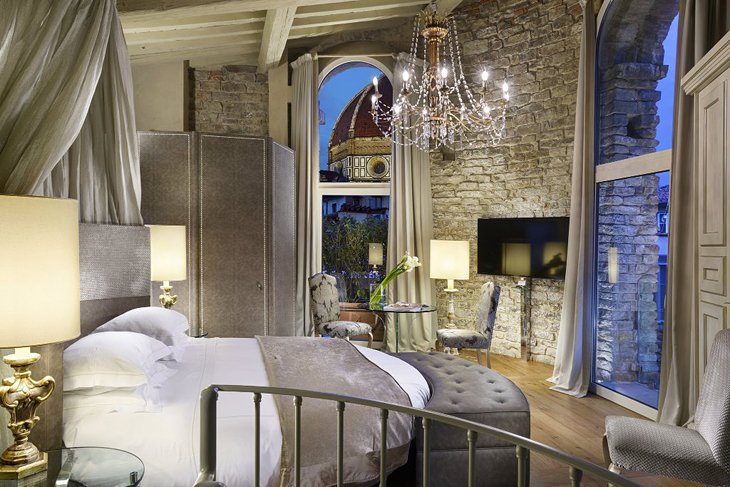 You won't find a more romantic spot in the historic center than recently renovated rooms in a medieval stone tower looking straight out at Brunelleschi's magnificent dome. That's what you get at the Hotel Brunelleschi. For a special treat, ask for the pool suite with its own terrace.
To relax in blissful calm after a day's sightseeing and jostling the inevitable crowds below, take the complimentary guest shuttle to Villa La Vedetta, near Piazzale Michelangelo. Rooms in this peaceful retreat overlooking the city are beautifully appointed, and there's a pool and terrace, along with a sumptuous breakfast.
Walk-in closets, stylish rooms, and exceptional service make the Hotel Savoy stand out, as does its location in the Piazza della Repubblica, a short walk from the Duomo, Ponte Vecchio, and the Uffizi. Complimentary bicycles are a plus.
The romantic Pierre Hotel Florence is on a side street between Piazza Della Repubblica and Ponte Vecchio. Frescoed ceilings, stone fireplaces, and other lovely antique features remind guests that they are staying in a former Florentine palace.
Breakfast and an evening social hour are included with rooms at the Golden Tower Hotel & Spa, where there is a well-appointed spa with a sauna, steam room, and whirlpool tub.
Close to the Ponte Vecchio and with terraces overlooking this Florentine landmark, Hotel Lungarno is so filled with art that you may not even notice the lovely views. A collection of more than 400 works decorate the walls, and were it not for the warm and hospitable staff, the hotel might seem like a museum. The hotel's restaurant, Borgo San Jacopo, has been awarded a Michelin star.
Where to Stay in Florence for Families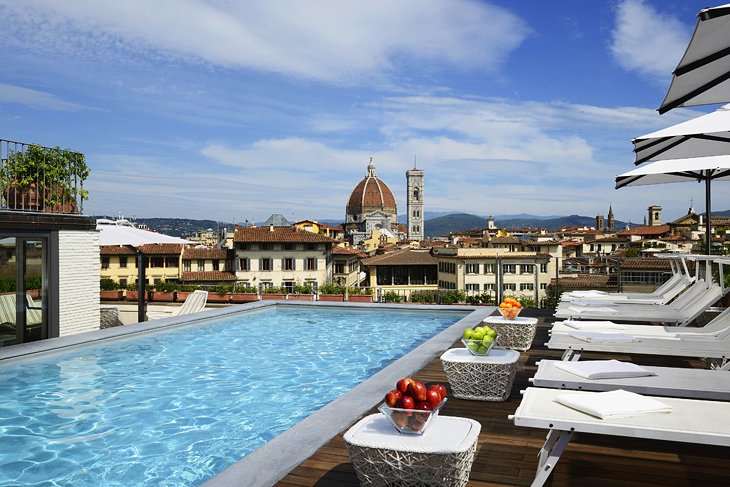 Opposite Santa Maria Novella and convenient to the train station, Grand Hotel Minerva offers luxury at mid-range rates, with well-appointed family suites and a rooftop pool. Deluxe rooms have amenities like bathrobes and slippers.
Next to San Lorenzo church and a short walk from the Duomo, the budget-friendly Hotel Ginori al Duomo has a pool and rooms large enough for families. There's no elevator, so kids will get to run off their excess energy.
On the upper floors of a well-updated historic building between the Duomo and the rail station, Hotel Perseo has an elevator to all floors. The included breakfast buffet has plenty of choices, and the price is easy on the family budget.
In a riverside setting along the Arno, the luxury Ville sull'Arno Hotel is beyond Santa Croce. It's about a half-hour walk from the Ufizzi, but the hotel offers a shuttle to the center. There are also bicycles for guests' use and a path alongside the river for evening rides and walks. The hotel has its own restaurant, a lovely garden, and a heated swimming pool.
Where to Stay in Florence outside the City Center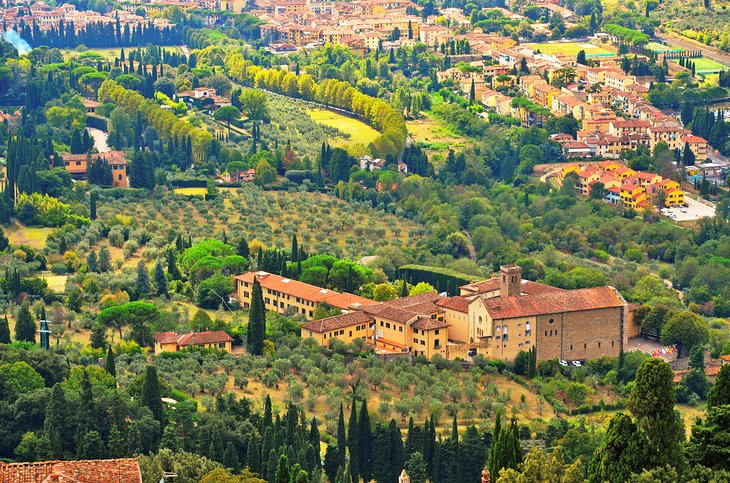 Especially if you are exploring Italy by car, you might want to consider staying just outside the city and taking public transportation for day trips into the attractions. Driving in Florence is a nightmare, and streets in the center are closed to non-resident traffic without a permit. The cost of parking, even if available at or near your hotel, is far more expensive than the cost of public transport into the historic center. Most hotels outside the city center offer free parking.
In a peaceful riverside setting, away from the crowds around the historic sights, Hotel Mulino di Firenze offers guests free parking and a free shuttle into the center, and a swimming pool that makes it popular with families. Vaulted ceilings and other rustic antique features recall its origins as a water mill. The restaurant, which serves breakfast and dinner, overlooks the river, and in warm weather, you can dine on the covered terrace.
Fiesole, an attractive town on a hill above Venice, is a good place to find an inn or hotel with beautiful views of the city and the Tuscan countryside from their rooms and terraces. Some offer shuttles into Florence, or you can take an inexpensive public bus for a 20-minute ride. Fh55 Hotel Villa Fiesole is a 19th-century villa with panoramic views and a pool. Breakfast is included in the moderate rates, as is parking, and the inn has a restaurant. The bus stop is nearby.
Also in Fiesole, Pensione Bencista is a 14th-century villa surrounded by olive groves. Antiques furnish the 40 guest rooms, which have private balconies. The well-being center has a Finnish sauna, a Turkish bath, and a Jacuzzi with a spectacular view of Florence. Breakfast is included, as well as parking, and the bus stop connecting to both Florence and the village of Fiesole is a short walk away.
If you don't mind a half-hour train ride, Pistoia is a lively town with several attractions for tourists, and much lower hotel rates than Florence. In the heart of the historic center and close to restaurants, Locanda dei Fiori has the welcoming feel of a country inn, with many of the added benefits you'd find at a hotel in the countryside, including a pool and free parking. The large, modestly priced rooms are beautifully decorated. Linger over breakfast on the terrace overlooking the 12th-century church of St. Bartolomeo, not far from the cathedral.