Alaska Road Trip: Driving from Anchorage to Denali National Park
It's 11:30pm in early June on my first night in 49th State and the sun is just starting to set over the Alaska Range in front of me. I'm on a road trip from Anchorage to Denali National Park with my best friend Brandon and my psychiatric service dog Poppy, and we've stopped for the night at a hotel just outside the small town of Talkeetna.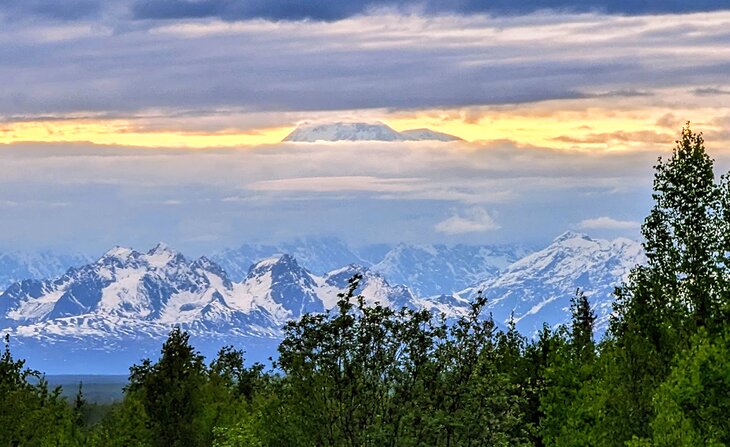 We're currently soaking up the mountain views and marveling at how, just a few weeks before the summer solstice, this really is the "land of the midnight sun."
"OMG," Brandon nudges me. "There's the top of Mt Denali!"
I follow his finger where he's pointing and sure enough, the clouds have parted just enough to reveal only the summit of the 20,320-ft mountain, the tallest mountain in North America. Seeing Denali at all on an Alaska trip is hit or miss.
Because the massive mountain creates its own weather system it's often completely obscured by cloud cover and only about 30 percent of summertime visitors catch a glimpse of any portion of the mountain.
This will be the only appearance Denali makes during my week in Alaska. But what a breathtaking sight it is. The mountain positively towers over the peaks in front of it, and with the yellow and orange hues of the setting sun reflecting out from the clouds, the entire image is pure magic.
Anchorage to Talkeetna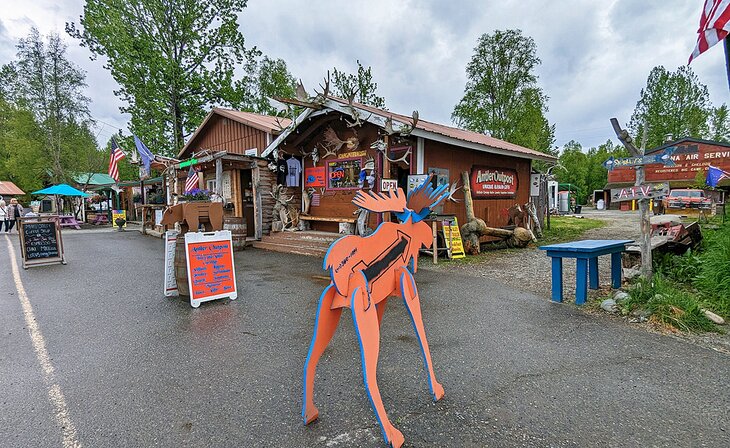 I arrive at Ted Stevens International Airport in Anchorage early afternoon and pick up a rental car. Brandon and I have decided to head straight up to Talkeetna, about a 2-hour drive north, since there are so many hours of daylight still ahead of us. In fact, at this time of year it never really gets dark. The sun sets around midnight and then rises just three hours later. In between you get the equivalent of dusk. It is one of the strangest realities I've experienced.
We arrive well before sundown and check into the Talkeetna Alaskan Lodge for the next two nights. Located on a ridgetop above town, the timber and brick lodge boasts direct views of the Alaska Range including Mt. Denali, which we were lucky enough to witness. The onsite restaurant, Foraker, serves a fine-dining style menu.
Talkeetna is a quirky little two-street town that supposedly inspired the 90s TV show Northern Exposure (the show itself was filmed in Washington). Despite being such a tiny town, it is packed with seasonal restaurants (most are open from mid-May to mid-September) serving up Alaskan delicacies like caribou sausage and salmon tacos. Homestead Kitchen is an excellent choice. The Homestead Burger and Alaska Halibut Sandwich are two winning menu items.
While in town, also pay a visit to Nagley's General Store, where you just might run into the town's honorary mayor, a cat named Aurora. Talkeetna doesn't have a human mayor but is on its third feline leader. Stubbs the cat ruled the town from 1997 to 2017 when he passed away.
Plan to spend two nights in Talkeetna, as there are plenty of outdoor experiences to be had around here. A few different flightseeing companies operate out of town and run trips on small planes that fly you around Mt. Denali and the national park. Some fly over the summit of the mountain, others let you land on a glacier. K2 Aviation Talkeetna and Talkeetna Air Taxi are two reputable companies. Note, flights are dependent on weather conditions.
Talkeetna to Denali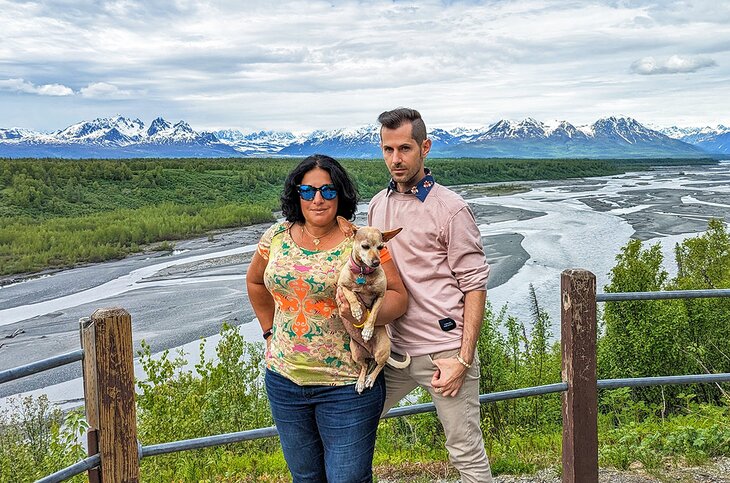 It is about a 3-hour drive from Talkeetna to Denali National Park. Keep an eye out for wildlife on this road, as you'll often pass caribou, moose, and even grizzly bears on the side of the road.
If you don't catch a glimpse of Denali in Talkeetna (or even if you do!), pull over at the Denali Viewpoint South. From the parking lot, walk the paved uphill path for about 5 minutes to reach the main overlook. Mt. Denali was not visible when Brandon, Poppy, and I posed for a photo, but the shot of the Susitna River framed by mountains was still frame-worthy.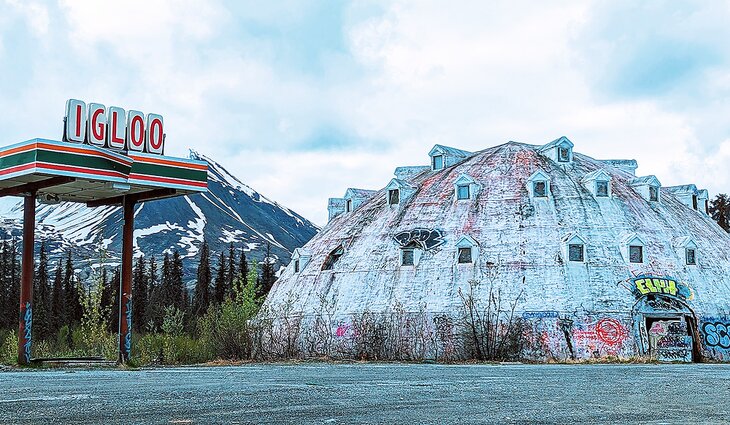 If you like artsy photoshoots amid decaying architecture, Igloo City is also worth a pause on this drive. Shaped like a massive igloo, it is a four-story concrete building, that was constructed in the 1970s and meant to serve as a hotel with a location halfway between Anchorage and Fairbanks. But due to issues with building codes, its interior was never completed, and it never opened. Today it sits, abandoned and deteriorating, on the side of the highway, attracting passing tourists who can't help but stop and investigate.
Exploring Denali National Park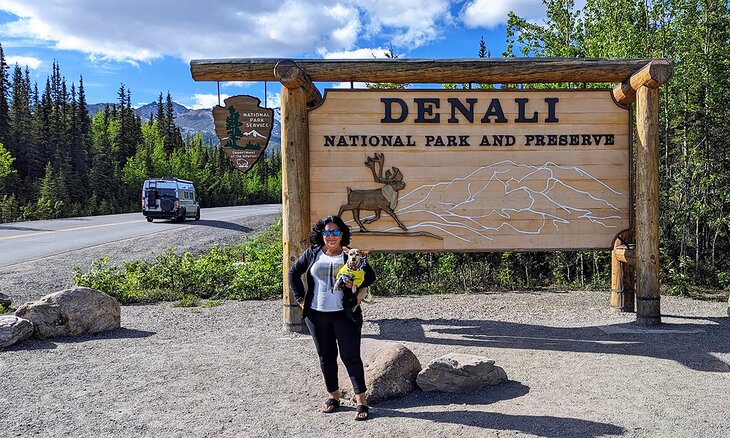 Denali National Park is a wild place. Literally. There is just one road through the park, and you can only drive about 15 miles of it before it closes to cars and requires riding in a park shuttle bus. Covering some six million acres of wilderness comprised of low-elevation taiga forest, high alpine tundra, snowy mountains, lakes, and lots of wildlife, it is a bucket list destination for many, including myself.
Brandon and I check into Denali Cabins, located about 15 minutes outside the park entrance, which served as a home base for our park explorations. The wood cabins are not fancy, but they are cozy, comfy, private, and have heaters for chilly nights. There is also an onsite restaurant, and best of all, a wooden sauna that can be reserved by the hour. It, and the two outdoor hot tubs, were a welcome treat after spending the days on the hiking trail. Activities from guided ATV tours to whitewater rafting and flightseeing trips can all be arranged.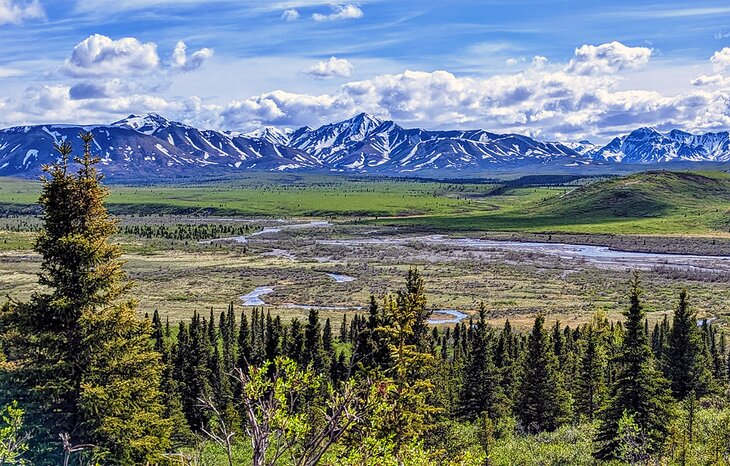 Denali is home to excellent hiking, although, with the exception of marked trails around the Denali Visitor Citer at the park entrance, most park hikes are off-trail, meaning you simply use a GPS to head out in one direction and see what you encounter along the way. The park was created specifically to be a trail-less wilderness.
Whichever type of hiking you decide to do, stop by the visitors center before heading out. Especially if you are hiking off-trail, you'll want to speak with a park ranger. Brandon and I loved the marked Horseshoe Lake Trail, which is a 3-mile moderate hike that starts and ends at the Denali Visitor Center.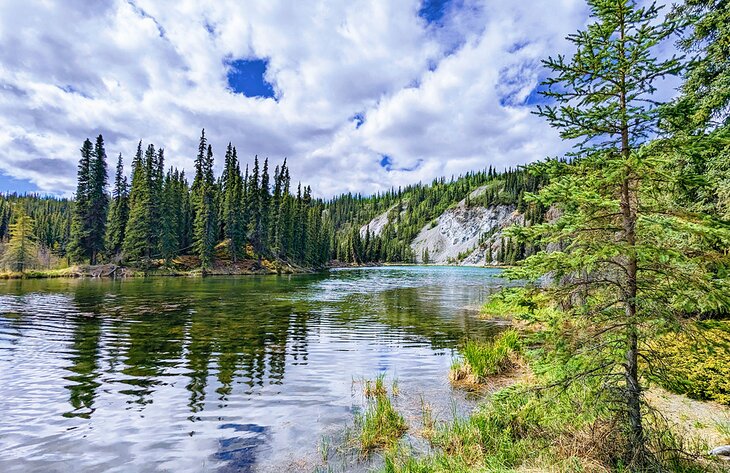 You'll begin with a short, steep climb to a bench that looks down on the lake. Then you'll descend via a series of ultra-wide gravel and wood steps to the lake. The descent is very steep in places, and you'll be climbing uphill on the way back. Once you reach the glassy-hued lake, the trail takes you around its entire circumference on a relatively flat path. Sometimes you'll see beavers at work.
Although we didn't run into much wildlife, animals are all around and you should always carry bear spray and make noise when hiking. Everything from grizzly to moose to wolves are spotted on and off the trails in Denali.
Don't Skip Anchorage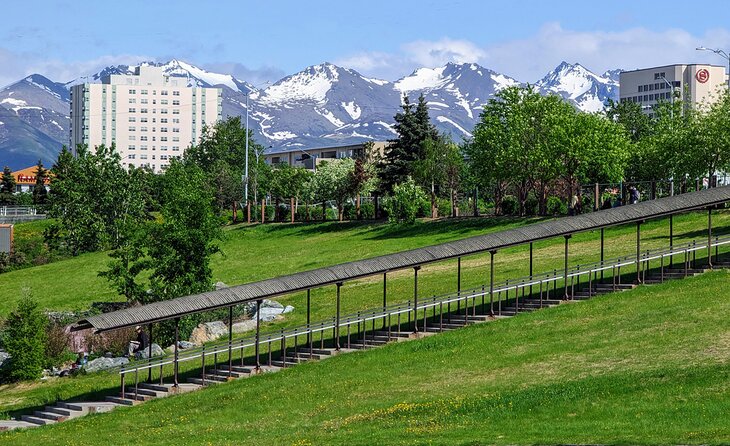 After a 5-hour drive back from Denali National Park, it is time to explore Anchorage. Despite being Alaska's largest city, Anchorage has a distinctive small-town vibe and its downtown looks like it hasn't changed much in the last half-century. You can easily wander the entire downtown in under 2-hours, but there is more to experience in the surrounding countryside.
The Tony Knowles Coastal Trail begins downtown and ends 11 miles later at Kincaid Park and is a great place to stretch your legs. Rent a bike or walk or run portions of this scenic city gem. For more on Anchorage, check out our Anchorage attractions guide.