6 Best Ski Resorts in Alaska, 2023
The one thing you can most certainly be assured of when skiing in Alaska is snow. Although the locals are loathe to share this fact, some ski resorts receive over 40 feet of snow a year. These ski resorts tend to be midsize resorts that cater mostly to the skiing population in Anchorage and Fairbanks.
Apart from the locals enjoying their snowy paradise, most people who fly specifically to Alaska for skiing are interested in heli-skiing with one of the many operators. These trips take you into inaccessible terrain in the world-famous Chugach Mountains. Huge bowls, tree skiing, and incredible powder skiing await those with the ability and pocketbook to make it happen.
Apart from the heli-skiing, downhill skiing in Alaska is surprisingly affordable. The ski season runs from late November until the end of April. Note that the days can be quite short during the depths of winter owing to the northerly location.
Learn more about where to ski with our list of the best ski resorts in Alaska.
1. Alyeska Resort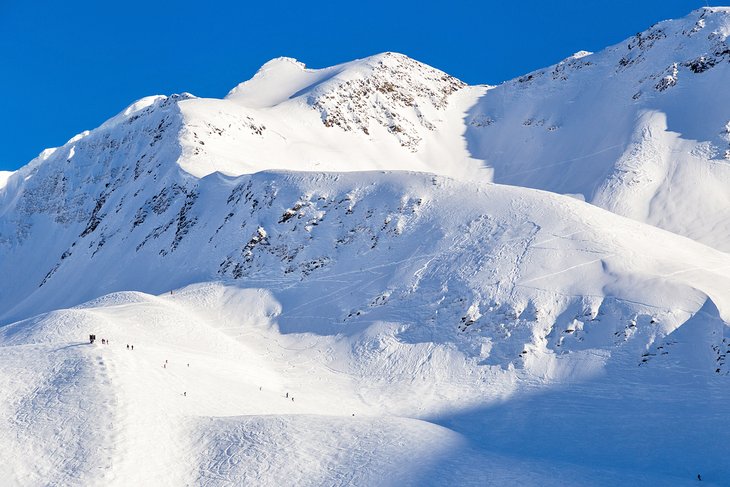 Alyeska resort is the largest of the six resorts in the state. Only 45 minutes from Anchorage, this resort is the most luxurious and well known. Many skiers warm up their ski legs here for a few days before helicoptering off into the Chugach Mountains for the really deep snow.
The resort has 76 runs and receives a stunning 42 feet of snow each year. The resort is spread out over 1,610 acres and is a mix of wide-open groomers, bowls, and more black and double black diamond runs than your quads can probably handle. In fact, the resort boasts about having the longest double black diamond run in North America.
Those who love to ski in the trees will find an almost endless playground of green and white. Deep powder stashes are standard here – no need to search, just pop off the main runs to create your own tracks.
The one thing you won't find at Alyeska is crowds. With a robust uphill capacity, the mountain is well set up to handle lots of skiers. This includes nine lifts consisting of a 60-person aerial tram, four quad chairs (two high-speed), two double chairs, and two surface lifts.
The season generally runs from mid-December through to the end of April for daily skiing, then into May on weekends only.
The mountain has two base areas. One is home to the chateau-style Alyeska Resort. Just back from the base of the hill is the town of Girdwood, where you'll find additional accommodation and dining options.
Official site: https://alyeskaresort.com/
Accommodation: Where to Stay in Girdwood
2. Eaglecrest Ski Area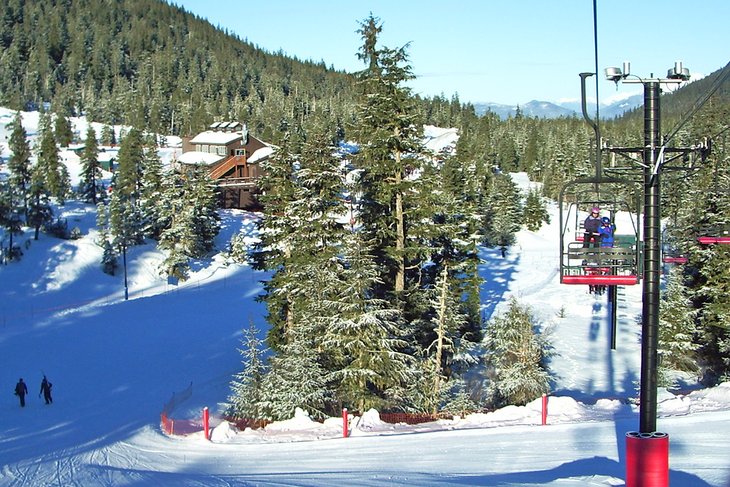 Easily accessible only 15 minutes from Juneau on Douglas Island, Eaglecrest Ski Resort delivers skier delights on so many levels. Over 26 feet of snow (in a record year 53 feet!) blanket the slopes here each season, and with so few crowds, the powder lasts for days on end. The vertical drop is a respectable 1,620 feet with the peak elevation of 2,740 feet providing impressive views out over Juneau and the surrounding snowcapped peaks.
Spread out over 640 acres, the resort offers a bit of everything for everyone, especially intermediate and beginner skiers. Approximately 60 percent of the 36 named runs fall into the blue (40 percent) or green (20 percent) classification, making it a fun place to ski for the entire family.
Eaglecrest has four double chairs that will get you back up to the top slowly and steadily. Don't fret about the lack of high-speed equipment here – with the slow and relaxed pace of Juneau, you may find yourself enjoying the ride as you chat with a friendly local. Plus with all the deep snow, your quads will most definitely need the time to recover before you plow through the pow again.
The resort operates Wednesday through Sunday most of the season, except over the Christmas vacation and spring break periods when it operates seven days a week. The resort usually opens the first week of December and stays open until late April.
Official site: https://skieaglecrest.com/
Accommodation: Where to Stay in Juneau
3. Arctic Valley Ski Area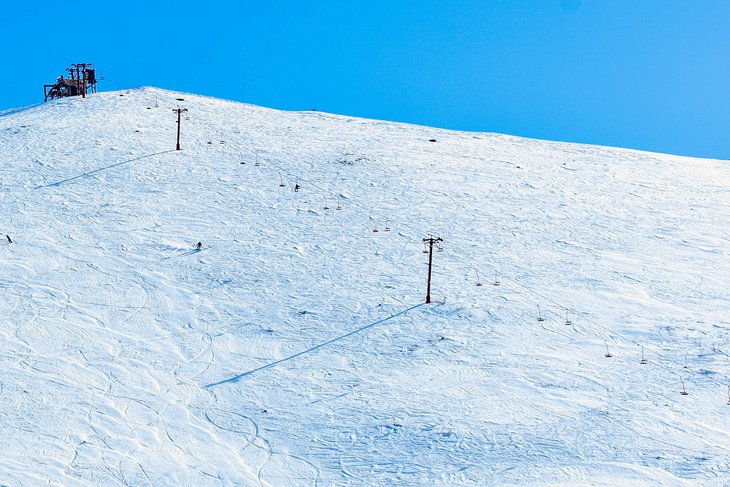 A 10-minute drive from Anchorage, Arctic Valley is a locally owned operation and has been providing great access to some of Alaska's best lift-serviced snow since 1961. Spread out over 500-plus acres, the ski resort is home to a variety of terrain that is especially friendly for intermediate and beginner skiers.
Arctic Valley only operates on the weekend, so if it's been dumping snow all week, you'll be assured your fair share of deep, fluffy powder come the weekend.
Twenty-five named runs descend 1,400 vertical feet across a long ridge. All the skiing here is above the tree line, so the views out over the surrounding areas on clear days are spectacular. Arctic Valley has a small base lodge with the usual skier services, including a restaurant, rental shop, and lockers. If you don't feel like skiing, spend some time in the tube pack slip-sliding down the long chute.
Official site: https://arcticvalley.org/
Accommodation: Where to Stay in Anchorage
4. Ski Land Ski Area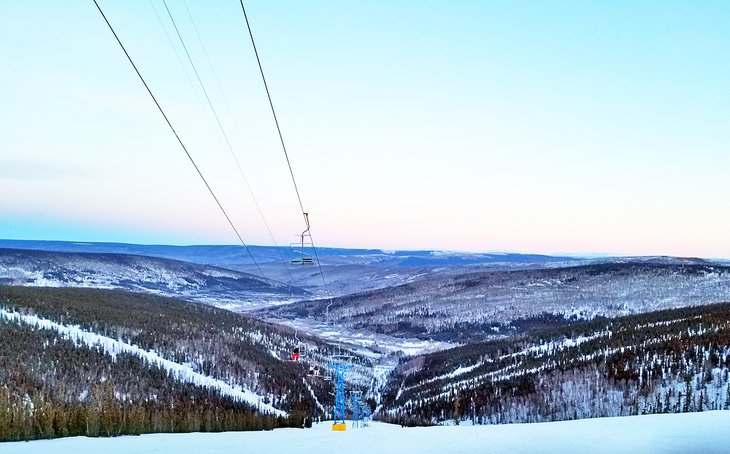 Servicing the hardy skiers in Fairbanks since 1962, Ski Land's double chair is reputed to be the most northerly chairlift in North America. In the 2022/23 ski season, the resort will be celebrating its 60th anniversary. A full roster of fun events are planned – be sure to check the resort's website or ask around town for the latest news.
The 10-minute ride to the top provides spectacular views out over the Brooks and White Mountain ranges. The resort has a vertical drop of 1,027 feet, and you'll have your choice of 40 named runs. At the base area, a lodge has rentals available, and the Aurora Café provides hearty fare to keep you going all day.
One unique feature you'll not find at any other ski resort is northern lights (aurora borealis) viewing. At the end of your ski day and after dinner, head back to the resort's café and its extra large windows to check out the celestial show. Hot chocolate, coffee, and tea are included in the price as is a cozy spot by the massive fireplace.
Official site: https://skilandfairbanks.com/
5. Moose Mountain
Moose Mountain has no ski lifts. Yes, that's correct, not a single lift. In order to service their 42 runs, they have turbo-charged school buses waiting at the base area to whisk you back to the top. It's one of the most unique skiing experiences you'll ever have, and when you think about it, getting on the bus to ride to the top isn't really that much different than getting on a gondola or aerial tram. In both situations, you end up taking off your skis and sharing the ride up with a group of people.
No matter what your impressions are, your experience will be a good one, as everyone is having a good time, and the level of chatter and banter on the bus is loud.
With a vertical drop of 1,300 feet and at 750 acres in size, Moose Mountain claims to be the largest interior resort in Alaska. They don't get a lot of snow here, only five feet on average, but what they do get sticks around, so you'll have good conditions whenever you visit.
The mountain is just over 20 minutes from Fairbanks, and owing to its southern orientation and elevation, Moose Mountain is generally above the inversion that sets up over Fairbanks. That means sunny skies and temperatures 20 to 30 degrees warmer than down in the valley.
This season Moose Mountain will be taking online ski lift ticket reservations to limit the number of people on the hill. This was implemented last season and has gone a long way towards eliminating the occurrence of bus "lift lines" at the base area.
Official site: https://shredthemoose.com/
6. Mount Eyak Ski Area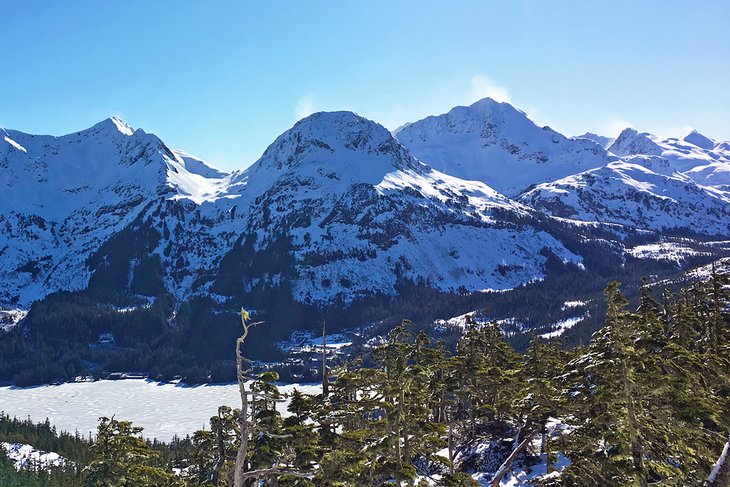 History buffs will want to make the effort to get to the small town of Cordova, accessible only by air or sea, to ride on one of the original single chair ski lifts from Sun Valley, Idaho, dating from 1936. Through a herculean effort by local volunteers, the city of Cordova, the Coast Guard, and many others, the ski lift was transported to, and installed on, Mount Eyak in 1974.
Today the lift, somehow still miraculously operating, transports skiers one by one up 960 feet to service three named runs and many other unnamed routes down through the glades. In addition to the famous lift, a rope tow services a beginners' area. At the base lodge, a small restaurant called the Snack Shack and rental shop operate when the ski area is open.
This past summer, the ski hill replaced the cable on the lift, ensuring that it will keep operating for the foreseeable future.
Mount Eyak's operating hours are some of the best ever: They operate on weekends, holidays, and powder days. Check the Facebook page to see whether an "emergency opening" is planned if a big dump happens.
Address: #1 Ski Hill Road, Cordova, Alaska
Official site: https://www.facebook.com/MtEyak/