12 Top-Rated Tourist Attractions in Hanover
Historic Hanover (spelled Hannover in German) on the River Leine is capital of the Land of Lower Saxony and an important commercial center with a university and academies of music and drama. It's also an important trade fair and festival center, noted for such events as Oktoberfest Hanover, one of the largest such celebrations in the world, as well as the Hanover Schützenfest, the world's largest marksmen's gathering. Hanover is also an important cultural center, and boasts numerous world-class museums, galleries, and theaters. Its extensive parks and gardens - the Eilenriede, Maschpark with its lake, Lönspark, the Zoo, and the Herrenhausen Gardens - justify Hanover's claim to be "the city in the country."
1 Herrenhausen Gardens
The magnificent Herrenhausen Gardens encompass the Georgengarten, a beautiful English-style park, and the Berggarten, a botanic garden with orchid and cactus houses. At the north end stands the Mausoleum built in 1846 for King Ernest Augustus and Queen Friederike, and which contains the tomb of George I of Britain. Also of note is the recently rebuilt Herrenhausen Palace, home to a museum showcasing artifacts and documents related to the city's rich Baroque era.
Other city gardens of note are the Grosser Garten (Great Garden), dating from 1666 and the best-preserved example of an Early Baroque garden in Germany with cascades, fountains, an orangery, and a garden theater.
2 Marktplatz and the Marktkirche
Hanover's lovely Marktplatz, in the center of the Old Town, is where you'll find many of the city's historic buildings. One of the most notable is the 15th-century Late Gothic Old Town Hall (Altes Rathaus), home to a number of small shops and galleries, and in front of which is the graceful Neo-Gothic Market Fountain built in 1881. The other important tourist attraction here is the Marktkirche, or Market Church, with its impressive 97-meter-high tower. Dating from the 14th century, it's home to a splendid 15th-century bronze font and carved altar. Leading from the Marktplatz is Kramerstrasse, which still preserves something of the atmosphere of old Hanover with its many handsome half-timbered houses.
Address: Karmarschstrasse 42, 30159 Hanover
3 The New Town Hall
In Hanover's Trammplatz is the huge Town Hall, built between 1901-13 in the style of the Wilhelmine period. It's one of the city's most interesting structures as it's built on a foundation of 6,026 beech piles and crowned with a domed tower almost 100 meters high that dominates the city's skyline. From the dome's viewing platform - accessed by a unique elevator that lifts passengers at a sloped angle - are the best views of the city. In the hall are models of the town, and the Hodler Room has a huge painting called The Oath of Loyalty dating from 1913. Tours are available.
Address: Trammplatz 2, Hanover
4 Hanover Opera House
Along the dignified Georgstrasse is the Neoclassical Hanover Opera House. Built in 1852, this majestic structure is now home to the city's professional opera company, Staatsoper Hannover, and thanks to recent renovations offers a first-rate experience for opera fans during its season, which runs from September to June.
Address: Opernplatz 1, 30159 Hanover
5 The Old Town and Leineschloss
Hanover's Old Town area is pleasant to explore and includes Leineschloss, the state parliament building, constructed on the riverbanks in the 17th century as the residence of Duke Georg von Calenberg and altered in Neoclassical style between 1817 and 1842. Also of interest is the New Town Church, or Neustädter Kirche, a 17th-century structure with the tomb of the famous German philosopher GW Leibniz, buried here in 1716. Also in the Old Town, Hanover's finest half-timbered building, the Ballhof, was built between 1649 and 1665 for the then-fashionable games of battledore and shuttlecock, as well as for musical concerts. Now home to the Lower Saxony State Theater, it's still a popular venue for music events including pop, jazz, and opera. For those interested in exploring more of these charming timber-framed houses, the little town of Celle, about 40 kilometers northeast of Hanover on the banks of the River Aller, boasts more than 400 half-timbered homes in its quaint old town.
Address: Knochenhauerstraße 28, Hanover
6 Lower Saxony State Museum
The Lower Saxony State Museum (Niedersächsisches Landesmuseum Hannover), opposite the New Town Hall, houses many important collections of antiquities. The most popular is the State Gallery (Landesgalerie) with its collection of European art from the Romantic period to the present day. Also of note are its archaeological and ethnological collections - Germany's oldest, boasting more than 20,000 artifacts - as well as numerous species of fish and reptiles.
Address: Willy-Brandt-Allee 5, Am Maschpark, D-30169 Hanover
7 The Maschsee
The Maschsee is an artificial lake in the heart of Hanover. Completed in 1936, it extends 2.4 kilometers and up to 530 meters wide and is the city's largest and busiest sports and recreation area, equally popular among boaters - both sailing and powered - as well as swimmers. The lake is also circled by many excellent pathways and is perfect for a stroll or picnic. On the west side is the Niedersachsen-Stadion stadium, built in 1954 on mounds of rubble from buildings destroyed in the war. Another pleasant area for a stroll is Herrenhäuser Allee, laid out in 1726 and including many attractive historic buildings.
8 Wilhelm Busch Museum
The Wilhelm-Busch-Museum in Hanover covers the life of famous poet and designer Wilhelm Busch. Along with permanent displays of caricatures and comic art, the museum is home to the world's largest collection of Busch's work. A particular highlight is a unique collection of more than 700 caricatures of Napoleon. Founded in 1937, the museum is housed in the attractive 18th-century Georgenpalais in Herrenhausen Gardens.
Address: Georgengarten, 30167 Hannover
9 Hanover Adventure Zoo
Founded in 1865 on the edge of Eilenriede park, Hanover Zoo - the fifth oldest in Germany - has been remodeled along the lines of a theme park, and with great success. Today, an estimated half a million people visit the attraction each year, drawn by fun areas such as the Winter Zoo with its Christmas themes and activities, as well as the kids' area, Mullewapp, with a petting zoo and rides. Other zoo attractions include the fun Meyers Farm, where you can explore 19th-century Lower Saxony half-timbered structures, and the Disney-like Zambezi River boat ride through the open-cages of animals such as rhinos and elephants.
Address: Adenauerallee 3, 30175 Hanover
10 Museum August Kestner
The Kestner Museum in Hanover houses numerous antiquities, including an important Egyptian collection, as well as applied and decorative arts. Founded in 1889, it also holds large collections of local antiquities, coins, and handicrafts. Another important museum is the kestnergesellschaft, noted for its modern art collections and exhibits.
Address: Trammplatz 3, 30159 Hanover
11 Sprengel Museum
Home to one of Germany's most important collections of modern art, the Sprengel Museum is a must for art lovers. Opened in 1979 and containing both private and state-owned collections, the gallery is known for its numerous works by local artist Kurt Schwitters, as well as from artists such as Max Ernst, Picasso, and Paul Klee, among others. The museum is also home to a collection donated by well-known artist Niki de Saint Phalle, as well as a fascinating large metal sculpture by Alexander Calder.
Address: Kurt-Schwitters-Platz, 30169 Hanover
12 Eilenriede
On the east side of Hanover, the beautiful municipal forest of Eilenriede covers an area of nearly 1,600 acres. This huge recreation area - the largest inner-city forest in Europe - contains numerous footpaths and bridle paths, along with playing fields and open spaces for relaxation. Often referred to as the "Grüne Lunge," or green lung, it's a wonderful place to spend time when visiting Hanover, as is Hermann Löns Park, a beautiful landscaped park with an old windmill. Adjoining it is the Tiergarten, laid out in 1679 as a hunting park with old trees and some 200 red deer, wild horses, and wild pigs.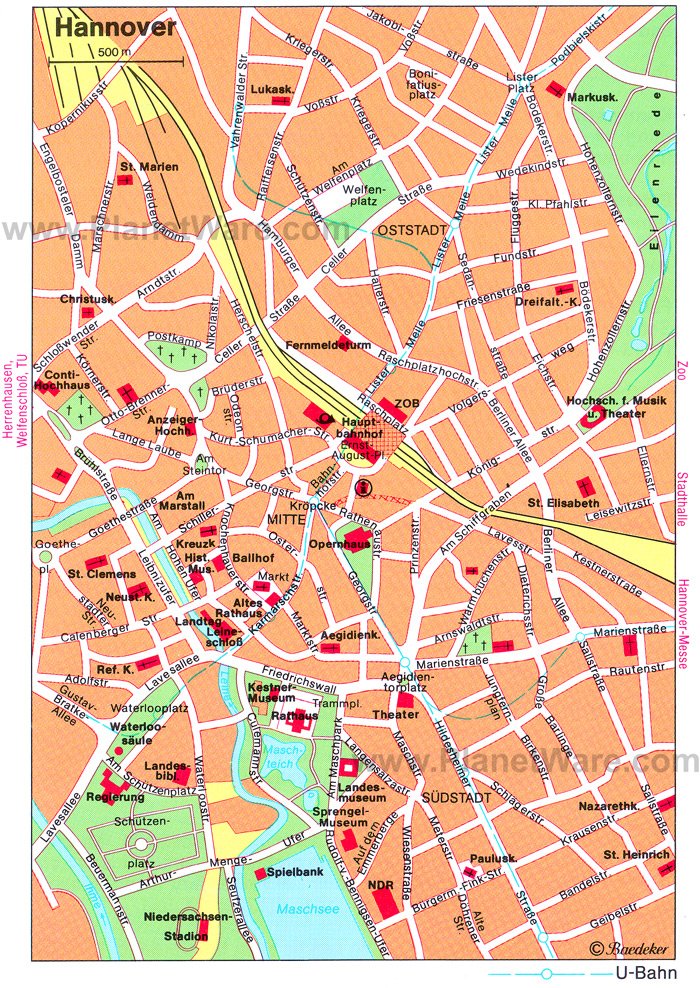 Hanover Map - Attractions
Want to use this map on your web site?
Copy and Paste the code below:
More on Germany