10 Top Tourist Attractions in Bremen & Easy Day Trips
The Free Hanseatic City of Bremen on the lower Weser River, capital of the Land of Bremen, is one of the largest seaports and centers of seaborne trade in Germany. The Land of Bremen also includes the port of Bremerhaven, just 60 kilometers north of Bremen and the point where the River Weser flows into the North Sea (both cities are popular places from which to embark on sightseeing boat trips). In addition to being an important industrial and commercial center, Bremen has also long been an important cultural center. Key events in the city's cultural calendar include the Freimarkt, a fair that has taken place almost continuously since 1036; the Vision Parade Techno music festival; and the International Youth Symphony Orchestra of Bremen.
1 Bremer Marktplatz and the Statue of Roland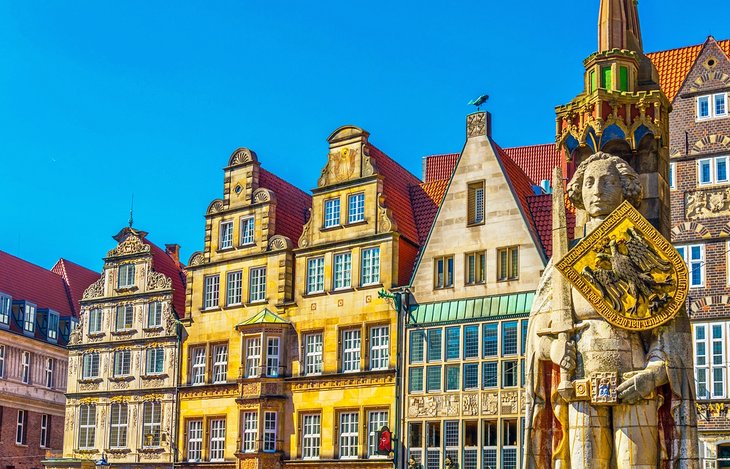 Bremen's picturesque Marktplatz is home to many of the city's attractions, including the lovely old Town Hall with its five-and-a-half-meter-tall statue of Germany's most famous knight, Roland. Built in 1404, the statue - the oldest of numerous such monuments dotted around the country - remains a symbol of the city's freedom and independence from the church (the statue faces the church defiantly). It's also the site of the city's popular Christmas Market, as well as the Freimarkt, an ancient fair that has taken place here almost continuously since 1036.
2 The Town Hall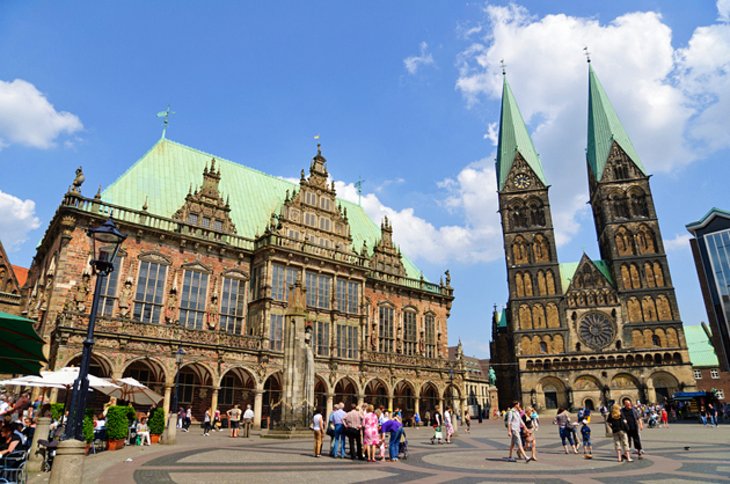 Bremen's beautiful old Town Hall is a brick-built Gothic structure constructed in 1410 in the city's Marktplatz, with its sumptuous Renaissance facade added in 1612. Recently designated a UNESCO World Heritage Site, the building boasts one of the most elegant banqueting and reception halls in Germany: an impressive 40-meters-long, 13-meters-wide, and eight-meters-high, its most notable feature is a large painting of the Judgment of Solomon dating from 1537. Regular free concerts are held every Thursday evening, including vocal soloists and organ recitals. Also of note is a richly-carved spiral staircase, while under its northwest tower is a bronze group of the Bremen Town Musicians - a donkey, a dog, a cat, and a cock - who feature in an old folk tale.
Address: Am Markt 21, 28195 Bremen
3 The Cathedral of St. Peter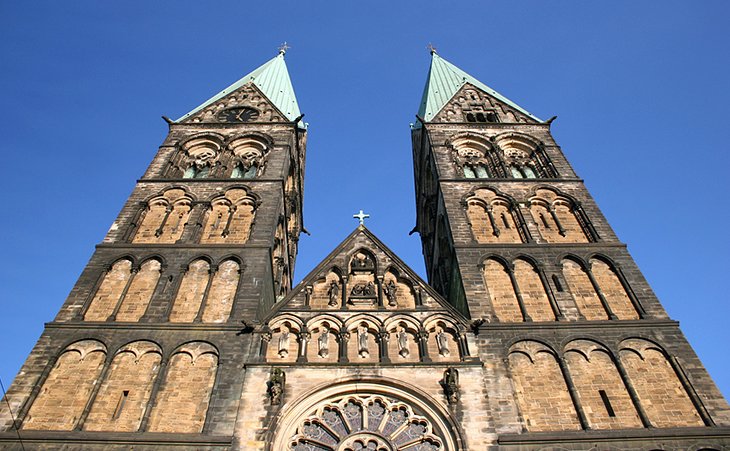 The Cathedral of St. Peter in Bremen - known locally as St. Petri Dom - dates from the 11th-century, with additions being made in the 13th and 16th centuries. The exterior, with its twin 98-meter tall towers, was restored in 1898, while its richly-decorated Baroque pulpit was a gift from Queen Christina of Sweden in the 17th century. In the Bleikeller, or Lead Cellar, are a number of mummified bodies, and displays of other items related to the tombs can be seen in the Museum at St. Peter's Cathedral. A nominal admission charge is required to visit the cathedral's tower, but it's well worth it for the views.
Address: Sandstraße 10-12, 28195 Bremen
4 Böttcherstrasse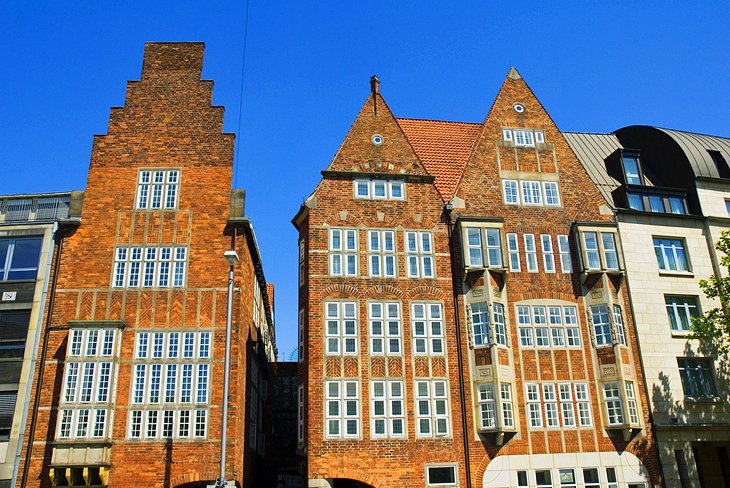 Bremen's narrow Böttcherstrasse, transformed between 1926-31 into a street of museums, is one of the city's most popular tourist attractions. Although only 100 meters long, its many examples of unusual expressionist architecture make it tremendous fun to explore (you can't miss the entrance - look for the Lichtbringer, an impressive gold sculpture above the "secret" archway). A must-see here is the wonderful Paula Becker-Modersohn Museum, the world's first gallery dedicated to the art of a single woman and housed in a specially designed expressionist brick building. Highlights of the collection include photos, paintings, and documents relating to the artist, as well as displays by her contemporaries. Also of interest to art lovers is Roselius-Haus, built in 1588 and home to the Ludwig Roselius Museum with its fine examples of Low German art from the Gothic to Baroque periods. Afterwards, be sure to visit the street's many unique shops and galleries, as well as the famous Glockenspiel House with its thrice-a-day chime.
Address: Böttcherstrasse, D-28195 Bremen
5 The Schnoor District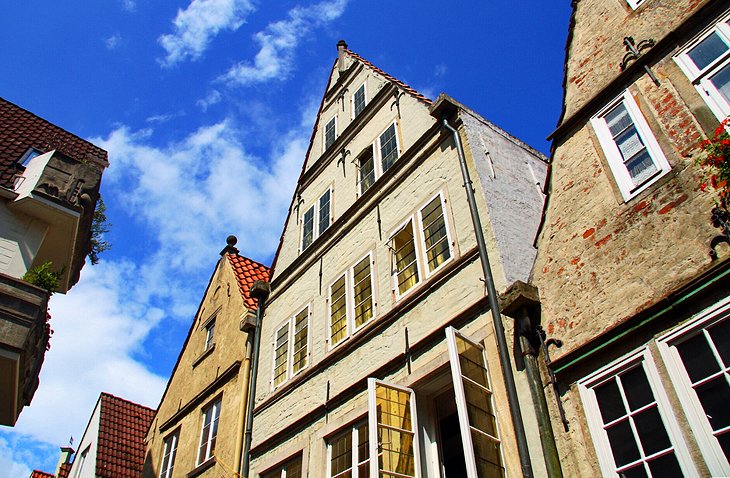 The charming medieval district of Schnoor is the oldest part of Bremen. Now the haunt of artists, its full of old 15th to 18th-century homes once populated by merchants and fishermen. In addition to the many cafés and craft shops that dot the district, other highlights include the Schifferhaus, or Shipper's House, built in 1630, and the lovely Landherrnamt dating from 1856 and once home to the state government. Also of note here is St. John's Church, a 14th-century brick-built Gothic church.
Address: Hutfilterstraße 16-18, 28195 Bremen
6 Kunsthalle Bremen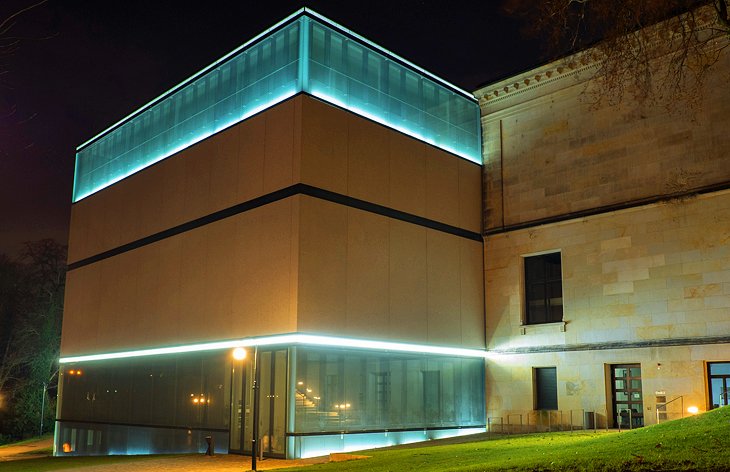 The Kunsthalle, in Bremen's Old Town, contains numerous fine 17th-century Dutch paintings, as well as many old German masters dating as far back as the 15th century. Other highlights include its collection of French and Dutch paintings of the 19th and 20th centuries, works by painters from the famous Worpswede artists' colony, and more than 200,000 drawings and prints. Guided and audio tours are available in English, and a first-class restaurant with a terrace is located on site.
Address: Am Wall 207, 28195 Bremen
7 The German Maritime Museum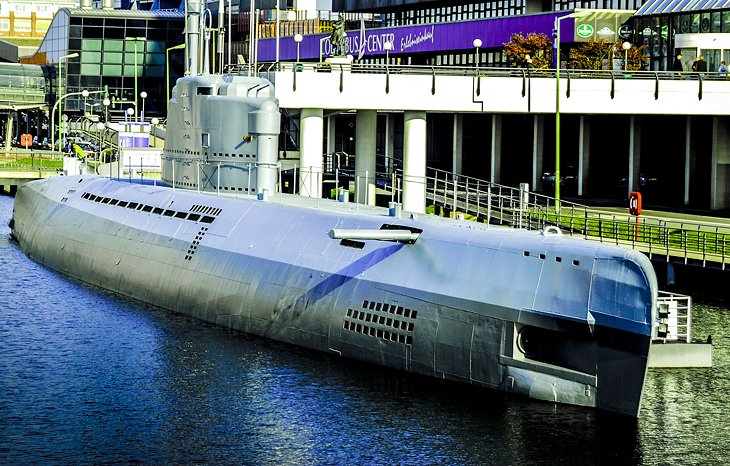 In Bremerhaven's Old Harbor - a little more than 60 kilometers north of Bremen - is the German Maritime Museum (Deutsches Schiffahrtsmuseum), a superb museum dedicated to the country's rich seafaring history. Notable among its exhibits is a Bremen "kogge", an old Hanseatic merchant ship; a Mark XXI submarine from WWII; the four-masted tall ship, the Seute Deern; and the old paddle steamer, the Meißen. Also of interest is a 112-meter-tall radar tower with a viewing platform, as well as exhibits relating to European shipping from prehistoric to modern times. Afterwards, be sure to spend time exploring Bremerhaven in particular, the harbor area with its busy fishing port.
Address: Hans-Scharoun-Platz 1, 27568 Bremerhaven
8 The Rhododendron Park and Mühle am Wall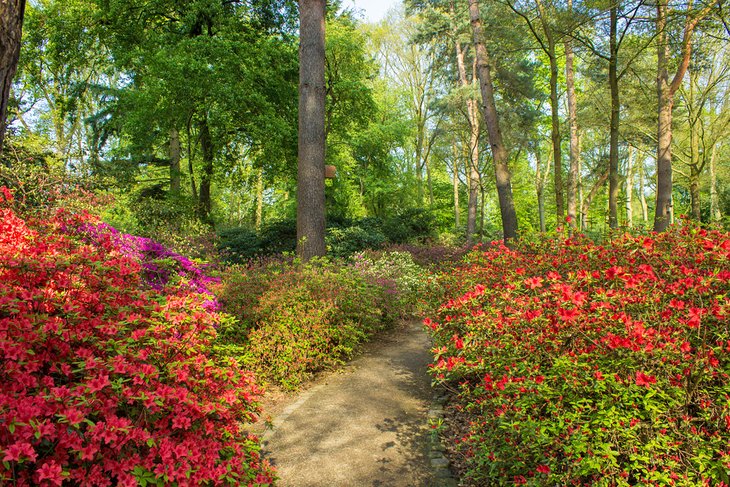 Bremen's 114-acre Rhododendron-Park, established in 1933, is a wonderful place to explore, whether you're a nature lover or a gardener. In addition to its huge collection of rhododendrons and azaleas, it boasts an eight-acre botanical garden created in 1905 with plant species from alpine regions, as well as Asia, Australia, and the Americas, and more than 1,000 native species, some of them endangered. Afterwards, be sure to visit Bremen's Old Town Walls, which take in the town's moat and a lovely old windmill, the Mühle am Wall, built in in 1888 and now a heritage building and restaurant.
Address: Deliusweg 40, 28359 Bremen
9 Universum Science Center
One of Bremen's newest attractions is also one of its most interesting architecturally. Resembling a large, partially opened clam - or a grinning whale, depending on where you're standing - and made from more than 40,000 metal tiles, it's home to some 250 fascinating hands-on exhibits focusing on mankind, the earth, and the cosmos. A recent addition to the attraction is EntdeckerPark, which includes the Turm der Lüfte, a 27-meter-tall tower with superb views of the area.
Address: Wiener Straße 1a, 28359 Bremen
10 The Übersee-Museum Bremen
The Übersee-Museum Bremen - or Overseas Museum - has many excellent collections related to natural history, trade, and ethnography, including displays focusing on the South Seas, Australia, and Asia. The building itself is listed, and highlights of the museum within include exhibitions related to Bremen's import and export trade. English language brochures, educational materials, and audio guides are available when purchasing tickets, and guided tours in English are also available.
Address: Bahnhofsplatz 13, 28195 Bremen
Day Trips from Bremen
Cuxhaven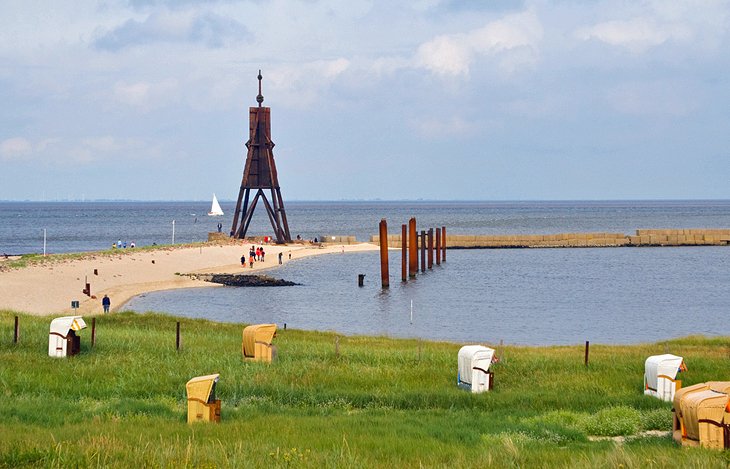 About an hour's drive from Bremen, Cuxhaven is a popular health resort on the North Sea at the west end of the Elbe estuary. From 1394 to 1937 the town belonged to Hamburg and is one of Germany's most important fishing ports with a busy harbor and fish market. At the northernmost tip of land in Cuxhaven's Döse district is the Kurpark, with a sea lion pool, bird meadow, and a large wooden spherical beacon, the landmark and emblem of the town. Other attractions of note in Cuxhaven include Schloss Ritzebüttel, with a defensive tower built around 1300 and enlarged in 1616, and the Wreck Museum, in Cuxhaven's Stickenbüttel district, displaying objects recovered from ships as well as the history of sea rescue services. For more local history exhibits, visit the municipal museum in the Neoclassical Reyersches Haus. In the shallow coastal waters northwest of Cuxhaven, are the islands of Neuwerk and Scharhörn. Administratively, both islands belong to Hamburg, but they are most easily reached from Cuxhaven by boat or at low tide in a horse-drawn carriage or on foot (check the tide times). Originally a defensive tower in the 13th or 14th century, Neuwerk's 35-meter-high lighthouse affords spectacular views from the top. Nearby, you can visit the "cemetery of the nameless ones," with the graves of unknown seamen.
Heligoland
Once part of Britain, the island of Heligoland (Helgoland in German) lies in the Deutsche Bucht (Heligoland Bay) some 70 kilometers from Cuxhaven on the Elbe estuary. In 1890, the British gifted Heligoland to Germany in exchange for Zanzibar, and this little archipelago is now a popular holiday resort attracting visitors with its mild climate, crisp sea air, modern spa facilities, and duty-free shopping. Heligoland consists of three parts: Unterland, in the southeast, is home to the island's village and spa facilities, and to the north, an aquarium and heated open-air seawater swimming pool. Mittelland is higher in elevation and was formed when British bomb testing collapsed part of the island in 1947. Oberland, rimmed by sandstone cliffs and linked to Unterland by a lift and flights of stairs, is a flat, grassy triangle of rock rising to a height of 58 meters above the sea. At the northern tip of the island, you can stroll along a panoramic cliff-top path to view rock formations such as Lange Anna ("Big Anna"), a russet-hued sea stack, and Lummenfelsen, a haven for many species of seabirds. About one-and-a-half kilometers east of Unterland lies the little island of Düne where locals and tourists alike bask on the white-sand beaches. Daily ferries to Heligoland depart from Cuxhaven at the mouth of the Elbe estuary.
Sponsored Links

Bremen Deals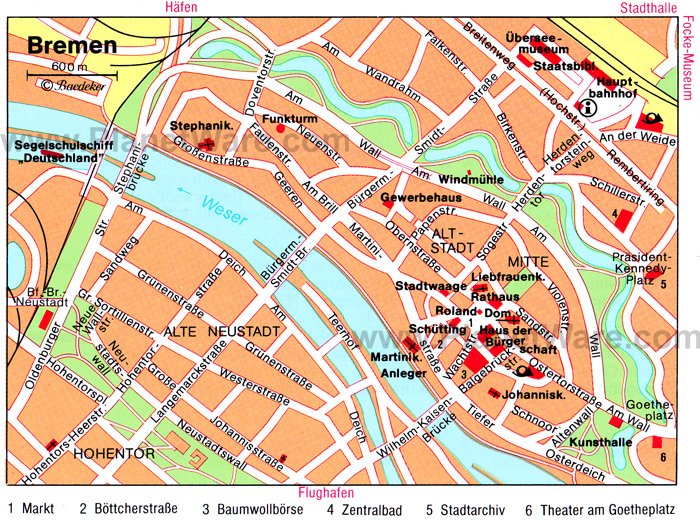 Bremen Map - Attractions
Want to use this map on your web site?
Copy and Paste the code below:
More on Germany