10 Top-Rated Tourist Attractions in Düsseldorf
Düsseldorf is a university town and a center of art and fashion. This old electoral capital is also a city of wide streets lined by elegant shops, with a ring of parks and gardens encircling its vibrant downtown area. Known as an important cultural center, the city boasts dozens of museums and in excess of 100 art galleries encompassing everything from internationally renowned facilities such as the impressive Art Collection North Rhine-Westphalia to the smaller installations found in the city's trendy Königsallee area. Its location on the Rhine along with its numerous wide squares and wonderful riverside walkways makes it a particularly pleasant place to spend time.
Every July the city hosts the Largest Fair on the Rhine, a massive week-long funfair attracting more than four million visitors, as well as the popular Karneval, held each November 11th with its parades and colorful costumes.
1 Königsallee - Germany's Most Elegant Avenue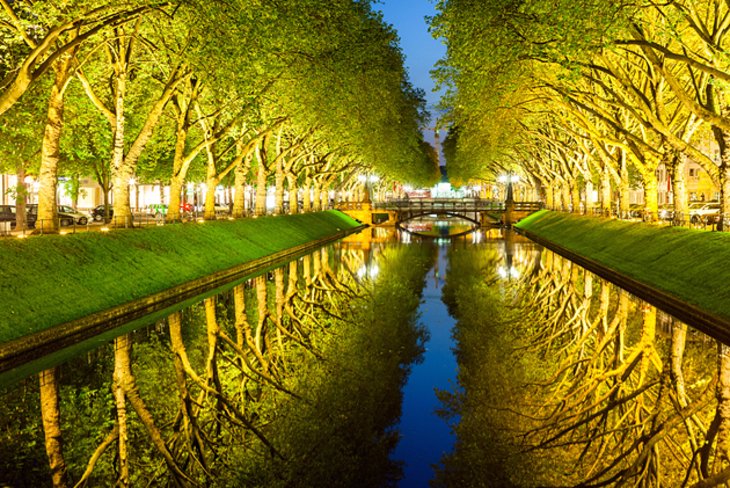 Düsseldorf's most elegant shopping street is Königsallee, affectionately known to locals as the "Kö." Comparable to Avenue Montaigne in Paris, this long stretch of high-end real estate was laid out in 1802 and continues to draw the crowds with its eclectic mix of exclusive boutiques, luxury shopping arcades and art galleries, as well as numerous restaurants and cafés. Extending along both sides of the old town moat - a 31-meter-wide, tree-lined stretch of water that adds to the street's sense of spaciousness - Königsallee stretches all the way from Graf-Adolf-Platz in the south to the Hofgarten in the north, where it ends at the spectacular Triton Fountain.
2 Schloss Benrath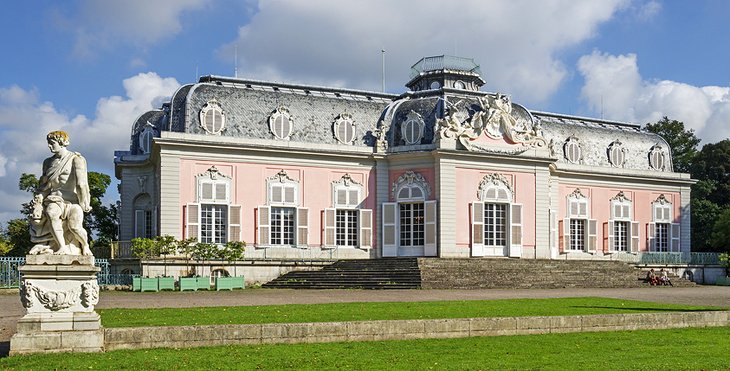 An easy ten-kilometer journey from the city center by public transit, Schloss Benrath is a splendid Baroque palace constructed between 1756 and 1773. Highlights include the palace's sumptuous interior, as well as a stroll around its huge park and gardens. Originally built for Elector Carl Theodor, the palace is home to three excellent museums focusing on various aspects of life in the 18th century: in the main palace building is Museum Corps de Logis, showcasing the history of Benrath and its architecture, while the equally interesting Museum for Landscape Art and the Natural Science Museum are situated in other park buildings.
Address: Benrather Schloßallee 100-106, D-40597 Düsseldorf
3 North Rhine-Westphalia Art Collection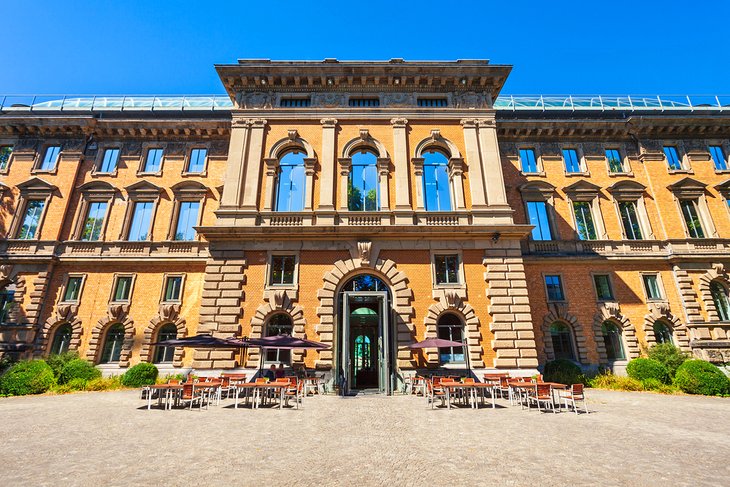 The North Rhine-Westphalia Art Collection (Kunstsammlung Nordrhein-Westfalen) is spread across three locations in Düsseldorf. The largest collection, K20, is located in Grabbeplatz, an ultra-modern building with a façade of polished black granite, which is itself a work of art. This vast gallery houses numerous works of modern art, including a notable collection of paintings by Paul Klee. K21, in the 19th-century Ständehaus building, includes a variety of installations focusing on modern painting and drawing, as well as sculpture and film, with works by Thomas Schütte, Reinhard Mucha, and Thomas Hirschhorn. The third location, Schmela Haus, hosts numerous temporary exhibits. Other art-related museums of note in Düsseldorf include the Julia Stoschek Collection, a private collection of contemporary art, and the Ernst Schneider Collection.
Address: Grabbeplatz 5, 40213 Düsseldorf
4 Kaiserswerth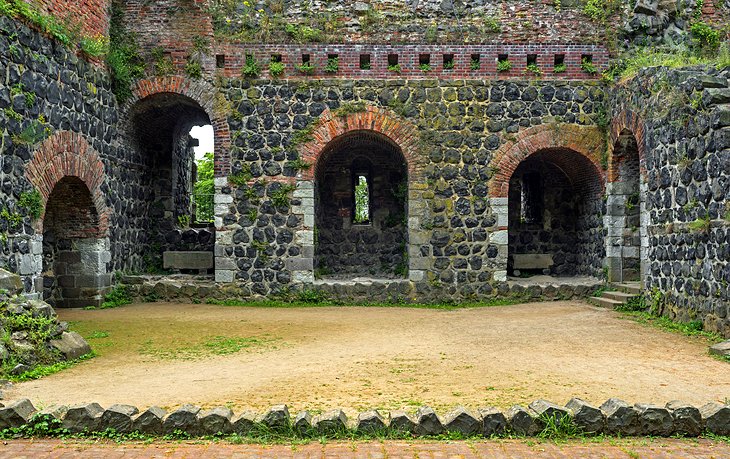 Incorporated into the city in 1929, Kaiserswerth is one of Düsseldorf's oldest (and poshest) neighborhoods, and is a wonderful place to explore due to its many old buildings and its picture-perfect location on the Rhine. Tracing its roots back to the 13th century is the Church of St. Suitbertus, noted for its beautiful reliquary of the saint. Even older is the Kaiserpfalz, the imperial stronghold of Emperor Frederick I, also known as Barbarossa. Although mostly ruins, the scale of the site still impresses.
5 The Museum of Art: Kunstpalast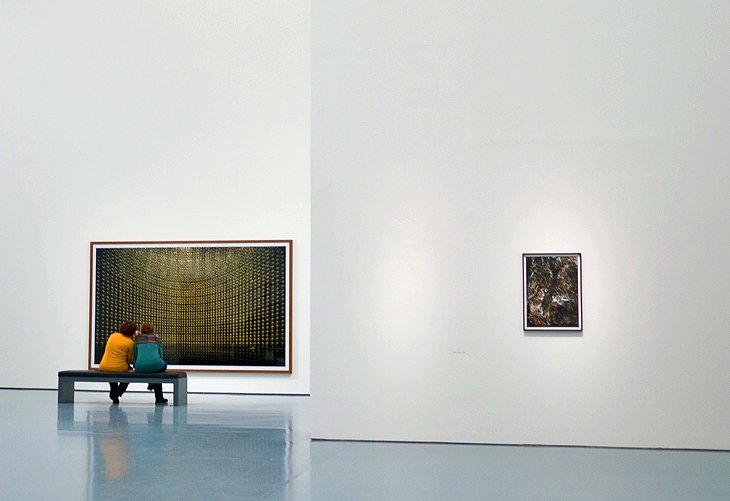 The Museum of Art (Museum Kunstpalast) is another important art facility in Düsseldorf with artwork dating from the 3rd century BC to the present day. Highlights include fine art, sculptures and drawings, in addition to more than 70,000 items of graphic art, photos, and applied art. Other highlights include a collection of glass by Helmut Hentrich, along with rare Italian Baroque works, a modern art collection including works by Dali, Warhol, and Caravaggio, as well as examples from members of the Düsseldorf School of Painting and Expressionism. The museum also offers theatrical performances and classical concerts, and guided tours are available. Also of interest to art lovers is Kunsthalle Dusseldorf, a collective of local artists who regularly host displays of members' work in a unique underground gallery called Art in the Tunnel (Kunst im Tunnel).
Address: Ehrenhof 4-5, 40479 Düsseldorf
6 Old Town Düsseldorf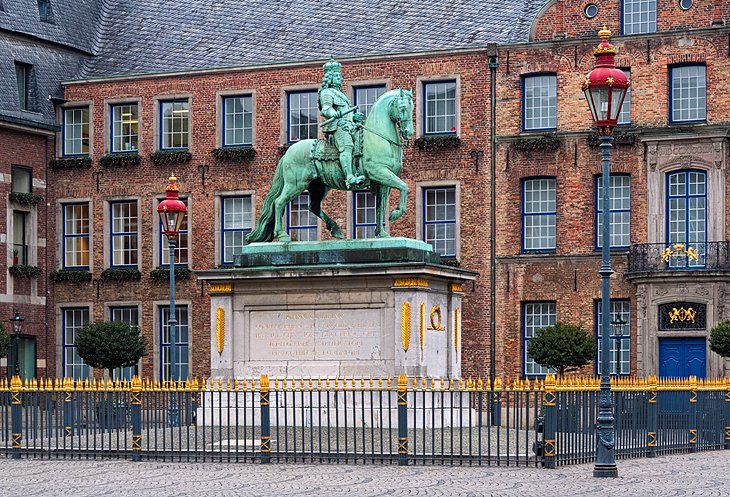 Düsseldorf's Old Town (Altstadt) remains remarkably well preserved and should be included on your list of must-see attractions. The focal point of the Old Town is the Marktplatz where you'll find the imposing Town Hall (Rathaus) and a large equestrian statue of Elector John William II erected in 1711. Another highlight is the Castle Tower (Schlossturm) in Burgplatz on the banks of the Rhine. The only surviving section of this old castle that once dominated the city, the tower is home to the SchiffahrtsMuseum, one of Germany's best (and oldest) marine museums with fascinating exhibits on the history of shipbuilding and trade. Another attraction to visit is the Hetjens Museum, dedicated to more than 800 years of ceramics, porcelain, and earthenware. After exploring the Old Town, be sure to visit the neighboring Ehrenhof district, home to the domed Tonhalle, a concert hall constructed in 1926 as the base of the city's orchestra, Düsseldorfer Symphoniker.
7 Neue Zollhof and the Gehry Buildings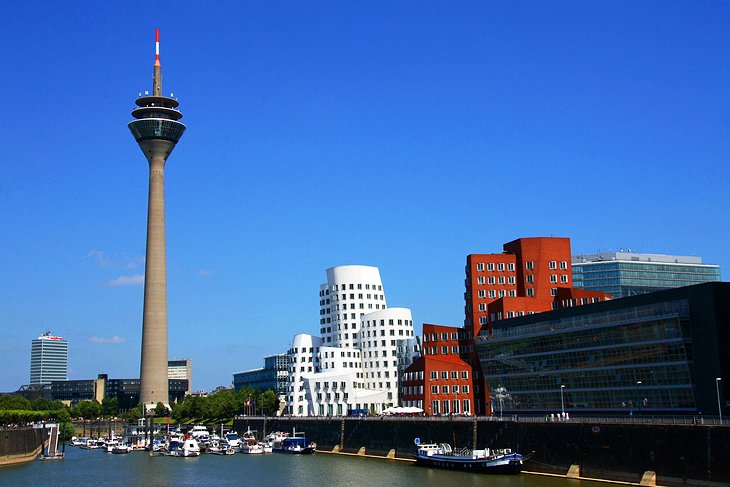 Dusseldorf is home to some of the most daring of modern architecture, the best of which can be seen in Neue Zollhof, a stunningly redeveloped section of the city's old port. The highlights here are undoubtedly the Frank Gehry designed office buildings of Media Harbor, three quite distinct structures built in 1998 that seem to defy gravity as they lean and curve like jelly frozen in mid-wobble. Another interesting architectural landmark is the nearby Rheinturm Tower, a 240-meter-tall telecommunications tower constructed in 1981 with an observation deck offering superb views of the city (it also claims to be the world's largest digital timepiece).
8 Nordpark's Japanese Garden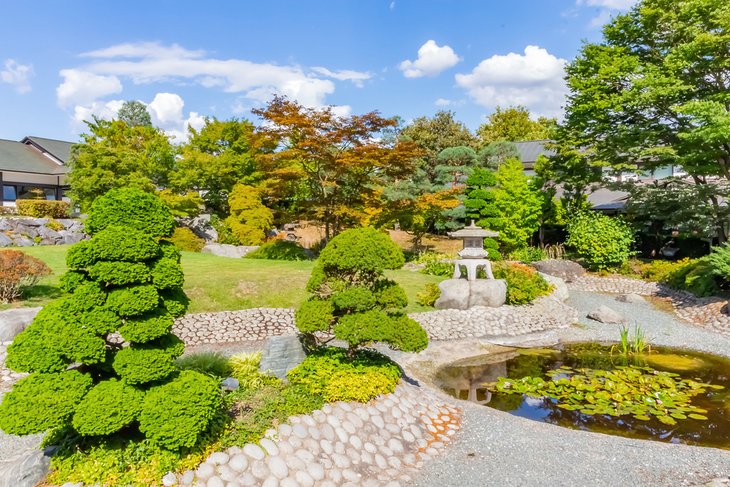 One of Düsseldorf's most popular parks - and at 90 acres, one of its largest - Nordpark is a wonderful place to explore. Numerous wide pathways crisscross the park through its spacious lawns and themed gardens, including the lovely Lily Garden. Other Nordpark highlights are its Horse-Tamers statue and the Japanese Garden, the latter presented to the city by Düsseldorf's Japanese community and boasting an astonishing variety of landscapes. Another top attraction here is the Aquazoo Löbbecke Museum, a great place for kids of all ages thanks to its excellent natural history displays and in particular, its large aquarium and insectarium (currently undergoing renovations, this popular attraction will reopen in 2015).
Green thumbs will also enjoy the Botanical Garden of Düsseldorf University, south of the city center. The gardens spotlight plants from temperate climate zones and also feature a domed hot house, wildflower meadow, beehives, and delightful apothecary and Alpine gardens.
9 The Hofgarten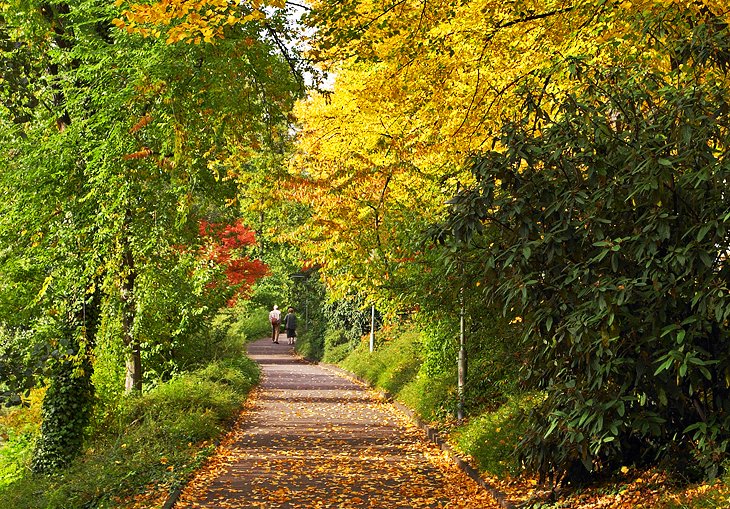 Düsseldorf's city center is bounded to the north by the Hofgarten, a large park laid out in 1770 that stretches all the way from the Old Town and Königsallee to the banks of the River Rhine. Designed in the English landscape style, this delightful 68-acre site includes extensive meadows and wooded areas, as well as numerous streams and ponds. Among its many notable buildings is the Baroque Hofgärtnerhaus, or Court Gardener House, former home of garden architect Maximilian Weyhe and now housing the city's Theatre Museum. Also worthy of a visit is Schloss Jägerhof, a former hunting lodge built in rococo style in 1763 and occupied, albeit briefly, by Napoleon. Today, the building is home to the city's Goethe-Museum with its rich collection of artifacts and exhibits devoted to Germany's greatest writer and poet. The park is also home to a number of interesting modern sculptures as well as historic monuments and memorials, including the Märchenbrunnen with its fairytale figures, and a sculpture by Henry Moore.
Address: Jacobistraße 2, 40211 Düsseldorf
10 The Magic of the Rhine: The Embankment Promenade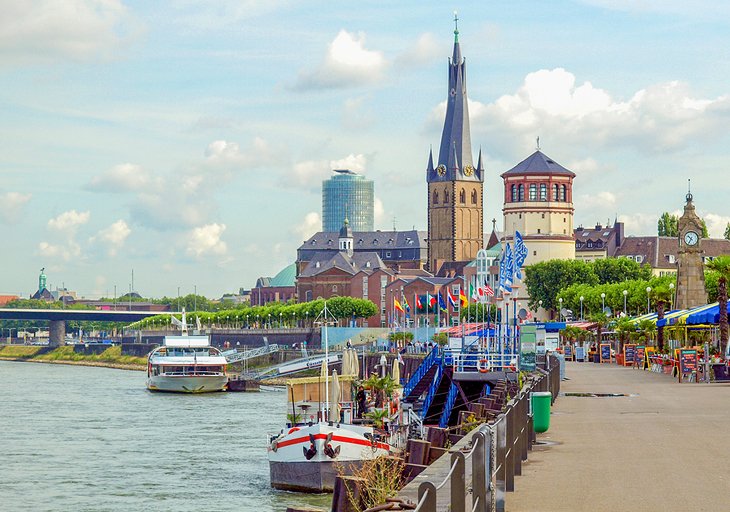 Düsseldorf's Rhine Embankment Promenade offers one of the best ways of enjoying the city's wonderful riverside. Opened in 1997 as a means of hiding one of the city's busiest roads (it's buried beneath the promenade), this long pedestrian route gives the city a distinctly Mediterranean flavor, lined as it is by cafés, restaurants, galleries, and shops on one side, and the mighty Rhine on the other. Running all the way from the Oberkassel Bridge and connecting the Old Town to the state's Parliament buildings, the one-and-a-half-kilometer, tree-lined promenade encompasses pedestrian and bike paths and offers countless opportunities for sightseeing and people watching.
Sponsored Links

Düsseldorf Deals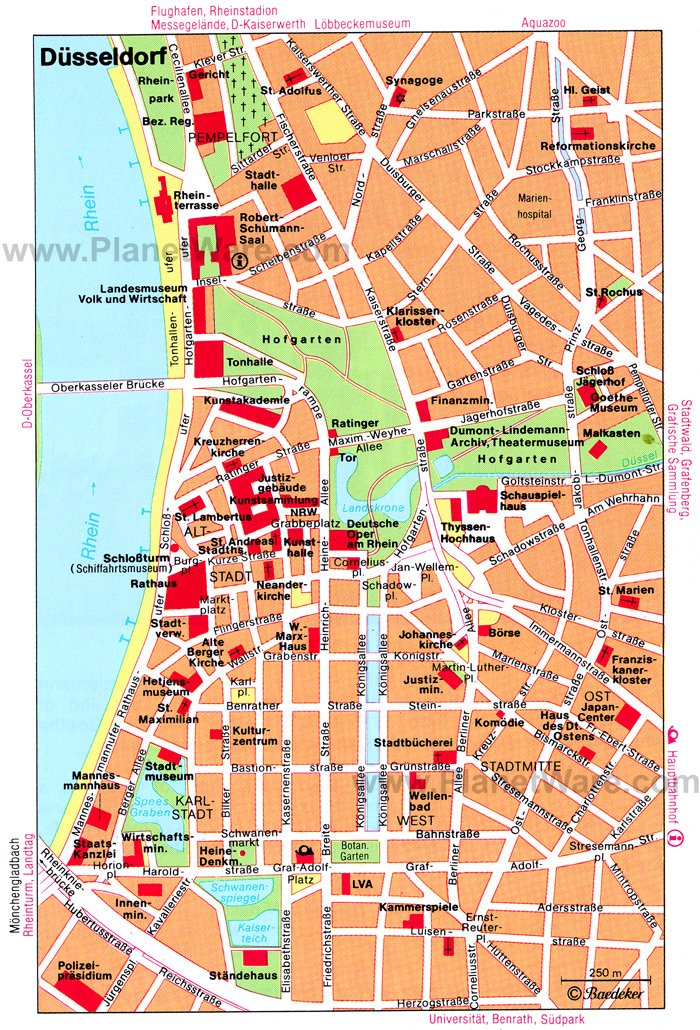 Dusseldorf Map - Attractions
Want to use this map on your web site?
Copy and Paste the code below:
More on Germany