Arnhem Tourist Attractions
Arnhem, capital of the province of Gelderland, lies for the most part on the right bank of the Lower Rhine, a few kilometers below the point where the IJssel branches off the Rhine.
Town Center
The traffic hub of Arnhem is the Willemsplein, near the Central Station. Just to the south of this square is the Nieuwe Plein, from the south end of which the town's narrow main shopping street (successively named Rijn-, Vijzel-, Ketel- and Roggestraat) extends east to the Velperplein. From this street various side streets run south to the oldest part of the town, in which, near the Rhine, is the spacious Markt (market square).
Grote Kerk
At the north end of the Arnhem market square stands the Grote Kerk (15th C.; Reformed), which was badly damaged during the Second World War but later rebuilt. From the tower (which contains a carillon) there are fine views. In the choir is the imposing marble monument of the last Duke of Gelderland, Charles of Egmond (d. 1538), an opponent of Charles V.
Old Town Hall
Immediately east of the Grote Kerk in Arnhem is the Old Town Hall, known as the Duivelshuis (Devils' House) after the three figures of devils at the entrance. The Town Hall was built about 1540 for Maarten van Rossem, Duke Charles's general.
Law Courts
Northeast of the Arnhem Town Hall are the Law Courts (1958-63) and the Archives of Gelderland (Rijksarchief Gelderland; 1880).
Provinciehuis
At the south end of Arnhem's market square is the Provinciehuis (1954), the seat of the provincial government, with a beautiful courtyard and council chamber (Statenzaal).
Sabelpoort
Immediately west of the Provinciehuis in Arnhem stands the Sabelpoort (14th C.; side facing the square 1642), all that remains of the old town walls.
A Bridge Too Far
The bridge over the Rhine at Arnhem ("a bridge too far") was held by British paratroops for four days against overwhelming odds during the airborne operation in 1944; it is now called the John Frost Bridge in honor of the commander of the paratroops, who are also commemorated by a monument at the north end of the bridge.
St Walpurgisbasiliek
From the John Frost Bridge a ring of gardens runs north on the line of the former town walls along the east side of the old town of Arnhem, passing on the left the St Walpurgisbasiliek (R.C.), the town's oldest church (consecrated 1422; fine pulpit) and the Stadsschouwburg (Municipal Theater).
Musis Sacrum Concert Hall
On Velperplein in Arnhem can be found the Musis Sacrum Concert Hall (with exhibition rooms).
Map of Arnhem Attractions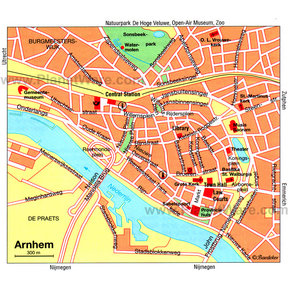 Map - Arnhem