Fethiye Tourist Attractions
Southwest coast (Mediterranean)Situation and ImportanceThe port of Fethiye, chief town of its district, lies on the Lycian coast some 150km/95mi southeast of the provincial capital of Mugla. The gulf, dotted with numerous islets, is closed by the little island known since 1936 as Cavaliere, the Island of Knights. The town, previously called Megri or Makri, was renamed Fethiye when Turkey became a republic, in honor of an airman, Fethi Bey, who crashed here. It was devasted by an earthquake in 1856, and after a further earthquake in 1957 much of it had to be rebuilt. As a result it is now a modern town with a long seafront promenade and a lively bazaar. In recent years, thanks to its sheltered boating harbor and many beautiful beaches Fethiye has developed into a flourishing holiday resort served by the regional airport of Dalaman (ca. 50km/30mi northwest).
Telmessos
Fethiye occupies the site of ancient Telmessos, an important Lycian city which was already famed in the time of Croesus for its soothsayers. It is now difficult after two earthquakes and the subsequent rebuilding to find any traces of ancient Telmessos in the modern town. The boundaries of the Hellenistic and Roman towns are no doubt marked out by the almost vertical rock face to the west, the Roman tombs on the east side of the town and the Lycian necropolis to the south. The discovery of sarcophagi near the edge of the modern town indicates the course of the ancient coastline.On the castle hill, occupied in the Middle Ages by the Knights of St John and by the Genoese, there are remains of much earlier buildings. The remains of houses on the northwest side of the hill, with a number of cisterns and water-supply channels suggest that there was an unwalled Lycian settlement here, though in a later period the focus of urban life moved down to the coastal plain. Of the ancient theater, which was located and described by the French traveler Charles Texier before the 1856 earthquake, nothing can now be seen but the outline of the cavea (auditorium).

Rock Tombs
The most striking ancient remains of Telmessos are a number of fine rock tombs of characteristic type, modeled on Lycian timber-built architecture and later Ionian temple architecture. The main group is in the rock face to the east of the present built-up area. Particularly notable is the Tomb of Amyntas, which is dated to the fourth century B.C.
Fethiye Archaeological Museum
The little museum in the Town Hall (Belediye) of Fethiye displays material from all the main periods of the town's eventful history.
Map of Fethiye Attractions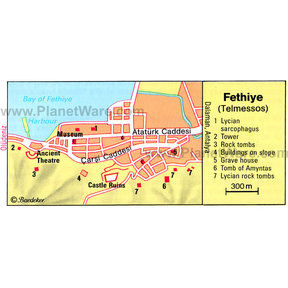 Map - Fethiye