12 Top-Rated Tourist Attractions in Turkey
Packed to the brim with ancient monuments leftover from a parade of conquerors and endowed with showcase scenery that never fails to impress, Turkey is a dazzling destination that straddles Asia and Europe. Its vibrant culture, famed cuisine and vast history wow all who venture here while its glorious landscapes - from the sun soaked Mediterranean to the mighty mountains and arid steppe - are a highlight in themselves. Whether you want to lap up the Byzantine and Ottoman glories of Istanbul on a city break, laze on the beach, delve into history wandering through ruins such as Ephesus or see some of the world's most surreal panoramas in Pamukkale and Cappadocia, this country has attractions galore.
1 Aya Sofya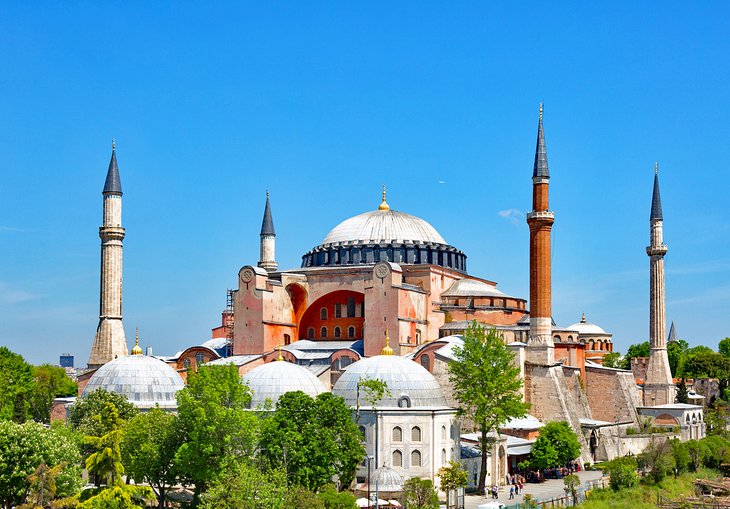 Renowned as one of the most beautiful buildings in the world, the spellbinding Byzantine glory of the Aya Sofya Museum (Hagia Sophia) is not only Istanbul's top sightseeing attraction, but also one of the top sites in Turkey. The staggering bulk of its exterior is rimmed by the delicate minarets added after the Ottoman conquest while the sumptuous and cavernous frescoed interior is a grand reminder of old Constantinople's might and power.
2 Ephesus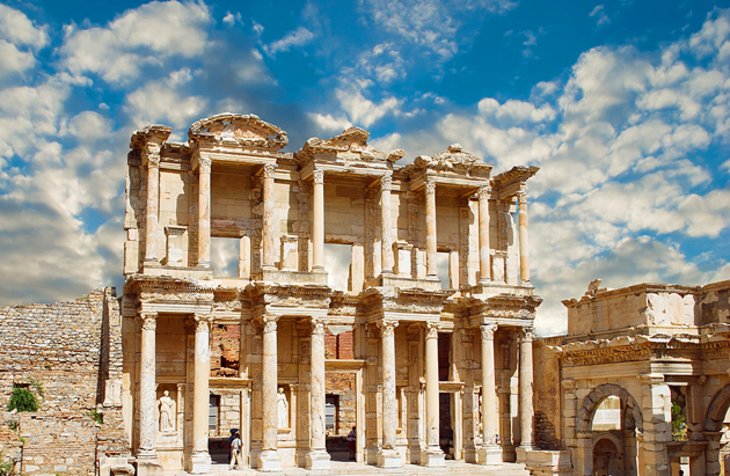 Not to be missed, the mighty ruin of Ephesus is a city of colossal monuments and marble-columned roads. One of the most complete, still-standing Roman cities, this is the place to experience what life must have been like during the golden age of the Roman Empire.
3 Cappadocia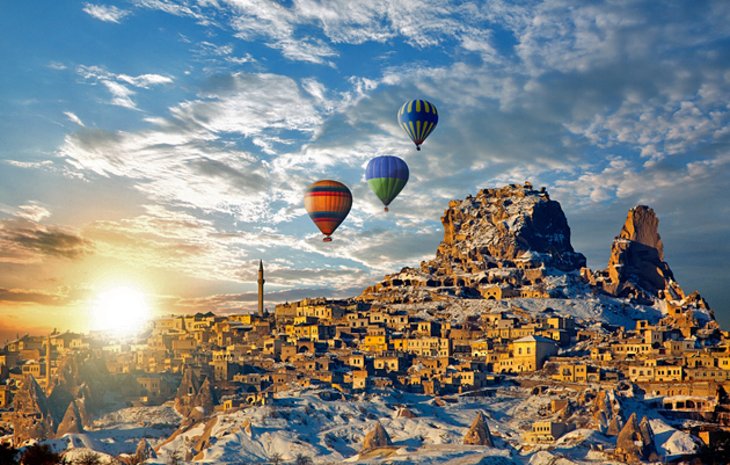 The surreal swooping rock valleys of Cappadocia are every photographer's dream. Cliff ridges and hill crests are home to rippling panoramas of wave-like rock or wacky-shaped pinnacles that have been formed by millennia of wind and water action. And if you don't feel like hiking for the views, this is one of the world's top destinations to take a hot air balloon ride. If the lunarscape isn't enough to tempt you, nestled in those valleys are the frescoed rock-cut churches of the Byzantine Era when this area was an important early Christian site.
4 Topkapı Palace

A visit to Topkapı Palace leads you into the fantastical, opulent world of the sultans. It was from here that the leaders of the Ottoman Era carved out an empire that would extend up into Europe and down through the Middle East and into Africa. The interiors with their decadently exuberant tiling and lavish jewelled decor are an unforgettable peek into the Ottoman's powerbase.
5 Pamukkale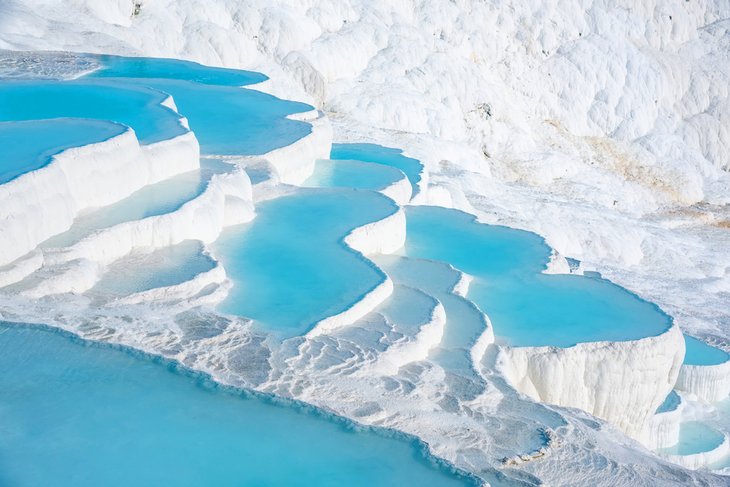 One of Turkey's most famous natural wonders, the pure white travertine terraces of Pamukkale cascade down the slope looking like an out-of-place snow field amid the green landscape. Although the travertines are themselves a highlight of a trip to Turkey, the vast and rambling ruins of Roman Hierapolis lie on the top of this calcite hill providing another reason to visit.
6 Sumela Monastery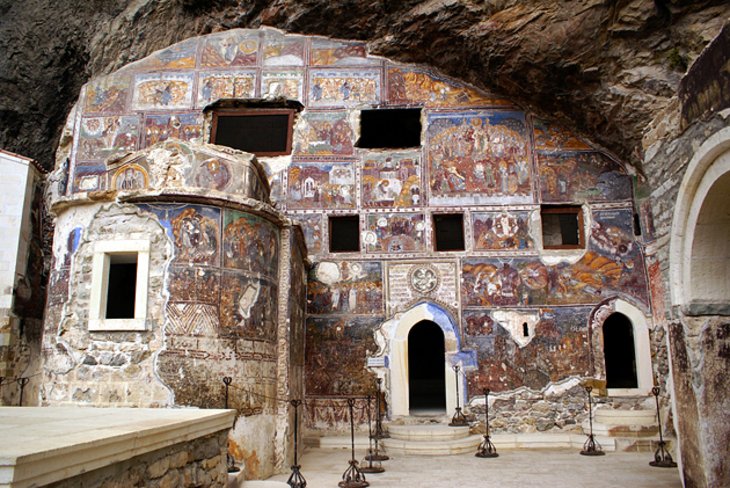 With its stunning lonely setting, built into a cliff face, Sumela Monastery is the star attraction for visitors along the Black Sea coastline. Wandering around this abandoned religious complex, with its church interiors crammed with vibrant frescoes is a must for anyone who makes the long journey to Turkey's northeast region.
7 Mount Nemrut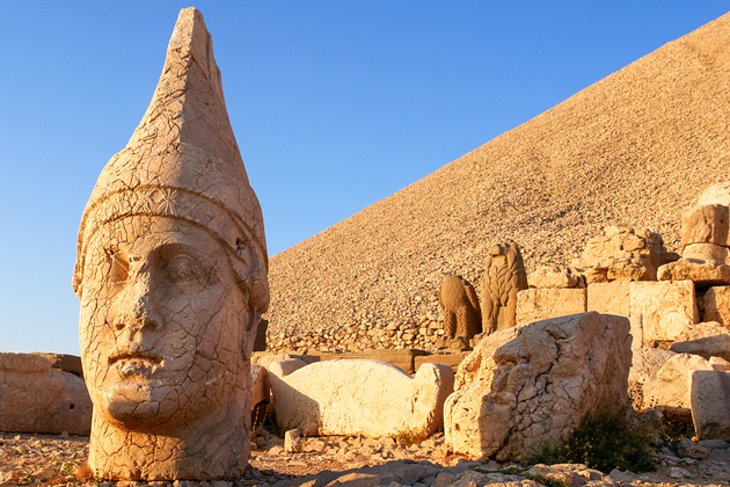 This funerary mound scattered with the broken remnants of once mammoth statues that guarded it, has to be Turkey's most peculiar archaeological site. The giant body-less stone heads of long-forgotten gods stare out from the summit of Mount Nemrut casting an eerie atmosphere over the barren mountaintop.
8 Ani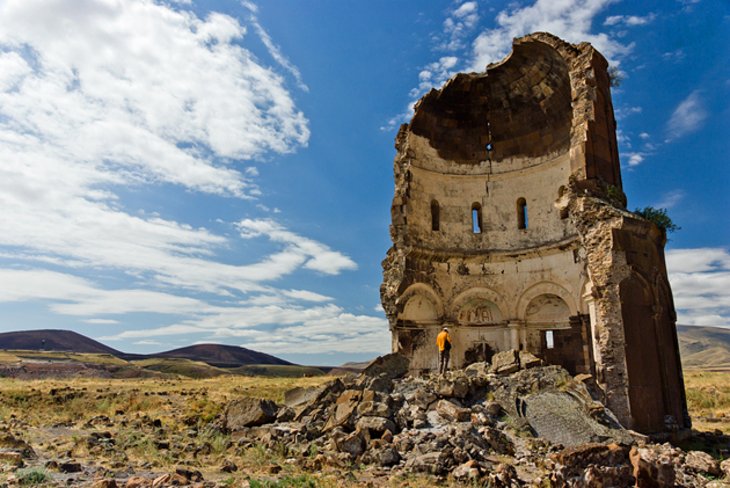 The derelict buildings of the powerful Silk Road city of Ani sit abandoned on the plains close to Turkey's modern border with Armenia. Once the Armenian capital, Ani's golden age came to an end in the 14th century after Mongol raids, earthquake destruction and trade route tussling all played their part in the city's decline. The beautiful red brick buildings still crumbling away amid the steppe grass have a mesmerising effect on all who visit. Don't miss the Church of the Redeemer or the Church of St Gregory with their elaborate stone masonry and fresco remnants still visible.
Ani Map - Attractions
Want to use this map on your web site?
Copy and Paste the code below:
9 Aspendos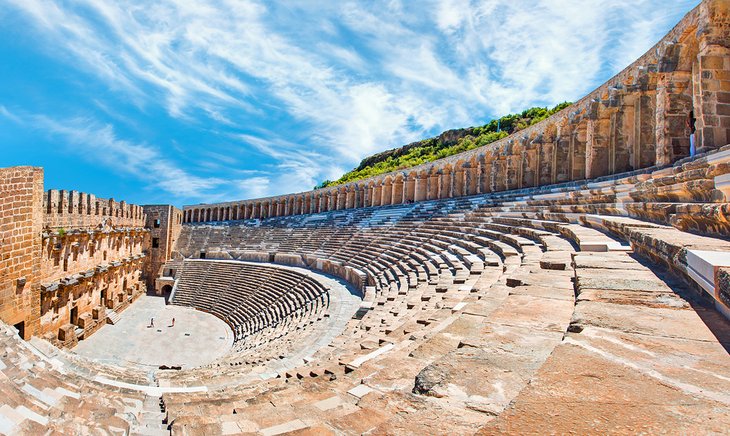 Just south of Antalya, the jaw-dropping bulk of Aspendos' Roman Theatre celebrates the pomp and ceremony of Marcus Aurelius' rule. Considered the finest surviving example of a classical world theatre, it is one of antiquity's star attractions.
10 Yacht cruising on the Mediterranean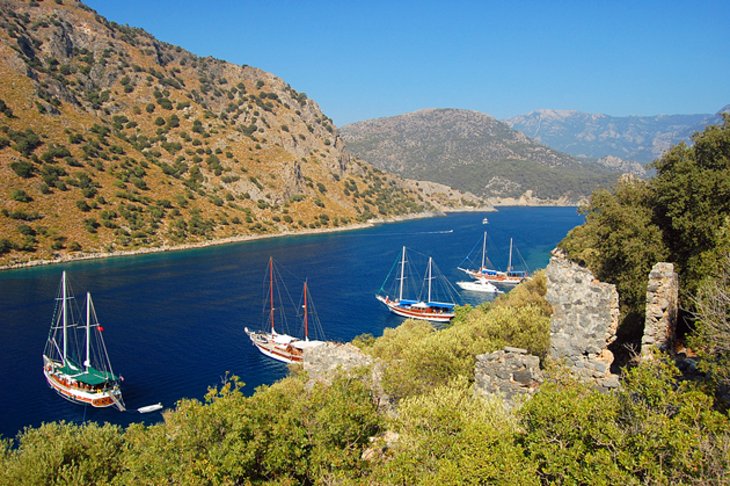 Turkey's Mediterranean coastline has ruins galore and much to do, but for many people it's all about soaking up the sun while enjoying the gorgeous coastal views. Cruising on a yacht is the number one activity for visitors to Bodrum and Fethiye. The steep forest-clad slopes, hidden coves sporting tiny white sand beaches, and hundreds of scattered islands are the perfect place for exploring by sea. Even diehard landlubbers will be impressed.
11 Pergamum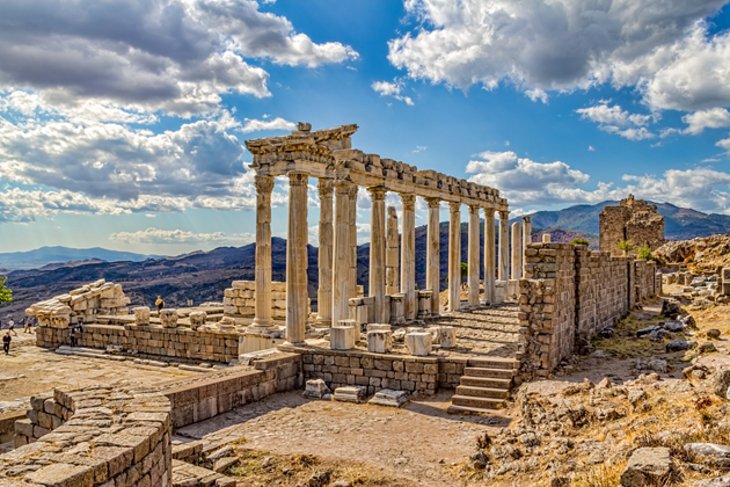 Turkey has an abundance of Greco-Roman ruins but none can be so romantically placed as ancient Pergamum. Once home to one of the ancient world's most important libraries, Pergamum's remaining temple remnants now preside dramatically across a hilltop.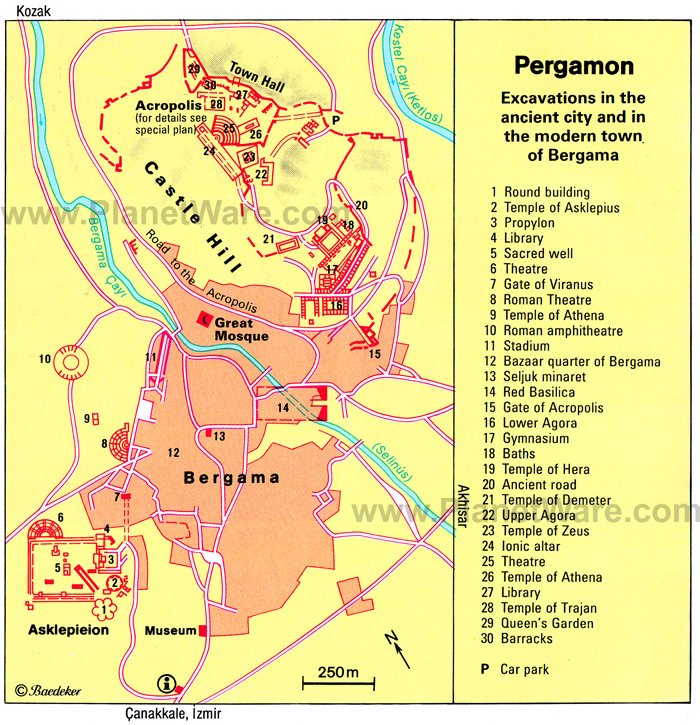 Pergamon Map - Attractions
Want to use this map on your web site?
Copy and Paste the code below:
12 Ölüdeniz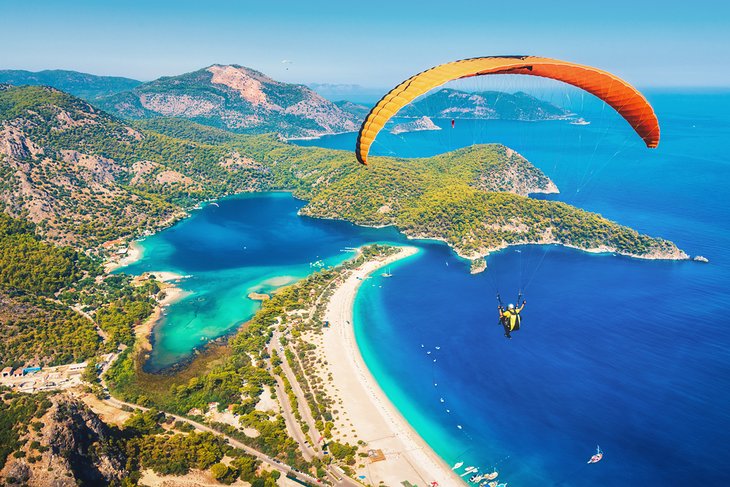 Impossibly turquoise-blue water. Lush green forest tumbling down a cliff to a white sand beach. The sheltered inlet of Ölüdeniz, just a short journey from Fethiye, is Turkey's most famous beach and with scenery that might as well have fallen off a perfect picture postcard, it's easy to see why its popularity hasn't waned. If the beach gets to crowded it's time to take to the skies and experience the stunning aerial views by taking a tandem paragliding dive off the summit of mighty Babadaǧ Mountain which rises up behind the shore. Oh, did we mention that Ölüdeniz is one of the world's top paragliding destinations? Check.
More on Turkey