Milford Sound
On the southwest coast of the South Island is one of New Zealand's scenic jewels, Milford Sound. Its characteristic landscape is familiar from many photographs: in the foreground lush vegetation, beyond this the still blue waters of the fjord and as a backdrop the massive pyramid of Mitre Peak.Among the first Europeans to see this magnificent landscape was Captain Stokes, who put into the sound in the survey ship HMS Acheron in 1851. He anchored near the Bowen Falls and named the mountain towering above the bay (1692m) Mitre Peak, from its resemblance to a bishop's miter.Milford Sound extends inland for 15km from its narrow mouth on the Tasman Sea and the high hills that enclose it rise steeply. Rainfall is high at an annual 6000 mm.
Related Attractions
Milford Track
The Milford Track, New Zealand's best-known trail, is 54km long and can be walked in 4-5 days. It begins at Glade House, near the north end of Lake Te Anau, and at first follows the Clinton River. It then continues through rain forest and an alpine landscape, going over the Mackinnon Pass, passing the wild and romantic Sutherland Falls and finally running down into the valley of the Arthur River.The track, which is usable from November to March, may be walked only in one direction, from Glade House to Milford Sound; walking in the opposite direction is not allowed. Walkers going on their own must put their names down at the Fiordland National Park office. Guided walks can be booked through travel agencies. The return from Milford Sound to Te Anau, after the usual boat trip, is by bus. In view of the high probability of rain suitable protective clothing should be taken. Insect repellent is also essential equipment, for the tiny black sandflies are a perpetual plague. The Maori tradition is that the goddess of death created sandflies in order to sour people's enjoyment of the perfect beauty of the landscape.
Milford Road
From Te Anau there is a fascinating drive through the mountains of Fiordland National Park to Milford Sound. The beautiful mountain road (120km) from Te Anau (Lake Te Anau) through the Eglinton Valley and the Homer Tunnel (named after the surveyor Henry Homer) has made Milford Sound an easily accessible and very popular tourist attraction. (Note that in winter the road can be temporarily blocked by avalanches.)
Bowen Falls
It is a short walk from Milford to the Bowen Falls (160m high), which plunge down from a hanging valley. They are named after a former governor.
More Milford Sound Pictures
Map - Milford Sound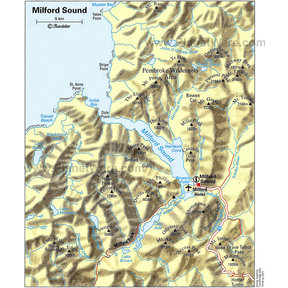 Map - Milford Sound