17 Top-Rated Tourist Attractions in Auckland
The harbor-side city of Auckland is New Zealand's only true metropolis and the vibrant economic heart of the country. Known as the "City of Sails," Auckland sprawls out in helter-skelter fashion between Manukau Harbour (to the west) and Waitemata Harbour (to the east) with the compact central city district right beside the waterway. For most visitors to New Zealand, Auckland is the point of arrival, and a few days soaking up the cultural and outdoor attractions here should be on every tourist's to-do list. The monuments, museums, and art galleries here are some of the finest in the country, the suburban coastline of the city is speckled with fine beaches, and the islands of the Hauraki Gulf provide a taste of New Zealand's spectacular national park scenery right on the city's doorstep.
1 Auckland Sky Tower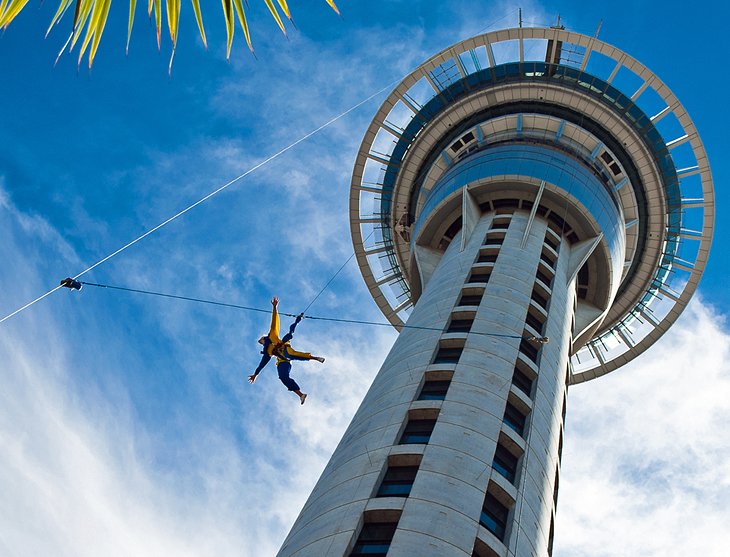 Auckland's needle-like Sky Tower is the city's most prominent landmark and at 328 meters high, New Zealand's highest building. If you're looking for a place to snap the perfect city panorama then the observation deck here (reached by zooming up to the top of the building in a glass-elevator) is just the place to get your camera out, with views spanning into the distance for 80 kilometers on a clear day. For many Sky Tower visitors though, it's about more than the view. New Zealanders are renowned for turning attractions into thrill-seeking opportunities, and the Sky Tower doesn't buck the trend. Visitors can enjoy dizzying views by walking the exterior 192-meter-high Sky Walk platform around the tower's pergola, and those looking for a total adrenaline rush can base-jump off the platform on a Sky Jump.
Address: Federal Street, City Center
2 Waitemata Harbour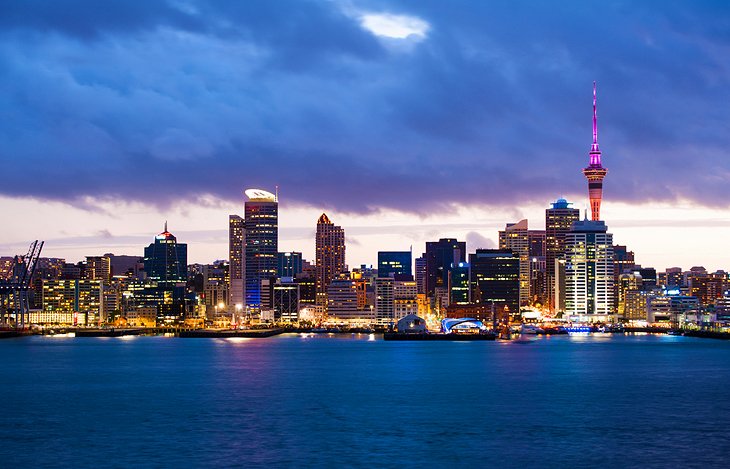 The wide sweep of Waitemata Harbour slices Auckland in two and is the city's most prominent natural feature. It was because of this easily navigable waterway that Auckland became New Zealand's capital in 1840 (the country's capital is now Wellington, though Auckland remains New Zealand's economic powerhouse). The central harbor is dominated by Auckland Harbour Bridge, completed in 1959 and more than one kilometer long and some 43 meters high, which connects downtown Auckland to the northern districts and the sandy beaches of the bays further north. Quay Street runs parallel to the harbor in the central district with access to Princes Wharf and the ferry terminals to the Hauraki Gulf islands.
Address: Quay Street, City Center
3 Auckland War Memorial Museum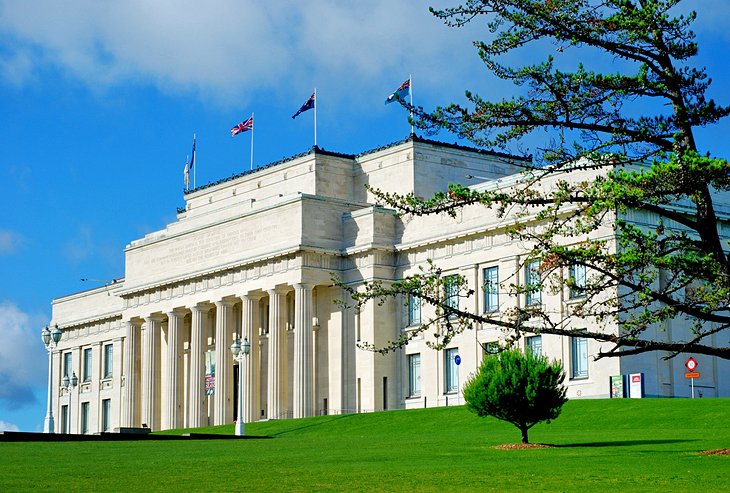 Auckland's imposing War Memorial Museum sits on the highest point of Auckland Domain in a vast Neoclassical building dating from 1929, which was first erected as a memorial dedicated to the New Zealand soldiers who fought in World War I. Today, it houses an impressive collection of artefacts that traces the history of New Zealand from its first Polynesian settlers to the present day and highlights New Zealand's natural heritage. The Main Maori Galleries host a wealth of Maori artistry including a magnificent Maori gateway dating from the 12th to the 14th centuries, a richly-decorated Meeting House, and the 25-meter-long canoe, dating from 1836, in which Maori warriors once sailed into Manukau Harbour. The first floor hosts the natural history collection, including a reconstruction of the country's famed and now extinct giant moa birds. The top floor of the museum is dedicated to the war memorials and displays the story of New Zealand's involvement in world conflict throughout the country's history.
Location: Auckland Domain, Parnell
4 One Tree Hill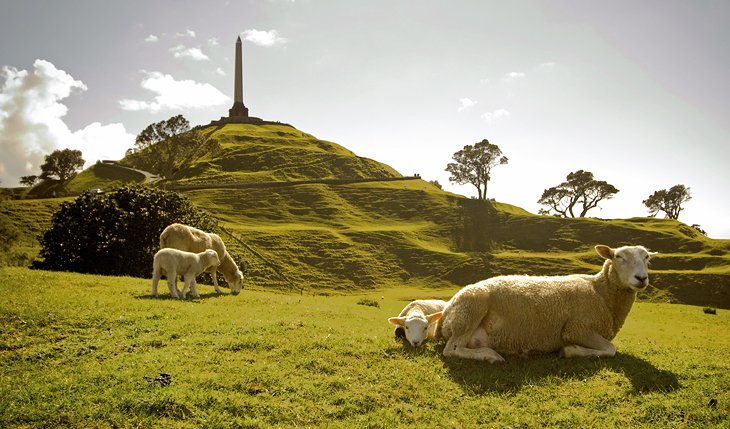 For many Aucklanders, the volcanic cone of One Tree Hill is the symbol of their city. The 182-meter-high hill sits amid the lush Cornwall Park with a series of flower beds and stands of mature trees set amid walking trails. One Tree Hill takes up the southwest corner of the park, and the slopes contain remnants of a Maori Pa (fortified village) located here during the pre-European era. At the top of the hill is a lone obelisk built over the grave of Sir John Logan Campbell who gifted this swath of greenery to Auckland to be used as a city park. There are fantastic views across the cityscape from the hill summit.
Address: Manukau Road, Epsom
5 Auckland Art Gallery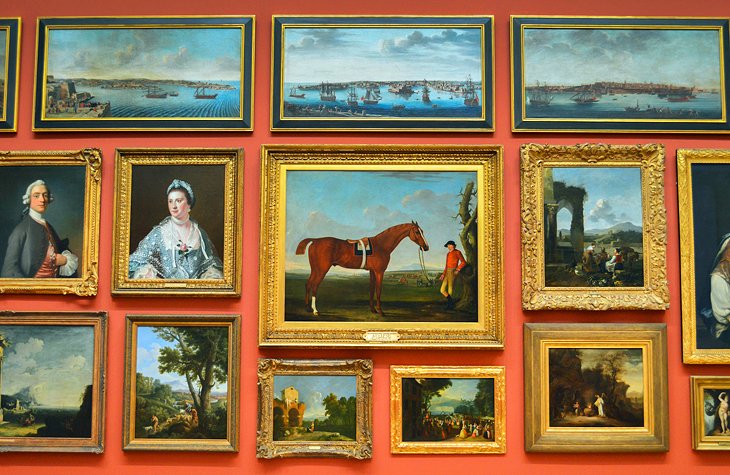 Auckland Art Gallery is the city's most impressive cultural site, housed in an impressive French Renaissance-style structure first built in 1887. The gallery is home to New Zealand's most extensive art collection with more than 15,000 art works on display. The permanent galleries host an array of art works including European painting and sculpture that date back to the 14th century. But of particular note is the main New Zealand collection (on the ground floor) with a substantial amount of work highlighting Maori and Pacific Island artists, as well as the New Zealand Historic Art Gallery and Maori Portraiture Gallery on the first floor, which showcase the work of New Zealand's early European settlers.
Address: Corner of Kitchener and Wellesley Streets, City Center
6 Waiheke Island
Of all Auckland's Hauraki Gulf islands, Waiheke Island is the most popular to visit. Around 8,000 people live on the island year-round, and the island's villages are home to art galleries and a thriving café culture, while the coast hosts plenty of white sand beaches. For keen walkers and hikers, a variety of trails wind along the coastline and through the island interior. For spectacular views and a challenging hike, the Church Bay Circuit is an excellent three-hour walk that showcases the best of the island. History fans shouldn't miss Stony Batter Historic Reserve with its underground tunnel system carved out in World War II in case Auckland was attacked. Regular ferries to Waiheke Island run from Princes Wharf in central Auckland and take from 35-45 minutes.
7 Voyager New Zealand Maritime Museum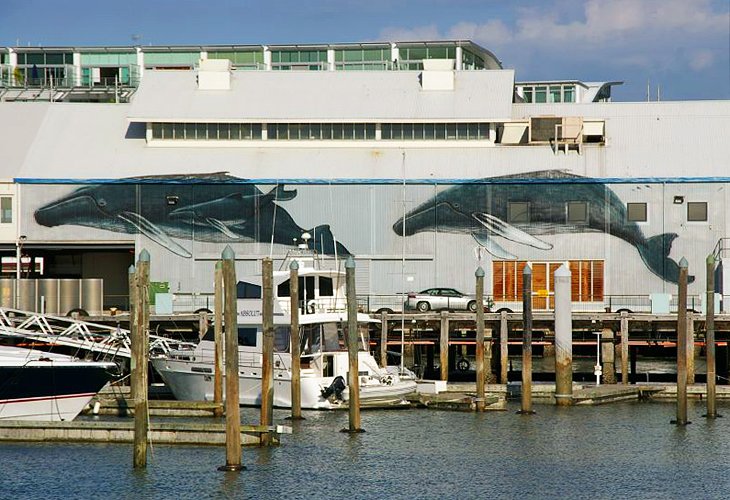 New Zealand has always been a nation deeply connected with the sea, and this well-curated Maritime Museum explores this connection, offering a comprehensive survey of the country's history of seafaring. Exhibits traverse the history of New Zealand from the arrival of the first Polynesians and include Maori canoes and outrigger boats, whaling equipment, and old instruments and implements. One gallery is devoted to New Zealand's modern yachting success and includes the yacht in which the New Zealand crew, skippered by Sir Peter Blake, won the America's Cup in 1995.
Address: Corner of Quay and Hobson Streets, City Center
8 Viaduct Harbour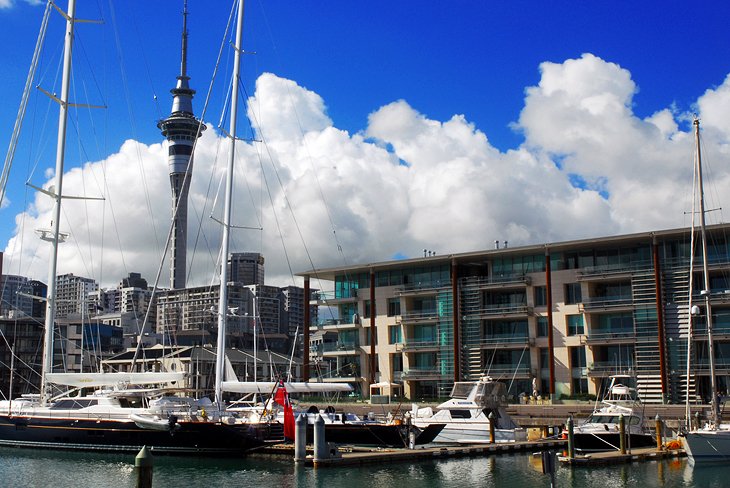 The regeneration of Viaduct Harbour is a legacy of New Zealand hosting the America's Cup yachting regatta and has turned this waterside area into one of the city's main entertainment and dining hubs. As well as being one of the country's major marinas, Viaduct Harbour's lively calendar of events is a tourism draw card. Every Sunday, the Flower Market here brings in crowds with live music and street food, while regular free events during summer months are a favorite with local families. The vibrant waterside cafés and restaurants are a great place to stop and linger over lunch while exploring Auckland's central attractions.
Address: Quay Street, Central City
9 Kelly Tarlton's Sea Life Aquarium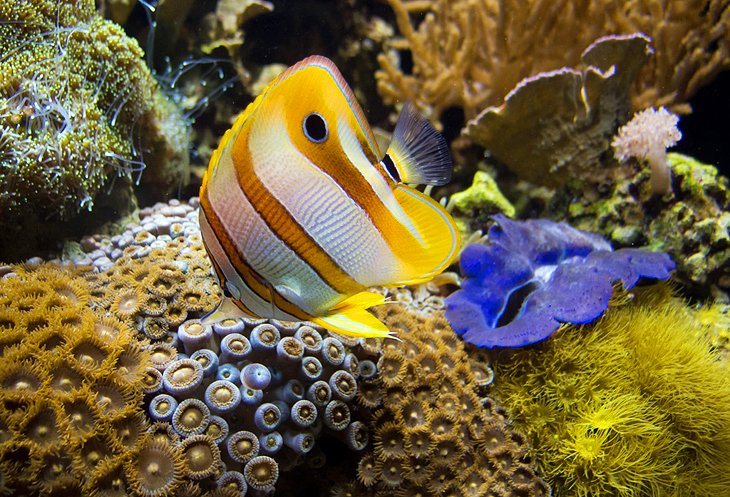 One of Auckland's top attractions for visiting families, Kelly Tarlton's Sea Life Aquarium allows you to get up-close-and-personal with life under the water. A series of huge aquariums containing aquatic life can be observed from the tunnel walkways with aquariums devoted to sharks, tropical fish, and stingrays. Kelly Tarlton's also houses an Antarctic Encounter gallery, complete with a snow-filled penguin enclosure, highlighting New Zealand's close association with Antarctica's international scientific communities. Adrenaline-junkies are catered for as well with the aquarium's Shark Dive and Shark Cage Snorkel experiences.
Address: 23 Tamaki Drive, Orakei
10 Auckland City Center Architecture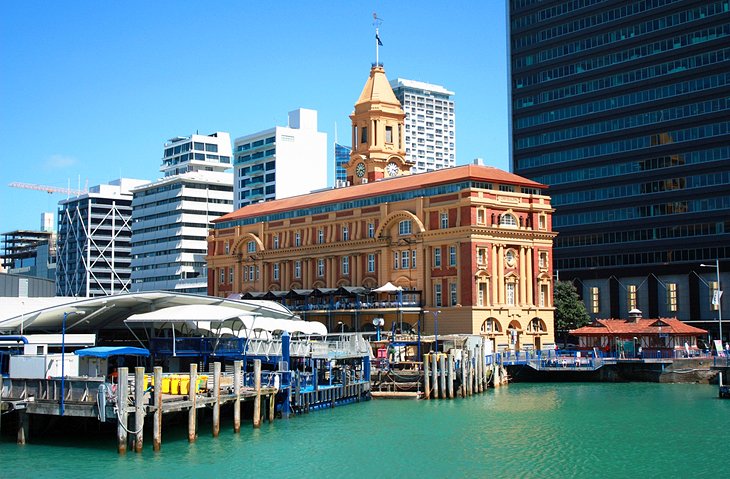 Downtown Auckland can, at first, seem a thoroughly modern city, but amid the contemporary towers, there are several prime examples of early architecture for history fans to seek out. The imposing Ferry Building (Princes Wharf), forms a striking English-Baroque landmark on the harbor front, built in 1912. Adjoining the Ferry Building is the Chief Post Office, designed by John Campbell in 1911. Auckland Town Hall (Queen Street) has a marble façade, built in 1911, while St. Patrick's Cathedral (Wyndham Street) is one of New Zealand's first churches, built in 1848. Also, don't miss Auckland High Court (Waterloo Quadrant) with its richly-decorated brickwork, complete with turrets and gargoyles, modeled on Warwick Castle in England.
Location: Auckland City Center
11 Hauraki Gulf Marine Park Islands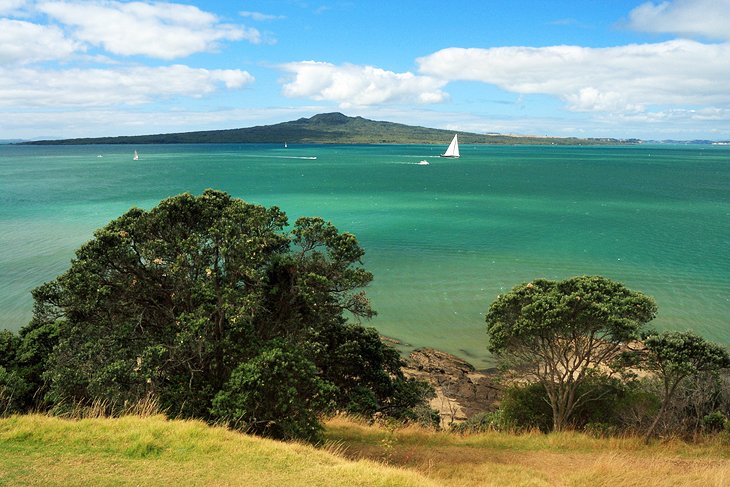 The Hauraki Gulf Marine Park Islands are a lush slice of nature right on Auckland's doorstep. Ruggedly beautiful Great Barrier Island is a must-visit for wilderness fans with a multitude of camping, hiking, mountain biking, and sea kayaking opportunities. Rangitoto Island is a dormant volcano and home to the world's largest forest of pohutukawa trees. Hiking to the island's summit rewards walkers with stunning views across the Hauraki Gulf. Tiny Tiritiri Matangi Island is a wildlife sanctuary for some of New Zealand's most endangered birdlife with a variety of easy walking trails winding through the island's interior. Among the species that keen birdwatchers can spot here are takahe, blue penguins, kiwi, and brown teal. Ferries leave from Princes Wharf in the central city
12 East Coast Beaches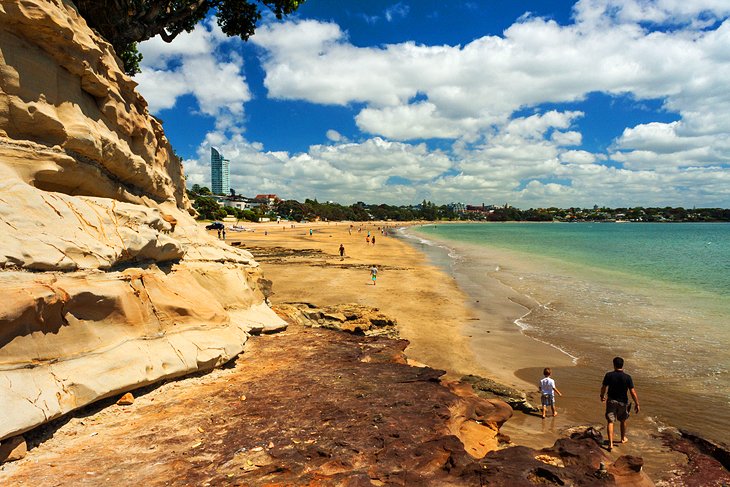 The city's eastern coast is speckled with gorgeous forest-rimmed beaches that are top swimming and sun-bathing spots for locals during summer weekends. Takapuna Beach, overlooking Rangitoto Island across the water, is one of the finest sandy strips in the city and deservedly popular. Nearby are both Milford Beach and Cheltenham Beach, which tend to be less crowded. A short drive out of the city though, brings you to even more spectacular beaches. To the southeast is lovely Maraetai Beach with its calm waters, an excellent swimming spot even for little ones, while a short journey north from Auckland is the golden sand of Orewa Beach.
13 Albert Park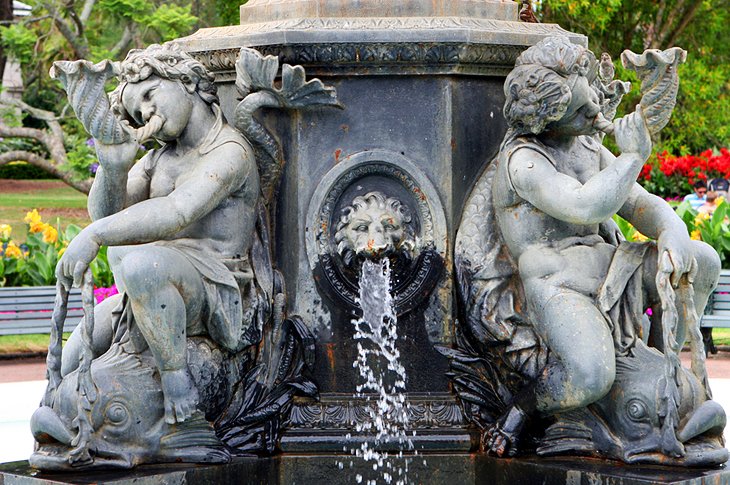 The most central green space in the city is Albert Park with its elaborate Victorian fountain, variety of statuary, and multitude of flower beds. As well as being a tranquil spot amid the inner-city hustle, the park is home to a variety of small and quirky attractions that will please culture-vultures. Albert Park House contains an eclectic array of ceramics and clocks; a floral clock (dating from 1953) marks the park's Princes Street entry, and the city's Meteorological Observatory at the park's highest point has been marking Auckland's weather since 1909. The most prominent historic building nearby is the Old Government House, now part of Auckland University campus. This timber Neoclassical structure (built in 1856) was New Zealand's first parliament. Opposite the Old Government House is the Old Synagogue, dating from 1884, which is now used for cultural events.
Address: Princes Street, City Center
14 West Coast Beaches
Auckland's west coast is home to some extremely beautiful beaches, but visitors should be aware that many can be dangerous for bathers unused to their sheer rocks, heavy surf from the Tasman Sea, and treacherous undertow. Piha Beach is the city's most dramatic spot for a picnic and sunbathing with its volcanic black sand and jutting rock outcrops. It's also a major haunt for local surfers. If you're looking for a secluded slice of sand though, Karioitahi Beach, at Waiuku in South Auckland, is a long strip of black-sand beach that rarely draws more than a handful of sun-seekers.
15 Museum of Transport and Technology (MOTAT)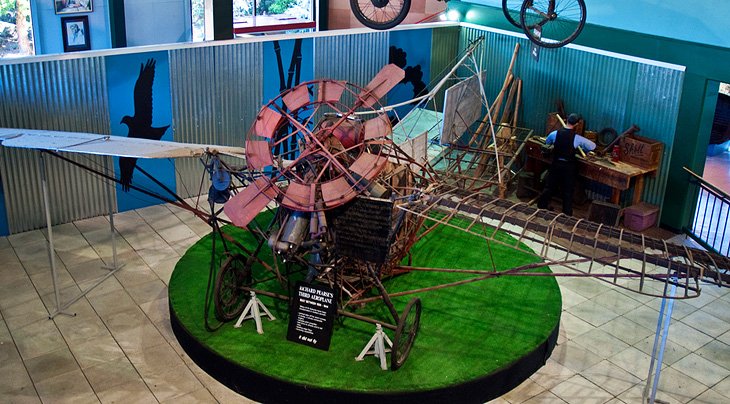 Auckland's MOTAT Museum, in the Western Springs district, is devoted to the history of technology and transport in New Zealand. Its prize exhibits relate to the New Zealand aviation pioneer Richard Pearse (1877-1953), who made his first flights about the same time as the Wright brothers, while the 90 Degrees South exhibition is dedicated to the trans-Antarctic expedition of New Zealand explorer Sir Edmund Hillary. Other items include old coaches, railroad rolling stock, trams and vintage cars, and a vast collection of black and white photography.
Address: Great North Road, Western Springs
16 Kaipara Coast Sculpture Gardens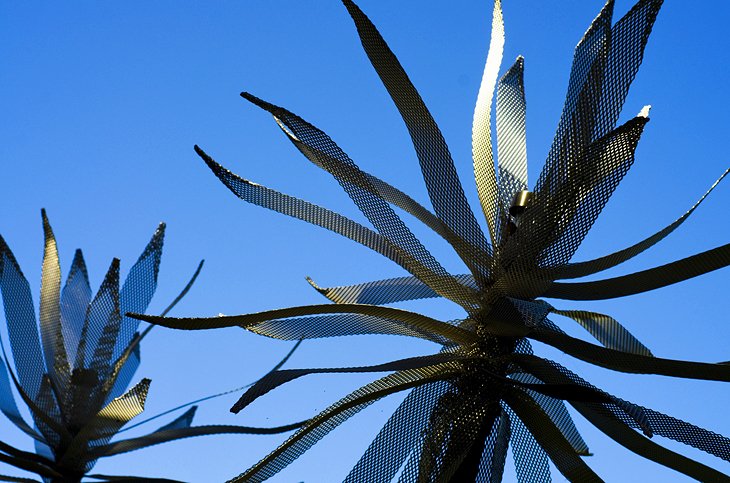 For a relaxing stroll while exploring the countryside just north of Auckland, the Kaipara Coast Sculpture Gardens make a good break from the road. This manicured garden trail in a quiet valley setting is packed full of native fauna and also hosts an ever-changing array of sculptural art by New Zealand artists. More than 50 sculptures are on display along the one-kilometer pathway at any one time creating garden galleries that highlight the best of the country's contemporary art. For nature-fans, the gardens offer a broad spectrum of New Zealand's many varied landscapes with different sections set out as pine forest, native bush, and typical farmland. Another trail through native forest is dedicated to conservation and loops across meandering streams and beside waterfalls.
Address: 1481 Kaipara Coast Highway; 50 kilometers north of Auckland
17 Puhoi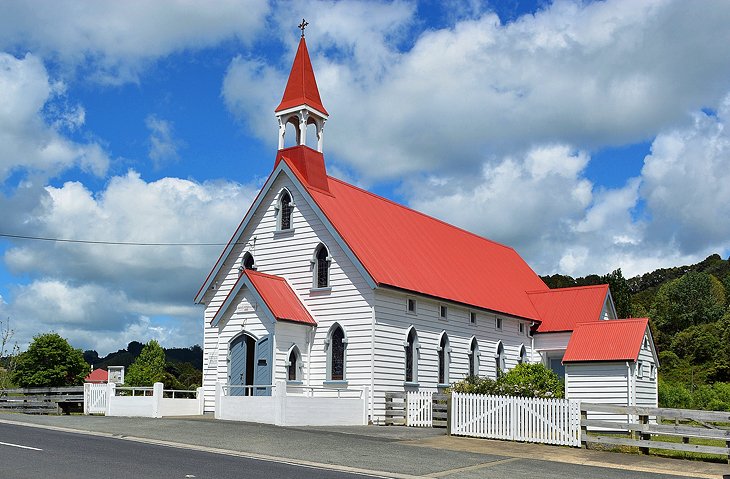 The little township of Puhoi is one of the best day trips out of Auckland. Founded in the 1860s by immigrants from Bohemia (in modern-day Czech Republic), Puhoi has kept much of its original early-settler character and retains a bucolic timeless appeal. The Bohemia Museum, the Church of St. Peter and St. Paul (built in 1880), and the nearby churchyard with the graves of early Bohemian settlers are a must for history fans, while a clutch of art studios and artisan boutiques provide ample shopping diversions. There are also plentiful hiking opportunities in the surrounding countryside.
Location: 50 kilometers north of Auckland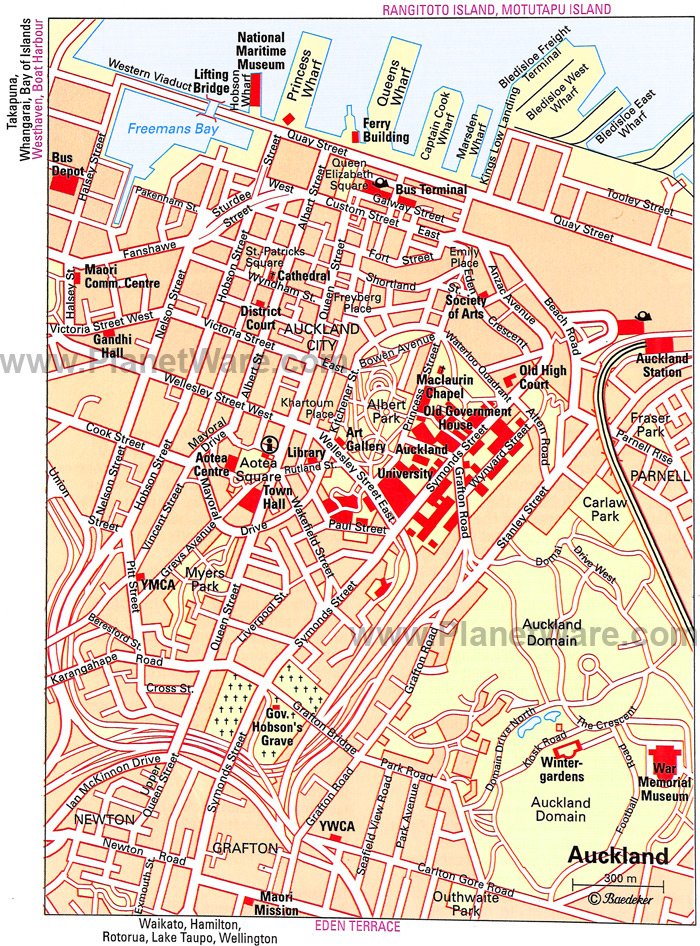 Auckland Map - Attractions
Want to use this map on your web site?
Copy and Paste the code below:
Destinations
popular right now