Auckland Tourist Attractions
Top Tourist Attractions in Auckland
Auckland lies on a narrow isthmus, occupied by numerous volcanic cones, between Manukau Harbour and Waitemata Harbour. The 260m high volcanic island of Rangitoto separates Waitemata Harbour from the wide expanse of the Hauraki Gulf with its scattering of islands.
Other Sights
Auckland Symphony Orchestra
The Auckland Symphony Orchestra consists of both professional and amateur musicians and focuses on popular classics, film and show music. The ASO offers a full season of performances annually.
Victoria Park Market
On the west side of the city center, occupying the site of a power station (1908) fuelled with refuse, is the extensive Victoria Park Market, which sells fruit and vegetables and other goods. It also offers pleasant restaurants and pubs and a variety of entertainment. Nearby is Victoria Park, laid out in 1905.
Ponsonby
The Ponsonby district to the west of the city center retains, particularly in Renall Street, a number of small 19th C. houses, once occupied by workers in the nearby harbor. They are now much sought after as town houses. The Post Office (1912 by John Campbell) is a striking building in English baroque style.
Auckland International Airport
Auckland International Airport is located 21km (14 miles) from the city center. The airport services direct flights to over 20 countries.
More Auckland Pictures













Map of Auckland Attractions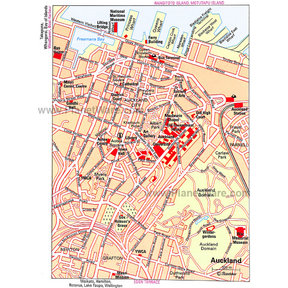 Map - Auckland