Wellington Tourist Attractions
Top Tourist Attractions in Wellington
Wellington, New Zealand's capital city, lies at the southwestern tip of the North Island in a supremely beautiful situation, surrounded by water and steep hills, with its picturesque natural harbor, Port Nicholson.
Ferry to South Island
Many of Wellington's attractions are located along the waterfront area. Frank Kitts Park offers lovely views of the harbour.
Botanic Gardens and Vicinity
The Botanic Gardens (26ha) lie in the center of the city on the Kelburn Hills. The cable car that runs up to the gardens is an experience in itself. This 610m long funicular railroad, opened in 1902, climbs from Lambton Quay, opposite Gray Street, to a height of 122m. The old wooden cars were replaced in 1979 by modern ones made in Switzerland. From the hilltop there is a magnificent view of Wellington.The Botanic Gardens were opened in 1869. At the entrance are the Carter Observatory belonging to the Meteorological Institute and a number of other university scientific institutes. The high points of the gardens are the Lady Norwood Rose Garden, with over 500 varieties of roses, the begonia house, the herb garden, the Maori herb beds and a garden designed to raise concern for the environment. The walk through the gardens ends at the north exit in Glenmore Street, which has retained its Victorian wrought-iron gates and porter's lodge.
Bolton Street Memorial Park
The Bolton Street Early Settlers Memorial Park includes the Sexton's Cottage and the graves of noted citizens and politicians, including Edward Gibbon Wakefield and Richard Seddon.
Victoria University
To the south of the upper station of the cable car in the Bolton Street Memorial Park is the campus of the Victoria University. In the Hunter Building is a geological museum. More interesting perhaps for most visitors is the Roman Catholic cemetery in Mount Street, with the oldest graves in Wellington (1840).
Mount Victoria
Mount Victoria (196m), immediately east of the city center, is the best-known and also the windiest of Wellington's viewpoints. A narrow winding road, signposted 'Lookout', runs up from Oriental Bay to the Byrd Memorial below the viewing platform. From the terrace on the summit there is a magnificent panorama of the broad city, the harbor, Cook Strait, Hutt Valley and Kelburn Park with the university buildings. The Byrd Memorial commemorates the American aviator Richard Byrd, who in 1929 made the first flight over the South Pole from his base in New Zealand.
Wellington Chamber Orchestra
The Wellington Chamber Orchestra is an amateur based group which seeks to offer affordable family concerts. A variety of programs, styles, and musical experiences are offered annually.
Wellington International Airport
Wellington International Airport offers direct international service to Australia and various islands in the South Pacific. It is also a major hub for domestic air travel.
More Wellington Pictures

More New Zealand Resources
Map of Wellington Attractions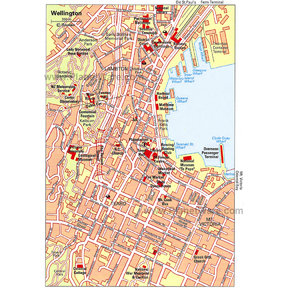 Map - Wellington