Queenstown Tourist Attractions
Queenstown is an old gold-miners' settlement on the east side of Lake Wakatipu, unchallenged as the leading tourist center on the South Island. It is well supplied with hotels and other accommodations and offers a varied program of entertainment and leisure activities throughout the year. For the more energetic tourist there is a choice of activities, including bungee jumping, jet-boat trips, white-water rafting, paragliding and rock climbing.
Town Center
The town center is charmingly situated beside a promontory that reaches far out into Lake Wakatipu, now beautifully laid out as Queenstown Gardens.The best starting point for a tour of the sights is the Old Stone Library (1877), which is built on to the courthouse. From here the route runs under magnificent old trees into Camp Street. St Peter's Church (1932; Anglican) looks much older than it really is. Church Street leads down to the shores of the lake. Passing the Lake Lodge of St Ophir (1873), you come to the place where William Rees established his sheep farm, the Camp, in the early 19th C.Continue to Queenstown Gardens. On the way back, at the end of the Mall (pedestrian zone), you come to Eichardt's Tavern, which has been on this site since 1871.
Activities
There is plenty of scope for pony trekking in the hills round Queenstown, and for rides to some of the large sheep farms or abandoned goldfields in the area. Other activities for the adventurous are tandem parachute jumps, paragliding and ballooning. A trip in a balloon is a marvelous way of seeing the beautiful country round Queenstown.
Underwater World
On the pier at the end of the Mall is Underwater World, where trout and eels are visible in the clear waters of the lake; they are fed here, but otherwise live freely in the lake. Beside the pier are marks showing the level to which the lake rose in the floods of 1878 and 1983.
Motor Museum (closed)
In the northwest of the town, near the lower station of the Skyline Gondola, is the Motor Museum (collection of vintage and veteran cars).ATTRACTION IS CLOSED.
Kingston Flyer
A steam train, the Kingston Flyer, runs between Kingston, at the southeast end of Lake Wakatipu, and the little township of Fairlight.
Steamer Wharf
At Steamer Wharf is moored the old-time steamer Earnslaw.
More New Zealand Resources
Map of Queenstown Attractions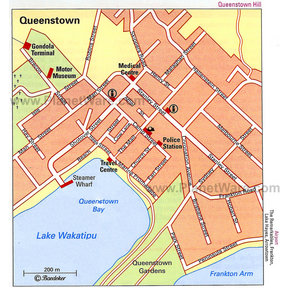 Map - Queenstown