Rotorua Tourist Attractions
Due to the crowds of visitors coming to take the cure or merely to see the sights, Rotorua has now grown into a town of 54,000 inhabitants, with numerous hotels, motels, motor camps and other accommodations.
Government Gardens
The magnificent Government Gardens, which include a park and sports grounds, lie directly on the shores of the lake. They are trim and well cared for, the flowers providing a riot of color. Visitors can simply stroll in the park or play golf or games if they prefer.
Arawa Memorial
The memorial set up in 1927 to commemorate those who fell in the First World War depicts the varied links between Maoris and whites (the Arawa ancestral canoe, the signing of the Treaty of Waitangi, British kings and queens, a missionary preaching).
Rotorua Museum of Art and History (formerly Tudor Towers)
The most eye-catching feature in Government Gardens is the old half-timbered Bathhouse of Rotorua. Since the opening of a new spa establishment in the 1960s the former Bathhouse now contains the Rotorua Museum of Art and History. The promenade of Rotorua's famous Bathhouse is open to the public to access the roof of the iconic building.Visitors are given a cinema experience through 'Rotorua Stories' which highlights the world famous Pink and White Terraces, the devastating eruption of Mount Tarawera, the story of the Bathhouse and the history of the Arawa people.
Polynesian Spa
Behind the Rotorua Museum of Art and History is a modern spa establishment, providing for a variety of sports. Its particular attraction is the three Polynesian Pools, which are supplied with water by three different springs. The whole area is pervaded with the scent of orchids.Polynesian Spa is New Zealand's leading international spa. Overlooking Lake Rotorua Polynesian Spa offers relaxation in 26 hot mineral spring pools in four areas (deluxe, adult, private, family pools), a Hot Springs Café and a Spa Essentials store. Visitors can indulge in a range of sumptuous hydro and dry spa relaxation therapies.
Mount Ngongotaha
Northwest of the town is Mount Ngongotaha (757m). From its viewing platform there are marvelous views of the town and the lake. The easiest way up is in the Skyline Gondola (lower station in Fairy Spring Road).
Mokoia Island
From Rotorua there are boat trips to Mokoia Island, in the middle of the lake.
Maori Arts and Crafts Institute
The Maori Arts and Crafts Institute is designed to preserve the heritage of Maori people and help promote the skills of Maori arts and crafts. Visitors can tour the Arts and Crafts Gallery and watch craftsmen at work. There is also a lunch time concert.
More Rotorua Pictures







Map of Rotorua Attractions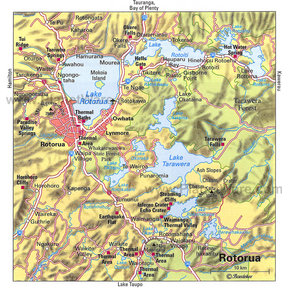 Map - Rotorua